"...Cheli gave the wake up call over the loudspeaker the next morning, March 1st, to inform us that the Ocean Endeavour was travelling through Lemaire Channel, and that if we weren't out on deck right now, then we should be. Ekke went up to the top deck at the front and stood there for ages, watching as the ship broke through the ice. It was cold, so I joined him a bit later, cozy in my yellow parka. The bow of the boat, usually closed to passengers, was opened up and offered more beautiful views with icebergs and glaciers all around. Just as we were going into a narrow part of the channel, people started pointing and getting excited. We looked and saw a wall of snow and ice falling into the sea about 500 metres in front of the ship - avalanche! So the ship slowed down and waited for the waves, caused by the falling ice chunks, to subside, before continuing through the channel. Some minke whales swam by in the distance, a magical sight in picturesque Lemaire Channel.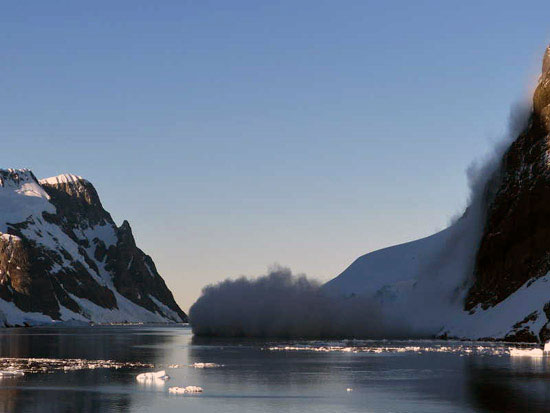 ...After breakfast the Zodiacs cruised out to an iceberg graveyard, Iceberg Alley, a bay where icebergs would get stuck for years. The shapes and colours were stunning, deep blues and greens when the sun hit them just right. Fellow passengers on kayaks and paddle boards could be seen enjoying the calm waters and bright sunshine while paddling about among the bobbing icebergs. After a wet landing on Peterman Island, the furthest south that we would reach on the cruise, we hiked over to a group of gentoo penguins who again displayed their playful penguin antics such as waddling, pecking and chasing. One of the ornithologists, Jim, pointed out a new species of penguin to us, a lone Adelie penguin, identifiable by the white circles around its eyes. It was great to finally see a different species of penguin after seeing thousands of gentoos.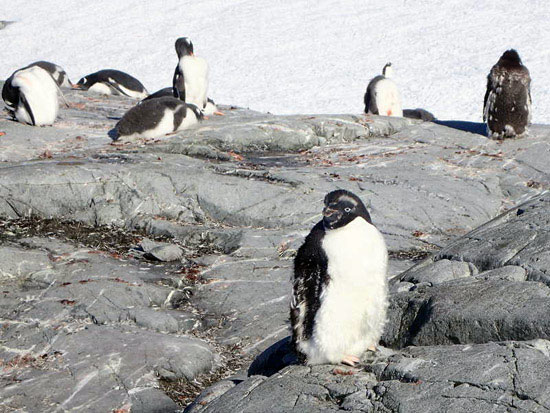 Jonathan Shackleton was also there on the pathway, and he warned us about the fur seals and how they could suddenly turn aggressive, so to give them a wide berth. They were really playful, and we watched as a couple of younger ones wrestled enthusiastically. Jonathan also pointed out Shackleton Mountain, named after the famous explorer, who was also his cousin, so I asked if I could take his photo with the mountain. Further along, another guide, Noah, warned us of a precarious cornice overhang of snow and sent us around it. Ekke stayed and chatted with Noah, watching a drone, brought with prior permission by a couple of passengers, fly around the island, taking videos. I walked up to a viewpoint, and it was so warm that people had shed their parkas and sweaters, with one fellow posing for photos with his shirt off. Global warming?

I'm not sure that the Antarctic is the place to learn stand-up paddle boarding
After lunch, our afternoon excursion to Half Moon Island started with a walk up some rocky slopes, past some beautiful glaciers lit up by the spectacular sunshine. On our guide's walkie-talkie we had heard someone excitedly reporting that 'Kevin' had been spotted further up on the cliffs, and we wondered who Kevin was. It turns out that living among a colony of thousands of chinstrap penguins was a single macaroni penguin, christened with the name, 'Kevin' by the staff. We walked in the direction of a crowd of people that had formed on the hill, past some lazy Weddell seals to where they were gathered, all trying to get a glimpse of the special penguin. Jim, an ornithologist, gave instructions as to how to find Kevin, in his hilarious Irish brogue. He gave me some binoculars and eventually I saw the distinctive yellow tufts of feathers of the crested macaroni penguin sticking up among all the penguin heads. I officially declared it the cutest penguin species of them all. And the super zoom camera came in handy once again."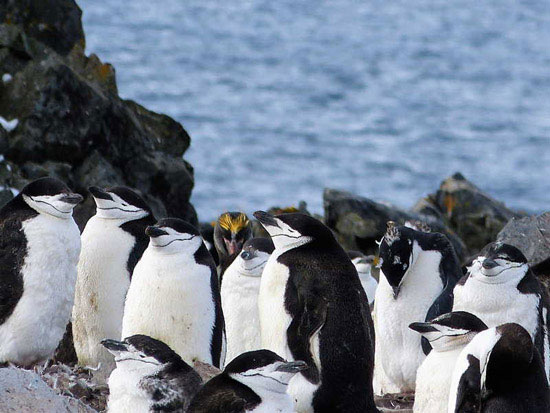 There he is! Spot the lone macaroni penguin amidst the chinstraps!

Ed. Ekke and Audrey are safely home in Canada, will be helping to organize

HU CanWest

and telling stories about their adventures in South America!