"So exciting! It's been months since we've traveled by motorcycle and we're eager to hit the road again. Hopefully our license plates will be waiting for us in Chiang Mai by the time we've finished the loop, because we want to continue exploring SE Asia after this short trip. Fingers crossed!
So true to form, we're already deviating from the Mae Hong Son loop on our first day. We're going to spend a day at the Mae Ngat Somboon Lake, which is actually a reservoir created by a dam at one end of the river. It's only 70 kms away.
We travel slowly.
... I think most visitors take a taxi or tuk tuk to get here. There's not a lot of parked vehicles down here. We just stick our bikes behind the huts and hope they will still be there when we return. I think I'm being overly paranoid about the security here in Thailand, but it's our first road trip with these motorcycles, so I don't really know what to expect. Neda listens to me clucking on about locking everything up, 'Don't worry so much, it'll be fine!'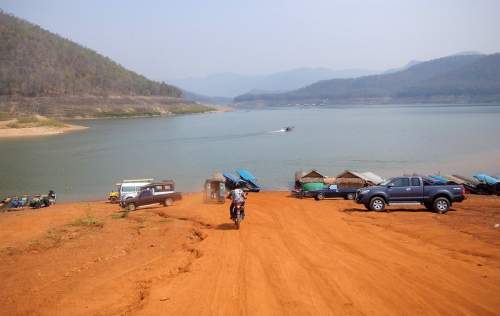 A private longboat takes us out onto the lake. The coast of the artificial river is sparsely lined by houseboats, floating accommodations that you can stay overnight in and hang out and swim in the lake during the day! The most popular houseboat that was recommended online was fully booked, so Neda just chose another one by random. We're a bit worried because it has no reviews. I guess we'll find out what we signed up for soon!
It's not a perfect blue-sky/clear-water day here on Mae Ngat Somboon Lake. The smoke from burning season has tinged the air just a few shades more opaque and the water in the reservoir almost matches the sky.
Every time we approached a nicer-looking houseboat, I secretly hoped that our longboat would stop in front of it. But, it always passed those nicer ones... :( And then when we approached the decrepit-looking ones, I also hoped the longboat would not stop in front of those... In the end, we ended up docking at what looks to be a middle-of-the-road houseboat. Not run-down, but definitely not as nice as some others along the lake. :( We have to plan ahead a lot earlier the next time we do this!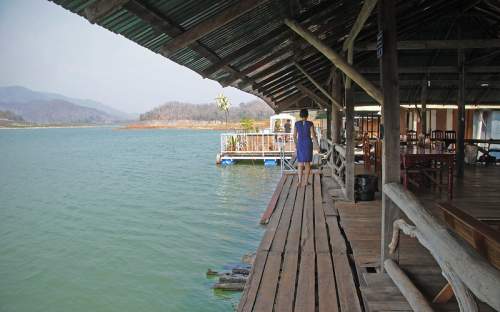 As the sun sinks below the horizon, we stare at the lights from the houseboats across the lake reflecting off the water. But what really captivates us are the fields on fire on the hills around the lake. Burning season has become much more vivid at night-time. This is what we'll have to ride through in the next few days! Fun times ahead!"