Welcome to the 103rd Edition of the overland travellers' e-zine! The year has flown by, and our good intentions of cutting back on travel didn't seem to materialise - quelle surprise! We counted that we've done 32 flights this year, most long-haul, to India, Africa (twice), and Australia, plus short jaunts across North America!
We've just recently returned from South Africa, where we actually managed to get some riding in after the HU South Africa meeting! Thanks to our gracious host Kobus Fourie, we borrowed a new 1200 GSA from Daly Motorrad and rode some wonderful roads with new and old friends Gail Baillargeon, Gareth (Pan without a Plan) Jones and Maria Alford, Jan and Paul Dwyer and Kevin Davis.
We even managed a game drive into Kruger National Park - saw elephants, lions, a leopard, a rhino and buffalo - what they call 'The Big 5' in South Africa. The ride in South Africa was the first time in over 5 years that we've actually ridden a bike for pure pleasure, without having an event to go to. What a fantastic country, wish we could have stayed longer - next year we will!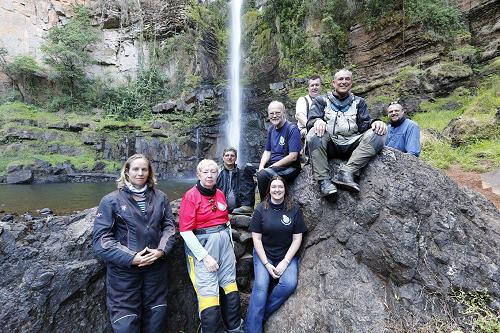 What's New for 2016?
Horizons Unlimited Mountain Madness goes global! The HUMM is a unique three-day, off-road motorcycle orienteering/geo-caching event. Previously in the Spanish Pyrenees and Morocco, in 2016 we're planning three (3) events - in the Canadian Rockies of BC, the Sierras de Aragón in Spain and the Western Ghats in India. The first of these, HUMM Canadian Rockies, is open for registration now! Test your map reading and navigation skills, find hidden secrets and enjoy the fabulous riding.
HUBB UK is back! More news as we have it! We're assembling the team for 2016 and venue selection will be finalised before the end of December, so watch this space...
Many more events - see list below. Some events are open for registration already, and early bird rates apply until Dec 31. We'll get to as many as we can, and we hope to see you at one of the events, but whether we're there or not, our local organisers are all fantastic folks and they welcome all travellers, so do come along and meet your tribe!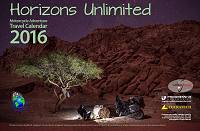 What else is coming up? The HU Photo Contest is closing at the end of Jan, so get your entries in soon - details below!
The 2016 HU Calendar is selling like hotcakes! Last year we sold out so if you haven't yet got yours, head on over to the HU Store and pick one up before they're all gone!
Where are our intrepid travellers this month?
We've got great stories from Tajikistan, Spain, Scandinavia, Russia, Central Asia, Mexico, India, Portugal, Bolivia, South Africa, Argentina, Peru, Bolivia, Chile and USA!
...And those are just the ones we tracked down! What about you? Get out there on the road and make your own adventure, and don't forget to write! Seriously, there are so many travellers out there now that it's hard for me to keep up with them all. If you send me a couple of paragraphs and pics every month you'll have a much better chance of making it into the e-zine! We try to link to your blog/website if you have one. If you don't have a blog, we can help!
This newsletter is provided as a complimentary service for travellers everywhere, both on the road and (temporarily ;-) off. Your support is greatly appreciated.
your editors, Grant and Susan Johnson, (about us, contact us)