Welcome to the 102nd Edition of the overland travellers' e-zine! We hope everyone has had a wonderful, relaxing holiday. We have enjoyed the quiet time with our family and friends. We wish you all a happy, healthy and adventurous year ahead, and hope this e-zine will provide some inspiration for your next trip!
It has been a long time and many, many, many events since our last issue, when we were about to leave for Europe. We had a great time riding to the Touratech European travel events and the BMW Motorrad Days, plus HU Germany and HUBB UK of course.
We flew home in early July, and it seemed like no time to catch up with ourselves before we were heading off again! We actually got to ride through all the BC mountain passes from the coast to Nakusp for our CanWest meeting on our 'new' 2007 1200 GSA from our good friends at Touratech.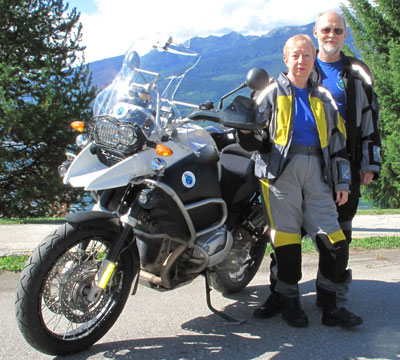 From September through November it was airplanes and rental cars - Ontario, California, Queensland, Perth, Victoria and NSW before flying to our first event in South Africa and then home in late November. We enjoyed all the events immensely, catching up with old friends and making new ones, and we even got to do a game drive in South Africa, but we were very tired little puppies by the time we got home, and confronted all the tasks that had been put on hold while we were travelling.
We know many folks think we are 'living the dream', but we'd really like to be doing more actual travelling and less flying and driving! Stay tuned... now we have a bike, we're making a plan - and you can help!
What's happening in 2015? Never let it be said that we're slackers - we've added more events! We're going to start travelling in February and not stop until December! Here's where Grant and Susan will be in the next few months:
Feb 20-21 - India Bike Week - we've been invited as guests and speakers to this major event in Goa. We'll escape the Canadian winter for a couple of weeks, and hope to meet some new friends during our first visit to India!
April 9-12 - Virginia - Steve Anderson is organizing our first meeting in Virginia near historic Appomattox in a great new lakeside facility.
May 13-16 - HUMM Morocco - After a hiatus of several years since we ran this event in the Spanish Pyrenees, we're partnering with Patrick Trahan (ex-Dahar rider) and Hana Ptackova of MotoAdventours to bring back the fun in the mid-Atlas mountains of Morocco! The HUMM trailer will explain it faster than I can. We are really excited about this, and it will actually be our first time in Morocco! We hope you can join us for a great intro to Morocco and fantastic riding.
Many more events from June through November - see list below. Most events are open for registration already, and early bird rates apply. We'll get to as many as we can, and we hope to see you at one of the events, but whether we're there or not our local organisers are all fantastic folks and they welcome all travellers, so do come along and meet your tribe!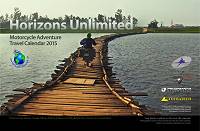 What else is coming up? The HU Photo Contest is closing at the end of Jan, so get your entries in soon - details below!
We have almost sold out of the 2015 HU Calendar, so thanks very much and we're sure you'll enjoy the great pics! If you haven't yet got yours, head on over to the HU Store and pick one up before they're all gone!
Where are our intrepid travellers this month?
We've got great stories from Antarctica, China, Russia, Swaziland, India, Peru, Turkey, Venezuela, El Salvador, Norway, Mongolia, Guatemala, France, Patagonia, Italy, Ecuador and Namibia!
...And those are just the ones we tracked down! What about you? Get out there on the road and make your own adventure, and don't forget to write! Seriously, there are so many travellers out there now that it's hard for me to keep up with them all. If you send me a couple of paragraphs and pics every month you'll have a much better chance of making it into the e-zine! We try to link to your blog/website if you have one. If you don't have a blog, we can help!
This newsletter is provided as a complimentary service for travellers everywhere, both on the road and (temporarily ;-) off. Your support is greatly appreciated.
your editors, Grant and Susan Johnson, (about us, contact us)