Welcome to the 101st Edition of the overland travellers' e-zine! This is a shorter than usual issue because we want to get the news out to you before we leave for Europe in a couple of days! Yikes! I mean yippee! It's been a challenge to get everything organized so we can be away from home and out of office for so long, but we're almost ready. :)
Our good friends at Touratech AG are lending us a bike while we're in Europe, and we will be presenting '4 Easy Steps to Motorcycle Travel' at the Touratech travel events in France and Germany, Switzerland and Spain, the BMW Motorrad Days in Garmisch, and of course most importantly our HU Germany and HUBB UK events.
Jens Ruprecht is our local host for HU Germany. Jens says, and we agree: "The size is perfect, people are great, interesting workshops and fantastic presentations! The area is really nice for motorcycles too - maybe some of the best roads in Germany! It is always like a big family, really nice atmosphere. We have a lot of repeat visitors - all of them say this is the best travellers meeting..." Online registration is closing very soon, so sign up now!

We're also looking forward to HUBB UK, which will be awesome! Sam and Iain have outdone themselves again, we have a fantastic group of presenters including Ted Simon, and heaps of vendors. HUBB UK is the premiere event for overland adventurers. It doesn't matter if you ride a motorcycle, a bicycle or any kind of expedition vehicle, we promise you will be inspired by the talks and encouraged to get out and make your own adventure! Hope to see you there.
We'll be riding from Germany via Dover to Donington on 18 June, so come along and join us for the ride! The whole schedule is here in the HUBB post.
After Europe we're at home in Canada until late August. Then we'll be at CanWest, Ontario and California, then in Australia for Queensland, Perth, Victoria and New South Wales, quickly followed by our 1st ever HU South Africa event!
All 2014 events are open for registration now, so mark your calendars and plan your travels around the schedule. We hope to see you at one of the events, but whether we're there or not our local organisers are all fantastic folks and they welcome all travellers, so do come along and meet your tribe!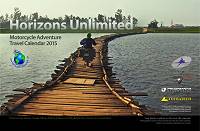 What else has been happening? The votes are in and the HU Photo Contest winners have been selected! Check out the fantastic pics below and pre-order your 2015 HU Calendar now!
Where are our intrepid travellers this month?
We've got great stories from Tanzania, Peru, Argentina, Malawi, South Africa, Madagascar, Mexico, Belize, Portugal, Italy, China, Mongolia, Ecuador, Australia, Bolivia, and the USA!
...And those are just the ones we tracked down! What about you? Get out there on the road and make your own adventure, and don't forget to write! Seriously, there are so many travellers out there now that it's hard for me to keep up with them all. If you send me a couple of paragraphs and pics every month you'll have a much better chance of making it into the e-zine! We try to link to your blog/website if you have one. If you don't have a blog, we can help!
This newsletter is provided as a complimentary service for travellers everywhere, both on the road and (temporarily ;-) off. Your support is greatly appreciated.
your editors, Grant and Susan Johnson, (about us, contact us)