Welcome to the 98th Edition of the overland travellers' e-zine! Back from BMW MOA in Oregon, and leaving in a couple of days for North Carolina (Aug 9-11), so I saw a window of opportunity to get a newsletter out! Not sure when the next one will be, but will do our best to publish whenever we can over the next few months! See the meetings schedule for the rest of the year - we'll be at all the rest of the North American and all the Australia meetings! Hope to see you there!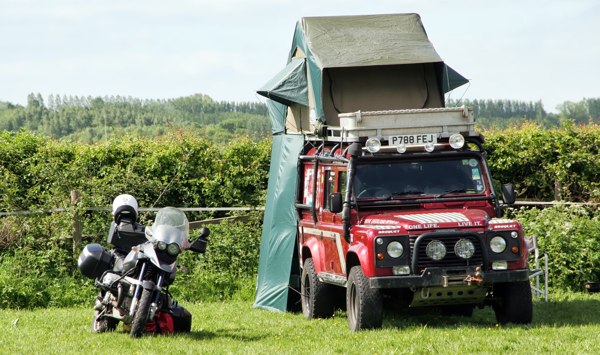 Long time readers of this e-zine know that our focus has always been on the overland travel, rather than a specific brand or model of vehicle - as Grant says, what you ride doesn't matter, just get out there! This issue we are reaching out to a neglected constituency - overland adventure travellers on more than 2 wheels! Our new HUBB UK event explicitly includes cyclists and 4-wheelers, and the feedback has been very positive. Typical comments:
"...it was so great to see and meet people with a common interest, irrespective of the number of wheels."

"Another brilliant HU meet... the weekend was only made more special with the cyclists and 4X4 input. The talks by the various cyclists were all truly inspiring."

"Fantastic! As a 4x4 member we were all made to feel very welcome. From the moment we were greeted at the gate, to the moment we left, everyone we met treated us almost as family."

"...the overall friendliness from folks with 2 wheels or 4 had to be seen to be believed."
We have a couple of stories from 4WD travellers who are also long-time HUBBers, and we'd like to get some regular correspondents in the months to come. As the HU Meetings tag line says 'On 2 wheels or 4 wheels, however you travel, it's where they take you that counts!' Which leads nicely to...
Where are our intrepid travellers this month?
We've got great stories from Bolivia, Mali, the Galapagos, Kazakhstan, Peru, New Zealand, Scotland, Laos, the Himalayas, Tajikistan, Tunisia, Indonesia, Cuba, Ireland, Guatemala, Romania and even Canada!
...And those are just the ones we tracked down! What about you? Get out there on the road and make your own adventure, and don't forget to write! Seriously, there are so many travellers out there now that it's hard for me to keep up with them all. If you send me a couple of paragraphs and pics every month you'll have a much better chance of making it into the e-zine! We try to link to your blog/website if you have one. If you don't have a blog, we can help, and it won't cost you anything.
This newsletter is provided as a complimentary service for travellers everywhere, both on the road and (temporarily ;-) off. Your support is greatly appreciated.
your editors, Grant and Susan Johnson, (about us, contact us)