Turkey, Travellers information

Country Information - Turkey
Useful Tips For Riding In Turkey
Introduction
Paolo Volpara and the OMM (One More Mile Riders Group) have generously given of their time to produce an incredible amount of information for motorcyclists traveling to Turkey.
The superb material they have provided here includes:
More info:
Biking In Turkey: Useful Tips For Riding In The Country
September 2001 third edition by Paolo Volpara, e-mail: volpara@homemail.com (COPYRIGHT © 1999 BY OMM ACADEMY)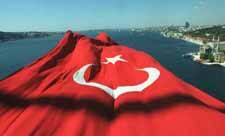 Riding in Turkey is one of the most exciting and interesting ways to visit this important center of Human Civilizations. Big spaces, ever-changing scenery, good roads, historical and cultural places and a friendly population make Turkey a real biker's Paradise. To better enjoy it, riders have to be aware, as in any Country, of the local conditions and this note will try to provide a few hints borne out from OMM riding experiences in Turkey.
OMM assistance
One More Mile Riders Group - Istanbul is not a Motorcycle Club in the traditional sense but more a "Service Center" for bikers living in Turkey or travelling in this Country. The small group of OMM members provides information, assistance and welcome services to all riders visiting Turkey. We also provide support to the Horizons Unlimited Local Community in Turkey, and we invite all bikers planning to travel or to cross Turkey to get in contact with us.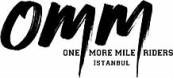 OMM can help in planning your trip and in making your ride in Turkey safer. We also enjoy meeting bikers from around the world, exchanging experiences and we will do our best to welcome you in Istanbul.
OMM Monthly Information Bulletin is an open forum for reporting your ride in Turkey and for learning from others. You can subscribe to it by sending an email to Paolo Volpara, e-mail: volpara@homemail.com .
Log in at www.ommriders.com and check the two OMM suggested rides from 10 days (Half Moon Ride) to 20 days (Full Moon Ride) covering the most important sites of this historical Country and offering some of the best riding roads. In addition to these suggested routes you can always check on OMM web site the latest itineraries covered by OMM riders: you will find here detailed descriptions of the routes to follow and an overall status of the roads.
In June 2000 OMM riders completed the "Four Corners of Turkey" circumnavigating the entire Country along the sea and land borders: this ride can be used as a blue print for exploring (in two/three weeks) the multifaceted aspect of the Turkish heritage.
Background
Motorcycling, as known in the west, is a recent phenomenon in Turkey although the bike as transportation has been present in the Country for a long time. The wave started at the beginning of the 90's with few personal imports of the most popular brands. Today these brands have Importers and Dealers while some (Honda and MZ) started local production. Motorcycle sports are present in Turkey with a growing number of participants and spectators: speed circuits are available in Istanbul, Ankara and Izmir. Istanbul has a permanent Cross circuit while similar tracks are organized regularly around the Country. The Turkish Motorcycle Federation organizes Speed, Cross, Enduro and acceleration championships.
In the year 2001, BMW (e-mail: zafer.celebi@borusanoto.com ) will open in Istanbul an off-road training facility with the possibility to rent GS1150 and F650. Suleyman Memnun (e-mail: s.memnun@superonline.com ), Turkish Champion for Sport-bikes and off-road is offering training courses in circuit and off road with the possibility of renting Yamaha bikes.
Planning a Trip

Turkey is really at the doorstep of most European Countries: the entry road can follow two directions .
To Turkey from Europe by Road:
Information on visa and other documents can be obtained at the Minister of Tourism web site.
Due to the problems in former Yugoslavia the road recommended today moves from Vienna to Budapest, Szedged, Arad, Sibu, Pitesti, Bucarest, Ruise, Stara Zagora, Chaskovo, Edirne. From Edirne, a modern motorway (pay-toll) brings you to Istanbul in less than two hours. This road is around 1650 Km. and it can be covered in two/three days.

To Turkey from Europe by Sea:
This road involves moving to the East Coast of Italy. Ferries are available at Trieste, Venezia, Ancona, Bari and Brindisi. The ferry destinations are Igoumenitza, Patras, Piraeus (Greece) or Istanbul, Izmir, Cesme, Kusadasi (Turkey).
The Greek Ferries association has a good web site at http://www.ferries.gr. For Ferries from Italy to Turkey you can log into www.motorhoming.com/ferries.htm
ViaMare offers services between Brindisi and Cesme while the site Go Europe has a complete list of European ferries. Roll-On/Roll-Off service for vehicles is available between the Port of Trieste and Istanbul combined with flight for pilots and passengers from Lubjana to Istanbul. Check for this service at www.samer.com.
Superfast Ferries
OMM riders prefer the fastest connection to Europe. This one is Brindisi to Igoumenitza in an 8 hours crossing (normally during the night). Check at the Superfast Ferries web site at www.superfast.com/ for timetable and reservations (From Ancona, Brindisi or Bari to Igoumenitza).
Disembarking in Igoumenitza in the early hours of the morning it is possible for a dedicated rider to reach Istanbul (1,100 km away) by the late evening/early night. The first 300 Km to Trikala are spectacular and twisty mountain roads, from Trikala a good road mixed with motorway leads to Thessaloniki and from there, via Kavala, a good road brings the rider to Ipsala the border crossing to Turkey. The 250 km. separating the Border at Ipsala from Istanbul are a mix bag of "heavy traffic road". Attention should be placed on the portion Tekirdag-Kinali. From Kinali 80 km of modern motorway, make the final portion an easy going.
Touring Club of Turkey
The Touring Club of Turkey - TTOK (Turkiye Turing ve Otomobil Kurumu) is a very efficient and well-respected organization. A visit to their Offices can solve many bureaucratic problems (Documents for the bike, International Driving License, Carnet de Passage, Insurance). Here you can also find maps and tourist information documents. The club owns and manages a list of Hotels in the Country and has a very interesting Library in Istanbul (Istanbul Kitapligi Sogukçesme Sokagi, Sultanahmet Tel. 512 57 30) offering a wide range of books on history and travels.
TTOK Offices in major towns:
Ankara - Maresal Fevzi Cakmak Cad., No: 43, Beevler, Tel: (0-312) 2228723 - 2139761, Fax: (0-312) 2228557.
Antalya - Milli Egemenlik Cad, Dallar Yildiz Carsisi, No: 9, Tel: (0-242) 2470699.
Gazi Antep - A. Fuat Cebesoy Cad., 5/A, Tel: (0-342) 2325224, 2342687.
Iskenderun - Cumhuriyet Meydani, Besim Yucel Ishani, No: 4, Tel: (0-326) 6177462.
Istanbul - Sisli Meydani, No: 364, Sisli, Tel: (0-212) 2314631 - 36, Fax: (0-212) 2489661.
Izmir - Alsancak, Ataturk Bulvari, No: 370/A, Tel: (0-232) 4222621-4213514, Fax: (0-232) 4226387.
Mersin - Mucahitler Cad., No :10, Tel: (0-324) 2320492.
Tasucu - Abdi Ipekci Cad., No: 27/B, Tel: (0-324) 7411463.
Trabzon - Iskenderpasa Mah., Cami Sok., 17/11,
Tunelcikisi , Tel: (0-462) 3217156
more below...

Communications
GSM mobile telephones operate almost everywhere in the Country: the country international code is 90, the code for international outgoing calls is 00, the one for out of city code is 0. Istanbul, because of the large population has two codes (0)212 for the European side and (0) 216 for the Asian side. If you do not have a mobile phone almost everywhere you can buy Phone cards for National and International calls. Major operators provide "call home" and "collected call" services. (Check the number before you leave with the operator of your choice). Internet Cafe' are quite popular and Hotels/Pension can give you access to the net.
Weather conditions
Finally, Turkish State Meteorological Service will keep you updated on the weather conditions. Status of weather in Tourist Resorts, Satellite Images and Sea Temperatures.

Renting a Bike or organizing a group tour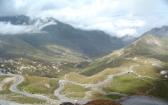 If renting a Bike in Turkey is your plan you may check at the places listed below: major tourist resorts offer during summer seasons motorcycles and scooters for rent. However, Turkey does not have a long tradition on this field and you better be sure of all terms and agreements.
Lotus Tour at www.lotustours.com was the first big operator for bikers to include Turkey in his offers. The first ride took place at the beginning of Summer 2002 and you can read a report from Court Fisher in OMM Bulletin August 01.
Kazim Uzunoglu , OMM Rider, was the guide and planner of this trip. Kazim and Paolo and Ikbal Volpara have formed a new company, MotorEast Moto Adventures. Turkey is an outstanding destination for motorcyclists with its incredible landscapes, rich history and colorful culture. Motoreast tours combine great riding through diverse landscapes, along the twisties of the coastal roads or through the lush scenery of the spectacular mountain ranges.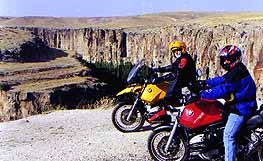 Motoport Kusadasi, Cumhurijet Mah. Devrim Sok No.26, Kusadasi, Turkey, Tel +90/256 614 7030, fax +90/256 612 5113, arranges BMW and Brand X bike rentals for all tour operators, and for independent riders.
Motorbikes Taurus organizes from the base in Antalya Enduro tours for individual and groups.
For Enduro fans, Yoshi Moto Turizm (Mekan Kent No 70 Armutalan 48700 Marmaris) conducts off-road expeditions and regular Tours.
From Australia Ferris Wheels (P O Box 743 Crows Nest 2065 Australia, Tel +61/2 9904 7419) offers every year a guided tour across Turkey with the possibility to attend the Memorial Ceremony of the Gallipoli battle.

The Roads
A network of Motorway is now spreading through the Country: normally you pick up the ticket at the entrance and pay (cash, no cards) at the exit. The toll is one third of the normal European fares.
With few exceptions the roads in Turkey are a source of surprises and, for the unaware, dangers.
Roads marked red and yellow on international maps are paved but poorly maintained. Holes of relevant proportions can suddenly appear. Indications are casual and "sleeping soldiers" (concrete bumps across the road to reduce speed) are not indicated and sometime extremely dangerous for bikes (look for them at the entrance, along and at the exit of villages. The surface is generally slippery for the presence of diesel from trucks and in wet residual mud can make riding quite interesting. The driver behavior adds to the excitement: the venerable age of vehicles and the low level of experience of the majority of pilots constitute hazard for bikers. In Turkey, bikes are invisible to other vehicles and it is essential to maintain constantly a defensive, protective riding attention. At night trucks, tractors and cars can move without rear (and sometime frontal) lights. Pedestrian share roads with you so keep well out of the right margins and make good use of horn and deep beam.

Speed limits
Speed limits, once upon a time totally ignored, are now severely enforced on major roads: here are the official limits as of 2011.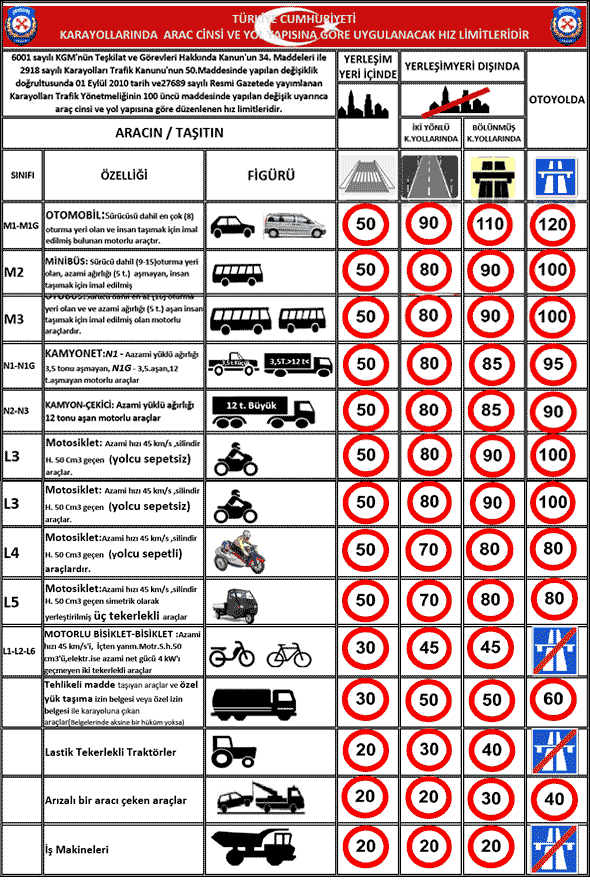 In practice 10% above the limits is accepted and most of the police patrols increase the bike limit to the same levels of cars. This cannot be considered a general rule, being subjected to the decision of the officer in duty. Speed traps have been placed in operation and they are frequent on roads of major traffic and at the exit of motorways during the day. They consist of a plain car parked along your sense of direction monitoring your speed and radioing it to a roadblock few kilometers further down the road. If you are caught be gentle, be humble and have full documentation for you and bike. Fines are not exorbitant and, if you are riding on a foreign license you will not get any "points".

Roadblocks
Roadblocks managed by "Gendarma" (military police) or by the army are frequent at the entrance or exit of urban areas. In these blocks the control is on personal and vehicle documents. For foreigner riders is mandatory to have (always) Passport or Identity Car, Green Card Insurance and Carnet de Passage and Bikes Registration documents. You cannot leave the country if a vehicle has been registered on your passport unless you are ready to go through the difficult procedure of bonding your bike in custom.
In case of accident
In case of accident ask for help from truck drivers or minibus drivers: wait for the police who are never far away. If you can still ride after the accident, it is recommended to reach a Police or Gendarma post to report the accident without waiting on the spot.
Emergency Phone Numbers:
Traffic Police & Police 155,
Gendarma 156,
Ambulance 112 .
Useful note to carry
It may be useful to print and carry with you the following note explaining that you are a Biker without knowledge of the language, who had an accident, requesting in Turkish to call the Police or an Ambulance:
'ülkenizde motorsiklet seyahati yapmakta olan yabanci uyruklu bir ziyaretçiyim. Türkçe bilmiyorum . Ciddi bir kaza geçirdim ve acil olarak yardima ihtiyacim var. Lütfen polis ve ambulans çagirin :Polis acil çagri: 155, ambulans acil çagri:112"
Safety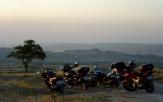 Turkey is quite a safe country: your person and your belongings will never come under risk as long as you behave correctly and kindly. The good rules of travelling mixing with the local culture and tradition will allow any rider to fully enjoy in complete safety the itinerary. Avoid any display of superiority and richness: consider the fact that your machine is worth sometime one year of earning in rural area. You will be frequently asked about the price of your bike: pretend ignorance in exchange and try to avoid the question. You will also be asked many personal questions at almost any stop. (Where do you come from? Are you married? What is your business?) This is not a sign of intrusion in your personal life and it should be accepted with good spirit. It's an opportunity to meet new friends and share, for a brief moment, the local life.
With the exception of big cities, there is no need in Turkey to lock the bike: just take care of small personal item left in view: kids may be attracted and tempted. For the night, ask where you can leave the bike: normally the vehicle will receive adequate accomodation (Local hotels or pension will invite you to take the bike in the lobby). In big cities just lock the bike around a pole and, again, take care of personal item left in view (GPS, Gloves, and small accessories removable). Do not offer rides on the bike: if something happens you will be liable for personal damages.

Travel bag
Take with you just the indispensable (the part you need is always the one you did not carry). Based on collective experience we recommend setting up a small bag to take always with you when travelling on Turkey. This small list of items can save troubles to you personally while helping your friends to enjoy one more mile.
Bike and insurance documents (make a copy to leave on the bike. Originals with you)
Spare keys (it is recommended to carry the ignition and lock spare key around the neck or on your person. Do not leave it on the bike)
Tool box and owner manual
Lock (chain or disk lock)
First aid kit (check expiring date and include personal medications)
Tires repair kit (self-inflating can or tubeless repair kit)
Set of light bulbs and fuses
Spare cables for trottle and clutch (already mounted in place)
Two meters of electric cable
Fuel bag (pliable tank for 2/5 liters of fuel)
Flexible pipe for fuel transfer (min 2 meters)
Battery cables
Torch (Spare Batteries), Knife (Multi-Blades type), Set Of Spare Gloves, Spare Visor or Goggles, Pen and Paper, Matches, Toilet paper, Towel
Maps, Compass

Servicing the Bike
The distribution network covers almost exclusively the main cities and the South Coast in summer period. Service and assistance, outside Istanbul and Ankara, are in the hands of generic mechanics. Widely available in the "Oto Sanayi" (Car Repair Center) of any small and big city they do not have specific experience and training in motorcycles. You will get prompt, on the spot assistance, helping hands and a wide knowledge on "how to put a vehicle back on the road": do not expect state of the art maintenance and forget any intervention in the electronic area.
Spare parts
Spare parts are reserved to Istanbul (as a friend put it, "We are the last chance between Athens and Singapore") but do not despair. The strong sense of hospitality, and a permanent solidarity between "people on the road", overcome in Turkey any obstacle: the large network of busses covering all territory can deliver within 24 hours any spare part from Istanbul to a remote village. In case of need it is easy everywhere in Turkey to find a truck for the transport of the bike, to find a willing mechanic ready to share with you the experience of repairing a machine never seen before, to have a part shipped from Ankara or Istanbul. Patience, Spirit of Adventure, Friendship and Curiosity are the essential elements for getting out of any problem.

Recovery Procedure
The recovery procedure is simple: if your bike cannot run and you are stranded on the road, signal to stop to a Car/Bus/Truck. If space is available the bike will be loaded on the back if not you will get a lift to the nearest center where (normally around the Mosque) you can rent a pickup to transport your bike. The bike will be moved to the nearest Oto Sanayi, a splendid invention of Turkey: in the same area of a city everybody involved in car/bike/truck repair has his own shop. Without spending time moving around you will find located here welders, mechanics, tire repairers, electricians, exhaust experts, etc. In the Sanayi you will get prompt attention and normally you will be able to find a temporary solution to finish your ride. If a spare part is needed from Istanbul take note of the addresses listed below: call "your man in Istanbul" and ask for the part to be shipped by bus. All this in really fast time, with sincere courtesy, infinite teas, and low cost.

Tires
Tires are widely available in Istanbul and Ankara with Metzeler being the best-represented brand. Dunlop, Pirelli, Bridgestone do not bring the full range of products to the Turkish market, but some types and sizes are imported and distributed. A call in advance will clarify what is available at any time.
Oil and Petrol
Oil and petrol are distributed by a vast network of Petrol Stations: intervals between stations are very shorts rarely exceeding 100 km.: unleaded petrol can be difficult to find outside of main areas. 80% of Stations accept Credit card (Visa and Master/Access being the most popular). Just keep a clear note of type and characteristic of viscosity requested by your bike in case you cannot find your favorite brand (Most popular BP, Mobil, Castrol, Shell, and Total). Petrol Stations offer Water and Air Service. Just be careful on motorways: the network being new it lacks of Service station and you can find yourself in trouble if you do not fill up before passing the gate.

Some contacts in Istanbul
The best thing to do is to send an email to OMM group announcing your arrival date and your needs for service, route, assistance or hospitality. We will do our best to answer to your questions and to locate the parts you need. Mail on the website or directly to some riders of the group:

If you cannot anticipate your coming and you are in trouble your men in Istanbul are:
Levent Baki, the founder and owner of Berke Motor (Kawasaki, Aprilia, BMW) at Nispetiye Cad. Bebek Yolu Sok.5 80630 Istanbul Turkey), rock singer, U2 fan, gourmet and expert of Turkish cuisine. He has one of the largest networks of bikers' friends in Turkey (and abroad) and he will stop for nothing to help a biker in need. The shop is very near to the Bosphorus University and the Second Bridge Europe-Asia.
Phone: +90 (0) 212 257 70 72
Fax: (212) 257 70 4
Sinan Afyoneri at Mototas (Suzuki, BMW and other important brands of accessories and gears). Successful racers, master of drag sessions Sinan will always welcome you with gentleman elegance, competence and attention. Address: Intas Sitesi A Blok, 30, Kiziltoprak, Istanbul, Turkey
Phone: +90 (0) 216 3476171
Fax: (216) 3479400.
Suleyman Memnun at Fan Motor sells Yamaha and a large range of off-road second hand bike. He is the current Sport/Circuit Balkan Champion and the list of his victory in circuit and of f-road is endless. In his shop, you can find the Yamaha range with plenty of off road accessories and gears. Fan Motor at Ataturk Oto Sanayi Sitesi 2 Kisim Ada 4023 N. 14-15 Maslak Istanbul
Phone: +90 (0) 212 285 08 88
Fax: (212) 286 15 54.
Bilhan Ozturk the Sales Manager at BMW Turkey. With perfect English and large experience not limited to Beemers is a sure address in case of need. Address: Kurucesme Cad. 72 Kurucesme Istanbul
Phone: +90 (0) 212 2877250,
Fax (212) 287 72 54.

Turkish Web Sites for Bikers
Enduro Club of Turkey is the largest virtual club in the Country. You can see their activities (quite impressive list of rides almost every week), members' profiles and pictures, information on the country and on the club at
GoldWing Home Page: The first motorcycle page of Turkey managed by Feza Haznedar. Feza is the Turkish Master in Gold Wing and the President of the local Wing Club: the site managed by him is dedicated to the Winger elite of the Country. If motorcycling is a new and limited sport Gold Wing ownership is really a "specialty": an estimated 60/80 Gold Wings form the totality of the market growing at a rate of 2/3 bikes per year. 30 Gold Wing are in Istanbul and the owners know each other's well. Honda Turkey provides a basic but poor assistance and a handful of mechanics can put hands to the Monster without causing damages. Still Feza managed to group around him few Wingers for regular outings and European Trips. The site has interesting points of reference for visitors to Turkey and good reports on rides and events.
The passionate of "Choppers" can contact Murat Ergul, e-mail: murat.ergul@aquasun.com.tr to discover the activities of the Chopper Club in Antalya.
Harley Davidson Owners Group at http://www.hogtr.com reports on the rich calendar of the Club with abundance of pictures and some suggestions for rides.
Reports on travelling through Turkey can be found at the International Motorcycle Adventurers, on Adventure Motorcycling, and on the essential Horizons Unlimited pages (search on Turkey from the home page).

More information about Turkey can be found at these selected web sites
http://www.turkey.org A complete Country's profile containing essential notes on government, education, tourism and consular services.
Turkish Ministry of Culture web site covering historical places, museums and events.
"Focus on Turkey" is one of the best sources of information for travelers in this country.
Turkish Airline website with all internal and international flights. You can also read online the last issue of the in-flight magazine "Skylife," containing pictures and articles on Turkish itineraries.
Turkey at Warp Speeds - A well-informed site that offers a list of virtual travelling options. You may want to move in time to the prehistory of Anatolia for a walk into the land of the legends and a multitude of civilizations. Or you may want to visit the top 10 natural beauty of Turkey. Or you may explore the Jewels of Anatolian history.
Mr. Pierre Flener maintains a "travel guide to Turkey intended to show foreign would-be travelers and residents what Turkey is really like, unbiased by glossy brochures or homepages by Turkish authorities or individuals". This is essential reading for the preparation of a ride.
http://www.hitit.co.uk This is a good place for advice to independent travelers
World Executive.com - A practical guide about Istanbul with city map, restaurants and hotels.
Ottoman Web Site - A site dedicated to the Ottoman history.
Explore Turkey - A commercial site offering Hotel reservations, information about important tourist places and good pictures.
From ExploreTurkey.com
Moto Europa - This site offers a summary of information for road users in Turkey.
Adventures Great and Small - offering a well-prepared selection of activities in the Country and a large list of links.

Recommended Travel Books
Always recommended by OMM is the Adventure Motorcycling Handbook with the indispensable checklist and tips for bikers on the road. From Bike Magazine (2000) "With this book you'd have all the information you'd ever wanted to hand and you'd know it was right because Chris Scott's a veteran of serious travel." See the Books page on this site for reviews of this book and ordering from Amazon.
Turkey Blue Guide

by Bernard McDonagh is "unrivalled coverage of art, architecture and history." Easy to use (although heavy to carry with 800 pages) this guide is a must for travelers interested in the real heritage of the Country. Hotels, restaurant and all transportation info are included with a useful reference index. See the Books page on this site for reviews of this book and ordering from Amazon.
Lonely Planet: Turkey 2001 by Pat Yale and Richard Plunkett. Lonely Planet's guidebooks are packed with essential information and accurate maps and are written with enough character that they are also good reading for armchair travelers.

For Turkey, this latest edition (March 2001) includes: 96 easy-to-read maps, plans of ancient sites and a full-color country map, detailed coverage of the whole country from west to the south east, the latest information on getting around by air, bus, train, boat and car, hundreds of accommodation and eating options for all budgets. See the Books page on this site for reviews of this book and ordering from Amazon.
Turkey Southern Shores, Turkey beyond the Meander, Lycian Turkey and Aegean Turkey - books by John Murray - re-writing the original researches of Professor George Bean. These are very detailed guides to the best archeological sites of specific Turkish areas. Well written and full of details.

A Traveler's History of Turkey - by Richard Stoneman, John Hoste (Illustrator) (Interlink Publishing Group, April 1998). This is a simple but complete history of the Country from prehistorical times to modern Turkey narrated via the places you would like to visit. The best reference book for our riders. See the Books page on this site for reviews of this book and ordering from Amazon.
Recommended Maps
GeoCenter Euro Map Western and GeoCenter Euro Map Eastern Turkey 1:800 000 are the best maps available for Turkey. You can select and order them at GeoCenter web site or at www.maps.com. Also available from Kartographisker Verlag seven maps covering all Turkey 1: 500 000

Good reading about Turkey
Julius Norwich: "A Short History of Byzantium" is the reduction of the famous three volumes opus. The best on the ancient history of Turkey.
Andrew Mango: "Ataturk" is the best biography on the Founder of Modern Turkey.
Erik Zurcher: "Turkey: A Modern History" is a well written summary of the post 1800 period
Neal Ascherson: "Black Sea" covers the areas around the Turkish north sea, and it has an excellent meditation about the ethnological and cultural aspect of the Pontus.
Jason Goodwin: "Lords of the Horizons" is a popular history of the Ottoman Empire to be "consumed" as a novel.

(Copyright © 1999-2001 BY OMM ACADEMY)
September 2001 third edition by Paolo Volpara, e-mail: volpara@homemail.com
further editing by OMM members.
---
Member login
Are you an Overland Adventure Traveller?
Does the smell of spices wafting through the air make you think of Zanzibar, a cacophony of honking horns is Cairo, or a swirl of brilliantly patterned clothing Guatemala? Then this is the site for you!
Hosted by Grant and Susan Johnson, RTW 1987-1998
Next HU Events
HU Event and other updates on the HUBB Forum "Traveller's Advisories" thread.
ALL Dates subject to change.
2024:
Virginia: April 25-28
Germany Summer: May 9-12
Switzerland: August 15-18
Romania: August
Ecuador: August 23-25
France: September
Austria: September 12-15
Queensland is back! Oct 4-7
Germany Autumn: Oct 31-Nov.3
Add yourself to the Updates List for each event!
Questions about an event? Ask here
ALL 15 chapters of the HU Achievable Dream Guide are available to download on Vimeo!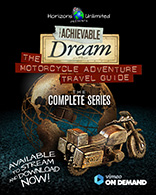 Binge watch over 18 hours of inspiring, informative and entertaining stories and tips from 150 travellers!
"a cross between entertaining stories, tech tips, and reference guide"
"A timeless introduction to Motorcycle Adventure Travel!"
Originally launched as a 7 DVD set, The Achievable Dream series can now be downloaded anywhere. OVER 18 hours of solid info take up zero space in your panniers. How convenient!
Books

All the best travel books and videos listed and often reviewed on HU's famous Books page. Check it out and get great travel books from all over the world.
NOTE: As an Amazon Affiliate we earn from qualifying purchases - thanks for your help supporting HU when you start from an HU Amazon link!