Croatia & Austria
October 16, 2009 GMT
Pig on a Spit, Cheap Beer & Donald Sutherland
Day 32 - Croatia & Pig on a Spit
We are heading for Croatia today via Slovenia. Itís not that we donít want to see Slovenia, we just donít think that we will have time and we have so many other things to do in the time we have left.
It was another hot day, you would think we would be getting used to it by now, itís not so bad we are moving on the bike. Itís when we stop for a break, the sweat starts rolling, very unpleasant, although all in the name of safety.
The little bit of Italy we had to go through to get to Slovenia was very nice and the roads were pretty much deserted so it made for easy riding. Slovenia was the same. They seem to follow the road rules a lot more in Slovenia than in any other country we have been to so far, which was quite nice for us, no crazy drivers screaming past us, it was a little more relaxing. Slovenia looked beautiful Very green and lush but I suppose thatís an indication as to how much rain they get. We were literally in Slovenia for all of about 20 minutes when we hit the boarder and for some reason I stared to feel nervous, I had no reason to. All the boarder control guards always seem so scary. I felt much more at ease when one of them seemed to take interest in the bike and started to have a short conversation with us. Off we went into no man's land and to the Croatian boarder where the officers seemed to take an interest in Robs passport. That nervous feeling entered my stomach again until they stamped both our passports and waved us through. Yay ! Finally a stamp in our passports, sad I know but this was the highlight of the day for meÖÖWe were heading to Rijeka or nearby to find a campsite. We had the trusty sat nav to direct us to a camp site until we saw a sign for one and decided to follow the signs instead of the sat nav, turns out that that camp site was no longer there and we were seriously low on petrol so we kept going in the same direction to find some, we got there just in time, Iím sure the bike was just running on fumes. We got to a camp site at about 7:30pm and the receptionist was very nice and helpful, the camp site was average. Nothing like large stones everywhere to make putting up the tent fun. We had an early night after a very long days riding.
Day 33 - Cheap Beer
We had yet another late start today, (your probably sick of reading that) we got up at normal time we just seemed to do everything a lot slower for some reason. We were heading down the coast today to get as close as we could to Split. Well we made it about half way, itís slow riding through the twisty coastal road, although absolutely amazing scenery. We stopped just near Zadar, a very beautiful place just on the coast of the Adriatic sea. At a camp site reasonably early (for us), we did some washing we went for a swim in the sea to cool down. We stayed in the water for a while, that was until our stomachs told us it was dinner time. After dinner we took a walk to find a bar to have a few relaxing drinks before bad. We found a very nice little bar just up at the top of the hill and we both took a liking to the Croatian beer. It was really cheap (about 1 euro for a 500ml sized larger) and good. The bar was a really nice relaxed place with locals drifting in and out all to a great view of the shore line. I think we could get used to this Croatian life style.
Day 34 - Outside Split
An uneventful day today, more very hot riding and long sweeping coastal roads down to Split. A very lazy day on the bike indeed. We stopped for some lunch in a very small village where there were no restaurants, only a very small shop that didnít sell anything that was ready to eat, so we settled for Milka ice creams, a drink and got back on the road again, mmmm Milka, maybe now my favourite chocolate. We camped about 20ks outside Split (experience had taught us that the camp grounds got more expensive the closer you got) and decided that we would go in first thing tomorrow morning. We started to set up the tent when yet again one of the poles snapped so before we could do anything else we had to fix the pole. About 30mins later and two broken poles fixed we had finally got the tent up, during the repair a very nice cyclist that had arrived the same time as us asked us if we needed help or use of any of his tools, we politely refused as we were now experts at how to fix the tent. Lucky we arrived at the camp site pretty early. That night we pigged out on beer, crisps (chips for you Aussies) and chocolate on the reasoning that we deserved it after the stress of the double pole tent mishap.
Day 35 - Split, Donald Sutherland & Grappa
Ok so we managed to get up early today and we did manage to make it in to Split and back to the camp site before check out time. We might just be getting the hang of this camping travel business. Split appeared to be a beautiful coastal city although we didnít think that there was much to see beyond the beauty. Maybe we were just being lazy and didnít want to walk around in the heat ? So we stayed around the port for a little while and then found an internet cafť to do some research about the next couple days worth of travel. We got a little lost coming back out of Split but after a final pack up we started travelling inland straight up the middle towards Slovenia and Austria. It was a fairly lonely ride up the middle of Croatia and for while there we thought we might not see a sole all day. As the afternoon progressed we thought we should keep our eyes pealed for camp sites, we also wanted to try the roasted pig on a spit that we had seen outside many restaurants all the way through Croatia. After following the Sat Nav for a while and then deciding to follow some sign-age instead, we found a camp site, stopped and though we would have the pig for lunch tomorrow before we left Croatia. We pulled into this nice looking camp ground to find out that it empty. A man that looked remarkably like Donald Sutherland soon came wondering out of a shed with a huge grin on his face. He couldnít speak English and we couldn't speak Croatian so the usual international sign language ensued. We even got some free sweets and Grappa (I can't remember the Croatian word) on arrival, although it did taste a bit like petrol it was still a great experience. We decided that this was the best camp site so far, not just because of the free alcohol but because of the kindness of the owner and the great surroundings. There was a nice bench and grill area with wood supplied, an outdoor shower (which I was determined to use until I found out how cold it was) and a nice path leading down to the river.
Day 36 - Destination Austria
Before we left we wanted to say goodbye to the crazy owner and get a business card and a photo but unfortunately we couldnít find him. We said goodbye to our fellow campers and left for lunch and destination Austria.
We are headed for Klagenfurt in Austria to day so it was back through Slovenia and hopefully to get our fill of pig on a spit. Just our luck. We couldnít find any. It seemed that we had just passed through pig country.
Down the road from the camp site was a small war memorial with tanks and crashed planes which Rob took an interest in, so we stopped and had a look around and it was pretty impressive. Back on the road again we abruptly came to the boarder, both disappointed that we didnít get to have lunch of spit roast pig. This time the boarder staff werenít so friendly, nothing in particular, they just seemed a little agitated about us being there.
We made it through boarder control and made our way through Slovenia into Austria with out any problems. We didnít think we would make it to Klagenfurt because of the mountains but there were a few tunnels to go though on a train instead of going over so we got to our target destination. The camp site we ended up at appeared to be another resort and a snobby one at that. We had a beer or two at the bar and things started to look brighter. The camping itself wasnít too bad and everyone was very friendly. After our drinks we made ourselves something to eat and then headed to bed happy that we were in a country we hadn't been in before.
Day 37 - Where Eagles dare & Mozart
Today we headed for Wefern and to the castle from the film Where Eagles dare. The ride was quite nice through the steep valleys and lush green mountain ridges. After seeing the castle from the road we pulled up locked everything to the bike and went to go in, when we got to the counter we were told that the card machine wasnít working and that of we wanted to come in we would have to go get cash for the village just around the corner. So back to the bike we went, unlocked everything and off Rob went in search of a cash machine while I stayed back at the castle with a majority of our stuff. Success, we could finally go in, back to the unpleasant women at the counter and then to wait for the cable car to take us up to the castle. The castle form the outside was pretty amazing, unfortunately less could be said about the inside, it was very nice, just not a lot to see and most of the castle was not open to the public. Still we had to see it while we were there and the views from the castle itself were pretty spectacular. Even though there wasnít much to see we still ended up spending a few hours there.

We left the castle a little disappointed and very hungry so we went into Wefern search of some food. We headed into the village and came across numerous pubs and cafťs, we choose one that had good food and was reasonably priced and headed in. After filling out bellies on toasted sandwiches and bratwurst sausage we decided that as it was five o clock we should start making a move, heading up through Salzburg (The birthplace of Mozart) and as close to the KTM factory as possible. It took us ages to do the 100k to Salzburg and then a little while longer to where we thought would be a good stopping spot for the KTM factory. We arrived at a camp site at about 8/830 and given the concerned look on the receptionists face, I thought she was going to say it was full. Well she did but, as we were only staying for one night she showed us a great little spot close to the edge of the lake. It was great, after we set the tent up, I was going to go for a swim until that was my toes touched the water and they practically turned to ice so I thought better of it.We had dinner and a couple of beers at the local bar, did the usual map checking and route planning and headed for bed.
KTM, Ice Caves, Motoway Boredom & the kindness of strangers
Day 38 - KTM & Ice Caves
Heading to the KTM factory today which was only 15ks away, so we packed up and went on our way. Both excited that we might be able to have a look around factory. We arrived at the village, of course the factory wasnít too hard to spot, the bright orange building gave it away. We parked up in the staff car park on the opposite side to the main factory and R&D buildings. The main reason for this that Rob though he should try to hide the fact that we rode in on a Yamaha and wore a Suzuki helmet. We went straight to the shop to have a look around and there was plenty of great things we both could of come away with, but instead we settled for a cap for Rob and headed to the reception and asked there if there were any tours available. The receptionist was extremely friendly but was the bearer of bad news. Although the tours are free they are only in Fridays and the next one wouldnít be until September as the factory was closing for holidays. Gutted. Rob was extremely upset at this news and sulked like a two year old for some time. (Rob edit: I was more like a 5yo as there was some foot stamping invoved)

We took a few pictures of the bikes outside and the factory and then decided that we would head back to Wefern as there was an ice cave that we had found out about and sounded interesting. Even though we had agreed we wouldnít back track, the KTM factory had thrown our plans so we decided to go for the ice cave. It didnít take as long to get back to Wefern and the road to the ice cave was interesting. Rob told me that at one point the oil and fuel warning lights had come on going up the hill as the road up was that steep. I did wonder why he was almost lying on the tank at one point. We parked up the bike stripped our selves of jackets, helmets and gloves, grabbed our jumpers and made our way to the ticket office. I nearly fainted when I read the sign "a 20 minute hike to the cable car, a 10 minute ride and another 20 minute hike in the cave". I felt a little worried that I may not be able to make it, I am the first to admit that I am very unhealthy. I went anyway, the first hike wasnít too bad in fact, I was surprised to see that we were overtaking people. This made me feel a better, we got to the cable car and enjoyed to ride up, more for the break than the scenery. The hike after the cable car was a little harder than the first one, although we still seemed to do it in good time. We arrived at the cave and the cold breeze coming from it was a very welcome one. We got in the queue to go in and waited slowly cooling down.
The wait wasnít very long and before we knew it we were being told we had to climb an estimated 700 steps up and 700 down. My heart sunk again, I had obviously failed to read this on the sign. I was very nervous, and it was below zero degrees inside and we all know what a cold person I am. So jumpers went on and zipped all the way up. Inside the cave was amazing. We were told that no photos were allowed to be taken but we got a few sneaky ones in along the way. I loved every minute if the cave and thought it was well worth the money and the climb. After an hour in the cave, about 1400 steps later we were making our way back down the mountain to the bike.
It was then that we realised we had spent 4 hours there. Oh well as I said before it was worth every second of it. Feeling hungry after our climb we went back to the same cafť as yesterday for lunch and then headed back on the road again, this time we took a different route. We also decided that we would take the motorway as it would be quicker. And it was after a long day the 3 hours of riding later we got off the motorway to find a camp site. We found a little village called Leoben and got our selves checked in to a camp site where another free welcome drink was offered, of course it would have been rude to refuse, so the owner bought it over to the tent for us. We waited until he had left before we drank it. I have never tasted anything so disgusting in all my life, of course we didnít tell the owner that, apparently it was made with some kind of nuts that were grown on the trees around us. It was like a mix a really bad coffee and something which I canít describe, I think I preferred the petrol from the other camp!!! Yet another tent pole breakage after which we consulted the maps over a beer to see which roads we would be taking tomorrow. We threw together a dinner while it the weather turned threatening and went to bed waiting for the heavens to open on us. The storm never happened so a good night's sleep was had by both of us.

Day 42 - Motoway Boredom & the kindness of strangers
After our reasonably good sleep we woke up due to the heat. We did our thing and hit the road, not before going to the shop to buy a toll pass for the motorway. We let out friend know that we would see him in Slovakia that night or the next day. Considering we werenít supposed to be there until Saturday he was excited that we were going to be near enough 3 days early.We hit the road expecting it to be a long boring motorway day, but we made good distance quite quickly. Just before we came out of Austria we decided to stop at a big supermarket to get some lunch, we found some sandwiches that looked to be extremely tasty and a few treats and headed of the cash register. Ready to pay for our items the lady then informed us that we couldnít pay by our master card so we tried with the visa and she said no to that too, really pissed of we left the supermarket and back to the bike. Threw everything on the ground and thought about our next move, I had seen a little cafť next to the petrol station nearby so we started to pick up our things when a big 4x4 parked up next to us and called us over. I thought oh god what does he want. Rob went over and the man in the truck handed Rob 10 euroís. Rob just looked at him in surprise and stuttered a thank you and asked why. The very nice man replied "enjoy your time in Austria" and drove off. The man in the 4x4 was behind us in the supermarket and had seen our predicament. We just stood there in shock for what felt like about 5 minutes. Trying to take in what had just happened. We went back into the supermarket retrieved our lunch and went out to the bike to eat it. Still amazed at what just happened. It may not sound like a big deal but it was to us, it was a really nice thing to do. Stranger had bought us lunch asking for nothing in return.
We headed back on to the road and in no time at all we were crossing the Slovakian boarder. A little while before this as we were going down the motorway and a transit van decided to sit literally on our arse. This pissed Rob off so when looked back at the van, they made hand signals to go faster, Rob waved his hand at them as to signal that he couldnít indicating the road works and only one lane. After a little way the road split back into two lanes and as the van went passed us his passenger decided to give us the finger. Rob and I have never been so quick off the mark to return the one finger salute. Welcome to Slovakia!!!!
We arrived in Romans home town of Piestany and found a Tesco where we pulled in and phoned him. It was stinking hot, close to 39degrees. Even hiding in he shade it was hot. Roman came and met us and took us back to his house and introduced us to his parents, I was a little nervous as we have no idea of the language and neither did they. Roman did a fantastic job of translating and considering ten months ago he didnít know a word of English he is doing fantastic now. After a translated chat we Romans parents and a cold shower we were refreshed again. We spent most of the afternoon chatting away and then headed down to the local pub just on the river. Unfortunately Rob and I were knackered so decided at 11 it was time for bed. Yeah soft I know!
Enter your email address to receive updates to You, Me and Two Wheels's trip story!
Recent Entries
Archives:
Archives:
Monthly
Archives:
Category
NEW! HU 2015 Motorcycle Adventure Travel Calendar is now available! Get your copy now for some terrific travel inspiration!
HUGE, 11.5 x 16.5 inches, beautifully printed in Germany on top quality stock! Photos are the winning images from over 600 entries in the 9th Annual HU Photo Contest!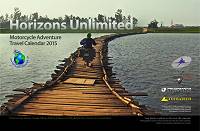 "The calendar is magnificent!"
"I just wanted to say how much I'm loving the new, larger calendar!"
We share the profit with the winning photographers. YOU could be in the HU Calendar too - enter here!
Next HU Events
NEW!

USA Virginia: Apr 9-12, 2015
Take 40% off Road Heroes Part 1 until October 31 only!
Road Heroes features tales of adventure, joy and sheer terror by veteran travellers Peter and Kay Forwood (193 countries two-up on a Harley); Dr. Greg Frazier (5 times RTW); Tiffany Coates (RTW solo female); and Rene Cormier (University of Gravel Roads).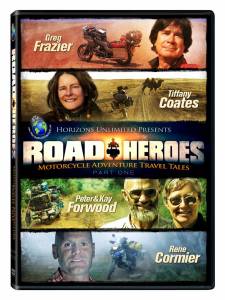 "Inspiring and hilarious!"
"I loved watching this DVD!"
"Lots of amazing stories and even more amazing photographs, it's great fun and very inspirational."
"Wonderful entertainment!"
Check it out at the HU Store! Remember to use Coupon Code 'HEROES' on your order when you checkout.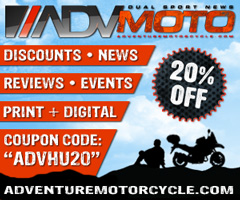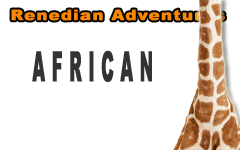 What others say about HU...
"I just wanted to say thanks for doing this and sharing so much with the rest of us." Dave, USA
"Your website is a mecca of valuable information and the DVD series is informative, entertaining, and inspiring! The new look of the website is very impressive, updated and catchy. Thank you so very much!" Jennifer, Canada
"...Great site. Keep up the good work." Murray and Carmen, Australia
"We just finished a 7 month 22,000+ mile scouting trip from Alaska to the bottom of Chile and I can't tell you how many times we referred to your site for help. From how to adjust your valves, to where to stay in the back country of Peru. Horizons Unlimited was a key player in our success. Motorcycle enthusiasts from around the world are in debt to your services." Alaska Riders

10th Annual HU Travellers Photo Contest is on now! This is an opportunity for YOU to show us your best photos and win prizes!
NEW! HU 2014 Adventure Travel T-shirts! are now available in several colors! Be the first kid on your block to have them! New lower prices on synths!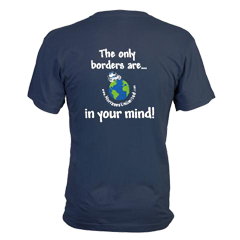 Check out the new Gildan Performance cotton-feel t-shirt - 100% poly, feels like soft cotton!

What turns you on to motorcycle travel?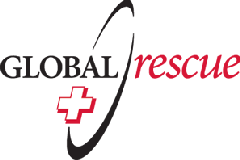 Global Rescue is the premier provider of medical, security and evacuation services worldwide and is the only company that will come to you, wherever you are, and evacuate you to your home hospital of choice. Additionally, Global Rescue places no restrictions on country of citizenship - all nationalities are eligible to sign-up!
New to Horizons Unlimited?
New to motorcycle travelling? New to the HU site? Confused? Too many options? It's really very simple - just 4 easy steps!
Horizons Unlimited was founded in 1997 by Grant and Susan Johnson following their journey around the world on a BMW R80 G/S motorcycle.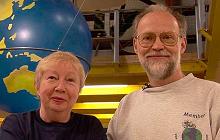 Read more about Grant & Susan's story
Membership - help keep us going!
Horizons Unlimited is not a big multi-national company, just two people who love motorcycle travel and have grown what started as a hobby in 1997 into a full time job (usually 8-10 hours per day and 7 days a week) and a labour of love. To keep it going and a roof over our heads, we run events (22 this year!); we sell inspirational and informative DVDs; we have a few selected advertisers; and we make a small amount from memberships.
You don't have to be a Member to come to an HU meeting, access the website, the HUBB or to receive the e-zine. What you get for your membership contribution is our sincere gratitude, good karma and knowing that you're helping to keep the motorcycle travel dream alive. Contributing Members and Gold Members do get additional features on the HUBB. Here's a list of all the Member benefits on the HUBB.
Books & DVDs

All the best travel books and videos listed and often reviewed on HU's famous Books page. Check it out and get great travel books from all over the world.

MC Air Shipping, (uncrated) USA / Canada / Europe and other areas. Be sure to say "Horizons Unlimited" to get your $25 discount on Shipping!
Insurance - see: For foreigners traveling in US and Canada and for Americans and Canadians traveling in other countries, then mail it to MC Express and get your HU $15 discount!
Story and photos copyright © All Rights Reserved.
Contact the author:
Editors note: We accept no responsibility for any of the above information in any way whatsoever. You are reminded to do your own research. Any commentary is strictly a personal opinion of the person supplying the information and is not to be construed as an endorsement of any kind.
Hosted by: Horizons Unlimited, the motorcycle travellers' website!
You can have your story here too - click for details!