November 14, 2005 GMT
Frankfurt-Santiago-Copacabana
The Flight (Frankfurt-Santiago)
It´s a long way to Santiago. And it already started with a thrill: I knew that Delta Airlines (who by the way are bankrupt which nevertheless does not stop them from flying) have a two-item-baggage-policy which means that you are allowed to bring two big suitcases with a weight of max. 60 kilos altogether. Unfortunately I have 2 Alu boxes plus 2 big bike bags - how do you want to carry two huge Samsonites on a motorcycle? Clever as I am I strapped each alu box together with a bike bag which still is smaller than a big Samsonite suitcase. However the good-looking but apparently not good-willing girl at the check-in counter in Frankfurt made me separate the bags from the boxes and told me that I have 4 pieces of luggage and therefore I have excess luggage which means I have to pay some 250 Euros extra. Well even in situations like these I can stay calm and friendly (or even charming ;-)), so in the end I did not have to pay and the friendly girl even arranged to check the luggage through to Santiago so that I would not have the same problem in Atlanta again (no, I did not kiss her feet ;-)). The flight to Atlanta started 1 1/2 hours late - but I didn´t care since for the connection flight in Atlanta I would have to wait for 10 hours anyway.
The flight mainly consisted of bad movies (Mr. and Mrs. Smith with the super - erotic, thick-lipped Angelina Jolie, Herbie-fully loaded and Bewitched), some reading in the motorcycle traveller novel "Chasing Che" and even my first attempts in learning Portugese (although I did not get very far before I lost motivation).
We arrived in Atlanta around 3 or 4 pm local time. My first contact with American soil. It was not as bad as expected. George Dubya was not around. The immigraton officer even tried to be friendly (although he could not afford to smile) - when he learned that I would go to Chile he started talking in spanish to me - which actually does not make a difference to English to me - but is was a sign of good will which I did not expect at all. Scan left index, scan right index, smile into the digital camera - and that´s it. All around the airport there are Shouters who shout out loud and extremely repeatedly where people have to go or what they have to do. For example one poor guy´s job was to shout out something like "Show your blue customs declaration!" - every 20 seconds and apparently the whole day long. I assume this is what we´ll soon get in Germany with these new one-Euro jobs. Loads of service personell with doubious jobs...
I was hungry, so I looked for something known - and ended up with a kind of Mini-Express Pizza Hut - which was a complete desaster - it was the worst Pizza I ever had. This never happens to you with McDo :-) . At Pizza Hut they did not even have Beer (which I urgently needed fur muscle relaxation after the 10 hours flight and before starting the next 10 hours flight), so I got this from the Chinese food store and some chinese food as well which was not bad at all. Unfortunately I was so stuffed then, that I could not eat any of the food they offered on the flight to Santiago.
On the flight to Santiago the entertainment program consisted - apart from some other bad films - of a traveller magazine where a cute american woman in her late 40s informed us about holidays in Germany with all these typical german people doing their typical german pasttime like Schuhplattln, playing Zither, dinking beer from liter jars, sitting in traditional bavarian bars and singing traditional bavarian folk songs - I felt like at home (sarcasm). I thought these cliches were long forgotten... I was wrong, it was no satire though it looked like that.
Santiago de Chile
Monday morning I touched south american ground. Immigracion was not as efficient as in the US (long queues) - but strangely I preferred it to the US. Contrary to the US even my cellphone worked - so of course first thing I did as a good son is call my Mama and tell her that I m fine :-) My luggage - to my entire surprise - was complete. Even the straps - that expectedly had fallen of the plastic sack that the check-in girl in Frankfurt had given me to put together my extra luggage - were still there. They had been neatly put together by some friendly luggage worker. If a journey starts like this, nothing can go wrong. Having thought this I took a taxi and went to the address where I should receive my motorbike. They made me wait a couple of minutes (which was fine with me since I could enjoy the sun and the fresh air - which is quite a pleasure after almost 30 hours in closed rooms and conditioned air), then two nice guys came to admit that my bike was awaiting me back at the airport - in the customs area. What then happened was really incredible. Another friendly guy in his 40s come from the airport with his private car to pick me up and personally helped me through all the customs paperwork walking from here to there, accompanying me on the bus to a different part of the airport for further paperwork and explaining everything to me. Incredible. He spent the entire morning with me. Finally I could start to assemble my bike for which I asked for some help in the customs warehouse - for one specific task which I could not do alone. In the end there were 3 young guys enthusiastically helping me with all kinds of stuff - so everything was done quite quickly. Is this a great start? I think so.
Well then I went into Santiago and tried to find my recommended accomodation - called Scott's Place - without a map. This made me cross the entire 8 Million city, and I was only once almost killed by a car - what lucky guy I am. Finally I found the place - which was not what I expected but okay for two nights - and above all it was cheap (6-person dormitories - but I was the only guest). Scott Sheldon, the owner, is an interesting person. He's from the US and a kind of philosphic semi-depressive naturalist. Santiago is an 8 million city and I am convinced that all these 8 million citizens spend their time walking thru the pedestrian zone of the city all day or at least when I am there. And I believe that they have agreed that they would all walk in the direction opposite of mine.
I used the time in Santiago to complete my equipment and buy water and food for the tour. Back in Germany I had bought some additional footpegs (Fussrasten) to be attached to my roll bars (Sturzbuegel) and I now tried to attach these. They turned out to be completely useless since due to the useless clamp fixing they would always bend down when you put your feet on it. Luckily I got the idea to weld them to the roll bars. This was done in a one-hour session FOR FREE by an extremly kind mecanic in the neigbourhood - now I was able to strech out my legs on endless highway routes.
Santiago to Mendoza (Argentina)
Finally I packed my bags and - with only a few difficulties - found my way out of Santiago. In the small town of "Los Andes" before actually climbing the Andes pass, I filled up the tank and bought an additional 10L can, so I should be able to cover some 500 km without a filling station (which is not seldom in south america). The Andes crossing was a little cold and windy but nice although not spectacular, only the tunnel that connects Chile to Argentina was pure horror. Narrow, wet, badly lit, badly paved, and very badly ventilated. Probably it was 2 or 3 km long but it felt like 20 km. The customs was actually fun, since the (female) customs officer called me things like 'mi amor' and was extremely friendly, funny and helpful.
Mendoza is a nice and lively city with little historical buildings since it had been destroyed almost completely by an earthquake some time ago. It is however very practically built in squares with some green parks, a pedestrian zone and loads of air pollution. This is is the main caracteristic of all south american cities: If you are used to western exhaust emission standards you always have the feeling to suffocate or end up with lung cancer. What actually stroke me was the number of really good libraries - I counted at least ten of them within a diameter of a few hundred meters. Usually in spanish towns and cities you find loads of so-called Libreria-Papeleria where you only find very few books - if any - but mostly journals, magazines and stationery. What also impressed me was that there are loads of traffic lights but virtually none for pedestrians - so you have to run across the street in the proper moment, hoping that nobody runs you over.
Mendoza to Calingasta
After two nights in Mendoza I selected Calingasta as my next destination. It turned out to be no easy task to find this place, since the road signs are long outdated due to a new barrage that had been built half-way. Feeling almost completely lost I stopped an old truck driver in the middle of nowhere for directions - and he explained it to me within half an hour with every single detail every bridge, curve, house or hill along the entire 200 km route. He was really happy to have somebody whom he could help - and as almost all this kind of encounters in Chile, Argentina or Bolivia it ended up with a handshake and an affectionate farewell. Finally I found the village of Calingasta after virtually hundreds of kilometers through hot desert, cold moutain roads, and along a beautiful river gorge. I found a beautiful small hotel in a renovated colonial house with two patios and view of the snow-covered andean peaks. The landlady prepared a great three-course dinner for me (with the usual beer of course) - and with this an exhausting but nevertheless perfect day ended.
Calingasta to Chilecito
Next day I started early since I wanted to cover some kilometers direction north. I took the famous Routa 40 highway which leads straight along the Andes. Although it's a major highway there are always some kilometers of gravel road. Although I have the right bike and the right tires for this, it is still a risk since the bike is so heavily packed that any pothole or big stone that I overlook could leave me stranded in the middle of nowhere. So I had my first 30 km of gravel road and actually it was real fun since it went through a beautiful national park and I could try out what I had learned during the motocross course that I had visited prior to the departure - and the road was tire-friendly earth and sand without hard potholes or stones.
What's very characteristic for chilenean and argentinean roads are loads of little sanctuaries along the road. They are like little houses usually adorned with plastic bottles, flags and other stuff. I later found out that this is a belief that is based on an idigenous legend about a woman that died in the desert with her baby surviving since her breasts still gave milk. You will find these small places of worship along many south american roads and it's very popular - also among truck drivers - to donate for example water, so that the "difunta correa" can continue nourishing us.
Chilecito is a pleasant little town with nothing special - apart from the fact that my "Scottoiler" had run out of oil and I had to fill it up - which turned out to be rather tricky. A Scottoiler is a pratical invention that automatically drops oil on the chain as long as the engine is running. Unfortunately the small reservoir had run out of oil quite some time ago and now the chain was dry and I could not go on like this. You have to fill the oil through a tiny hole into the reservoir, which is inclined by approx 10 degrees, so you have to fill it from below and press the oil upwards through the hole. Clever as I am I left the specific refill bottle at home (I was afraid to spoil my luggage with the oil), so I had to find a way to do this - on a sunday in a small town. It cost me three hours but finally I found a way and could go ahead - with the hardest route up to now: 550 km of which 50 km gravel road, partly with deep sand, rough stones and potholes. The landscape was nevertheless impressive - and the few villages were poor and small but all had schools and you always saw little children. Thanks to "Airhawk" an air-filled cushion I did not suffer from "Arschkrebs" (bottom pain) and thanks to my new extra footpegs my legs did not hurt too much either.
Salta - San Pedro de Atacama
The next two days I went ahead straight north until I arrived in Salta, a rather rich city in northern Argentina. It has a nice plaza, very colourful cathedral and the usual air pollution problems. However I spent two nights to do my laundry, by replacement tubes and a repair kit in case of a flat tyre. Then I crossed the Andes a second time, heading for San Pedro in the huge Atacama desert. I was lucky - just two months ago the road had been newly paved, so I could do the ride in one day. The route leads through the "Puna", an arid landscape, approx. 3000 m high, with deep blue skies, vast salt lakes, mountains in colours ranging from yellow, red to different brown tones. It is quite windy up there and cold, however i's an unforgettable trip. From the last filling station in Argentina to the first in Chile it was around 300 km through the sheer nothingness, so I was happy to have my extra can with me. Around midday I had my "almuerzo" in a tiny restaurant attached to the only filling station within a 250 km diameter. There I came to know two guys in their late fifties on big BMW 1150 Adventure motorbikes. They were from Sao Paulo in Brazil and fulfilling an old dream. The road which we were riding on - the Jama pass, is famous among motorists in Sao Paulo - so this is why along this road I came across at least 20-30 motorcyclists of which approx. 70% rode the same big BMW bikes. However when I talked to one of the Brazilians, he admitted that he was awfully afraid of leaving the paved road, since the bike was just too heavy to manage difficult roads. But he was impressed by the possiblity of riding several hundred kilometers on a bike with an average speed of 160 which he just had done on his way from Brazil.
San Pedro is a very pleasent little village with a strong alternative touch in the middle of nowhere. It consists of a beautiful central plaza with a tiny little church and three or four dirt streets without pavement around it - just dust or - after rain - mud. So all the restaurants, hotels, hostals, bars and tour agencies are full of red dust - and so were my cloths and my bike. (Finally it looked like a real adventure bike ;-)) From San Pedro people usually visit 2 major destinations: The Valle de la Luna (Moon Valley) with some impressive dunes and rock formations and some geysers. To see the geysers best you had to get up around 4 a.m. and take a tourist bus - so I limited myself to the Valley. I am not mad, am I? Apart from that I made a short ride to some near-by mountain lakes (which a local guy had recommended me). "Near-by" means in the Atacama desert a 110 km ride (one-way), the last quarter of it on (good) gravel road. So I rode 110 km, looked at the lake and the beautiful setting, tried to walk a little but lost breath immediately (you really do feel old at that altitude) and rode 110 km back. I'd never do this in Europe. But here it's just around the corner.
San Pedro - Arica (ca. 750 km)
After two nights in San Pedro I decided to proceed substantially further north, so I started early morning (around 7). The next settlement (Calama) is 100 km south of San Pedro. To get there once again you have to climb and cross mountains of an estimated 3500 Meters (San Pedro is situated at 2200). So although I was packed like a mummy and had switched on my electric hot-grips, it was freezing cold. This is the desert, freezing at night (partly below zero) and awfully hot during daytime - and with extreme radiation - my nose and cheeks got burnt quickly - even through the blackened vizor.
Close to Calama there's the world's biggest running copper mine - it was on my way and it is supposed to be quite impressive, since it's mainly a one km deep hole in the earth. As I approached the place I decided that I could live without looking into this hole in the desert - since it is an ugly, stinking, heavily industrialized area. So I escaped as fast as I could. The next couple of hours was pure desert. The road stretches to the horizon and no end in sight. I headed straight to the pacific ocean but still it was a long and hot journey.
My first contact with the pacific ocean was like the first sex is usually said to be: rather disappointing. It came accompanied by grey cloudy weather and a busy grey habour town, lacking the slightest trace of a Café - which I urgently needed to recover forces. I had to ride another 80 km alongside the shore - before finding a kind of truck-stop where a I could have some kind of brunch and - most importantly - COFFEE. In the same moment the skies cleared off, the sun came through and the pacific coastline suddenly did not look so bad. There are many impressive sights. Especially the surprisingly green river valleys that I came across with every few hundred km where a particuarly beautiful contrast to the khaki coloured desert hills. However the desert goes on and on . Actually for thousands of kilometers - even deep into Peru - the desert reaches from the mountains right to the shore.
Arica-Putre
At Aríca, close to Chile's border with Peru, I was absolutely fed up with the desert, and decided to turn east and head back into the mountains. I followed another amazingly beautiful green river valley (that actually looked like the german countryside if you cut out the surrounding desert hills) through a perfectly bended motorcycle-optimized mountain road up to a small mountain village (Putre; 3600m) where I spent the night in order to get used to the altitude and not end up with altitude sickness (this was a recommendation from the extraordinarily helpful and knowledgable hotel owner in Aríca).
Putre-La Paz
Next day I started early since I wanted to enjoy the national park that lay on the way. It was another impressive experience: I think the vulcanoes I saw there where the most beautiful mountains I have ever seen. Photos cannot catch this, you have to be there to get the impression. The rest of the way to La Paz was just dumb highland roads with some beautiful skies. I entered La Paz on a Sunday, so it was no big issue to find the Hotel I had been looking for.
La Paz
Well, La Paz. Actually coming to Bolivia a certain idea grew stronger and stronger within myself: That I do thank god to be born and raised in Germany - and always have the chance to return there. The poverty, dirt, chaos and (in my view) sheer madness of life in Bolivia gave me this conviction. Thank god for asphalt roads, Autobahn, ICE, exhaust regulations, tram railways, computer-controlled traffic lights, drivers' discipline and considerateness, hygene etc. La Paz is impressive, chaotic, filthy and of a certain beauty - especially if you look at it from high above. It is built into a kind of crater with snow-covered mountains in the background. Above all the people are very friendly and affectionate - as long as they do not drive a car. I don't know if they ever will escape from poverty - it seems that the entire people feels like loosers. When I was there, there was a shortage of bottled liquid gas for households - so what some people simply did was block the main traffic arteria of the capital city at several neuralgic points - which forced everybody else to take severe detours and traffic actually broke down for at least two days (after two days I fled). If a state allows this kind of extortion it will never achieve prosperity. Another impressive contrast that I cought my eye was the women. I think in Bolivia - or just in La Paz - you will probably find the ugliest and the most beautiful women in the world.
Copacabana
Now I am in Copacabana at the shore of lake Titicaca. This place gave it's name to the Copacabana of Rio de Janeiro. It's a beautiful small place with a huge cathedral and it's the basis for visits to the famous Isla del Sol, the birthplace of the Inca culture. To get here I had to cross a small stretch of the Titicaca lake on a kind of ferry - which made me really shit bricks. I had to balance the motorbike on some narrow planks with the boat heavily dithering on the waves of the lake. And I had to leave the boat backwards. Great. As always also in this situation I came across with some nice Bolivian guys who helped get off the "ferry" safe and secure. Of course afterwards we exchanged e-mail addresses and gave an affectiante farewell.
Tomorrow I will visit the Sun Island and then head further north to Peru / Macchu Pichu.
Posted by Winfried Lichtblau at
07:52 PM
GMT
November 15, 2005 GMT
November 17, 2005 GMT
November 19, 2005 GMT
November 23, 2005 GMT
November 25, 2005 GMT
November 29, 2005 GMT
December 06, 2005 GMT
December 12, 2005 GMT
December 17, 2005 GMT
December 27, 2005 GMT
January 02, 2006 GMT
January 03, 2006 GMT
January 05, 2006 GMT
January 06, 2006 GMT
January 09, 2006 GMT
January 17, 2006 GMT
January 23, 2006 GMT
February 01, 2006 GMT
February 05, 2006 GMT
February 12, 2006 GMT
February 16, 2006 GMT
February 21, 2006 GMT
February 23, 2006 GMT
February 26, 2006 GMT
February 28, 2006 GMT
March 03, 2006 GMT
March 06, 2006 GMT
March 13, 2006 GMT
March 18, 2006 GMT
March 20, 2006 GMT
March 23, 2006 GMT
March 26, 2006 GMT
March 31, 2006 GMT
Enter your email address to receive updates to Winfried 'Winne' Lichtblau's trip story!
Recent Entries
Archives:
Archives:
Monthly
Archives:
Category
NEW! HU 2015 Motorcycle Adventure Travel Calendar is now available! Get your copy now for some terrific travel inspiration!
HUGE, 11.5 x 16.5 inches, beautifully printed in Germany on top quality stock! Photos are the winning images from over 600 entries in the 9th Annual HU Photo Contest!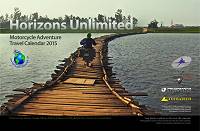 "The calendar is magnificent!"
"I just wanted to say how much I'm loving the new, larger calendar!"
We share the profit with the winning photographers. YOU could be in the HU Calendar too - enter here!
Next HU Events
NEW!

USA Virginia: Apr 9-12, 2015
Take 40% off Road Heroes Part 1 until October 31 only!
Road Heroes features tales of adventure, joy and sheer terror by veteran travellers Peter and Kay Forwood (193 countries two-up on a Harley); Dr. Greg Frazier (5 times RTW); Tiffany Coates (RTW solo female); and Rene Cormier (University of Gravel Roads).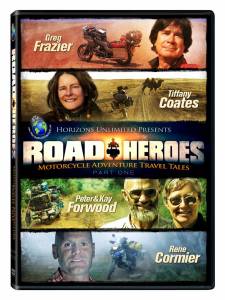 "Inspiring and hilarious!"
"I loved watching this DVD!"
"Lots of amazing stories and even more amazing photographs, it's great fun and very inspirational."
"Wonderful entertainment!"
Check it out at the HU Store! Remember to use Coupon Code 'HEROES' on your order when you checkout.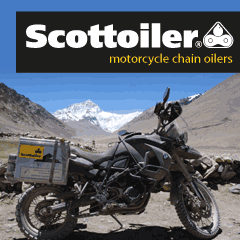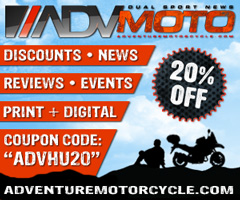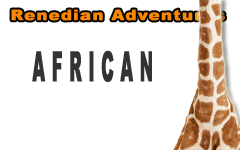 What others say about HU...
"I just wanted to say thanks for doing this and sharing so much with the rest of us." Dave, USA
"Your website is a mecca of valuable information and the DVD series is informative, entertaining, and inspiring! The new look of the website is very impressive, updated and catchy. Thank you so very much!" Jennifer, Canada
"...Great site. Keep up the good work." Murray and Carmen, Australia
"We just finished a 7 month 22,000+ mile scouting trip from Alaska to the bottom of Chile and I can't tell you how many times we referred to your site for help. From how to adjust your valves, to where to stay in the back country of Peru. Horizons Unlimited was a key player in our success. Motorcycle enthusiasts from around the world are in debt to your services." Alaska Riders

10th Annual HU Travellers Photo Contest is on now! This is an opportunity for YOU to show us your best photos and win prizes!
NEW! HU 2014 Adventure Travel T-shirts! are now available in several colors! Be the first kid on your block to have them! New lower prices on synths!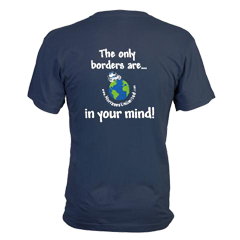 Check out the new Gildan Performance cotton-feel t-shirt - 100% poly, feels like soft cotton!

What turns you on to motorcycle travel?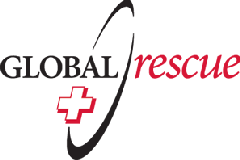 Global Rescue is the premier provider of medical, security and evacuation services worldwide and is the only company that will come to you, wherever you are, and evacuate you to your home hospital of choice. Additionally, Global Rescue places no restrictions on country of citizenship - all nationalities are eligible to sign-up!
New to Horizons Unlimited?
New to motorcycle travelling? New to the HU site? Confused? Too many options? It's really very simple - just 4 easy steps!
Horizons Unlimited was founded in 1997 by Grant and Susan Johnson following their journey around the world on a BMW R80 G/S motorcycle.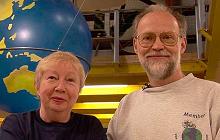 Read more about Grant & Susan's story
Membership - help keep us going!
Horizons Unlimited is not a big multi-national company, just two people who love motorcycle travel and have grown what started as a hobby in 1997 into a full time job (usually 8-10 hours per day and 7 days a week) and a labour of love. To keep it going and a roof over our heads, we run events (22 this year!); we sell inspirational and informative DVDs; we have a few selected advertisers; and we make a small amount from memberships.
You don't have to be a Member to come to an HU meeting, access the website, the HUBB or to receive the e-zine. What you get for your membership contribution is our sincere gratitude, good karma and knowing that you're helping to keep the motorcycle travel dream alive. Contributing Members and Gold Members do get additional features on the HUBB. Here's a list of all the Member benefits on the HUBB.
Books & DVDs

All the best travel books and videos listed and often reviewed on HU's famous Books page. Check it out and get great travel books from all over the world.

MC Air Shipping, (uncrated) USA / Canada / Europe and other areas. Be sure to say "Horizons Unlimited" to get your $25 discount on Shipping!
Insurance - see: For foreigners traveling in US and Canada and for Americans and Canadians traveling in other countries, then mail it to MC Express and get your HU $15 discount!
Story and photos copyright © All Rights Reserved.
Contact the author:
Editors note: We accept no responsibility for any of the above information in any way whatsoever. You are reminded to do your own research. Any commentary is strictly a personal opinion of the person supplying the information and is not to be construed as an endorsement of any kind.
Hosted by: Horizons Unlimited, the motorcycle travellers' website!
You can have your story here too - click for details!