June 29, 2005 GMT
Honda 49cc Motor Scooter Ride US Coast-to-Coast in 2004
The Road to Somewhere?
THE PLAN
Synopsis: During the summer of 2004, I rode a little 2003 Honda Metropolitan 49cc motor scooter on a 9,400 mile transnational, cross-country journey from Baltimore, Maryland to Los Angeles, California.
Purpose: A summer challenge. Visit lots of US national parks. Move to Hollywood. Travel at a fine bicycle pace. Write a chapter of my autophotobiography. See the American back country - the details below the clouds. Test the bike for RTW practicality.
Route: Baltimore-Roanoke-Stecoah-Knoxville-Louisville-Memphis-Tulsa-SantaFe-
Moab-LasVegas-Tahoe-Eugene-SanFrancisco-PalmSprings-LosAngeles.
Map of the Trip.
During the spring of 2004, I made the decision to follow my Hollywood dream -- to work amongst the power moguls and movie stars of a global film studio! To accomplish this, I felt that I would first need to relocate from Baltimore, MD to Los Angeles, CA. While a routine, six-hour flight was a quick, though certainly boring, alternative, I decided a grand, free adventure was the order of the summer. I mean, why trip, when one can journey, right?

I had been living in uptown Baltimore for three years, working as a financial administrator and ventito parentes, when the months of reading motorcycle, bicycle, and sailing stories began to inundate my brain with residual travel inertia. Since graduating college in 1990, I had travelled through twenty countries in Europe and Asia by plane, train, bicycle, and foot, in search of interesting people, unique photo opportunities, and the beautiful sites which time, nature, and man are slowly eroding. And I saw extraordinary places ... places like Piazza San Marco, Hore Abbey, U Bein Footbridge, and Angkor Thom. Simply lovely!
But, alas, these travels had meant sacrifices: missed visits to alternate destinations and the bypassing of our great American landscape. Besides the beautiful, fluffy white clouds, I have never seen much of middle America from 35,000 feet. Have you? So, it was clear to me . . . I had been stationary too long. Though I enjoyed passing precious semi-retirement time with mom and dad, my passion for adventure was once again boiling in the blood. I knew . . . it was time to see America.
After some industry research, I determined my career goal would be to "work" (for lack of a more appropriate word) as a location production accountant based in California. Along with my passion for travel, I felt my ten years of bookkeeping and administrative experience, international MBA from Thunderbird, and keen eye for detail, would suffice to get me beyond the elusive, entertainment vault door. My dream: to be able to say "I love my job."
So, with Baltimore in order, I did what we all do in times of deep thought - I went shopping! I bought a Honda Metropolitan 49cc motor scooter and travelling supplies (panniers, gas can, rain suit, etc . . .) on my 36th annibirthary, and "finalized" my summer travel route. My preplan: a two month, liberally estimated 4,500 mile ride along the 'southern' US. I decided upon motorized transport for this vacation because my three month, 4,000 mile Canadian bicycling trip in summer of 2002 had been a bit too much work. There were just too many hills to climb, miles between the places to see, and events to experience. So, after I successfully scootered round trip to Wilmington, DE for a test ride, I knew I would be once again . . . "On the road again. . . ."
Departing from Baltimore, MD.
THE JOURNEY
With the scooter loaded up and 202 miles on the meter, I departed Saturday, 12 June, 2004 for California. After some going-away photos, mom and dad saw me off for yet another adventure (which seem to be growing in magnitude. I hope the exponentiality lasts). My parents accepted decades ago that their children are notoriously unwilling to remaining stationary and possess a beautifully unquelled urge to seek adventure and explore our environment. Nature theory: 0. Nurture: 1. My brother rode out of Baltimore with me on his scooter for an hour as backup, and later, the parents drove to Frederick to join me for dinner - Italian . . . always yummy!
With a full belly, 83 miles down, and final ciaos, I made my way to historic Harper's Ferry for my first road sleep. Reflections of the 2002 bicycling trip were alive once again - the greenery, the fasting, the stealthy search for covert bedding. Well, the problem with being off-in-lala-land . . . I forgot to release the rear brake lock . . . and the result was a smokin' plate and burnt rubber. I thought . . . no worries, all trips start out with a glitch or two - dummy! Thankfully, though, the scooter was OK, and as I wasn't too fatigued, my return of the 4am wake-up in some woods next to the railway wasn't so tough.
A pleasant feature of those early days was that the speed was limited not only the hills, but by not being able to push the engine past half throttle during the break-in period [click here for pop-up link "Blue Ridge and Me" image]. As a result, as I travelled south on the Blue Ridge parkway with my 190 lbs. load (Laird = 135, Stuff = 55) at a tame 10-15 mph, I was allowed to absorb the beauty and detail around me as we climbed passed 6,200 feet. So many trees, green, and rain! Ceteris paribus, this pace, to my mind, is thee best speed for travelling . . . you can see so very much ["Blue Ridge Peak"]!
Still, I wondered . . . why had I not bought a car for this trip instead? Was I missing out on some fashionable comfort? As I travelled, I had time to think, and as such, conclusions were made. One realization was that I, frankly, travel for the destinations. Not that what happens along the way is not memorable or even fun, but certainly my thoughts are not on the journey itself. I just want to see the world's really cool stuff. There are bunches of stuff for me still to see - near and afar. God grant me the time, health, and disposable income to travel well.
After a week's riding, I had passed from Maryland, through West Virginia and Virginia, and into North Carolina. While at Ashland, NC, I rang dad and mentioned that there was a property which I had occasion to tour and thought he and mum might find of interest (they sometimes invest in real estate). Description: built in 1895, 175,000 sq. ft, 250 rooms, indoor pool, winery, gardens, guest houses, lake, bowling alley, acres of manicured lawns and forests – it is called the Biltmore Estate (largest residence in the US). I think he laughed; I know I did. Nice place, but way too creepy for me to live there solo.
The next day, I stopped at the Horizons Unlimited motorcycle rally in Stecoah, just south of the Great Smokey Mountains NP, where I spent the week-end speaking with Grant Johnson and other adventurous types who had travelled across continents and around the world on two motorized wheels. The stories they told were as sirens to the wayward mariner of long ago, entrancing me toward a more singular path. A passion, dormant not long afore, grew in me belly. Wet land or dry sea – destiny must surely lie below the setting sun. From exposure to these nuts, I realized that there is a REAL percentage of the population who has done what I was created to do – see the road. (Oh, thanks to the roadrangers who gave me a hand lifting the scooter out of the ditch. And, it took me three weeks to recover from the chiggers that I am sure I got from the briars.)
Stopping for a lesson in Two-Wheel Travel at the HU Meeting. Photo by Vera Velmerig.
After my first oil change (quite easy) and riding "The Dragon," a winding road famed for the number of motorcyclists, and wrecks, on the hairpin turns, I picked up speed to 15-20 mph and climbed into the mist of the Smokeys. The area is a beautiful ridge line to pass a few seasons; I must return there someday. But on I must go, so next through the World's Fair neighborhood of Knoxville, TN, to Mammoth Caves NP in Kentucky ["Mammoth Cave"]. I was disappointed with the caverns, though . . . large, yes, but very grey! After visiting colourful Carlsbad Caverns, Glow Worm Grottoes, and the Lascaux Caves, I thought it lacked spunk. It was also around this time that the rear tire began losing air - probably from the nails which congregate for weekly tire puncture meetings along the shoulder of most any rural American roadway. The frustration of refilling the tire with air on a daily basis, which was to last almost two weeks, had begun. But as is said, the morning dawn brings fortunate tidings of a promising day.

And thankfully, after two days ride, some along the quiet and vacuous Natchez Trace parkway, the Shiloh NMP provided my neurons with a memorable experience ["Natchez Trace Parkway"]. Gravestone, tactical maneuvers, battlefields, and a place of haunting tranquillity and history are the beautiful riverside location of a tremendous conflict which took place 1,708 months previous – an important place on the American History map. To conclude my visit Tennessee and pass my "point of no return," I stayed with a college friend, Adam, and his family at Memphis and Hot Springs, and caught up on life since ASU in 1990. While at Memphis, I was glad to walk the grassy paths of Rhodes College and seek out Richard Halliburton Tower and a plaque dedicated to the 20th C globetrotting adventure author - I'm a Horizon Chaser-ophile ["Halliburton Plaque"].

OVER THE MISSISSIPPI
After a fortnight of riding, and 1,400 miles, it had felt good to give me buttocks a two-day rest. I had tested the range of the scooter, at "country" (ie highway) speed by running the tank to empty (and refilling with gasoline from the 1 gallon tank I carried in the seat compartment). I was making 144-159 miles (260km) per tank (on 1.32 gallons (5 liters)). With the fuel from the small spare tank, I figured I could make a comfortable 18-22 mph cruising speed for maximum distance of 290 miles (480km). Afraid to risk a hazardous vehicle traffic ticket while crossing the restricted Mississippi River bridge at Memphis, I headed south along the river through MS crossed at Helena, Arkansas, and made my way over to Hot Springs where the water was fine . . . well, about 140F hot! I had the tire replaced by the mechanics at the Honda dealership and collected my metallic souvenirs. Good news - at least I had not put the bike down yet.
And then, of course, I did!! I was on my way into the Ozark's Wilderness Area when BAM – mud! I lost control and sailed over the top, landing, rolling, and sliding through a thick, pasty of mud. Fortunately, I walked away without personal injury. The scooter, however, suffered from a caking of earth and a broken mirror ["Ozark Tumble"]. Luck is a powerful thing. The mud, which was due to more than two weeks of constant drizzle and occasion downpour, suffered the most damage.
I spent Independence Day week-end with friends exploring their property and forest wilderness beyond. A lovely mountain top location with charming sunsets . . . a suitable abode for kind people ["Ozark Mist"]. I would have stayed on, but I had a deadline ahead of me . . . a rendezvous with mom at SantaFe. I exited the park through Eureka Springs ["Ronald and Me"], and at 2,371 miles, I travelled into Oklahoma ["Free Camping"]. I was making good time, so I stopped at Stillwater to explore the U.S. National Wrestling Hall of Fame, and the Will Rogers Memorial Museum at Claremore ["Paid Camping"]. I had wrestled back in the 80's, so it was nice to see the greats of the game and reflect upon the sport and what it had given to me. As to Mr. Rogers, I watched some silent 1920's film footage of him; man, that guy could throw a lasso. His humour was, apparently, quite the riot in his day. What will historians say of Eminem's lyrical political commentary in 100 years?
As expected, western OK and northern TX proved to be a flat, dry snooze ["Forest of Yellow"]. As such, I could just ride. According to the travel log, my best day mileage up to this point: 190 miles (308 km) ["Texas Plains"]. When riding, I spent part of my time eyeing the rearview for auto traffic, part on the landscape, and all of my time watching the road ahead. As I increased the throttle to the humming 22-28 mph range, the time and land passed quickly. I stayed along the right side of the lane unless a car approached, and I would transition onto the shoulder of the road ["Sun Flower"].
During the trip, I spent some of my down time repacking the panniers and other gear. Using bungee cords, I was able to attach the Eureka Solitaire tent, camera tripod, and Thermarest sleeping mat to the space below the rear carrier / Nelson-Rigg tailbag and above the rear brake lamp. This setup permitted easy access to the gear at night, while creating more space in the left and right Nelson-Rigg saddlebags (which originally had the tent and sleeping mat in them).
I stopped at Tucumcari, NM, rode for some ways on Route 66, and headed north to Los Vegas, a quaint town at the foothills of the Rockies. Up until I hit the rising facade of the Rocky Mountains in NM, I had not revved the throttle on the scooter past the 3/4 point. That was fine because I had really wanted to break the scooter in slowly and to travel on pace with touring bicyclists. Good thing I had a few extra horses under the hood, though eh! My first serious engine challenge came with my approach to SantaFe, and surprisingly, the bike didn't die on me. At full throttle, I hit the southern Rockies and slowly climbed ["Mountain Climbing"]. She had performed like a trooper. Honda reliability is a wonder!
So, paralleling, and later riding, I-40, I found the scooter losing power in the mountains and requiring me to run full-throttle just to maintain 20 mph. I visited the Honda dealership at SantaFe and was informed that I could not merely adjust the carburetor; I would need to have the jetting replaced . . . a $250 job. Not planning to remain in the hills, I passed on that option. I was once again appreciating the 15 mph pace. On the bright side, the sun finally became prevalent, and so ended my days in the rainsuit.
Chaco Canyon Cultural Monument, NM.
I met with mom, who had hired a pick-up truck, and after some effort, we loaded the bike into the truck bay, and drove up to Taos, New Mexico ["Mom and Me"]. It was nice of her to meet up with a familiar face, half way across the nation. We visited several historic churches, the Sawmill Creek bridge, and the refreshing mud spring pools at OjoCaliente, but the beautiful stop was at the 13th C Chaco Canyon's pueblo bonito ["Taos Church"]. Great photo ops! I am just an amateur photographer, so I can only imagine what a pro might do with such natural historical beauty, and the right season and right weather.
After five days, we parted company at Farmington and I scooted north through Durango, Colorado to Mesa Verde NP. I wanted to see the precipitous ancient Anasazi cliff dwellings – amazing what human determination drives a community to do ["Mesa Verde Lodgings"]. Onward to Utah and the unique Moab landscape I journeyed. I managed to spend an impassioned ten days in the area, mostly at Arches NP, exploring the red sandstone strata and magnificent geological arches ["Arches N.P. Entrance"]. Truly fascinating!
My typical day involved getting up at 4:30 and zooming off to my daily sunrise hike and photo shoot (Delicate Arch, Windows Arch, or Park Avenue) ["Delicate Arch"]. Around 10:00, I would get hungry and make the one-hour scooter drive into the touristy town of Moab, where I would grab lunch, research the plateau at an internet café, stop at the grocery for some dinner snacks and drop off undeveloped film for three-day processing["Windows Arch"]. At 16:00, I was back on the bike for the ride to another part of the national park and some sunset-ish photos ["Portal Arch"]. Occasionally, I'd meet a photographer or hikers on the paths who were also there to capture the beauty["Mesa Arch"]. They would share their adventures in exploration, and sometimes ask about my summer activities. And on several nights, I stayed up past my usual 23:00 pillow talk and tried star-trailing night photography ["Canyonlands"]. I concluded my days in the area with a ride over to the U-shaped riverbend at Dead Horse Point SP, north Canyonlands NP, and Shaefer Trail, the riverside road heading back to Moab ["Twisted Roads"]. This part of America is a colourful place to relax in the Colorado River canyon["Colorado River Relaxation"].
Leaving Moab with 4,350 miles, I road along with the Colorado River up to Castle Rock and see some white aspen trees ["Moab Landscape"]. I went southbound on one of the state highways (my usual choice of road) toward Monument Valley, UT, coasting down a tremendous, six mile long straight hill west of Monticello (reaching 54mph with the engine off) and later viewing Gooseneck SP's W-shaped riverbank along the way. Having road for quite a day, I could not seem to ride comfortably for much longer. My butt would sometimes numb up, even though I shifted around. And even though my speed had increased, I still had to eat, refuel, take pictures, and scout out places to sleep. It was always a challenge to find a discreet place to free camp and bed down for the night. But it was fun too.
Teardrop Arch, Monument Valley, Ut.
The Navajo valley was surprisingly touristy, controlled, and geographically smaller than expected, but still unique and beautiful. I rode the reservation loop, photographed the Mittens, and found a local campsite ["Monument Valley Sunrise"]. The next day, I awoke for a day of photography and swimming at the pool. In finding strategic places to make pictures while travelling, I sometimes check out the gift shop for photo books and postal cards, and then try to find my own creative way to locate and take pictures of the scenery. In this case, the memorable view looked east through Teardrop Arch (rocks behind the high school) toward Saddleback Mesa. Words fail to describe the beauty ["Monument Valley Spires"].
As August arrived, an unplanned detour took me to the White House ruins at Canyon de Chelly, AZ, and a chance to view the inspiration for some of Ansel Adams work ["White House"]. It was quite a hike down to the dry river bed in the canyon below, but a splendid reward to the soul. A day's exploration and on to Page to hike the Antelope Slot canyons; a task to photograph but exceedingly colourful and picturesque ["Antelope Canyon and Me"]. One of several "to see" destinations on my trip, I took a half a dozen rolls of photos, and, as usual, walked away with my typical uncertainty about what the final print will reveal. This is one of the many times when I wished I were using a digital SLR camera for instant exposure satisfaction ["Antelope Colours"].
Skipping along, I hiked to the limited-access Coyote Butte "Wave" formation at Paria Canyon-Vermillion Cliffs WA, riding the unpaved road between US Highway 89-NV and 89 Alternate-AZ ["Picnic Camping"]. This was the only time I wish I had packed more water in the daypack I carried ["Vermillion Wave"]! After some appetizing and warm soup at Jacob Lake, Arizona, I explored the precipices of the Grand Canyon - North Rim, and road a waterlogged fire road out to Point Sublime and camped under thunderclouds ["Grand Canyon Entrance"]. A wet adventure in itself, I used up an entire tank of gas in 90 miles because of the lost traction and frequent, rolling hills to and from the fuel station ["Overlook"]. I only wish the sun had broken the clouds . . . the sunset would have been spectacular.
Muddy fireroad in Grand Canyon N.P. (North Rim).
At 5,000 miles (8.000 km), I passed through Kaibab and back into UT as I headed for LasVegas, NV. I detoured to visit Pink Coral Sand Dunes SP, which I had happened upon during Spring Break 1989. With the installation of a ranger station and segmented access for ATV's, the solitude of hot, fine, pinkish hourglass filler had sadly lost its specialty ["Comfortably Warm"]. Leaving St. George, UT, I came across a stretch of Interstate which lacked the traditional local access / service road, owing to the road running a narrow, steep-cliffed gauntlet. I was thus routed through a reservation which brought me to the I-15 exit at Mesquite, Nevada. After inquiring at the local police station about non-highway road passage options to LasVegas, I found a fuel spot under the scooter. Not a good sign, right? I investigated and discovered that petrol was dripping from the small rubber fuel line between the gas tank and the fuel pump (probably caused by one of the large rocks or ditches I'd encountered since NM). Fortunately there was an Autozone down the street, and mechanic Tony was kind enough to change out the hose and clips for me. Thought I was stuck for sure! Aside from punctured tires, that was the first failing of anything on the motor scooter. I was thankful it wasn't something major.
ACROSS THE DESERT
Next obstacle . . . that darn stretch of I-15 east of LV which required me to go off-roading in the some more sand. Memorable? I got stuck! From Bunkerville to Overton, I travelled along a dirt electrical power line service road running parallel to the highway, and at several points had to the cross dry river beds which feed Lake Mead. At one point, when climbing a steep, sandy grade back up to the plateau, the wheels sunk in.
A good thing about having a small motorbike one can lift is that I got out of the sandy jam by lifting the scooter onto an 8 ft long tent ground cover, gunning the engine, and climbing the 50 ft ridge in 6 ft increments. So, after an hour of unpacking the ride, working my way up the hill, and repacking, I continued my journey toward LasVegas, relieved that I wasn't walking my way out of the desert ["Sandtracks"]!
I stayed at Lake Mead campground and slept under the cozy stars, toured Hoover Dam, and walked the Strip. Not one to gamble, I stayed only until the 30 of the 110 trip rolls had been developed. It was at this point, after nine weeks and 5,700 miles, I decided to ride north to Oregon rather than directly to LosAngeles. While scootering into the hair dryer-esque haboobs - those warm 'n fuzzies of a pleasant memory, I cooled myself with a spray water bottle when the temp was 114 degrees, used the Crampbuster cruising feature to "lock" down the throttle for some left handed driving, and launched into Death Valley NP, California.
I passed the trip's lowest altitude point (-220ft below sea level) while the park was having a summer "cool" streak at 112 F (a storm passed through later that night which washed out the roads aft of me in the park for nine months!) and I was in US state # 15 of the trip ["Death Valley"]. My route took me west through Ridgecrest, home of an automobile graveyard of old junkers and past Isabella reservoir.
As I climbed and descended the ridge line passing through Sequoia NF, a forest fire closed the road near Soda Springs. I had to backtrack and detour via Porterville, some two days' travel, before heading north through the massive sequoia trees of Kings Canyon NP, the hectares of orange groves near Fresno, and passed the cute Smokey the Bear fire level signs before arriving at Yosemite NP. I had last visited the Yosemite park in winter 1995, when returning stateside following Thunderbird graduate studies and travels around Europe. Nice to see the park in the summer - all green, warm, and full of life. After reading about the flood which had inundated the valley area in 1997, and making a hike toward El Capitan, I camped in a quiet, forested spot (the campgrounds were full) at the west end of the tunnel, and watched coverage of the Olympic Games on my portable television ["Yosemite Valley"].
Smokey and Me. Help Prevent Forest Fires.
I sailed onward past the beautiful granite cliffs and clear lakes and, as afternoon approached, snailed over the Sierra Nevada's 9,945ft Tioga Pass ["Yosemite Lakeview"]. The long descent to US highway 395 was another exciting rollercoaster, and brought a promise of warmer days. I camped at Lake Mono and photographed its white, calcium tufas as the sun set and as dawn arrived. I continued along the eastern side of the range and biked below the once powdery ski slopes of Lake Tahoe ["Mono Lake Moonrise"].
I have long wished to see Crater Lake, OR, so I scootered through the dormant volcanic area of Lassen NP, passed the black caves of Lava Beds NM, and parallel to remote, romantic Indian Falls river and railway near Burney ["Indian Falls"]. My climb toward Crater Lake had begun. I wanted to see the crystal blue waters surrounding lovely Wizard Island, but after four chilly days waiting for a stationary weather front to clear, I drifted down a twenty mi long hill from 8,000ft to 1,000ft ["Crater Lake"]. Wanting to warm up after those drizzly 30 degree nights, I went to the OR coast and rode north to Beverly Beach and a dip in the Pacific Ocean ["Backroads"]. It was time for the final heading south to LosAngeles and my career in entertainment. I cruised along the west coast, and I recall the town of Bandon, OR, being charming, particularly the old port under morning fog ["Bandon Harbour"].
Pacific coastline near Bandon, OR.
Crossing the northern CA coastal border, I was excited to tour area and drive below the extraordinary giant redwood trees ["Bunyan, Blue, and Me"]. Redwood NP is outstanding! Trees (if that's what they can be called), some over 300 feet tall, lie in groves along the rocky Pacific cliffs ["Redwood Forest'']. It is because of the combination of humidity, fog, and strength of bark that the trees are able to survive so long and grow so tall. A great place to visit and get lost - it makes one feel really small and unique ["Redwood Retreat"]. Sweet!
As I rode toward the Napa Valley during my fourteenth week on the road, the wiring for the head lamp failed; probably due to all the off-roading, boulders, and pot holes I had traversed ["Drive-Thru"]. The scooter is not designed with the clearance for such activity. So, I had to ride by daylight for a few days, until I used some wire and elbow grease to bypass the old electricals. The vineyards of Napa and Sonoma were an interesting experience; miles and miles of little grape-coloured, well, grapes ["Vineyards"]. Quite tart though. And, as I was in the neighborhood, a photo opportunity arose ["My 'Estate'"].
A short loop over to the coast again, a tour of Golden Gate NRA, and I was ready to cross into SanFrancisco for a delicious Clam Chowder Bread Bowl. Yummy! Unfortunately, once again my choice of transport would prevent me from taking the easy road. While just north of the Golden Gate Bridge, I came across a sign which said "Pedestrians. Motor-Driven Cycles Prohibited." ["Scooters NOT permitted!"]. The upsetting part: the "Bicyclist" prohibited part was whited-out. How unfair is that! Not desiring a very long ride to the far east of Oakland, I found myself pushing the 220-pound scooter 3/4 mile over the Carquinaz Bridge (the bridge does not permit motorized bicycles on the pedestrian walking / bicycling path). I finished the very long day riding through Oakland and Berkeley, and climbing the various bay area hills beyond.
Looking toward San Francisco Bay, CA.
Choosing to find a darkened, rural road or pasture for the tent, as I had done for two out of three nights on this trip, I cycled into the night on a canyon road east of the bay, and found a spot. As usual, I was up early . . . predawn. I started my way toward SanJose at the south end of the bay and thoughts of further exploring the SanFrancisco peninsula drew me from required concentration. Bloody Gravel! I saw it on the road; the roadsigns warning of pebbles, but there I was . . . drifting into the gravel-filled ditch along the roadside. A loss of control as the back tire floundered, a damn rock, and BAM . . . S#*% . . . and I'm seeing America from the air!. I probably planted my right arm to absorb the shock of plowing into the ground, because when I sat up, my shoulder was in severe pain. My first major lifetime injury? Well, under pain, I righted the scooter, straightened the bent key, took note of the breaks in the side paneling, and headed off to find a clinic at Hayward. An hour later, I sat outside a hospital trying to decide my next move. Was my summer holiday suddenly over? Well, at least it didn't feel broken! I rode on.
I stayed three days at the Los Altos Hostel and visited at a local clinic for x-rays . Nothing broken. But they forgot to emphasize in their evaluation that my clavicle was displaced. So, after lunch with a friend, Mike, from MBA studies at Thunderbird, with my right arm in a sling, and lots of ibuprofen in my system, I continued south along Highway 1. I passed through Monterey Bay and golf capital Pebble Beach, and spent time admiring my favourite US state park and coastal waterfall at Julia Pfeiffer Burns SP. The park encompasses a small cove and one of the few places on the planet with a creek whose terminus drops 50ft directly into an ocean ["JP Burns S.P."]. I departed my state of tranquility and headed past W. R. Hearst Castle before cutting inland through Los Padres NF, along the SantaMonica mountains crest, and south of Bakersfield. At 9,000 miles, I scootered for my longest travels at15 hours and 224 miles. I looped around the LA basin prior to spending my last few days at amongst the cacti in Joshua Tree NP. Nice to be warm, free of traffic, secluded, and dry once again.
The cross country summer trip almost complete, I stopped at my old friend Young's home in Yucaipa for a week, replaced the broken scooter panels and well-worn tires, and took a rest. My final task was to orient myself to the Burbank area and housing around the studios. But first . . . there is always a BUT in a travellers life . . . while tenting behind well hidden bushes at a church in Rialto, my sleep was interrupted by flashing lights and a circling police helicopter. After waiting a few minutes for them to leave, I thought I heard someone bellowing unrecognizably over a loud speaker. I crawled out of the tent and under the bushes "hiding" my presence. Three cops with weapons drawn, prepared to assault and arrest a fleeing armed-robbery suspect, were awaiting me! All that was missing was the "Cops" video camera. I guess, recognizing that there would be a whole lot of paper work, they decided not to shot me. On reflection, I should have been more scared! Was it Shock? Well, I don't know, but I made LA and was still alive. Go Figure.
Hollywood, CA. "I've Arrived!".

ARRIVAL
On September 26, 2004, I "officially" arrived at LosAngeles when I found a place to stay in a quiet Glendale neighborhood. I began looking for thee job. Searching company websites, I found scores of positions in which I thought would be interested, for which I am at least "qualified," and which would lead somewhere. Well, apparently in Hollywood, submitting resumes for entertainment positions posted on the internet and via post is ineffective - go figure. The demonic old adage - "it's who knows you" - rears its inequitable head. Guess I will have to "pay my dues," eh.
In December, I flew to Baltimore for the holidays and spent time with family. While there, a masseuse mostly reset my clavicle and ac joint. Apparently, I had spent four increasingly painful and restrictive months with my shoulder out of place, and indirectly, through restricted use, created a frozen shoulder (cartilage damage, decreased muscle mass/strength, and a shortening of tendons). Not life-threatening. Boy, the things into which I get myself sometimes. Ughhh!
I returned to Glendale with a shoulder at 70%, a LA networking list, and a regrouped approach to the job search. I determined that the networking method is the Hollywood way, and so left behind searching the corporate job postings and began the process of pressing the flesh. To pass the time when I was not meeting with industry people, though, I went to the gym, explored the neighborhoods, and scanned onto CD more than a decade's worth of travel negatives for the autophotobiographical book I hope to one day create. And, during the wettest winter/spring in southern California history (why not?), I began thinking about my next adventure: sailing around the globe and/or scootering the continents (should the Hollywood career not pan out). I love to travel!
Well, today (June 2005), I am living at Burbank, CA, and working for an entertainment payroll company. I am finally on the movie career ladder! As for the scooter, it only gets 80-90 mpg city; accelerating between lights is a killer on fuel economy! It is still fun for zipping around the Burbank-Hollywood area and getting to know my new home.
I welcome questions, and will gladly provide further details. Viator fortunatus. Happy Travels!

ACCIDENTS
- Pelsor, AR. Sailed over handlebar in lots of mud. No injury, but a broken mirror.
- Hayward, CA. Early morning gravel road wreck due to lack of concentration. Dislocated clavicle and chipped scooter panels.
- Rialto, CA. Free camping can be dangerous. Cops, guns, and a helicopter! Fortunately, I was NOT the fleeing robbery suspect.

PROBLEMS
- Headlamp shortout . . . wiring failed, bypassed (darn boulders)
- Two flat tires . . . nails on shoulder of road (fortunately, tubeless tires)
- Fuel line leak . . . broken line at mesquite, nv (more darn boulders)
- Restricted roadways . . . damn bridges, tunnels, and interstate highways!

TRIP STATISTICS
- Miles: 9,400 mi (15.200 km)
- Departed: June 12, 2004
- Arrived: Sept 26, 2004
- Days: 106
- States: 16
- Nat'l Parks: 13
- Favorite: Arches NP, UT
- Avg Mi/Day: 93mi (150km)
- Best Mi/Day: 224mi (360km)
- Avg Mi/Tank: 146mi (62kpl)
- Best Mi/Tank: 170mi (72kpl)
- Avg Mi/Gal: 111mi (47kpl)
- Best Mi/Gal: 129mi (55kpl)
- Highest Alt: 9,945ft (3.060m) Tioga Pass, CA
- Lowest Alt: -220ft (-65m) Death Valley Hwy, CA
- High Temp: 114F (46C) Las Vegas, NV
- Low Temp: 38F (4C) Crater Lake NP, OR
- Hotels: 8 days
- Friends:13 days
- Paid Camping: 26 days
- Free Camping: 59 days

EXPENSES
Honda Metro II(49cc): $1800
Helmet/Gloves: $90
Insurance (MD/yr): $160
Nelson Rigg Bags: $90
Nelson Rigg Tailbag: $50
Draggin' Clothing: $360
Gasoline: $178
Lodging: $818
Photo Film/Dev: $820

EQUIPMENT LIST
Nelson-Rigg Saddlebag-L:
3-D "riding" glasses, bug ointment, bug repellent, combs/tweezers, Draggin' shirt, Draggin' jeans, first aid/hygiene kit, lip balm/pills, sandals, scissors/sewing kit, shampoo/soap, sunglasses/screen, swiss knife, toilet paper/towel, toothbrush/paste.
Nelson-Rigg Saddlebag-R:
Balaclava, belt/cap, bullroarer, gloves riding, jacket rain, keys/lighter, long unders, mittens rain, pens/wallet, shirt ss(2), shirt ls(1), shorts(2), socks(3), t-shirts(1), trouser rain, zipper trousers.
Seat Storage:
Air filter, cable and lock, computer phone, duct tape, electrical wire, gas can (1 gal), helmet shield, lightbulb, needle nose pliers, ratchet set (3pc), screwdrivers, soil rags, spark plug, tie-downs, tire gauge/repair kit, wrench.
On the Bike:
Bungee cords, cargo net, Draggin' jacket, Eureka one-tent, helmet 3/4 face, motorcycle cover, nylon straps, sleeping bag, spare bag, Thermarest mat, tripod, spray bottle, Vasque boots, water bottle (2).
Nelson-Rigg Tailbag:
Batteries, developed pictures, film (20 rolls), leisure book, portable tv, short wave radio.
Daypack:
Documentation, flashlight, Nikon p+s camera, Nikon slr camera, Nikon lenses (2), spare keys, state maps, walkman radio.
Final thoughts:
Changes in equipment for a possible future motor scooter trip across the other 15 regions of the planet: leave behind the saddlebags; pack light with more compact clothing; metal skid plate; power inverter; digital SLR camera with portable backup drive; video camera; 2+ gallon gasoline can (should fit).
Enter your email address to receive updates to Laird VanDyck's trip story!
Recent Entries
Archives:
Archives:
Monthly
Archives:
Category
NEW! HU 2015 Motorcycle Adventure Travel Calendar is now available! Get your copy now for some terrific travel inspiration!
HUGE, 11.5 x 16.5 inches, beautifully printed in Germany on top quality stock! Photos are the winning images from over 600 entries in the 9th Annual HU Photo Contest!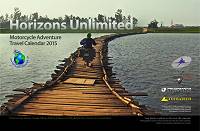 "The calendar is magnificent!"
"I just wanted to say how much I'm loving the new, larger calendar!"
We share the profit with the winning photographers. YOU could be in the HU Calendar too - enter here!
Next HU Events
NEW!

USA Virginia: Apr 9-12, 2015
Take 40% off Road Heroes Part 1 until October 31 only!
Road Heroes features tales of adventure, joy and sheer terror by veteran travellers Peter and Kay Forwood (193 countries two-up on a Harley); Dr. Greg Frazier (5 times RTW); Tiffany Coates (RTW solo female); and Rene Cormier (University of Gravel Roads).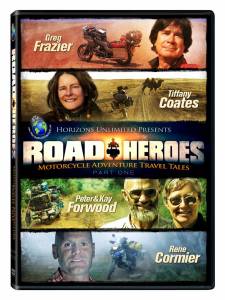 "Inspiring and hilarious!"
"I loved watching this DVD!"
"Lots of amazing stories and even more amazing photographs, it's great fun and very inspirational."
"Wonderful entertainment!"
Check it out at the HU Store! Remember to use Coupon Code 'HEROES' on your order when you checkout.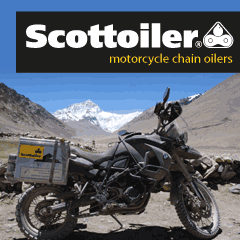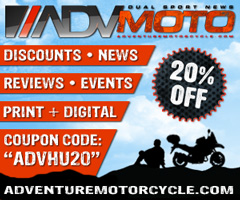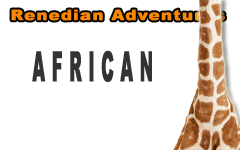 What others say about HU...
"I just wanted to say thanks for doing this and sharing so much with the rest of us." Dave, USA
"Your website is a mecca of valuable information and the DVD series is informative, entertaining, and inspiring! The new look of the website is very impressive, updated and catchy. Thank you so very much!" Jennifer, Canada
"...Great site. Keep up the good work." Murray and Carmen, Australia
"We just finished a 7 month 22,000+ mile scouting trip from Alaska to the bottom of Chile and I can't tell you how many times we referred to your site for help. From how to adjust your valves, to where to stay in the back country of Peru. Horizons Unlimited was a key player in our success. Motorcycle enthusiasts from around the world are in debt to your services." Alaska Riders

10th Annual HU Travellers Photo Contest is on now! This is an opportunity for YOU to show us your best photos and win prizes!
NEW! HU 2014 Adventure Travel T-shirts! are now available in several colors! Be the first kid on your block to have them! New lower prices on synths!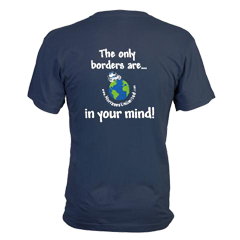 Check out the new Gildan Performance cotton-feel t-shirt - 100% poly, feels like soft cotton!

What turns you on to motorcycle travel?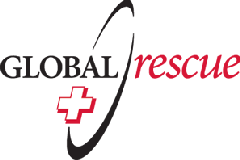 Global Rescue is the premier provider of medical, security and evacuation services worldwide and is the only company that will come to you, wherever you are, and evacuate you to your home hospital of choice. Additionally, Global Rescue places no restrictions on country of citizenship - all nationalities are eligible to sign-up!
New to Horizons Unlimited?
New to motorcycle travelling? New to the HU site? Confused? Too many options? It's really very simple - just 4 easy steps!
Horizons Unlimited was founded in 1997 by Grant and Susan Johnson following their journey around the world on a BMW R80 G/S motorcycle.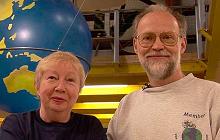 Read more about Grant & Susan's story
Membership - help keep us going!
Horizons Unlimited is not a big multi-national company, just two people who love motorcycle travel and have grown what started as a hobby in 1997 into a full time job (usually 8-10 hours per day and 7 days a week) and a labour of love. To keep it going and a roof over our heads, we run events (22 this year!); we sell inspirational and informative DVDs; we have a few selected advertisers; and we make a small amount from memberships.
You don't have to be a Member to come to an HU meeting, access the website, the HUBB or to receive the e-zine. What you get for your membership contribution is our sincere gratitude, good karma and knowing that you're helping to keep the motorcycle travel dream alive. Contributing Members and Gold Members do get additional features on the HUBB. Here's a list of all the Member benefits on the HUBB.
Books & DVDs

All the best travel books and videos listed and often reviewed on HU's famous Books page. Check it out and get great travel books from all over the world.

MC Air Shipping, (uncrated) USA / Canada / Europe and other areas. Be sure to say "Horizons Unlimited" to get your $25 discount on Shipping!
Insurance - see: For foreigners traveling in US and Canada and for Americans and Canadians traveling in other countries, then mail it to MC Express and get your HU $15 discount!
Story and photos copyright © All Rights Reserved.
Contact the author:
Editors note: We accept no responsibility for any of the above information in any way whatsoever. You are reminded to do your own research. Any commentary is strictly a personal opinion of the person supplying the information and is not to be construed as an endorsement of any kind.
Hosted by: Horizons Unlimited, the motorcycle travellers' website!
You can have your story here too - click for details!