October 30, 2004 GMT
Twintraveller in the USA 30.10.2004
Englische Version unter der deutschen Version
English version below German version

Twintraveller auf dem Weg durch die USA
Deutsche Version....see english version below)
Liebe Freunde, lange haben wir nichts von uns hoeren lassen, doch in den USA war es recht schwierig oder teuer ans Internet zu kommen. Doch nun sind wir in LA bei unseren Freunden und haben uneingeschraenkt Access - das bedeutet
Fotos, Fotos, Fotos. Checkt die Website, es sind einige Galleries dazugekommen.
Der letzte Newsletter war vor fast 8 Wochen von der wundervollen Meadowbrook Ranch in British Columbia, Canada. Von Meadowbrook sind wir direkt nach Revelstoke zum HorizonsUnlimited Meeting gefahren, wo wir zwar Regen hatten,aber unglaublich viele verrueckte Traveller getroffen haben - jetzt wissen wir, es gibt noch einige die so sind wie wir. Wir hatten ein unglaublich
geniales Wochenende, sogar unser Freund Wayne aus Calgary kam zum Treffen um uns wiederzusehen. Schaut euch die Fotos an, es war unglaublich. Unser Vortrag zum Thema 'How to Leave' kam super an, wir wurden sogar mit Laurel
und Hardy verglichen. Ich nehme das mal als grosses Kompliment, auch wenn Katja meint, dass sei unfaehr, weil wenn ich dick bin muss sie doof
sein.....
In Revelstoke wurden wir von Niklaus Fux ins schoene Vernon eingeladen und durften eine Nacht in einer Suite mit Whirlpool unter dem Sternenhimmel dieses schicken Skiresorts verbringen, es waren wundervolle letzte Tage in
Canada. Leider konnten wir nicht mehr nach Vancouver und Vancouver Island fahren, da der Winter uns seit Whitehorse im Nacken sass und wir unbedingt noch in den Yellowstone NP fahren wollten. Also verliessen wir Canada Richtung USA und fuhren 3 Tage durch prasselnden Regen in Richtung Yellowstone durch Washington, Idaho, Montana nach Wyoming. In Yellowstone trafen wir einen britischen Biker, der auf einer alten XT600 auf dem Weg nach Hause war - nach ca. 3 jaehrigen Tour um die Welt. Wir verbrachten 3
schoene Sonnentage im Park bei richtig kaltem Wetter, genossen die Natur und die vielen Tiere, incl. der Bueffel die Nachts um unser Zelt strolchten.
Den Winter im Nacken (2 Tage spaeter gab es richtig Schnee in Yellowstone, der Park liegt auf ca. 2500 metern) fuhren wir durch den Grand Teton NP in Richtung Salt Lake City, verbrachten 2 Tage in Salt Lake, liessen unser Zelt
reparieren und froren uns fast was ab. Weiter ging es quer durch Utah in Richtung Arches and Canyonlands NP. In Moab Utah bauten wir unser Camp auf und blieben 4 Tage in dieser Stadt die anscheinend nichts anderes im Sinn hatte als mit allen moeglichen und unmoeglichen Fahrzeugen durch die Wueste und die Canyons zu heizen...unglaublich. Wir genossen die Sonne, die Waerme, die Canyons, gingen hefigst wandern, fuhren die Parks mit den Bikes ab und erholten uns abends bei Bier und Lagerfeuer von den Strapazen des Tages. Wundervoll.
Von Moab aus fuhren wir nach Mesa Verde zu den beruehmten Ruinen die von den Indianern in die Berge oder besser Canyons genaut worden sind -
faszinierend, auch wenn Mesa Verde wieder auf 2000 metern lag und es wieder empfindlich kuehl war. Ueber 4Corners, dem einzigen Punkt wo sich 4 US Staaten (Utah, Arizona, New Mexico und Colorado) treffen, fuhren wir bei Gewitter in Richtung Monument Valley. Auch wenn wir sonst von schlechtem Wetter eher genervt sind, waren wir von den Wolkenbildungen und dem grandiosem Himmel ueber den Monuments doch begeistert. Wir verbrachten 3 Tage im Monument Valley auf einem Campground mit Blick auf die Monuments, sahen nachts den Vollmond ueber dem Monument Valley aufgehen und konnten es manchmal vor Glueck kaum glauben, dass wir hier waren.
Weiter ging es ueber das Valley of the Gods, Natural Bridges Monument, durch das Glenn Canyon Valley vorbei am Lake Powell in Richtung Grand Staircase Escalante National Monument. Dort schlugen wir wieder fuer ein paar Tage unser Lager auf, Frank und ich gingen auf eine hardcore Offroad Tour in der Naehe des sogenannten Hells Backbone und ich war begeistert was eine Africa Twin doch so alles leisten kann und dass auch noch mit Strassenreifen. Eine gute Wahl.
Von dort ging es in den beruehmten Bryce Canyon und obwohl es dort nachts unter 0 Grand Celsius war. waren die Tage wunderschoen und bei traumhaften Sonnenschein wanderten wir durch die Hoodoos und anderen Steingebilde. Abends waermten wir uns am Lagerfeuer, genossen das knistern der Tannenzapfen und genossen den Sternenhimmel. Unser Leben war wunderbar,
auch wenn wir manchmal nachts nicht schnell genug zum Pinkeln aus dem Zelt kamen, weil der Reissverschluss festgefroren war. Aber das hier war das Leben was wir wollten. Auf dem Weg zum Zion Canyon trafen wir ein ungarisches Ehepaar in einem sehr alten Dodge Van. Im Sommer arbeiten die beiden in einer Goldmine in Alaska und im Winter fuhren sie in der Weltgeschichte spazieren, so erzaehlte uns der baertige Ungar waehrend er an einer fetten Zigarrre nuckelte und aus seinem alten 65 jaehrigen Gesicht lachte - wir waren begeistert und verstanden ihn - das war sein Leben. Im Zion Canyon wanderten wir ein wenig in den Narrows, einer Canyonschlucht in der wir durch einen Fluss in den engen Canyon reinwaten mussten und verbrachten interessante drei Tage, bevor es weiterging in Richtung Grand Canyon North Rim. Waehrend der South Rim von vielen Touristen besucht wird, ist der Nord Rim urspruenglicher und weniger besucht, allerdings wie wir erfahren sollten auch deutlich kaelter. Wir durchquerten den Grand Canyons auf der Nordseite durch den Marble Canyon und fuhren auf den touristischen South Rim. Alles war so spektakulaer, aber durch die Kaelte und die Masse der Eindruecke waren wir mittlerweile ganz schoen muede geworden.
Wir hatten uns mit einem britischen Paar, das auf einer 5 jaehrigen Round the World Tour war in Las Vegas verabredet, ausserdem hatte uns der Desert Riders Club zu einer Ausfahrt eingeladen, also ging es ueber die Historic Route 66 nach Vegas. Wir campten am Lake Mead, weil alle Hotels in Vegas zu teuer waren und feierten unser Wiedersehen mit den Englaendern. Die Tour mit dem Desert Riders Club in einen Canyon, rund um Vegas und zurueck war interessant, aber natuerlich wieder mal lockere 350 km. DAs ist eigentlich nicht unsere Tagesdistanz, daher verbrachten wir den naechsten Tag relaxed
auf dem Campground, machten Oelwechsel und checkten die Bikes durch. Am Montag darauf fuhren Katja und ich mit Frank nochmal abends nach Vegas rein, streunten durch die Casinos und schauten uns die Stadt an. Doch nach 3 oder
4 Tagen in der Gegend zog es uns ins die Wueste zurueck, ausserdem wollten wir das Death Valley sehen. Haetten wir gewusst was uns erwartet, wir waeren vielleichtt dageblieben. Das Death Valley empfing uns mit einem unglaublichen Seitenwind, der sich ins unermessliche steigerte, Katja lag
fast in der waagerechten mit ihrem Bike, spaeter kam starker Regen und Gewitter dazu. An zelten im Valley war nicht zu denken, fotografieren nicht machbar, ausserdem hatten wir die Befuerchtung es wuerden noch mehr Strassen
durchs Tal gesperrt werden, also kaempften wir uns einfach nur durch. Ueber 350 km durch Regen, Sturm und Gewitter dauerte es, bis wir das Ende des Tales erreichten, checkten im ersten Hotel ein und bezahlten das erste Mal nach fast 6 Monaten auf Tour ein Hotelzimmer.
Bevor wir uns mit unserem Freund Jason an der Kueste treffen wollten, wollten wir noch in den Sequoia NP, wurde allerdings beim ersten Versuch
durch einen Blizzard und Schnee daran gehindert. Beim zweiten Versuch am naechsten Tag kamen wir immerhin bis 5500 feet und konnten die Sequoias auf Foto bringen, allerdings waren die Parkranger nicht gluecklich als sie uns mit den Bikes sahen und zwangen uns zur Umkehr. Wir fuhren in 2 Tagen ueber schoene kleine Strassen durchs Hinterland Californiens an die Kueste nach Monterey wo wir uns mit Jason trafen. Jason hatte sich 6 Tage freigenommen (sein Jahresurlaub) um mit uns den Pacific Coast Highway 1 bis nach LA zu fahren. Auf dem ersten Campgorund wachten wir in der Nacht auf, weil ein 4er Team Waschbaeren unseren Muell leerfrass. In den Parks waren wir ja immer
vorsichtig gewesen, weil es Baeren und Pumas gab, aber hier hatten wir nicht damit gerechnet. In der gleichen Nacht tobte noch ein Fuchs und einige Rehe durch unser Camp. Schlauer geworden, liessen wir am naechsten Abend kein Muell frei rumliegen, allerdings kaempften wir die ganze Nacht mit einem 10er Team Waschbaeren, dass sogar so dreist war unser Toast zu klauen,
waehrend wir noch am Tisch sassen. Leider wurden wir auf unserem dritten Campground am Morgen von einem Unwetter uerberrascht und nachdem wir es leid waren mit unserer Bratpfanne Wasser aus der Campsite zu schippen und mit dem Klappspaten Abflussgraeben zu graben (die Ranger waren sicher
begeistert), teilten wir uns zu viert ein Motelroom in Santa Barbara, machten ein wenig Sightseeing und hoerten in den Nachrichten wie die Nachbarorte teilweise evakuiert wurden....
In Santa Barbara trennten wir uns von Frank, der auf einer Farm in der Naehe von San Francisco arbeiten wollte, fuhren mit Jason nach LA, wo wir ein paar Tage mit ihm und seiner Frau verbringen wollten, bevor Katjas Eltern am
Montag ihren Urlaub in LA starten wollten. In den naechsten 2 Wochen werden wir also einige der Orte mit einem Auto ansteuern und vielleicht ein paar Schneefotos von den Canyons machen koennen.
Dieser Zwischenstop in LA ist sowas wie die Pause vor der Herausforderung. Wir sind seit ueber 6 Monaten auf der Strasse, haben fast 30 000 km auf dem Buckel und koennen nicht genug bekommen. Wenn wir im Dezember Frank wiedertreffen, fahren wir nach Mexico und starten und Mittel-, Suedamerika Abenteuer. Wir freuen uns auf Mexico, unsere Freunde aus Deutschland, die mit uns Sylvester auf der Baja California verbringen werden und auf
grobstollige Reifen, damit Frank und ich mal richtig die Sau rauslassen koennen. Aber bis dahin werdet ihr noch von uns hoeren.

......English version................
Dear friends, yes I know, u havent heard from us in a while, but it was kind of difficult or expensive to use the Internet here in the US. After all we arrived in LA where we are staying with friends and now we have unlimited
access - that means pictures, pictures, pictures...I know u were waiting.
Check the Website and u will find several new Galleries. The last newsletter was about 8 weeks ago from the wonderful Meadowbrook Ranch in BC, Canada. From there we directly rode down to Revelstoke to attend the HorizonsUnlimited Meeting, where we had about a week of rain, but
met many crazy traveller - now we know, we are not alone. We had an incredible weekend, even our friend Wayne came from Calgary to meet us
again. Check out the pics, it was incredible. Our session with the topic ; How to leave' seemed to be very welcome and people said we have been as funny as Laurel and Hardy. I took that as a compliment, but Katja did not know what to think about that - because if I am Hardy, she must be Laurel...
In Revelstoke we got an invitation from Niklaus Fux who owns a hotel in beautiful Vernon and we had the chance to stay a night in a suite with hot tub under the the stars of the sky in this great Ski Resort, we had wonderful last days in Canada. Unfortunately we ran out of time and could not go to Vancouver and Vancouver Island, since Whitehorse the Winter was right behind us and we wanted to spent some days in Yellowstone. So we had to say goodbye to Canada and headed to the US, ro de 3 days in pouring rain through Washington, Idaho, Montana to Wyoming. In Yellowstone we met a british Biker who made his way around the world in about 3 years on an XT600
which was almost as old as the bike Frank is riding on. We spent 3 wonderful days in the National Park although it was already very cold, enjoyed nature and wildlife, incl. the bisons that roamed around our tent.
Having the snow right behind us (actually it snowed 2 days after we left Yellowstone, the park elevation is about 7000 feet), we rode throught Grand Teton to Salt Lake City. spent 2 days in Salt Lake, repared our tent and
were freezing. Afterwards we rode cross Utah to the Arches and Canyonlands National Parks. In Moab, Utah we set up a basecamp, spent 4 days in this area, which was just made for driving all kinds of strange vehicles through the desert and canyons, such as SUV, ATV, dirt bikes, buggies, Hummers, whatever somebody gets on wheels. It was incredible. We enjoyed the warm sun, the canyons, went hiking, rode through the parks with the bikes and relaxed with a beer and campfire in the evening. Wonderful.
From Moab we went to the famous Ruins of Mesa Verde, where the native Indians were living years ago and which have been built directly in the canyons - very fascinating, although Mesa Verde was again at about 5000 feet and freezing cold. Going to 4 Corners, the only point in the USA where 4 states (Utah, arizona, Colorado and New Mexico) meet each other, we rode through bad weather and thunderstorms through the Monument Valley. Although we are normally not really happy about riding in this weather, we were
impressed about the sky and the clouds above the Monuments. We spent about 3 days in the Valley on a campground viewing the Monuments, watched the full moon over the monuments and sometimes we could not believe that we were here.
Leaving the Valley of the Gods we went through the Natural Bridges Monument, crossed the Glenn Canyon Valley, Lake Powell heading to Grand Staicase Escalante National Monument. We set up a camp for a few days there, Frank and myself went out for an offroad trip near the so called Hells Backbone and I was impressed what the Africa Twin is able to handle. And I did not
even have offroad tires on it. What a great choice, I love that bike.
From there we were heading to the famous Bryce Canyon and although the night temperature was under zero Celsius, we really enjoyed the time in the canyon with sunny days, hiking through the Hoodoos and other stone monuments. At night we had a warm campfire, some beers, enjoyed the noise of burning cones and the stars above us. Our life was great although we sometimes had a hard time to get out of the tent for a pee at night when the zipper was frozen.
But that was the life we chose and what we wanted. Heading to Zion Canyon, we met a hungarian couple in a very old Dodge Van. While telling us that he is spending his summer in Alaska working in a gold mine and travelling the
world in the wintertime, he was smoking a huge cigar and and had a big smile in his 65 year old face - we got his point - that was his and our life. In the Zion Canyon we hiked a bit into the Narrows, the end of the canyon where u have to hike through the water of the river and we spent interesting 3 days before we decided to head south to the Grand Canyon North Rim. While the South Rim is very famous and touristy, the North Rim is still a bit unknown and less crowded, but also quite cold as we should recognize after sunset. We crossed the Grand Canyon north of it through the Marble Canyon and rode to the South Rim. It was all so spectacular, but we started to get tired, we were cold at night, sweating during the day and every day there was so much to see, we were just exhausted.
We wanted to meet Chris and Liz, a british couple who is on its 5 year Round the World trip, in Las Vegas and the local Desert Riders Club invited us for a ride, so we took the historic Route 66 to Vegas. We set our camp at Lake Mead because all hotels in Vegas werent affordable and celebrated our reunion with the Chris and Liz. The trip with the desert riders club around Vegas was interesting, but of course we did 350 km that day, which is not really our daily standard distance, so we decided to relax the other day, changed the oil and checked the bikes. On Monday Frank, Katja and I decided to check out the Vegas strip at night, so we went back to town and checked out some casinos. But after 3 or 4 days hanging around a big city we wanted to ride back into the desert, so we split up from Chris and Liz and headed towards Death Valley. If we would have known before what to expect we might have stayed another week in Vegas. Our ride through Death Valley started
with one of the worst wind we ever had, Katja was almost riding sidewise. Later we also had rain and thunderstorm....no chance to pitch a tent in the Valley or just take a picture. Some roads were already closed due to flash floods, so we were riding like hell to get out of the valley before they close our road and we have to go all the way back and around the Valley. It
took us more that 350 km of rain, storm and thunderstorm till we came back out of the valley into a town, we took the first Motel that we payed for after 6 month on the road.
Before meeting our friend Jason on the Pacific Coast, we wanted to spend a day or two in the Sequoia National Park, unfortunately we werent able to go in when we tried, because a blizzard was running through the park. Our second try the next day gave us the chance to see some Sequoias at about 5000 feet, but the park ranger wasnt really happy to see us riding the bikes up here and forced us to turn around. We rode 2 days over nice little backcountry roads through California to Monterey where we wanted to meet
Jason, who took his full holiday of 6 days to ride the Pacific Coast Highway with us back to LA. On the first campground we woke up at night because a team of 4 racoons was eating our garbage. We had been careful in the parks
because there were bears and cougars around, but we have never thought about racoons. The same night there was a fox running through the campsite and some deer roaming through the campground. Having learned from that, we did
not leave any garbage out the next night, but that night we were fighting with a team of 10 racoons who have been that crazy that they stole out bread from the table while we were sitting around it. Unfortunately we got strucked by the worst rain California has seen for years in our 3rd Campground and after we were sick and tired of shipping water out of our campsite with our frying pan and digging drain systems into the campsite, we decided to share a hotel room in Santa Barbara and went sightseeing.
In Santa Barbara we separated from Frank who wants to spend some weeks working on a farm near San Francisco and we rode down to LA with Jason where we wanted to spend some days with him and his wife, before Katjas parents are coming over for their hoiday trip into the parks. So in the next two weeks we visit some of the parks again, maybe already take some snow pictures.
This little rest stop here in LA is something like a break before the hard stuff starts. After 6 month and about 30000 km on the road we cant get enough of this. When we meet up again with Frank in December we ride down to Mexico to start our Latin and South America Adventure. We are really looking forward to Mexico and our friends from Germany who are going to spend New
Years with us on Baja California. And I am looking forward to get some nobby tires to spend some days with Frank in the Desert. But u will hear from us before we are heading down south....
Posted by Martin Wickert at October 30, 2004 05:52 PM GMT

Enter your email address to receive updates to Martin and Katja Wickert's trip story!
Recent Entries
Archives:
Archives:
Monthly
Archives:
Category
Now that summer is here, get On the Road! Take 30% off the Achievable Dream - On the Road! 2-DVD set until August 31 only.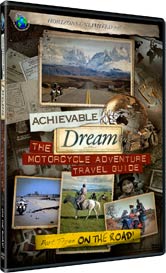 Our veteran travellers share their tips (and great stories) for staying healthy, happy and secure on your motorcycle adventure.
"A fantastic, informative and inspirational DVD."
"It's brilliant - thank you very much!"
Check it out at the HU Store! Remember to use Coupon Code 'ONTHEROAD' on your order when you checkout.
Next HU Events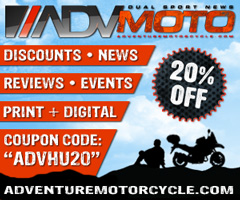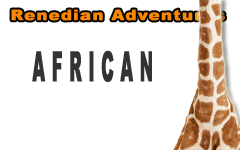 What others say about HU...
"I just wanted to say thanks for doing this and sharing so much with the rest of us." Dave, USA
"Your website is a mecca of valuable information and the DVD series is informative, entertaining, and inspiring! The new look of the website is very impressive, updated and catchy. Thank you so very much!" Jennifer, Canada
"...Great site. Keep up the good work." Murray and Carmen, Australia
"We just finished a 7 month 22,000+ mile scouting trip from Alaska to the bottom of Chile and I can't tell you how many times we referred to your site for help. From how to adjust your valves, to where to stay in the back country of Peru. Horizons Unlimited was a key player in our success. Motorcycle enthusiasts from around the world are in debt to your services." Alaska Riders

10th Annual HU Travellers Photo Contest is on now! This is an opportunity for YOU to show us your best photos and win prizes!
NEW! HU 2014 Adventure Travel T-shirts! are now available in several colors! Be the first kid on your block to have them! New lower prices on synths!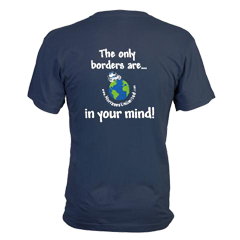 Check out the new Gildan Performance cotton-feel t-shirt - 100% poly, feels like soft cotton!

What turns you on to motorcycle travel?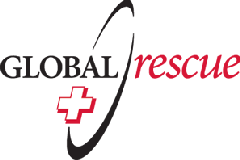 Global Rescue is the premier provider of medical, security and evacuation services worldwide and is the only company that will come to you, wherever you are, and evacuate you to your home hospital of choice. Additionally, Global Rescue places no restrictions on country of citizenship - all nationalities are eligible to sign-up!
New to Horizons Unlimited?
New to motorcycle travelling? New to the HU site? Confused? Too many options? It's really very simple - just 4 easy steps!
Horizons Unlimited was founded in 1997 by Grant and Susan Johnson following their journey around the world on a BMW R80 G/S motorcycle.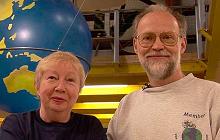 Read more about Grant & Susan's story
Membership - help keep us going!
Horizons Unlimited is not a big multi-national company, just two people who love motorcycle travel and have grown what started as a hobby in 1997 into a full time job (usually 8-10 hours per day and 7 days a week) and a labour of love. To keep it going and a roof over our heads, we run events (22 this year!); we sell inspirational and informative DVDs; we have a few selected advertisers; and we make a small amount from memberships.
You don't have to be a Member to come to an HU meeting, access the website, the HUBB or to receive the e-zine. What you get for your membership contribution is our sincere gratitude, good karma and knowing that you're helping to keep the motorcycle travel dream alive. Contributing Members and Gold Members do get additional features on the HUBB. Here's a list of all the Member benefits on the HUBB.
Books & DVDs

All the best travel books and videos listed and often reviewed on HU's famous Books page. Check it out and get great travel books from all over the world.

MC Air Shipping, (uncrated) USA / Canada / Europe and other areas. Be sure to say "Horizons Unlimited" to get your $25 discount on Shipping!
Insurance - see: For foreigners traveling in US and Canada and for Americans and Canadians traveling in other countries, then mail it to MC Express and get your HU $15 discount!
Story and photos copyright © All Rights Reserved.
Contact the author:
Editors note: We accept no responsibility for any of the above information in any way whatsoever. You are reminded to do your own research. Any commentary is strictly a personal opinion of the person supplying the information and is not to be construed as an endorsement of any kind.
Hosted by: Horizons Unlimited, the motorcycle travellers' website!
You can have your story here too - click for details!