September 06, 2013 GMT
Musical Compilation - Malawi


Well, it's been a long time since the previous look at music along the way. That was Tanzania.
So here's a selection of Youtubes from Malawi.


In actual fact, Malawi is popular with western tourists, specially gap-year students. They fill a lot of the hostels. So a lot of the music to be heard while travelling is from the 'western world'.


A selection of images here to begin, and two Malawian musicians, Denis Yolamba followed by Benson Phiri.
My first stop in Malawi was at the
Matunkha orphanage
in Rumphi, in the hills above the northern end of Lake Nyasa (aka Lake Malawi).
Here's a video of their
'Donkey Day'
with a selection of music and, later in the video, local dancing.
(Cannot embed this video - just click on the link)
Next, The Roots Band
A lot of Malawi lies along the western shore of Lake Nyasa. I stayed at Nkhata Bay to the north then rode down the lakeside to Senga Bay. On the way I passed through Nkhotakota, the main town of Nkhotakota District.
Well, I had no accident or upset so didn't need to pop into the hospital. But it might have been worth it, because of this:
But, The Nkhotakota Hospital Band is singing about family planning, not A&E.
Winner of the 'Music Crossroads Southern Africa Festival, 2007', Body Mind & Soul, playing
Achemwene.
It would have been great to have bumped into someone like this on the street. I was in Malawi in July 2010, must have just missed Desmond Blakey.....
The internet will have to suffice.
Hospitals must be very musical in Malawi, perhaps I should have popped into one.
This video features a clinic in Chilinde, a suburb of Lilongwe, the capital.
A change in style here, The 2 Mascatius with Wico Justice and Big Ben.
Another change. All the instruments here are made from scrap. By children orphaned by AIDS.
And to finish, another band playing instruments of recycled stuff, on the street in Blantyre.
The
Refuse Stealing Band.
Next stop - Mozambique
Two-Wheel Camping In Hampshire


Last year, Steve arranged the first Hampshire HU mini-meet at a very well-appointed golf club out in the rolling countryside.


Such a pleasant little event it was, that Steve laid on a re-run last weekend.


Very nice too.


There was no missing the location, with or without GPS, down a little B-road.

Complete with the world's flags strung out to welcome the world's travellers.
But the dirt track up the embankment on to the field was a little steep,
specially if you've no engine.
I'd left mine at home. So I parked at the bottom of the field temporarily (just for the photo).
After which, pedal-power dragged my bicycle back amongst the tents at the top. Tons of room in the vast field.
The train took the strain part way, from home to Basingstoke. And back again afterwards.
There was the usual Saturday ride-out into the lanes. But with not a tow-rope in sight I found an activity just as satisfying.
Off-road tea.
And you know how it is when you're sunk in your favourite chair with a fresh brew - it takes a little while to rush to your tent and rummage for a camera when a bike appears returning from the day's outing.
Jacques & Mandy (aka Pumbaa) arrive back at base.
Almost got the whole team in the frame, just the top of helmets missing, but what does that matter when a mug of tea is at stake?
Well, maybe it does matter, they'd not long returned from a bicycle trip right round SE Asia and China.
Tea and chat occupied all the rest of the time, so no more photos, except this.
An excellent repair to a plastic side panel with a big chunk melted away by the silencer. I just happen to know of a little Yamaha in my garage in the same situation. So this idea should fix it nicely.
Thanks to Elaine, who had travelled all the way down from Yorkshire, for the neat design.
Thanks also to Belle and Gordon for the great presentation about their Stella Alpina run back in July. On Honda C90s as always.
And to Steve for setting the whole weekend up.
September 21, 2013 GMT
Eighty-Eight Wheels And The Queen Of The Hebrides


I'm sure this qualifies to be in a blog about motorcycle travel.
You definitely lean into all the bends throughout the 800-mile round trip. Almost needing knee-sliders, would you believe?
Not only that, but there's a poem about the journey that I learnt at school while helping my Dad service and repair his 1950s 600cc Panther sidecar outfit.


From a Railway Carriage

Faster than fairies, faster than witches,
Bridges and houses, hedges and ditches;
And charging along like troops in a battle
All through the meadows the horses and cattle:
All of the sights of the hill and the plain
Fly as thick as driving rain;
And ever again, in the wink of an eye,
Painted stations whistle by.
Here is a child who clambers and scrambles,
All by himself and gathering brambles;
Here is a tramp who stands and gazes;
And here is the green for stringing the daisies!
Here is a cart runaway in the road
Lumping along with man and load;
And here is a mill, and there is a river:
Each a glimpse and gone forever!

(Robert Louis Stevenson)
Here's a photo to go with the
clickety-click
of the lines above, somewhere around Shap on the way to Carlisle.
Another couple From a Tilting Railway Carriage near Beattock on the way to Glasgow.
And even better, by the amazing technology of modern TV, a little video shot out the window.
Very appropriate, on the day before the start of this trip was the September grand reunion of a bunch of retired video and outside-broadcast engineers, who used to work for the
TV Network
bit of the old 'Post Office Telephones'.
Back in the days when we worked together, a production like the one in the frame above would have needed a couple of 5-ton lorries, a microwave mast, and a generator truck to power it all.
Nowadays, a little camera the size of a packet of cigarettes does it all.
My, how time flies!
It's a 3-hour bus ride from Glasgow station, past Loch Lomond and down the Mull of Kintyre to Kennacraig, where the ferry waits to take passengers on the 2-hour sailing to the Isle of Islay, the Queen of the Hebrides.
Halfway across, at the southern end of Caol Ila, steam gave way to sail, or something like that.
A little boat sails across the path of our ferry, the good ship 'Finlaggan' with the Scottish Saltire flying from its bow.
Anyway, now comes the ambling rambling bit about why I found myself on the train to Glasgow and the bus and ferry to the Isle of Islay.
This little gem is in a collection of old secondhand sheet music I've collected over thirty years or so.
Published in 1932 -
Price 3/6d net. - For the practice of various pop rhythms that were the rage in the 20s and 30s.
The U.S. version was a little more brash in its advice for the pianist -
Such a brilliant music book that it's still in print eighty years on.
My old copy has a 'bonus' piece printed on the back cover, that definitely isn't a 'practice piece'. It's nearly all black ink on the page with hardly any white space. And it's the first 16 bars of a devilishly difficult composition called 'Champagne' by Zez Confrey, who until recently had remained a complete mystery to me.
When my piano teacher said she hadn't heard of him either, it prompted me to find out who he was. Everything is possible with the Internet.
Well, he was a pianist and composer in the same era as Scott Joplin and Fats Waller. Less well known because he composed a lot of 'novelty' stuff and transcribed it onto player-piano rolls. Maybe his compositions were so difficult, only a machine could play them.....
I found a youtube audio of him -
And another, of a pianist I'd never heard of, playing the Zez Confrey composition
Dizzy Fingers.
That led to my discovery of the
Isle of Islay Jazz Festival,
where this modern-day exponent of ragtime and Harlem Stride was booked for three gigs.
So I decided it's time to add another island to my current collection of the Scottish Western Isles (Arran, Skye and Holy Isle). And while booking things up I made another discovery - this island is stuffed full of whisky distilleries.
Never mind, I'll cope with that.
Hic!
Arriving on Islay.
Main Street, Bowmore, descends steeply to the little harbour at the bottom.
Where I was reminded of an entry I posted on this blog way back in June 2009 (my, how time flies!)
It included this quotation that I quite liked -
"The mode of locomotion should be slow, the slower the better, and be often interrupted by leisurely halts to sit on vantage points and stop at question marks."
(Carl Sauer, the Association of American Geographers).
At last, here in Bowmore, I found my question mark -

Q. "Where's the distillery around here?"
A. "Over to the left just beyond the harbour wall."


Followed by another question. Some Jazz Festival leaflets were stacked in a local shop, that told of an extra show to be put on, featuring the pianists Nick Ramm, Stephanie Trick and Kit Downes.
But didn't say when or where......
That was the question. And the few people I asked didn't know either.
But the tourist office came to the rescue suggesting the Celtic Shop at the top of town. They were selling tickets for the extra show which had been squeezed between Saturday's lunchtime and tea-time gigs, and would be held in Ionad Chaluim Chille Ile. Which was another question mark to stop at.
It's a community centre just outside Bowmore that teaches the Gaelic language and culture.
There were close to 20 performers in the festival spread across sixteen shows over three days, kicking off at the Lagavulin whisky distillery (just past the Laphroaig Distillery) -
with Stephanie Trick -
she of the blurred hands.
Followed that evening by
Grooveyard
in the village hall right next door to the Bruichladdich Distillery.
This band wasn't really my thing, but there wasn't long to wait until the first show the next day which was at Rhinns Hall in Portnahaven, a little beyond the new Kilchoman Distillery -
and featured the same blurred hands as yesterday.
The Nova Scotia Jazz Band followed straight afterwards -
Then there was time for some photos at Portnahaven -
before visiting Ionad Chaluim Chille Ile where this magnificent tapestry hangs in the hall.
The finale on Saturday was
Blues 'N' Trouble,
back in the hall next to Bruichladdich Distillery.
... Hic!
Sunday's programme started at the Ardbeg Distillery. The road twists through Port Ellen, the embarkation town for the ferries. In the little fishing harbour there seemed to be a bit of satire on display about Scottish-English politics.
A fleet of fishing boats were tied up against the big storm which had been forecast for the past two days and had now arrived.
Two boats, side-by-side, displayed an intriguing array of flags.
On one boat was an upsidedown Union Jack, traditionally a distress signal, flying right next to a flag depicting the 'Rizla X' logo.
The Scottish boat 'Kayleigh M', from here in Port Ellen.
The boat alongside was flying a yellow computer smiley with tongue hanging out
:p
right below the Isle of Man flag.
There must be some message here. Something like -
Manx boat to Scottish boat:
"Hey, get yourself free of that parcel of rogues down south, like we are!"
Scottish boat to Manx boat:
"Look at my flags - I already am!"
Or something like that - maybe....
In the pouring rain and howling gale there was no one on board to ask, so it was onwards to the Ardbeg distillery.
For the last of Stephanie Trick's four shows.
Which included 'Death Ray Boogie' by Pete Johnson.
Followed by London duo Wednesday Gray and Nick Ramm. Just four bottles of Ardbeg Single Malt between them.
Lastly, a local Islay trio performed at the Outback Art Gallery in the wilds of the far west of the island. An obscene distance from the Kilchomen Distillery - 3 miles at least.
Colin Steele, Mario Caribe, Graeme Stephen.
Photos from around the island -
Scenery at Sanaigmore near the Outback Gallery.
Sanaigmore.
Near Port Askaig. Isle of Jura beyond the narrow straights.
The Mull of Oa, at the southern tip of the island.
Mull of Oa.
Mull of Oa.
Mull of Oa.
A rainbow hits the ground in the River Laggan valley.

Finlaggan. The ancient home of the Lords of the Isles for four hundred years.
Their stronghold was on the tiny islands of Eilean Mor and Eilean na Comhairle, at the right of the lake.
Eilean Mor from the lakeside.
Ruin on Eilean Mor. The Island of Jura in the far distance.
Another ruin.
Not a ruin. The Atlantic Ocean near Lossit Bay.
Kilchiaran.
I've never fancied whisky much, having bad memories of a mad over-indulgence during an International Six Days Trial on the Isle of Man (it's always islands, isn't it?) around 1970. The TT is always beer-only, so it's much safer.
Anyway, Lagavulin were very generous in their sponsorship of the jazz festival, giving everyone a good nip of their 16-year-old single malt at most of the venues.
Including the musicians.
At the Outback Art Gallery on Sunday.
And after a very short while, it was obvious that it wasn't just one nip each. It was perfectly OK to nip back to the serving table for a second.... And maybe a third for all I know. And very nice it was too. It seemed that a bottle to take home would be a good souvenir of a good week.
What's more, there are eight distilleries on the island, so here's yet another question mark.
Which one to choose?
The tasting trail was on!
One of the shows over the weekend was at the Ardbeg Distillery where we had a sample of their 12-year-old. Not so nice I thought.
That left six to try
hic
and after a few jolly days this was the winner.
Back where it all started.
No, I didn't walk out of a venue with a Jazz Festival glass hidden under my jacket.
I couldn't.
It still had some whisky in it. The next show was right across the island and I didn't want to consume the full nip (being not the first of the day) before taking the road out there. But I did fancy one of those Jazz Festival glasses if it was possible.
So I decided to just ask, at the end of the performance, when all the glasses were being packed away back into their boxes.
"Can you buy these glasses at the distillery?"
"Aye, y'can buy a nice range of glasses there."
"No, I mean, these ones with the Jazz Festival logo?"
The Distiller looked a bit thoughtful for a moment, leaned close, and whispered in broad Scottish, "Ye'll be welcome t' tak that one with you!"
There's one last Islay adventure, the road to the ferry harbour near the Laphroaig Distillery, through some wide flat countryside. And the sheep and the cattle everywhere. Must be careful not to hit one.
It's strange. The farm animals only seem to wander along the road in the vicinity of the airport.
But then I noticed, of course! They have to be corralled onto the road and its grassy verges, otherwise they'd be grazing the island's airstrip just alongside. That would be trickier I suppose.
-
Mind that dozy sheep shuffling around ahead, it's already got three hooves on the tarmac!
For the train ride back to Euston the poetry was packed away. To be replaced by
Honky Tonk Train Boogie,
an improvisation on a blues composition by Meade Lux Lewis. Filmed live in Rhinns Hall on the Saturday.
A different sort of
clickety-click.
The eagle-eyed might notice that the piano was wobbling around on its castors at times. Well, we're on a tilting train!
But when you look out the window at night, you wouldn't know it.
I just wanted to know what a moving night shot through the window would look like with my little camera. Somewhere between the M25 and Euston.
Thank you and Good night.
Enter your email address to receive updates to Ken Thomas's trip story!
Recent Entries
Archives:
Archives:
Monthly
Archives:
Category
Now that summer is here, get On the Road! Take 30% off the Achievable Dream - On the Road! 2-DVD set until August 31 only.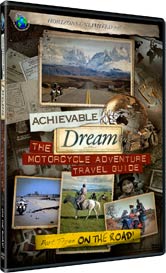 Our veteran travellers share their tips (and great stories) for staying healthy, happy and secure on your motorcycle adventure.
"A fantastic, informative and inspirational DVD."
"It's brilliant - thank you very much!"
Check it out at the HU Store! Remember to use Coupon Code 'ONTHEROAD' on your order when you checkout.
Next HU Events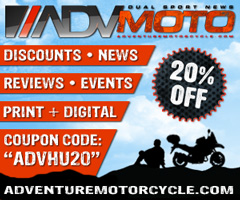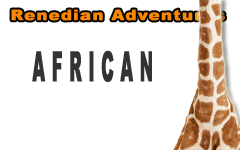 What others say about HU...
"I just wanted to say thanks for doing this and sharing so much with the rest of us." Dave, USA
"Your website is a mecca of valuable information and the DVD series is informative, entertaining, and inspiring! The new look of the website is very impressive, updated and catchy. Thank you so very much!" Jennifer, Canada
"...Great site. Keep up the good work." Murray and Carmen, Australia
"We just finished a 7 month 22,000+ mile scouting trip from Alaska to the bottom of Chile and I can't tell you how many times we referred to your site for help. From how to adjust your valves, to where to stay in the back country of Peru. Horizons Unlimited was a key player in our success. Motorcycle enthusiasts from around the world are in debt to your services." Alaska Riders

10th Annual HU Travellers Photo Contest is on now! This is an opportunity for YOU to show us your best photos and win prizes!
NEW! HU 2014 Adventure Travel T-shirts! are now available in several colors! Be the first kid on your block to have them! New lower prices on synths!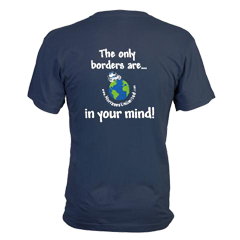 Check out the new Gildan Performance cotton-feel t-shirt - 100% poly, feels like soft cotton!

What turns you on to motorcycle travel?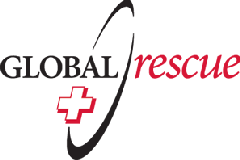 Global Rescue is the premier provider of medical, security and evacuation services worldwide and is the only company that will come to you, wherever you are, and evacuate you to your home hospital of choice. Additionally, Global Rescue places no restrictions on country of citizenship - all nationalities are eligible to sign-up!
New to Horizons Unlimited?
New to motorcycle travelling? New to the HU site? Confused? Too many options? It's really very simple - just 4 easy steps!
Horizons Unlimited was founded in 1997 by Grant and Susan Johnson following their journey around the world on a BMW R80 G/S motorcycle.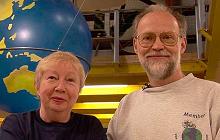 Read more about Grant & Susan's story
Membership - help keep us going!
Horizons Unlimited is not a big multi-national company, just two people who love motorcycle travel and have grown what started as a hobby in 1997 into a full time job (usually 8-10 hours per day and 7 days a week) and a labour of love. To keep it going and a roof over our heads, we run events (22 this year!); we sell inspirational and informative DVDs; we have a few selected advertisers; and we make a small amount from memberships.
You don't have to be a Member to come to an HU meeting, access the website, the HUBB or to receive the e-zine. What you get for your membership contribution is our sincere gratitude, good karma and knowing that you're helping to keep the motorcycle travel dream alive. Contributing Members and Gold Members do get additional features on the HUBB. Here's a list of all the Member benefits on the HUBB.
Books & DVDs

All the best travel books and videos listed and often reviewed on HU's famous Books page. Check it out and get great travel books from all over the world.

MC Air Shipping, (uncrated) USA / Canada / Europe and other areas. Be sure to say "Horizons Unlimited" to get your $25 discount on Shipping!
Insurance - see: For foreigners traveling in US and Canada and for Americans and Canadians traveling in other countries, then mail it to MC Express and get your HU $15 discount!
Story and photos copyright © All Rights Reserved.
Contact the author:
Editors note: We accept no responsibility for any of the above information in any way whatsoever. You are reminded to do your own research. Any commentary is strictly a personal opinion of the person supplying the information and is not to be construed as an endorsement of any kind.
Hosted by: Horizons Unlimited, the motorcycle travellers' website!
You can have your story here too - click for details!