August 19, 2010 GMT
Steering By Bradshaw


Well, he said his name was Matthew. But as he was Dutch, he's unlikely to be Matthew Bradshaw I suppose.



"Isn't it cold!" he said, standing next to his 650 BMW, three-quarters of his way around Africa, from Holland via Spain and Morroco, down the African west coast, Cape Town, now returning up the east coast to Egypt and Europe.
I'd just arrived in Tete, Mozambique, crossed the Zambezi River on its famous triple-span suspension bridge, and stopped in the middle of a group of hotels where I saw his bike. It was a sort-of TIA (this is Africa) moment.
After turning right towards Tete that morning (instead of left to Blantyre), I was again straying away from the "East Africa main route," and expected to see no more travellers for a while. And here at my first stop since, was a rider doing a complete circumnavigation of the continent. And he'd only stopped for a quick coffee outside a cafe, having left Chimoio that morning and heading for Blantyre before nightfall. Another rider travelling at twice the speed of me.


We shared route information and he noted the motel I had just stayed in, which would save him having to go into Blantyre and then back-tracking to get on the road for Lilongwe.
And he had also visited the Great Zimbabwe Monument.
"Why don't you follow the route I've just used, instead of going through Harare?" he suggested.
"Just before the Zimbabwe border take the road to Chimoio. It's a nice ride through wild country, no traffic. Then go through the Vumba forest and mountains, cross into Zimbabwe at Mutare, then it's a brilliant ride to the Monument with no capital cities in the way! And all tarmac."
Well, that seemed a pretty good suggestion, particularly as I'd just paid for thirty days traffic insurance and ditto visa and might otherwise spend only two days in the country. I'd also heard that Mutare is a good place to visit.
"As I came down into Tete it looked as though the weather is heading towards Malawi. What's it been like?"
I told him about the rain on the other side of the border. And about the chaos on the approach to Tete's suspension bridge. Both the bridge, and some of the chaos, visible from our parking spot.
"Oh dear, better get going!" And off he went towards the bridge.


When I approached it earlier from the other side, a queue of lorries commenced about two miles beforehand. It was a bit odd, as though approaching a border crossing. But that was out in the countryside so the lorries were on the shoulder not blocking other traffic. At the bridge was the cause of the queue, it was undergoing serious repairs. Only one lane was open, all the other space taken up with machines, compressors, lifting platforms and all the other paraphenalia of a major civil engineering job.
And only one direction of traffic could cross at a time. Twenty minutes for westbound traffic, then twenty for eastbound. Cars were fighting to get to the head of the queue using all the road and pavement space available. But this is Africa, and in a strange way, the fighting was very polite. Although there were cars everywhere on the approach, including places where they shouldn't be like the other side of the road, the wrong side of the approach dual-carriageways, and the pavements, everyone was courteously giving way to everyone else. And I managed to get to the front with no trouble where I found it was the turn of westbound traffic to proceed.
So I did and crossed with hardly a delay. But if you time it wrongly, it could be a half-hour wait, a lot more if you're in a car.
The trucks sit in their queues all day until the bridge is closed at 6pm. Then one or two trucks at a time can proceed, in one direction only, all night, until it's the time for ordinary traffic again at 6am.


It seems as though the bridge has the same problems as the Forth Bridge in Edinburgh that I learned about a few years ago. The main support cables are giving cause for concern.
These had been stripped of all covering in many places, exposing all the individual steel wires underneath, and engineers with all sorts of gadgets and electronics were inspecting and measuring, high up on the lifting plaforms. It was noticeable that these engineers were white Europeans. Maybe the bridge was built by the Portuguese and they've returned to check it out.
Some of the huge vertical support ties had been removed and replaced with temporary structures and much detailed work was happening on the bare support cables where those vertical ties once were. This bridge has three suspension spans across the river so I hope it's all safe, not that I'm planning to return this way at the moment.


On the city side of the bridge there's less road room for the lorries to queue so they're marshalled in side streets, on waste land and anywhere out of the way with the police trying to keep the city-centre streets clear. Like Lilongwe, it's not a big place.
There are the usual warnings about using a camera but I took a couple of snaps alongside the queuing trucks, not daring to point the camera the other way, towards the bridge, with all the police nearby conducting the traffic.



The Mighty Zambezi, upriver towards the Kariba Dam and Zambia.
A tiny section of hundreds of waiting trucks.
I spent the night in Tete, ventured to use a cash machine, and gained some useful information from a South African mining engineer at the hotel.
He was looking over my bike, wanting to know the usual stuff about my journey. Then his mining training must have kicked in.
"What's this? Something not right here!"
He had found another of those empty holes where a bolt should be. This time, the other bolt that holds the exhaust on. And this one carries a lot more weight than the one that disappeared a week ago.
"It looks as though it's just recently fallen out." More mining experience I suppose. He'd noticed, as I had, that the surrounds of the empty hole were still shiny and clean, so after the morning's rain it had probably fallen out that afternoon, which was good news as the silencer joint would snap with that bolt missing for any length of time.
I asked him if he knew why the town seemed so busy with people, noticeably lots of whites, and with not many vacant hotel rooms.
"There's a boom in the mining industry here," he told me. "It's really taken off. Lot's of us up from South Africa for the work, but from many other countries as well."
That seems to be a common theme across East Africa, the boom in mining activities.
The following morning I departed on Matthew's suggested route.
But my map is a bit sparse on detail in that area, and there was no internet in Tete that day. "It's been bad for a week!" they told me. Maybe the cables go across the bridge.
So I had little information from my maps, and no GPS data or maps from the internet. Nor a guide book.
And I've become a bit reliant on my faithful GPS since Nairobi and Caroline's departure back home. Before that, she was the main navigator and map reader, I just followed along waving at people. And I've since found the internet provides an excellent source of GPS data for logging routes.
(My GPS is an oldie and a goodie. It doesn't connect to a computer, has no maps stored in it, so has to be manually loaded with route data obtained elsewhere).
Also, the East African railway network doesn't reach this region, so Steering by Bradshaw isn't an option either. But never mind, Matthew said it was a simple route and my map at least seems to confirm that.
So I took the Chimoio road at Changara just before the Zimbabwe border and headed south.
The road was indeed devoid of traffic and in excellent condition, across wild empty savannah countryside.
It was all very neat. Little laybys every few miles (the first I've seen in Africa) signposted as picnic places, and a constant stream of very neat little villages. These looked the epitomy of Africa, collections of round mud huts with voluminous conical straw thatch roofs, often so big that additional vertical wooden pillars surounded the huts to support the eaves. Groups of villagers huddled around wood fires in the cold weather.
The usual goats and chickens strutted around and crossed the road, and a new addition - herds of pigs, of many different types, rummaging along the road verges and in the undergrowth. I never saw one on the road though, maybe they somehow know not to, or maybe tarmac just isn't their thing.
Each village was neatly announced by an 80kph sign, then a neat name sign, and sometimes, for bigger villages, a 60kph sign. Followed by a 100kph sign at the exit.
So the road went on and on, getting colder and colder, lots of cheery people waving, until three things happened.
I decided it was too cold to go any further without wearing all my rain gear again, and I also seriously wondered if there was anywhere on this road to stop overnight. The owner of the hotel in Tete where I stayed assured me there were lots of nice hotels along the way, but there had been none, and we'd passed through villages that were marked on my map as large dots rather than tiny small ones. Even those places had no buildings at all except the little mud huts of the villagers. It was a long way to Chimoio and I had it in mind to stay somewhere on the way, even though Matthew had done it in a morning. (How, I don't know!)
Through the medium of the internet I would have checked out the road before departure. A service called Tracks4Africa logs just about every imaginable overnight stopping place in east and southern Africa, all shown on detailed maps with all the GPS data you could need. (Yes, it makes it too easy!) But never mind, I have a tent if Chimoio does prove to be too far.
Then I suddenly realised an even more important need I had of the internet and its mapping information.
I had absolutely no idea how much petrol I had, nor where the next fuel station was. And GPS positions for just about all filling stations in this part of Africa are also on the internet.
I had filled up in Tete that morning, but when I replaced the cap I saw that the attendant hadn't actually filled up my tank. But I didn't look more closely to see how full (or empty) it was. He'd gone off to get my change so I decided it would be a simple matter to fill up again on the outskirts of town or at Changara. No problem.
But of course I forgot all about that, until I stopped just then for more layers of clothes.
Oh dear, that's a bit of a double whammy, not knowing how much fuel you've got, nor where the next petrol station is. And no towns of any significance shown on my map.
Talk about Steering by Bradshaw.
All I could do was continue and hope for the best.
If only it wasn't so cold!
Well, the road continued very pleasantly, so that was some consolation, and with my large petrol tank I knew I'd have quite a bit of warning before running completely dry, about fifty miles or so, when I have to switch to the first reserve supply. There are two reserves on this tank. And someone in these villages probably has petrol for some reason or other, if not only to sell to passers by.
And then, what do you know? Two cyclists appeared pedalling in the other direction! (But not carrying petrol of course).
Tim and Bella from England were cycling from Cape Town to Spain, slowly, having been on the road for many many months (I forget how many).
We exchanged the usual information about routes, and once again I'm the bearer of bad news about Ethiopian visas in Nairobi. But would you know it? They too are planning to go around Lake Victoria, Rwanda and Uganda, the route that I thought only I would take. So like Pete back in Lilongwe they decided it'll be a long time before they reach Nairobi so things could change. And they are grateful when I tell them that there are plenty of grocery shops in Changara as they are getting low on provisions.
So I venture to ask about petrol.
"Yes," says Tim, "There's a big filling station about sixty kms back." And I know I have at least that amount in the tank.
So that's alright then.
They wanted to know all about the ferry across Lake Nasser to Egypt, and the 'dreaded road' to the Ethiopian border. So we chatted for quite a while, and a large group of children and a few adults gathered to listen. It's easy to forget that these villagers rarely, if ever, have a chance to listen to a foreign language. And I learned in the rural parts of Tanzania that local people find the English language incredibly funny to listen to. Strange!
So with petrol ahead, and probably just enough daylight left to reach Chimoio, the rest of the journey was a bit more relaxed.
Although a little less relaxed on the approach to the city. The villages disappeared, traffic increased as you'd expect, and huge enclosed cultivated farmlands appeared alongside the road stretching away into the distance.
Prominent signboards proclaimed that these were new agricultural projects for the large-scale growing of bio-fuels. So there you have it. In the land of hungry children, the motor car and bike (ironically, seeing my little recent uncertainty about petrol) will be well provided for.
Here in Chimoio it's been oil-change time yet again, in a very convenient hotel with a handy little yard in which to do the work.
There aren't many hotels here and this one had only one room left. So for less than I paid for one night in Tete I get an apartment in an annex for two nights and my own personal night guard on the gate. (Well, almost, there's one other apartment occupied here).
I don't know about all the guards that hotels and campsites employ. I suppose it may be necessary but mostly, in these small towns, things seem pretty safe, even at night walking back from a restaurant.
The money here in Mozambique is a bit more manageable as there are notes up to about ten pounds in value. But still you only get a maximum of about eighty pounds from an ATM. Here, these display a sign saying you can have two goes if you need more.
But there's a neat addition. They work in the normal way, except at the appropriate moment the sound of a trumpeting elephant comes from a little loudspeaker next to the delivery jaws, to warn you to have your hand ready to grab your cash.
Very appropriate!
It reminded me of cash machines in New Zealand. I think it was around December or perhaps May, many years ago. After inserting your card, the screen displayed the message, with flashing coloured stars and patterns surrounding it, "Before you enter your pin, we'd like to wish HRH The Queen Mother a Very Happy Birthday."
Maybe one day British ATMs will be as entertaining.
And finally....... just to explain....... the thought "Steering by Bradshaw" entered my head on the road here, while wondering about petrol and filling stations and places to stay. Some readers may need an explanation (as if this entry isn't long enough already).
In the early days of airplanes, pilots had very little means to navigate. Everything was new and strange and very basic - no maps for flying by, no radio, no radar. So a neat way to navigate was to follow railway lines, whilst looking up the latest copy of Bradshaw.
Bradshaw had the monopoly on publishing all of British Railways' timetables. So by consulting a complete copy, with maps, and looking out for the thousands of railway lines that existed in those days (far more than nowadays), pilots could easily follow any route almost anywhere in the country. And by looking out for the trains as well, the pilot could tell what time it was if his watch was broken. It all came to be known as "Steering by Bradshaw," a euphemism for not really knowing where you are.
(Bradshaw's 1907 map of the entire British Railways network can still be purchased on Amazon).
Posted by Ken Thomas at August 19, 2010 11:07 AM GMT

Enter your email address to receive updates to Ken Thomas's trip story!
Recent Entries
Archives:
Archives:
Monthly
Archives:
Category
NEW! HU 2015 Motorcycle Adventure Travel Calendar is now available! Get your copy now for some terrific travel inspiration!
HUGE, 11.5 x 16.5 inches, beautifully printed in Germany on top quality stock! Photos are the winning images from over 600 entries in the 9th Annual HU Photo Contest!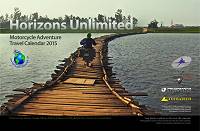 "The calendar is magnificent!"
"I just wanted to say how much I'm loving the new, larger calendar!"
We share the profit with the winning photographers. YOU could be in the HU Calendar too - enter here!
Next HU Events
NEW!

USA Virginia: Apr 9-12, 2015
Take 40% off Road Heroes Part 1 until October 31 only!
Road Heroes features tales of adventure, joy and sheer terror by veteran travellers Peter and Kay Forwood (193 countries two-up on a Harley); Dr. Greg Frazier (5 times RTW); Tiffany Coates (RTW solo female); and Rene Cormier (University of Gravel Roads).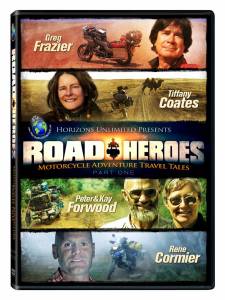 "Inspiring and hilarious!"
"I loved watching this DVD!"
"Lots of amazing stories and even more amazing photographs, it's great fun and very inspirational."
"Wonderful entertainment!"
Check it out at the HU Store! Remember to use Coupon Code 'HEROES' on your order when you checkout.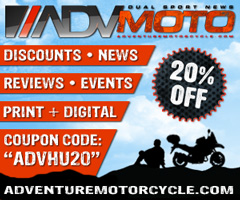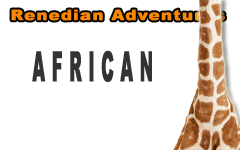 What others say about HU...
"I just wanted to say thanks for doing this and sharing so much with the rest of us." Dave, USA
"Your website is a mecca of valuable information and the DVD series is informative, entertaining, and inspiring! The new look of the website is very impressive, updated and catchy. Thank you so very much!" Jennifer, Canada
"...Great site. Keep up the good work." Murray and Carmen, Australia
"We just finished a 7 month 22,000+ mile scouting trip from Alaska to the bottom of Chile and I can't tell you how many times we referred to your site for help. From how to adjust your valves, to where to stay in the back country of Peru. Horizons Unlimited was a key player in our success. Motorcycle enthusiasts from around the world are in debt to your services." Alaska Riders

10th Annual HU Travellers Photo Contest is on now! This is an opportunity for YOU to show us your best photos and win prizes!
NEW! HU 2014 Adventure Travel T-shirts! are now available in several colors! Be the first kid on your block to have them! New lower prices on synths!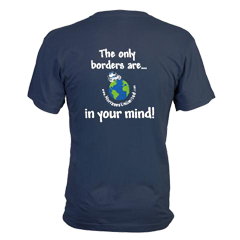 Check out the new Gildan Performance cotton-feel t-shirt - 100% poly, feels like soft cotton!

What turns you on to motorcycle travel?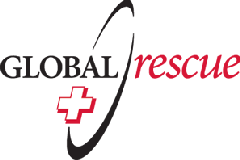 Global Rescue is the premier provider of medical, security and evacuation services worldwide and is the only company that will come to you, wherever you are, and evacuate you to your home hospital of choice. Additionally, Global Rescue places no restrictions on country of citizenship - all nationalities are eligible to sign-up!
New to Horizons Unlimited?
New to motorcycle travelling? New to the HU site? Confused? Too many options? It's really very simple - just 4 easy steps!
Horizons Unlimited was founded in 1997 by Grant and Susan Johnson following their journey around the world on a BMW R80 G/S motorcycle.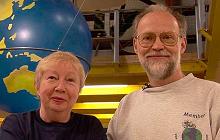 Read more about Grant & Susan's story
Membership - help keep us going!
Horizons Unlimited is not a big multi-national company, just two people who love motorcycle travel and have grown what started as a hobby in 1997 into a full time job (usually 8-10 hours per day and 7 days a week) and a labour of love. To keep it going and a roof over our heads, we run events (22 this year!); we sell inspirational and informative DVDs; we have a few selected advertisers; and we make a small amount from memberships.
You don't have to be a Member to come to an HU meeting, access the website, the HUBB or to receive the e-zine. What you get for your membership contribution is our sincere gratitude, good karma and knowing that you're helping to keep the motorcycle travel dream alive. Contributing Members and Gold Members do get additional features on the HUBB. Here's a list of all the Member benefits on the HUBB.
Books & DVDs

All the best travel books and videos listed and often reviewed on HU's famous Books page. Check it out and get great travel books from all over the world.

MC Air Shipping, (uncrated) USA / Canada / Europe and other areas. Be sure to say "Horizons Unlimited" to get your $25 discount on Shipping!
Insurance - see: For foreigners traveling in US and Canada and for Americans and Canadians traveling in other countries, then mail it to MC Express and get your HU $15 discount!
Story and photos copyright © All Rights Reserved.
Contact the author:
Editors note: We accept no responsibility for any of the above information in any way whatsoever. You are reminded to do your own research. Any commentary is strictly a personal opinion of the person supplying the information and is not to be construed as an endorsement of any kind.
Hosted by: Horizons Unlimited, the motorcycle travellers' website!
You can have your story here too - click for details!