December 03, 2009 GMT
Mexico, "land of contrast" and it truly is. From modern metropolitan cities to small indigenous villages, From Tropical jungles to deserts, from the old colonial city centers to modern cities with Home Depot and MacDonald's. Traveling through Mexico has been fascinating.
Entering Mexico from the South (Belize) provided an entirely different prospective than when I came in from the North. Coming from the south one notices that the roads are better than I have seen since Argentina. There are road signs to tell you where you are going, what road you are on and warn you on hazards. This has generally been lacking to some degree in the countries to the south.
I also noticed many signs of improved economic conditions that would not be noticed coming from the north. Simple things like seeing concrete pumper trucks, in most countries to the south they either haul concrete up ladders or us cable winches. For the first time I am seeing many large motorcycles on the road, a sure sign of improved economic conditions. Also Mexico has less of an import tax so motorcycles are more affordable. I have been very impressed with Mexico, it is a beautiful country full of friendly people.

Hazardous waste collection in Mexico, have seen more signs of environmental concern here than in other countries.
Crossing the boarder from Belize, Remate, was one of the easiest crossings I have had. This was not a major crossing and I found officials most helpful. It was also Sunday and all the insurance vendors were closed, so I moved on without insurance. Insurance is not required in Mexico but if you get in an accident you can not leave until it is settled. Looked for insurance the next day but found none so went on line and bought a policy that covered moto as well as liability.
I went west and then south to town of Paleneque then out to the Mayan ruins. These are the most complete I have seen. These cities were still inhabited when the Spanish arrived so there has been less damage from time and jungle.

Mayan Ruins at Paleneque

More old rocks
South of Paleneque was close to a perfect ride. Winding road through the mountains and when it got hot I stopped at Cascadas Agua Azul for a rest and a dip in the water. Then road on into San Cristobal (colonial city) for the night. This was one of many places that I wish I could have spent some time exploring.

Waterfall, neet but the siqn said now swimming

Cascada Agua Azul, went swimming here.

Cascada Agua Azul

Some of this corn was at least ten feet tall, would like to see it when it was green.

Sorgum being combined within a few K of where corn is being raised by hand laborl
From San Cristobal I headed southwest to the Pacific. The lowlands are hot and humid so the next day after talking to two Mexican riders on BMWs I head inland, and up, to Oazaca. I was advised to take ruta 175 as the best road. But ruta 190 was marked as "scenic" so I took it instead for another great ride on a road made for motos. Oazaca was a colonial city with many interesting buildings but too large and hard to find my way around. Headed south again from Oazaca on ruta 131. Even thought the road was a bit tore up in spots I would put this on a don't miss list.

Mixing gravel with cement for road in Oazaca.

Hard to convey what a road is like in a picture but I love these roads.

I can now take "seeing the worlds largest tree" off the bucket list.

Worlds Largest Tree, over 2000 years old

Found a pet but did not have a spare helmet that fit so left him to grow up a bit.
Once I got back to the coast I tried to get close enough to Acapulco that my phone would work. It was Thanksgiving and Martha's birthday and I wanted to call home. Pulled into city about dark and started looking for a hotel but there was something going on as all five hotels I stopped at were full. Rode another hour north to a town and found a hotel for the night, but still not close enough for phone to work.
The next day I rode through Acapulco, big confusing city with way to much traffic along with construction on main route in. All the taxis were VW bugs painted white and blue on the other side of the hill they were red and white so they must have a territory that they stay in. Can not understand why they put up a dozen signs telling you which way to go then don't put one up where you have to make a turn, someone watching and laughing "hay look we caught another one". The GPS is not too acerate here but it sure helps in knowing the general direction in which one needs to go.

Traffic
Just north of Acapulco is an area of very upscale resorts if anyone wants to escape reality for awhile but plan on bringing your wallet as it looked spendy.

View of the Pacific Ocean

Stopped for a bit of Watermelon, girl in road is collecting for some cause. Many of these raising money for Church, youth group or fire department. I normally find something for them, especially the fire department as they are the ones that will come pick you up if you have a fall down.

Some very nice farm ground

Copper bath tub, might have bought it but would need a trailer

More farm ground

Again it is hot and humid on the coast so after about 250k I head inland to the city of Uruapan and from there to Leon. Hunted down the Harley dealer in Leon and they were very interested in the Buell. None of the dealers in Mexico carry the Buell line but they just sold 26, XB12XPs, these are the police model and they need to mount sirens on them when they came in. Leon is a big modern city and after running around for an hour or so decide to head on to Guanajuato.

HD in Leon

This is a sign that I did not see to the south of Mexico, some nice roads that you run 130k on. most of these are toll roads which I tend to avoid though.
On the way out of the city a Suzuki 650 pulls along side and asks where I was headed. Told him Guanajuato and he said he was headed there also. Talked a bit at stop lights and he said he had a friend there that knew the best spots to stay. Once in Guananajuto he could not reach his friend by phone so hevinvited me to come with him and his girl friend to lunch in Santa Rosa (about 20k). Had a great lunch and conversation with them, then back to Guananajuto to his friends house and down town to a hostel. It would take days to figure out the roads in this town as none are straight, most are one way and there are 47 tunnels that twist under the city.

Mike and GF in Santa Rosa
Next I moved onto San Miguel de Allende where I am now and will be for a few days.
December 10, 2009 GMT
Spent four days in San Miguel de Allende, was good to regrow some skin on contact points. Had wanted to stop for a few days as there was a bid coming up back home that I needed to work on. Bid was delayed but I had signed up for four days of Spanish classes so I stayed for that. San Miguel is an interesting town with many expats living there and many tourists. That drove up the cost of hotels but was able to find one for 485 pesos (13 to 1) with a good parking area.

Hotel in San Miguel de Allende

They do know how to make doors here

1935 moto owned by fellow in shipping place.
Spent time wandering around the shops to see if there was anything I needed to buy for Christmas presents. The last afternoon I walked down to "artists alley" and took another item off bucket list. This one has been on there for a long time, when I was 12 or 13 I made comment of tatoos a hired hand of Uncle Harry's had. At which time Dad informed me that if I came home with a tatoo he would remove it with sandpaper, so that shot that idea till I was out of the house. But by then I need my money for more important things like motorcycles, cars, and college. Then I got that stabilizing effect of marriage as I finished college and money went elsewhere. When I did have the money I came to the realization that by the time I got old my tastes may change and I probable would not like what I put on. Well here I was, hate to admit it but I am may be old now, have the money in my pocket, and no stabilizing effect here to steer me elsewhere as I pass a tatoo place. So 800 pesos, two hours and I now can take tattoo off the list.

Tattoo
I left San Miguel and headed to Jalpan de Serra in the Serra Gorda (mountains). It is also the area where five Missions were started about 1800 with all of them well maintained. The road to Jalpan has 700 corners in the last 100 K. I also had lots of time to get there so ran up several side roads and side roads off of side roads. Reached 2850 meters in the little village of El Doctor. Kind of neat pulling into these little villages that are off the beaten path, I do not think they see too many motorcycle travelers up here. Then up to see some ruins and a small cavern. Went to San Joaquin to see the mission there. Great roads and perfect weather, was cool to the point that I had my coat liner in for the first time since the mountains of Columbia. Much easier to solve cold than hot.

My guide to cavern(far right) and helpers.
The next day I went up side roads off of Mex 120 to missions at Tilaco and Tancoyol. Both off the main hwy so don't get too many tourists. They do not seem to have grown much over the years so thing have not changed much although there are many cars, pickups and other signs that the economy is doing ok. Went back down Mex 120 then headed north stopping at the last of the Missions in Conca.

Road in Sierra Gorda

Countryside in Sierra Gorda

Sierra Gorda
pg" width="448" height="336" border="0" />


I followed a large truck with a load of green peppers for quite awhile. It was trapped but so full that one would fall off every so often. Finally stopped and picked one up, only a little damaged. Eat about half which was quite good but I must say their green peppers have much more bite than the ones back home.
Headed toward San Luis Potosi and made it there by 5:00. Don't really like big cities so took the truck route around, then west on Mex 49. Stopped at a town about 20 k out but they said there was no hotel there and with not much showing further down the road so I turned back to San Luis Potosi. Before I got there I saw a restaurant with cabins. Stopped got a cabin for $200 and unloaded and cleaned up. Then went over to restaurant, it had closed for the night, so dinner was a banana with water. Not much on TV (well a some but all in Spanish) and no wifi so went to bed about 8.
Up, loaded and out by 6:00, on my way to Durango. Something mythical about heading off into the dark morning with the sun rising in your mirrors. One of the changes I had made to the bike before I left was to change to HID lights (½ the amps, twice the light) and they sure cut a hole in the dark. Sunup was about 7:00 at which time I found a truck stop and got a bite to eat. Much of the way was on four lane hwys where cruising speed was 130 to 140K, even though my rear shock has blown a seal and is non functional. Score one for the topes, the rear shock has spit out most of it's oil. Won't be able to find one till I get to California, then would only work if they had one in stock as I won't have the time to wait for it. That makes two things for warranty coverage, also want them to fix the kickstand right. To do that means re-machining the mount (part of left engine case) or replace it. I think the bracket is also bent.
125 K before Durango I stopped for fuel in Sombrerete and was handed a flyer for a farmer demonstration / protest planned for tomorrow. Had to stay and support fellow farmers, primary grip is rapidly escalating electric power rates. Have passed many circle irrigation systems and all work on electric power for pumps and movement. The way I see it if I study protests I can call this trip a business expense.
At the Hotel in Sombrerete the desk clerk/maid/cook's husband had worked in the US (New Hampshire, and North Dakota) on farms and a big dairy. With his English and my Spanish we talked for a long time. There was a film crew at the hotel (making a movie of some type) and the hotel had been cooking them meals, got myself invited up for dinner which was very good.
The road from Durango to Mazatlan was on the "bucket" list as a must do ride. Have been told that this is one of the best roads in North America. "El Spinazo del Diablo", (The Devils Spine) runs from the Alto Plano (2000 to 3000 meters) down to the sea. The first section was nothing special making me wonder what all the hullabaloo was about, then I came to the twisties. Corner after corner cut into almost vertical mountains and winding through beautiful pine forests. The weather was perfect, a little cool on top but I prefer it that way. If you ever ride the El Spinazo be ready for four hours of an exhilarating roller coaster ride. What really puts this road in the top five I have ever run is the well banked corners, as the road twisted back and forth the banking would follow. If the shock had not blown on my moto I could have done a little knee dragging around these corners.

Start of El Spinazo del Diablo

El Spinazo del Diablo

El Spinazo del Diablo

El Spinazo de Diablo road on far mountain

This is a straight stretch of the Spinazo
As I got closer to Mazatlan I could see construction taking place. The DOT (Destroyers of Twisties) has arrived in Mexico. This road will be an engineering marvel, the 48 K section they are working on will have 42 tunnels and 34 bridges (see picture). I do love how Mexico works their roads though, the new road will be toll and they will keep the old road for local traffic and crazies on motos.

Supports for new bridge
Will be in Mazatlan for a couple of days then take ferry to the Baja.

El Spinazo del Diablo
December 20, 2009 GMT
The Baja Norte
Mexico Norte
Met a rider, Mike, from Scotland in Masatlan and who had broke a toe hitting a rock that was knocked into his lane by a truck passing. He is retired and has traveled much of the world and looking now to rest up a bit then head to Africa. He was sure that I would be disappointed in the Baja and did not think it offered much for good riding but then the other options for going north were about the same, flat desert.
There are two ferries running from Masatlan to La Pas, Baja. The Baja ferry was 1000 pasos more so I took the TMC ferry which is mainly for truck traffic and no frills. We loaded at 4:00 PM and were on the way by 5:00. Arrived at La Pas at 9:00 AM. After dinner (included in price) they put on a couple of movies then everyone found a spot on the floor or spread out on seats and tried to sleep. Got almost as much sleep as one might on an overnight air flight. Got up to eat breakfast about 6:30 then waited. Ship was moving at 25 to 27 kph (as per my GPS) so total trip must have been close to 400 k.

Waiting to load ferry

Loaded on ferry, almost can make out moto on right center.
Was an interesting ferry as it had two decks with an lift to move vehicles to top level. When came time to unload I put bike on lift behind trailer with little room between me and edge, but we made it.
From La Pas I turned South as I wanted to check out Cabo San Lucas Harley dealer to see if he had rear brake pads and could hook up computer to check out "check engine light". Cabo is a strange place, high priced (35 pasos for a beer), playground for rich gringos. Even out of town a way prices were higher than I have been paying.

This guy has been following me like forever!
Dealer was able to fix light, loose wire to fan, and had brake pads so I moved on north again. The road north seems to zig zag back and forth from east side to west side. Contrary to Mike gloomy estimate of riding the Baja, I found it enjoyable had some good sections and the flat straight roads allowed for the mind to wander a bit. Even had one section where I got up to 700 meters high, not the Andes by still twisted and turned a bit.

Hotels have been very accommodating, if they did not have off street parking they would have me bring moto right into hotel.

Baja

Baja

Funny birds on cactus

One two hundred mile stretch without any Pemex gas stations. With out this supply I would have been in trouble as I did not know stations were closed and would have run dry.
Made it to Ensenada after dark and checked into a hotel south of town, was m/l 100k south of the border. Asked where a place to eat was and was told one block down and a little left. Recommended I ride there not walk, so I thought it best to order pizza delivered. The closer I got to the border the more it became obvious that people were concerned about security. Gas station attendants would take money to caged window for change instead of carrying money in pocket as done in most of Mexico. This may be just due to "big city" or the increased crime along the boarder.
The next morning I had the plan of hitting the road early and going straight up through Tijuana hoping the border is not too packed early. On the road by 5:30 but it took till 7:20 to reach the lineup waiting to cross. Stayed in line and made it up to the check point, was US boarder didn't pass anywhere that I could check moto and me out of Mexico. So had to return to Mexico and start asking questions. There are 16 entry booths at this border fed by a four (north) road and most I asked had no idea where to check out moto as there is no requirement for temp import if only going down the Baja. After being sent to four different sites I finally found what I needed several blocks from the border and cleared moto. Then back in the line (at least a mile long) to get to the border, this time I did not stay in line but took every chance to split the lanes and move up. Cleared the border at 10:30, I think that is the longest it has taken out of 27 border crossings. It had been recommended to go east to a different crossing but I could not see it worth traveling 50 miles in the wrong direction, but may have been worth it.
By traveling to other countries one learns more about there own country by what is different. Once in California the roads were so good it was hard to keep it down to 80 mph. In California it is legal to split lanes, So when traffic slowed down around Las Angles I just followed other motorcycles between the slow moving cars. Was a little hard to get use to trusting the cars not to turn in but they seemed to be use to it and kept the slot open.
Stopped in San Diego and had a new rear tire put on. This is the third new tire for the trip. The first two I was only able to get 6000 miles out of due to softer rubber on the sides and many corners. This one had all most 9000 on it and was wore out in the center section.
From a little way north of Las Angles were I had stopped for the night I made it to Weed (50 miles south of Oregon border). After traveling south of the border it seems amazing how many miles one can go on these roads even with a late start and it getting dark early.
Made it home Friday the 18th, 3:30 PM.
The numbers:
22,603 miles
139 days, (not enough)
Buell XB12X repairs
Kick stand bolts (broke twice)
Drive belt in NW Argentina
Electrical problem in Peru (plug pulled apart)
Valve cover leak in Mexico
New front break pads San Salvador
New rear break pads Cabo San Lucas
Tires
No flats
Three rear tires one front tire
Fall downs 4
Twice in mud (twisted right knee first time just got muddy second)
Twice on gravel (broken rib first time and left knee wacked good the second)
Now the planning begins for the next adventure. Martha has decided that three months is too long for me to be away from the business, so will limit to six weeks and will work on getting Martha to come with me for 4 weeks of that. Australia is looking good right now.
Enter your email address to receive updates to Robert Thode's trip story!
Recent Entries
Archives:
Archives:
Monthly
Archives:
Category
NEW! HU 2015 Motorcycle Adventure Travel Calendar is now available! Get your copy now for some terrific travel inspiration!
HUGE, 11.5 x 16.5 inches, beautifully printed in Germany on top quality stock! Photos are the winning images from over 600 entries in the 9th Annual HU Photo Contest!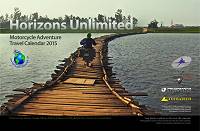 "The calendar is magnificent!"
"I just wanted to say how much I'm loving the new, larger calendar!"
We share the profit with the winning photographers. YOU could be in the HU Calendar too - enter here!
Next HU Events
Canada West: Aug 20-23, 2015
USA California: Sep 24-27, 2015
Aus Queensland: Sep 24-27, 2015
USA North Carolina: Oct 8-11, 2015
Aus Perth: Oct 9-11, 2015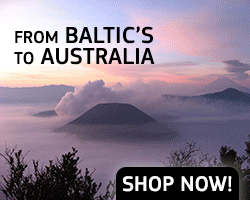 Take 40% off Road Heroes Part 1 until October 31 only!
Road Heroes features tales of adventure, joy and sheer terror by veteran travellers Peter and Kay Forwood (193 countries two-up on a Harley); Dr. Greg Frazier (5 times RTW); Tiffany Coates (RTW solo female); and Rene Cormier (University of Gravel Roads).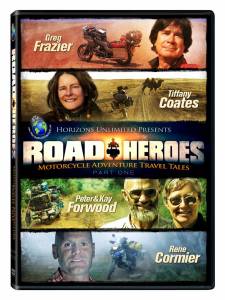 "Inspiring and hilarious!"
"I loved watching this DVD!"
"Lots of amazing stories and even more amazing photographs, it's great fun and very inspirational."
"Wonderful entertainment!"
Check it out at the HU Store! Remember to use Coupon Code 'HEROES' on your order when you checkout.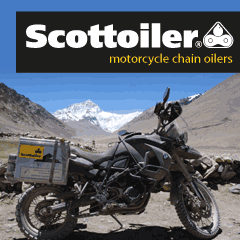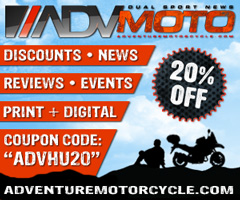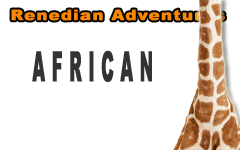 What others say about HU...
"I just wanted to say thanks for doing this and sharing so much with the rest of us." Dave, USA
"Your website is a mecca of valuable information and the DVD series is informative, entertaining, and inspiring! The new look of the website is very impressive, updated and catchy. Thank you so very much!" Jennifer, Canada
"...Great site. Keep up the good work." Murray and Carmen, Australia
"We just finished a 7 month 22,000+ mile scouting trip from Alaska to the bottom of Chile and I can't tell you how many times we referred to your site for help. From how to adjust your valves, to where to stay in the back country of Peru. Horizons Unlimited was a key player in our success. Motorcycle enthusiasts from around the world are in debt to your services." Alaska Riders

10th Annual HU Travellers Photo Contest is on now! This is an opportunity for YOU to show us your best photos and win prizes!
NEW! HU 2014 Adventure Travel T-shirts! are now available in several colors! Be the first kid on your block to have them! New lower prices on synths!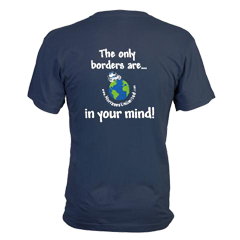 Check out the new Gildan Performance cotton-feel t-shirt - 100% poly, feels like soft cotton!

What turns you on to motorcycle travel?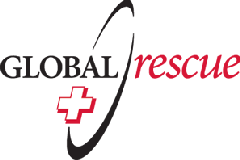 Global Rescue is the premier provider of medical, security and evacuation services worldwide and is the only company that will come to you, wherever you are, and evacuate you to your home hospital of choice. Additionally, Global Rescue places no restrictions on country of citizenship - all nationalities are eligible to sign-up!
New to Horizons Unlimited?
New to motorcycle travelling? New to the HU site? Confused? Too many options? It's really very simple - just 4 easy steps!
Horizons Unlimited was founded in 1997 by Grant and Susan Johnson following their journey around the world on a BMW R80 G/S motorcycle.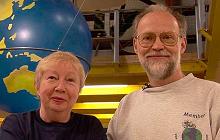 Read more about Grant & Susan's story
Membership - help keep us going!
Horizons Unlimited is not a big multi-national company, just two people who love motorcycle travel and have grown what started as a hobby in 1997 into a full time job (usually 8-10 hours per day and 7 days a week) and a labour of love. To keep it going and a roof over our heads, we run events (22 this year!); we sell inspirational and informative DVDs; we have a few selected advertisers; and we make a small amount from memberships.
You don't have to be a Member to come to an HU meeting, access the website, the HUBB or to receive the e-zine. What you get for your membership contribution is our sincere gratitude, good karma and knowing that you're helping to keep the motorcycle travel dream alive. Contributing Members and Gold Members do get additional features on the HUBB. Here's a list of all the Member benefits on the HUBB.
Books & DVDs

All the best travel books and videos listed and often reviewed on HU's famous Books page. Check it out and get great travel books from all over the world.

MC Air Shipping, (uncrated) USA / Canada / Europe and other areas. Be sure to say "Horizons Unlimited" to get your $25 discount on Shipping!
Insurance - see: For foreigners traveling in US and Canada and for Americans and Canadians traveling in other countries, then mail it to MC Express and get your HU $15 discount!
Story and photos copyright © All Rights Reserved.
Contact the author:
Editors note: We accept no responsibility for any of the above information in any way whatsoever. You are reminded to do your own research. Any commentary is strictly a personal opinion of the person supplying the information and is not to be construed as an endorsement of any kind.
Hosted by: Horizons Unlimited, the motorcycle travellers' website!
You can have your story here too - click for details!