Philippines Motorcycle Tour - Nov. 2005
March 31, 2005 GMT
Philippines (Nov. 2005) - Initial Planning
March 2005 - Initial Planning
Early in 2005, a couple of friends and I decided on try our hand at touring the Philippines by motorcycle. Internet searches found this tour to be a rare choice, although there is at least one HU member who has succeeded.
Our first step was to look at a map and decide where we want to go and how long we should take. Flights between Australia and the Philippines mainly pass through Manila. This dictated that we would have to enter and leave the Philippines via Manila.
We decided on a clockwise tour around the country. Starting with a trip round Luzon, we would then travel down the eastern islands, across the northern part of Mindanao and then back to Manila via the western islands. A total distance of about 3,500km with 6 ferry (RoRo) trips. Four weeks should be sufficient.

Philippines Tour Map
Studying the prevailing weather conditions, we decided that November would be a good time to tour. Not too hot or wet and just before the full-on tourist season.
Their government does not encourage temporarily importing motorcycles into the Philippines.



Carnet de Passage is not recognised.


A "refundable" bond of 150% - 200% of Customs' estimated value of your bike must normally be paid.


Once your bike arrives, you may need to remain at the port for 1 - 2 weeks to process the paperwork.


You can only export your bike through the same port that you entered the country. (Not a problem for us.)


When exporting your bike, it may take you 2 - 3 weeks to have the paperwork processed and, if you're lucky, get your bond back.


With only limited travel time available, this is all too much trouble for us.
Next option considered was renting a bike in the Philippines. Although you can get almost anything you want in the Philippines, we found that you cannot rent a motorcycle for touring the country.
How about buying and selling a bike through a Philippines dealer? This is occasionally available with new bikes. With commissions and the dealer's estimated buyback price, this was going to cost us 40% to 70% of the initial purchase price. Again, not a viable option.
OK, how about having second-hand bikes pre-purchased for us in Manila and then having them sold for us there after we leave? The problem with this was to find an honest agent to organise the buying and selling.
Fortunately, I have some Filipino friends living in Manila. They are not motorcycle savvy but, through them, I was able to get in touch with Martin (Herc) Gino, a well-known motorcycle enthusiast in Manila. Herc loves his motorcycles and loves working on them. I had Herc checked out and found he has a reputation for honesty and reliability (not common attributes with some Filipinos).
I have previously spent some time riding motorcycles in the Philippines. These were only short trips; round Manila, the length of Cebu Island, and the southern part of Mindoro. This allowed some insight into what type of motorcycles we would require. Riding conditions in the Philippines are such that-
Your maximum speed will rarely exceed 80kph with most travel at between 20kph and 50kph; roads are generally in poor condition with many potholes and rough unsealed sections; for pollution reasons, some towns and cities are starting to restrict access to 2-stroke motorcycles; and traffic conditions are similar to many other Asian countries (i.e. chaotic).
Might-is-right, so motorcycles are at the bottom of the food (traffic) chain.
Taking these conditions into consideration, we set our bike parameters to; 4-stroke, about 250cc, duel purpose type with good luggage carrying capacity. Good second-hand bikes of this type can be purchased in Manila for about P60,000 to P100,000 (about USD1,250 to USD1,800 in 2005) If prudently purchased and looked after, we should be able to sell the bikes at the end of the trip for close on the purchase price.
With Herc's help, our next stage is to find and purchase the bikes. Once purchased, Herc has offered to look after any modifications or servicing that may be required before our arrival.
July 08, 2005 GMT
Philippines (Nov. 2005) - Bike Preparation
Purchasing & Preparing the Bikes
Our search for suitable bikes to tour the Philippines mainly involved keeping a close watch on the bikes listed for sale in the Motorcycle Philippines (MP) free classifieds and using the contacts of Martin Gino, our trusted friend in Manila.
Martin is also the HU Community Contact for the Philippines.
You can buy almost any type of motorcycle in the Philippines, from a Triumph Rocket III to the smallest of Chinese made scooters. Most of the major Japanese brand motorcycles officially released in the Philippines are sourced from China then assembled and badged in the Philippines. A Honda XLR200 released in the Philippines costs P105,000 new. A similar bike, if fully manufactured in Japan, would cost about P300,000 new.
When purchasing a second-hand motorcycle in the Philippines, You basically have three options; Chinese made & imported, Chinese sourced/Philippines assembled, and fully imported non-Chinese. For a percieved better build quality, we decided it was better to buy a fully imported, non-Chinese model.
In determining the type of bikes that would be best suited for this tour, consideration was given to the type of riding to be undertaken. The speed limits in the Philippines are 30kph, 50kph and 80kph (maximum). The roads we would be travelling on vary from good sealed roads to rough dirt tracks. The models had to have reasonable parts availability. The bikes must be properly licensed and legally able to carry 2 persons. With this criteria, we decided on dual-purpose type bikes of 200cc to 250cc capacity. Anything bigger would just be over-kill in both power and mass.
It wasn't long before the first suitable bike came to our attention. It was found in the MP free classifies, a 1991 Honda AX-1, asking P90,000 (about USD1,650 in 2005). The AX-1 was only released in Japan and grey imported into the Philippines. It is the same bike as the Honda NX250 (Baby Dominator) except that has been modified for the Japanese market by fitting duel headlights and replacing the alloy steel spoked wheels with all alloy.
1991 Honda AX-1
Martin Gino inspected the bike and reported back that it was in excellent condition with 18,000km on it. The bike is a single cylinder water-cooled 4-stroke with electric start (only) and having provision for a pillion passenger. The only down-side to this bike was that the tyres where starting to perish, no mirrors, and a missing chain guard and front drive sprocket cover.
After the price was negotiated down to P75,000 (about USD1,300), I transferred P85,000 to Martin and the deal was done. The extra was to cover some of the costs for modification and a bit for Martin's time and effort.
The next step was to prepare this bike for 4 weeks of touring on Philippines "roads" carrying a rather large Australian and his gear. First, new tyres were ordered. Not being a common size, the tyres have to be specially imported. This importation involves a lead time of about 3 months. Lucky we bought the bike 7 months before it is needed.
While waiting for the new tyres, work started on the other preparation. This involved-


Giving the bike a complete service;
Fitting mirrors, chain guard & front sprocket cover;
Overhauling the rear shock and fitting a heavier spring for the expected loads;
Strengthen up the rear sub-frame to take the expected loads;
Replace the existing rear rack (not considered strong enough) with an MMC stainless steel rear rack suitable to take a Ventura/RJays/Gearsack rear bag.
While the AX-1 was being prepared, the search was on for another suitable bike for Greg Haig, my touring partener. This took longer than we expected. Dual purpose type bikes are not that readily available in and around Manila.
While looking for other bikes, our tour group numbers dropped to only two, myself and Greg. The others were unable to get time off work. Greg is more of a gung-ho type dirt rider, so his bike was to be more dirt orientated than the AX-1.
It took another 2 months before we found another suitable bike in good condition. It was a '91 Suzuki DR250 with an asking price of P75,000 (about USD1,350 in 2005), located in San Fernando about 130km north of Manila.
After an inspection by Martin, he negotiated the price down to P68,000 (about USD1,200 in 2005) after all outstanding taxes had been paid and the bike was purchased.
1991 Suzuki DR250
This bike is not standard. Inverted front forks and an after-market exhaust have been fitted and the rear suspension had been beefed up. Like the AX-1, this DR250 also needed some work to bring it up to an acceptable standard for our tour.


Giving the bike a complete service;
Fitting mirrors, chain guard & front sprocket cover;
Getting all the lights to properly work;
Strengthen up the rear sub-frame to take the expected loads;
Fit an MMC stainless steel rear rack suitable to take a Ventura/RJays/Gearsack rear bag.
Fortunately, the DR250's tyres were found to be still in an acceptable condition for the tour.
Now that the bikes are purchased and being prepared, time can be spent planning the trip.
September 02, 2005 GMT
Philippines (Nov. 2005) - Trip Planning
Detailed Trip Planing
With bike preparation well underway, thanks to Martin (Herc) Gino in Manila, it was time for the more detailed planning of our trip.
Note: Since purchasing our bikes, a motorcycle rental business (Nice Bike) for touring foreigners has opened in Angeles, north of Manila. Their bikes range from scooters up to Suzuki DR750's. Prices are very reasonable at under USD30 per day (August 2005). The only downside is no insurance is available, if you break or loose it, you pay for it.
To assist with this trip planning, a summary of the proposed trip was first posted on the Motorcycle Philippines forum. Replies from the forum assisted in refining the plan.
When planning anything in the Philippines, you must remember that everything happens at "Filipino" pace. If you expect that something will take half a day, plan on it taking full day.
The first thing we needed to know was the distances to be covered. For this, I purchased a Hema map of the Philippines (scale 1:1,750,000). This map was quite up-to-date, however some of the distances printed on the map were nowhere near accurate.
Fortunately, I have an old road map of the Philippines (by an unknown publisher) that I salvaged from one of my earlier trips to the Philippines. This map was not very up-to-date, however the distances shown where very detailed and reasonably accurate.
Combining information from the two maps provided a reasonably good approximation of the distances we would need to travel.
Long-distances buses in the Philippines generally average about 50kph. We decided to also make this speed our average touring speed in determining time frames.
Another thing to consider are the ferry (RoRo) crossings between islands. Although these trips generally only take a few hours, it is best to allow a full day per crossing. This allows for loading and unloading the bikes, and the paperwork at each end. Two of the longer crossings will be between Mindanoa to Negros and Panay to Mindoro. Hopefully both of these crossing can be made at night, giving us more time to explore on land.

Philippines Tour Map
LUZON (6 – 7 days)
The first day of our tour will be to get out of Manila and ride north to Lucap, just outside of Alaminos, the gateway to Hundred Islands Nation Park. There are two routs to Lucap, inland through Talac (240km) or via the west coast of Luzon through Iba (330km). Either of these routs is doable in a day. Which one we take, will be decided upon after we get out of Manila.
After Manila, Hundred Islands NP should provide a welcome respite to get our thoughts together for the rest of our tour. This will be our first and only scheduled overnight stop on the tour. All future overnight stops will be decided upon as we go.
From Lucap, we will ride north through Baguio to Bontoc. The road from Baguio to Bontoc takes us over the highest road in the Philippines at 2,255m. From Bontoc we head south again taking in the famous 2,000-year-old rice terraces before heading back towards Manila via San Jose.
We don't intend to actually return into Manila, more to skirt around it via Marikina before heading south along the eastern shore of Laguna de Bay. We should then join up with the main highway into southern Luzon at Lucena. Making our way south to Matnog may include a side trip along the way to the active Mayon volcano.
Estimated distance on the island f Luzon is 1,700km.
SAMAR & LEYTE (3 – 4 days)
From Matnog, we catch our first RoRo to Allen (1 hour) on the island of Samar. These RoRo's depart Matnog at 0600, 0700, 1000, 1300 & 1400 hrs (Nov. 2005). We will then be travelling down the west coast of Samar to the 2km long bridge that joins Samar with island of Leyte.
Travelling through Leyte, we will make our way to Liloan to catch the RoRo from Liloan to Surigao. There is only a passenger service from Maasin to Surigao, no RoRo.
Estimated distance on the islands of Samar and Leyte is 450km.
MINDANAO (3 – 4 days)
From Maasin, we will catch the RoRo across to Surigao (6 hours) on the northeastern tip of the island of Mindanao. Mindanao is unfortunately noted for its political unrest, particularly kidnappings, murders and armed resistance to government forces. Most of this unrest occurs in the southern parts of the island. Our tour takes us along the (hopefully safer) northern coast of the island to Dapitan.
Estimated distance on the island of Mindanao is 700km.
NEGROS (3 – 4 days)
From Dapitan, we will catch the RoRo across to Dumaguete (4 hours) on the southeastern tip of the island of Negros. There are three alternative routs to take through Negros to Bacolod, our port of departure. One is north along the eastern coast, through Silay to Bacolod. The second (and shortest) is north along the east coast to Tabon, crossing the island through Canlaon to the west coast and then north again to Bacolod. The third rout is around the southern coast of the island and then north along the west coast to Bacolod.
The month of our travel, November, is the sugar cane harvesting season on Negros. This will mean lots of heavy traffic, cane-hauling trucks. Most of this activity will be along the east coast and northern end of the island.
The actual rout taken will depend on available time, however we will probably opt for the southern/western rout to avoid the traffic.
Estimated distance on the island of Negros is 350km – 400km.
PANAY (3 – 4 days)
From Bacolod, we will catch the RoRo across to Iloilo (2 hours) on the southeastern tip the island of Panay. Panay offers us three choices to get to our next RoRo crossing at Caticlan on the northwestern tip of the island. One rout takes you north along the eastern coastline then west along the northern coast to Caticlan. The shortest rout takes you through the centre of the island to join up with the north coastal road to Caticlan. The third offer is west along the southern coast then north along the western coast to Caticlan.
Again, the month of November is the sugar cane harvesting season on this island. Like Negros, most of this activity will be along the east coast and northern end of the island.
Like Negros, the actual rout taken will depend on available time, however we will probably opt for the southern/western rout to avoid the traffic.
Another "must see" is Boracay, a small island off the coast near Caticlan. Boracay is about 9km long by 1km to 2km wide. It is very much a tourist island but still with some charm left for the weary traveller.
Estimated distance on the island of Panay is 250km – 300km.
MINDORO (5 days)
From Caticlan, we will catch the RoRo across to Roxas (6 hours) on the southeastern tip the island of Mindano. This needs to be on or about day 24 of our tour so that we can arrive back in Manila for our scheduled departure back home.
The island of Mindano is known as the breadbasket of the Philippines. This island provides most of the fresh produce for Manila. There is not much to see or do at Roxas, so straight after arrival we will be making our way north to one of the best-kept secrets of the Philippines. This is the little known area around the town of Pola, about halfway along and 6km off the main road to Casiligan. Pola is a very friendly and, by Philippines standards, clean town servicing the local fishing industry and surrounding rural area.

A few days will be spend in and around Pola before continuing our journey north to Calipan. Further north from Calipan is the well-known and frequented Puerto Galera tourist area. If time permits, a short visit may be made there.
Estimated distance on the island of Mindoro is 150km – 200km.
BACK TO MANILA (1 day)
From Calipan, we will catch the RoRo across to Batangas (3 hours) and back onto the island of Luzon for our final return leg to Manila. Again there are alternate routs to Manila from Batangas. One is to the west of Lake Taal and the other is to the east of the lake. The western rout takes you through Cavite, an area of lowland swamp that has been converted into many aquaculture farms. The eastern rout is the main one taken by the regular transport between Manila and Batangas. Not being particularly keen on fish farms and lowland swamp, we will probably take the western rout, calling in to see the Taal volcano.
Estimated distance from Batangas to Manila is 100km.
That is the trip planning done. Mind you, what is planned and what actually happens may be quite different; but then that's all part of the adventure.
Next will be the packing and final preparation before we leave for Manila.
Enter your email address to receive updates to Richard Stewart's trip story!
Recent Entries
Archives:
Archives:
Monthly
Archives:
Category
NEW! HU 2015 Motorcycle Adventure Travel Calendar is now available! Get your copy now for some terrific travel inspiration!
HUGE, 11.5 x 16.5 inches, beautifully printed in Germany on top quality stock! Photos are the winning images from over 600 entries in the 9th Annual HU Photo Contest!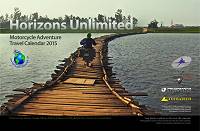 "The calendar is magnificent!"
"I just wanted to say how much I'm loving the new, larger calendar!"
We share the profit with the winning photographers. YOU could be in the HU Calendar too - enter here!
Next HU Events
Canada West: Aug 20-23, 2015
USA California: Sep 24-27, 2015
Aus Queensland: Sep 24-27, 2015
USA North Carolina: Oct 8-11, 2015
Aus Perth: Oct 9-11, 2015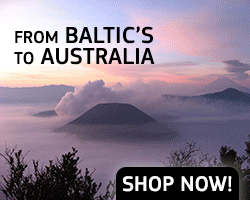 Take 40% off Road Heroes Part 1 until October 31 only!
Road Heroes features tales of adventure, joy and sheer terror by veteran travellers Peter and Kay Forwood (193 countries two-up on a Harley); Dr. Greg Frazier (5 times RTW); Tiffany Coates (RTW solo female); and Rene Cormier (University of Gravel Roads).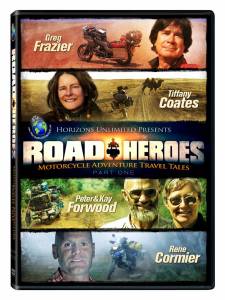 "Inspiring and hilarious!"
"I loved watching this DVD!"
"Lots of amazing stories and even more amazing photographs, it's great fun and very inspirational."
"Wonderful entertainment!"
Check it out at the HU Store! Remember to use Coupon Code 'HEROES' on your order when you checkout.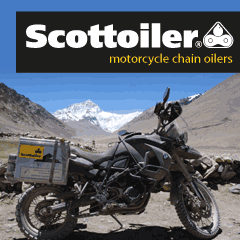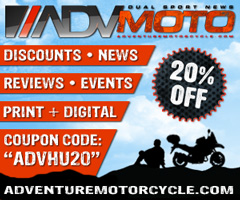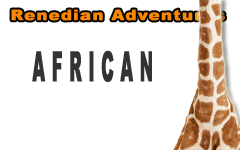 What others say about HU...
"I just wanted to say thanks for doing this and sharing so much with the rest of us." Dave, USA
"Your website is a mecca of valuable information and the DVD series is informative, entertaining, and inspiring! The new look of the website is very impressive, updated and catchy. Thank you so very much!" Jennifer, Canada
"...Great site. Keep up the good work." Murray and Carmen, Australia
"We just finished a 7 month 22,000+ mile scouting trip from Alaska to the bottom of Chile and I can't tell you how many times we referred to your site for help. From how to adjust your valves, to where to stay in the back country of Peru. Horizons Unlimited was a key player in our success. Motorcycle enthusiasts from around the world are in debt to your services." Alaska Riders

10th Annual HU Travellers Photo Contest is on now! This is an opportunity for YOU to show us your best photos and win prizes!
NEW! HU 2014 Adventure Travel T-shirts! are now available in several colors! Be the first kid on your block to have them! New lower prices on synths!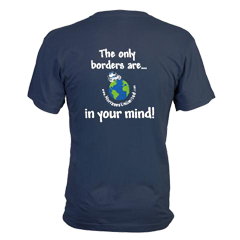 Check out the new Gildan Performance cotton-feel t-shirt - 100% poly, feels like soft cotton!

What turns you on to motorcycle travel?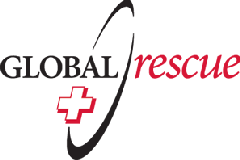 Global Rescue is the premier provider of medical, security and evacuation services worldwide and is the only company that will come to you, wherever you are, and evacuate you to your home hospital of choice. Additionally, Global Rescue places no restrictions on country of citizenship - all nationalities are eligible to sign-up!
New to Horizons Unlimited?
New to motorcycle travelling? New to the HU site? Confused? Too many options? It's really very simple - just 4 easy steps!
Horizons Unlimited was founded in 1997 by Grant and Susan Johnson following their journey around the world on a BMW R80 G/S motorcycle.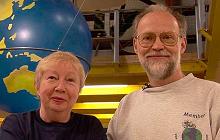 Read more about Grant & Susan's story
Membership - help keep us going!
Horizons Unlimited is not a big multi-national company, just two people who love motorcycle travel and have grown what started as a hobby in 1997 into a full time job (usually 8-10 hours per day and 7 days a week) and a labour of love. To keep it going and a roof over our heads, we run events (22 this year!); we sell inspirational and informative DVDs; we have a few selected advertisers; and we make a small amount from memberships.
You don't have to be a Member to come to an HU meeting, access the website, the HUBB or to receive the e-zine. What you get for your membership contribution is our sincere gratitude, good karma and knowing that you're helping to keep the motorcycle travel dream alive. Contributing Members and Gold Members do get additional features on the HUBB. Here's a list of all the Member benefits on the HUBB.
Books & DVDs

All the best travel books and videos listed and often reviewed on HU's famous Books page. Check it out and get great travel books from all over the world.

MC Air Shipping, (uncrated) USA / Canada / Europe and other areas. Be sure to say "Horizons Unlimited" to get your $25 discount on Shipping!
Insurance - see: For foreigners traveling in US and Canada and for Americans and Canadians traveling in other countries, then mail it to MC Express and get your HU $15 discount!
Story and photos copyright © All Rights Reserved.
Contact the author:
Editors note: We accept no responsibility for any of the above information in any way whatsoever. You are reminded to do your own research. Any commentary is strictly a personal opinion of the person supplying the information and is not to be construed as an endorsement of any kind.
Hosted by: Horizons Unlimited, the motorcycle travellers' website!
You can have your story here too - click for details!