October 13, 2004 GMT
Lima to La Paz
On the bikes at 5am on a drizling Lima morning and we finally escaped the the city without drama, headed for our desert oasis 200kms down the road.

I found a new friend at Machu Picchu!

For a first real day on a bike Jess was not keen to go to war with Lima busses and taxis. Our early start meant the city was still sleeping and we were cruising on the Panamerican by 5.45 that morning. We were headed for Huachachina, an oasis town that has become a favourite for travellers due to its huge sand dunes which you can tear all over in dune buggies and the lesser well know sport of sandboarding. The ride down was uneventful really, the road passing through now familiar coastal desert. Jess had a few minor issues however, the most amusing being that she believed she could park the bike without the use of the sidestand. She found a good spot to park, got off, let it go and then to her surprise......
We hung out in the oasis for a few days and were joined by a kiwi couple also on a bike. It was great to escape the city at last. On the second day we bit the bullet and booked a 2 hour dune buggy ride for sunset. the rest of the day was spent relaxing by the pool and slowly supping lovely cold beers. When 4 oī clock rolled around a little too much relaxing had already taken place and to say we were not the full ticket would be near the mark. However a dune buggy cant be that scary can it. Holy shit, how wrong can you be. Within the first 10 minutes of the ride, our driver overcooked a corner and spectacularly ejected himself out of the buggy. With addled heads we stopped the thing and awaited for his return. He was as shocked as us. His driving did not improve after this but at least he wore a seatbelt and would be joining us on any mistakes he might make again. The way he drove the dunes was terrifing, an out of control roller coaster. I dont think I have ever been so scared paying for adventure in my life. The ride was split in 2, in between we had a go at sandboarding. Like snowboarding but with very little control. The result, you are removing sand from every nook and crany you posess for days after. It was great fun however, especially the lie down, head first run on a dune that descended about 600 metres. The buggy ride concluded by screaming down what felt like a near vertical wall of sand then jumping a big wind lip at the top. I got out having lost all feelling in my feet and hands and breathing real shallow, real fast. Maybee with less prior relaxation it would have been different....who knows. The rest of the time at the oasis was really relaxing, the dunes extended for over 60 kms and spending time in them was fantastic.

Three days and all the relaxing was done. It was time to head toward Nazca to see the famous lines in the desert. If it hadnīt been for a big tower and the sign telling us we were at the lines we would have riden right past them without ever knowing. The only way to see them properly was by taking a flight in a small plane and thats what we booked that evening. Little did we know but we had royally scammed into buying an overpriced flight by a guy called Felix. Never in my life had I met someone who could compulsively lie on the scale this guy could. He was the best. From 7 the next morning till we flew 3 hours later I argued with this guy to no avail, we had paid too much but that was tough. The company we flew with was not much better. The plane looked ok from a distance but it was way old. The pilot fiddled with the engine for a while before he was happy it would get us to the lines and back again. It was nice to see that his pride in his uniform did not extend to zipping up his fly and displaying to all the pattern of his boxers. He managed to lurch the plane into the air at last which is where the fun started. Now people had told us that the pilots really threw the plane about to allow you to see the lines in the sand, first for the passengers on the left then the ones on the right. The different patterns came and went, first the spaceman, then the hummingbird, hands, dog etc etc. The lines were very impressive, especially considering they think they are over 2000 years old. Why they have lasted so long might be due to the fact that Nazca recieves only 10 minutes of light rain a year. Wouldn't that be nice if the Lakes did the same! The only way to see the lines properly was by air, but the price you paid for it was high. When we circled the last shape it was with relief that we flew back toward the town. Jess and me were at this point very white, nearly but not quite parking the contents of our stomachs on the floor of the plane. It was a joy to step out of the plane back onto the desert again.

Can you see the Hands and the Bird. They are there honest!

The 20 odd year old plane and a very white Jess.
We also visited the old Nazca cemetary. This place was first discovered by grave robbers who dug up the old tombs to raid them for riches. The old customs were that rich people would be mumified when they died and buried with things they may need in the next life and sometimes with their trusty and at this point probably very pissed off servants. Yup the servants were buried alive. It was a weird place to visit, not just because there were exposed tombs with mummies in them, but because the whole desert floor was littered with human bones and remains of cloth and the stuffing used in mumufication. It is also believed that this is the area and point in history when Rastafarianism first caught on. Check the dreads on the mummy below. Bob Marley would have been mostly chuffed with these I think.
That was the desert done now and we headed east and into the Andes at long last. The road was fantastic, only in the last year had it been paved which meant virtually no traffic and no tourists and smooth surfaced roads. Jess had a mega stressful start to the day as she knew that the lesson of the day was hairpin bends. She had convinced herself that it would all go miserably wrong and she would drive of the edge of a precipice or under the wheels of an oncoming truck. How did she do? Fantastic. I was amazed to see her swinging it about in my mirrors and having fun on her bike. We climbed slowly past Cerro Blanco, the wolds highest sand dune at 2000m plus and eventually ended up at 4000m. The road wound its way through a Vicuna reserve (small Llama like beasties) and through many small adobe villages full of Llamas and waving kids. People were real friendly and curious to see 2 bikes cruising through. Even more so when they realised one of the riders was a chica. Another fantastic road and fantastic people. Riding for the first time at altitude was interesting, the bike coughed and spluttered a bit but then so did we. Cold, yes it was. We holed up in a town for the night and for one of the first times I think we were the only gringos there. It was great to see what real life in the Andes was all about. Next day riding out, the biggest hazards on the roads were Alpacas, being led to their grazing areas for the day.

Jess negotiating another jumpy herd of Alpacas.

Now call us cheapscapes but the idea of paying $250 for walking the 4 day Inca Trail seemed crazy to me. Especially since we would have to enjoy the experience with 500 other trekkers each day. UUmm.... not sure it was really for us and besides you had to book about a month in advance to be sure of a place! So the second best option; go and see the lesser know ruin Chocoquieria set in equally amazing scenery.
Reputed to be the next Macchu Picchu this Inca fortress was only discovered 10 years ago . Since then 30% of it has beeen excavated and restored but most of it still lies hidden in the jungle. By all accounts this ruin is rarely visited as the 4 day hike into it and out puts people off. Sounded great to me and all on a budget of $10 between us. We were tempted by the offer of mules and horses to carry our backpacks when we arrived in Cachora (the village you start the trek from) but we waved them off believing them not neccessary for our stroll in the Andes. How much did we regret turning down these offers when 6 hours into the trek (going up to 2930m and then straight down to 1200m) we stumbled into the first camp out of water, severally dehydrated and suffering from heat stroke. Maybe we had slighty under estimated this walk or two months on the bike had left us in very bad shape. Keen to push on to reach the river at the base of the valley before dark we stocked up on water and left in the still burning heat of the afternoon. 5 minutes out of Camp and I promptly threw up ....this was going well!! Surprisingly I felt alot better for it and urged on by Oz we continued down. By the time we reached the river I was mess and could barely stand up let alone help put up the tent. Anyway a few hours later with some sleep, water and a bit of food and I felt fine again.
The following day involved a 6 hour, sweaty slog up 90 switch backs. Were we enjoying ourselves? Well I was, but as for Oz he cursed his way up asking himself why an earth he was putting himself through this. Positive words of encouragment only seemed to make matters worse. The effort to get to Chocoquieria was not in vain however, the ruins and the views looking out over the Andes were spectacular. Surrounded by snowpeaked mountains and steep ridges that plumpted 2000m into the gorge below the Incas couldnt have chosen a better location for their town. To top it all we had it to ourselves. We set up camp on one of the terraces looking out on its vastness and watched the sun set over the mountains. The only thing the scene was lacking was few condors flying over head and the sound of pan pipes.
By the third day we were well into the swing of things and with an early start we were out of the site by 6.00am. Instead of breaking the outward journey in two as advised, we managed to romp the whole way out in a day arriving on the outskirts of Cachora by torch light at 8.00pm. We camped on the side of the path that night and headed off early in the morning to catch the bus back to Abancay. On hindsight I think Oz would agree with me that it had been great "fun", a welcome break from being on the bikes and an opportunity to get in amongst the Andes rather than just observing it from the roadside.
Next stop was the big one. Talk to anyone about South America and within 2 minutes they will ask you about Machu Picchu and have you been. We headed out of Abancay bound for the town of Cusco and ultimately the big MP. More sweeping curves and hairpin bends that we could barely muster the energy for as we were still really tired from the trek. Jess managed her first dog strike on this journey also. Normally it is one or at the most 2 of the buggers that chase you. Jess came up against a more formidable force on one bend when three of them mounted pursuit. They pushed her right to the side of the road and when she ran out of road she decided to run into them. It was a glancing blow but the dog yelped in shock and hopefully wont be chasing anymore bikes.
Cusco was a beautiful town to visit. The colonial buildings mostly use the huge stonework of the former Inca buildings. The whole city is preserved superbly and the central Plaza de Armas is the best yet. Naturally the whole place is swarming with tourists ready to spend small fortunes to see Cusco, The Sacred Valley and the big MP! We were not ready to book onto the English run Orient Express or to part with over US$400 each so we dug out the bike and set off doing it the cheap way. A bike ride through the Sacred Valley and a few Inca ruins to whet our appetites saw us roll up at the station for the night "Backpackers" train. This rattled us slowly to the town below MP, imaginately called Agua Callientes (hot water in spanish cos they have a few muddy thermal baths there) This has to rate as the biggest hole we have seen yet, add to that a hotel room in which everything was severly damp and you can see why we were up and on the bus to MP at 6.30am. Now ideally when you visit the numero uno site in sth. america you would like a sunny day or at least a day where you can see further than 10 metres. It was not to be. We wandered about in the drizzle wondering whether it would look like it did on all those postcards we had seen in Cusco. Luckily the gods were smiling down on us. By 11 it had cleared and we were treated to the superb view of the ruins and the spectacular moutain range it is set in. We climbed to the higher peak ajoining the ruins and got even better views of the site. Is it the best in sth america, I am not sure but it is fantastic and a visit to it is a memeory which will last a lifetime.

No photo of the big MP would be complete without resident Alpaca!
Wandering around the well preserved ruins you run into all weird and wonderful sights and stonework. The stone below is reputed to have magic powers if held between a mans legs. Ladies are supposed to sit on the other end according to the Inca heiroglphys.
With Machu Picchu firmly ticked off the list we headed out of Cusco bound for the Altiplano. The road climbed spectacularly until it reached a cruising height of about 4000 metres where the scenery opened up into huge vistas on all sides. Worries about the bikes not running at altitude were soon forgoten as we cruised at a steady 55mph through the huge and empty plains.
We eventually caught sight of our destination, Lake Titicacac, at 3800m the highest and largest navigable lake in the world. The cloudless sky and the high altitude gives it a surreal blue colour, and as for the size, you canīt see from one end to the other its that big. We cruised into Puno, the town by the lake and after negotiating our way through the pedestrian only streets eventually found our hotel. The next morning saw us up early for our boat ride to the Isla De Uros. These are massive woven together platforms constructed from reeds in the lake. The residents on these islands are about a mile off-shore and pretty much survive by fishing and shooting the odd bird or two. That was however until the tour companies realised the potential of such a different way of life and started boating in a few hundred tourists a day. And yep we decided to be part of that. Now when you arrrive on the island of your choice you are greeted by a nice semicircle of stalls, all wanting to sell you some souveniers of your visit. We bought the token postcards and then went wandering to see what it was all about. Most islands are about 100m square and house about 40 people. When you walk its like there is a huge spring under each foot, a very weird experience. I reckon this is the place Michael Jackson concieved his moonwalking ideas!

Typical reed house and resident souvenier maker!
After 2 islands and what felt like a lifetimes viewing of souveniers we headed back to Puno, saddled up the bikes and headed along the shore bound for Bolivia.
The closer we got to Bolivia, the more the mind started to dwell on the thought that we would not get out of Peru. Whislt we had not done anything too naughty, we had bought a bike in Peru off non Peruvians and given the government no hefty wodge of cash to cover their import duties. Why should we? Instead we had got all funky on a computer and produced for Jess a very nice and convincing set of documents to say she owned the bike. I am sure the Western Australian government may want to use our documents as future templates as they are that good. And what about that import paper from the border crossing from Ecuador to Peru. Well how unlucky it was that we had that pickpocketed from us in Cusco and had the police report to prove it.
We rolled up to the border at sunset, and after a little headscratching from the Peruvian Customs agent (due more to the fact that he was barely literate) we entered into Bolivia and rolled into Copacobana, at the same hotel as three other bikers we had been meeting on and off in Peru. The night was spent celebrating the fact that Bolivia is damn cheap and its beer not too bad to drink.
Next day we headed out onto Lake Tititcaca to visit the Isla De Sol, the place the Incas believe the sun was born. To be honest we had done enough looking at stone ruins and instead of immersing ourselves in the cultural side of the island, we walked its length with another couple of travellers and made pigs of ourselves at a restuarant in the sun, the emerald blue lake and the snow-capped mountains serving as a fitting backdrop.
Next day we departed for La Paz, a three hour ride away. We crossed the lake on the "ferry", which can only be described as some pallets strapped together with a small motor on the back. We had the added benefit of the company of the most pissed old guy I have met yet, frothing green at the mouth with his Coca leaves. Of course I was his amigo and he was very keen to discuss Margeret Thatcher for some strange reason. Kept refering to her as peuta and achocha. I agreed of course, but have yet to find these words in my spanish dictionary, must have been complimentary however as she was a fabulous leader, wasn't she?
Our first sighting of La Paz was as dramatic as everyone told us it would be. You drive to an edge of a canyon without really realising it, then all of a sudden you look over the edge and the whole city is spread out below you, of course there are the now standard snow-capped mountaing in the backgroud to give it even more garnduer. After a supprisingly easy ride into the town we found our hostal. What we didnīt expect was the 6 other bikers would also be there. Jess relished that first evening, all that bike talk, she was in heaven talking about her half twisting byriani valves and how they were holding up on the dirt roads! We also did some much needed maintance on the bikes. Changing tyres to knobblies being the most important as the roads to come are meant to be real rough and ready. Jess had her introduction to the joys of tyre changing, much cussing and swearing later and she had joined the club we all dont want to be a memeber of!

Its all smiles for the photo but you should have seen her 5 mins later!

Downtown La Paz is the friendliest and most interesting city I have visited on the trip so far. It is constantly alive with life. Everything you could concievably want is for sale here, not in shops but on the street. Every pavement has vendors crowded onto it selling the most bizzare goods. You can buy a dried baby Llama to bury under your doorstep of your new house(it brings you good luck you know!) or if you fancy it you can buy a new pair of prescription glasses. Its a fantastic spectacle of city hustle and bustle all day and night.

I would much rather bury a fury one rather than the skin and bones efforts!
Anyhow a couple of days in a city is enough for us and we had organised ourselves another adventure. Our Austrian biking friend Appie, had suggested that we should all climb Huyana Potosi, reputably a fairly straightforward mountain, well as straightforward as you can get at an altitude of 6088 metres. We hustled an excellent deal of US$38 for all the gear the three of us would need in La Paz. We decided also to combine our climb with an overnight visit to the highest ski resort in the world, Chacaltaya. At 5,300 meters there is a base station and a refugio where we could sleep. It seemed an excellent way to aclimatise for the climb the following day.
The ride out there was superb, the higher we climbed the more the view opened up. The bikes started to wheeze and near the top the only way to get forward momentum was to rev the hell out of it in first gear and slip that clutch. For a first time off road experience Jess had certainly taken well to the deep end. The fact that her bike ran better than the rest caused much annoyance for Appie and Me. Even more annoyance was caused for Appie when Jess decided to stop mid-corner. He too stopped, but with nowhere to put his feet down decided to horizontally park his bike. He took it well!

Dirt Roads at 5,200 metres, superb fun!
All was good until 200 metres from the refugio when the nightmare happened. Flat tyre on my bloody bike. Had we got the spare tube, of course not we were only out of La Paz for a day or two. Back I went to La Paz for the spare tubes, a journey of three hours there and back.
On the way into Chacaltaya we had passed some boulders in the road, a space just big enough left for a car to pass. We had thought it strange at the time. Later after returning to the refugio in the dark I found out the story behind it. 2 days previous a gang of armed bandits had made the roadblock, stopped a passing 4WD and robbed the occupants of all there possesions, their vehicle, including there shoes, making them walk down over 10kms to the nearest town. Now to go riding there at night I felt maybe I had been a little lucky. Funny thing is that today I recieved an e-mail from a couple of English guys travelling on bikes, Jeffrey and Graham, now somewhere in Chile. They told me of some misfortune they had had. They had been to Chacaltaya for the day on a tourist trip out and guess what happened? They have however now got really tough feet and walking on gravel roads is really no problem at all! Poor buggers, lucky we were up there 2 days after the event.
Now changing a tyre at 5,300m was bad enough, but sleeping. It just didn't happen. Not one wink all night. Really set me up well for the climb. Jess did better and Appie snored all night! Next morning, Appie being a ski Jedi did a few runs on what snow there was. It was then off to the start of the climb and a miserable walk into base camp through alternating sleet and hail showers.
Now early morning are not my thing, waking at 2am and slogging up a snow slope did not put me in the best frame of mind to face the day. To be honest it got no better for the 4 hours before sunrise. Walking in snow at altitude was very slow indeed. As sunrise happened we could see the end of the climb. It was a short hop over a crevasse and about 200m of 60 degree snow. Sounds easy doesn't it. It was a take ten steps rest, then do it all again effort. We all felt like our lungs were trying to turn themselves inside out. Eventually the top came and at 7.45am we stood tall and proud on the summit, relishing the fantastic views below.

7.45am 6.088m up on Huyana Potosi.
Now what goes up must come down and that bit was even harder. We rolled into our base camp desperate for a rest only to have to pack away our tent in a blizzard then walk another 1.5 hours to the refugio. Reaching the refugio and a hot matte de coca sorted out some of our weariness and allowed us to go get the bikes ready for the ride back to the hostal.
The return back to La Paz was not what we had expected. In the 2 days we had been on the mountain a fair amount of snow had dumped in the valley. We got our bikes out of Robertos laundry room where we had store them for $1 each and slowly took off into the snowstorm. Lesson number 2 for Jess, "how to ride off-road in snow".

The Police checkpoint on the snowy ride out.
Again she did real good, eventually the snow giving way to sunshine as we rode into the canyon of La Paz.
The plan was to ride from La Paz to see the Amazon that we missed in Ecuador due to my bloody bike and its ongoing problems. We packed ready to do this 2 days after climbing Huyana Potosi, only to find that we had more bike problems. This time it was Jess's turn. Her bike needed parts and we had to find them in La Paz somehow. Off to the bikeshop which revealed on more careful inspection she needed not only a new chain and sprockets but her back drum brake had broken into pieces inside the wheel and would need a fairly hefty machine job to fix. Four days later we are about to pick up the bike, together with hefty US$250 bill. In the meantime we have hung out in La Paz amusing ourslves and having the occassional bicker at each other. There is nowt as boring as waiting for the mechanic to ring, well I suppose there is always work but I refuse to think of that while I am away!
Today we witnessed an interesting event in La Paz. It is the 1 year annivrsarry of a huge protest that left 80 dead last year. The protests were concerning the sale of natural resources Bolivia has, this time natural gas to other countries. As far as we know it is the same old story, the local people who are desparately poor make no money from the deal while the big multinational corporations carry on screwing poor countries as they have done for countless years. This years protest has been peaceful so far, but the 200 odd bullet holes in the building on the plaza where the governor resides tells a different story of last years events.

Peasant protesters with heavy police presence behind them.
As for our jungle experience we really wanted, no chance. We are running out of time in Bolivia. In November the rains come and to be here for that at this altitude would not be fun at all. I guess the Amazon will have to wait a few years for our return. Tomorrow we are off to ride what is reputed to be the "Worlds Most Dangerous Road". The claims aren't true as hundreds of mountain bikes make the journey each day and live to tell the tale. Still it's one of those must do's and the town at the end is supossed to be very nice indeed. If we make it we will write the next blog, if not come looking for us in the gorge!

Enter your email address to receive updates to Peter Slarke (aka oz)'s trip story!
Recent Entries
Archives:
Archives:
Monthly
Archives:
Category
NEW! HU 2015 Motorcycle Adventure Travel Calendar is now available! Get your copy now for some terrific travel inspiration!
HUGE, 11.5 x 16.5 inches, beautifully printed in Germany on top quality stock! Photos are the winning images from over 600 entries in the 9th Annual HU Photo Contest!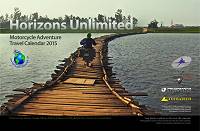 "The calendar is magnificent!"
"I just wanted to say how much I'm loving the new, larger calendar!"
We share the profit with the winning photographers. YOU could be in the HU Calendar too - enter here!
Next HU Events
NEW!

USA Virginia: Apr 9-12, 2015
Take 40% off Road Heroes Part 1 until October 31 only!
Road Heroes features tales of adventure, joy and sheer terror by veteran travellers Peter and Kay Forwood (193 countries two-up on a Harley); Dr. Greg Frazier (5 times RTW); Tiffany Coates (RTW solo female); and Rene Cormier (University of Gravel Roads).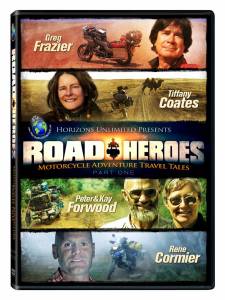 "Inspiring and hilarious!"
"I loved watching this DVD!"
"Lots of amazing stories and even more amazing photographs, it's great fun and very inspirational."
"Wonderful entertainment!"
Check it out at the HU Store! Remember to use Coupon Code 'HEROES' on your order when you checkout.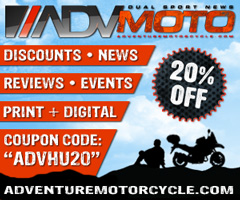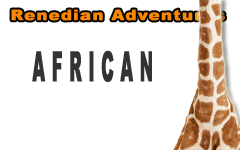 What others say about HU...
"I just wanted to say thanks for doing this and sharing so much with the rest of us." Dave, USA
"Your website is a mecca of valuable information and the DVD series is informative, entertaining, and inspiring! The new look of the website is very impressive, updated and catchy. Thank you so very much!" Jennifer, Canada
"...Great site. Keep up the good work." Murray and Carmen, Australia
"We just finished a 7 month 22,000+ mile scouting trip from Alaska to the bottom of Chile and I can't tell you how many times we referred to your site for help. From how to adjust your valves, to where to stay in the back country of Peru. Horizons Unlimited was a key player in our success. Motorcycle enthusiasts from around the world are in debt to your services." Alaska Riders

10th Annual HU Travellers Photo Contest is on now! This is an opportunity for YOU to show us your best photos and win prizes!
NEW! HU 2014 Adventure Travel T-shirts! are now available in several colors! Be the first kid on your block to have them! New lower prices on synths!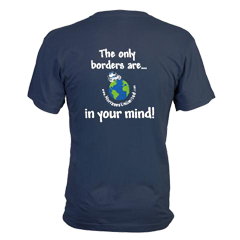 Check out the new Gildan Performance cotton-feel t-shirt - 100% poly, feels like soft cotton!

What turns you on to motorcycle travel?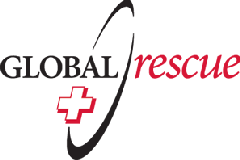 Global Rescue is the premier provider of medical, security and evacuation services worldwide and is the only company that will come to you, wherever you are, and evacuate you to your home hospital of choice. Additionally, Global Rescue places no restrictions on country of citizenship - all nationalities are eligible to sign-up!
New to Horizons Unlimited?
New to motorcycle travelling? New to the HU site? Confused? Too many options? It's really very simple - just 4 easy steps!
Horizons Unlimited was founded in 1997 by Grant and Susan Johnson following their journey around the world on a BMW R80 G/S motorcycle.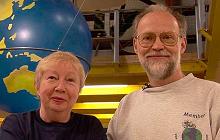 Read more about Grant & Susan's story
Membership - help keep us going!
Horizons Unlimited is not a big multi-national company, just two people who love motorcycle travel and have grown what started as a hobby in 1997 into a full time job (usually 8-10 hours per day and 7 days a week) and a labour of love. To keep it going and a roof over our heads, we run events (22 this year!); we sell inspirational and informative DVDs; we have a few selected advertisers; and we make a small amount from memberships.
You don't have to be a Member to come to an HU meeting, access the website, the HUBB or to receive the e-zine. What you get for your membership contribution is our sincere gratitude, good karma and knowing that you're helping to keep the motorcycle travel dream alive. Contributing Members and Gold Members do get additional features on the HUBB. Here's a list of all the Member benefits on the HUBB.
Books & DVDs

All the best travel books and videos listed and often reviewed on HU's famous Books page. Check it out and get great travel books from all over the world.

MC Air Shipping, (uncrated) USA / Canada / Europe and other areas. Be sure to say "Horizons Unlimited" to get your $25 discount on Shipping!
Insurance - see: For foreigners traveling in US and Canada and for Americans and Canadians traveling in other countries, then mail it to MC Express and get your HU $15 discount!
Story and photos copyright © All Rights Reserved.
Contact the author:
Editors note: We accept no responsibility for any of the above information in any way whatsoever. You are reminded to do your own research. Any commentary is strictly a personal opinion of the person supplying the information and is not to be construed as an endorsement of any kind.
Hosted by: Horizons Unlimited, the motorcycle travellers' website!
You can have your story here too - click for details!