October 13, 2003 GMT
The Lower 48
I cruised the coast road, survived traffic hell in San Fransisco, modified the bike in Yosemite, survived death in Death Valley, lost no money in Las Vegas and cruised through a furnace to get to Albuquerque. Another fantastic month on the road.
(sorry folks, no pictures but coming soon )
I was glad to escape Canada with no more mechanical problems. Some hadn't been so lucky as me. Timo had rescued another couple from the UK whilst I was on Vancouver Island, the diagnosis, blown gearbox and stripped studs in their Beemer. Lots more money than my problems and lots more weeks.
I entered the USA via the short but pretty ferry crossing to the Olympic Peninsular. I opted to follow the coast road Hwy101 all the way to the famous Hwy 1 that leads into San Francisco, on the map it looked like a three to four day ride; back in the real world it took me twice as long. The riding was good but the weather was getting too cold, I haven't come all this way to ride in weather like that back in the UK. Coastal scenery was a great change from mountains and the wildlife was plentiful. There were more seals than you could wave a stick at, Redwoods taller than you could imagine and I even had a close encounter with a huge Humpback Whale. I also managed to find a riding buddy, John and we cruised together for a few days. John, tired of having cycled round the world a few times has now opted to ride a motorcycle to go see it all again. He was great company, laid back and full of interesting tales from past adventures. The motorcycling highlight of the coast ride was Hwy1. 200 miles of switchback turns on smooth tarmac with Pacific Ocean views. The first 100 was a joy, no traffic, the second hundred was ridden at 25mph sitting behind what seemed to amount to the entire population of San Francisco in temperatures of 95 Fahrenheit. Add to this having to drive through the heart of downtown and out over the bay bridges freeway consisting of 5 lanes of traffic. How the bike or I didn't blow up I will never know, one thing learnt however. No more freeways.
I made Yosemite National Park the next day, once again riding in furnace like conditions. I have been here 8 years previous but had forgotten just how beautiful and how enormous the rock faces are here. El Capital is 1 vertical mile high! I had not brought with me any climbing gear and now sorely regretted it. To come here as a climber and not climb is torment. Luckily for me I met up with some UK climbers on Camp 4 and had one day on a 14 pitch route on the Royal Arches and got to practice some short Aid routes ready for my return to the valley. I also managed to hike up Half Dome again which in my opinion must rate as one of the best hikes in the world. I had only intended to stay for 2 days but ended up stopping 8 days. The atmosphere of camp 4 and the people and parties that go on there take a lot of dragging yourself away from. Its like you get absorbed into it all and can't get out. Of note 2 of the UK climbers I met had just completed The Nose on El Capitan. This route took them 5 days, 2 more than standard which is not bad at all at the ages of 55 and 57. Bill and Anthony had achieved what a lot of climbers talk about but not so many do. Bill also achieved something else whilst in the valley. He gained the coveted status of being the second person to crash my bike, the first was another mate Nic who borrowed the bike after just passing his test. Bill wearing shorts and T-shirt narrowly avoided hitting a little girl on a cycle, opting to put the bike down instead. Luckily he was only lightly grazed, the bike and the luggage taking the sting out of the crash. I had wondered how good the luggage would stand up to a crash. The answer was real good, and I didn't even have to find out myself the hard way. The only damage after a little kicking straight of various bits was two broken wing mirrors.
I finally left Yosemite taking with me the mother of all hangovers that had lasted 2 days. The night before there was a big leaving party which involved $3 plastic bottles of cheap Mexican tequila being passed around. My eyes as per normal were bigger than my belly and how it hurt! It was a great party full of famous and not so famous climbers and a great way to say goodbye to the valley. My stay in Yosemite had nearly caused me to end my biking trip, go get strong and go back out there to climb routes I have wanted to do for a long time. For 3 days I thought about this and have decided to carry on, as I would be passing up on a unique experience that I have invested a lot of time and money into. It was touch and go for a while but I am pleased now that I have carried on.
Next stop was Death Valley, the lowest point in the western hemisphere. Have you guessed it was hot there? Not only hot but also full of dangerous looking critters. 3 times I narrowly avoided missing Tarantulas crossing the gravel road. No lie they were as big as the palm of my hand and real furry. The next encounter came after dark walking back to my campsite. Some people had warned me to watch out for Sidewinders, small rattlesnakes, on the road. 30 seconds later I nearly stepped on one. This snake had the head back ready to strike and the tail rattling for all it was worth. A trip to the Laundromat was definitely needed the next day! I rose at 4.30 the next morning after sleeping on the picnic bench to avoid any contact with the ground. I don't scare very easily, but snakes, they put the fear of god into me and as far as I am aware they can't climb onto picnic tables! It was also a beautiful night and stargazing in the Nevada desert is something else. I managed to ride through and out of Death Valley by 9am. It was a good job as the temperature had hit at least 100 Fahrenheit by this time. I was glad to have made the effort, as the place is captivating. The landscape resembles something you imagine you would see on the moon, big salt flats, so dry and the scale is so big, the only drawback is the heat.
I made Las Vegas by midday and allowed myself the luxury of a hotel as it was too hot to camp. I also had my first "pull" by the police driving in. Real nice cop who was curious about the bike and the trip I was on. I am sure future encounters with the law will not be as nice as this one! Coming from a place full of natural beauty to one full of manmade glitz was a big contrast. I spent the night walking "The Strip" taking in the flashing neon, erupting volcanoes, water and light shows etc. I don't gamble but went to see gamblers throwing big money away on tables and slots. Vegas was great to see but not really my scene, they do however serve very cheap beer and the people watching is fantastic.
Zion National Park was the next port of call. I arrived late at night and found a good car park to camp in. I didn't really care that it was the car park for the local cemetery until 2 in the morning when a storm was raging overhead, lightning was striking very close and things were alight and spinning in the graveyard by graves. I not easily spooked but have seen too many movies to allow me to get any sleep that night. I later investigated the spinning lights, which turned out to be little windmills with LEDs attached. They looked much bigger at night you know!
Zion was spectacular, having deep red sandstone cliffs up to 1200 feet high. Another "must go back to with climbing gear" place. I spent the morning at Zion and headed to the North Rim of the Grand Canyon for the afternoon. Again I am struggling to find words to describe how vast and spectacular the place is. I was lucky enough to watch an electrical storm pass over the canyon and see lightning start fires no more than half a mile from the lookout. I stayed at the lookout for at least 2 hours finding it hard to drag myself away. Had I known I was leaving to spend another night in the forest with storms raging all night I might have put up my tent there and then.
Torrential rain and lots of car bound tourists in the breakfast diner telling me how sorry they were for me that I was on a bike was the starting point for my 11 hour and 470 mile day that awaited. I rode through the Navajo reserves where Anasazi Indians lived in the cliffs and out of the rain towards Monument Valley. I passed though a town in mid parade and for the first time since visiting the arctic felt like I was in an unfamiliar culture. Lots of people everywhere, dogs all over the road and most buildings and open spaces in a state of disrepair. A taste of things to come.
Monument Valley with its pencil thin sandstone spires was well worth the diversion. I seem to be traveling to all the places I want to climb without my gear. Next time heh! From here south I was into oil well country and lots of red earth and rocks. I passed through 4 Corners into New Mexico and finally stopped riding at 9.30pm to tired to go on. I had hoped to maybe make Albuquerque that night but had once again overestimated.
I rode into Albuquerque at midday the next day to a fantastic welcome. I have family here that I have not seen for 23 years. The reunion started at my aunties, with Mary and Stephanie there to greet me and then went to my cousin Mikes for the evening. I was treated like royalty, beer and food flowing my way whenever I wanted. This was just what was needed after a long while roughing it and camping in the woods to save money. At My cousin Mikes I met up with more family I have not seen in ages and some I have never met before. The evening ended when we had drank all the beer we could and I could stay awake no longer. Since then the "royal" treatment has continued. I have been taken to the Balloon Fiesta, casinos, bike rides into the mountains, house parties, drag races, had many meals cooked for me. Yesterday my cousin let me ride his highly cherished Harley Davidson Electra glide and last weekend I was even been given the opportunity to ride a highly tuned quad bike which decided to run me over whist I was riding it and park on top of me on some mighty steep sand dune. Ironic that the first crash I have wasn't even on my own bike. I know how Bill must have felt in Yosemite! Meeting up with my family has been the big highlight of my trip through the lower 48 states of the USA. I am finding it hard to drag myself but am aware that if I am to make Panama by the end of November I must leave soon. I have two more days left to enjoy my time in Albuquerque and then its down the road south, through the Mexican border and on to Copper Canyon, the next big "must see" sight I want to visit. This I think is where my trip will get a little funkier. I will be experiencing a new culture and be expected to speak a language I have been meaning to learn for the last year but never quite got round to studying, firmly believing that it would always be better to put it off till manana. Bring it on!

October 23, 2003 GMT
Mexico, Done & Dusty
From lots of rules and regulations and relative order to chaotic driving and congested living and people doing what seemingly doing just what they want. Yep you have just crossed the border into Mexico.
No one at the border seemed to care what I was doing or who I was. I had to stop them to ask how I go about temporarily importing the bike and myself into their country. Now I believe that it is rude not to attempt to speak the language of the country you are in but it is bloody hard to communicate when your spanish is limited to what you used in a bar the last time you were in Majjorca. So off I went, driving in traffic wandering where it wanted on the road. 20km out of town I get to the place. Now the fun starts. I line up at a desk that looks promising only to get to the official who points me to another desk. To be fair the whole process only took me 2 hours and cost me $50.(at least $20 more than it should have I now know!) This is a fast border in comparison with what I am told awaits me later.
It was good to finally get going and get some miles in before dark. After 5 hours I made the town of Maderra. I needed a hotel, after much searching I found one. $26 was not what I had expected more like $10. Next day I was headed to Copper Canyon, Mexico´s answer to the Grand Canyon. The tarmac road from Creel to where the dirt starts was super twisty and fun. When the dirt started I was glad to be on something that could take a hammering. The road, only 43 miles long took about 4 hours to ride. It was like nothing else I have experienced on the trip. How the hell they built it is one thing, how many have snuffed it driving it can only be guessed at. There are plenty of little shrines at various places that give you some idea. The road was single lane, full of stones the size of softballs, had ditches where it had washed out and had drops off the side that were very big indeed. Add about 30 switchbacks into the bargain, a drop in height of about 2500 feet, animals on the road and psycho locals and you start to get the idea. The village of Botopillas at the bottom was like nothing I have seen. Very run down looking, tiny streets full of roaming dogs, pigs and the occassional cow and lots of kids wanting high 5s as I rode past them. I liked it, all apart from the dog that mounted a conserted attack on me every time I rode past looking for a hotel. In Botopillas I got to stay in my first hotel where they insisted that the bike be brought inside through there hallway floored in white tiles, to ensure it would be safe. How cool, and all for $10. Thats more like it! Did it match the Grand Canyon for scenery? It sure did, it is one spectacular place I would like to revisit and spend more time in. My route then took me to a town called Parral, then the next day to Durango. The road to Mazatlan from Durango was another highlight. It passes through the Sierra Madre mountains and is so twisty. Not one straight in one 90 mile section and you are riding on top of the ridge most of the way. Lots more stunning jungle views. The only hassle was the drivers and the state of the road. One corner I come round to be faced with a pile of logs sticking out of a broken down truck. I just managed to stop! Another section of the road would not have looked out of place in Beirut. Lots more animals to hit mainly cows and donkeys (There are no fields to graze animals in you just turn them out onto the road then go find them later, that is the ones who are not lying dead beside it) Add to that potholes you could hide a football in. Then there was the military roadblocks and heavy overall presence. They were cool with me but they certainly like to have lots of guns. ( In the south of Mexico gas stations, banks and lots of other businesses are all gaurded by local police with pump-action shotguns!) I am told that this road is good by day, but not somewhere to be at night. Lots of Banditos aggressively gaurding their crops of weed and poppies.
Mazatlan was my entry into the tropics. I was so hot and humid. Really hard to ride wearing what you know will protect you if you crash. I then realised that by heading south I was riding into an ever increasing furnace. I will work out how to cope.
From Mazatlan I headed down the coast to Peurto Vallarta, what I now know is the US´s second favourite holiday destination. Its just like being on the Costa Del Sol but at least I can speak english and be understood. I had to have a rest day here as 7 high mileage days on the bike had taken its toll. On the 7th day I could no longer sit on the seat and had to use a travel cushion to try to get some relief. I also paid the price for eating in many roadside food huts. There cheap but hygiene mmm. Luckily I packed some Imodium I guess. Still being sick in a place you can walk 10 mins for a swim in a bathtub warm Pacific Ocean aint too bad and it was excellent people watching.
Back to the bike the next day and heading south down the "coast road". Now my idea of a coast road is one you can see the sea from, you know marvellous vista awaiting you around every corner. The Mexican idea seems to be a little different. They want to hide all their beutiful coastline so place the road about 1- 10kms back from the coast. Now I have ridden the whole thing, I would say that dissapointingly you only get Pacific Views for 60kms of the 1,600kms of it I rode. While I am having a winge I have to mention the Topes, quantities of which are found in every village. Topes are what we would call speed bumps but these are not mere bumps but more like mountains. The roads in Mexico go through every village. Villages are at most no more than 10kms apart if you are lucky. Every village has at least three of these suspension destroying monsters in them. Try riding 450 kms in a day like I am doing and the hatred developed for these things gets way out of hand. The most annoying aspect of Mexico bar none. Second to the topes must be the "killer" dogs present in every village. Wether dogs are born into the role or are assigned it via the local canine committee I am not sure, but the fact still remains that in every village from somewhere a dog (or dogs) will come tearing out of the bushes barking wildly, chasing the bike no more than centimeters from my boots salivating at the jowls. As of yet no contact has been made with the "killers" but not through want of trying I might add. I still need more practice to conect my size 10 motorcross boots with the offending mutts head!
My ride has taken me through Acapulco at 8am on a Saturday. The madness of the traffic has to be seen to be believed. You are defending the space you ride in, not lane, with fierce determination. If you are unsuccessful, one of the twenty zillion VW Beetle Taxis will be making a b-line to get you. No overdramitization, that was how it was. Just out of Acapulco I stopped for food, brunch you would call it. Now that my vegetarian principles have well and truly gone out the window (dont mock,you try to order off a menu you dont understand and hope not to get meat in a big meat eatting country) I eat what I am lucky enough to get put in front of me after normally going for a guess off the menu. Anyway there on the menu was the dish I could not refuse. Molle de Armidillo. Thats right it even had a picture of an armidillo in case you were not sure. A different breakfast to say the least. And how did it taste, you all already know the answer to that dont you. Chicken of course but with a hint of porkiness. It was great served in a spicy sauce. Later I discovered that I could also have had Iguana (lizard) but was glad I didnt as it is suppossed to have the same effect as Viagra. Now wouldnt that have been interesting trying to sit on a motorbike all day after your Iguana meal!
Another drama that I have had is having half my back eaten by insects. As it is so hot I was riding with my jacket open. What a lovely way to cature and hold all the insects in the air in the back of your jacket. Not all of these tropical dudes are friendly, what a field day they had on me. I thought I had contracted chickenpox again!
A pleasant surprise has been the lack of hassle I have had compared to what everyone in the USA was telling me would happen. Every day I pass through at least 2 military checkpoints. So far only three have stopped me and had very brief looks into my boxes. Always they have been very courteous to me. They all seem terminally bored, but not bored enough to have the patience to try and work out what the non-spanish speaking gringo is trying to say. My spanish is not coming along very well, I find it bloody hard work and as for remembering the words! Also luckily no run-ins with the Federales, the national cops. Last time I was in Mexico my friends and I had to bribe them to get out of some dreamed up traffic offence. This time the only contact has been one giving me a friendly wave as I passed.
Yesterday was unusual. I got a hotel earlier that I had planned due to a roadblock on the Pan American Highway. I went to the front of the line of traffic to see what all the delay was, an accident I thought. On arrival I saw this line of men all eqquiped with 2 foot machettes standing or sitting on the truck tires that had been used to block the road. Behind them the women were also sat, not with big knives but 3 foot long clubs. I got told in no uncertain terms that it was "no passada" and with the show of weapons they had I wasnt going to be the one to argue. The dispute was over the government taking their traditional land and this type of protest was common now according to a truck driver. Now what could we achieve in the UK if you blocked the M1. The militant flame in me may be burning weak now but it hasnt gone out!
At present I am an hours ride away from the Guatemala border at Melsilla and plan to cross it tomorrow. I have a lovely 2.50uk hotel room and my bike is safely in the hallway.
I am glad to have reached the border as Mexico seems to have taken me a lot longer that I thought it would. I have enjoyed the ride down and have found that in general the Mexican people are very poor and live in very basic conditions. From the road you see villagers carrying water to their houses from wells or tankers and I doubt a lot of them have much more than a few light bulbs in their houses, some out of the towns no electricity at all. To see earth floors through open doors is common in the villages. All the Mexicans I have encountered have been very friendly and helpful, always trying to work out what the stupid gringo is trying to say in broken spanish. The notion of them all being thieves and out to swindle you, has proved untrue. There is far too much prejudice gladly offered to you from people in the US. I suggest they travel the country and get the true story first hand!
I now have the Mayan ruins of Tikal to look forward to and the notoriously corrupt border official of Guatemala to deal with. Add to that the Tramitadores (kids that hassle you to let them help you get through the border, for a price) and the street kids who want paying to "look after" your bike and it should be a fun 24hrs. I will let you know in a week or so how it turned out.
(still no pictures, will add them at xmas when I get home)

Enter your email address to receive updates to Peter Slarke (aka oz)'s trip story!
Recent Entries
Archives:
Archives:
Monthly
Archives:
Category
NEW! HU 2015 Motorcycle Adventure Travel Calendar is now available! Get your copy now for some terrific travel inspiration!
HUGE, 11.5 x 16.5 inches, beautifully printed in Germany on top quality stock! Photos are the winning images from over 600 entries in the 9th Annual HU Photo Contest!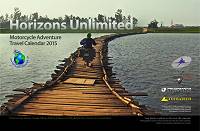 "The calendar is magnificent!"
"I just wanted to say how much I'm loving the new, larger calendar!"
We share the profit with the winning photographers. YOU could be in the HU Calendar too - enter here!
Next HU Events
NEW!

USA Virginia: Apr 9-12, 2015
Canada West: Aug 20-23, 2015
USA California: Sep 24-27, 2015
Aus Queensland: Sep 24-27, 2015
USA North Carolina: Oct 8-11, 2015
Aus Perth: Oct 9-11, 2015
Take 40% off Road Heroes Part 1 until October 31 only!
Road Heroes features tales of adventure, joy and sheer terror by veteran travellers Peter and Kay Forwood (193 countries two-up on a Harley); Dr. Greg Frazier (5 times RTW); Tiffany Coates (RTW solo female); and Rene Cormier (University of Gravel Roads).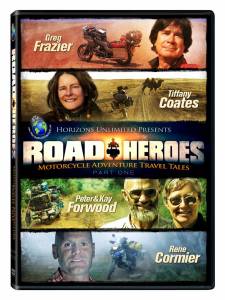 "Inspiring and hilarious!"
"I loved watching this DVD!"
"Lots of amazing stories and even more amazing photographs, it's great fun and very inspirational."
"Wonderful entertainment!"
Check it out at the HU Store! Remember to use Coupon Code 'HEROES' on your order when you checkout.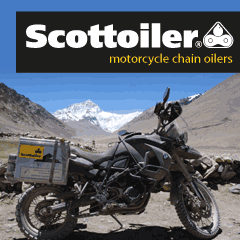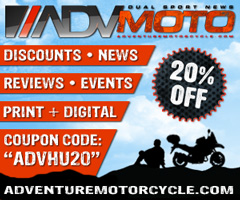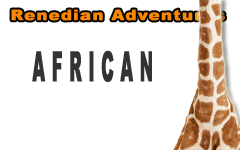 What others say about HU...
"I just wanted to say thanks for doing this and sharing so much with the rest of us." Dave, USA
"Your website is a mecca of valuable information and the DVD series is informative, entertaining, and inspiring! The new look of the website is very impressive, updated and catchy. Thank you so very much!" Jennifer, Canada
"...Great site. Keep up the good work." Murray and Carmen, Australia
"We just finished a 7 month 22,000+ mile scouting trip from Alaska to the bottom of Chile and I can't tell you how many times we referred to your site for help. From how to adjust your valves, to where to stay in the back country of Peru. Horizons Unlimited was a key player in our success. Motorcycle enthusiasts from around the world are in debt to your services." Alaska Riders

10th Annual HU Travellers Photo Contest is on now! This is an opportunity for YOU to show us your best photos and win prizes!
NEW! HU 2014 Adventure Travel T-shirts! are now available in several colors! Be the first kid on your block to have them! New lower prices on synths!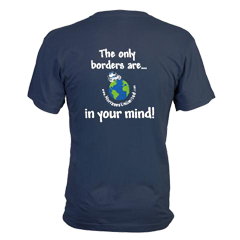 Check out the new Gildan Performance cotton-feel t-shirt - 100% poly, feels like soft cotton!

What turns you on to motorcycle travel?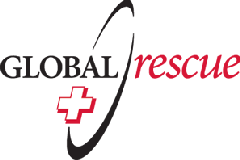 Global Rescue is the premier provider of medical, security and evacuation services worldwide and is the only company that will come to you, wherever you are, and evacuate you to your home hospital of choice. Additionally, Global Rescue places no restrictions on country of citizenship - all nationalities are eligible to sign-up!
New to Horizons Unlimited?
New to motorcycle travelling? New to the HU site? Confused? Too many options? It's really very simple - just 4 easy steps!
Horizons Unlimited was founded in 1997 by Grant and Susan Johnson following their journey around the world on a BMW R80 G/S motorcycle.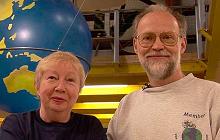 Read more about Grant & Susan's story
Membership - help keep us going!
Horizons Unlimited is not a big multi-national company, just two people who love motorcycle travel and have grown what started as a hobby in 1997 into a full time job (usually 8-10 hours per day and 7 days a week) and a labour of love. To keep it going and a roof over our heads, we run events (22 this year!); we sell inspirational and informative DVDs; we have a few selected advertisers; and we make a small amount from memberships.
You don't have to be a Member to come to an HU meeting, access the website, the HUBB or to receive the e-zine. What you get for your membership contribution is our sincere gratitude, good karma and knowing that you're helping to keep the motorcycle travel dream alive. Contributing Members and Gold Members do get additional features on the HUBB. Here's a list of all the Member benefits on the HUBB.
Books & DVDs

All the best travel books and videos listed and often reviewed on HU's famous Books page. Check it out and get great travel books from all over the world.

MC Air Shipping, (uncrated) USA / Canada / Europe and other areas. Be sure to say "Horizons Unlimited" to get your $25 discount on Shipping!
Insurance - see: For foreigners traveling in US and Canada and for Americans and Canadians traveling in other countries, then mail it to MC Express and get your HU $15 discount!
Story and photos copyright © All Rights Reserved.
Contact the author:
Editors note: We accept no responsibility for any of the above information in any way whatsoever. You are reminded to do your own research. Any commentary is strictly a personal opinion of the person supplying the information and is not to be construed as an endorsement of any kind.
Hosted by: Horizons Unlimited, the motorcycle travellers' website!
You can have your story here too - click for details!