January 12, 2005 GMT
Asado Enduro
We were warned about the endless straight roads, we were told horror stories about the fierce winds but what we were not told was how many asados (bbqs) we would have to eat and how all those fantastic steaks would convert to fat so quickly.
Catching up on 22 years of vegitarianism

Although we had in effect one country to go until Ushuia, we hadn't quite yet got to grips with the vastness of Argentina. Looking at the map and working out a route south only seemed to excentuate the distance we still had to ride. We were keen to make Bariloche (in the western lake district of Argentina) in a week and spend some time there before heading into Patagonia, so we set ourselves the mission of riding 2000kms in a week. Careful not to miss any of the highlights on the way down we passed through Pucamara, the mountain of seven colors and the towns of Jujuy and Salta. Northern Argentina surprised us with its contrasting scenery, pampas, red rock gorges, desert mountains, and green wine growing valleys. In places it was easy to mistake yourself for being in Arizona, France or a Welsh valley
Unfortunately the views do not last for long and as we progressed down the centre of the country towards Mendoza we had three days where we rode only long featureless straight roads.
Not one turn in 100kms!
It is here that YPF gas stations saved us from riding ourselves off the road. They were our welcome break from the tedious hours of mile crunching and the helmet dreaming and we used and abused them for every service. Not only did we load up with gas but drank copious amounts coffee, ate media lunas (crescent shaped croissants) like they were going out of fashion and camped in their forecourts on more than one occasion. It was the beginning of a beautiful relationship we were to have with YPF throughout our time in Argentina.
By the time we hit Mendoza we had been caught up by Tony, an English guy that we'd previously met in Bolivia. We spent a great night wild camping just outside the Valle Del Lunas (Valley of the Moon) in the bush with our first camp fire. Camping was something we had begun to miss on our trip as it was always so cheap to stay in hostels, but now the tent was getting full use as it was more expensive to find a bed for the night in Argentina.
Kicking back with a good fire.
Mendoza is a beautiful city sitting in a vineyard valley below the Andes range. From here you get fantastic views of Aconguagu the largest mountain in South America. Although our time here was short and primarily taken up with buying and changing tyres we did manage to enjoy strolling the shady tree lined streets, taking coffee at the outside cafes and feasting on our first Tendor Libre. This was a gourmet sensation that we hadn't yet experienced but went back time and time again for throughout our trip. Tendor Libre translated means "free fork" which is an all you can eat buffet. On offer is more than you could ever desire, 20 different salads, seafood, Chinese, cold meat dishes and the largest assortment of bar-be-qued meat. I haven't even got to the Postres (deserts) yet!! We were warned about the amazing meat in Argentina but until you have tasted it you don't know what you've been missing for 32 years. The beef and lamb is like nothing you you've tasted back home and at a third of the price. As you can expect such an evening becomes an "asado enduro" because you have to sample a bit of everything!!!
From Mendoza, Bariloche is a three day ride. Warned off by more terminally boring roads we decided to head west across the Andes and into Chile in hope of more excitement. Briefly it came from the fantastic views of Acoguagua we got as we rode up the pass to the border but once we'd dropped down towards Santiago we left them all behind.
Jess in the foreground, Aconcagua towering above. At nearly 7000m it Sth Americas highest peak.
Not wanting to but in on Jess's bit but on entering Argentina I was not too sure if any of the people would bear any resentment dating back to the 80's when Thatcher decided to make war over the Falklands to get herself re-elected again. On every frontier and other random places you would see signs proclaiming the Falkland Island to be the Malvinas and that they would always be Argentinian.
Sign at our first border crossing into Chile, near Mendoza.
The south of the country we found later has even more reference to the Malvinas. Most towns have memorials built in town centres, on Tierra del Fuego most cars are stickered with pro-Malvinas slogans. The resentment I expected was however to be found nowhere. The people of Argentina are the friendliest I have met in the whole of the americas. They can not do enough to help. Every day we are stopped in the street by friendly people wanting to know where we are from and about our travels on the bikes. This is a far cry from the Chilean hospitality, or more acurately the lack of it we later encountered. Its amazing what change can occur just by crossing a line on the map. The Chileans we have met seemed interested primarily in money, or more accurately extracting it from tourists. We encountered many unfriendly people day to day and found the hospitality lacking. Other travellers tell me its not all like this, unfortunately it was for us. It was fantastic to see the stunning sights Chile has to offer but I wont be returning in a hurry. Anyway back to the story! Carry on Jess...
We managed to prevent a potentially stressful 3 hours negotiating the complicated road system of Santiago by meeting a French motorcyclist in a service station. He offered to show us to the road south through the city, as apparently there are no circular roads, all traffic goes through the center! Thank god he did as even at 7.00pm on a Sunday evening the city was heaving. Two days more of dull auto-pistas and wild camping and we made it to Bariloche. Oz's turn now.
We have long planned to ride fast to Bariloche then relax for a week or two to enjoy the beautiful lake and mountains that surround it and experience a little of the nightlife of the town. Instead on our first full day in the town we were arranging to leave it the next day. Over on the east coast 1,000kms away was a Horizons Unlimited bikers meet taking place. Plans change and we decided to go to go to the meet and catch Bariloche on the way back up Argentina. We couldn't face riding the 2 days across the flat pampa and discovered, you could put the bikes on the train and kick back while it rattled and shaked its way east.
The train was like something out of the 50's and so was the staff in charge of cargo. I expected at least a ramp to get the bikes on the train. Instead 3 old guys and myself grunted and puffed lots, lifting the bikes the 4ft necessary to get them into the cargo carriage. Then using some weird and wonderfull sytem of knots, the main man tied the bikes to various weak points with what amounted to little more than string. He was so confident all would be good I believed him and went to find our luxurious seats in economy.
Against the odds another English biker, David was also on the train, also headed for the meet. The train was so slow but the wine was cheap and the steaks good. We spent a very pleasant evening talking, getting drunk watching the pampa slowly pass by outside. 15 hours later we arrived in the town of Viedma.
Enjoying alternative travel!
We made our way to the coastal town, Bahia Condor to meet the other bikers. On arrival at the campsite we were greeted by a very warm welcome and found friends of old and new. Of course the only way to go about the evening was to sup some wine and get that asado going. There was a lot of talking to be done and we needed sustanance to do that!
Bahia Condor was situated on a long white sand beach and we spent our days hanging out on the beach and visiting the local sea lion colony and various cafes.
The big event was planned for saturday evening, we had VIP passes to a gig (pop concert) in the town, then after we were to be guests at the casino which was to provide huge buffet and drinks. How was all this possible, in the UK bikers are viewed a sub species of the population, some establishments banning us from entry. Well the Argentinians are a little more relaxed and the organiser of the bike meet, Oscar had some pretty good connections to say the least. The big do was to promote a political party and their candidate for the area. The band, well they are really popular but one wonders why. The lead singer was clearly so in love with himself that I doubt he would ever need a partner, and the music, the teen kids behind nearly pushed the barriers over to get to the stage but us of more mature tastes sat and enjoyed what we could. It was however cool to be in the VIP enclosure shared with some famous stars of argentinian TV. The buffet, now we are talking. Fantastic sea food and wine. Some of us were even interviewed for TV as well, people thinking we were intrepid adventures!
Sunday saw some more media action when we assembled in the town to be photographed for the provincial daily paper. It aint bad being a star, I could handle a little more of it!
The meeting officially ended on Sunday but we were not ready to leave yet. We changed campsites and then got down to the grubby bussines of mending broken bikes. Oscar had voluteered his workshop to us so this was the new headquarters.
Javier of the HUBB Beunos Aires communities had his spanners twirling all day, ready to help all of us with the problems we had. His enthusiam and hard work was greatly appreciated by all. We would each get grumbled at for breaking our bikes then he would promptly fix them. The last bike to get its fix belonged to Sandra, his wife. Plans were set to leave the next day.
Our final meal was in a YPF gas station. As Jess has already said, these are no ordinary gas stations. It had a great menu, served fine wines and the manager even gave us complimentary bottles of champagne. It was a great last night, my head hurt from laughing so much. Oscar and his family had given us all a fantastic 4 days. We made lots of new friends at the meet, these are the experiences that make bike travel such a great way to meet people and see countries.
Enjoying our post champagne postres.
We rolled back to the highway, now three strong. David had joined us to travel the dreaded Ruta 3 down to Ushuia for the christmas and the new year fiesta. To those not in the know, the east side of Argentina is made up of pampa. Roughly translated to flat featureless mind numbingly boring roads. Maybe you see a sheep one hour, maybe a nandu (emu like bird) might be spotted in the distance next hour. Add to this the always strong, sometimes ridiculously strong side winds that cross the country from the Andes. In over 2,000kms of road that it would take to reach Ushuia there were only three sights we thought were worth stopping for. Pennisula Valdes was the first.
As national parks go it has to be the flatest and most boring one in the world. You dont go there for the land attractions. All the action is in the sea. There are big sea lion colonies and it is one of only 2 places in the world where Orca wales snatch sea lions of the beach. It was not "snatching season" but the Orcas had been seen recently. We rode 150kms of crappy dirt road and waited a good 5 hours to see them all to no avail. Next attraction was a little bigger. The bay is the breeding ground for Southern Wright wales. Most had already left for antarctica but a few were being spotted every day. We payed our dosh and headed out into the bay. An hour later we got what we had hoped for. A mother and calf were spotted. The next 20 minutes was spent cruising near the duo, at one point the wales changed path and swan directly under the boat. It was an amazing experience, these animals are so big and graceful. As a final parting gesture the mother lifted her huge tail out of the water and dived to eat. Mission succesful!
The next stop was the largest petrified forest in the world. Only three days away!
Although a small national park it had some fantastically big stone trees in it. 150 million years old, it is reckoned that a huge volcanic eruption flattened trees up to 100metres high then within 24 hours the ash buried them. The result we can see today.
Huge stone trees and us!
Attraction number three was Penguins. The east coast has two very big colonies, we visited the one at Camaroñes. There were over 4,000 birds nesting there when we pulled into the car park. The noise and action promised lots. On a specially constructed elevated walkway you walk right through the middle of the colony. The birds were fantastic to watch, their behaviour is bizzare to say the least. Some of the braver more curious penguins ventured onto the boardwalk to do a little research of their own.
Its Daves first nibble from a South American bird!
All the sights had now been seen, the only focus now was riding to Tierra del Feugo. 4 days and one border later we were lining up for the ferry to cross the Magellan Straight. 40 mins later we rode off the ferry, only 360kms left to ride before reaching the end of the road.


Another fantastic night out in the wilderness on Ruta 3.
Another border, lots of dirt road, wind and rain and we rolled into Rio Grande late in the evening. This is the biggest town on the island and reminded me a lot of places I had visited in Alaska. Beaten up old pickups cruised the street and all buildings look as though the weather has taken its toll. At the only camsite in town we met up with another biker, John and his chica Sara. We had last seen John in Mendoza. He has riden down from Canada on his 1976 BMW. The bike is a combination of the different BMW's and contains lots of Johns own modifications. For example, the starter switch stopped working and has now been replaced with a bedside lamp electrical switch. It looks like it should't have made it considering the beating it got in Boliviar but with Johns spannering skills and his enthusiasm he has for "his girl" I guess it will be going long after all our modern bikes have died.
We picked up another biker mate at the gas station the next morning, Jon a guy I first met in Alaska and headed out of town for the last day of riding south. The scenery at last changed to trees and then the Andes came into view once again. We had all missed the mountains and the Andes in Tierra del Fuego seemed unlike anything else we had seen so far. Smaller but really dramatic.
Late in the day we rolled into the town of Ushuia. It was bustling with tourists and had a good feel to it. We however were not finished yet. Our biking posse gained another rider, Tony and armed with wine for the celebration we headed the last 20kms down Ruta 3. I had seen so many pictures of the sign at the end of the road and was relieved to finally get there. Prudhoe Bay seems a long way north when you are stood at that sign. Jess was very chuffed too. It was a far cry from seeing her leaving Lima at 5am terrified as she had no experience riding bikes, to seeing her confidently riding the last 20kms of dirt to the sign at the end of the road. Lots of photos were taken and celebrating done.
The end of the road.
Only one last thing to do now. I had to go swim in the sea. I had done it in the Arctic Ocean and must do the same here. It was cold, windy and univiting. I lasted all of the 5 seconds it took to get the picture and I spent the next 30mins shivering. For those of you that enjoyed the picture of my buns on the Salar de Uyni, here they are again for the last time.
Those cheeky buns again!!!
It felt special spending Christmas and New Year at the southern tip of the world. Ushuaia had the same isolated, hickish feel to it that Inuvik had in the Artic circle. The temptation to explore further was great, knowing that the Antarctic lay only a two day boat trip away. Unfortunately our wallets were not going to stretch that far with the $2,500us fare. This will have to be another trip. The campsite posse grew as more and more riders arrived with similar ideas of spending the festive season at the end of the road.
The posse at the Rugby Club Campsite.
Throughout the 10 days there was much done in the way of drinking, eating and the all important bike-porn. This is the new name I have given to bikers wandering ceaselessly from one bike to the next talking about tyres, engine, tanks, wheels, luggage, tools and half twisting bryani valves. I am always amazed at their ability to talk about their bikes for hours on end, only to repeat it all again the next day.
Bike-porn in action.
Both Christmas and New Year were celebrated in true Argentine style with asados and cordero. Cordero invovles buying a whole lamb and attatching it to a steel cross. The cross is driven into the groud at an angle over coals which cook the meat. The camp owners helped us prepare the lamb for our New Years feast and we waited patiently, assisted by many boxes of wine for the 4 hours it took to cook.
Feeling more guilt but hunger too!
The waiting is something us Europeans are not very good at, but here they have got it down to a fine art. In the meantime one of the German guys amazed us all by proposing on one knee to his girl friend. Of course Kirsten said yes and there wasn't a dry eye between us. Then just as we'd pulled ourselves together the other German couple announced they had got engaged that morning!!! I've never been witness to any engagement let alone a double and I wondered whether somebody else might find a wild, crazy urge to propose too !!!! .
When we did eventually manage to drag ourselves out of the campsite we explored the Tierra Del Fuego National Park.. We hiked up to view points and glaciers in a vain attempt to shift some Christmas buldge and were surprised to find it very similar to Scotland. After 11 days in one place it was difficult to get back to the road. Our goal had always been to make it to Ushuaia for Christmas and with that done it felt a little strange thinking what next!!! Of course we had some major sights not yet ticked and some of the most famous gravel roads not yet ridden. So we had to press on. Well not to fast…..we broke camp by mid day and now a posse of five bikers we rode all of 200km to Rio Grande. Best to break ourselves gently back into the ridding.
In two days we made it to Puerto Natales, the last town before Torres Del Paine. We loaded up with gas and food to last at least 5 days in the park as everyone had warned us of the extortionate prices. Of course were back in Chile, you wouldn't expect anything less!!!.
The 120km of dirt to the infamous towers was quite awe inspiring. I have seen so many pictures of this great sight, read about the climbing epics that have taken place here and yet seeing it with your own eyes is quite amazing. The huge mass of mountain seems to loom out of nowhere from the flat Patagonia steppe and although the skies were clear and blue around us, they lay dark and threatening over the jagged peaks . It was difficult to draw your eyes away from it as you waited for that glimpse of the three towers. Luckily as we stopped for lunch the clouds did eventually part enough for a frenzied photo shoot.
Little did we know that we were going to be blessed with some spectacular views of them close up and from all angles in the park. over the next few days. The best came when we hiked up to the mirador the next evening to catch all three towers out and the sun setting behind them.
Really cold but what a view.
John our Canadian friend who is mad on photography shot 5 rolls of film in just an hour and the next morning was lucky enough to catch them out at sunrise. They are very illusive pieces of rock that for the majority of the year remain unseen, so we felt lucky to have seen them so clearly.
What do you watch, the stunning mountains or the road?
In the five days we spent in the park we saw some spectacular sights, glaciers, floating icebergs, turquoise lakes, snow peaked mountains and jagged towers. We also had some spectacular weather to match sunshine and clear skies. Wildlife was also something the park has lots of. Nothing could be more Patagonian than Torres del Paine with Guanacos in the foreground.
The notorious Patagonian wind was blowing but not as ferociously as we expected. However on the day we rode out it was obvious to us all that the wind had grown much stronger. In the shelter of the mountains it only buffeted us as we rounded corners but 90 km out of the park where the gravel road was more exposed the true entirety of these wind showed themselves. Gusts of 100kmph pummeled us from the side and sent me skittering across the deep gravel tracks towards the embankment on the other side of the road. Luckily I came off the bike before it hurled me down into the drainage ditch below. Oz and I just managed to pick the bike up, the winds trying to blow it back to the ground. The only way to stay on the road was to ride at speed and lean the bike at a 40 degree angle to the wind. I was convinced I was going to crash but with a surge of adrenaline and anger I managed to stay upright and between the tracks for another 15km before we could get shelter from the buildings at the next town. The strength of the wind was pretty terrifying and I thought at the time .. it cant get any worse than this………!!!
Dreading starting Ruta 40 in winds as strong as we had encountered earlier in the day we were relieved to find it relatively calm. Three hours more riding and we arrived in the town of El Calafate.
The start of the famous Ruta 40 for us.
El Calafate although swamped with tourists but was a welcome friendly and financial break from being in Chile. Next afternoon we headed off to see the Perito Moreno glacier. We left behind the sunny weather for the drizzle of the mountains. I have seen lots of glaciers on the Alaskan part of the trip and was ready to be not very impressed. Big mistake! This glacier is huge and is not shy to show you some action. The art of Perito Moreno glacier watching is to stand there long enough to see a huge piece of ice calve off into the lake. We spent 2 hours freezing in the rain in the evening an another three hours the next day hoping to see some big ice falling. We had seen some largish chunks fall but you always want more, dont you? As we got up the the car park we heard a rumble way bigger than the normal cracking and groaning noises the glacier makes. By 2 minutes we had missed a huge chunk of the face falling down and an ice from under the water catapulting up as it broke of the glacier. the ice from under the water was twice the size of the 100 person sightseeing boat which was near it at the time. Gutted aint the word.
Its 80 metres high and over half of the face is not in this picture. The chunks under the face are real big and fall off regularly.
After enjoying another Tenedor Libre the group split. John headed north, Sara was flying east to see penguins and David, Jess and myself were off to see the famous Cerro Fitzroy and Cerro Torre. It was more windy Ruta 40, with more roadworks where we were diverted and had to ride gravel balls the size of grapefruits before we arrived in El Chaltan. We had been lucky to see the Fitzroy and Torre on the drive in. Some folks wait week for the clouds to clear.
You dont often catch sight of this mountain range.
Next morning the planned trek to the mirador was abandoned, clouds completely covered what we were walking to see. For the first time in weeks the winds had also dropped. Not one to look a gifthorse in the mouth, we headed out of town, planning to ride the worst section of Ruta 40. What had started calm quickly turned windy. Hoping for a respite in the wind for a second morning we camped at the start of the most notorious section of Ruta 40. Tomorrow we would get up early and ride the 340kms stretch of this road between gas stations. Other than a handful of estancias (sheep farms) there was no habitation anywhere on this road. Jess had been winding herself up for months now worrying that the wind would blow her off this stretch of road or that the gravel ruts would claim her as a victim as they had done to so many other bikers.
The sun rose as did the wind. It was not the still day we had hoped for but we were going anyway. Our group had grown to four, a German biker Reiner who we had spent christmas with in Ushuia had caught us up.
The road was deeply rutted with gravel, the wind was strong enough to blow us out of the ruts at times producing hearstopping weaves through the deep stones.
Imagine trying to stay in that rut while up to 100+km/hr winds batter you from the side!
The stupid Guanacos (Patagonian Llamas) did try to run into Jess at speed. None of us however crashed, we all made it through tired but none the worse for it. Another couple on a bike coming the opposite way were not so lucky however. He tried to brake for a guanaco, lost it in the gravel and bust himself, his partner and the bike badly.
We made the long stretch of road to the next gas by mid afternoon and decided to do the last 130kms that evening to get us back to the ashphalt. Wea all rolled into the town of Perito Moreno absolutely wasted, all that is apart from Reiner on his flash and fast KTM 950. He just couldn't work out why it had taken us so long. Jess was down to 15mph by the end of it. We had however ridden the legend and survived to tell the tale.
We left the town of Pertio Moreno for Chile on another horrendously windy day. The lake we passed on the way to the border looked more like the sea with 6ft waves crashing into its shore. Yet again we were criss- crossing our way between Argentina and Chile, this time for the Careterra Austral a 900km mainly dirt road through some of Southern Chiles most spectacular scenery.
The bikes, big sky and sign telling us where we were.
Day one gave us a bone rattling ride high above a deep blue lake with the bulk af the Andes in the background. We camped wild by the lake, hoping to catch fish but instead finding and feasting on wild strawberries.
Bridge repairs meant a short ferry crossing to continue north.
The next day brought a little more drama. The day started with what must constitute our best arguement yet. Hoping it could get no worse, the chain on Jess's bike broke stranding us 30kms out of the nearest village. Try as we might it had tangled itself up on the front sprocket and we needed the help of a mechanic to fix it. David was despatched to get this help. Many cars passed us working at the side of the rode but in true Chilean style, not one stopped to offer any help!
Meanwhile John and Reiner were having their own drama 30kms up the road. Now I have already said Reiner is a quick rider, having done some desert rallies and racing. It only takes one corner however to catch you out, his corner was by a beautiful little lake, was off camber and loaded with loose gravel. He managed to take the 1.5metre drop off the road but was stopped by a big bush and supermanned off his bike into the thorn covered branches. Amazingly both him and the bike suffered a few scratches. The bike was dragged back onto the road 2 hours later and they came back to find out what was happening to us. We had summoned a mechanic who, using brute force and ignorance had sorted our problem in 5 minutes. Not missing the opportunity to rip off some gringos he charged us $30us for his services.
For the rest of the day we were allowed to enjoy the views and the road and ended up camping on the lawn of the gas station in the next big town.
It wasn't all dirt roads. Twisties we all dream of!
2 more days of bad roads, blue skies, forest, hanging glaciers and heaps more saw us exit Chile for the last time. Of course we celebrated our return to Argentina with more cheap steak and good wine.
We now have only 4 weeks left to go see Barliloche and the rest of the Lake District, continue up to Buenos Aires and hopefully make it up to Iguzu Falls. Also there is 2 bikes to sort out and sell. Bringing them back to England was never part of the plan but selling them here aint as simple as it sounds. If you have made it this far with our blog be sure to tune in to the last episode to see how much more of Argentina we managed to cram into our last 4 weeks of travelling.
Posted by Peter Slarke at January 12, 2005 06:00 PM GMT

Enter your email address to receive updates to Peter Slarke (aka oz)'s trip story!
Recent Entries
Archives:
Archives:
Monthly
Archives:
Category
NEW! HU 2015 Motorcycle Adventure Travel Calendar is now available! Get your copy now for some terrific travel inspiration!
HUGE, 11.5 x 16.5 inches, beautifully printed in Germany on top quality stock! Photos are the winning images from over 600 entries in the 9th Annual HU Photo Contest!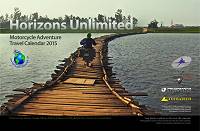 "The calendar is magnificent!"
"I just wanted to say how much I'm loving the new, larger calendar!"
We share the profit with the winning photographers. YOU could be in the HU Calendar too - enter here!
Next HU Events
NEW!

USA Virginia: Apr 9-12, 2015
Take 40% off Road Heroes Part 1 until October 31 only!
Road Heroes features tales of adventure, joy and sheer terror by veteran travellers Peter and Kay Forwood (193 countries two-up on a Harley); Dr. Greg Frazier (5 times RTW); Tiffany Coates (RTW solo female); and Rene Cormier (University of Gravel Roads).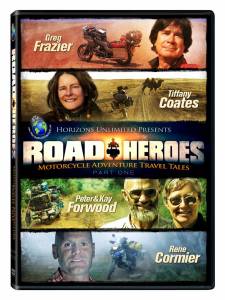 "Inspiring and hilarious!"
"I loved watching this DVD!"
"Lots of amazing stories and even more amazing photographs, it's great fun and very inspirational."
"Wonderful entertainment!"
Check it out at the HU Store! Remember to use Coupon Code 'HEROES' on your order when you checkout.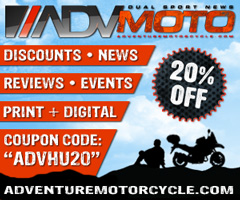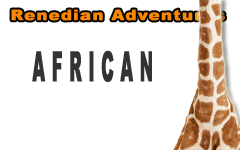 What others say about HU...
"I just wanted to say thanks for doing this and sharing so much with the rest of us." Dave, USA
"Your website is a mecca of valuable information and the DVD series is informative, entertaining, and inspiring! The new look of the website is very impressive, updated and catchy. Thank you so very much!" Jennifer, Canada
"...Great site. Keep up the good work." Murray and Carmen, Australia
"We just finished a 7 month 22,000+ mile scouting trip from Alaska to the bottom of Chile and I can't tell you how many times we referred to your site for help. From how to adjust your valves, to where to stay in the back country of Peru. Horizons Unlimited was a key player in our success. Motorcycle enthusiasts from around the world are in debt to your services." Alaska Riders

10th Annual HU Travellers Photo Contest is on now! This is an opportunity for YOU to show us your best photos and win prizes!
NEW! HU 2014 Adventure Travel T-shirts! are now available in several colors! Be the first kid on your block to have them! New lower prices on synths!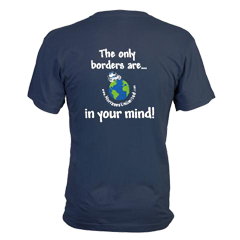 Check out the new Gildan Performance cotton-feel t-shirt - 100% poly, feels like soft cotton!

What turns you on to motorcycle travel?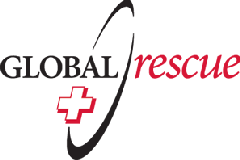 Global Rescue is the premier provider of medical, security and evacuation services worldwide and is the only company that will come to you, wherever you are, and evacuate you to your home hospital of choice. Additionally, Global Rescue places no restrictions on country of citizenship - all nationalities are eligible to sign-up!
New to Horizons Unlimited?
New to motorcycle travelling? New to the HU site? Confused? Too many options? It's really very simple - just 4 easy steps!
Horizons Unlimited was founded in 1997 by Grant and Susan Johnson following their journey around the world on a BMW R80 G/S motorcycle.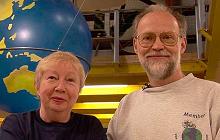 Read more about Grant & Susan's story
Membership - help keep us going!
Horizons Unlimited is not a big multi-national company, just two people who love motorcycle travel and have grown what started as a hobby in 1997 into a full time job (usually 8-10 hours per day and 7 days a week) and a labour of love. To keep it going and a roof over our heads, we run events (22 this year!); we sell inspirational and informative DVDs; we have a few selected advertisers; and we make a small amount from memberships.
You don't have to be a Member to come to an HU meeting, access the website, the HUBB or to receive the e-zine. What you get for your membership contribution is our sincere gratitude, good karma and knowing that you're helping to keep the motorcycle travel dream alive. Contributing Members and Gold Members do get additional features on the HUBB. Here's a list of all the Member benefits on the HUBB.
Books & DVDs

All the best travel books and videos listed and often reviewed on HU's famous Books page. Check it out and get great travel books from all over the world.

MC Air Shipping, (uncrated) USA / Canada / Europe and other areas. Be sure to say "Horizons Unlimited" to get your $25 discount on Shipping!
Insurance - see: For foreigners traveling in US and Canada and for Americans and Canadians traveling in other countries, then mail it to MC Express and get your HU $15 discount!
Story and photos copyright © All Rights Reserved.
Contact the author:
Editors note: We accept no responsibility for any of the above information in any way whatsoever. You are reminded to do your own research. Any commentary is strictly a personal opinion of the person supplying the information and is not to be construed as an endorsement of any kind.
Hosted by: Horizons Unlimited, the motorcycle travellers' website!
You can have your story here too - click for details!