August 13, 2013 GMT
Tilcara (Argentina) to Trindade (Brazil)
We awake next morning to find that we have indeed slept for twelve hours, it must be the aging process, whatever happened to the couple that used to party Friday night, drive 800 km to a party Saturday night and return the 800 km home Sunday and front work on Monday. I fear they are extinct.
For some reason we feel completely exhausted so decide we will just chill in Tilcara for a few days, although cold at night it is beautiful, sunny and warm during the day.
As it is Saturday the hostel and it's inhabitants are in Asado (BBQ) mode, we ask if we can join in the meat mayhem and proceed to eat ½ a cow and drink two bottles of wine in the sun while listening to a great eclectic mix of music. We are joined by Helena, a Swedish expat now living in BA and 2 Aussie girls, it is a lovely day and although we feel lazy, our batteries have been recharged.
We spend another day at the hostel before going out for a league of nations dinner, 3 Mexicans, 4 Aussies, One Swedish, 2 Americans, it is nice to be amongst young happy souls and we enjoy a late, loud evening.
Next day we eventually pack up and are about to get on the road, we think we will head to Salta to get insurance as we have been told the police in the Northern parts of Argentina are a little more corrupt than in the South (we have never had a problem with the police in Argentina) and will take no insurance as a sure fire way to extort some money. Just as we are leaving we are talking to Fernando (the BMW riding owner) telling him what we are up to, he explains that we can easily buy insurance here in Tilcara, so that is exactly what we do. Of course this means we don't get out of Tilcara until sometime after lunch, but now with valid third-party insurance.
We head off making our way 250km and end up at the very non touristed village of Metan where we spend the night at the most beautiful hotel of our entire journey, it is very posh (and cheap) and we are in the middle of nowhere.
The following few days we intend to head to Puerto Iguazu, a 714 km straight road to Resistencia before we have another 628kms to Puerto de Iguazu.

How's this for a straight road

On our way to Presidencia Roque Saenz Pena, as they say in India "Just go straight, sir"

100 kms further on, and we are still going straight

The first days ride from Metan to Presidencia Roque Saenz Pena (yes that is truly the name of the place) is unexceptional and we make good time, for the first time in ages I am riding without my wet weather pants on (they keep me warm), hooray, the temperature is warming up. The following day is a horrible one, it takes us 6 hours to do less than 300 km, firstly the traffic is quite heavy, then the police make us detour off the main road into Resistencia, and unfortunately after that there are no detour signs, we just follow the traffic along dirt roads for about 40 km in 1st gear with no idea where we are going, eventually when we are back on a paved road at a set of lights I ask the guys in the pick-up beside us "Resistencia?", "Si" they say and intimate for us to follow them which we gratefully do. Once in Resistencia we then have to backtrack to the main road which is completely jammed with traffic. We crawl along for over an hour until we reach a roundabout that has people, police and burning tyres everywhere. Not sure what was going on.
We eventually make our way over the huge river Parana and out of the twin city of Corientes.

Up and over the huge Rio Parana

Not the best of photos but shows the scale of this river
We are very grateful to be out of the cities and on country roads again. As we are riding along we pass 100s of gypsy (not sure if this is PC) wagons and horseman, a sight we have not seen anywhere else on our travels. Maybe it was a meeting as there were literally 100s and 100s of people.
However, we only get to enjoy the ride for about half an hour when out of nowhere come gale force winds, we are talking Patagonian style wind and it turns very cold again, grrrr. We battle on for an hour, not only is Skill having to battle the wind, the bitumen has also recently had a bitumen road scraper over it, making a horrible and deeply grooved surface. It is tough going.
After an hour and a half we refuel in Ita Ibate, Skill is talking about pushing on to the next major town about 80 kms away. "Are you mad?" I ask. I then ask the fuel attendant if there is a hotel in town to which he responds "Yes" . We ride into the one horse town of Ita Ibate to find a lovely country/fishing hotel on the huge River Parana. We spend the afternoon here sheltering from the raging cold wind and to our surprise we enjoy one of the nicest meals we have had in Argentina, at this little hotel.

We awake to the noise of strong wind still in the trees and after breakfast we donn our wet weather gear (it is now freezing) and do battle with the wind for the next couple of hours, fortunately just before lunch we ride off the plains and the wind lets up, however the temperature is only 11 degrees at midday. We stop at a fuel station to refuel both the bike and ourselves, and have our thermos of hot chocolate and sandwiches in the vain hope we will warm up.
It is a long, cold, but pretty ride to Puerto de Iguauzu. We arrive late and after a couple of hostels telling us they are "Completo" we find one with parking (albeit in a doored narrow alleyway) but they only have a room for one night. We are tired, frozen and bit over it, so we check in. We find an Asian style restaurant with a fire place and enjoy a lovely dinner and a beer, in warmth, the first time I have felt warm all day. Back in our room we turn on the heater. Oh my goodness a heater in our room - Sheer Luxury!!!
Next morning we pack up and are about to load the bike when the owner of the hostel (another BMW rider and friend of the Tilcara Hostel owner over 1000 km away) comes and asks us if we are leaving (in Spanish), we tell him "Yes we have to leave, there are no rooms". He asks for us to wait and comes back to tell us we can have a different room for the next few nights. "Ok" we say. He also tells us to ride the bike through the foyer into the courtyard, which we do. Just as we get all the gear back inside our new room, secretly commandeer the heater from our last room and get the cover on the bike, it buckets down, not only does it rain, it also hails. We are now so pleased we are not looking for a room in this weather.

Pleased we are not looking for a new room in this weather
As it rains on and off the whole day and the temperature doesn't get to more than 8 degrees celsius we spend the day in our room with only a quick outing for a take away empanada lunch and to buy some vino tinto. For dinner we manage to ferrret out what must be Argentina's best pasta place at a tiny take away spot called "Mamas Pastas & Salsas"
The following day the weather is no better, the temperatures don't improve so again we don't venture far, we wander the streets to orientate ourselves and find the Brazilian embassy so we know where to come tomorrow to start our Brazilian visa process.
Monday, the weather is vaguely better, and after breakfast we head to the Brazilian embassy to see what we have to do to get a visa, simple, fill out a form online, come back here with online receipt, a passport photo, photocopies of return airline ticket and proof of sufficient funds and of course a fee. "If you have it back before midday your visa will be ready tomorrow" we are told. We are flawed, no visa is ever this quick. We don't argue, bolt back to the hostel and get everything together by 11.00 am.

Skill fills out our Brazilian visas online
Just as we are about to head to the embassy the girl at reception tells us that we need to move out of our room today as they are full tonight. "What??, do you think you could have told us this a little earlier?". Oh well not to worry, off to the embassy and then to "The Garden Stone Hostel" around the corner. Yes they do have rooms for two nights but we will have to change rooms the following morning. No problems, we are now getting used to that.
We pack up and move the half a block to the new hostel, bloody hell they don't have a heater in the room and it is still freezing. We buy a bottle of red wine and huddle in our room under about 5 blankets for the rest of the day.
Hooray, Tuesday arrives and finally the sun is out, breakfast, move rooms and then down to the bus station to catch the bus to Iguazu Falls. (we were a little hesitant to ride and park out at the Falls as this is where our friends Ken and Carol had their helmets stolen a few years ago) The bus ride is short and efficient and at the entrance we queue with what seems like 100s of people to get our tickets. Did I mention it is Argentinian school holidays?
Once inside we catch the little train and begin our walk around the top part of the falls.

We catch the little train
To be honest the experience was a little tainted by the sheer volume of people and Argentinians are not known for their patience so there was way too much jostling, pushing and shoving on the board walks, the place was packed. The other problem (if you can call it a problem) was that there had been heavy rains so many of the tracks were closed, as were a few of the boat trips.

Iguazu Falls

Iguazu Falls

Iguazu Falls

Skill at Iguazu Falls

We managed to find a quieter grassy spot to eat our picnic lunch with the very naughty raccoon like Coati, which have become a bit of a pest, only because people feed them.

The very naughty Coati

The very naughty Coati
We then walked the lower tracks which was much quieter.

Iguazu Falls

Iguazu Falls
There is no doubt about it, the Falls are magnificent in their magnitude, but by three o'clock we had had enough of the crowds so we caught the bus back to Puerto Iguazu and then decided we should go to the lookout from where we could see the three countries of Brazil/Paraguay/Argentina. The hours walk was enjoyable but once at the monument we were a tad underwhelmed by a decaying 3 sided concrete column surrounded by a construction site and rubbish. Hmmmm. I manage to find a place to take a photo of Skill without rubbish, but the view is obscured by bushes.

Apparently from here you can see the two countries of Brazil, Paraguay, and of course we are standing in Argentina
Next day we arrive at the Brazilian embassy at the appointed time of 11.00 am to pick up our passports, which were ready. We then we make the 15 minute ride to the border, are processed in 10 minutes out of Argentina and then a 5 minute ride to Brazilian immigration, where we were processed in 5 minutes. Our quickest border crossing ever.
NEW RULES FOR FOREIGN VEHICLES ENTERING BRAZIL AS OF JUNE 2013. You are no longer required to get a temporary import document. Fortunately I had read this information posted by Rod at Iguazu Motorcycle Travellers Hostel, however we did ask two different people at the border and this was confirmed, we were told "No it is not necessary" so we ride off, no one knows our bike is here.

Our quickest ever border crossing – Welcome to Brazil

Foz de Iguacu does not look that exciting but we want to stay at Iguacu Motorcycle Travellers Hostel so we track down Adolfo and Rod's house/hostel. Fortunately Adolfo was home so we got ourselves sorted before going out to find a money machine as the first few we try don't like our card. We then go shopping, our first Brazilian supermarket, hmmm we have not one single word of Portuguese, we are back to Square One, Bugger. That evening Rod calls in for a long chat (in English) and we share dinner with Adolfo, who although does not speak English, we can communicate with, with our dodgy Spanglish.
We decide to spend another day in Foz de Iguacu, we get our washing done, and played with the dogs. That evening we again share dinner with Adolfo and his girlfriend and Rod calls in for another long chat.

Skill having breakfast with Adolfo's lovely boxer dogs
We really enjoy our time with Rod and Adolfo, but we really need to get on the road. A late start and we are on the road to Curitiba by 11.00.

We say goodbye to Adolfo
It is a pleasant ride but the tolls for the bike in this particular state in Brazil are very expensive (about $2 or $3 every 50 to 80 km), after 11 months of no tolls, it is a bit of a shock to the system. We stop for lunch on a farm track off the main highway, we can't believe how much like Australia this spot is. Check out the plantation of gum trees!

Lunch stop by the roadside
By four thirty we have had enough so start to look for a hotel. One of the things we have learnt about South American Hotels/Hostels, you can never judge a book by its cover. We see a sign for a hotel and pull into the car park, it all looks pretty dodgy and we almost leave without going inside.

Dodgy carpark, dodgy hotel????

Don't judge a book by its cover
However I go into the reception and am amazed, it is a beautiful clean, well appointed and quite new hotel for about $50 per night, and they serve dinner and breakfast is included. So this is where we spend the night, by late evening the hotel is nearly full.
We get away just before 10.00 the following day and don't get that far before we clock over the magic 100 000 km on the odometer.

The poor old bike clocks over 100 000 km

However the 100 000 km mark also marks the beginning of a day marred by bike running problems. To be honest the bike has not been running that well since we entered Argentina but today the problem is more pronounced. We stop at a service station and Skill pulls the bike to bits to see if the fuel filter is dirty which it is.

Skill starts to pull the bike to bits yet again
With the bike back together we continue on to Curitiba where we manage to buy a new fuel filter (on a Saturday afternoon), pull the bike apart again and install it. While Skill is off hunting for a fuel filter, and I am waiting on the side of the road, 3 motorcyclists pull over to see if I am OK. Amazing!!!!! As it is only 3.00 pm, we decide we will get clear the city of Curitiba and find a hotel further on. Big mistake!!!

The bike comes apart again and our new fuel filter goes in

The traffic out of Curitiba is pretty heavy and then when we are ready to stop, there is no hotel for the next 200 km, in fact there are no decent sized towns at all. We finally arrive in the very dodgy small town of Cajati just after dark and find an equally dodgy hotel, but it has wifi, hot water, parking and a supermarket around the corner, so all is not lost.
It is at this point we decide that we will have to go right into Sao Paulo to get the bike's problem diagnosed and fixed, so do some research on bike shops and hostels, we also email our BMW riding friend Marlo who we met in San Pedro de Atacama, he is from Sao Paulo.
We are up and on the bike early. The bike is still running terribly and we are apparently riding one of Brazils most accident prone and highly trafficked roads, however it is a two lane freeway. There are very few cars on the road, just 100s and 100s of trucks. We make good time until we reach a high range where the trucks are clogging both lanes, there is nowhere to pull over and with the bike running like a hairy goat it is a very difficult hour and a half of more stop than start. Eventually the traffic frees up and we see the cause of the traffic congestion.

Big Problemo
We are very nervous about riding into Sao Paulo, a city of 20 million people, (that is nearly the population of Australia living in one city) however we needn't have worried, it is Sunday afternoon, and for some reason the bike suddenly decides to behave itself. It takes only an hour to get into the city and we ride straight to the Hostel with only one minor wrong turn. Feeling slightly dazed by our good fortune we check into the very busy Pousada de Franceses.
We had chosen this hostel after finding they had parking and it was not that far from the motorcycle shops. Of course as usual we hadn't booked and they were full, but the amazing staff here pulled strings, reorganised guests and found us a room, they then proceeded to back out all the cars and managed to squeeze the bike into the small crowded car park. Nothing is too much trouble. And so begins the generosity of the people from Sao Paulo. (Paulitanos)
There is also another bike parked in the parking area, we later get a knock on the door and Rainer introduces himself. He is a lovely, young German guy travelling on a really old DR 650. The sole purpose of his journey is surfing, he had ridden from Mexico to Brazil with his surfboard seeking out the best surf beaches.

Rainer and Skill

Rainer, his bike and his surfboard
Later that evening we get an email back from Marlon saying he is out of Sao Paulo on business but he has posted a message on his motorcycle group's website to ask for some assistance for us. We are then inundated with offers of help, we cannot believe it.
On Monday morning Skill goes off to the Suzuki shop closest to the Hostel but they are really busy so kindly redirect him to another Suzuki shop, they also get someone to pilot him there. As all this is going on I have been emailed by Taz (a complete stranger) saying he is worried about us and is sending a friend to help us at the Suzuki shop. Padu (Taz's friend) manages to track Skill down at the second motorbike shop and then spends the whole day (until 7.00pm) helping Skill out.
We knew the chain was badly stretched in one part and tight in another meaning proper adjustment was becoming impossible, but thought maybe it would last awhile longer and we could replace it after we return from our trip home to Australia. Anyway we didn't think the chain could be causing our current problems. WRONG.
After all day at various bike shops with numerous diagnostic checks of engine management, fuel pressure and a number of test rides by various mechanics, the decision was we should replace chain, sprockets and sprocket bearing to eliminate this obvious problem that was complicating the engine diagnosis. Skill could not believe what a difference replacing the chain/sprockets/bearing had on the rough running at low speed, it was so smooth now. So all the problems seemed to be fixed, or so it seemed at the time. The badly stretched chain was definitely our main problem but as is often the case, there was another intermittent engine problem that has plagued us for many months and of course this problem was not showing itself at this moment.
The bike definitely seemed to be running a lot better so we spend the next two days playing tourist in Sao Paulo.

Parque Ibirapuera – Sao Paulo

Parque Ibirapuera – Sao Paulo

Huge sculpture in the middle of a huge roundabout – Sao Paulo
Sao Paulo is a foodies delight, we are staying in Bella Vista the Italian part of the city, but we also visit China town which is also where a large proportion of the Japanese community live so we eat as much sushi as we possibly can. We have a bit of a laugh one day, we are sitting in a Japanese restaurant in China town, Sao Paulo, Brazil listening to a Men at Work song "I come form the Land Down Under", how's that for a multicultural moment?

Skill at a Japanese restaurant, Sao Paulo and yes he does come from the Land down Under.
We also get invited for dinner with all the motorcycling people who have helped us out. Taz and Karin pick us up and give us a tour of the city before we enjoy a lovely evening with these amazingly friendly and charitable people.

Dinner with new friends

Dinner with new friends
Over dinner Taz and Padu have a discussion, they are worried about us getting out of Sao Paulo onto the coast road to Rio, so Taz decides he will meet us at the Hostel at 7.30 am the following day and pilot us out of Sao Paulo, and that is exactly what happens.

Taz pilots us out of Sao Paulo.

The road out of Sao Paulo (Reservoir for Sao Paulos drinking water)

Once on the Coast road to Rio we say farewell to Taz and we enjoy a beautiful ride (except for the speed bumps, there are over 130 of them between Sao Paulo and Rio) to Ubatuba where we call it a day and relax in a hostel with their very friendly cat.

We say good bye to Taz

Brazil's beautiful coastline
That evening we head to a beach side cafe and enjoy our first Moqueca, (an amazingly delicious fish stew) and some caipirinhas (national drink of Brazil). After dinner and 2 of these very yummy, very alcoholic drinks each we are feeling very, very, mellow and wend our way back to the hostel.

The Hostel's resident cat makes himself at home on our bed
Next morning we head out and about 50 kms down the road our original intermittent fault on the bike returns, all of a sudden it won't idle and is running on one cylinder. We stop, Skill turns the bike off and on 3 or 4 times and although it is not running perfectly, it is a lot better. Twenty kilometres further down the road we see the turn off to Trindade, we remember that Lisa and Jarrod (the Aussie guys we spent a week with in Sucre, Bolivia) had talked about this place so we decide to check it out. What a find, thanks guys!!!!!
We stop and wait for the bike to cool down as it is running badly again. I go for a walk and check out some camping places right on the beach, we decide on Pousada/ Camping Brisa do Mer (Sea Breeze) and ride in, but after finding out that camping costs $20 and we can have a brand new room, less than 15 metres from the water, with fridge and fan for $40, we opt for a room. We spend two days in Trindade, just chilling, we will let the pictures do the talking. It is an idyllic paradise.

View from outside our room

Trindade Beach

Looking back towards Trindade Village

Trindade Beach

Afternoon sunset

Afternoon sunset

Lan chilling back
I know I often say this but we really DO NOT want to leave here, however we have booked a hostel in Rio from Sunday night so it is onwards and upwards - next stop is Rio Baby!!!!
Posted by John Skillington at
06:22 PM
GMT
Recent Entries
Archives:
Archives:
Monthly
Archives:
Category
Now that summer is here, get On the Road! Take 30% off the Achievable Dream - On the Road! 2-DVD set until August 31 only.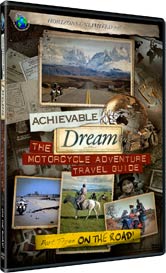 Our veteran travellers share their tips (and great stories) for staying healthy, happy and secure on your motorcycle adventure.
"A fantastic, informative and inspirational DVD."
"It's brilliant - thank you very much!"
Check it out at the HU Store! Remember to use Coupon Code 'ONTHEROAD' on your order when you checkout.
Next HU Events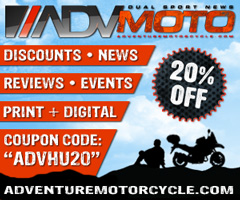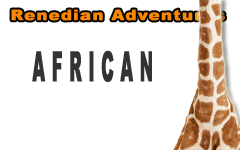 What others say about HU...
"I just wanted to say thanks for doing this and sharing so much with the rest of us." Dave, USA
"Your website is a mecca of valuable information and the DVD series is informative, entertaining, and inspiring! The new look of the website is very impressive, updated and catchy. Thank you so very much!" Jennifer, Canada
"...Great site. Keep up the good work." Murray and Carmen, Australia
"We just finished a 7 month 22,000+ mile scouting trip from Alaska to the bottom of Chile and I can't tell you how many times we referred to your site for help. From how to adjust your valves, to where to stay in the back country of Peru. Horizons Unlimited was a key player in our success. Motorcycle enthusiasts from around the world are in debt to your services." Alaska Riders

10th Annual HU Travellers Photo Contest is on now! This is an opportunity for YOU to show us your best photos and win prizes!
NEW! HU 2014 Adventure Travel T-shirts! are now available in several colors! Be the first kid on your block to have them! New lower prices on synths!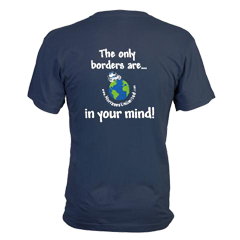 Check out the new Gildan Performance cotton-feel t-shirt - 100% poly, feels like soft cotton!

What turns you on to motorcycle travel?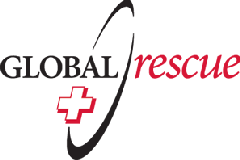 Global Rescue is the premier provider of medical, security and evacuation services worldwide and is the only company that will come to you, wherever you are, and evacuate you to your home hospital of choice. Additionally, Global Rescue places no restrictions on country of citizenship - all nationalities are eligible to sign-up!
New to Horizons Unlimited?
New to motorcycle travelling? New to the HU site? Confused? Too many options? It's really very simple - just 4 easy steps!
Horizons Unlimited was founded in 1997 by Grant and Susan Johnson following their journey around the world on a BMW R80 G/S motorcycle.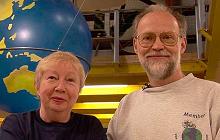 Read more about Grant & Susan's story
Membership - help keep us going!
Horizons Unlimited is not a big multi-national company, just two people who love motorcycle travel and have grown what started as a hobby in 1997 into a full time job (usually 8-10 hours per day and 7 days a week) and a labour of love. To keep it going and a roof over our heads, we run events (22 this year!); we sell inspirational and informative DVDs; we have a few selected advertisers; and we make a small amount from memberships.
You don't have to be a Member to come to an HU meeting, access the website, the HUBB or to receive the e-zine. What you get for your membership contribution is our sincere gratitude, good karma and knowing that you're helping to keep the motorcycle travel dream alive. Contributing Members and Gold Members do get additional features on the HUBB. Here's a list of all the Member benefits on the HUBB.
Books & DVDs

All the best travel books and videos listed and often reviewed on HU's famous Books page. Check it out and get great travel books from all over the world.

MC Air Shipping, (uncrated) USA / Canada / Europe and other areas. Be sure to say "Horizons Unlimited" to get your $25 discount on Shipping!
Insurance - see: For foreigners traveling in US and Canada and for Americans and Canadians traveling in other countries, then mail it to MC Express and get your HU $15 discount!
Story and photos copyright © All Rights Reserved.
Contact the author:
Editors note: We accept no responsibility for any of the above information in any way whatsoever. You are reminded to do your own research. Any commentary is strictly a personal opinion of the person supplying the information and is not to be construed as an endorsement of any kind.
Hosted by: Horizons Unlimited, the motorcycle travellers' website!
You can have your story here too - click for details!