October 18, 2012 GMT
RTW Part 2 - South America
Well here we are 5 years on ready to travel on the bike again. On arriving home from our first overland motorcycle trip in 2007 we had a four year plan to travel again which blew out to 5 years but finally we are on the move again.
Time dulls the memory, we had forgotten the sheer hard work it takes to pack up your life for 12 to 18 months and we could never have done it without the support of friends, family and the HU Community who have kept us inspired when we would begin to lose focus.
So once again we will start at the beginning......................
The race to leave by October really began in August when we had to have the bike crated up and be at the port by the 13th August, 2012. Once again we did this ourselves, we acquired a crate from the local Harley Dealership for a carton of beer, modified it a bit, and packed the bike and bike gear inside. Then Skill delivered it to the Port of Brisbane, hoping all is well and it will arrive in Valparaiso on the 16th October. The cost of shipping was about $AUD1150.00. There will be more fees at the Chilean end.
The last week before we leave is a total blurr, final house packing up jobs, visiting family and friends, organising last minute details, there doesn't seem to be enough hours in the day. We arrive in Brisbane on Friday night with good friends Liz and Al, descending on Helen and Davin who have organised a lovely farewell dinner with other good friends. Next day into the city to spend the day/night with my family before spending Sunday evening with Glenn and fellow Brisbane HU members. Then it is up at 3.00 am when Glenn delivers us safely onto the flight to Sydney. We are so grateful to Glen and Leeanne for their generosity. We really hope they are on the road soon.

Skil & 'Toplock' Glen
The connection to our LAN Air/QANTAS flight is made, it turns out to be a huge newly refurbed QANTAS plane, and we are on our way. It is a couple of hours into the flight that I suddenly make the realisation, "This is it! We are on our way again." The adrenalin rush hits tempered with the inevitable questions of self doubt, are we doing the right thing, will we enjoy it as much as last time, we haven't travelled in a non English speaking country for 5 years, will we be able to manage..........................Blah Blah Blah. The feelings of self doubt are quashed with a couple of champagnes, lunch and a 12 hour flight.

Posted by John Skillington at
08:19 PM
GMT
Chile - Santiago & Valparaiso
After a perfect landing in Santiago Chile we find ourselves lined up to pay the reciprocity tax that Aussies are required to pay in reply to our own government's visa requirements for Chileans. This is all OK until we realise that there are about 300 people queued (2 other planes have landed before us) and only 2 people on the processing counter. After standing in a line for nearly three hours we have our visas, are stamped into the country and have collected our bags. It's not what you need after a long flight and wasn't the best welcome to Chile you could get.
We make our way to the Transvip bus counter, secure our tickets and are whisked away by a wanna be Alonso who treats the streets of Santiago as his own personal F1 circuit, while listening to the strains of Lionel Ritchie. We arrive at the delightful Hostal Rio Amazonas # a pale shade of green and totally exhausted, it has been a long 24 hours without sleep.

Hostal Rio Amazonas

Alanna relaxing in style
We ignore the anti jetlag rules, have a shower and sleep for six hours before going out to a little cafe across the road for dinner at 10.30 pm. The original feelings of self doubt have gone, if anything it feels more like a relief to be in a foreign country, playing the charade game, not knowing what you are going to get to eat because there is not one word on the menu you recognise, having huge bottles of beer to drink. The sounds of happy and exuberant chatter everywhere. Life is as it should be.
Next day we begin our usual exploration of a foreign city, that is to wander the streets aimlessly only to happen upon a great eating drinking precinct and plonk ourselves down for the day, for some reason this always seems to happen to us and we are happy to go with the path fate has chosen for us.

Skill enjoying a drink in Barrio Bellavista

Lan enjoying a drink in Barrio Bellavista,
We fill our six days in Santiago visiting the sights, including Pablo Neruda's home "La Chascona" and the Museo de la Memoria (a new museum depicting the years of the Pinochet Dictatorship)

Parque Forestal Santiago

Our first view of the Andes is less than impressive through the smog haze, but it's exciting none the less.

Smog views of Santiago from atop Cerro San Critsobal

A huge statue of the Virgen de la Immaculada Concepcion

Skill at the Museo de la Memoria (The Pinochet Years Museum)

Mounted Guards at Moneda Palace
We also master the underground system and find our way to the head office of Andes Logistics de Chile where we pay them $CH140 000. (About $AUD 275.00) According to their documents, payment is for Cargo Manifest, "Unstuffing" and Handling Fees. We also get an update on arrival dates and a new Bill of Lading. The ship appears to be on time and we will probably get to UNSTUFF the bike around about the 18th or 19th. We will have to wait and see.
Brimming with confidence at our successful negotiations at Andes Logisitics we head to Magellas Insurance Office to try and negotiate 3rd Party Insurance for the bike. Needless to say this is a complete and utter failure so we give up, walk back to Barrio Brasil and settle ourselves in at the glorious Golindas Restaurant for a big lunch and my first Pisco Sour.
I have taken my first three mouthfuls when I say to Skill "Can you feel the earth shaking, the underground Metro must run underneath us", he gives me a puzzled look and says "There is no Metro here", as the shaking becomes more intense and the bottles on the shelf begin to rattle. Hmmmm, maybe it's not the pisco sour, but a little bit of an earthquake tremor. Half the restaurant stands up ready to bolt, me included, but the shaking stops after about 5 seconds and we all resume our eating/drinking positions. They told me that the Pisco Sours delivered a wallop and they were dead right.

Newspaper Article about the little shake
We enjoy Santiago but make the move to Valparaiso by bus after 6 days. The bus system is highly efficient and we leave right on time and arrive in Valparaiso exactly 1 hour 45 minutes later as stated on the schedule. We cannot get into our accommodation until 5.00 pm, and it is now 1.00pm. What to do? We grab a taxi, giving him a random restaurant address which he has no idea of how to get to, and everything is shut as it is Sunday. Finally after driving around aimlessly, I recognise the name of a bar/restaurant (Cinzano) which I have read about in the guide book. We part company with the taxi driver and after much handshaking, we tumble in through the doors of Cinzano lugging our suitcases and backpacks.
What a find, this place transports us back to the 1950s instantly, we leave our bags in the corner atop some beer crates and sit ourselves down for the afternoon securing drinks, lunch and more drinks. The stoic bar man eventually warms to us cracking a slight smile and mixes us up some mean pisco sours, followed by free alcoholic digestive drinks which are bloody awful. I am sure they were chuckling behind their serious demeanors, let's get rid of this rubbish on the gringos.

Mr Happy mixing up Pisco Sours
We also start up conversations with the locals …....................what I should say is we draw, mime and use our ten words of Spanish over and over again. Generally the Chileans are hospitable, happy people willing to go the extra mile to communicate with us. I wonder how many Australians would go to these lengths?????????????
After a somewhat bizarre, dare I say it, alcoholic afternoon, we arrive at Villa Kunterbunt, our accommodation, also the home of our Chilean Customs Brokers, Enso and Martine. After a long chat and a few more beers we learn that our ship is on time and we will probably have the bike on the following Friday. Still a bit of a wait but there are worse places to be stranded without a bike.
The following 6 days in Valparaiso are spent, literally wandering the streets taking in the amazing sites of this World Heritage listed city. It is such a juxtaposition of grime and grace, wealth and poverty, colour and decay. It would have been something to behold in it's heyday, before the 1906 Earthquake & Tsunami and the completion of the Panama Canal, which signalled its demise.

Valparaiso's colourful Buildings

Street Art and Graffiti is Everywhere

Every day we looked for the ship with our bike - didn't see it

There used to be 33 finiculars (ascensores) to transport people up and down the steep hills, now only 4 are working. Ascensore Artilleria is the oldest still working, completed in 1893.

If the Ascensors are not working, this is your only option.

More street art during our walking tour of Valparaiso
Villa Kunterbunt sees many visitors and we get to spend two evenings with fellow Swiss Motorcyclists who have shipped their bikes in for a 6 week world wind tour of South America. It is fun and inspiring to be with like minded souls.

Swiss BMWs
They leave on Tuesday, and we kill two more days, tomorrow is D Day. Hooray we get to "Unstuff" the bike.
Cheers & Beers,
John & Lan
# For fellow motorcyclists: when we asked Hostal Rio Amazonas in Santiago, they said that they could provide secure locked outdoor parking for a couple of bikes free of charge. This was a lovely hostel/hotel, very central to everything. $AUD75.00 including breakfast (High season price)
Posted by John Skillington at
08:23 PM
GMT
October 31, 2012 GMT
Argentina - finally on the road
Well D Day has arrived and we are off to pick up the bike.
Enso first goes to Customs in Valparaiso town by himself and when he returns, we get into his friend's pick-up and we are off out to the shipping agent's warehouse, about 20km away. On arrival we enter the main building where Enso negotiates, and gets several pieces of paper stamped several hundred times (slight exaggeration), after this we are informed that only one person can go with Enso to uncrate the bike, so I sit and wait and wait and wait. Eventually Enso returns with the same stamped pieces of paper and we enter the building again where (no exaggeration here) he goes between two rooms 6 times getting more stamps and more pieces of paper which he exchanges for other pieces of paper. Finally I am allowed to pay a total of CL $72 000 (About $AU145.00) in exchange for another piece of paper and we are done.

The bike crate

Unpacking the crate
I am now allowed into where the bike is, but by this time Skill is all done and is waiting the arrival of the fuel we had bought on the way. We fill the bike up and it fires up first time, all good. Skill turns the bike off and fuel starts to leak out everywhere! Bugger, bugger, bugger! The bike and exhaust is now hot and we imagine the bike engulfed in a fire ball in the shipping warehouse, bike destroyed and some huge liability cost for damage to the warehouse. We try to quickly get the seat and the fuel tank covers off, but its not a quick process on the Vstrom. The leak stops thankfully and by the time the tank is raised there is no sign of where it was leaking? Skill starts and stops the bike, pokes and prods hoses and fittings, but there is no sign of any leaks? What the...? Skill reassembles the bike and hopes for the best.

A few technical difficulties

Lan offering helpful hints
Enso has the crate all packed up and loaded into the pick-up along with the top box and then Skill rides the bike (following the pick up) back to Villa Kunterbunt. We are all done and dusted by 1.30 pm. For fellow motorcyclists, Enso and Martina charged us $CL100 000 ($AU200.00) to organise everything at the Chilean end which in the end was worth every cent. Our total costs to ship the bike from Brisbane to Valparaiso was AU$1770.00.

Skill ready to ride his first kilometers in Chile

The ride back to Villa Kunterbunt (Enso is taking these photos from the pick up)
We spend the rest of the afternoon securing the top box, getting our belongings organised and dealing with gear that is just not going to fit on the bike. You would think we would have this all sorted now for RTW stage 2, but apparently some lessons have to be relearned. The poor old bike is going to be so overloaded. Skill also notices some damage to the dash near the windscreen, the crate has obviously been top-loaded and the hoops on the crate must have been shoved against the dash. Oh well, I guess it could be worse. We are just about to give up and head down to the town for a drink when another bike gremlin appears, radiator coolant is leaking out, Skill checks it out and and the overflow tank is low, but as with the fuel it stops leaking of its own accord and we are nor sure where it was leaking from? At this point we do give up and go to La Playa Bar for a beer or two. We also look for replacement radiator coolant but on a Saturday afternoon it is a lost cause, so we head back up the hill to our logings where we cook burgers for dinner.

La Playa Bar Valparaiso
Sunday we get away about 10.30am and as usual we have no real plan, we are heading towards the Argentinian border. Fortunately the traffic as we leave Valpo is relatively calm as is Vina Del Mar, so we get onto the highway easily and are finally away, after negotiating a few tolls and a few scenic detours (ie we get temporarily lost) we stop at a servo to refuel and have our first on-the-road thermos cuppa and sandwiches from the new topbox.
After this we just head towards the border thinking we will stop in Los Andes for the night, but the sun is still high so we keep going. And then we start to climb the Andes and climb and climb switchback after switchback, overtaking truck after truck and still we climb and climb. Through avalanche/snow protectors and long tunnels, we are at the top of the world, well 3200 m anyway.

Climbing to the top of the world
We come to a checkpoint, it is now very cold and windy with snow still on the ground and "zona control" signs everywhere, is this the border crossing? "No no they say, keep going" so onward we go to an Argentinian checkpoint where we are issued with a scrappy piece of paper torn from a note book with our bike rego and "dos personas" scribbled on it. We offer our passports but are waved onwards. Down the mountain pass, and some distance later we realize we are definitely in Argentina. OH POOP!! Where is the border control? We turn around and a kilometre back we eventually find the correct border crossing checkpoint which is in a huge building located off the road. Its well signposted in Spanish which we didn't understand so ignored. Strange there are no barriers and border officials to stop you going past this point?
It takes about an hour to cross and we have now broken our first rule of motorcycle travel on the first day. Always do border crossings first thing in the morning, not at 5.30 in the afternoon. We now enter Argentina legally and are stopped by the army about 10kms up the road and we have to surrender the scrappy bit of paper with bike rego and dos personas on it. It has been stamped no less than 6 times. We so enjoy the ride to Uspallata, the scenery is jaw droppingly beautiful, but we don't stop for photos as it is late and we are losing the daylight. By the time we reach our destination it is 7.30pm (its dark just after 8pm here at the moment).
After a few unsuccessful attempts to find secure parking for the bike at a few hotels in town we head out to the HI hostel 5 kms out of town, its now almost night and we have broken our second rule, ie; no riding after dark in foreign countries. The hostel rooms are full but we can have their self contained cabana for the night and as they have a full house they are cooking dinner and would we like Crumbed beef schnitzel, mashed potato and salad, topped off with crème caramal for dessert? Are you kidding? We are such happy little vegemites in our cabana with a dinner feast and cold beer. We didn't even have to leave the premises, they brought it to us.

Skill enjoying our first Argentinian meal
Sunday is a quiet day at the Hostel, we move to a cheaper room and just relax and take in the surroundings, then head into town to the local parilla for lunch (3.30pm) It is dia de la madre (Mothers Day) so the place is packed, we do get a seat and watch everyone eating their own body weight in Barbecued meat. We opt for a less carnivorous meal and enjoy the antics of the locals. Next morning Skill realises that the new chain oiler plastic tubing has disappeared. He should have left the old bic biro tube alone (put on in France 5 years ago as an emergency replacement, lasted all the way to Aus and 5 years more). He thought he would replace it before leaving home with a proper Scott Oiler one. It lasted one day. Oh well back to the bic biro tubing.

Fixing the chain-oiler (the first of several attempts)

HI Hostal Uspallata

HI Hostal Uspallata - self contained cabin
Monday we decide to backtrack as we didn't get to see Puente del Inca and we want to take some photos of Parque Provincial Aconcagua, where we hadn't taken photos after crossing into Argentina late in the day. The best laid plans go awry as we are stopped in a huge line of traffic, and are informed that the road is closed because of an accident, and won't be open for "shrug shoulders" maybe 1 hour, maybe 2 hours, who knows? Back into town, park outside the Tibetan cafe (made for the movie "Seven Year in Tibet" filmed around Uspallata) we gather supplies and decide we don't want to wait for "who knows", so we are off towards Mendoza. We will have to come back some other time to see the sights here.

Tibetan Cafe – Uspallata

On the road towards Mendoza
As usual we just ride, not sure where we will end up, we reach Ruta 40 and decide to skip Mendoza and head towards San Rafael (where we hope to make contact with John & Annette, although we haven't been able to get through to them on the phone), as we get closer we can see a huge storm in front of us, so we stop, don the wet weather gear and continue on. As we get closer the air temperature takes a dive and the sky turns green, looks like hail to us. We make the decision to turn around and ride back 20km to wait it out.

Donning the wet weather gear

Waiting for the storm to abate

After an hour we continue on, so pleased we waited it out, there is water and hail on the road everywhere. We make it to San Rafael, dry and unscathed, head to the Tourist Office to find a hotel with parking. After miming and drawing I have a map with two hotel options, we choose the first. Not salubrious by any means but it does the job, it has secure parking and hot water, which we are finding is always a bit of an issue. We wander the streets of this modern little city and have a hamburger and beer for tea. Another successful day.
We have still not been able to make contact with John and Annette (an English couple who rode the world for two years and decided to settle on a farm (finca) outside San Rafael), we have directions to their place so we decide to wing it and go out on spec. Fifteen minutes later as we are riding down a dirt road, we see a bike pulled up so we pull over, only to be warmly welcomed by Annette saying "I thought that was a travelers bike I could see in my mirrors. I have just finished emailing you 5 minutes ago". She was returning from town.
We spend a lovely two nights, three days at the farm, enjoying the peaceful location, the entertaining company and admiring the back breaking work that this couple have put in to make the run down finca a going concern. It is a credit to both of them and all the motorcycle travellers who have helped out over the past five years.

John and Annette's Farm
John and Annette seem to never be alone, there are always travellers calling in.

Afternoon drinks with John, Annette, Nick (Canadian biker) and Franck & Carole (Swiss Landcruiser Travellers)
The following day we eventually tear ourselves away from the great company and get on the road at 2.00pm after Skill has tracked down some bike issues. We have been having a series of small problems with the bike, the first being the radiator leak which he finds to be an unsecured hose clamp that has been left loose by the guys who did the big service on the bike before we left. Hmmmmmmmm what else have they left undone.
The second problem has been that the bike has been missing occasionally but not consistently. Spark plugs are cleaned and injector cleaner is added to the fuel, we will see how this goes.
The last problem is that the battery doesn't seem to be charging fully. We had this problem back at home and after it had been checked out by two different auto electricians and deemed fixed we felt confident to travel with it. Battery has been fine for starting so far, the voltage is just staying a bit lower than it should be, so its not fully charging. For now we are disconnecting one headlight which seems to bump up the voltage and alleviate the problem.
We ride the 200 km to Malargue in awe of the gorgeous scenery around us and those ever present snow capped mountains. We camp at the Municipal Campground, I set up camp and Skill goes out to hunt and gather. At 7.30pm we decide to cook our pasta for dinner only to find the fuel stove is dead and won't pump any pressure into the fuel bottle, buggar, it was working perfectly before we left home. What is going on with all these gremlins? Skill tries to pull the pump apart, but the plastic breaks and it is deemed a write-off. So how do we cook our recently purchased pasta dinner now or make a cuppa for breakfast?
Skill goes back out to look for a replacement stove at 8.30pm in a small town, not holding out much (any) hope. He returns an hour later with a big smile, a new gas hiking stove and gas. As luck would have it Malargue is an outdoor pursuits town and shops are open until 9pm due to being closed for siesta all afternoon. We try cooking dinner with more success this time and finish at 10.30, laughingly wondering how the folks at home would go with such a late dinner, only to be brought to our senses that we had actually had an early dinner by Argentinian standards. A family arrives at the campsite after we are all done, light their fire and start to cook their asado, it is 11.30 by the time they eat.
Next day armed with lots of information from John and Annette we head off on the famed Ruta 40 towards Buta Ranquil, the morning is just glorious, mountains all around and a broken and patched bituman road scattered with sections of ripio (gravel). By lunch time the winds starts to pick up and we stop in a partly sheltered spot near the Rio Grande for lunch.

Lunch stop near Rio Grande
By the time we get back on the bike the wind has really picked up and the now entirely ripio road is full of rolly gravel. It is quite a difficult 40 km ride in the wind, with Skill saying the wind gusts are skidding the front tyre sideways across the road while doing 40 – 60 km/h. Not much fun for either of us.

Ruta 40 (You can't take a photo of the wind)
Once on the tarmac the wind turns it up another notch and we are having trouble keeping the bike on the correct side of the road, it seems like a long ride to Chos Malal in these conditions. At one point Skill opens the top box and the lid gets blown of it's hinges onto the ground. It is very uncomfortable on the bike but we do manage to stop and take a couple of photos of Volcan Tremon.

Volcan Tremon
We arrive ------- fairly tired and check out 4 hosterias and the campground (which looks fine, except for the driving wind) so we opt for a quite expensive hosteria, shower in glorious amounts of hot water and go out for dinner where we have our first Argentinian asado grill. We roll back to our lodgings after assuring the waitress that there is no way we can possibly fit in 2 litres of dessert as well as ½ the cow we have just eaten. Later talking to Skill I say "I don't know how you kept the bike upright today, and this is only a precursor of what is to come." I must say I am not overly fond of the wind. I guess we shall see what happens down the track.
Onward and upward, today there is NO wind. We refuel and put in more fuel injector cleaner before making our way out to the highway, only to stop so Skill can reconnect the headlight. It is at this point I notice that we hadn't put the lockable cap back on one of the storage tubes at the servo. I know exactly where it has come off as I heard it but thought we had run over something. After retracing our steps by bike, I re-walk the street as Skill re-rides the road. I am stopped by a young man who tells me (in Spanish) that someone has already picked it up and it is gone. "OK" I say and walk back to a shady spot to wait for Skill. Two minutes later the young man arrives in a beat up old blue car playing dooov dooov music, he indicates for me to wait here, he is off to get our cap. Skill returns and sure enough our guardian angel reappears 10 minutes later with our cap. Two very grateful Australians, one bemused Argentinian, lots of handshaking and kissing, and a clip on koala for the fluffy dice. Lesson learnt, always double-check the bike before we take off.
We only get 10 minutes down the road when we get to our first police check since arriving in South America. We explain that we can't speak Spanish and he indicates with a large smile that he will have to handcuff us and take us off to jail for this offence. He checks our passports, makes sure we are full of fuel, lets us take a photo, shakes our hands and sends us on our way. What a card???

Happy Argentinian Policeman
Finally we get on the road, what a difference a day makes, no wind, no traffic, perfect bitumen and beautiful sunshine, it is glorious. A quick morning tea/lunch break and it is off again.

One of our many morning tea/lunch breaks. The top box is working a treat, thanks Mark & Bron (original design) and Glen (organizing construction).
We keep on riding and cross a river into the little town of Los Lajas (50 km short of our intended destination) where we spy a beautiful campground on the river. We start to continue on, when we both say, "Let's go and look at the campground". Needless to say it is gorgeous and we end up staying for two nights.

Campground at Los Lajos

River at Los Lajos

Sunset at Los Lajos
So far the Municipal Campgrounds in Argentina are great, $AUD6.00 a night, hot water, and free power, and sometimes even sell cold beer.
We eventually drag ourselves away from Los Lajos a sleepy little rural village with nothing to it, but absolutely charming none the less, and make our way to Zapala and then onwards to Junin de Los Andes (trout capital of Argentina) before stopping in San Martin de Los Andes. The riding was spectacular and the scenery quite breathtaking,....but that will have to wait for the next blog.

Volcan Lanin
Life on the road has taken on a happy and somewhat familiar pattern, we are so lucky to be here and even though there have been a few little hiccups, life is definitely good.
Cheers & Beers,
John and Lan
PS: We have a Spot Tracker kindly given to us by Paul Anderson and IMEMS as a leaving gift. This is an emergency beacon if ever needed, but also records our current location if we remember to press the OK button. The following link shows the last 7 days where we activated the OK - if anyone is interested. It can also track us on the move, but we have not paid the extra for that function. You will have to copy and paste the following:
http://share.findmespot.com/shared/faces/viewspots.jsp?glId=05HiAoRqXyqEj966XEaNimbiT8zGhfMTi

Posted by John Skillington at
04:23 PM
GMT
Recent Entries
Archives:
Archives:
Monthly
Archives:
Category
NEW! HU 2015 Motorcycle Adventure Travel Calendar is now available! Get your copy now for some terrific travel inspiration!
HUGE, 11.5 x 16.5 inches, beautifully printed in Germany on top quality stock! Photos are the winning images from over 600 entries in the 9th Annual HU Photo Contest!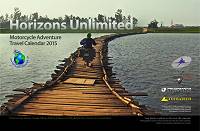 "The calendar is magnificent!"
"I just wanted to say how much I'm loving the new, larger calendar!"
We share the profit with the winning photographers. YOU could be in the HU Calendar too - enter here!
Next HU Events
NEW!

USA Virginia: Apr 9-12, 2015
Take 40% off Road Heroes Part 1 until October 31 only!
Road Heroes features tales of adventure, joy and sheer terror by veteran travellers Peter and Kay Forwood (193 countries two-up on a Harley); Dr. Greg Frazier (5 times RTW); Tiffany Coates (RTW solo female); and Rene Cormier (University of Gravel Roads).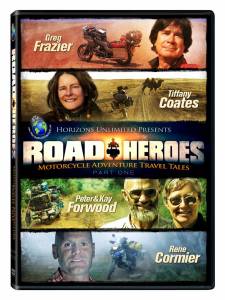 "Inspiring and hilarious!"
"I loved watching this DVD!"
"Lots of amazing stories and even more amazing photographs, it's great fun and very inspirational."
"Wonderful entertainment!"
Check it out at the HU Store! Remember to use Coupon Code 'HEROES' on your order when you checkout.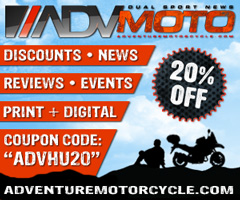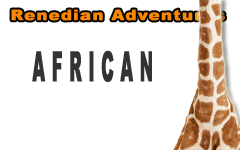 What others say about HU...
"I just wanted to say thanks for doing this and sharing so much with the rest of us." Dave, USA
"Your website is a mecca of valuable information and the DVD series is informative, entertaining, and inspiring! The new look of the website is very impressive, updated and catchy. Thank you so very much!" Jennifer, Canada
"...Great site. Keep up the good work." Murray and Carmen, Australia
"We just finished a 7 month 22,000+ mile scouting trip from Alaska to the bottom of Chile and I can't tell you how many times we referred to your site for help. From how to adjust your valves, to where to stay in the back country of Peru. Horizons Unlimited was a key player in our success. Motorcycle enthusiasts from around the world are in debt to your services." Alaska Riders

10th Annual HU Travellers Photo Contest is on now! This is an opportunity for YOU to show us your best photos and win prizes!
NEW! HU 2014 Adventure Travel T-shirts! are now available in several colors! Be the first kid on your block to have them! New lower prices on synths!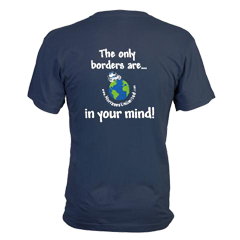 Check out the new Gildan Performance cotton-feel t-shirt - 100% poly, feels like soft cotton!

What turns you on to motorcycle travel?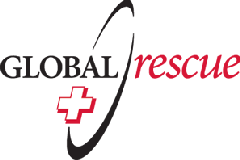 Global Rescue is the premier provider of medical, security and evacuation services worldwide and is the only company that will come to you, wherever you are, and evacuate you to your home hospital of choice. Additionally, Global Rescue places no restrictions on country of citizenship - all nationalities are eligible to sign-up!
New to Horizons Unlimited?
New to motorcycle travelling? New to the HU site? Confused? Too many options? It's really very simple - just 4 easy steps!
Horizons Unlimited was founded in 1997 by Grant and Susan Johnson following their journey around the world on a BMW R80 G/S motorcycle.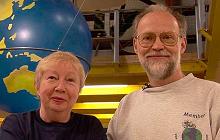 Read more about Grant & Susan's story
Membership - help keep us going!
Horizons Unlimited is not a big multi-national company, just two people who love motorcycle travel and have grown what started as a hobby in 1997 into a full time job (usually 8-10 hours per day and 7 days a week) and a labour of love. To keep it going and a roof over our heads, we run events (22 this year!); we sell inspirational and informative DVDs; we have a few selected advertisers; and we make a small amount from memberships.
You don't have to be a Member to come to an HU meeting, access the website, the HUBB or to receive the e-zine. What you get for your membership contribution is our sincere gratitude, good karma and knowing that you're helping to keep the motorcycle travel dream alive. Contributing Members and Gold Members do get additional features on the HUBB. Here's a list of all the Member benefits on the HUBB.
Books & DVDs

All the best travel books and videos listed and often reviewed on HU's famous Books page. Check it out and get great travel books from all over the world.

MC Air Shipping, (uncrated) USA / Canada / Europe and other areas. Be sure to say "Horizons Unlimited" to get your $25 discount on Shipping!
Insurance - see: For foreigners traveling in US and Canada and for Americans and Canadians traveling in other countries, then mail it to MC Express and get your HU $15 discount!
Story and photos copyright © All Rights Reserved.
Contact the author:
Editors note: We accept no responsibility for any of the above information in any way whatsoever. You are reminded to do your own research. Any commentary is strictly a personal opinion of the person supplying the information and is not to be construed as an endorsement of any kind.
Hosted by: Horizons Unlimited, the motorcycle travellers' website!
You can have your story here too - click for details!