July 11, 2006 GMT
France
Well we have adjusted to French life very well, even the bike has taken on a decidedly French flavour and quite likes being ridden on the right hand side of the road.
We camped our final night in England at a campground in Dover. A pretty ordinary and uneventful campground until about 3am in the morning when I could hear a rustling noise in the rubbish bag, shone the torch, nothing. Back to sleep only to be awoken again by the same noise and this time, there was a hedgehog about 2 inches away from Skill's head. Up we get trying to get rid of the hedgehog who had curled himself up in a ball and refused to move. Eventually moved him and went back to bed.
Next morning a bit of a look around Dover before riding down to the ferry port, through a cursory passport control and into the bike lane. Once again we are loaded first. This was an event in itself and we nearly had our first OFF, because the bike is so wide with panniers and when riding up the ramps you are not supposed to ride in the middle where it is wet and slippery. So we ride close to the inner edge of the car wheel track, but there is a raised lip there to keep the cars on track. We don't see the raised lip and the bike front tyre goes over it and we suddenly slip all over the place, a little bit hairy and it would not have been a good place to have a buster.
Uneventful sailing, we arrive in Dunkirk at 3.30 pm chanting (our now daily mantra) "Ride on the right" and we are off with no fixed plan of where we are going or what we want to see.
Heading South we pass through Saint Omer home to a very impressive 13th Century cathedral, Basilque Notre Dame. It's imposing grandeur dominating the whole town.
We finally call it a night in little town called Hesdin, after following the signs to the camping area and ending up in a crematorium, but we eventually find a tiny caravan park, it's residents have never seen the likes of us. We are a bit of a novelty as they ALL seem to casually walk past and say a cheery Bon Soir. For us, it was washing, tea and bed.
Next morning we are awoken by a massive thunder storm, lots of noise but little rain. And then the next thing the Patisserie Van comes through the park horn tooting. When we finally surface bleary eyed I say to Skill "What Country are we in?"
Slight problem arises with morning ablutions, no toilet paper in the toilets, and we only have 5 tissues. We had been warned to stock up, but it slipped our minds. No shops close by, so that's two and a half tissues each, use it sparingly.
We head off towards Amiens only to accidentally end up on the motorway BUGGAR (all motorways in France have tolls), we get off the motorway at an unmanned toll station which is OK, I can manage an automatic payment. All goes well, pay my 2.40 euro, get my ticket and we ride to the gates, insert the ticket, boomgate does nothing. Try again, nothing. Back to the payment machine, insert ticket. We owe nothing. Back to the gate insert ticket, nothing happens. OK what now. Skill is all for criminality and is set to take the panniers off and ride around the barrier.
I decide we should not start our life of crime just yet and use the emergency phone,
Lan: Bonjour. Parlez- vous Anglais
Phone Man: Country
Lan: Pardon
Phone Man: Country
Lan: Australie
Phone Man Hangs up
The phone then rings, I pick it up and I have some one who speaks broken English.
Phone Lady: You must pay, Pay Station
Lan: I have paid, 2 euro 40
Phone Lady: You must pay
Lan: I have paid 2 euro 40!
Phone Lady: Oh Problem. Go to Pay Station
Back to Pay Station (it is now 40 degrees and I am sweltering in full bike gear) Phone rings.
Phone Lady: Card.... Machine.
I put the card back in the machine, it spits it back out at me and the phone lady is gone.
Back to gate, card in and after 45 minute we have success, the boom lifts. And this time it seems the problem wasn't even due to my incompetence. Technology and I have always had a hate-hate relationship.
Feeling hot, tierd and cranky we continue onto Ameins, where Skill is looking for a bike shop to buy oil or get the oil changed, we don't have an address or the slightest idea where a bike shop will be, we just ride. Leaving the outskirts of Ameins disappointed that our efforts have been fruitless we come across a huge MOTO shop, complete with a bar and restaurant. In we go, riding down to the tyre department. The guy speaks no English but we manage to communicate " huile", which he somehow understands. In less than 30 minutes the bike is on the hoist, old oil drained, new oil in, and we have seen pictures of his motorbike trip to Africa, and he only charges us for the oil. SUCCESS.
Onward to town of Albert for lunch and then an afternoon at Villiers Bretonneux, the site of the monument and cemetery for Australians, Canadians and British killed during the Battle of the Somme. We were the only people there and spent 2 hours just wandering. In the tranquillity it is so hard to imagine that on the first day of the battle more than 23,000 men were killed and nearly 35,500 were wounded. If there is one place where the sheer futility and waste of war is personified this is it.
As the day was so stiflingly hot it was no surprise that a massive storm hit, we sheltered in the monument, waited for it to pass and rode back to Albert where we opted for the Hotel de la Basilque opposite a beautiful church, which we thought was very reminiscent of the Mezquita in Cordoba, Spain. (Not in scale) There was no parking for the bike so they insisted we park on the footpath under the awning of the restaurant.
The next day we are late leaving as we wander around Albert and Skill tries to upload some photos to our webhost site using the hotel computer, with some success. We head out to Corbie, a tiny village where the Australian Monument to our diggers is situated. Once again we are the only people there. The monument is in the middle of a Canola field overlooking the village, the church spire clearly visible from the hill is also in the old war photo displays. We pay our respects but are deeply saddened to find the monument in such a bad state of repair. All the black marble tiles are falling off and according to a sign, is undergoing engineering investigation. Let's hope our government rectifies this problem as a matter of urgency!!!! Some of the original trenches have been left...
We leave the Somme heading South, needing fuel, every village and town we come to is shut for lunch (between 2 & 3 hours every day!) so no fuel. Make a decision to head to the larger centre of Ameins. Drive into the first fuel station, which is automatic, put in credit card, go through the motions, card is rejected. OK go to next petrol station, same deal as before. After trying another 4 stations we give up as the last one has a sign "French credit cards only". Keep riding, the second fuel light has now been flashing for 20 minutes and we are in a traffic jam. Not good.
I eventually say to Skill, just ride into the next automatic station, I am going to accost someone. Which is exactly what we do, I choose a young girl and explain through charades and bad French, our predicament, give her some money and a koala keyring and she lets us use her credit card to buy fuel to the same value. We now have fuel and we have learnt a valuable lesson. Always make sure the bike is full before lunch and fill up whenever we can.
Out of BLOODY Ameins (again) heading South West, a boring ride in the traffic, the day culminating in a storm. Decide to stop in a town called Vernon and look for accommodation, 4 hotels later we end up in Formule 1 which is cheap and basic but its clean and suits our needs for the night. We have dinner at the Pizza place next door, as there are no other eating establishments within walking distance. No English menu but we survive. We decide on a pizza, I tell Skill I am pretty sure that l'eouf is egg, to which he replies "No they wouldn't put egg on a pizza would they, anyway it wouldn't be that bad?". He is still recovering, raw egg in the middle of his pizza. Other than that it was all good.
Next day we head to the D Day Beaches riding along the coast stopping at Colleville-Saint-Laurent the site of the American Military Cemetery on the cliff overlooking Omaha Beach. The 9 386 white marble crosses in the pristinely kept cemetery is an image that is very poignant. (Perhaps our government should take a leaf out of the American's book when it comes to caring for our war monuments in foreign countries)
From here we ride to Coutances and down the coast to Mont St Michel. Our first glimpse of the Mont, a little disappointing as it is very hazy and threatening rain.
After a long day we opt for a gorgeous cabin at Pontorson. The camping ground has a bar where we spend the rest of the night chatting to everyone in the place. It has such a friendly atmosphere that we head back to our cabin in the early hours of the morning, starving. The only food we have with us is chicken soup and a baguette which taste pretty good at 2.00am.
Next day we decide we like Pontorson and we will stay a few days, but we will have to camp as the chalets are full and the camping ground is busy as 5000 Marathon runners are descending on the town for the Mont St Michel Marathon.
It is so nice to stop for a few days and catch up on washing, have a few beers, swim and have free internet access. The bar which overlooks the pool is a hive of activity and the park is run by a group of friendly, funny young Dutch people. The park has mainly Dutch people staying which we thought was peculiar to this park only. We are to find out this is not so as every camping park is mostly filled with Netherland number plates with just a smattering of Germans, Irish and English making up the remainder.
We join in the festivities as the Dutch play in the World Cup that night. Orange everywhere, their enthusiasm is infectious.
We also meet some lovely people who all seem to be genuinely interested in us and our travels.
We do finally make it out to Mont St Michel. You cannot help but be excited to be in this wonderful place, that we have seen in pictures, postcards and movies for most of our lives. We have all afternoon here before heading back to the campground.
We are not that keen to leave Pontorson and drag ourselves away grudgingly after midday the following day heading towards Le Mans.
As we get closer to Le Mans there are people sitting along the sides of the road, bikes, modern and classic sports cars and police everywhere. Skill says, "Maybe the 24 hour race is on ha ha!!" All the traffic is diverted in Le Mans so we follow, knowing we are now hopelessly lost. Down one street, up the next and then a barrier, if we go any further we will be on the race track and yes the 24 hour race is definately on as we hear a few race cars blast past the barrier a few metres away and see them dissappear down the road/track into the distance. Skill suddenly has thoughts of going to the race, but our plans for the next week or so won't allow it.
We ask the Gendarmarie for directions to Blois. " Motorway, Paris droite droite" he explains with lots of hand gestures. OK off we go and he is right the diversion does go right and right again.
Yet again the storms are building and we are riding towards the darkest part of the sky. We arrive quite late, can't find a camping ground but see the signs for a Youth Hostel. Very expensive and pretty ordinary but it is dry. We go out to dinner at a little restaurant beside the Loire River and call it quits for the day.
Next day is yet another day of blistering heat, even for Aussies, a pretty ordinary ride and the storms start brewing, it is looking very, very black and we are heading straight into it, yet again. We decide to stop early while we are still dry.
We end up finding a lovely hotel in the most beautiful village called St Pourcain-sur-Sioule, one of those places you would probably never stop in, but we are so pleased we did. The hotel was so gorgeous, we go from camping and youth hostels to sheer luxury complete with period furniture, bath and shuttered windows overlooking a quaint street. We go for a walk before dinner, wandering the narrow streets that all seem to lead to the church square where we witness a very animated game of boules.
We go out for dinner to a little restaurant and fumble our way through the menu, Skill a fantastic steak and me pasta and salad. I must confess that I did try to order Skill beouf tartare, (raw mince and egg) but the waiter was so funny. "Non non non" he insists, pointing to another person eating what looked like raw mince, so we decided we'd go for the other beef option.
The following day we continue South to Vichy which was a beautiful city. We had a great days ride through the Livradois Forest. Stunning scenery and cooler weather. It was a fairly long day stopping in Le Puy en Velay to admire the statues perched on the huge natural rock formations. Despite outward appearance, these towns/cities are usually quite modern and then on the outskirts you will find an old man tilling and watering his garden or crop by hand the same as it would have been hundreds of years ago.
We called it a day quite late opting to camp at Langogne overlooking a man made lake. Very ordinary but the company was extraordinary. We camped next to an English couple Bob and Muriel who we spent the night with in the comfort of their motor van, telling tales and drinking scotch and pastis. We thank them for their hospitality.
Taking Bob's advice we continued towards Mende and then took an absolutely amazing and very scenic drive through the Gorges du Tarn towards Millau.
Then of course onto the freeway and over the newly built Viaduct du Millau. This bridge/viaduct is really something to behold, it is simply awe inspiring.
We stop for a while to take in the sight and get talking to some other bikers, one of which is German (and the tallest man I have ever seen, he dwarfed his BMW GS 1200) he gives us his address and invites us to stay. This has been a very common occurrence in our travels and we must say that the Germans have been particularly generous in that regard.
From Millau we get lost but eventually find our way to Nant where we camp in a cherry orchard.
We have a short day to Pont du Gard, once again it is a stiflingly hot day and we opt for a wonderful camping area not far from the Roman viaduct Pont du Gard. We decide we will spend a couple of days here. Time to wash our jackets and catch up on maintenance. We really like this place, it is set in a olive grove beside the river, it has a beautiful pool beside a bar and restaurant.
An afternoon spent beside the pool, a few beers and a gastronomic delight of duck for dinner. The owners are delightful and when they realise we are Australian they pull the television around so we can watch the soccer as we dine al fresco.
After our stunning draw with Croatia we are walking back to our tent when we get talking to a lovely German couple who invite us to their van for a drink or two........ or seven. We are joined by Bernard who works at the Campsite. He is quite hilarious and assures us that if he has any more to drink he will stand on "that table, take all my clothes off and sing the National song of my country". We would quite have liked to have seen that but he would not have another drink.
We find out that the German couple's names are Heinz and Hiede and they invite us for breakfast next morning.
After a sumptuous breakfast with Heinz and Hiede we venture of to Pont du Gard and also to the nearby town of Uzes. Back to the camping ground, swim then happy hour with Heinz and Hiede before another delightful dinner at the restaurant.
The next day our new found German friends are leaving to go home. We really enjoyed their company and thank them for their thoughtfulness. Letting us put our perishable food in their fridge was a luxury. We exchange addresses and hope to catch up with them in Germany.
We leave this oasis and head for the coast, after a very hot and ordinary ride we end up at a little place called La Croix Valmer near St Tropez. Here we camped at our first 4 star camping area - in the dirt! Dry and dusty, no grass in sight and twice the price of Pont du Gard, very ordinary. The wind really picks up and blows for most of the day. I head to the beach and have a swim in the Med. The water is a little too brisk for Skill.
From here it was off to tiny Monaco, the traffic was so appalling along the coast we opt for the freeway, 130km an hour, and 6 euro poorer we arrive in Monaco. Unfortunately because of the windy weather the conditions are very hazy and visibility to the mountains poor. But we make the most of it and park with the millions of bikes and scooters. And head off for lunch, a beer (for Lan) and ice-cream (for Skill) beside the famous harbour.
Out of Monaco and up into the mountains alongside the Italian border (we notice that the driving is becoming more frenzied the closer we get to Italy) camping overnight at a really cute little place near Sospell.
We watched the soccer in the kiosk (the Italy Game) and commiserated with a beer. Skill got talking to a young French couple travelling on a sports bike but with identical luggage to ours. Through charades, a little bit of English on their side, and a little bit of French on Skills he told them we were travelling for a year with the same luggage. The gorgeous young French girls reply was "Oo lala, non,non,non."
From here we had 5 days riding through the Alps which will rate up there as a highlight of the trip I am sure. We rode it South to North with every day getting better culminating with our first breathtaking view of Mont Blanc, snow covered, cloudless, and set against a pure blue sky. It does not get any better than this.
Alps Day 1 From Sospell up to Col de Brouis where there was a tiny and beautiful church perched on the mountain.
Then onward and upward over the highest mountain pass in Europe, the Col de la Bonette. Unfortunately the day was still hazy so the views were a little obscured. Bike riders, check out just some of the road in the background of this pic - could not get the smile off Skill's face. There was days and days of these roads, so much so that we have worn out the sides of the tyres before the centre!!
We camp the night in an idyllic location near Barcelonnette.
Day two We have a fairly long day riding four passes. From Jausiers over the Col de Vars, Col d'Lzoard, Col du Lautaret and Col de Galibier
A very hot day and once again another storm was brewing so we stopped and donned the wet weather gear but of course didn't need it.
Stopped for the day and camped in the most stunning place surrounded by the Alps next to a 400 year old church at Braman.
An hilarious night ensued, walked to the only restaurant open for miles (a little ski village) and had a very dodgy meatloaf dinner and a heap of cheap wine. Back to camp and bed.
Did I happen to mention that the 400 year old church also had a bell tower and clock, the bell sounded every hour at the beginning and end of the minute. 10.00pm, 10 bell tolls at the beginning of the minute and 10 bell tolls at the end of the minute. 20 bell tolls, are you beginning to get the picture.
We got the giggles, shoved in earplugs and hoped for the best. Awoken at about midnight not by bells but by lightning, a huge thunder storm, it sounded quite eerie as the thunder echoed up and down the valley, and it then rained all night.
Day 3 It was over the Col de L'Iseran and Cormet de Roselend. We rode past glaciers and snow covered mountains. There were quite a few tunnels and snow/avalanche protection tunnels on this section of road.
The ride and scenery were awesome but the French drivers left a lot to be desired. We came quite close to death as a Mercedes went to pull out on us from a side road as we came round a sweeping bend. Skill did so well to brake and keep the bike upright. The Mercedes driver did stop but not before he was half way out on to the road. Skill had to stop and take a break 5 minutes later as his legs had completely turned to jelly.
Then after lunch we were going up over a pass when a truck came boring down on us from the other direction, there was simply not room for two vehicles between the concrete barrier and the side of the mountain. But this did not deter him. We were stopped and had the bike leaned over so the right hand pannier was touching the barrier. The truck managed to get past with 2 inches between it and the left hand pannier (and my leg).
To cap off the day Skill discovered that the tip section of the automatic chain oiler was missing, fallen out or maybe caught in the chain and pulled out, either way no oil is going onto the chain. But being the engineering type he is, Skill wanders off to the food supermarket to look for something to fix it - mmm good luck. He comes back some time later quite excited with a packet of Bic pens? He manages to fix it with the cleaned out ink tube of a bic pen, proving that there is really no problem that cannot be solved with a bic biro. It has been working like a chalm so far.
It was just one of those days and we decided to stop while we were still alive. We camped near Beaufort in a beautiful little camping area in sight of a huge waterfall. I guess you have days like that.
Day 4 Had a late start taking in the beautiful village of Beaufort before heading to Fleumet and over the Col des Aravis and Col de la Colombiere,
before hitting the freeway around Geneva and ending up in St Claude for the night. We had dinner at the Camping restaurant where all the locals seemed to be eating and hanging out. Couldn't get a table so had to sit alfresco (suited us to a tee) and were going to take pot luck at the menu until a friendly English lady with fluent French translated for us. Had a great night with the locals, who could not speak a word of English. Amazing how far you can get with charades.
Life in France has been fun, and shopping in a non English speaking country is always interesting. In France we had a choice of the Shopi, Champion, Supermarche, Intermarche, Super U, Ed, Spar and Atac.
The thing giving us the most grief is the fruit weighing protocol, some shops you do it yourself. Unlike Eastern Europe, everything is clearly labelled and you can find the product easily, but they hide the bloody weighing machines and you think well I don't have to weigh them, they will do it at the checkout. Wrong. Then you get that grumpy Hmph from the person behind the counter. The other dilemma is do you take your own shopping bag with you or not. For Supermarche, Intermarche, Super U and Ed, yes, for the others no.
However I have never seen shopping centres in such idyllic locations. Check out the Champion.
The camping has been great, the camp grounds are clean, well resourced and cheap. You order your baguettes and croissants from the reception the night before and collect them in the morning at most places.
The toilet paper saga continues, no consistency, some places have toilet paper, some don't and it doesn't seem to matter if it's a cheap or more expensive campground, you just never know. We now carry our spare rolls shoved down the tubes of the bike.
Because we have been camping in Caravan Parks so much and have been rolling with the older set (like the Grey Nomads at home) I have made some camping observations.
Observation one.
Only men do the washing up in the Camp Kitchens. And it is obligatory to carry your washing up, to and from the kitchen in a crate or preferably a red basket. I have completely upset the natural order of things by 1. Being a woman in the camp kitchen & 2. Carrying my washing up in my dodgy stainless steel cooking pot
Observation two. There can be no Dutch people left in the Netherlands as they are all in the their vans and campers in France.
We have loved France and everything that I thought would be stereotypes are in fact truths about this beautiful country. There are little old ladies in pinafore aprons sitting outside their houses or tending their small geranium gardens. There are men wearing funny little caps. The boules games, the abundance of bread, the croissants and pastries, the long lunches, and their pure love of food.
And while a frustration for visitors their strong stance on leisure time and the sacred lunch hours is in my opinion to be admired although there was many a time I cursed it.
We are now in Weyer, Germany (near Frankfurt), staying with the newly married Kai and Ulrich who travelled the world on their motorcycles for two years.
Soon we fly back to Ireland and then Scotland for our friends Donald and Lou's wedding, if we can figure out how to get to the airport by public transport as we are leaving the bike at Kai & Ricky's. Another adventure I am sure.
Cheers & Beers,
Lan & Skill

Quote of the week: Travel is not a hobby, it is a way of life.
Posted by John Skillington at
02:44 PM
GMT
Recent Entries
Archives:
Archives:
Monthly
Archives:
Category
NEW! HU 2015 Motorcycle Adventure Travel Calendar is now available! Get your copy now for some terrific travel inspiration!
HUGE, 11.5 x 16.5 inches, beautifully printed in Germany on top quality stock! Photos are the winning images from over 600 entries in the 9th Annual HU Photo Contest!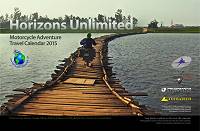 "The calendar is magnificent!"
"I just wanted to say how much I'm loving the new, larger calendar!"
We share the profit with the winning photographers. YOU could be in the HU Calendar too - enter here!
Next HU Events
NEW!

USA Virginia: Apr 9-12, 2015
Take 40% off Road Heroes Part 1 until October 31 only!
Road Heroes features tales of adventure, joy and sheer terror by veteran travellers Peter and Kay Forwood (193 countries two-up on a Harley); Dr. Greg Frazier (5 times RTW); Tiffany Coates (RTW solo female); and Rene Cormier (University of Gravel Roads).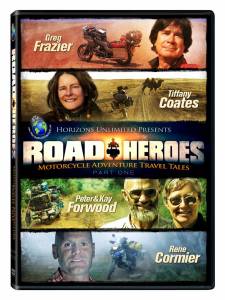 "Inspiring and hilarious!"
"I loved watching this DVD!"
"Lots of amazing stories and even more amazing photographs, it's great fun and very inspirational."
"Wonderful entertainment!"
Check it out at the HU Store! Remember to use Coupon Code 'HEROES' on your order when you checkout.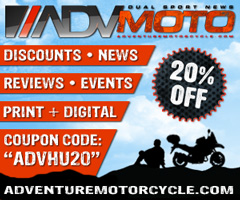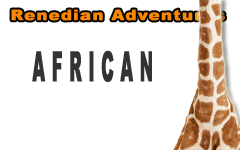 What others say about HU...
"I just wanted to say thanks for doing this and sharing so much with the rest of us." Dave, USA
"Your website is a mecca of valuable information and the DVD series is informative, entertaining, and inspiring! The new look of the website is very impressive, updated and catchy. Thank you so very much!" Jennifer, Canada
"...Great site. Keep up the good work." Murray and Carmen, Australia
"We just finished a 7 month 22,000+ mile scouting trip from Alaska to the bottom of Chile and I can't tell you how many times we referred to your site for help. From how to adjust your valves, to where to stay in the back country of Peru. Horizons Unlimited was a key player in our success. Motorcycle enthusiasts from around the world are in debt to your services." Alaska Riders

10th Annual HU Travellers Photo Contest is on now! This is an opportunity for YOU to show us your best photos and win prizes!
NEW! HU 2014 Adventure Travel T-shirts! are now available in several colors! Be the first kid on your block to have them! New lower prices on synths!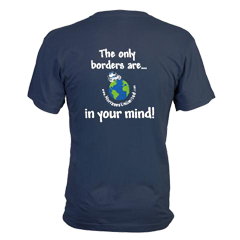 Check out the new Gildan Performance cotton-feel t-shirt - 100% poly, feels like soft cotton!

What turns you on to motorcycle travel?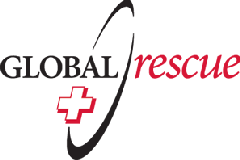 Global Rescue is the premier provider of medical, security and evacuation services worldwide and is the only company that will come to you, wherever you are, and evacuate you to your home hospital of choice. Additionally, Global Rescue places no restrictions on country of citizenship - all nationalities are eligible to sign-up!
New to Horizons Unlimited?
New to motorcycle travelling? New to the HU site? Confused? Too many options? It's really very simple - just 4 easy steps!
Horizons Unlimited was founded in 1997 by Grant and Susan Johnson following their journey around the world on a BMW R80 G/S motorcycle.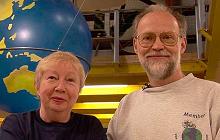 Read more about Grant & Susan's story
Membership - help keep us going!
Horizons Unlimited is not a big multi-national company, just two people who love motorcycle travel and have grown what started as a hobby in 1997 into a full time job (usually 8-10 hours per day and 7 days a week) and a labour of love. To keep it going and a roof over our heads, we run events (22 this year!); we sell inspirational and informative DVDs; we have a few selected advertisers; and we make a small amount from memberships.
You don't have to be a Member to come to an HU meeting, access the website, the HUBB or to receive the e-zine. What you get for your membership contribution is our sincere gratitude, good karma and knowing that you're helping to keep the motorcycle travel dream alive. Contributing Members and Gold Members do get additional features on the HUBB. Here's a list of all the Member benefits on the HUBB.
Books & DVDs

All the best travel books and videos listed and often reviewed on HU's famous Books page. Check it out and get great travel books from all over the world.

MC Air Shipping, (uncrated) USA / Canada / Europe and other areas. Be sure to say "Horizons Unlimited" to get your $25 discount on Shipping!
Insurance - see: For foreigners traveling in US and Canada and for Americans and Canadians traveling in other countries, then mail it to MC Express and get your HU $15 discount!
Story and photos copyright © All Rights Reserved.
Contact the author:
Editors note: We accept no responsibility for any of the above information in any way whatsoever. You are reminded to do your own research. Any commentary is strictly a personal opinion of the person supplying the information and is not to be construed as an endorsement of any kind.
Hosted by: Horizons Unlimited, the motorcycle travellers' website!
You can have your story here too - click for details!