May 10, 2006 GMT
London to Scotland
Well I shouldn't have gloated about our navigational prowess. After picking up the bike and making it back to London with ease, we had a lay day sorting out gear on Saturday and on Sunday we decided we would head off to Oxford for the day, to get our bike legs after so long. Skill planned our route, onto the bike and away (it was grey, raining and totally miserable) Well to cut a long story short it took us nearly and hour to get out of Kentish Town, basically every street we went down we had to back track through. Ahhhhh! It was just one of those days.

Eventually made it to Oxford, not an easy place to find parking. Still cold, raining and grey. So what normally happens in these circumstances, off to the pub for lunch and a beer, Skill has coffee since he is the pilot. Weather cleared a little bit so we were able to have a wander around for the afternoon. Slightly cliched but it is a beautiful city of meadows and golden spires. Oxford University is the oldest University in England evolving sometime in the 11th Century.

Of course we had to check out Harry Potter's Dining Room at Hogwarts. I think it was actually Merton College, I can't remember.

More Harry Potter buildings, this time the Library, although Lan is more excited that it is also setting for many Inspector Morse episodes.

Anyway back on the bike and off to London, stuck to the main motorways and had no hassles getting home. Our first day trip on a bike in another country resulted in a few lessons learned.
Lesson Number 1 Person navigating needs to do the route sheet.

Lesson Number 2 In London stick to the main roads do not take back streets (unless you have lived there for 100 years).
Lesson Number 3 Make sure you properly solder the power wires for the heated grips when you fit them at home or they stop working just when you need them in the cold rain of England.

Monday Skill decides he needed to fix his heated hand grip warmers and do a few other adjustments on the bike, so Lan has another day in our lovely warm London flat while skill tries to keep warm in the freezing garage, although he is very excited that he has used both the mini multi-meter and battery powered mini soldering iron bought specially to fit the limited tool storage space under the bike seat, and that the repair was successful.
Finally Tuesday we are ready to leave at lunch time, sad goodbyes to Sarah, Mo and Feddie and we are off, (with so much gear on the bike). Out of London, no worries and make our way up to Cambridge. With only the basic LP Cambridge town map to go by it was not easy to find our way to the Youth Hostel but eventually we had success. Found the Hostel, fully booked, mmmmmm OK over the road to a B & B which was expensive but lovely and we could park the bike around the back. Proper town map and off we walked, only to realise it was ANZAC day so we should go and have a beer which we did.
Cambridge is totally amazing, firstly there are bicycles everywhere and most of them have little baskets on the front, the next thing you notice is the sheer beauty of the place, the buildings are amazing.

The following day the only thing I really wanted to go and see was King's College Chapel but when we got there it was closed to visitors at the front door for an organ recital. Skill being Skill walked around to the back door (big sign No Admittance to the Public) and straight in, no one stopped him so in I went too. There were some people wandering around but no one said a word so we listened to beautiful music, gazed at the church and let ourselves out through the back door which was now closed.

By the time we finished half an hour later the organ recital was finished and the front door was open to visitors at four pound fifty. OK, that's 9 pounds saved to spend on beer.
It is at this point we decided to do a bit of a pannier purge, time to be really ruthless. Do we really need any more than 3 pair of undies? Could I do with one less shirt? Do we really need to carry the camera in it's case etc etc. In the end we had quite a sizeable parcel to send home.
We decided we would leave Cambridge and take the Wrong Way Round to Sandringham where there is, according to our AA Camping Book, a great camping area. So being such a nice day, off we go. Didn't get lost, but didn't make it to Sandringham, saw this sign "Camping" in a quite little rural place called Burnham Deepdale. What a find, a Youth Hostel and Camping Area. (Run by an Aussie, who's family own the farm it's situated on)

We had barely switched the motor off when the only other traveller in the camping area called out "I'll put the kettle on". Val turned out to be a slightly eccentric dog loving widow travelling the English countryside in a camper van with her dogs. The weather was lovely so we had a great evening and found it hard to drag ourselves away the next day - leaving at midday.
Skill had had an offer from a guy on the Horizons Website to come and stay or camp in his garden in Yorkshire. He lived at Saltburn-by-the-Sea, North of Scarborough. So we set off, basically only stopping once for coffee, arriving quite late, 8.00pm. It was bloody freezing, I couldn't stop shaking when we arrived. Phil and his family own a farm that runs right up to some of the highest cliffs in England. The original farm house where his parents live is about 300 years old. It is simply beautiful. Unfortunately for poor Phil, he was pretty sick when we arrived hiding it well until we went to the pub for a beer (his idea) and he promptly fainted. Poor Phil copped a bit of a ribbing over the next few days from his friends about fainting in the pub, everyone seemed to know about it - small town I guess. Phil was most upset that he spilt a full pint of ale.
We walked all around the area marvelling at it's beauty. It is a very cold place though, and we ended up camping on the floor in Phil's spare bedroom rather than the garden.

The following day we got on the bikes and it was of to the North Yorkshire Moors National Park for some sightseeing, first stop was Rievaulx Abbey.

This Abbey was founded in 1132 and was the first Cistercian abbey in North England. Phil, Skill and I wandered around for a few hours before riding all over the Yorkshire Moors.

We also visited a famous landmmark called White Horse (which was a recent huge horse figure made out of white stone pebbles on the side of a hill) OOPS forgot to take a photo of the horse, but its on the very steep slope in front of this pic - just imagine it... That is the carpark below where we walked from in all our winter bike gear, we were noticably warmer at the top!

By the time we got back to Phils, it was cold, I couldn't feel my toes, so we got a Chinese takeaway, two bottles of wine and then into our sleeping bags and to bed.
You have to admire the British for their love of Chips though, at the chinese retaurant they wanted to know did we want rice or chips with our meal???? We were in hysterics. Definitely RICE please.
Sunday was a very, very lazy day mostly just sitting around chatting to Phil telling him about the ways of Aus and vice verca, in the evening Phil's friends Beccy and Charlotte collected us on the way to the Pub. A rather big night followed, a mini Pub crawl ending up at "The Vic" which was bloody awful, it was so crowded and you couldn't even see across the bar for smoke, but we had a great night and drank way too much. Towards the end of the evening I had to go outside to get some air, but was accosted by some locals that couldn't believe there were Aussies in Saltburn, so you know what happened, "we just have to shout you a drink". Well what's a person to do. We missed the last bus home so stayed on until the little man behind the bar started to shout "You'll be seeing your drinks off please" (Please note you couldn't understand a word he was saying, Yorkshire people are hard to understand) In the end it got the better of me and I just had to ask him "what are you saying and can you say it slowly". Being nearly the last to leave the Pub we wandered back to Beccy's place where Skill and Phill finished off a bottle of white wine.
Righto now comes the hard part how do we get home................... TAXI
The decision made we tried four cab companies before we ended up with an Irishman (we think), what a hoot, he wanted to show us his new GPS, "it has different voices" he says "this is Homer Simpson" we all have a laugh. But then he set up with an Ozzie Osbourne voice. We were in hysterics as this drug addled voice said "I said ................. Turn fuc**n right. No, I said fuc**n right" So ended our evening in Saltburn at 2.30am.
The following day we spent on the bikes touring the Yorkshire Dales, riding past the highest Pub (Tan Hill Inn) in England, too cold to stop though. At one point we stopped in a little village called Reeth and were walking around when it started to sleet, I had little pieces of ice in my hair.

The boys wanted to push on, but I insisted on a cup of tea in the tea rooms. I noticed the boys weren't too upset and Phil even had toasted fruit cake which he told us only oldies usually eat. A couple more hours and back to Phil's place.
Tuesday we managed to get away by 9.30am which is a record for us. Sad farewells to Phil and then over the West Penines range to visit Hadrians Wall. It was simply a dreadful day. The wind was howling, it was raining and sleeting outside, so we opted for a YHA but when we got to the nearest one there they were fully booked out, so backtracking we ended up in a little place called Alston, at the foothills of the West Pennines. There was only one other person staying in this YHA so we got the whole 4 person room to ourselves.
The following day we decided we would go back and check out Hadrians Wall properly. Much nicer weather today.

Then after a picnic lunch of soup we headed to Edinburgh to see our friends Thomas and Danielle.

We had their address and a phone number, but when we got to a huge roundabout on the outskirts Skill decided we should opt for the footpath and check out the map for some options.

After debating which way we should approach Leith from, we headed straight through the City Centre and surprisingly found our way through. Once in Leith we tried to ring Tom but no answer, so I accosted a man sitting in his car and asked him if he had a map of Edinburgh. Of course he did and would you believe it we were only three blocks from their flat. Found it no problems, locked up the bike and went to the pub for a beer.
Tom, Danielle and Tony (who had flown in with his parents from London that day) met up with us, and helped us get all the gear of the bike before celebratory beers all round. It was great to see them again. Unfortunately Skill had the symptoms of a cold coming on, but was still hoping to shake it off. Sadly this was not to be.
Danielle had organised Dinner for us all (at the hotel she works for) along with Cheryl and Graham, Tony's parents from Oz. We had a table with views right up to the castle. Simply amazing, even if they did try and serve us luke warm beer all night, the meal more than made up for it.

We had a day in Edinburgh wandering the streets with Tom and having the occasional beer, before eventually finding our way back to Leith.

We left the following day after taking considerable time to get out of Edinburgh, not because we got lost but because of the traffic. Trying to get onto the the Forth of Firth Bridge took forever, four lanes into two.

By the time we got to the tolls we thought (according to the signs) it was free for motorbikes, but as we rode through the tolls someone was yelling - at us maybe?. Not sure why. but we just kept riding and we may now be criminal fugitives in Scotland as we were NOT turning around.
Right now we are staying with our friends Donald and Louisa and Donald's parents Mairi and Harry in Stonehaven. It has been really wonderful to see them again. We have been fairly quiet wandering around and also joining in the wedding preparations for their wedding in July. Skill has hired his kilt in readiness, wait till you see the photos. I, on the other hand am still searching.
We have been taking it slowly as Skill has been quite sick, (cold developed into full blown flu) we have had to use our emergency antibiotics three weeks into the trip, oh well that's what they are there for. But other than that we are fine and happy and enjoying ourselves.
We must say thanks to all our friends (old and new) for their generosity, for letting us stay with them, feeding us and showing us around. Thank you so much
Well that is all for now,
Cheers and Beers,
Quote for the Week. "One's destination is never a place, but a new way of seeing things" - Henry Miller
Posted by John Skillington at
11:29 AM
GMT
May 25, 2006 GMT
Scotland
I must say that we have had a great time with our friends Donald, Lou, Mairi and Harry near Aderdeen, although they were all incredibly busy, with work, business commitments and wedding preparations etc etc. Skill was laid up in bed most of the week with the flu. With Skill being so sick we didn't get out much, Mairi was marvellous giving him the sympathy and attention his mean wife seemed unable to supply.

On the day before we left we had a nice day out on the bike finding Drundochty Glen and church where Lou and Donald are getting married.
Onto Fettercairn Distillery for a tour but no tasting as we were riding. It was a glorious day, we sat in the sun at the local Fettercain pub for a beer and a wonderful lunch.
Then back on the bike with no fixed plan, we just rode, following the River Dee.
When we came out at Balmoral Castle, we figured it was time to turn around and head back to Stonehaven. As we headed back it started to rain, and turned quite bleak.
The following day we managed to motivate ourselves to say Goodbye to Lou and Donald. It was nice to know that we will be seeing them again soon. We didn't get away till quite late and as we left it started to rain, by the time we got close to Balmoral it was sleeting and those little chips of ice were hitting my helmet again. The weather got progressively worse as we went over the mountains towards Tomintoul, a ski resort in Winter. The remains of snow still clinging to the some peaks and crevices not very far above us and that wind buffeting us all around again....
........ We eventually made it to Inverness and went to check into the YHA but you guessed it, they were full. So armed with a list of cheaper places to stay and a very inadequate map we set off. Inadequate map is the key word. Had to resort to accosting a hapless shopper in the Morrison supermarket carpark for directions. Found the Hostels which were OK but no parking for the bike, well they had parking in a public car park near the Castle. Mmmmmmm no thank you.
Found a B&B around the corner so opted for that. The lady there was incredibly friendly explaining that it was her day for bikes as she had had to rescue a guy who had crashed his Ducati 996 in front of the house. We ended up parking next to it out the back. Skill (being the bike buff he is) identified the cause of the accident immediately - "brand new tyres, still had the fitting lube/soap on the rims, nipples and shiny surface still on the tyres". Poor guy had not even gone 2 blocks from the tyre shop, he had made an awful mess of the fairing, bits off everywhere.
Out and about in Inverness, we found a pub that served Thai food, it was fantastic and just what we needed, before we settled down for a few more beers and listened to a great traditional Ceilidh band.
The following day it was onward and northward towards Thurso, it was an absolutely beautiful ride, with glorious weather for most of the day (but we have learned that the weather changes every ten minutes here, no exaggeration).
Had a ride out to Scrabster dock to see if we could find out what time the ferries left for Orkney, the place was utterly desserted and no signs anywhere so we gave up and had a beer. Back into Thurso where we eventually found a hostel (above a fish and chip shop) to stay in, once again they let us park the bike out the back in the storage shed, in amongst the supplies for the shop. What a find a really friendly little place.
It was there we met Bryan an older cyclist who had cycled from Lands End (Southern most point of the UK mainland) and was on his way to Dunnet Head (Northern most point of the UK mainland), we spent the night in the hostel chatting to Bryan over a few beers and wee drams.
The following day as we are getting ready to leave, the owner of the hostel breezes in and starts chatting telling us to go to Gills Bay and catch the ferry to Orkney from there (much cheaper), a phone call later and we are off to Gills Bay via Dunnet Head and John O'Groates. At Dunnet Head we meet up with Bryan, so after the obligatory photos we celebrate his achievement with a cup of tea.
Goodbye and down to Gills Bay where we wait for the ferry, get chatting to all and sundry who want to know about the bike etc etc. It is now a bit of a joke, people scan the number plate (as it is so short in comparison with the UK ones) then they see the AUS (assuming Austria) and walk away only to do a double-take as they read Australian Automobile Association, they then come back for a chat. It is like clockwork.
We had a great time on Orkney, from the moment we boarded the ferry, people were so friendly and helpful. The guys on the ferry tied the bike down and found a piece of cardboard so as not to damage the seat.
We arrived at St Margarets Hope and checked out the Backpackers there which was very nice but we decided to go onto Kirkwall for a look.
After getting lost in Kirkwall and managing to ride the bike through a pedestrian only area we decided we didn't like Kirkwall that much so back to St Margarets Hope Backpackers at the Pub.
Well we could not have chosen better, we had the whole place to ourselves for three whole days, a 6 bedroom house with lounge, dining room, and kitchen. The people in the pub were fabulous, from the locals to the people who owned the place. They made us feel so at home and every night a new local would shout us drinks even though we protested long and loud. Everyone seemed to know us and each night the regulars would come in and say "Saw you out today, how did you enjoy Stromness or Maes Howe etc etc"
Even though we were the only people staying at the Backpackers the hotel had some guests - One really interesting older man and his son became our afternoon drinking companions each day. George had been 17 when he was posted to Orkney with the army in 1943 and was back for the first time since then. You know the old saying that everyone has a story to tell, well here is George's story.
While posted at Orkney a young girl of 18 had turned up on a boat with a four day old baby and he had been instructed by an Officer to walk her and the baby home 4 miles to her village which he did. The next day the Officer asked him to go and check on the girl so he hired a boat for 4 pence and called on her. She told him she was fine but not to come again. (I guess because of the gossip)
George had never forgotten the young woman or the baby so 62 years later he was on a quest to find out what happened to her.
The whole time we were on Orkney it poured rain and was freezing. One day I swear I could see snow flakes drifting down only to melt before reaching the ground - remember it's almost Summer. However we still managed to visit most of the sights.
The famous Churchill Barriers built by the Italian prisoners of War, the little Italian Church that the POWs built from 2 nissens (circular tank like structures) and decorated with the most wonderful frescos.
We also visited Maes Howe which according to the literature it is the finest Neolithic chambered tomb in Western Europe (pre-2700 BC). Maes Howe was raided by Vikings in the mid 12th Century. It houses the largest collection of of runic inscriptions to be found in any one place in the world. They have been deciphered and are basically Viking graffiti. "HAGAAR WAS HERE", that sort of thing.
Next on the list was The Ring of Brodgar a stone circle comprising originally 60 stones of which 36 now remain, and The Standing Stones of Stenness is a small circle from the third millennium consisting originally of 12 stones, both are older than Stonehenge.
On our last night in Orkney, George has a bit of bad news, the young girl he is looking for died in 1965 and the locals are keeping mum about the baby. He feels that he has exhausted all his options and cannot go any further without causing trouble for her family. Things like "Does her still living husband know about the baby?" and if he finds the child, does she know who her mother was etc etc.
We have a few commisserative scotches and listen to his stories about his war time travels as an 18 year old to Burma, Siam, and some other wild places. In the next breathe he tells us how he thinks we are amazing and brave travelling to the places we are going to. Go figure!!!!
It was hard to drag ourselves away from Orkney despite the weather. A very early start, onto the ferry at 7.30 am for the 1 hour crossing then down the West Coast of Scotland. This was probably the most spectacular scenery we have seen in our travels, an absolutely awesome day despite the rain and wind (again!!). We even had to resort to having our morning tea in a bus shelter.
At one point we encounter some Highland Cows who take a decided interest in the bike and follow it. Or maybe it was Skill's brilliant cow impersonations.
We arrive at Ullapool and decide to camp for the night, it rains all night, as usual when we camp. The guy collecting the camping fee next morning looks at the bike and like most Scots asks how the weather is treating us. When we say we are making the most of it, but gale force winds, rain and less than 10 degree temperatures make it less than perfect for bike touring, his response is the same as every Scot - "occhh its fine Scottish weather" - a little grin on his face as he walks off.
The following day we have an easy ride to Fort William and decide to take our chances and camp again. A brilliant evening with our tent pitched at the base of the Ben Nevis Ranges. We retire at 10.30 pm. The sky is still quite light, then it rains the rest of the night.
Another late start. The day starts overcast but dry, but turns into a miserable days riding as it rains for the majority of the day, we stop only once for lunch at the Drovers Inn (a grotty old pub with kich stuffed animals everywhere), we stopped here last time we were in Scotland and we were so amazed we had to stop again - it was the same only now it's won a tourism award.
Then onto Glasgow. Take a wrong turn, miss the Bridge so decide to take the Clyde Tunnel instead. By now it is pouring and getting later, continue on towards Stranraar. Start looking for accommodation at 6.00pm, Thistle Hotel - full, Travel Lodge - full, B & B 85 pounds NO WAY!. Next B & B 70 pounds NO, NO, NO! That's just too much.
We head into Ayr and finally find a beautiful B & B for 60 pounds. Still above the budget, but by this time we are both tired, soaked and frozen, and are seduced by our opulent surroundings. It is such a wonderful place we decide to get Chinese takeaway which we eat in bed while watching the Eurovision Song Contest. Sheer Warm Bliss. Finland won by the way, if you missed it.
Feeling fortified by our huge breakfast and our first glimmer of sunshine in a week we have a lovely ride down the coast to Cairnryan where we catch the P&O Irish Sea Ferry to Larne in Northern Ireland. And so we say our farewells to Scotland but will be back for Lou and Donald's wedding in a month.


We are now in Northern Ireland, Derry to be exact, and despite the weather, we are having a wonderful time, every day is a new adventure.
Cheers & Beers
Quote of the Week: "We live in a wonderful world that is full of beauty, charm and adventure. There is no end to the adventures we can have if only we seek them with our eyes open"
- Jawaharal Nehru
Posted by John Skillington at
12:20 PM
GMT
Recent Entries
Archives:
Archives:
Monthly
Archives:
Category
NEW! HU 2015 Motorcycle Adventure Travel Calendar is now available! Get your copy now for some terrific travel inspiration!
HUGE, 11.5 x 16.5 inches, beautifully printed in Germany on top quality stock! Photos are the winning images from over 600 entries in the 9th Annual HU Photo Contest!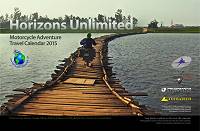 "The calendar is magnificent!"
"I just wanted to say how much I'm loving the new, larger calendar!"
We share the profit with the winning photographers. YOU could be in the HU Calendar too - enter here!
Next HU Events
NEW!

USA Virginia: Apr 9-12, 2015
Take 40% off Road Heroes Part 1 until October 31 only!
Road Heroes features tales of adventure, joy and sheer terror by veteran travellers Peter and Kay Forwood (193 countries two-up on a Harley); Dr. Greg Frazier (5 times RTW); Tiffany Coates (RTW solo female); and Rene Cormier (University of Gravel Roads).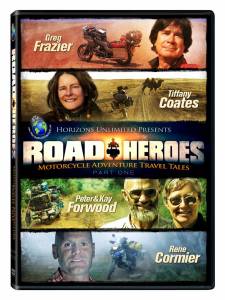 "Inspiring and hilarious!"
"I loved watching this DVD!"
"Lots of amazing stories and even more amazing photographs, it's great fun and very inspirational."
"Wonderful entertainment!"
Check it out at the HU Store! Remember to use Coupon Code 'HEROES' on your order when you checkout.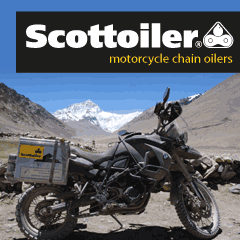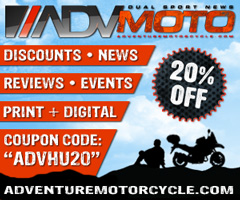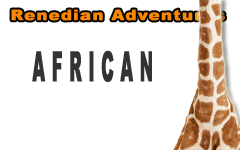 What others say about HU...
"I just wanted to say thanks for doing this and sharing so much with the rest of us." Dave, USA
"Your website is a mecca of valuable information and the DVD series is informative, entertaining, and inspiring! The new look of the website is very impressive, updated and catchy. Thank you so very much!" Jennifer, Canada
"...Great site. Keep up the good work." Murray and Carmen, Australia
"We just finished a 7 month 22,000+ mile scouting trip from Alaska to the bottom of Chile and I can't tell you how many times we referred to your site for help. From how to adjust your valves, to where to stay in the back country of Peru. Horizons Unlimited was a key player in our success. Motorcycle enthusiasts from around the world are in debt to your services." Alaska Riders

10th Annual HU Travellers Photo Contest is on now! This is an opportunity for YOU to show us your best photos and win prizes!
NEW! HU 2014 Adventure Travel T-shirts! are now available in several colors! Be the first kid on your block to have them! New lower prices on synths!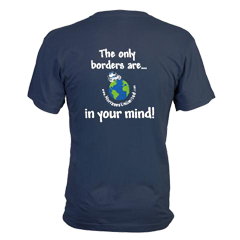 Check out the new Gildan Performance cotton-feel t-shirt - 100% poly, feels like soft cotton!

What turns you on to motorcycle travel?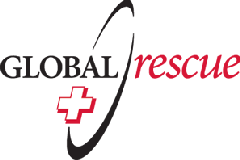 Global Rescue is the premier provider of medical, security and evacuation services worldwide and is the only company that will come to you, wherever you are, and evacuate you to your home hospital of choice. Additionally, Global Rescue places no restrictions on country of citizenship - all nationalities are eligible to sign-up!
New to Horizons Unlimited?
New to motorcycle travelling? New to the HU site? Confused? Too many options? It's really very simple - just 4 easy steps!
Horizons Unlimited was founded in 1997 by Grant and Susan Johnson following their journey around the world on a BMW R80 G/S motorcycle.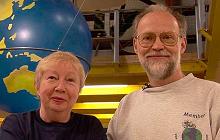 Read more about Grant & Susan's story
Membership - help keep us going!
Horizons Unlimited is not a big multi-national company, just two people who love motorcycle travel and have grown what started as a hobby in 1997 into a full time job (usually 8-10 hours per day and 7 days a week) and a labour of love. To keep it going and a roof over our heads, we run events (22 this year!); we sell inspirational and informative DVDs; we have a few selected advertisers; and we make a small amount from memberships.
You don't have to be a Member to come to an HU meeting, access the website, the HUBB or to receive the e-zine. What you get for your membership contribution is our sincere gratitude, good karma and knowing that you're helping to keep the motorcycle travel dream alive. Contributing Members and Gold Members do get additional features on the HUBB. Here's a list of all the Member benefits on the HUBB.
Books & DVDs

All the best travel books and videos listed and often reviewed on HU's famous Books page. Check it out and get great travel books from all over the world.

MC Air Shipping, (uncrated) USA / Canada / Europe and other areas. Be sure to say "Horizons Unlimited" to get your $25 discount on Shipping!
Insurance - see: For foreigners traveling in US and Canada and for Americans and Canadians traveling in other countries, then mail it to MC Express and get your HU $15 discount!
Story and photos copyright © All Rights Reserved.
Contact the author:
Editors note: We accept no responsibility for any of the above information in any way whatsoever. You are reminded to do your own research. Any commentary is strictly a personal opinion of the person supplying the information and is not to be construed as an endorsement of any kind.
Hosted by: Horizons Unlimited, the motorcycle travellers' website!
You can have your story here too - click for details!