May 01, 2014 GMT
Sullana (Peru) to Lasso (Ecuador)
It is a border crossing day. Border crossings are always a mix of heady excitement because you are off to a new country but also anxiety, because you never know what border officials are going to throw at you.
We leave the gross Peruvian town of Sullana behind us in a lather of sweat, it is a very hot day and the ride to Macara is fraught with the usual maniacs, driving with no care or respect for anyone else on the road, let alone a bike. By the time we arrive at the small border town of La Tina we are sweltering. Fortunately this was a very simple crossing, the Peruvian side was done and dusted in under 5 minutes while the Ecuadorian side took about 45 minutes but only because the young guy was a bit slow on the typing/ processing side. However they were kindness itself, even photocopying all the documents they needed from us, for free. We had been warned by one traveler that we needed third party insurance as a requirement on entry to Ecuador but this was not mentioned and there was nowhere to buy it at this tiny border town anyway.

As the sign says - Welcome to Ecuador

Unfortunately while we were getting the paper work done the bike was spewing coolant out onto the road yet again. Oh bugger, not much we can do about it here except top it up and keep riding, so we high tail it out of town and up into the hills, a beautiful twisty ride to Loja which took us over 3 ½ hours. On entering Ecuador you immediately notice the difference, this country is so much cleaner, greener, modern, organised and the drivers, while not perfect, are at least not trying to kill us at every turn. We have to stop at two military checkpoints for paperwork checks and also once for fuel and of course whenever we stop we leak out some more coolant, but we keep heading for Loja. At least we will be able to do something about it there.
As we hit the Loja traffic at about 4.00 pm, the bike hits "Danger! Danger! Will Robinson" hot hot hot, then boils and spews the last of its fluid on the road, but as luck would have it we were right outside a hotel with parking. Skill stopped the bike on the footpath/driveway on a busy pedestrian street where he is growled at for blocking the narrow sidewalk, meanwhile I bolted inside and got them to lift the roller door to the garage. Without starting the bike Skill rolled into the underground carpark spewing the last of the coolant everywhere. Unfortunately the hotel was very expensive (well for Ecuador - $70.00 per night) but the young guy on reception spoke English and helped Skill find a good motorbike shop. After we had unloaded the bike and it had cooled down Skill pulled it to bits and found that an O ring on a joiner from a radiator hose to the rear cylinder had completely disintegrated, so he had no O ring to take with him to the motorbike shop for sizing.
After a bit of to-ing and fro-ing Skill returned with a few new O rings to try (no suzuki original parts in this town) but as it was now 7.30 pm and we had had nothing to eat since breakfast we found a hamburger, well a hamburger and a hot dog actually, and beer for dinner then retired early.
As we didn't have to check out till 2.00 pm we were hopeful that we would be able to fix the bike the following day then travel to Vilcabamba, our next destination, was only 50 km away. However it was not to be, the O rings did not fit/seal so for Skill it was back to the motorbike shop while I sat in the bowels of the underground car park guarding our now half dismantled bike for 2 ½ hours. Well to cut a long story short, Skill managed to get an O ring that while not the perfect size did the job, put in new coolant and eventually got the bike back together. By this time we had decided to book in for another night so in the afternoon we went for a bit of a walk and checked out the town and had a huge feed of deep fried empanadas and tomato salsa from a very, very dodgy establishment. They were fantastic, but we were expecting to get sick from the look of our surroundings but fortunately luck seemed to be on on our side this time.
That night I showed my age and managed to complain about the doov doov music coming form the next room (there were two teams of football players staying in the hotel). We put up with it for about an hour, but it was so loud it was actually rattling the glass panels in our room and we couldn't hear our own TV. I always feel like the complaining gringo, but the guy on reception was very good and even did something about it, I was completely shocked.
Next day we couldn't wait to get out of the city and our windowless, souless hotel room and it was off into the mountains again to the absolutely gorgeous hamlet of Vilcabamba, all the while checking for coolant leaks with fingers crossed. We made it to Vilcabamba without any sign of leaks, yeah. This little hamlet is apparently renowned for the longevity of it's inhabitants, attributed to the local drinking water. To be honest we didn't see any older inhabitants but the town was heaving with American ex pats.

Parked, looking for a hostel in Vilcabamba
We decide to stay at the German Ecuadorian run hostal of Izhcayluma. We had a little cabin with our own verandah and hammock that overlooked the valley of youth.

Our little cabin

Lan enjoying the hamock
They also had a fantastic restaurant where we overindulged for the four days we were there.

View from the restaurant
We wandered into town on a few days and found a SOAT (Insurance) office and after an hour managed to get one month of third party insurance for the bike (you can only buy a month or a years worth) for $3.00 US per month.

Success we have third party insurance
After 4 days we manage to leave Villcabamba and put in a long day to Quenca (Ecuador's third largest city). It was a beautiful ride up over high passes and into foggy mountains. At one point we rode into really heavy rain and unfortunately did not get our wet weather gear on quickly enough, we were soaked through. On reflection I think this is the wettest we have ever been.

On the road to Cuenca
Despite the conditions we enjoy the countless little villages, where the local inhabitants dress all in black with bowler hats, including the school children.

Sorry about the grainy photo, taken on the move

Anyway it rained on and off all the way to Cuenca and then we had to ride right into the middle of town, where there were detours and roadworks everywhere, it took us well over an hour to get from the outskirts of town into the traffic gridlocked Centro. We eventually found a little guest house where we could get the bike through the double doors into the courtyard. Skill had to ride along the busy footpath through all the pedestrians. After unloading our dripping, soggy luggage, we stripped off everything and hung it all over our miniscule room. After a 5 minute lesson on how to work the shower from our octogenarian owner, we manage a hot shower and it was off to find food then a bit of a wander around the historic centre, then it is early to bed. We are a tad knackered.
Next day we got away by nine and have a six hour ride (with only one stop for fuel) to Banos. We decided we would push through to Banos even though we only had accommodation booked for the Easter weekend. We tried the hotel where we had pre-booked our Easter accommodation but they were full so after a quick check with the tourist office who can't help us with accommodation or a map (what are they there for???) we have an hour hunt to find a place we were happy with. We ended up in a beautiful place on the hill with views over the town all for the princely sum of $20.00 US.
Rainbow views from our Hostel Llanvientos
We quickly checked in for two nights then it was down the hill to Casa Hood ( a restaurant we had read about) where we had a great meal, a sort of Pad Thai and Asian Chicken not to mention a few beers. This turned into our eating place of choice.
We spend our Easter here in Banos which turns out to be quite interesting. On Good Friday we awoke to huge volumes of noise with 1000s of people everywhere camped out on the streets and in the undercover fruit market area. Apparently it was a pilgrims walk to the Manto de la Virgin waterfall where the Virgin Mary appears from time to time. Hmmmmmmmmm it looked more like a huge street party come "P**s up" to us.
Changing hotel proved to be a bit of a challenge as our prebooked hotel was right near the waterfall and we had to negotiate the hundreds of people in the streets. After checking in I did my usual room furniture rearrangement and got ourselves settled in before we joined the crowds on the street. We even got up to the waterfall but surprisingly Mary hadn't appeared, she was probably put off by the inebriated pilgrims.

The Manto de la Virgen Waterfall and Baths
In the evening while we were out on our own personal pizza hunt we got swept along in a sort of funeral procession where they took the Nuestra Senora del Agua Santa from the Cathedral and paraded her around the streets for a few hours.

Banos Cathedral
Easter Saturday and Sunday proved to be marginally quieter but there are still 1000s of people everywhere. It is quite amazing to see what the locals are doing for fun, of course bathing in the hot springs, then riding around in rhinoceros trains or driving around on hired four wheeler bikes (in the congested streets of the town) or having their photos taken with fake horses. It is a hoot.

The Ecuadorian tourists are taking scenic rides in this mythical train creature
It is also on Sunday we find out that the GPS is completely and utterly dead. It will not turn on, there is absolutely nothing we can do to get it to work, but the unit itself is hot to touch. Very weird. OH BUGGER!!!!

Carmen the Garmin is dead

By Sunday evening down town Banos is deserted, everyone has gone home, we are the only tourists on the street. Unbelievable. On Monday, Skill spends the morning loading software and maps onto the android phone and syncing it to his helmet. We are hoping that we will be able to use this as a GPS at least till we get to Quito

Skill trying to get the phone to talk to his helmet
In the afternoon we go for a walk up to the statue of the virgin, the mirador above town, only to be thwarted 20 metres from the top by a huge swarm of bees, (I, Lan am severely allergic to bees) so it was a no go zone. Feeling a tad miffed we wandered down to the bridge over the river and check out the scenery before buying some of Banos famous sweets. Everywhere in town you see them making it

Canyon below Banos

The sweet makers of Banos
We decide we have spent as much time in Banos as is needed and we will head out to a campground/hostel run by friends of friends in the form of Marc and Sue ex professional overlanders themselves. We leave Banos in driving rain (using the phone as a GPS, it seems to work well) and arrive at Rio Verde 30 km up the road in even worse conditions, the rain is torrential. Marc rescues us and gets us settled into a room. The rain finally abates and we wander the 2kms back into Rio Verde where we encounter some local kids walking home from school.

Careful Kids! The drop off from the wall goes down into the Canyon
In the village we have some local lunch and then walk to the Devil's Cauldron Waterfall. You can approach the waterfall from 2 directions through 2 privately owned paths, so this is what we do. We walk to the bottom of the Canyon and view the falls from the depths of the canyon

Devil's Cauldron Waterfall

Lan at the Devil's Cauldron Waterfall

Skill on the Suspension Bridge at Devil's Cauldron Waterfall

Happy Chappies

On the path back up to the top
Then we walk back up and view them from the top.

Devil's Cauldron from the top

Underneath the falls

Suspension Bridge at the top of the falls

That afternoon we return to the hostel and introduce ourselves to our fabulous hostess Sue. We share a pleasant afternoon with this couple before Marc exclaims that Volcan Tungurahua is erupting and indeed it is, there are a few good belches of ash before it again settles down. We still didn't actually see the Volcano as it was completely shrouded in mist and cloud. The evening starts off bright and clear with a starry night but by eight o'clock it is bucketing down, well I suppose we are in the Cloud forest and it is the wet season.

Volcan Tungurahua belches ash into the clouds

The following day, after a slow start, the weather is looking quite promising and we head into Rio Verde on the bike for some of local identity, Mercede's, famous empanadas, they are fantastic, so good that we get another two to take away for our dinner. Just as we are getting ready to leave for a 50 km ride to Puyo and the Monkey Sanctuary, the heavens open up and thunder and lightning roll in. Off we go anyway (once again, using the phone as our GPS, all goes well) and ride all the way to Puyo in the rain. Fortunately by the time we get to the sanctuary the rain stops and we can enjoy our time here without a rain coat

Skill and his little mate at the Monkey Sanctuary - Puyo

Monkey Sanctuary - Puyo

Monkey Sanctuary - Puyo

Monkey Sanctuary - Puyo

Monkey Sanctuary - Puyo

Monkey Sanctuary - Puyo

Other glorious creatures at the Monkey Sanctuary - Puyo

Lan at the Monkey Sanctuary - Puyo

We manage a rain free ride home to the hostel and share a few beers with our hosts.

The tranquil grounds of Pequeno Paraiso
Next day we awake to absolutely torrential rain yet again, but decide we really do need to move on, so after a delayed start we don the wet weather gear, say goodbye to our fabulous hosts and ride off towards Ambato and Lacatunga in the driving rain. I find out that my wet weather pants are not that waterproof any more as I can slowly feel my draggin jeans soaking up more and more water around my bottom, hmmm not good, I feel like I am wearing a giant nappy. It is also at this point that the phone decides it will not work as a GPS any more and continually loses satellite reception.
We arrive in Latacunga around lunch time and after a few wrong turns, a refuel and air for the tyres we continue on to Pujillo and Zumbhuro where we miss the turnoff for Lake Quilotoa as there are no signs on the main road (in the usual South American style you only get a sign telling you you are on the right road after you have turned off on the right road and no longer need a sign) and we are completely GPS-less. We eventually figure it out and backtrack to Zumbahua and get on the road to Lake Quilotoa.
We are not very good at planning ahead but today we have a plan, we will not visit the Lake but will push on, 19 km up the road, even though it is dirt, to Chugchillan where we know there is good accommodation then tomorrow we will leave our gear in the room and come back to see the Lake before returning to pick up our luggage and completing the Quilotoa loop. Sounds simple and easy in theory.
Because we left Rio Verde late and had to ride fairly slowly because of the rain we are running a bit later than usual and unfortunately the 20 km from Quilotoa to Chugchillan is a nightmare. They are doing road works Ecuadorian style, that means that you rip up nearly the whole 20km of road using earthmoving equipment and people just have to try to get through the best they can.

Road works Ecuadorian style

Click on this youtube video link to see our ride through Ecuadorian roadworks (Excuse my swearing but I am sure you will understand why). Or cut and paste this address http://youtu.be/jrCLTyJJC1s

We ride for nearly the whole 20 km in first gear through awful conditions, even negotiating a couple of water crossings before stopping at 5.30 pm, just short of Chugchillan thinking we have to be on the wrong road, however some kind villagers reassure us Chugchillan is just around the next corner, which it is and we gratefully find the Cloudforest Hostel where we spend a quiet evening with a few other guests.
Next morning we have a decision to make, do we return over the muddied, messy, bulldozed track masquerading as a road or do we continue around the loop and miss out on the Lake. Over breakfast we decide we will have to go back to Lake Quilotoa as that is our whole reason for riding this road. I am extremely nervous about doing this but off we go and we emerge onto the sealed road over an hour and a half later. I cannot believe we didn't come off, it was an awful, awful ride and to think we did it twice. Loco, loco!!!!
We ride into the National Park, pay our $2.00 fee and are told by a dodgy parking attendant that we must park in the car park. For some reason parking attendants feel it is their solemn duty to misinform you and boss you around, we completely ignore him and ride up to the Lake lookout. This is the sight that greeted us. Wow, so pleased we came back.

Panorama - Lake Quilotoa

Lake Quilotoa

Lake Quilotoa
Although it is only 11.00 am we check into a little local hostel across the road, it has secure parking and the rooms have a little wood heater in them. This is our kind of place.

Our little room at Lake Quilotoa
We manage to get a bit of washing done before a quick lunch and it is off for a walk down to the Lake. Well let me rephrase that, Skill takes a walk down to the Lake. We are at about 4000 metres and I know my limitations, the walk down would be tough enough but it is the up bit that I am worried about. I spend an hour at the lookout watching Skill's progress, it is slow going.

By the Lakes shore

By the Lakes shore
Skill returns a good few hours later and confirms it was very difficult to get enough oxygen on the walk back up. We manage to find wood and some lighting fluid to get our wood stove going, we then boil up water for a cat wash (no hot water in the shower) and have a few beers, before we join the hostal's family for dinner. All in all, not a bad way to spend ANZAC day. However at this altitude the weather is completely changeable and it is very cold at night. We are toasty warm in our room, the bed has no less than seven blankets on it. We can barely move.

The bike and Skill hanging out our washing at hostel

Half an hour later this is the same view
The following day we say Goodbye to Lake Quilotoa and retrace our route to Latacunga. Skill was quite keen to ride the roadworks for a 3rd time and complete the Loop road, I was not. I sometimes question his sanity and remind him "Happy wife, Happy life" We are not riding that road again. Twice is enough!
From Latacunga we have a quick ride to Lasso where we eventually find the delightful Cabanas Los Volcanes to stay in. We manage to get everything off the bike and find some lunch and a little shop in this dodgy town, before the heavens open up for the rest of the day. Oh well a quiet afternoon in with a good book. Tomorrow we tackle another capital city, Quito, and this time without a GPS but Skill is still determined to get the phone GPS to work for us.

Parked at the delightful Cabanes Los Volcanes
Posted by John Skillington at May 01, 2014 10:24 PM GMT

Recent Entries
Archives:
Archives:
Monthly
Archives:
Category
NEW! HU 2015 Motorcycle Adventure Travel Calendar is now available! Get your copy now for some terrific travel inspiration!
HUGE, 11.5 x 16.5 inches, beautifully printed in Germany on top quality stock! Photos are the winning images from over 600 entries in the 9th Annual HU Photo Contest!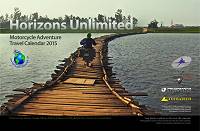 "The calendar is magnificent!"
"I just wanted to say how much I'm loving the new, larger calendar!"
We share the profit with the winning photographers. YOU could be in the HU Calendar too - enter here!
Next HU Events
NEW!

USA Virginia: Apr 9-12, 2015
Canada West: Aug 20-23, 2015
USA California: Sep 24-27, 2015
Aus Queensland: Sep 24-27, 2015
USA North Carolina: Oct 8-11, 2015
Aus Perth: Oct 9-11, 2015
Take 40% off Road Heroes Part 1 until October 31 only!
Road Heroes features tales of adventure, joy and sheer terror by veteran travellers Peter and Kay Forwood (193 countries two-up on a Harley); Dr. Greg Frazier (5 times RTW); Tiffany Coates (RTW solo female); and Rene Cormier (University of Gravel Roads).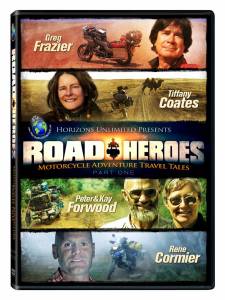 "Inspiring and hilarious!"
"I loved watching this DVD!"
"Lots of amazing stories and even more amazing photographs, it's great fun and very inspirational."
"Wonderful entertainment!"
Check it out at the HU Store! Remember to use Coupon Code 'HEROES' on your order when you checkout.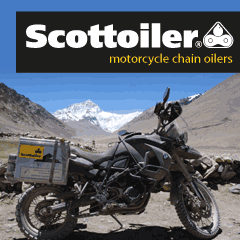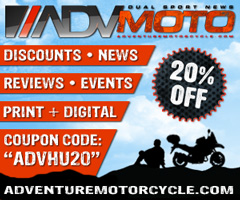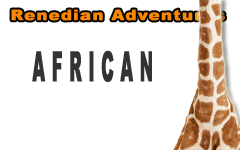 What others say about HU...
"I just wanted to say thanks for doing this and sharing so much with the rest of us." Dave, USA
"Your website is a mecca of valuable information and the DVD series is informative, entertaining, and inspiring! The new look of the website is very impressive, updated and catchy. Thank you so very much!" Jennifer, Canada
"...Great site. Keep up the good work." Murray and Carmen, Australia
"We just finished a 7 month 22,000+ mile scouting trip from Alaska to the bottom of Chile and I can't tell you how many times we referred to your site for help. From how to adjust your valves, to where to stay in the back country of Peru. Horizons Unlimited was a key player in our success. Motorcycle enthusiasts from around the world are in debt to your services." Alaska Riders

10th Annual HU Travellers Photo Contest is on now! This is an opportunity for YOU to show us your best photos and win prizes!
NEW! HU 2014 Adventure Travel T-shirts! are now available in several colors! Be the first kid on your block to have them! New lower prices on synths!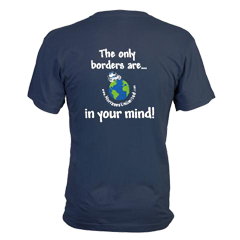 Check out the new Gildan Performance cotton-feel t-shirt - 100% poly, feels like soft cotton!

What turns you on to motorcycle travel?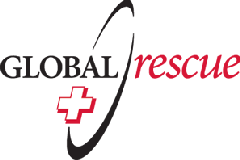 Global Rescue is the premier provider of medical, security and evacuation services worldwide and is the only company that will come to you, wherever you are, and evacuate you to your home hospital of choice. Additionally, Global Rescue places no restrictions on country of citizenship - all nationalities are eligible to sign-up!
New to Horizons Unlimited?
New to motorcycle travelling? New to the HU site? Confused? Too many options? It's really very simple - just 4 easy steps!
Horizons Unlimited was founded in 1997 by Grant and Susan Johnson following their journey around the world on a BMW R80 G/S motorcycle.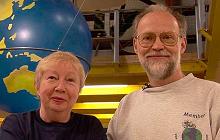 Read more about Grant & Susan's story
Membership - help keep us going!
Horizons Unlimited is not a big multi-national company, just two people who love motorcycle travel and have grown what started as a hobby in 1997 into a full time job (usually 8-10 hours per day and 7 days a week) and a labour of love. To keep it going and a roof over our heads, we run events (22 this year!); we sell inspirational and informative DVDs; we have a few selected advertisers; and we make a small amount from memberships.
You don't have to be a Member to come to an HU meeting, access the website, the HUBB or to receive the e-zine. What you get for your membership contribution is our sincere gratitude, good karma and knowing that you're helping to keep the motorcycle travel dream alive. Contributing Members and Gold Members do get additional features on the HUBB. Here's a list of all the Member benefits on the HUBB.
Books & DVDs

All the best travel books and videos listed and often reviewed on HU's famous Books page. Check it out and get great travel books from all over the world.

MC Air Shipping, (uncrated) USA / Canada / Europe and other areas. Be sure to say "Horizons Unlimited" to get your $25 discount on Shipping!
Insurance - see: For foreigners traveling in US and Canada and for Americans and Canadians traveling in other countries, then mail it to MC Express and get your HU $15 discount!
Story and photos copyright © All Rights Reserved.
Contact the author:
Editors note: We accept no responsibility for any of the above information in any way whatsoever. You are reminded to do your own research. Any commentary is strictly a personal opinion of the person supplying the information and is not to be construed as an endorsement of any kind.
Hosted by: Horizons Unlimited, the motorcycle travellers' website!
You can have your story here too - click for details!