May 13, 2013 GMT
Sucre to Samaipata
People come to Sucre for three days and stay for three months, it is just that kind of place. It is a really easy city to negotiate, there are great restaurants, markets/supermarkets, cultural museums and activities.
Life here is simple. Our move to Hostel Pachamama (Mother Earth) proves to be the right one, the cost is 100 Bol ($15.00AUD) per night and we have our own big room with ensuite on the second floor overlooking the garden. It really is a gorgeous place.

Hostal Pachamama

The hostel is owned by a lovely family who also have a sponsored son Martin, who was the sweetest young man, he worked like a trojan in the hostel all day, then went to school in the afternoon, then back to work in the hostel in the evening. And you never saw him without a smile on his face. A very bright young man, he had also taught himself English.
There was a real mix of ages and cultures amongst the inhabitants, our favourites included Te, a beautiful young American girl, Sun an equally gorgeous Korean girl, Helga an older Austrian lady and Mark (commonly referred to as Mr Mark by Martin) a British soccer coach who while travelling was coaching the local kids in Soccer. We also got to spend a great week with Lisa and Jarrod a pair of Aussies who were on their way home after living and working in the UK for 8 years. There was also a constant stream of Israelis, French, German and Argentinian travellers as well.
However amongst all the great people we got to meet there were two very odd, older travellers who just did not fit in and made life as difficult for others as they could. One very opinionated woman who believed in black magic and and an older guy with absolutely no social skills, who could not stand any sort of noise, he was staying in a hostel??????

Hostal Pachamama

Our first week in Sucre adopts a similar pattern, we shop at Mercado Central for our daily fruit and vegetable supplies, haggling with the gnarly ladies becomes part of the process, then it's off to El Patio for the best Salteneas and coffee in town, before Spanish homework and then it is off to afternoon Spanish classes for four hours. We have a great teacher, called Moi who is a University Lecturer/Student. I would love to report that we are now fluent Spanish speakers, but that would be an outrageous lie. We have improved a little but are really not that much better at all, however we enjoyed the experience. Our problem is we are basically lazy and probably don't put the time in that we should. Most people staying at Hostal Pachamama were doing Spanish lessons, but unlike us they were clever, earnest, young beings and seemed to be continually studying, and were therefore quite good Spanish speakers.
Another thing we love about Sucre is the zebras, yes zebras. On our very first afternoon out and about we come across two guys dressed up as zebras, I assume it is street art and they will hit people up for money, so completely ignore their protestations at me crossing the road on a red 'Don't Walk" signal, this is Bolivia after all. There is much hand (foot) wringing and crying into hands but as we continue on up the road we come upon a whole herd of them. Oops they are part of a road safety, pedestrian education program, stupid bloody, gringo woman!!!!!! Needless to say I am rather remorseful. These guys and girls do a great job and make everyone smile, they are Sucre's ambassadors.

The Zebras of Sucre

The Zebras of Sucre

Herds of Zebras
The next two weeks in Sucre, we just chill out, enjoy the hostel's gardens and the hammocks, have a couple of BBQs with Mark, Helga, Jarrod and Lisa. We also discover it is just as cheap to eat out as it is to buy food and cook yourself, so we try most restaurants within walking distance.

A lovely Italian dinner at a very posh place
We also visit the huge markets where you can buy anything you could possibly need, washing powder, hair care products, shoes, blankets, buckets, ladders, toys, even dried llama foetuses in the witches markets! As we have no need for any of the above items we buy a 5 litre container to carry extra fuel in and wander home. The markets are always an eye opener, especially the witches market. All sorts of weird items and offerings. (Sorry no photos, they get a bit tetchy about gringos taking photos)

The Streets of Sucre

The Streets of Sucre
During this time we also get our tourist entry stamps extended from 30 days to 90 days at immigration, and Skill has to venture out twice to the Aduana building on the outskirts of town to get the bike's temporary import papers extended to 90 days, although this sounds simple, this is Bolivia, and it probably took up a full day in time. On the first morning that Skill is taking the bike out to the Aduana for them to inspect it, the bike refuses to start (it has been sitting for over a week, but this is not normally a problem) Skill eventually gets it to start but it is running really, really badly. He makes it to the Aduana, then after it's inspection on the ride back it decides to run perfectly again. On his return he pulls the bike to bits yet again with another theory of what may be wrong????
It is also at this time that Skill finds a local Honda dealer and gets him to order a new front sprocket for the bike, the day before we leave the new sprocket is fitted and the bike has a bath at the local lavadora, it looks brand new, well almost.
However all good things must come to an end and we leave Sucre after fond, sad, farewells to our Pachamama family. We ride for about 3 kilometres before we hit the first snag of the day, Sucre is blockaded by trucks, so at first glance it looks like we can't get out of town, however we follow the local motorcyclists lead and wend our way through: up footpaths, along dirt tracks, down stairs, between trucks and posts for the next 3 kilometres. I walk the road trying to pick the best path through, talking to Skill on the intercom. A good couple of hours later we make it through but we are both stuffed and we haven't even left Sucre.

Negotiating the truck blockade in Sucre

Negotiating the truck blockade in Sucre
However the benefit of blockades is that once you are through you have the whole road to yourself, it is a glorious ride to Potosi and we make the most of it. We refuel using our new 5 litre container and get fuel with no problems at the local price. We have since found out 5 litres is the magic amount petrol stations can sell you without having to fill in paper work. We have learnt to park the bike around the corner away from the petrol station, Skill takes off his riding jacket and takes the container in to be filled, so far it has worked every time.
We hit Potosi around lunch time and yes you guessed it more truck blockades, this blockade is much longer but with not as many trucks, but it still takes us over an hour to wend our way through, once again I walk a lot of it and direct Skill through, it is tight fit and the last section proves difficult, up a steep dirt track between a sign post and a truck, somehow Skill and the bike stay upright and we are on our way to Oruro. By this time we are both puffing and panting, remembering that Potosi is at an altitude of over 4000metres.

Negotiating truck blockade in Potosi
The ride to Oruro is a lovely quiet one with little traffic, the scenery is gorgeous and by three o'clock we are famished so stop for a very quick picnic lunch as it is another 200 km to Oruro. We refuel again with no problems with our trusty 5 litre container and we are on our way. We arrive late in the bleak mining town of Oruro with the name of a Hotel and GPS coordinates (thanks to the Life Remotely team). This is a godsend as we are parked, checked in, and showered by 7.00 pm. We get out the gas stove and make chicken soup dinner in the bathroom of our room and then fall into bed. It has been a long arduous day.
After a rather dull breakfast in the vast dining/ball room (we are the only guests) of the hotel we pack up and get under way. We are heading to Cochabamba to visit Cory and Paolo Rowden (of Bolivia Bound Tours, who, our friends Guy and Buzz used to follow this years Dakar), once again it is a high altitude ride climbing up to 4496 metres, with glorious scenery and glorious riding until about 30 km out of Cochabamba.

Climbing, climbing, climbing to 4496 metres
We hit another blockade, this time it is a village blockade with rocks, burnt out tyres and villagers facing off against riot police. We decide to back right off so we can assess the situation and park ourselves down a side road in the shade. There is lots of noisy bangs and yelling going on, but we come to the conclusion it is fireworks, not rubber bullets or tear gas.

Blockade outside Cochabamba
After about two hours, the riot police seem to back right off and Skill sees a larger local motorcycle come through the blockade so we decide we will give it a go. As we are about to leave Skill informs me we may have bigger problems than a blockade, the key is jammed in the ignition and won't turn. At this point I pick out our tent site for the night. Skill gets out the CRC gives the ignition a spray and after about 5 minutes he gets the key out. I suddenly remember that we have a brand new unused ignition key on my bunch of keys so we get it off and thankfully it works straight away. Phhewww, now for the blockade. Just as we get back onto the road the larger local motorcycle and rider comes back to go through the blockade, we ask him is it OK. Follow me he says so we do, me walking and Skill taking the bike over rocks and branches, meanwhile some of the villagers move the biggest branch out of the way for us. All the while there is much cheering going on at our antics. We say our thank yous and get out of there as quickly as we can. What we didn't realise was that the local motorcyclist was part of the Blockade, not travelling through it!!!!!!!
Negotiating Cochabamba is not difficult, just slow, but with Cory's perfect directions and GPS co-ordinates we reach their place just after 3 o'clock. This delightful family invites us to camp in their back yard and share in their ANZAC day festivities the following day. Which is exactly what we do. That night is very cold and there is even a good frost next morning, thank goodness for down sleeping bags.
The following day we decorate, and help prepare a feast of roast lamb and veges. Paolo is helped by her good Aussie friend Kate. Later in the day other expat Aussie friends arrive, and also Paolo's gorgeous Bolivian parents join in the festivities.

Anzac day decorations

Anzac day cricket match

Lan enjoying the cricket match
After a very serious cricket match we enjoy the fabulous lamb feast followed by Hoky Poky icecream, Pavlova and Anzac Biscuits. It was so nice to be amongst such great people on Anzac Day. We thank them all for their kindness.
The following day Paolo invites me to go to the boys school with her. She and Kate have organised to make Anzac Biscuits with the class. I seem to slip back into teacher mode pretty quickly and enjoy the morning in this beautifully run Montesouri school. Later in the day we three girls go and share a coffee and a chat. I realise that is now 6 months since I have had girls day out and I really enjoy it. Later in the afternoon we meet Skill and Cory at Kate and Nathans house and have a huge left over lamb lunch.
The following day is Saturday and we join the family for the day. It is off to the markets, then we all go to a textile exhibition at Palacio Portales, the luxurious mansion built for the "King of Tin", Simon Patino. The house is set amongst the most beautiful gardens.

The Gardens of Palacio Portales

The Gardens of Palacio Portales

Palacio Portales

Then it is into the city for a Saltanea lunch and a visit to the "Spitting Llama" Bookstore for some English books to read.

Lunch with the Rowden Family
That evening we join Paolo, Corey and their friends for dinner, it is a really enjoyable evening.
Sunday we just chill back, read our newly acquired books and enjoy the sunshine and the serene surroundings of the garden, however later in the day Skill develops another bad dose of Bolivian belly and is really quite ill.
The following day, although Skill is still not feeling that great, we decide to make a move and let the Rowdens have their garden back. (For more information on Corey and Paolo's motorcycle rental and touring business - Bolivia Bound Adventure Tourism www.boliviabound.net or contact Cory on cory@boliviabound.net)
We pack up and get thoroughly lost (in the market area known as La Cancha) getting out of Cochabamba, but finally get on the road heading towards Cliza, the gateway to Toro Toro National Park. We have a great deal of trouble finding Cliza but eventually get there after several wrong turns. Then we take several more wrong roads out of town, it seems the road to Toro Toro is very elusive, there are no signs, the GPS is of no help, and four different people send us in four different directions. In the end we are defeated and as Skill is still feeling terrible, we make the completely irrational decision to keep travelling on the road towards Samaipata.
Well to cut a long story short, the day deteriorates into one of those long, long days where the road turns to ripio and gets rougher, no towns with hotels materialise, and it is getting very late. Just on dark we arrive at the tiny village of Pojo, and we wend our way down a steep, twisty cobblestone road into the town, where accommodation looks to be non existent. We ask about a hotel and are pointed down a street off the plaza. As I am trying to find the hotel in a very uninspiring street, a lady appears and tells me to follow her.

The uninspiring streets of Pojo
She is our travel angel, she owns a alojamiento (hotel/B&B/cafe), and we can have a room in her house for the night. We park in the garden, unload the bike, while she makes us hamburgers and chips, Skill finds a cold beer in a shop next door. Dinner is fabulous and all is right in the world. After dinner we have a hot shower and fall into bed. The beds must be have the hardest mattresses we have ever slept on but we are asleep by 8.30 pm. Then at about 9.30 pm we are woken by persistent knocking on our door, the owners want us to move the bike as late arrivals in a car want to park inside! What, surely you are joking? We are asleep in our PJ's and you told us to park there! So Skill starts the bike still half asleep, and then has to do a tricky manoeuvre along a path to park literally in the garden greenery beside the chook pen! OK now back to bed.

Bike parked next to the chooks

The gardens of our Alojaimento
In the early hours of the morning we awake again, this time to a violent storm rumbling all around the mountains, but quickly go back to sleep. Later in the morning we join fellow late arrival guests for breakfast before heading out, we get fuel at a local shop where they decant it into a five litre bottle for us, and we are on our way. The ride, while now wet, very muddy and slippery in places is absolutely spectacular, we climb up and up into the clouds, the environment has changed from a dry brown landscape to beautiful greenery and dense thick forests.

The road to Samaipata

The road to Samaipata

The road to Samaipata
Just as we reach the tops of the mountain we smell something dead and rotting and see all sorts of birds circling, including condors, these birds are huge, what a treat we didn't expect to see these amazing creatures. We come down off the mountain and reach the town of Compara where we once again refuel and then have a beautiful ride on bitumen to the gorgeous town of Samaipata. We stop to take in the views, this is Che Guevara country, he met his end not far from here in the small town of La Higuera.
Arriving in Samaipata we pull over to check out our accommodation options when a Swiss plated van pulls up beside us. It is Martin who we briefly met in Turpungato in Argentina. We have a quick chat and both go our separate ways, hoping to meet on the road again as he will be in Bolivia for a while.
Then begins the long hunt for accommodation, we end up in the hippy retreat of El Jardin, living in a yurt like construction. After we unload the bike it is off to the PUB, yes a bar, and wouldn't you know it, it is run by Aussies..................... but that's another story.

Our Yurt in the gardens of El Jardin
Posted by John Skillington at May 13, 2013 08:01 PM GMT

Recent Entries
Archives:
Archives:
Monthly
Archives:
Category
NEW! HU 2015 Motorcycle Adventure Travel Calendar is now available! Get your copy now for some terrific travel inspiration!
HUGE, 11.5 x 16.5 inches, beautifully printed in Germany on top quality stock! Photos are the winning images from over 600 entries in the 9th Annual HU Photo Contest!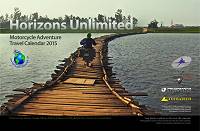 "The calendar is magnificent!"
"I just wanted to say how much I'm loving the new, larger calendar!"
We share the profit with the winning photographers. YOU could be in the HU Calendar too - enter here!
Next HU Events
NEW!

USA Virginia: Apr 9-12, 2015
Take 40% off Road Heroes Part 1 until October 31 only!
Road Heroes features tales of adventure, joy and sheer terror by veteran travellers Peter and Kay Forwood (193 countries two-up on a Harley); Dr. Greg Frazier (5 times RTW); Tiffany Coates (RTW solo female); and Rene Cormier (University of Gravel Roads).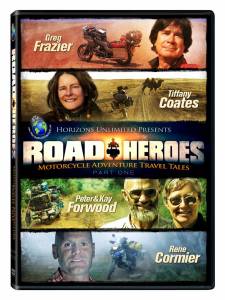 "Inspiring and hilarious!"
"I loved watching this DVD!"
"Lots of amazing stories and even more amazing photographs, it's great fun and very inspirational."
"Wonderful entertainment!"
Check it out at the HU Store! Remember to use Coupon Code 'HEROES' on your order when you checkout.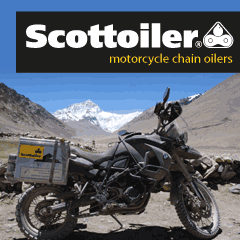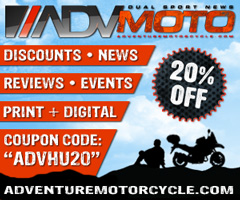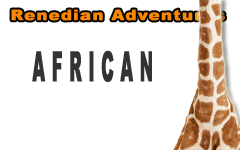 What others say about HU...
"I just wanted to say thanks for doing this and sharing so much with the rest of us." Dave, USA
"Your website is a mecca of valuable information and the DVD series is informative, entertaining, and inspiring! The new look of the website is very impressive, updated and catchy. Thank you so very much!" Jennifer, Canada
"...Great site. Keep up the good work." Murray and Carmen, Australia
"We just finished a 7 month 22,000+ mile scouting trip from Alaska to the bottom of Chile and I can't tell you how many times we referred to your site for help. From how to adjust your valves, to where to stay in the back country of Peru. Horizons Unlimited was a key player in our success. Motorcycle enthusiasts from around the world are in debt to your services." Alaska Riders

10th Annual HU Travellers Photo Contest is on now! This is an opportunity for YOU to show us your best photos and win prizes!
NEW! HU 2014 Adventure Travel T-shirts! are now available in several colors! Be the first kid on your block to have them! New lower prices on synths!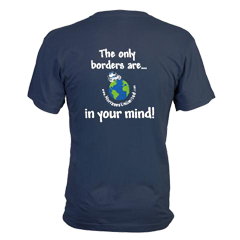 Check out the new Gildan Performance cotton-feel t-shirt - 100% poly, feels like soft cotton!

What turns you on to motorcycle travel?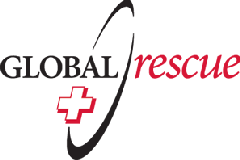 Global Rescue is the premier provider of medical, security and evacuation services worldwide and is the only company that will come to you, wherever you are, and evacuate you to your home hospital of choice. Additionally, Global Rescue places no restrictions on country of citizenship - all nationalities are eligible to sign-up!
New to Horizons Unlimited?
New to motorcycle travelling? New to the HU site? Confused? Too many options? It's really very simple - just 4 easy steps!
Horizons Unlimited was founded in 1997 by Grant and Susan Johnson following their journey around the world on a BMW R80 G/S motorcycle.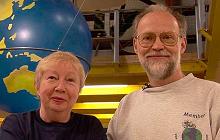 Read more about Grant & Susan's story
Membership - help keep us going!
Horizons Unlimited is not a big multi-national company, just two people who love motorcycle travel and have grown what started as a hobby in 1997 into a full time job (usually 8-10 hours per day and 7 days a week) and a labour of love. To keep it going and a roof over our heads, we run events (22 this year!); we sell inspirational and informative DVDs; we have a few selected advertisers; and we make a small amount from memberships.
You don't have to be a Member to come to an HU meeting, access the website, the HUBB or to receive the e-zine. What you get for your membership contribution is our sincere gratitude, good karma and knowing that you're helping to keep the motorcycle travel dream alive. Contributing Members and Gold Members do get additional features on the HUBB. Here's a list of all the Member benefits on the HUBB.
Books & DVDs

All the best travel books and videos listed and often reviewed on HU's famous Books page. Check it out and get great travel books from all over the world.

MC Air Shipping, (uncrated) USA / Canada / Europe and other areas. Be sure to say "Horizons Unlimited" to get your $25 discount on Shipping!
Insurance - see: For foreigners traveling in US and Canada and for Americans and Canadians traveling in other countries, then mail it to MC Express and get your HU $15 discount!
Story and photos copyright © All Rights Reserved.
Contact the author:
Editors note: We accept no responsibility for any of the above information in any way whatsoever. You are reminded to do your own research. Any commentary is strictly a personal opinion of the person supplying the information and is not to be construed as an endorsement of any kind.
Hosted by: Horizons Unlimited, the motorcycle travellers' website!
You can have your story here too - click for details!