April 01, 2013 GMT
Cafayate to La Quiaca
Leaving Cafayate we head out with plans to ride Ruta 40 to Cachi, we stop to refuel at the YPF but with no luck, an English speaking Argentinian on a BMW redirects us to another fuel station up the road and follows us there.
After refuelling he advises us not to ride Ruta 40, 'very dangerous' he says and gives us a map with alternative routes which we reluctantly decide to take, but it is such a stunning ride along the RN68 we wonder if Ruta 40 could be any better?

Lan on the stunning RN68

View from Tres Cruces on RN 68

El Obolisco on RN 68

The Devil's throat on RN 68

Riding the RN 68

Riding the RN 68

Just before reaching Salta we turn off and head over the pass of Parque Nacional Los Cardones. The vegetation here is green and lush in the beautiful valley and then we start climbing. The weather starts to deteriorate, it begins to rain lightly and then the fog closes in as we climb and climb, then onto narrow ripio road with no barriers and we keep climbing the switchbacks up to 3,300 metres and its now very cold. The visibility is down to only a few metres, we can barely see the edge of the road and cannot see anything of what must be a great view. We finally start to descend and slowly conditions improve and then suddenly we pop out into bright sunshine in middle of a desert complete with cactus! This is a good thing as I am damn near frozen, once again the scenery is breathtaking now we can see it again.
We arrive at Cachi exhilarated and thankfully, defrosted. We decide to camp and have views up to the snow covered Nevado del Cachi (6380m), we pitch the tent and as the sun goes down it gets cold and the wind picks up, so we retreat to our tent.

Scenery on the road into Cachi

Lan defrosting

Lan inside the tent – red wine time

Skill inside the tent
We manage to reheat our left over curried sausages and eat in the tent, before rugging up and venturing out to spend the evening with our neighbours, Natalie and Alex an Australian/American couple who are overlanding in a 4WD, shared stories and wine make for a late evening.
Next day we are up and at em, we have breakfast, pack up, hop on the bike and say "Where are we going?" After a brief discussion we decide, despite the 'very dangerous' warning that we will tackle the 160 kms of Ruta 40 ripio back to Cafayate, surely it can't be that bad. The first third of the ride is quite easy and we enjoy the scenery, it is quite stunning and there are cute little adobe villages and farmhouses every few kilometres.
As the scenery gets better and better the road does start to deteriorate. It is mostly a hard packed gravel surface but there are numerous undetectable patches of sandy bull dust which are not that great for our poor old bike, it is just so big and heavy and a real handful in the sand. I guess I should have more trust in Skill's riding ability as we arrive back on the sealed road outside Cafayate in one piece, shaken but not stirred. I really struggle to enjoy these riding conditions, and this sometimes detracts from the landscape around me, but the scenery on this road is amazing, whatever the road conditions, it is something really special.

On the road from Cachi to Cafayate - Ruta 40

On the road from Cachi to Cafayate - Ruta 40

On the road from Cachi to Cafayate - Ruta 40
Back in Cafayate we decide to find a better hostel than last time and luck in on the Rusty K Hostel which is the same price and absolutely gorgeous. We take off the panniers and Skill squeezes the bike down a narrow alleyway to park in the garden.

We squeeze the bike down this alleyway
This hostel is lovely and we wish that we had discovered it last stay. We enjoy the afternoon in the garden.

Skill enjoying the garden at the Rusty K Hostal
That evening the owners cook up a big asado and the guests and staff eat together, it is a great evening. A huge dinner including wine costs us 50 pesos, $10.00 AUD each, a complete bargain.

Cooking our dinner

A shared asado
Next day we sadly leave this little hostal (put it on your list of places to stay if you are a biker) and retrace the stunning RN 68 back to Salta. We have a lead on accommodation in Salta and find it easily via Carmen (the Garmin), but are a bit worried as the promised parking looks as if it will be non existent. I should have more faith, as I check in they tell me parking is "No Problemo" and proceed to open up some big doors onto the street. Skill rides the bike in past the reception desk and parks in the courtyard. "No Problemo". We have often questioned our choice of panniers but over the years and our travels we have learnt having detachable panniers makes life much easier for manoeuvring the bike into tricky parking postions, ie hotel and restaurant foyers, over gutters, up ramps and stairs, down alleyways etc etc etc.

Skill parking the bike at Hostal Salta Por Siempre
We spend a couple of days in Salta as the weather takes a turn for the worst, it rains not long after we arrive and continues to do so the following day. We decide that we should get out and about and pay a visit to the Museum of High Altitude Archaeology, a museum which tells the story of the discovery of three mummified child sacrifices found at an altitude of 6700m on Llullailaco Volcano. The museum is a little devisive in Salta, many locals argue that the perfectly preserved remains should be laid to rest. The exhibition was amazing but as I gazed into the little girl's face I felt quite melancholy and thought that perhaps we should not have visited this museum and maybe she should be returned to her home high in the mountains.
We visit Salta's other highlights in the rain

Iglesia San Francisco - Salta

Streets on Plaza 9 de Julio - Salta

Iglesia Catedral - Salta
As we get ready to leave Salta the next morning we run into a recently arrived Englishman, Paul, riding a Tenere which is parked next to the V Strom in the foyer. We have a long chat about travelling, road conditions and bike problems before getting away mid morning.

Skill with Paul, another bike traveller
We have a fairly easy but none the less gorgeous ride over the mountains through lush vegetation on a narrow one lane road that brought us out at the city of San Salvador de Jujuy. Then we start to climb to the tiny town of Purmamarca still with the idea of heading to Bolivia. Purmamarca is a lovely little village, more Bolivian than Argentinian with crafts being sold everywhere. We eventually find a reasonably priced hostel room. After a cook up in our room (of our left overs from Salta) and a bottle of the excellent Estancia Mendoza wine we decide we will head over the Paseo de Jama to San Pedro de Atacama in Chile. We do a bit of research via the internet about fuel availability and get an early night, Chile here we come AGAIN!!!!!

The best decisions are made over food and wine (gourmet spread cooked in our room)
Next day we do get away early as we know it will be a long day. On leaving Purmamarca we just climb, switchback after switchback on ashphalt, it is absolutely sensational.

We start to climb

and climb and climb and climb
We then hit the plateau and stop for a break at Salinas Grande,

Riding accross the Salinas Grande

Lan at the Salinas Grande

Salt figures for sale - Salinas Grande

before climbing some more to reach the the small adobe village of Susques. We refuel on the outskirts of Susques and admire the native wildlife before we do some more climbing and stop for lunch near Salinas Olaraz in the lea of an old abandoned adobe house as the wind has started to pick up.

Refuelling at Susques

The well accessorised natives

Lunch stop in the lea of old adobe ruins

Lunch stop
From this point on we ride in cold driving wind that gets worse and worse, nearly up to Patagonian standard, we are down to 60 km an hour to keep the bike on the right side of the road. We refuel at Paseo de Jama and once again say goodbye to Argentina before entering Chile, however we have to travel 160 kms to San Pedro de Atacama before we reach the Aduana and can be officially stamped into Chile.

Hello Chile........again!!!
We climb yet again, the lunar landscape of the altiplano is stunning, we can see flamingoes from a distance in the salt lakes, there are huge wind blown monoliths dotting the landscape, and snow capped mountains at each turn, then finally we are at the highest point, 4800 metres the highest we three have ever been. The bike is behaving impeccably, I am not, I am frozen, frightened (not really but the wind is bloody awful) and fighting for a breath in the thin air. This road is above 4000 metres for about 200 km and above 4500 metres for nearly 100 km. GET ME DOWN!!!!!

4800 metres – The highest we have ever been
So finally down we go, a few twists and turns and then to quote Ken and Carol Duval a huge straight slippery slide down to the plains of San Pedro de Atacama at 2440 metres. We are instantly warmer but still windblown, clearing Chilean customs is a breeze compared to finding accommodation, everything is outrageously expensive or booked out, thankfully Skip and Rach and other travellers had warned us. We end up at Hostal/Camping Takha Takha which is about the most moderate decent place with parking we could find. We opt for a dorm type private room with shared toilet/bathroom facilities for about $60 AUD.
We decided not to camp as they want an outrageous $36.00 AUD per night! The room is bit of a compromise, as we can still use our camping gear to cook in the camp ground when we want, however on that first evening we head down town (200metres down the street) and enjoy soup and pizza dinner in a courtyard restaurant, the stars are visible and there is a huge brazier burning, a lovely way to finish what has been an exhilarating day.

Camping and basic room accommodation at Takha Takha

San Pedro de Atacama is a hotch potch of dusty streets lined with adobe style buildings, it is certainly the wild west but it has appeal. We enjoy our first day here, after a fabulous breakfast with Marlon (a lovely Brazilian man riding a BMW GS800) we wander the ramshackle dusty streets. We even manage to find oil and a place where Skill and Marlon can do oil changes on the bikes. That evening we enjoy a fabulous dinner in another courtyard style restaurant.
We have another day wandering the streets before finally deciding on which tour to book. Sure we could ride the bike out to all the sites but I would actually like Skill to be able to relax and enjoy the views and walks rather than having to wrestle the bike over the heavily potholed and highly trafficked roads. Our decision is made we use Cosmo Andino Tours and book the high altiplano lakes tour.

Wandering the streets of San Pedro

These ladies are cooking flat breads

The decaying Iglesia San Pedro

The ceiling of Iglesia San Pedro is made from hand hewn Cardon Cactus

The Paseo Artesanal
Later in the day we jump on the bike and head out to Valle de Luna for sunset, where we also meet Marlon.

Valle de Luna

The two bikes at Valle de Luna

Lan in front of the Tres Marias

Sunset over Valle de Luna

Sunset over Valle de Luna

Moon over Valley of the Moon
Next day we are up at 6.30 am and board our mini bus at 7.30 am, first light is about 7.00 am here. Our first stop is to see the flamingos on Laguna de Chaxa, I am pretty excited although we have seen quite a few flamingoes on our travels, it has always been from a distance, these guys are up close and personal.

Flamingo on Lake Chaxa

Another flamingo

And yet another flamingo

more bloody flamingoes....

We have a Chilean picnic brekky and then head off to visit the Altiplano Lakes of Miscanti and Mingues.

Lake Miscanti

Lake Mingues

Wild Vicuna
before travelling another 60 km towards the Argentinian border to the amazing scenery of Salar Agues Caliente where we stop for a substantial lunch. At this point we are only 40 km from Paso Sico and the Argentinian border.

Scenery of Salar Agues Caliente

Scenery of Salar Agues Caliente

Scenery of Salar Agues Caliente
From here we retrace our steps to the small village of Socaire with it's quaint adobe church

Adobe Church at Socaire
and then onto Tocanao where we check out another church and the local street scape.

The Tocanaco Bell Tower

Local Street scape

We get back on the road and return to San Pedro around 6.00 pm. It has been a truly great day. Back at Hostal Takha Takha we share a beer and chat to Marlon. We decide we will stay for one more day before riding back over Paso de Jama, but Marlon will head that way tomorrow.
Our last day in San Pedro is a day of tackling chores, washing, boot maintenance (my 12 year old boots are not going to make the distance) and a few minor motorcycle repairs. We plan to get on the road early and be off the altiplano by early afternoon to hopefully avoid the wind which seems to get worse in the afternoon. Can't wait to ride this road again................................. Well we are up and at em early, on the bike by 8 am, cleared Chilean passport/customs by 9.30am and ride back up the huge slippery dip to the Altiplano.

The gorgeous Altiplano

Riding the Altiplano
Just after we reach the highest point and come down to the first corner there is a "Problemo", a truck has not made the corner and has overturned, recovery is in progress.

Truck Rollover
Nothing we can do so we continue on, it is an absolutely spectacular day and we are loving the ride and the scenery with no wind, did I mention NO wind! We take a dirt track off to the beautifully eroded monoliths.

Monoliths in the lunar landscape

We pass the lakes again and there are flamingoes everywhere, three take off and seem to soar above us for two or three minutes, I have to keep reminding Skill to keep his eyes on the road, not skyward bound. They are just so beautiful and graceful in the air and these guys are really pink. We clear Argentinian immigration, refuel and stop for lunch in the same spot as before, refuel in Susques before recrossing the salt flats and then it is finally time for the downward twists into Purmamarka, this has to be up there with our best rides ever.

The downward twists

We go back to the same hostal as last time, what can we say this is the view from our bedroom.

View from our room.

An early night and next day we get away quite late as we have a wander around and take the obligatory Purmamarka motorcycle photos,

Purmamarka

before enjoying another spectacular ride to the border town of La Quiaca, it is typical of most border towns, a bit wild and woolly. We find the Hostel Copacabana easily, but Skill has to negotiate the gutter, steps and a building site to get the bike into the courtyard. We enjoy a quite night and a bloody dreadful take away pizza before making it an early night. (Well we are in bed before midnight, we have become Argentinian with our time keeping) Tomorrow is another border crossing, this time into Bolivia, we will see what the new day brings.
Posted by John Skillington at April 01, 2013 09:16 PM GMT

Recent Entries
Archives:
Archives:
Monthly
Archives:
Category
NEW! HU 2015 Motorcycle Adventure Travel Calendar is now available! Get your copy now for some terrific travel inspiration!
HUGE, 11.5 x 16.5 inches, beautifully printed in Germany on top quality stock! Photos are the winning images from over 600 entries in the 9th Annual HU Photo Contest!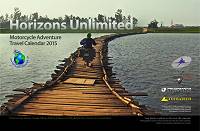 "The calendar is magnificent!"
"I just wanted to say how much I'm loving the new, larger calendar!"
We share the profit with the winning photographers. YOU could be in the HU Calendar too - enter here!
Next HU Events
Canada West: Aug 20-23, 2015
USA California: Sep 24-27, 2015
Aus Queensland: Sep 24-27, 2015
USA North Carolina: Oct 8-11, 2015
Aus Perth: Oct 9-11, 2015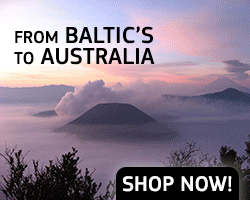 Take 40% off Road Heroes Part 1 until October 31 only!
Road Heroes features tales of adventure, joy and sheer terror by veteran travellers Peter and Kay Forwood (193 countries two-up on a Harley); Dr. Greg Frazier (5 times RTW); Tiffany Coates (RTW solo female); and Rene Cormier (University of Gravel Roads).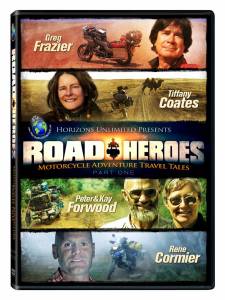 "Inspiring and hilarious!"
"I loved watching this DVD!"
"Lots of amazing stories and even more amazing photographs, it's great fun and very inspirational."
"Wonderful entertainment!"
Check it out at the HU Store! Remember to use Coupon Code 'HEROES' on your order when you checkout.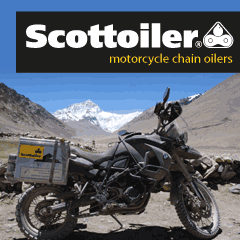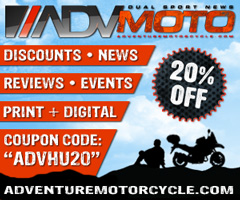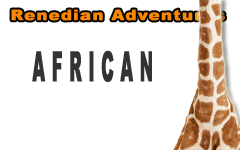 What others say about HU...
"I just wanted to say thanks for doing this and sharing so much with the rest of us." Dave, USA
"Your website is a mecca of valuable information and the DVD series is informative, entertaining, and inspiring! The new look of the website is very impressive, updated and catchy. Thank you so very much!" Jennifer, Canada
"...Great site. Keep up the good work." Murray and Carmen, Australia
"We just finished a 7 month 22,000+ mile scouting trip from Alaska to the bottom of Chile and I can't tell you how many times we referred to your site for help. From how to adjust your valves, to where to stay in the back country of Peru. Horizons Unlimited was a key player in our success. Motorcycle enthusiasts from around the world are in debt to your services." Alaska Riders

10th Annual HU Travellers Photo Contest is on now! This is an opportunity for YOU to show us your best photos and win prizes!
NEW! HU 2014 Adventure Travel T-shirts! are now available in several colors! Be the first kid on your block to have them! New lower prices on synths!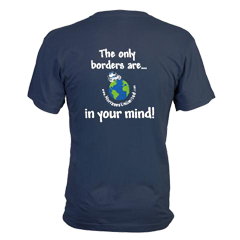 Check out the new Gildan Performance cotton-feel t-shirt - 100% poly, feels like soft cotton!

What turns you on to motorcycle travel?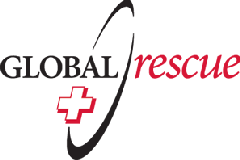 Global Rescue is the premier provider of medical, security and evacuation services worldwide and is the only company that will come to you, wherever you are, and evacuate you to your home hospital of choice. Additionally, Global Rescue places no restrictions on country of citizenship - all nationalities are eligible to sign-up!
New to Horizons Unlimited?
New to motorcycle travelling? New to the HU site? Confused? Too many options? It's really very simple - just 4 easy steps!
Horizons Unlimited was founded in 1997 by Grant and Susan Johnson following their journey around the world on a BMW R80 G/S motorcycle.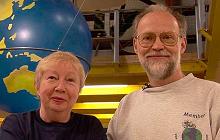 Read more about Grant & Susan's story
Membership - help keep us going!
Horizons Unlimited is not a big multi-national company, just two people who love motorcycle travel and have grown what started as a hobby in 1997 into a full time job (usually 8-10 hours per day and 7 days a week) and a labour of love. To keep it going and a roof over our heads, we run events (22 this year!); we sell inspirational and informative DVDs; we have a few selected advertisers; and we make a small amount from memberships.
You don't have to be a Member to come to an HU meeting, access the website, the HUBB or to receive the e-zine. What you get for your membership contribution is our sincere gratitude, good karma and knowing that you're helping to keep the motorcycle travel dream alive. Contributing Members and Gold Members do get additional features on the HUBB. Here's a list of all the Member benefits on the HUBB.
Books & DVDs

All the best travel books and videos listed and often reviewed on HU's famous Books page. Check it out and get great travel books from all over the world.

MC Air Shipping, (uncrated) USA / Canada / Europe and other areas. Be sure to say "Horizons Unlimited" to get your $25 discount on Shipping!
Insurance - see: For foreigners traveling in US and Canada and for Americans and Canadians traveling in other countries, then mail it to MC Express and get your HU $15 discount!
Story and photos copyright © All Rights Reserved.
Contact the author:
Editors note: We accept no responsibility for any of the above information in any way whatsoever. You are reminded to do your own research. Any commentary is strictly a personal opinion of the person supplying the information and is not to be construed as an endorsement of any kind.
Hosted by: Horizons Unlimited, the motorcycle travellers' website!
You can have your story here too - click for details!