March 03, 2013 GMT
Pucon to San Rafael
Our days in Pucon are quite blissful, our first morning we awake to a beautiful sunny day and although it is very hot, we have a piscina (pool) to cool off in, the views to Volcan Villarica are uninterrupted and quite spectacular, although it is not puffing out any smoke.
We do the usual chores, washing, mending, and research. The most exciting thing about Pucon is the huge amounts of different foods available, we score Burrito mix and Petaks Tikka Masala curry sauce, heaps of fruit and veges, we are in seventh heaven. Actually Pucon is quite a pretty little town and unashamedly touristy.
The following day is even hotter, but good old Volcan Villarica decides it will have a bit of a huff and puff for us, check out Skill's photo. We don't venture far from the camp site and I make use of the pool to cool off.

Volcan Villarica huffing and puffing

Copacabana camp ground at Pucon
Skill does a bit of bike maintenance cleaning the front sprocket area finding that our local Suzuki Dealership at home didn't install the rubber seal on the clutch actuator at the last service, that's strike 2 as they had also forgotten to do up the radiator hose clamp which was the cause of our leak found at John and Annettes in San Rafael some months ago. They go for strike 3 when Skill cannot get the axle nut off the rear wheel to adjust the chain. After much blood, sweat and tears he manages to lever it off.

Skill does some bike maintenance

This should have a rubber seal, its now packed with grease until we get a new one.

Our last day in Pucon we do manage to make it into town, wander the streets and find ourselves a very expensive margarita slush puppie, but it was worth every cent. It looks like summer has finally arrived in Chile, less than a week ago we were freezing in El Bolsen.
We decide we will start to head North but are really a bit over dirt roads so take the paved long cut to Cunco where we luck in on the cutest camp ground yet. We have our own little enclosure, complete with power, covered area, water/sink and fire place, and wifi. Oh I forgot to mention the piscina (pool). We also have company in the form of Mr Ed the inquisitive Donkey, not to mention an array of horses and alpacas. This camp ground is about 5kms from town so Skill does have to ride into town each day to shop which I think he quite enjoys.

Mr Ed says hello

We spend 3 nights in this little haven as it is our kind of camp ground, very quiet, a few Chilean families entertain us with their antics, but we just take care of ourselves, that is we just turn the gas on at the toilet block if we want to have a hot shower. We help ourselves to wood offcuts (from where they are building a new cabana) when we want a fire. We could have easily stayed longer but thought we should move on to Curacautin.

We enjoy a camp fire at night

But which road to take, the long way around and up the freeway on a paved surface or the shorter ripio alternative through the stunning Conguillio National Park.
Well of course you know which road we take, the ripio alternative which was quite pleasant and lulled us into a false sense of security. We can return to the paved road just before we enter the National Park but the ripio road seems fine so we continue on.

Lovely roads at the beginning of Conguillio National Park

For a while all is fine, but as South American roads do, it turns to SH**!!! We are suddenly on a rough 4WD dirt track covered in rolly lava rocks with really steep ascents punctuated by deep gravel and powdery dirt. We get into a few tank slappers but manage to stay upright - just.

Stopped to recover after a rough ascent

Volcan Llaima and Monkey Puzzle trees

At the next few ascents I get off and walk up trying to talk Skill through the best track up. Now what goes up must come down, and the 4WD track down is even worse (a dirt bikers dream, but we are not on a dirt bike). Once again I get off and walk the track down using the intercom to talk Skill down the least difficult path. Skill turns the bike off, puts it in gear and uses the clutch to help brake downhill but its so steep in places that the bike is sliding downhill with both wheels locked. This goes on for the next 45 minutes and when we are nearly down the steepest part I walk off again telling Skill it is starting to look a bit better when I hear a voice in my helmet saying "Lan I'm over". Oh Buggar! I dump my helmet and jacket and bolt back up the hill (I left the camera in my jacket so no photos) where I find a very hot and sweaty Skill uninjured but the bike is on its side facing downhill resting on a pannier, crash bar and handle bars, with the rear wheel uphill and well and truly up in the air.
After taking off one pannier, tank bag and assorted gear, we wrestle with the bike for about 5 minutes trying to get it up but with the back wheel off the ground, every time we lift the bike a little it just slides down the steep hill on its side. We can hardly stand on this hill without sliding ourselves. We do eventually mange to get the bike upright, sheer brute force and adrenalin I think. After a bit of a rest we reload the bike down the hill, let the tyres down some more and finally continue the downhill descent, me on foot and Skill on a slightly scratched but otherwise undamaged bike. Perhaps I should mention it is now 37 degrees. It took us over 2 ˝ hours to do that 40 km section most of that for the maybe 2 km descent...... it really did look fine on the map!!!

We reload the bike

As soon as we finish this bad down hill section the road is fine again, still ripio but otherwise good, so we continue on easily, hot and tired but both fine. We pass the amazing lava fields of Volcan Llaima, which last erupted on New Years Day 2008.

An old lava flow from Volcan Llaima

and continue on to join the sealed road at Curacautin where we refuel, put air in the tyres and ride 30km towards the Argentinian border where we have been recommended the Suizandina Lodge. We find it easily and my theory of a crap day always ending well is vindicated. There are storm clouds building and thunder booming off the mountains so we opt for a room, quickly shower and find 2 icy cold beers and chill back to enjoy our surroundings.

Storm clouds build

The local residents

Panda the Llama
This lodge has a reputation for great food so that night we lash out and have the restaurant dinner............. and boy oh boy was it worth it.

Skill enjoys his salmon dinner
Surprisingly, we have a late night chatting to the mainly German tourists who share our lodgings. The following day we enjoy the best breakfast we have had since our arrival in South America before a day of computer blogs and tyre research (we need new tyres). In the afternoon we do a hike through the forest surrounding the Lodge, it is a lovely walk amongst the Monkey Puzzle trees. Once again there are storms all around and it feels like a hot, and oppressively humid Queensland afternoon.

Walk through the forest

After some research about Heidenau tyres Skill discovers he can get them in Santiago about 700 km north or Osorno about 300 km south, so a decision is made, we will head South again, a much easier option than going North to Santiago, where we have already spent a week and seen the sights, not to mention the crazy capital traffic, parking and expensive accommodation.
We leave late in blistering temperatures and ride South mostly on the freeway, the bike is playing up really badly again and won't idle and keeps dying at every toll-gate we go through, so we stop at a Copec to refuel and Skill pulls the bike to bits in some shade. Once again we are hot and frazzled. A lovely truck family (Dad the driver has his wife and four kids with him) are having a break next to us and seem to be quite concerned about us and come to our aid with iced water and cups, the kindness of strangers.

Skill trying to diagnose our fuel and idling problem
It is Saturday and the motorcycle shop in Osorno will not be open until Monday, so at this point we decide it is too hot and windy and will likely be the same or worse in Osorno. Also we are sick of the freeway so we head towards the mountains to the Lake town of Panguipulli where we hope it will be cooler. We camp on a steep terraced campsite (we slide to the bottom of the tent every night) but it has impossibly gorgeous views.

Our camp at Panguipulli, it has been another hot day

View from the camp, oh it's just another lake and another volcano

We awake to another hot day on Sunday so stay put in our shady campsite. Monday arrives and we pack up in slightly cooler temperatures and ride towards Los Lagos then down the freeway to Osorno. It seems Osorno does not have a lot to offer in the way of sights but we do find the shady but noisy Municipal camp site on the outskirts of town beside the freeway before Skill heads out to find the bike shop which is thankfully quite close by. I decide to stay with our camp as there are people everywhere, the public pool is located within the camp grounds and as the temperatures hits 36 degrees in the afternoon the place is packed. Skill has a successful afternoon securing two new tyres to be fitted in the morning, finding oil for an oil change, 2 empty oil bottles to drain the old oil into, a lavadoria to clean the bike AGAIN, money from the automatic teller and food for dinner. All in all not a bad afternoon work while I sat in the shade at the camp ground!
Back at the camp ground it is a circus, a pine tree has come down in the strong hot winds the previous day, not that far from where we set up camp and what seemed like most of the municipal workers of Osorno arrive in beat up old pick-ups to cut it down and clean up. Work place health and safety in Oz would have had a fit, a fully running chainsaw is tied to a rope and lifted up to a guy who is clinging to a branch up in the tree, he starts to chainsaw the branch but the chainsaw coughs and splutters and dies, the chainsaw is lowered back down to the ground and restarted before once again being hoisted back up to the awaiting guy. Repeat 8 times. By this time there is much consternation and I would suggest swearing in Chilean. Why do chainsaws always seem to have this effect on people?
It takes them all afternoon to get part of the tree down in between 10 minute breaks every 30 minutes!!!!! Well it is hot I suppose. Then the workforce take the chopped up branches away one small branch at a time, this takes another couple of hours until it is nearly dark. This process then continues long and loudly the following morning. Ah the Serenity?
Next day I stay put at the camp ground again while Skill goes out to get the tyres fitted, a lesson in patience as it takes them 3 hours to put on two new tyres, we now know why they charge $40 Aus to fit the tyres (Skill reckons Rob from Tyres for Bikes could have changed at least 6 sets of tyres by himself in that time). Meanwhile Skill removes the non-standard oiled foam air filter and gets them to clean and re-oil it in the workshop (1 hour, no exaggeration, but thankfully only charged $10 Aus). It was absolutely caked with dust and dirt, sand and bugs.
Skill eventually makes it back to the camp ground with new tyres, a clean air filter and he has also managed to buy new spark plugs and oil filter. An afternoon of bike maintenance ensues at the camp ground, an oil change and new spark plugs fitted, before we manage a sumptuous sweet and sour chicken dinner cooked on the gas stove.

How many times has this bike been apart in the last few weeks?

Since we have come this far south again, we decide to keep going south. We leave Osorno at a reasonable hour and head to Puerto Octay on the shores of Lake Llanquihue, it is only a 50 km ride so we continue on, trying to find a non existent camp ground, it is still early so we decide we will do a loop ride around the second largest lake in Chile and back to Puerto Octay. I am a little nervous about this as there is a reasonable section of ripio according to the map, and we have to ride through a National Park beneath Vulcan Osorno, does this sound familiar???? I shouldn't have worried as the map was wrong and it is now all paved and a beautiful ride with great scenery.

Loop road around Lake Llanquihue under Vulcan Osorno

Vulcan Osorno again
So we arrived back at Puerto Octay unscathed. There we found the camp ground easily but were gobsmacked at the price, US$30.00 for a fairly ordinary camp ground in a very small village, but in the end decided to stay as we got chatting to another English traveller. Helen and her husband have been on the road for two years but are currently stranded waiting for a new clutch for their Land Rover. As is the way with travellers we chatted late into the evening.
We didn't leave until after lunch and had decided we would head back to the Cunco camp ground as it was in the right direction, they had wifi and we needed to get the new reciprocity tax thing sorted out before we crossed back into Argentina. However the bike is really playing up again and is running on only one cylinder half the time, once again it is a roadside stop to try and diagnose the problem. Things improve a little but we still conk out at every toll stop. On arrival back at San Pablo campground we nearly decided not to stay as they have a summer camp of about 200 children staying, not the serene quiet place we had left a week ago, but stay we did and it wasn't too bad except for the loud bad music and the line-up for the limited showers.
Just as we had put the tent up a cyclist rode in, it was Olivier who we had met at the camp ground in El Calafate before Christmas, another late night but this time around the campfire, it was great to catch up on his travels. He also told us the reason for the border closure between Bariloche and Osorno, (in our last blog we could not cross here so had to go to Junin de Los Andes border where we had to queue for 3 hours) apparently the Aduana Building on the Chilean side had burnt down on New Year's Eve, this also explained the reason for the insane traffic, fuel queuing and the long wait at the border. Junin de Los Andes was the next closest border crossing to the Bariloche one, one of the main borders between Chile and Argentina. Suddenly it all made sense

Saying good bye to Olivier
In the end we stayed for three nights as we were joined by a lovely Swiss couple and their two young children, they were delightful company. Skill also pulls the bike to bits to try and find the answer to our engine problems. He removes the airbox looking for a possible air leak, but none was found, then pulls off the fuel line and the external fuel filter to check it. He doesn't find anything conclusive but when the external fuel filter is shaken and back-flushed the fuel was very dirty, suggesting we got dirty fuel somewhere. Skill also suspects there could have also been a small kink in the fuel hose, so modifies things a bit to hopefully prevent this happening. When the bike is back together it runs perfectly but is idling at much higher revs than before, a small adjustment fixes this. Skill now suspects that a fuel restriction was the problem, if due to a kinked fuel line this should now be fixed, if due to a blocked filter we will have to buy a replacement. The non-standard fuel filter arrangement on our bike uses a car-type fuel injection filter fitted external to the fuel tank, so any fuel filter of similar size and specification will work and thus should be easy to find a replacement (this being the main reason for this modification). Good news is the bike seems to running fine again for the moment, even with the old fuel filter.
Meanwhile back at our camp with the never-ending doov doov music, 200 children and the declining cleanliness of the toilet block at the camp ground, we decide to move onward and upward. It was also at this time we got the news of the deepening flood crisis in Queensland, our home state. After making contact with our family and friends to make sure everyone was safe we felt more comfortable to move on.
We did manage to sort out the reciprocity tax thing and to pay it online but not before an hour of trying to deal with a website that was more off line than on and cost us $100 US each. Very frustrating!!!! However we still have no access to a printer to print the receipt.
We head North towards Suizandana again as it is close to the Argentinian border where we will cross back to Las Lajos and then on to John and Annette's finca (farm) at San Rafael. However forewarned is forearmed and this time we don't take the shorter ripio road through Conguillo National Park from Cunco to Curacautin. (I wonder why) We take a lovely paved ride out to the freeway which we use for about 100 km before retracing the road back to Curacautin, which is also a nice ride. This time we arrive at Suizandana unscathed and check in to camp for three nights.
It is a beautiful place to camp, so quiet and serene compared to the school camp. Once again we make use of the restaurant for a couple of nights, and this time we really do chill back, I read three books from their library, Skill catches up on emails and keeps an eye on the developing flood crisis, we do absolutely nothing, not even the washing. On our second night of camping a huge storm develops in the surrounding mountains and it looks like we will get wet but it skirts around us and we enjoy a beer while watching the black clouds build over the volcanoes. This is definitely volcano country, we are camped within sight of three of them, the biggest being Volcan Llaima, the one we rode past on the first journey here.

Storms and beers
After three nights we leave our cool haven and get the lovely staff at Suizandina to print out our reciprocity tax receipts before we leave, but really don't expect we will be asked for them. We take the ripio road up over the pass as we are not too keen to use the 4 ˝ km tunnel, the longest in South America. Apparently it was built as a railway tunnel then they decided to bitumen it and use it for cars/trucks/buses. It is one way with no ventilation, no exits and no safety!!!! The ride over the ripio pass was steep but generally in good condition and the views were fantastic, so glad we took the slower but more scenic road rather than the tunnel.

Ride over the pass

We rejoin the sealed road on the other side of pass and reach the Chilean border crossing which is nice and quick before riding on for a further 22km over the pass to reach the Argentinian border crossing, and again a great ride with perfect bitumen sweeping corners and spectacular views. All proceeds smoothly at Argentina border, until they start asking many questions (in Spanish) and are gesticulating wildly. Finally we realise they are telling us we need to pay the reciprocity tax. We are very surprised that they asked for it, but they are even more taken aback when we produce our printed receipts. "Bueno Bueno" is the reply. So fellow Australian, US and Canadian travellers, seems like we will be asked for our reciprocity tax receipts at Argentinian land borders.
It is a beautiful ride to Las Lajos where we camp at the Municipal camp ground, again, as we stayed here on our way south last October. We spend a lovely evening with a Chilean motorcyclist, a professor teaching history/philosophy (we think) in Concepcion, before watching a huge storm pass to the North of us. Thunder and Lightning everywhere.

The Professor and his 125
Next day we decide to stay put and in the evening are joined by a great German couple travelling in a wicked camper, yet another late night of chatting.
We get away the following day and ride up the paved road to Neuquen, it is a fairly nice ride but as is the way with bigger cities we get lost and end up going over the toll bridge which is free for motorcyclists but we get an earful from the 10 year old attendant (well she looked about ten) as we should be in the outside lane which is specifically for motorcyclists, apparently we should magically know this, as usual there is no sign telling us "Moto" or a picture of a motorcycle. Fortunately we can squeeze around the toll gate and we are free to find our way to the non signed road to 25 de Mayo, also the main highway North. It is at this point that the bike decides to play up again. After another 250 kms the wind picks up and the clouds start to close in so we opt for an expensive motel room in Catriel. A quick visit to the supermercado and it is beer and pekada (tapas) in our room.
Next day is a reasonably long ride through the Pampa to San Rafael, before we leave Catriel Skill buys a fuel filter, this project takes him an hour and a half, I wait with the bike and wait and wait, I fear he has been kidnapped by the fuel filter bandits. We leave quite late and ride the 200 kms to Santa Isabella, the bike is playing up again so Skill puts in the new fuel filter in and hopes for the best. It is another 260kms to San Rafael and we arrive at John and Annette's finca around 6.00pm.
It is lovely to be back among friends, we end our day chatting with John, as Annette is babysitting a friend's house. We will see what tomorrow brings.
Posted by John Skillington at March 03, 2013 03:01 PM GMT

Recent Entries
Archives:
Archives:
Monthly
Archives:
Category
Announcements!
Next HU Events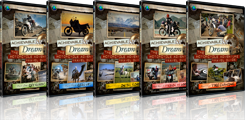 Cooped up indoors in crap weather? Binge watch over 20 hours of inspiring, informative and entertaining stories and tips from 150 travellers! Check it out at the HU Store! Remember to order them both and use Coupon Code 'BoxSet+' on your order when you checkout.
What others say about HU...
"I just wanted to say thanks for doing this and sharing so much with the rest of us." Dave, USA
"Your website is a mecca of valuable information and the DVD series is informative, entertaining, and inspiring! The new look of the website is very impressive, updated and catchy. Thank you so very much!" Jennifer, Canada
"...Great site. Keep up the good work." Murray and Carmen, Australia
"We just finished a 7 month 22,000+ mile scouting trip from Alaska to the bottom of Chile and I can't tell you how many times we referred to your site for help. From how to adjust your valves, to where to stay in the back country of Peru. Horizons Unlimited was a key player in our success. Motorcycle enthusiasts from around the world are in debt to your services." Alaska Riders

10th Annual HU Travellers Photo Contest is on now! This is an opportunity for YOU to show us your best photos and win prizes!
NEW! HU 2014 Adventure Travel T-shirts! are now available in several colors! Be the first kid on your block to have them! New lower prices on synths!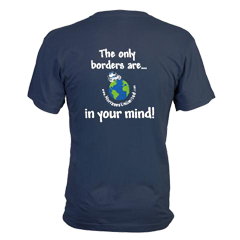 Check out the new Gildan Performance cotton-feel t-shirt - 100% poly, feels like soft cotton!

What turns you on to motorcycle travel?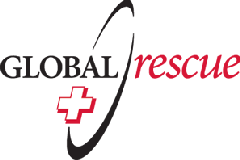 Global Rescue is the premier provider of medical, security and evacuation services worldwide and is the only company that will come to you, wherever you are, and evacuate you to your home hospital of choice. Additionally, Global Rescue places no restrictions on country of citizenship - all nationalities are eligible to sign-up!
New to Horizons Unlimited?
New to motorcycle travelling? New to the HU site? Confused? Too many options? It's really very simple - just 4 easy steps!
Horizons Unlimited was founded in 1997 by Grant and Susan Johnson following their journey around the world on a BMW R80 G/S motorcycle.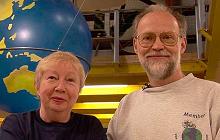 Read more about Grant & Susan's story
Membership - help keep us going!
Horizons Unlimited is not a big multi-national company, just two people who love motorcycle travel and have grown what started as a hobby in 1997 into a full time job (usually 8-10 hours per day and 7 days a week) and a labour of love. To keep it going and a roof over our heads, we run events (22 this year!); we sell inspirational and informative DVDs; we have a few selected advertisers; and we make a small amount from memberships.
You don't have to be a Member to come to an HU meeting, access the website, the HUBB or to receive the e-zine. What you get for your membership contribution is our sincere gratitude, good karma and knowing that you're helping to keep the motorcycle travel dream alive. Contributing Members and Gold Members do get additional features on the HUBB. Here's a list of all the Member benefits on the HUBB.
Books & DVDs

All the best travel books and videos listed and often reviewed on HU's famous Books page. Check it out and get great travel books from all over the world.

MC Air Shipping, (uncrated) USA / Canada / Europe and other areas. Be sure to say "Horizons Unlimited" to get your $25 discount on Shipping!
Insurance - see: For foreigners traveling in US and Canada and for Americans and Canadians traveling in other countries, then mail it to MC Express and get your HU $15 discount!
Story and photos copyright © All Rights Reserved.
Contact the author:
Editors note: We accept no responsibility for any of the above information in any way whatsoever. You are reminded to do your own research. Any commentary is strictly a personal opinion of the person supplying the information and is not to be construed as an endorsement of any kind.
Hosted by: Horizons Unlimited, the motorcycle travellers' website!
You can have your story here too - click for details!