December 25, 2012 GMT
North to El Chalten
We sadly leave Ushuaia after nearly a month. Long sad goodbyes to Nancy and Mariano then it is onto the bike. It is cold and rainy, we then have to queue for fuel at the YPF, as the two previous service stations are out of fuel.
It is a pretty miserable ride up over the Garibaldi Pass where the rain turns to sleet and the temperature is down to 0 degrees. Once we are over the other side conditions improve and we have our picnic lunch in the sun beside yet another pretty river, As we approach Rio Grande it gets windier and windier After doing a bit of internet research before leaving Ushuaia we have an accommodation option at Ruta 40 B&B run by Willy a fellow biker and traveller. We find it easily, what a great place to stay, Willy is a lovely guy who gives us run of the house including the kitchen. Later in evening Dutch cyclist Zoost arrived beaten by the wind on a lesser known Pass into Chile, he has decided to take the more travelled route, Ruta 40.
Next day we wake late to roaring winds, we decide not to make a move and stay put. A lazy day ensues chatting with Willy, the wind dies down a little in the afternoon and Zoost decides he will ride towards San Sebastian. We go for a walk and hunt and gather for a curry dinner. That night Willy joins us for dinner as Indian curry is something new for him! Willy has a myriad of friends and family coming and going, it is lovely to be in a family home again.
We leave Rio Grande in windy conditions, but we fair OK and I am not fazed by it at all, maybe I am just getting used to it. Skill and I both laugh saying we have been leaning to the right so much on the way South, it is now difficult to lean to the left, I am sure my seat has a permanent dip in it on the left side. We cross the border out of Argentina.

Border crossing at San Sebastian, Argentina

"It's beginning to look a lot like Christmas", the lads are starting to put up a wire Christmas tree at the San Sebastian Border

Next we cross back into Chile and stop in the middle of nowhere at this cute restaurant for lunch.

Restaurant just after the border crossing into Chile

And we continue on, the wind has eased off and it is a lovely, but cold ride across Tierra del Fuego to Porvenir. We find the Hotel Espana, and just get the gear off the bike before it starts to rain. Later in the afternoon we go for a walk, they are obviously a bit twitchy about Tsunamis and with good reason I should imagine. I hope our hotel is above the evacuation zone?????

Tsunami Signs in Porvenir

Tsunami Signs in Porvenir
The town is tiny and there is nothing much open only the Panaderia, so we buy empanadas (pastries with savory fillings) and eat in our room.
Next day we can't catch the ferry until 2.00pm so we check out the highlights of Porvenir which takes less than 30 minutes but it was nice to be out and about.

They have an affinity with concrete animals in Porvenir, not sure what a Polar Bear is doing in the Southern Hemisphere, perhaps it is an oversized Labrador????

It's a giant swan

Which way does the prevailing wind come from?

It's beginning to look like Christmas here too!

Down to the ferry stop where there is a myriad of international travellers, a young Belgian couple hitchhiking there way around South America for 7 months, a French couple who now live in Ecuador and are scouting for travel destinations for their motorcycle touring business, Peter (Peter on the Road) a German driving a huge Mercedes Benz motorhome truck, and finally an English couple riding GS1200s, Iona and Stewart.

Waiting for the Ferry

We eventually load up and the bikes are tied down before we adjourn inside with Iona and Stewart, the three hour crossing goes very quickly as we chat with the guys. We arrive in Punta Arenas, leave the ferry, find some extremely expensive accommodation and go out for drinks and dinner with the Brits, as we are back in Chile we have a great seafood dinner and some Calafate Pisco sours. As it is only 2 days before Skills birthday it was a nice treat and we really enjoyed their company.
We leave Punta Arenas as it is not the most inspiring place in the world and ride in calm conditions towards Puerto Natales, it starts to look rainy so we stop to put on our wet weather gear. Just as we are about to head off again a travellers bike pulls in, it is Nick who we met at John and Annettes. An hour long chat ensues, we get info on Ruta 40 condition and fuel availability and Nick gets info on accommodation, border crossings and ferry times. This is the great part about meeting up with travellers, there is always information to be shared. Just as we are about to head off, Peter in the large motorhome pulls in to check we are all OK, we are so he heads off leaving the bikers to continue our road-side discussions.

A roadside chat with Nick

We eventually get going and continue on, the wind starts to pick up and the last half hour into Puerto Natales is challenging but not even close to the conditions we endured on the way South. We have a recommendation for accommodation in this little town and find it easily, while it is pretty basic and even a little dodgy, it is clean, cheap and cheerful and run by a local family with 2 small children, and it has secure parking for the bike.

Arriving in Puerto Natales

There is the usual myriad of cyclists, backpackers, travellers and locals, we stay overnight and next day walk the town checking out this cute little place and organising our goods and chattels and food for our visit to Torres del Paine National Park. Overnight the conditions take a turn for the worse, it is cold, rainy and blowy so we decide that as it is Skill's 50th Birthday we will stay put, it is a lazy day spent indoors with pisco sours and cashew nuts instead of a birthday cake. We also watch Josefina, Grandma, Lily and Martina decorate the Xmas tree. Later in the evening we visit a groovy little cervezeria with Tex Mex for dinner. All in all a pretty cruisy day.

Skill's 50th Birthday

Decorating the Christamas Tree at Martina's House Hostel

Next day it is a fairly clear day so we make a break for Torres del Paine National Park armed with our food, drinks and camping gear. We refuel at the Copec and off we go, we get about 30 km out of town when we stop to check the chain oiler, it is at this point the bike decides it is not going to idle and is coughing and spluttering, after stopping and starting it a few times and revving it for a few minutes the problem abates and we continue on, very weird. The ride is glorious, even though there is a bit of loose rolly ripio. There are guanaco babies everywhere, towering mountains and aqua coloured lakes, the sun is out, there is no wind, it is simply stunning.

The ride into Torres del Paine
We enter the National Park and camp at Las Torres beneath the snow capped jagged towers, it is glorious scenery and the sun is out, we just chill back and have a few glasses of red wine before chicken and pasta for dinner. We go for an hours twilight walk before hitting the hay at 11.00pm.

Skill having chicken soup for lunch

Next day we have a slow start before organising our back packs and heading out on the Mirador las Torres Walk.

Skill crossing the first bridge

Lan looking a tad weary
The walk takes you 9.5 km and over 800 m ascent, I bailed out at the first refugio at about a height of .450 metres, because I am basically lazy and unfit, and besides I had caught Skill's head cold and was not feeling that great. It was a beautiful sunny day, in fact it was bloody hot, I even got sunburnt. Skill decided to continue on enjoying a day on his own, and I sauntered back down to the camp. He tells me the view from the Mirador (view point) was spectacular, but concedes he had underestimated the climb and over estimated his fitness - so he was now totally shattered! An early dinner and that night we both slept pretty well.

Another bridge to cross

The scenery changes to beautiful forests

The infamous Towers in full glory

Torres del Paine panorama
The following day we packed up and decided that we would do the dirt (ripio) loop back to Puerto Natales as we could not get fuel in Cerro Castillo so didn't have enough fuel to cross the border at Cancha Carrera back into Chile.

Leaving Torres Campground (Bridge)

Stopped to admire the peaks

What a magic place.
My videoing skills from the back of the bike still need refining especially on the corregations but check out this link. It was a stunning ride.
http://www.youtube.com/watch?v=NrxAgpXrMFk&feature=youtu.be

Not a bad place for a lunch stop?????

We arrive in Puerto Natales, refuel and head back to Martinas House Hostel, park the bike and get a room. All too easy. A quick bit of washing before we head out for the best Pizza Dinner since our arrival in South America.
A new day dawns and we say goodbye to Josefina and family again, then it is off towards El Calafate and another border crossing out of Chile at Dorotea and back into Argentina at Rio Turbio.

Yet another border crossing, back into Argentina

Once again the wind Gods are being kind and it is a beautiful calm day. We arrive at Tapi Aike where we need to get fuel if we want to take the ripio shortcut to El Calafate. They are closed for siesta at 12.00 and will reopen at 1.30pm, it is now 1.00pm. We have our lunch and a cup of tea, and just as we are finishing up the generator fires up and a guy appears to man the pumps.

The fuel stop at Tapi Aike

The 60 km ripio shortcut is slow as it's covered in deep rolly river gravel but gets a little better after the first 30km, and we arive back on the sealed road a little shaken up but all good. Onwards to El Calafate where we try a few accommodation options before deciding on the campground at Camp Ovejero. There are 4 other German travellers all on bikes and an assortment of cyclists of all different nationalities.

Drinks at the Campground Ovejero (sorry it's blurry could have been our state of mind)

That night the wind picks up and howls all night continually buffeting the tent and blowing dirt everywhere, when we get out of bed in the morning there is grit everywhere and the willow and poplar tree branches are carpeting the whole camp ground. I am still not feeling very well (aka Princess, apparently) and Skill valiantly decides we should get some accommodation, the wind dies down a bit and we get the bike packed up before heading to the tourist office to get a list of hostels with parking. We end up at a really unusual place, a motel room attached to a hostel that gives us access to the kitchen, it is clean, well the room but not the kitchen, and reasonably priced. We have a shower, make breakfast at 11.30 and I go to bed for the rest of the day. That seemed to do the trick, as when we go out later in the evening I am feeling great. A chicken and pasta dinner at a cheap and cheerful place, a few beers and all is right in the world.
We awake to sunshine so decide we will head out to the glacier, we gather our picnic lunch together and take a beautiful 80km ride to the Moreno Glacier.
Once again the pictures do the talking.

Lan at Perito Moreno Glacier

Perito Moreno Glacier

Panorama of Perito Moreno Glacier
I had just started the video when this happened, check out the link.
http://www.youtube.com/watch?v=h7wrQjQDjUQ&feature=youtu.be
We leave at about 4.30pm and artfully dodge lots of rain storms to arrive back El Calafate without getting wet. We park the bike and unload our gear just before it dumps down, it is very wet outdoors, so wet in fact that the gutters are all banked up and water is up over the footpaths. Glad we aren't camping tonight.
Well as the weather predicted we have strong winds and sunshine in the morning. I talk Skill into staying for another day, we get ourselves organised, do some washing and get some emails done.

Washing time

Just after lunch as I am sitting in a protected spot out of the wind reading my book, the temperature suddenly drops and next thing it is snowing/sleeting but the sun is also out. I don't know how this is possible but it is. By this time it is really, really cold, time for indoors and a cup of tea. We head out for a few drinks and an early dinner (9.30pm) before calling it a day.
We awake to a lovely day and head towards El Chalten in beautiful still conditions despite what the road sign warning says. It makes so much difference to the ride when there is no wind.

Must get windy here!!!!

We stop to take some photos of the Glacier Viedma (I think) and Lake Viedma and run into Georg, a Swiss traveller who has been on the road for 10 months. After a chat it is another 100 km to our lunch stop.

Georg, a Swiss traveller

On the way to El Chalten

Lunch stop outside El Chalten

On arriving in El Chalten we find the fuel station, tourist office and finally a hostel. They arrange parking for us tucked away in an alcove, as chance would have it we are next to another Aussie (NSW) registered V-Strom 650. The owners are away on a trek so we are told. I guess we will meet them on their return.
The hostel is a huge place with the biggest rooms I have ever seen, more like a suite, in the end we decide we are going to stay here till Christmas, as it is a gorgeous place if a little on the expensive side. However from here we tackle Ruta 40 to Perito Moreno (nearly all gravel road - ie; ripio) where there are mostly uninspiring towns, limited fuel stops and we are not sure what will close for the Christmas period. So all in all much nicer to stay here.
Now let me fill you in on this little place where we spent the Festive Season, it is right on the Argentinian/Chilean border and it was only built in 1985 as an outpost against Chilean encroachment. It has now become a major tourist destination for trekkers. It is nestled at the confluence of 2 rivers and from our hotel you can see (when not shrouded in mist rain or snow) the absolutely beautiful granite spires of Mount FitzRoy (3045m) and Cerro Torre (3102m). Although it is highly touristed it is a bit like going to a very small Australian country town as far as faciilities go, yesterday we had to go to 3 little shops to get enough food to make dinner, there is one ATM, a dodgy fuel station and there is no mobile phone reception, but it does have satellite internet. The town is powered by diesel generators. Having said that there are about 80 different accommodation places, lots of little restaurants and even a micro brewery.
Our first day in El Chalten is spent walking the streets of this thriving metropolis. We hunt and gather at the 3 little shops, tomatoes and red wine at one, chicken at another and biscuits at the last one, it is like a treasure hunt. You can't plan what you will have for dinner, it is a matter of making do and improvising. That night it rains quite heavily but surprisingly there is no wind.

Welcome to El Chalten

More awesome towers
The following day we go for a walk around the streets and along the river. Just after lunch James and Michelle (the hiking V Strom owners from NSW) make an appearance and we spend the afternoon chatting and comparing notes. They are a lovely young couple who have been in South America for 7 months and will continue up through Central America. In the afternoon we take both bikes out and ride to the end of the road where the ferry boat takes hikers across the Lake to Chile where they continue on to O'Higgins. It is an absolutely beautiful afternoon, a stunning ride on the one of the most scenicly beautiful roads we have encountered. We arrive back at the hostel after 8.00pm, cook dinner and look out at the most spectacular scenery. Still not a breath of wind.

Michelle & James on the ride out to Lago del Desierto

Lago del Desierto (I think)

The ride out to Lago del Desierto

The ride out to Lago del Desierto
It is Christmas Eve, what to do, well those of you who know Skill well, will laugh when I say we went on a trek, admittedly it wasn't up to his usual scrub bashing, rock hopping, exhausting 7 hour adventures. We took a leisurely 3 hour hike up to a couple of lookouts quite near town, once again it was a breathtakingly beautiful day, but not all of those illusive peaks would show themselves.

Panorama of El Chalten

Rain sweeping in over the mountains towards Lago Viedma - panorama
We wander back into town, have pizza and a Quilmes beer for lunch at 4.00pm, which now seems to be our standard lunchtime, revisit the three mini mercados and luck in as the trucks have been today and the shops are full. I think we will be able to manage a roast chicken and vege Christmas lunch. On our way back to the hostel we pass the microbrewery and decide we should check it out. And still no wind. The locals are gob smacked, there has been no wind for 5 days in a row, apparently this never happens. It has been the most stunning day, in fact we got sunburnt on our hike. At midnight crackers and a few fireworks go off along the main street, welcoming Christmas Day. Feliz Navidad.
Christmas day dawns with glorious sunshine and still no wind!!!! We exchange our ever practical gifts. A new belt for me (my old one broke) and new wool socks and thin gloves for Skill. He now has to ditch a pair of old socks.

New socks and gloves for SKill

A sunburnt Lan with her new belt
After a late breakfast we sit outside in the sun and have a few beer (it is Xmas day after all) and then venture inside to cook our roast chicken dinner, all in all it was pretty good. After our late lunch we go for a walk, the mountains are stunning and have fully revealed themselves. Skill decides he will do a longer hike up to Mirrador del Fitz Roy and I go for a walk out to the National Park Office where I sit and ogle the fully visible Mount Fitzroy and Cerro Torre. The word awesome is often overused but ever so accurately describes these two peaks. I then venture for a hike along the river. Skill's hike is about 10 km and a 400 m ascent, so quite a bit easier than the Torres del Paine track, but still quite strenuous for Christmas afternoon.

Mount Fitzroy and Cerro Torre finally reveal their peaks

Mount Fitzroy and Cerro Torre finally reveal their peaks
Our Christmas Day concludes at midnight with a few wines and the knowledge that it has been a very special unforgettable Christmas. The weather has been incredibly kind to us.
Tomorrow we tackle one of the more difficult parts of the infamous Ruta 40 heading North.
Posted by John Skillington at December 25, 2012 05:40 PM GMT

Recent Entries
Archives:
Archives:
Monthly
Archives:
Category
NEW! HU 2015 Motorcycle Adventure Travel Calendar is now available! Get your copy now for some terrific travel inspiration!
HUGE, 11.5 x 16.5 inches, beautifully printed in Germany on top quality stock! Photos are the winning images from over 600 entries in the 9th Annual HU Photo Contest!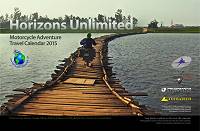 "The calendar is magnificent!"
"I just wanted to say how much I'm loving the new, larger calendar!"
We share the profit with the winning photographers. YOU could be in the HU Calendar too - enter here!
Next HU Events
NEW!

USA Virginia: Apr 9-12, 2015
Take 40% off Road Heroes Part 1 until October 31 only!
Road Heroes features tales of adventure, joy and sheer terror by veteran travellers Peter and Kay Forwood (193 countries two-up on a Harley); Dr. Greg Frazier (5 times RTW); Tiffany Coates (RTW solo female); and Rene Cormier (University of Gravel Roads).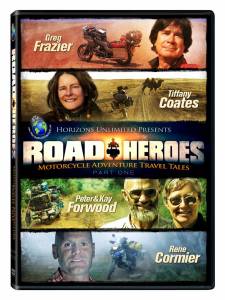 "Inspiring and hilarious!"
"I loved watching this DVD!"
"Lots of amazing stories and even more amazing photographs, it's great fun and very inspirational."
"Wonderful entertainment!"
Check it out at the HU Store! Remember to use Coupon Code 'HEROES' on your order when you checkout.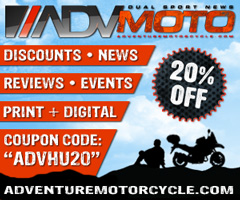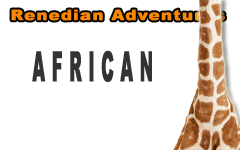 What others say about HU...
"I just wanted to say thanks for doing this and sharing so much with the rest of us." Dave, USA
"Your website is a mecca of valuable information and the DVD series is informative, entertaining, and inspiring! The new look of the website is very impressive, updated and catchy. Thank you so very much!" Jennifer, Canada
"...Great site. Keep up the good work." Murray and Carmen, Australia
"We just finished a 7 month 22,000+ mile scouting trip from Alaska to the bottom of Chile and I can't tell you how many times we referred to your site for help. From how to adjust your valves, to where to stay in the back country of Peru. Horizons Unlimited was a key player in our success. Motorcycle enthusiasts from around the world are in debt to your services." Alaska Riders

10th Annual HU Travellers Photo Contest is on now! This is an opportunity for YOU to show us your best photos and win prizes!
NEW! HU 2014 Adventure Travel T-shirts! are now available in several colors! Be the first kid on your block to have them! New lower prices on synths!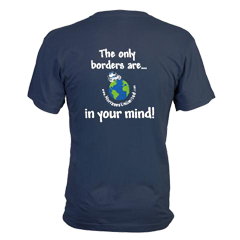 Check out the new Gildan Performance cotton-feel t-shirt - 100% poly, feels like soft cotton!

What turns you on to motorcycle travel?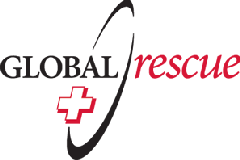 Global Rescue is the premier provider of medical, security and evacuation services worldwide and is the only company that will come to you, wherever you are, and evacuate you to your home hospital of choice. Additionally, Global Rescue places no restrictions on country of citizenship - all nationalities are eligible to sign-up!
New to Horizons Unlimited?
New to motorcycle travelling? New to the HU site? Confused? Too many options? It's really very simple - just 4 easy steps!
Horizons Unlimited was founded in 1997 by Grant and Susan Johnson following their journey around the world on a BMW R80 G/S motorcycle.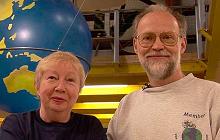 Read more about Grant & Susan's story
Membership - help keep us going!
Horizons Unlimited is not a big multi-national company, just two people who love motorcycle travel and have grown what started as a hobby in 1997 into a full time job (usually 8-10 hours per day and 7 days a week) and a labour of love. To keep it going and a roof over our heads, we run events (22 this year!); we sell inspirational and informative DVDs; we have a few selected advertisers; and we make a small amount from memberships.
You don't have to be a Member to come to an HU meeting, access the website, the HUBB or to receive the e-zine. What you get for your membership contribution is our sincere gratitude, good karma and knowing that you're helping to keep the motorcycle travel dream alive. Contributing Members and Gold Members do get additional features on the HUBB. Here's a list of all the Member benefits on the HUBB.
Books & DVDs

All the best travel books and videos listed and often reviewed on HU's famous Books page. Check it out and get great travel books from all over the world.

MC Air Shipping, (uncrated) USA / Canada / Europe and other areas. Be sure to say "Horizons Unlimited" to get your $25 discount on Shipping!
Insurance - see: For foreigners traveling in US and Canada and for Americans and Canadians traveling in other countries, then mail it to MC Express and get your HU $15 discount!
Story and photos copyright © All Rights Reserved.
Contact the author:
Editors note: We accept no responsibility for any of the above information in any way whatsoever. You are reminded to do your own research. Any commentary is strictly a personal opinion of the person supplying the information and is not to be construed as an endorsement of any kind.
Hosted by: Horizons Unlimited, the motorcycle travellers' website!
You can have your story here too - click for details!