November 14, 2012 GMT
Argentina - San Martin to Fitz Roy
We arrive in the delightful San Martin de Los Andes after a glorious days ride. After a couple of half hearted attempts at trying to find a camping ground we give up and head to the Tourist Information Office where we find a delightful young lady who speaks perfect English and directs us to the Puma Youth Hostel.
Another brilliant find, a gorgeous double room in the attic, kitchen facilities, wifi, hot water and fabulous staff. Some days are just easy and this was one of them. We throw our panniers in the room, shower and off to wander the streets.
San Martin is a touristy town but with good reason, it is nestled between two mountains on the shores of Lago (Lake) Lacar, it is a pretty little town where well heeled Argentinians live and play. The streets are lined with boutique chocolate shops and more restaurants and parillas then we could count, but despite this it was a delightful place to wander around. We discovered the local Cerveceria El Regional which had fantastic local beers but was a bit posh for us, so we could only afford one beer. However look at the size of the beers, lucky we ordered the small one.

Beers at Cerveria El Regional

A bit posh for us
We spent a lot of time wandering the streets, followed the local stream one day and watched the locals catching trout in the middle of town!

Stream running through San Martin de Los Andes

And of course a walk down to the Lake every day.
We were only going to stay 2 nights but on the third morning we awake to rain on the roof and driving winds, "Go downstairs and book us in for another night will you hon" I say. I don't receive too grumpy a response so I take that as a positive and roll back over to sleep. The day turns into a wild and woolly one, with the wind gusting up to 75 km an hour according to news reports. There are trees down everywhere, but the locals don't seem at all perturbed, we figure it must be a common occurrence.
We spend the day indoors and wander to the supermarket to see if we can cook something with vegetables in it for dinner. The Argentine cuisine, while heaven for meat and pasta lovers, is a bit short on the vegetable front. We achieve success with 5 different vegetables and a steak stir fry thing for dinner. We also go to the National Parks office and hunt down a map for the Seven Lakes drive to Bariloche.
I guess I should also mention the long search for a new camping pillow. Yes forgot to say, another bit of kit failure, at the last camp ground I awoke with my head on a hard, flat, squashed bit of cold plastic. My new Kathmandu pillow was a dud. Again we weren't holding out much hope, but San Martin de los Andes came up trumps with a self inflating pillow for $AUD20. I was a very happy girl.
The following day is glorious sunshine, so we say a fond farewell to the staff at the hostel, carefully pack my new pillow and we are off. It is an absolutely amazing days ride in the morning, huge snowcapped jagged peaks in every direction you look and stunning blue lakes at just about every turn. Everyone we met told us this road was probably one of the best in Argentina for scenery and we were not disappointed. There was about 40 km of gravel, but a very easy ride. However it did turn quite cold in the afternoon.

Seven Lakes Road

Lan and Skill Happy snap
The wind is blowing hard again for the last part of the ride into Bariloche but we still feel exalted from the days ride, however we are a little disappointed with the town itself. While you cannot fault the location and scenery, the town does not inspire greatness. After a visit to the Tourist Information Office we set off to 3 different hostels, 2 who didn't answer the doorbell, and one who didn't have parking. What to do next, too cold and windy to camp. We are just about to ride off when Skill notices another hostel down the street. I go and check it out, yes they have a double room available and if we can squeeze through a couple of posts, we can park under the front porch/verandah near the front door. After taking the panniers off we do manage to just fit in, but great secure parking none the less. We can certainly recommend Perikos Hostel to others. Skill goes out to find supplies, and comes back very chuffed with himself, a litre of gin for $AUD5.00 but the Tonic water cost $AUD3.00. He advised me that I had to make the gins very strong as we couldn't afford any more tonic!

Skill pleased with his gin purchase
That night we meet our first English speaking travellers since leaving Valparaiso, and spend a late verbose night with Ben and Miriam from California (studying in Valparaiso) and Patricia from Sweden. It is also at this point that I decide I need the balsamic vinegar (for our salad) out of the top box and go to retrieve it but the pacsafe is locked to the topbox, I get the key to undo the lock, hmm no go, maybe I have the wrong key, after half an hour of trying every key, WD40, force and swearing we give up, its worked perfectly every day so far but now the lock is stuffed. We will figure it out tomorrow.
In the morning we ask the hostel owner where we can go to find a workshop to cut our lock off, he tells us "One moment", walks to his ute (pick-up for non Aussies) where he fossicks around and produces a pair of bolt-cutters, less than a minute later our problem is solved. Makes us wonder how safe it really was, guess it keeps the honest people honest.
We spend two nights in Bariloche, the following day we go for a wander around and take some photos which tell the story of why this city is one of Argentina's most touristed but it lacks the charm of St Martin de Los Andes.

The circus is in town – what a view

Surfs up on Lake Nahuel Huapi

Tree huggers in Bariloche. Must get cold here, even the trees need jumpers

We leave Bariloche and take the circuit ride out to Villa Llao Llao, it is a beautiful morning and the scenery is breathtaking.

Circuit ride to/from Villa Llao Llao

Circuit ride to/from Villa Llao Llao
On returning to the outskirts of Bariloche we follow Carmen (Carmen the Garmin - GPS) towards El Bolsen, it takes us on a back road which degenerates into a rough gravelled road/track before rejoining Ruta 40 and we are on our way south again. It is such a nice day that we potter along calling in at a few different sites and this amazing campground where we have morning tea. We are still outside "The Season", which means that although the private campgrounds are open they are all in the midst of setting up, so there seems to be an awful amount of mowing, whippersnipping and maintenance going on at each campground we visit, but no one camping yet.

Beautiful campground for morning tea

Beautiful campground for morning tea
We continue on to El Bolsen and call it quits after a very relaxing 180km day on the bike. We check out a few options for camping before we find quite by accident the delightful "La Chacra" Camping in an old apple orchard, again we are the only occupants besides 3 cats. We get ourselves organised setting up our camp, then I look up and once again there are huge peaks (Mount Piltriquitron) towering above us, the setting is unbelievable. We really enjoy this campground but by 8.00 pm it is 2 degrees, time for bed and down sleeping bags. We have a comfortable nights sleep (especially me on my new pillow) and next morning sit in the sun with our cups of tea. A nice life. Our only problem with camping is that it takes us so long to get going in the morning. Sunrise is currently after 7am, so by the time we get up around 8am, have breakfast and pack up we are lucky to get away before 11.00am.

La Chacra campground - El Bolsen

La Chacra campground - El Bolsen

La Chacra campground - El Bolsen

Wildlife La Chacra Campground – El Bolsen
Onward and upward, to where we are not sure, we just follow Ruta 40 to Esquel, (it is on this stretch of road that we come across two large travellers bikes heading in the other direction, the first we have seen, but they do not stop) before deciding to head to the small village of Trevelin near the Chilean border. Stopping at the Tourist Information Centre we get directions to the HI Hostel, despite having directions and a map we cannot locate it, and ride around in circles, only to eventually find it in the first place we looked. Vandals had recently ripped down their signs and it looked nothing like a hostel. Check out the fantastic location.

HI Hostel Trevelin
We can't get into our room yet so head down the street to check out the local markets, buy a piece of delicious apple pie and walk the streets of this small town, we hunt and gather and return to the hostel to cook dinner, the dining room/kitchen looks straight out to the mountains. It is divine.

Next day it is hard to leave this absolutely beautiful view, (I don't believe I have ever stayed in a hostel with a setting like this) but we make the move as Trevelin is expecting rain for the next 3 days and we really need to start heading South.

Views to the Mountain from HI Hostel Trevelin
We are both feeling a bit squeamish in the morning (Skill a bit more then me) but not too bad so we head off, stopping for fuel twice and trying to decide whether we should call it quits in Jose de San Marin at midday as by now we both have stomach pains and a headache. However it seems a bit silly to stop after only 190km and besides rooms are rarely available before 2 pm, more usually late afternoon. Stupidly we decide to press on, "We will stop in the next town" we say. The only problem is that there is NO next town or anything else for 260km, despite what the maps and road signs say.
Our route takes us east away from the Andes and out onto the open plains, the wind is now gale force and relentless, howling, driving and cold, then to top things off it starts to rain. There is no point in stopping for lunch as it will just be blown out of your hands, besides neither of us feels like eating. When the wind hits from side-on, it comes up underneath our helmets and it's an effort to keep your head from being continually ripped sideways or forced backwards. I am sure if they weren't strapped on, they would be stripped from our heads. Skill jokes that we should not get much wear on the center of the tyres today as we rode most of the way on a 30% lean - seriously! Its really hard work and 100% concentration for Skill wrestling a heavily loaded bike riding 2-up in such windy conditions.
We arrive in Sarmiento looking pretty bloody awful after 6 hours riding and fighting the wind, Skill hasn't eaten anything all day and and says he is feeling shattered. Then begins the search for accommodation, 5 hotels (most completo, all overpriced and smelling like cheap toilet freshener), one awful camping ground (we wouldn't have camped anyway because of the wind, I think we must have been delirious what were we thinking????) and 2 cabanas later we settle on La Rosales Cabanas after I frighten a poor Argentinian family with my slightly demented and desperate Spanish. By this point we are just totally exhausted and both have headaches, a slight fever and stomach cramps. We drag the gear off the bike, shower and go to bed at 6 pm (2 hours before dark) with no dinner. We sleep for 14 hours straight. By morning we seem to have overcome whatever it was ailing us. We are still very tired and a bit washed out and there is still the constant roar of wind through the trees outside, so we pay for another night in the not-so-touristed backwater of Sarmiento and plan for a lazy day inside to recharge and recover.
I get out the tourist guide brochure that we got from the Tourist Office and proceed to read it with interest, we could visit the Petrified Forest Natural Monument or Valley of the Giants Paleontology Park which apparently is "displaying 11 copy's of dinosaurs made to real dimensions and sculpture with scientific strictness".
I am afraid the 11 giant plastic dinosaurs will just have to wait, we rest for the most of the day before taking a walk into town to the supermarket. By the time we walk back, the wind has picked up another notch, dust is flying and we just about fly home with it.
We also do a bit of research via maps, guidebooks, and the GPS (we have no wifi internet). We decide as we have time we are just going to do short days of about 200kms for the run south, particularly if the wind is bad, but need to make sure that the towns listed on the map actually exist and that accommodation is available. I guess we are lucky to have that luxury. It would certainly be difficult to put in 500km days in this driving gusty wind.
As the night wears on the wind picks up even more and by 10.00pm the roof is rattling and the shrubs outside are hitting the windows, we eventually go to sleep wondering what the morning will bring.
As we awake the wind has not abated and I fear that we will be stuck in the land of "The Giant Plastic Dinosaurs" forever. We decide to make a break for it anyway, and as we pack up and have breakfast things seem to calm down a little and then suddenly the wind is almost gone. We get on the bike, visit the bakery, fail to get money out at two bank cajeros automaticos (ATMs - this is a bit of a problem in Argentina and there are always long queues to use the automatic tellers) so we ride towards Comodoro Rivadavia. The ride takes us through open plains and ridges and that wind is back again. This is also oil country and everywhere you look there are giant mechanical birds pecking at the earth (oil rigs) 100s of them. (Forgot to take pictures, it's difficult in these windy conditions)
We bypass Comodoro Rivadavia and head towards Caleta Olivia (our intended destination for the day) arriving at lunch time we consume our bakery goods by the Atlantic Ocean and then head to look for a hotel. A somewhat fruitless effort, they are either overpriced or completo (full). After another 2 failed attempts with the ATMs we do finally have success and get out $200 AUD. That is the limit for a foreign cash withdrawal in Argentina so it seems we are looking for ATMs every few days.
We now make the decision to press on, hoping that Fitzroy 76 kms down the road, does have the accommodation it says it does. Otherwise it will be another 300km to the next nearest town. Hmmmm, as The Clash once said... should we stay or should we go now???? We go and bless Fit Roy, it not only has a lovely little motel with parking for the bike, it also has quite a stylish truckies parilla restaurant next door, where we can eat and drink. Mind you, along with 2 service stations, that is about all there is to this 2 street town. What more could you expect in the middle of the Patagonian plains?

Bike parked at motel at Fitz Roy
What more could we hope for? A day without wind would be good. The following day is just horrendous, a huge dust storm blows up in the early hours of the morning and when we walk outside we can't stand up straight, sand and dirt is being blown underneath the door and the gusts are rocking the stationary bike, threatening to blow it over (Get the picture, cause we couldn't take one????) We get dressed and decide to make the move to Puerta Deseado out on the coast, its off our intended route south but its only 100km or so and there should be a little more to do than in Fitz Roy. As we try to get the gear on the bike, there is sand being blown into our eyes, the bike is unstable, stuff is being blown out of the top box as we try to pack it and you can't see more that 100 metres down the highway. Even the trucks are pulling over and line the main street while the drivers wait it out in the Parillia.
I chicken out and say to Skill "I am not sure I can do this" and he says "Yes I think its just too much today" so we unpack the bike and once again we are stuck in a small hotel room in a town in the middle of the Patagonian Plains, at least we find bread, ham and tomato at the only shop in town, and there is a Restaurant less than 60 paces away. To stop the dust getting into our room, we roll up the bath towels and jam them under the door and the hand towels in the window frame which seems to work. We don't bother with the bike cover, it would just be ripped to shreds or pull the bike off its side stand. Since we have cable TV (we hope the satellite dish stays attached), we decide to spend the day watching movies and CNN/BBC where we find out that Barak Obama is back in as US President, so I guess it could be worse.
That evening we walk the 60 steps to the Don Esteban Parilla and have a humungous pizza, the air temperature has dropped significantly and when we look out the window it is raining quite heavily (what next?), we leave the restaurant, walk the 60 steps back to the motel, by the time we arrive back in the room I am shivering, so on with the thermals and into bed. What will tomorrow bring????

Dust Storm at Fitz Roy. The haze is dust and sand, not too bad at this point, we didn't go outside when it was at its worst.
Cheers and Beers,
John & Lan
PS The bike gremlins seem to have abated and the engine has been running perfectly now for the last two weeks. No engine missing after cleaning the plugs and using some injector cleaner (not sure which one fixed it). The battery charging problem remains so we now have one headlight permanently disconnected which seems to rectify the problem and keep the battery fully charged, so far. Skill suspects the voltage regulator is dodgy, but we are not likely to find one of these for the Vstrom easily.
Posted by John Skillington at November 14, 2012 04:20 PM GMT

Recent Entries
Archives:
Archives:
Monthly
Archives:
Category
NEW! HU 2015 Motorcycle Adventure Travel Calendar is now available! Get your copy now for some terrific travel inspiration!
HUGE, 11.5 x 16.5 inches, beautifully printed in Germany on top quality stock! Photos are the winning images from over 600 entries in the 9th Annual HU Photo Contest!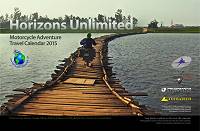 "The calendar is magnificent!"
"I just wanted to say how much I'm loving the new, larger calendar!"
We share the profit with the winning photographers. YOU could be in the HU Calendar too - enter here!
Next HU Events
NEW!

USA Virginia: Apr 9-12, 2015
Take 40% off Road Heroes Part 1 until October 31 only!
Road Heroes features tales of adventure, joy and sheer terror by veteran travellers Peter and Kay Forwood (193 countries two-up on a Harley); Dr. Greg Frazier (5 times RTW); Tiffany Coates (RTW solo female); and Rene Cormier (University of Gravel Roads).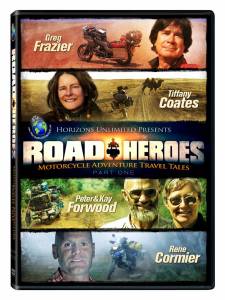 "Inspiring and hilarious!"
"I loved watching this DVD!"
"Lots of amazing stories and even more amazing photographs, it's great fun and very inspirational."
"Wonderful entertainment!"
Check it out at the HU Store! Remember to use Coupon Code 'HEROES' on your order when you checkout.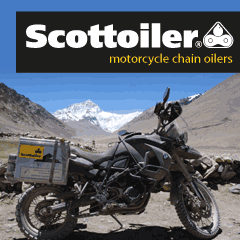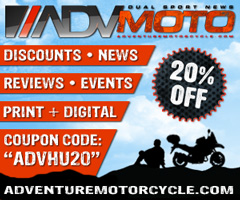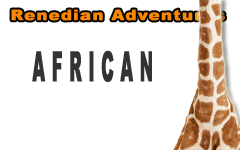 What others say about HU...
"I just wanted to say thanks for doing this and sharing so much with the rest of us." Dave, USA
"Your website is a mecca of valuable information and the DVD series is informative, entertaining, and inspiring! The new look of the website is very impressive, updated and catchy. Thank you so very much!" Jennifer, Canada
"...Great site. Keep up the good work." Murray and Carmen, Australia
"We just finished a 7 month 22,000+ mile scouting trip from Alaska to the bottom of Chile and I can't tell you how many times we referred to your site for help. From how to adjust your valves, to where to stay in the back country of Peru. Horizons Unlimited was a key player in our success. Motorcycle enthusiasts from around the world are in debt to your services." Alaska Riders

10th Annual HU Travellers Photo Contest is on now! This is an opportunity for YOU to show us your best photos and win prizes!
NEW! HU 2014 Adventure Travel T-shirts! are now available in several colors! Be the first kid on your block to have them! New lower prices on synths!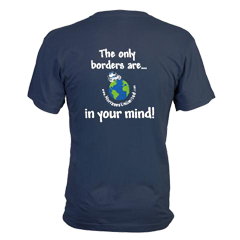 Check out the new Gildan Performance cotton-feel t-shirt - 100% poly, feels like soft cotton!

What turns you on to motorcycle travel?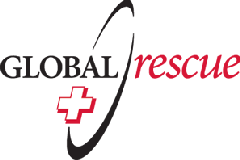 Global Rescue is the premier provider of medical, security and evacuation services worldwide and is the only company that will come to you, wherever you are, and evacuate you to your home hospital of choice. Additionally, Global Rescue places no restrictions on country of citizenship - all nationalities are eligible to sign-up!
New to Horizons Unlimited?
New to motorcycle travelling? New to the HU site? Confused? Too many options? It's really very simple - just 4 easy steps!
Horizons Unlimited was founded in 1997 by Grant and Susan Johnson following their journey around the world on a BMW R80 G/S motorcycle.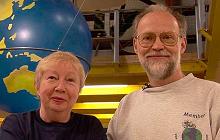 Read more about Grant & Susan's story
Membership - help keep us going!
Horizons Unlimited is not a big multi-national company, just two people who love motorcycle travel and have grown what started as a hobby in 1997 into a full time job (usually 8-10 hours per day and 7 days a week) and a labour of love. To keep it going and a roof over our heads, we run events (22 this year!); we sell inspirational and informative DVDs; we have a few selected advertisers; and we make a small amount from memberships.
You don't have to be a Member to come to an HU meeting, access the website, the HUBB or to receive the e-zine. What you get for your membership contribution is our sincere gratitude, good karma and knowing that you're helping to keep the motorcycle travel dream alive. Contributing Members and Gold Members do get additional features on the HUBB. Here's a list of all the Member benefits on the HUBB.
Books & DVDs

All the best travel books and videos listed and often reviewed on HU's famous Books page. Check it out and get great travel books from all over the world.

MC Air Shipping, (uncrated) USA / Canada / Europe and other areas. Be sure to say "Horizons Unlimited" to get your $25 discount on Shipping!
Insurance - see: For foreigners traveling in US and Canada and for Americans and Canadians traveling in other countries, then mail it to MC Express and get your HU $15 discount!
Story and photos copyright © All Rights Reserved.
Contact the author:
Editors note: We accept no responsibility for any of the above information in any way whatsoever. You are reminded to do your own research. Any commentary is strictly a personal opinion of the person supplying the information and is not to be construed as an endorsement of any kind.
Hosted by: Horizons Unlimited, the motorcycle travellers' website!
You can have your story here too - click for details!