December 31, 2006 GMT
India - part 1
Disaster has struck, the letters z, x, a, s and e have died on the collapsible keyboard so you will have to be patient and forgive typos and worse than usual spelling in this blog as it will be a tedious process until we get a new keyboard, anyway here goes.

Well it's another day and another border crossing, Pakistani Customs are right outside the hotel so we venture over, they totally ignore us as they are far too busy going through a German Hippie/Yogi's luggage, scanning his walnut barrel as a potential bomb threat. Eventually they get us to bring our panniers in and start to go through them but quickly get bored with that and don't even check the tank bag or the tubes on the bike. Giving us the all clear they wave us on. We go to the next checkpoint and sign documents and then get to the last point where they tell us we don't have an immigration stamp to leave.
Ok turn around and back to the immigration office beside the customs office (where they failed to mention we needed another stamp). Finally we leave Pakistan and enter India. After 3 checkpoints, toing and froing, handing over passports and the carnet countless times we are welcomed to India. All that took 3 and a half hours.
While we are waiting to cross we watch the antics of the ant like workers on both sides of the border, the Pakistani team dressed in orange continuously take bags of potatoes to the gate where they meet the blue Indian team bringing dried fruit to the gate, they then swap commodities and snake their way back to their respective trucks who take the produce away. But never once do they set even a toe over that magical border line.

Onward to Amritsar where our first job is to find a bank and moneychanger. The bank part is easy but trying to find a moneychanger is proving difficult.

As fate would have it living beside the bank is an Indian motorcycle enthusiast called Karan who takes Skill to the money changer on his bike then kindly guides us to to Mrs Bhanderi's Guest House.


This place is quite expensive by Indian standards but after the hotels in Pakistan it is pure heaven, a spotless room, reliable hot water, crisp clean ironed sheets, a wonderful all day menu and internet access.

We sit in the sun in the beautiful gardens, watching the playful squirrels and drink a beer or two, or maybe it was three. What a nice easy entry to India.

That night we have roast pork, roast potato and veggies with gravy. The simple things in life bring such pleasure.

The following day we take a bicycle rickshaw with a young man to the Golden Temple. This is the Sikhs' most holy shrine and to visit everyone must remove their shoes and cover their heads, even men.


After entering the complex which also serves as a military memorial we make our way to the bridge which leads to the Golden Temple across Amrit Sarvor (Pool of Nectar). Apparently the dome of the Temple is gilded with 750 kg of gold and inside the temple there are four priests who keep up a continual chant from the Sikh Holy book. Despite the huge crowds it is restful and we spend a few hours just wandering.


After leaving the Temple, we head to the Jallianwalla Bagh Park which commemorates the 2000 Indians who were killed or maimed here when the British authorities indiscriminately opened fire on 20 000 unarmed peaceful demonstrators. Historically it is believed this incident spear headed by Ghandi's program of Civil Disobedience led to "everyday" Indians increasing demands on the British to leave India.

Next day is a long ride to McLeod Ganj where we get our first taste of the Indian's penchant for suicidal driving practices not dissimilar to Pakistan except with more horn blowing, verbal abuse and hand gesturing.

McLeod Ganj is the Dalai Lama's home. In 1949 the Chinese forcibly took over Tibet and in 1959 the 14th Dalai Lama, Tenzin Gyatso, fearing for his life and those of his people trekked over the Himalayas to McLeod Ganj where he was granted political asylum and also later, the exiled Tibetan Government. This area has become the headquarters for the 40 years plus struggle to free Tibet. China refuses any attempts at negotiation and freeing Tibet seems a long way off, if an impossible outcome for these people.

Before coming here many other travellers told us "Oh McLeod Ganj is so touristy" to which I responded "Good", because after Pakistan we were quite happy to be tourists in a touristy place.

However on arrival I was ready to revise my opinion as the road we needed to take to our chosen hotel was blocked by several buses who needed to reverse (unknown to us at the time, reversing lights on buses are non existent) And then there was an officious little whistle blowing Indian yelling at us saying we needed to reverse our 400 plus kg motorcycle up the hill. I get off and push the bike and we park where he indicates. Within a minute he is back blowing his whistle and yelling at us again to move.

On our whole journey I have not "lost it" once but after five hours on the bike and no lunch, today was going to be it. After grabbing his whistle and telling this man that I was going to surgically implant his whistle where the sun don't shine and then getting ready to batter him around the head with a Lonely Planet he backed off.

We were then able to make our way to the wonderful Pema Thang Guesthouse where the Tibetan owners and their staff welcomed us wholeheartedly, although everyone had to sit on the bike and have their photos taken before we could unpack.
We spent a lovely evening with two other Aussie travellers and enjoyed a truly memorable Tibetan meal and glorious sunset.
Next day we walked the streets chatting to the Tibetan monks and nuns, and then took the road out to Bhagsu village before heading back to the Guesthouse for afternoon cake and coffee, what a luxury.


The next four days continued in the same pattern. Of course we visited the Tsuglagkhang Complex, which consists of the Dalai Lama's home, the Namgyal Gompa and the Tsuglagkhang, the central chapel and the most important Bhudist monument outside Tibet. The building itself is a very modest one, but a peaceful, calm and holy atmosphere prevails. We are even lucky enough to catch a glimpse of his Holiness.


We visit the Tibet Museum which tells the heart wrenching story of the Chinese invasion of Tibet and the Tibetans ongoing struggle for freedom. You cannot help but be moved, angry, and affronted.

We then let our hair down and go souvenir shopping, not something we often do. We make a pretty good job of it and have to post the parcel home, but not before this man has sewn us a calico postage bag.


We really get a giggle out of the peace loving Tibetans at the guesthouse, every living creature is sacred with the notable exception of the MONKEY. Every day there is the open sport of trying to shoot he monkeys with a pellet gun. They are obviously a real menace and we were warned to keep our doors locked because of them.

We ended up staying for two extra days (than planned) because the weather really closes in, rain, hail, thunder, lightning and snow on the mountains. The snow on the mountains brings the "GOOD" monkeys down. They are beautiful with long white coats and lovely gentle faces. These guys definitely do not receive the pellet gun treatment.
While we enjoyed McLeod Ganj it is not without its social problems, violence is quite common, as are the drug related issues. While we were there, there was quite a serious attack on a Western tourist.

Finally the weather clears and we make a move, heading towards Mandi, knowing it will be a slow ride through the mountains. On leaving McLeod Ganj I cannot help but get a giggle out of these two billboards posted near each other. Somehow one doesn't seem to complement the other.
A thing of beauty is a joy forever.
Army man be a winner for life.
As the journey continues we come across huge crowds of people gathered around a cliff edge, yes, the latest tourist attraction is the bus that went over the edge that morning killing 18 people. You think that perhaps this would make them a little more cautious but not more than 3 kms away we meet two buses trying to overtake a truck at the same time on a blind corner. They just do not get it.

Despite the traffic it is a pretty days ride through the valleys. We make it to Mandi where hotel options are not looking good. We try for a resort on the outskirts of town but they are full and they then direct us to the "Balleydue Hotel" 5 km further on.

Finally we arrive, not, at the Balleydue but the Valley View Hotel (obviously our ears are not yet tuned to the Indian accent) which is in the middle of nowhere but lovely. Just as we are unpacking another Aussie/New Zealand couple turn up. Shane and Sheryl are are lovely couple living here in India while Shane is on a 6 month work contract. Shane also has a passion for motorcycles. And as the conversation continues we learn he worked with a friend of ours in Oz. What do they say about six degrees of separation. We have a great night and thank them for their company, it was so nice to have someone to share a few drinks with.

Next day we are late getting away and it takes us 5 hours to do 120 km, the traffic is horrible but we make it to Chandigrah unscathed but finding our way in proved difficult. We stop at every roundabout and ask the traffic police for directions to Sector 22, after taking a very indirect route we find the area we need and a hotel.

Next day we visit the Nek Chandra Rock Garden This garden was created by a Roads Inspector who used all the recycled items he found to create a fantasy world. Apparently the story goes that no one knew it was there for many years and when it was discovered people were amazed. The authorities then let him keep on creating. He is now a world famous artist.


We leave Chandigrah just before lunch and head towards Pehowa in the Heryana Province famous for its Basmati Rice. We then stay at a state run hotel run by Basil Fawlty, complete with our own Indian reincarnation of Manuel. Not a particularly great hotel but we survived and did not get food poisoning which was a plus. Next day a short ride to Hisar where we stay in another state run Hotel, fortunately up a peg or two from the previous evening. I sit in the sun by the lake, (apparently a local tourist attraction) in reality it was a muddy old dam full of rubbish but the Indians were still out in their pedalos having a great old time. Skill could not resist the lure of cable TV and sat in the room watching motor sport.
The traffic in India is indescribable. There are no rules and no visible police to enforce the rules.
On the roads a hierarchy of might exists, the lowest being pedestrians, followed by bicycles, motorcycles, cars, trucks and finally the buses. The only thing that trumps a bus is a cow. The buses stop for nothing and push everything in their wake off the roads.
Besides the woeful drivers you have to take into consideration the tractors, carts, donkeys, camels, horses and goats. I find the traffic and riding conditions very confronting and must say it is not that enjoyable for me but Skill takes it all in his stride.


Next day is a long ride to Bikaner, this journey along unsigned and unused roads takes us through spectacular desert scenery, and we can also finally do 100 km an hour. Skill lets out a sigh of contentment as he puts the bike into sixth gear for the first time in India We pass untouristed villages of tea drinking men, brightly sari clad women, grubby waif like children playing cricket, camels and their herders, goats, donkeys and desert ruins.
Arriving in Bikaner we find Bhairon Villas our chosen hotel easily with no one hassling us. This glorious hotel is in an old Haveli. The Havelis were built by the rich and are entered from the streets through huge gates or archways, to central courtyards. Inside there are usually restful gardens and the rooms are richly decorated as is definitely the case with our room.
We open the double wooden windows and look out at the Junagarah Fort. What a find???
We spend the next day touring the fort gaping at the scenery. Our guide is a man who is obviously very jaded. We get a racing commentary that we cannot understand and exasperated sighs if, God forbid, we should want to stop and look at something with more than a cursory glance. Despite this we had fun and found the place really interesting. Check out the don't sniff sign
In the afternoon Harsh (our host and owner of the family Haveli) comes to find us and tells us he is going to his cousins wedding party where the groom will perform part of a historic symbolic procession where he rides off to fetch his bride. There will also be traditional dancers and music. Would we like to watch?
This sounds wonderful. They fetch us at 5.30pm and we figure we will stand at the gate and watch. I start to get nervous when Harsh appears dressed in an elegant traditional suit
and we hop in the car with two other travellers Oliver and Monica. (Monica is a beautiful and exuberant Spanish girl who is appropriately dressed in a sari) I get even more nervous when we arrive at Lalgarh Palace and there are the most extravagantly dressed women in fabulous saris and ornate jewelry. The men are splendidly dressed in brightly coloured turbans, jodhpurs and other traditional clothes, most are sporting swords. And finally there are highly decorated animals everywhere including an elephant.
I say to Harsh, "Harsh exactly who is it that is getting married?". "My cousin the Maharaja of Bikaner. The King."
Oh my God and we are dressed in our daggy travel clothes, I hadn't even done my hair. I cannot begin to describe the splendor of the occasion, or how uncomfortable we felt in our ordinary clothes. But no one seemed to care, in fact we are invited to stay.
We watch the parade where the Maharaja rides his elephant off to fetch his bride to be. In reality he does a loop around the Palace and returns by car.
We join in the festivities, the firebreathers, the traditionally costumed dancers performing acts of contortionism, dancing on broken glass and picking up money with their eyes.
Then it is time to eat a huge feast and then men partake at the bar. It was truly amazing and will be one of the highlights of our time in India.
On the way back to the Villas Harsh tells us we cannot leave as the wedding reception will be in two nights time and we must attend, which we do, this time we are dressed a little more appropriately. Thankfully as Skill pulls celebratory status and is interviewed by TV India on his impressions of the Royal Wedding. Apparently they are impressed with his enthusiasm and tell him he will be beamed around Indian televisions in a Royal Wedding piece the following evening. The reception is huge, over thousand people and takes on a more fair like atmosphere, outdoors with marquees, buffet meals, and fireworks.
Harsh and his family are the most generous and hospitable people, they find out it is Skill's birthday and spoil him with drinks and dinner, then Harsh insists we stay on one more night so we can have a belated celebration. Monica makes mojhitas, Harsh provides music, food and drinks, and we enjoy a great evening.
I should make some mention of the wonderful Monica, a terrific girl who spends eight months of every year travelling. She works for four months in Manorca every year selling the traditional tribal jewelry she buys on her travels. She was such a great girl and so much fun. One of our days in Bikaner we went off to the beauty parlour and treated ourselves to a three hour facial, neck and back massage along with a hair treatment and head massage all for the Princely sum of 300 Rupees, less than $10.00 AUD. It was heavenly.
We are really sad to say Goodbye to these wonderful people, it feels like we are leaving family. But leave we do and enjoy a four hour ride through the desert to Jaisalmer, a town on the Pakistan India border, our hotel takes some finding but after three quarters of an hour we find it tucked away in a back street. We settle ourselves down in the most touristed hotel we have stayed in so far. It is here we meet Jana and Paul a Czech Canadian couple with an insatiable quest for life. In their late sixties they climb mountains, scuba dive, paraglide and travel the world. They are great company, as are Chris and Alida from British Colombia.
Our time in Jaisalmer was spent exploring the fort, once we could get past the Camel Safari touts, persistent shopkeepers, musicians and children chanting, "one pen, rupee, rupee". The people and sights are truly amazing.
We wander aimlessly taking it all in and spend a good deal of time discussing the all victorious Australian Cricket team. Ricky Ponting is God and according to reliable sources at Hari Om's Silver Studio, should he wish to become an Indian citizen he would easily be elected Prime Minister. Unless Sachin Tendulkar was the opposition candidate, even then it would be a close contest.
Jaisalmer's fort is a living fort where the towns people still live and trade. Unfortunately due to the tourist explosion and over population the fort is in serious peril. The aging plumbing system cannot cope with the increased quantities of water and it is affecting the rubble foundations.
Every evening is spent on the hotel rooftop, having a few beers (which are billed as special cold coffee to get around Rajasthan's licensing laws) watching the sun slowly sink on the desert and the lights on the fort begin to glow. Life is good.

After all the travelling we have done I thought we were prepared for most contingencies but nothing can prepare you for India, it is the most frustrating, infuriating place on earth and just when you are sure you really hate it and want to leave something bizarre and magical will happen and it will suck you back in. As they say anything and everything is possible in India. We will continue to enjoy.
Cheers and Beers
Quote for the Week: Travel is more than the seeing of sights; It is a change that goes on deep and permanent in the ideas of living.

Posted by John Skillington at December 31, 2006 08:42 AM GMT

Recent Entries
Archives:
Archives:
Monthly
Archives:
Category
Now that summer is here, get On the Road! Take 30% off the Achievable Dream - On the Road! 2-DVD set until August 31 only.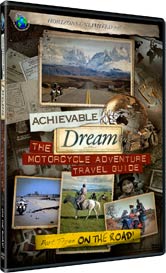 Our veteran travellers share their tips (and great stories) for staying healthy, happy and secure on your motorcycle adventure.
"A fantastic, informative and inspirational DVD."
"It's brilliant - thank you very much!"
Check it out at the HU Store! Remember to use Coupon Code 'ONTHEROAD' on your order when you checkout.
Next HU Events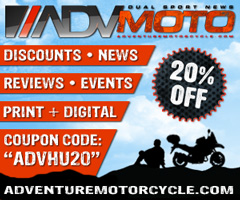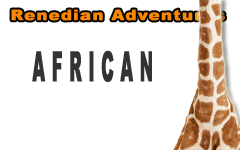 What others say about HU...
"I just wanted to say thanks for doing this and sharing so much with the rest of us." Dave, USA
"Your website is a mecca of valuable information and the DVD series is informative, entertaining, and inspiring! The new look of the website is very impressive, updated and catchy. Thank you so very much!" Jennifer, Canada
"...Great site. Keep up the good work." Murray and Carmen, Australia
"We just finished a 7 month 22,000+ mile scouting trip from Alaska to the bottom of Chile and I can't tell you how many times we referred to your site for help. From how to adjust your valves, to where to stay in the back country of Peru. Horizons Unlimited was a key player in our success. Motorcycle enthusiasts from around the world are in debt to your services." Alaska Riders

10th Annual HU Travellers Photo Contest is on now! This is an opportunity for YOU to show us your best photos and win prizes!
NEW! HU 2014 Adventure Travel T-shirts! are now available in several colors! Be the first kid on your block to have them! New lower prices on synths!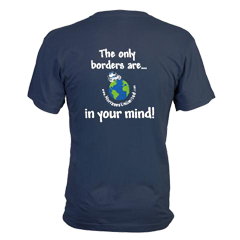 Check out the new Gildan Performance cotton-feel t-shirt - 100% poly, feels like soft cotton!

What turns you on to motorcycle travel?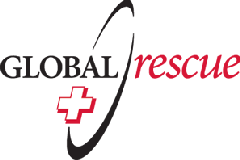 Global Rescue is the premier provider of medical, security and evacuation services worldwide and is the only company that will come to you, wherever you are, and evacuate you to your home hospital of choice. Additionally, Global Rescue places no restrictions on country of citizenship - all nationalities are eligible to sign-up!
New to Horizons Unlimited?
New to motorcycle travelling? New to the HU site? Confused? Too many options? It's really very simple - just 4 easy steps!
Horizons Unlimited was founded in 1997 by Grant and Susan Johnson following their journey around the world on a BMW R80 G/S motorcycle.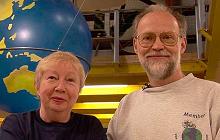 Read more about Grant & Susan's story
Membership - help keep us going!
Horizons Unlimited is not a big multi-national company, just two people who love motorcycle travel and have grown what started as a hobby in 1997 into a full time job (usually 8-10 hours per day and 7 days a week) and a labour of love. To keep it going and a roof over our heads, we run events (22 this year!); we sell inspirational and informative DVDs; we have a few selected advertisers; and we make a small amount from memberships.
You don't have to be a Member to come to an HU meeting, access the website, the HUBB or to receive the e-zine. What you get for your membership contribution is our sincere gratitude, good karma and knowing that you're helping to keep the motorcycle travel dream alive. Contributing Members and Gold Members do get additional features on the HUBB. Here's a list of all the Member benefits on the HUBB.
Books & DVDs

All the best travel books and videos listed and often reviewed on HU's famous Books page. Check it out and get great travel books from all over the world.

MC Air Shipping, (uncrated) USA / Canada / Europe and other areas. Be sure to say "Horizons Unlimited" to get your $25 discount on Shipping!
Insurance - see: For foreigners traveling in US and Canada and for Americans and Canadians traveling in other countries, then mail it to MC Express and get your HU $15 discount!
Story and photos copyright © All Rights Reserved.
Contact the author:
Editors note: We accept no responsibility for any of the above information in any way whatsoever. You are reminded to do your own research. Any commentary is strictly a personal opinion of the person supplying the information and is not to be construed as an endorsement of any kind.
Hosted by: Horizons Unlimited, the motorcycle travellers' website!
You can have your story here too - click for details!