August 05, 2006 GMT
Scottish Wedding & Paris
We arrived in Germany via the motorway from France and of course being the na´ve travellers we are, got our passports ready for them to stamp at the border, but not even a cursory glance at the bike and certainly no passports, I don't think the bike even slowed down to 50km per hour.
We consulted the AA Camping and Caravaning book and camped the night at a very flash but uninteresting caravan park before going to do battle with a German menu. Relief, it was in English and we were able to watch a World Cup game on the big screen.
Next day we were up bright and early and headed off through the Black Forest for a glorious days ride if you don't count the 2 traffic queues, one for the opening of a new tunnel "Tunnelfest" and another for an unknown event. We stopped in a typical German Village for lunch (not a touristy one) before continuing our ride up and over the hills.
Camped the night at a very dodgy caravan park, however it did have internet access and cold cheap beer. For some reason the wheels fell off (us, not the bike) and we drank too much beer, had packet tomato soup for tea and fell into bed.
Upwards and onwards to Frankfurt, on the Autobahn, a little scary, we were doing 120/130 km per hour and we were left standing by the traffic doing 200+ kph in the outside lane. We arrived at Ulrich (Ricky) and Kai's place after lunch, where they fed us and BBQed with us till late. Ricky and Kai are wonderful fun and a wealth of knowledge as they spent two years travelling the world on their bikes, six of those months in Australia.
The following day Kai took us for a ride around his local area, glorious rolling hills of green, quaint villages and pine forests, stopping for an icecream and a viewing of one of Europes fastest trains.
That night another sumptuous BBQ before the Germany versus Italy game. Kai was getting a little anxious that we would not have the BBQ ready in time so he resorted to using the electric fan to get the coals glowing hot.
The outcome of the game was disappointing for them but equally so for us. It would have been great to see the host country go through to the final.
Next morning we were up early as were Kai and Ricky who dropped us to the train station where we caught a train, then another one, then a bus to Hahn Airport, made it with a few tight connections and onto Dublin with Ryan Air.
Dublin was Dublin. Busy, bustling, people slightly frazzled. We managed to catch a bus into the city where we even get off at the right stop before making it to our alright but expensive hostel. Out for the obligatory Guinness or two or three or four.
A fun night ensued. We ended up in a bar (where my girlfriend Kath and I had spent many a night last time we were in Dublin) with live music and lots of interesting people. We spend the whole night here, mainly because they have a delayed telecast of the Queensland v New South Wales rugby league State of Origin, and although we are not football buffs when at home this little link to Oz is too much to resist, quite hilarious as my facial reactions to the game have half the bar intrigued and shortly I have them all baracking for Qld (amazing what three guinness can do), well it looked totally doomed then buggar me dead if they don't win.
Go to the bar to buy celebratory drinks where I get talking to the barman who is an Irish honourary Queenslander having lived there for a a few months, so he shouts me a Guinness.
By the time I return to my seat we have been invaded by Americans on one side and Czechs on the other. After about 5 minutes Skill and I realise that we have a Czech Mafiaosa complete with minder on one side and completely oblivious Americans on the other. What a laugh.
The France versus Portugal ( I think) game began when the Czech guy informs us he has 10,000 euro riding on France winning and if they win he will be sharing a bottle of vodka with us. We decide on dicsretion and leave at half time promising to return after dinner. We don't return and France does win. I suggest it would have got very messy. We return to the hostel at 1.30 am, with no lasting connections to the Grande Mafiaosa fortunately.
Next day Skill and I went our separate ways, me to find an outfit for the wedding and Skill sightseeing.
Up early onto the airport bus and out to the ariport. Checked in, and out to the waiting lounge at the boarding gate nearly two hours early. (Skill is not impressed, why did we get up that early) We were in the Gate Lounge area for about 15 minutes when they announce that there was a security threat at Dublin Airport and for our own safety we were to stay where we were, the departure lounge doors are locked. Not a problem for us we think.
Then planes kept arriving and the people got off the plane but were not allowed out of the Lounge Area. Then flights were being cancelled left, right and centre, then the army, police and firemen arrived. Our flight was the only one that had not been cancelled but there was no information on the board either. Because there were now 3000 people (no exaggeration) in the lounge area you could not hear the PA system.
Skill goes to the loo and does not return. I go to the boarding gate and ask about the flight to Aberdeen, they inform me they have boarded and I can get on but it will be without our luggage due to the security lockdown. I ask them to call Skill which they do, repeatedly, but he does not appear. The security guard and I do a lap around the departure lounge/hall. No sign off him, so I make the decision to get on the plane, and there he is already boarded. I started to get cranky and am about to tear strips off him but then thought what is the point, he says when he couldn`t find me and the flight was boarded he figured I must have boarded, and once on board he couldn`t leave.
Well we are both here, the flight only has 30 people on it as all the other 220 people were not even allowed out to the boarding gate. Even if we don't have our bag, we will get to the wedding. We have not come all this way to miss it. We were reliably informed that we were the last flight out of Dublin airport for the next 5 hours.
Said a little prayer of thanks when we landed in Aberdeen and then onto the bus into town (after queuing to report our missing luggage, only to be told it may arrive tomorrow! May arrive! But we have a wedding to go to!!). I made a snap decision that I would have to go and buy another outfit, underwear, shoes and makeup.
Nothing like a mastercard, a tierd and cranky woman and a ticking clock. Like a woman possessed I had a complete new outfit in under 40 minutes. Skill collected his kilt, so onto the bus and out to our hotel, where we met up with friends from Oz. Lynn and Russ who were here for the wedding too.
A couple of beers, changed then out to dinner with 30 of the wedding guests, Donald and Lou (Bride and Groom) and Mairi and Hairi (Grooms parents). It was a lovely night and it felt wonderful to be amongst familiar friends who felt like family.
Next day was a really slow day, got ready for the 3.30pm wedding. Our bag made an appearance at 1.45pm but even if we knew it would arrive then, it was cutting it too fine for the wedding and by then the damage was already done.
The wedding was beautiful, in a little chuch in the quiet Drumtochty Glen. The reception was at a local farmers barn, where we danced to the traditionl Scottish Band. We all had the best night. There are some weddings that will stay with you forever, this was one of them, Lou looked like a gorgeous mermaid/princess and Donald looked a very handsome highlander in his kilt. It was a truly special day and we feel honoured to have been a part of it.
Sunday we spent with Russ and Lynn driving around the Scottish countryside before it was back to the hotel for beers and the big game complete with the Zidane drama.
Russ and Lynn were so kind to us, taking us to the airport next morning instead of us having to catch 2 or 3 buses. From Aberdeen to Dublin where we perched ouselves in the Airport pub for Guinnesses and waited for 7 hours to make our connection to Frankfurt, Hahn. Got chatting to two really nice young pommie guys. (Who like us had been waiting for their 7 hour connection to Stanstead) but they suddenly realised that their flight was boarding and they had forgotton to check in. Of course they were back half an hour later having missed their flight. They were still sitting there when we left 3 hours later.
Deciding that we better not make the same mistake we check in and have an uneventful flight back to Hahn where we find an Italian owned hotel to stay in. The owner picked us up in his Ferrari like van (well he drove it like one) and drove us to the next village where he keeps his restaurant open and feeds us at 11.00 pm.
Next day back to the airport, then bus, train, then miss our connecting train, so have to wait an hour for another one. Kai picks us up and we spend the day recuperating.
The following day is a quiet one until the evening when we all sit down to a lovely civilised dinner and drink way too much then Kai and Ricky's neighbour joins us bringing another bottle of wine. Needless to say everyone was a bit slow next day. And poor Ricky had to be up at 6.30 am and go to work. We all felt so sorry for her.
Next day Skill took a reconnaisance trip to SW-Motech about 90 minutes ride away to check out a bash plate for the bike. He got totally lost on the way there taking about 3 hours and absolutely soaked in a massive thunder storm on the way home. But he did manage to organise to get an alloy bash plate fitted the next day.
Next day we packed up our gear, said sad goodbyes to Kai and Ricky and headed off to get the bash plate fitted. You can see how sad Ricky is in the pic below.
The people at SW-Motech were incredibly friendly and so helpful, we are now sporting a shiny new bash plate on the bike. The master craftsman in pic below (another Kai) did a quick job of working out how to fit an SWMotech bashplate to our Givi engine bars when they are really designed to fit to SWMotech bars.
SWMotech also had some interesting bikes and equipment in their foyer, this one caught Skill`s eye.
We camp the night in a great caravan park at Marburg, next to a lovely German girl who was about to compete in a Marathon which ran right past the Caravan Park, so we drank beer, ate dinner and cheered her on as she ran past three times.
From here we have a beautiful days ride through the Moselle Valley from Koblenz to Cochem and Bernkastel Kues following the Mosel river enclosed by the steep grape vined hills, it is a vey picturesque area with miles and miles of cycleways. The hills are so steep that they pick the grapes from an intricate monorail system.
We camped overnight in a cute camping area complete with bar and restaurant, however we must confess to buying a cheap bottle of Aussie Merlot in a Lidel Supermarket and indulging in that. Are we sad or what in the Moselle Valley and we are drinking cheap Aussie reds. However we did sample the beers at the bar.
Onward to Luxembourg next day where we stayed in a beautiful little town called Echternech.
Once again in a stunning little caravan park on the outskirts of town. Cold beer, bread and croissants ordered and a friturie to buy cooked food from. I love European camping.
The following day we are feeling totally exhausted as we have been travelling pretty solidly for two months, and sometimes you have to remember to take a holiday from your travelling. (I know everyone at home will be thinking "What are they on about? But I am sure fellow travellers know what I am talking about).
So we we sleep in, read (no more english books left) and then in the afternoon take a short ride to the village of Vianden,
before returning to Echternech via Diekirch when we could work out which way to go, all roads lead to Diekirch. Check out the sign.
Back to camp where we have an afternoon beer, but I am starting to question my sanity, I found myself having a half hour debate with my husband discussing the merits of "Dab" versus the qualities of "Gluck". I think I need some female company I had flashbacks to a similar "Men Behaving Badly" episode. Oh my God, we are turning into Tony and Gary. I really MISS my girlfriends.
Next day it is out of Luxembourg, through Belguim and back into France where we camp beside a fantastic river near a lovely Dutch couple who we spend the night talking to. We tell them that we are heading back to Paris and are wondering if we should use the camping area at Bois de Bologne. They assure us they have been there before and it is great.
So next day we set off with no directions to the Camping Area other than we can see a small area in Paris called Bois de Bologne on our very, very basic Paris map.
The day is stiflingly hot, the thermometer on the bike hits 45oC so we are wandering if we should call it quits early at a nice camping area (with a pool) about 50 km from Paris. After some discussion we press on, managing to get ouselves onto the A14 into Paris, take a wrong turn and end up on the N14 to Versailles, an illegal U turn closely followed by another wrong turn and two illegal manouvres and we are back on track, getting closer to Paris, until somehow we end up in the wrong lane and into a tunnel under the Seine. Mmmmmmmmmm which way now, follow the signs to Paris Centrale, somehow end up going through another tunnel, back under the Seine, when amazingly we join the A14 again. As we are thinking how clever we are we exit the tunnel and I say to Skill "Oh ##*# (those of you who know me well can insert your own expletive) that's the L'Arc de Triomphe" it's looming in front of us about half a km away. Skill says, well I can't repeat what he says, (I dragged out the camera as we are riding along, the L'Arc de Triomphe is just visible on the right)
when suddenly I see an exit with Bois de Bologne on it. " Right lane Skill right lane", I am not sure how he does it but he manouvres the bike across 4 lanes of traffic, and with that we are in Bois de Bologne. Still no idea where the camping area is so we just ride aimlessly when all of a sudden a camping signs appear and we follow them for about 4 km and "Voila" We have no idea how we did it but as we Aussies would say, "Sheer arse".
By now we are hot, tierd and a little rung out and the storms are brewing. It must have been our day as they had cabins available so we take that option. So pleased we did as a massive storm hit about 2.30 am.
We have had four nights, three days in Paris doing all the touristy things, which for us has been so exciting. Each day we catch the bus then the Metro into the city. Negotiating Paris has been a little difficult as there are barricades up everywhere for the culmination of the Tour de France on the following Sunday.
Day 1
Arc de Triomphe
Champs Elysee
Louvre
Day 2
Notre Dame
Eiffel Tower
Day 3
Montmartre & Pigalle
The weather has been very, very hot culminating in a storm every evening. As we have been taking the metro everywhere it has been a little stifling even for us, so I don't know how the Parisians are coping. Mainly by swimming in their fountains I think.
We leave Paris on Sunday as the Tour de France descends and decide that we will head back towards Amiens as we know where the bike shop is and that the people are friendly, as we need another oil change and a new rear tyre. Decide we will camp at Albert (where we stayed in the hotel opposite the church before), arrive early and chill out, our neighbours arrive back, a lovely Scottish couple Jim and Elaine, we get chatting and they feed us a few beers and then we decide we will go out to dinner together in Albert. They drove us in so we didn't have to get all geared up, and we enjoyed a lovely night together, to bed at 1.00am.
We pack up next morning say goodbye to Jim and Elaine and head into Amiens to the Bike Shop, Motoland which we find is shut. IT'S MONDAY, of course everybody shuts their multi million dollar business on a Monday, in fact nearly everything is closed.
What to do? We decide to go back to Albert and put up camp again before spending the day visiting the war museum, the Lochnager crater, an impressive WW1 crater hole 100m across and 30m deep where the allies tunnelled under a German bunker and blew it up, the Australian Cemetery at Poziers and the British Cemetery at Thiepval.
We spend another lovely evening with Elaine and Jim where we have a shared BBQ and Jim and SKill engage in a few too many scotches and Elaine shares a bottle of champers with a very grateful me.
Next morning Skill gets up early and heads in Amiens while I pack up camp, he arrives back at about 1.00pm complete with new tyre and new oil, but having just seen a motorcycle casuality still lying on the road in a pool of blood, police in attendance, ambulance just arriving but almost certainly too late - depressing and sobering sight.
We say good bye to Elaine and Jim again as we go our separate ways both heading towards somewhere in Belguim.
Skill and I felt that we kept being pulled back to Albert and Amiens, for one reason or another, maybe those old Aussie diggers were happy to have us visit for a while and weren't ready for us to leave. We really loved this part of France and felt an affinity with the area. It is hard not to be moved, there are literally 1000s of cemeteries, which really brings home the enormity of this war.
We have a pretty boring ride through lots of built up areas into Belguim
finding camping in a awful camping area at Kemmel near Ypres. We decide to set up camp and then head into Ypres which is a beautiful town (and has camping, Buggar).
We ride into the centre and through the Menin Gate, (this monument is inscribed with the names of 54 896 British and Commonwealth troops who were lost in the trenches and who have no graves) where we spy Elaine and Jim. We park and join them touring the Menin Gate, and return for the last post played each night at 8 pm.
Then the four of us have dinner together. Sadly we say goodbye to Jim and Elaine for a third time before riding back to camp.
We left Ypres and decided to make our way to Brugge to stay for the night, a lovely ride along a straight country road when a large group of cyclists approached us from the right along with a skittish looking dog, so Skill slowed for the dog (not even really braking) when there was this massive noise and a huge shunt from behind which sent us hurtling along, somehow Skill managed to keep the bike upright.
I said "what the @#$% was that" and Skill replied "a @#$% car just hit us", we pull over and clambered off, me ready to explode and rip the person limb from limb as there was absolutely no excuse, on a long straight road, the cyclists on the right highly visible in their orange reflective jackets as was the dog and we were slowing not braking hard. However a young boy and his Mum hopped out of the car. Yep you guessed it, a newly licenced driver (2 weeks), honestly he could not have hit us any more dead centre if he had tried, his VW badge embedded in the back of the bike. However this was probably the best thing that could have happened as we just kept going in a straight line.
We are expecting to see massive damage, but surprisingly there was quite little - considering. The rear guard was bent up under the bike on top the rear tyre, licence plate light was broken the hose clamps on the tubes were busted and our pvc carry tubes were pushed into pillion footpegs and the end caps squashed on tight. Other than that mostly cosmetic damage and not too much.
After about an hour of broken english communication and a call to the police etc we managed to ride away, very shaken but really none the worse for wear. We both felt very jarred and my back and neck a little sore.
All we could both think of was, this is almost a repeat of Ewan McGregor's accident in "The Long Way Round" We have now christened it "The Ewan Incident".
We continued onto Bruge discussing what we should do about the tubes and the rear light quite sure that the tubes were beyond repair. (We couldn't get the lids off)
Arrived at the camping area at Brugge, it was full as was the other accommodation we tried, so we just decided to get out of Belguim and head for the Netherlands, the next camping area we tried was totally gross with no shade crammed in with about 5000 other tents so off we go to Sluis, finally success, a lovely little camping area with big beers and a restaurant. Well you know where we spent the rest of the day. Dutch beer seems to make everything just fine.
Managed to get all our washing done, had a fantastic dinner and when we got back to the tent at 11.00pm after watching the whole camping area playing BINGO someone had left 3 (English) motorcycle magazines for Skill. So you see what started out as an awful day ended very nicely really.
Next mornning we surface late and are trying to decide what to do for breakfast when the depositor of the magazines rides past on his pushbike with his son.
We get chatting and Andy, a motorcycle enthusiast invites us to their on site van for breakfast. What a lovely family, his wife Zara and two sons are English but have a permanent van here in NL where they holiday, so are semi locals. They help us out with directions and sightseeing tips.
We walk aroud Sluis which is a beautiful little town, complete with windmills and old dyke walls (which I forgot to take photos of, sorry)
When we get back Skill still hasn't found a hardware to replace the hose clamps on the tubes so Andy offers to take him to the hardware store. Success. Skill works on the bike and we try to unscrew the tube lids for about 40 minutes finally prizing them loose and surprisingly they seem to be fine.
Andy and Zara's kindeness will long be remembered and appreciated, their simple act of kindenss really rejuvinated our spirits and made our stay in Sluis so enjoyable.
We leave Sluis and head up the Netherland coastline, complete with tidal control gates along this sea dyke in pic below.
through the 6km tunnel and then onto Nijmegan via the freeway. Jim and Elaine had recommended a camping area to us but we could not find it and it was getting late so we stop and ask some people, they are B and B owners so we even briefly consider going with them. They are not sure but know of a camping place outside town. It is now 7.30 pm it is starting to rain with pretty ferocious storms all around us. We follow the B and B owners directions and end up at an out of the way camping area which has camping cabins available, Yes we will take it. By this time it is raining quite heavily and the thunder storm is in full force. We have been so lucky with the weather and finding accommodation.
Next day it is into Nijmegan for a wander around before returning to our camping cabin for a few beers and our last night in The Netherlands.
We are now in Switzerland staying with friends who we have not seen for six years. We have spent time in Germany, Austria and even a quick visit to Liechtenstein. But that is another story.
We are safe, well and happy. Cheers & Beers
Quote of the Week: "Life is either a daring adventure or nothing" - Helen Keller
Posted by John Skillington at August 05, 2006 05:13 PM GMT

Recent Entries
Archives:
Archives:
Monthly
Archives:
Category
Now that summer is here, get On the Road! Take 30% off the Achievable Dream - On the Road! 2-DVD set until August 31 only.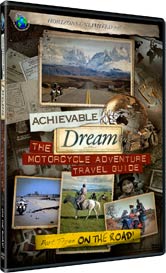 Our veteran travellers share their tips (and great stories) for staying healthy, happy and secure on your motorcycle adventure.
"A fantastic, informative and inspirational DVD."
"It's brilliant - thank you very much!"
Check it out at the HU Store! Remember to use Coupon Code 'ONTHEROAD' on your order when you checkout.
Next HU Events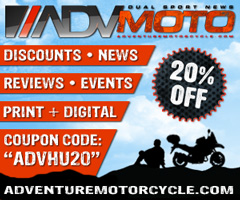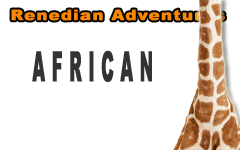 What others say about HU...
"I just wanted to say thanks for doing this and sharing so much with the rest of us." Dave, USA
"Your website is a mecca of valuable information and the DVD series is informative, entertaining, and inspiring! The new look of the website is very impressive, updated and catchy. Thank you so very much!" Jennifer, Canada
"...Great site. Keep up the good work." Murray and Carmen, Australia
"We just finished a 7 month 22,000+ mile scouting trip from Alaska to the bottom of Chile and I can't tell you how many times we referred to your site for help. From how to adjust your valves, to where to stay in the back country of Peru. Horizons Unlimited was a key player in our success. Motorcycle enthusiasts from around the world are in debt to your services." Alaska Riders

10th Annual HU Travellers Photo Contest is on now! This is an opportunity for YOU to show us your best photos and win prizes!
NEW! HU 2014 Adventure Travel T-shirts! are now available in several colors! Be the first kid on your block to have them! New lower prices on synths!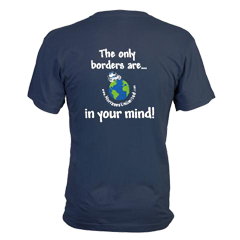 Check out the new Gildan Performance cotton-feel t-shirt - 100% poly, feels like soft cotton!

What turns you on to motorcycle travel?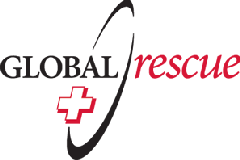 Global Rescue is the premier provider of medical, security and evacuation services worldwide and is the only company that will come to you, wherever you are, and evacuate you to your home hospital of choice. Additionally, Global Rescue places no restrictions on country of citizenship - all nationalities are eligible to sign-up!
New to Horizons Unlimited?
New to motorcycle travelling? New to the HU site? Confused? Too many options? It's really very simple - just 4 easy steps!
Horizons Unlimited was founded in 1997 by Grant and Susan Johnson following their journey around the world on a BMW R80 G/S motorcycle.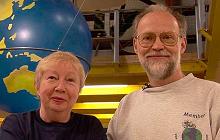 Read more about Grant & Susan's story
Membership - help keep us going!
Horizons Unlimited is not a big multi-national company, just two people who love motorcycle travel and have grown what started as a hobby in 1997 into a full time job (usually 8-10 hours per day and 7 days a week) and a labour of love. To keep it going and a roof over our heads, we run events (22 this year!); we sell inspirational and informative DVDs; we have a few selected advertisers; and we make a small amount from memberships.
You don't have to be a Member to come to an HU meeting, access the website, the HUBB or to receive the e-zine. What you get for your membership contribution is our sincere gratitude, good karma and knowing that you're helping to keep the motorcycle travel dream alive. Contributing Members and Gold Members do get additional features on the HUBB. Here's a list of all the Member benefits on the HUBB.
Books & DVDs

All the best travel books and videos listed and often reviewed on HU's famous Books page. Check it out and get great travel books from all over the world.

MC Air Shipping, (uncrated) USA / Canada / Europe and other areas. Be sure to say "Horizons Unlimited" to get your $25 discount on Shipping!
Insurance - see: For foreigners traveling in US and Canada and for Americans and Canadians traveling in other countries, then mail it to MC Express and get your HU $15 discount!
Story and photos copyright © All Rights Reserved.
Contact the author:
Editors note: We accept no responsibility for any of the above information in any way whatsoever. You are reminded to do your own research. Any commentary is strictly a personal opinion of the person supplying the information and is not to be construed as an endorsement of any kind.
Hosted by: Horizons Unlimited, the motorcycle travellers' website!
You can have your story here too - click for details!