June 12, 2006 GMT
Ireland & Wales (& England again)
Skill bought our tickets for the ferry and came back to the bike fuming. "They are a mob of thieving B*****" They had quoted him a price for bike, rider and passenger, but when buying the ticket the price went up because suddenly I was not considered a pillion passenger on the bike but a walk on passenger and charged accordingly. There was a cheaper price for a passenger in a car, but a bike passenger was a walk-on at a higher price. Then they didnít even give us a separate ticket so I couldn't walk on anyway!! Skill always feels these injustices towards bikers very personally.

By the time we arrive in Larne it is raining again so we ring a hostel for accommodation and ride the 20 miles up the coast to the Ballyeamon Camping Barn at Cushendall. It is fabulous, once again we are the only people here so we have the whole place to ourselves, well almost, Adela an American student is looking after the place for the owner for a few days and feeding the three cats and the German Shepherd.
On our first day at the hostel we decide to go for a walk and for those of you who know Skill will appreciate that on our walk he once again takes the road less travelled, and we slog our way through water-logged peat bog tracks, to walk part of the Moyle Way to the top of Mt. Trostan. My hiking boots may never recover, great views at the top but freezing cold and very windy on the treeless, exposed, mountain ridge. There is a wind farm on the next ridge - no bloody wonder.
We have a lazy afternoon resting in the hostel, apart from riding into town for dinner supplies.
Next day we leave the confines of the Ballyeamon Camping Barn in sunshine and head along the Atrium coastline to visit the Giants Causeway (Legend has it that the Giant, Finn McCool, built the Causeway so he could fight the Scottish giant Benandonner from the island of Staffa which apparently has similar rocks). By the time we reached the Causeway it was pouring rain and very cold. Then just as quickly the sun came out and we were able to see the amazing, hexagonal shaped rock columns protruding from the sea in sunshine. Back onto the bike (raining again) and into the town of Bushmills a few miles away (sunshine now), we parked for lunch.
As we were getting off the bike, two guys in a National Trust Van screamed in behind us and got out and walked over looking very official. WHAT!!!!!!! We paid for our tickets at the Giant's Causeway.
"Noticed your number plate when we were following you. Where in Australia are you from?" To which we answer Brisbane. "Oh, I am retiring to the Tweed at the end of the year and just wondered how you went about getting your bike over as I've got a Wayne Gardner replica Honda NSR 400 I want to take with me"
Twenty minutes and many stories later we say goodbye to our new found friends from the National Trust, and finally find some lunch. Skill then decides he is going to do a tour of the Bushmill Distillery, apparently the oldest whiskey distillery in the world (400 years old in 2008), I go to the pub instead and have a few pints of Guinness before we head back to our accommodation.
In the forty minute ride back to the Barn we encounter warm sunshine, clouds, blustery wind, freezing cold rain, a hail storm hitting us (seriously, the road went white with pea sized hail and was very slippery), then torrential rain, and finally sunshine again. You have to see this weather here to believe it.
The next day we make the decision to ride to Derry (in the rain and wind, of course) via the Irish countryside which is gorgeous regardless of the weather. After eventually finding the hostel (run by a Kiwi and her Irish husband) and organising parking for the bike, we cart all our gear up the numerous flights of stairs to the top floor of the hostel and collapse.
Feeling the need for sustenance it is out for a Guinness or 2 and then off for a walk to Free Derry Corner, close to the site of the Bloody Sunday protest/riot (depends which side of politics you are from). Walking around there is evidence that this is a city in the early stages of healing, but there is real hope and tangible feeling that peace (although shaky) is here to stay. We view the murals in silence, and then walk around the city walls for a couple of hours before heading back to the hostel.
At the hostel we cook dinner and get chatting to some Aussie girls and I begin to realise that we are all tarred with the one brush. Some observations I have made about Aussie travellers:
We like to travel independently in small groups.
We always carry a sharp knife, (for cutting tomatoes) absolutely essential for backpacking.
We steal every condiment that is not nailed down. (Something to do with our convict ancestry perhaps)
And while the Kiwis and Aussies bag each other at home we will adopt each other as family when in a foreign country (Maybe it's the ANZAC alliance)
The following day we have to shift hostel as the one we are in, is booked out, so pack up, load up the bike, ride 2 streets away, where we park the bike in the garden (backyard) and carry everything up the 54 steps to the top floor, talk about being exhausted.
I must say we enjoyed Derry, the people and the history. We went back to the Bloody Sunday Memorial Museum and wandered all over the city, just window shopping and enjoying the odd beer.
From Derry we loop North West and end up staying in little place called Kilcar. We are not sure where the hostel is so we stop in Kilcar and Skill asks the first person he sees in the street. "Do you know where the Derrylahan hostel is?" The man in question turns out to be the owner, Sean, who is on his way to wedding.
It could only happen in Ireland, lost, ask a complete stranger for directions and he turns out to be the owner. The hostel is a gorgeous farmhouse perched on the cliffs overlooking the sea. Although the hostel is owned by Sean, it is managed by a young German guy. In fact it is the first hostel we have stayed in that is comprised solely of Europeans. French, German and Dutch. We have a lovely time staying here, they were fabulous fun.
The next day the weather is still terrible and I have a sore throat so Skill has a day by himself on the bike sight seeing, checking out the incredible cliffs at Slieve League. These sheer cliffs drop 300 metres into the Atlantic Ocean. Skill also discovers a place where the heather was cut to spell out Country Ireland so that stray bombers in World War 2 would not bomb neutral Ireland.
Of course when he gets home, I am completely miffed, because I have missed out. Skill is a tad cheesed off as his heated handgrips have failed again.
From Kilcar we have a fairly big day on the bike, down to Doolin where we stay for the night. A great days riding including yet another ferry crossing. Doolin is in County Clare perched on the edge of the Burren, a wonderful and beautiful rocky mountain range with little vegetation.
Doolin is a very touristy place, which seemed to be inhabited by mainly Americans, so when we head off to the pub, there is not a local in sight, but the traditional music and food is good.
Just as we decide we have had enough, 3 ladies walk in and sit next to us. They are locals, and totally hilarious, we get chatting and don't leave for a long time. By this time, the Pub is in a slightly debauched state and a very drunk guy sitting with the band falls of his perch and hits the floor to a very rowdy applause. Time to Go.
From Doolin it is down to the Dingle Peninsular, what a ride. Finally the sun is out and the wind is starting to die down. It is a totally spectacular day, when we arrive at Dingle we decide to camp. At 7.30 pm we set off to walk the cliffs to the lighthouse and further along to the Castle Folly. We cannot believe the change in the weather it is, in a word, glorious.
Next day we decide to ride the Ring of Kerry, our best days riding yet, sunny, warm and NO WIND, Hooray. Once again we are mesmerised by the scenery and at one point we drop down into this delightful village on the coast and decide it is such a shame there is no camping area here. We would love to stay, but no camping areas are listed in our AA guide.
As we ride out of town, 2 kilometers down the road we find the most beautiful new caravan/campsite imaginable and even though it is early, we call it a day. We cannot believe our luck, sunshine, a secluded campsite overlooking the most spectacular bay, I have a Guinness in hand, listening to U2. Skill tells me I am spoilt, I tell him this is my reward for 4 weeks of freezing to death. Not really, but boy do you appreciate the sun when it comes out.
We meet a lovely Canadian couple who generously share their Canadian Whiskey with Skill.
Next day we are very loathe to leave, and drag the chain packing up. We don't get away until midday and decide we will make our way to Blarney, which we do via the backroads where we take at least half a dozen wrong turns, but too bad.
One of the things we have noticed about Irish roads is the really bad signage. It doesn't matter which town you want to go to, you can get to it in any direction North South East West according to the signs. The other amazing thing is the number of tractor/trailers there are on the main roads, and there seems to be a huge amount of roadworks, you cannot go 20kms without coming to a set of temporary traffic lights which are ALWAYS red.
On our ride to Blarney (when we have no idea where we are) we come across the dreaded roadworks again. When the lights eventually go green after 15 minutes we have to ride over a metre high pile of gravelly dirt which is covering the whole road. No grader or anything, you just drive over it. Fine in a car, but on the heavily laden bike, a bit of a challenge." Nothing like a bit of dirt bike riding", says Skill, all in a days work.
We eventually get to Blarney at 4.30 pm and decide we will visit the Castle which is surprisingly quiet. There is only one tour bus in sight. The grounds are lovely as is the Castle.
As we wend our way to the top stopping off on each level to take in the views we are overtaken by the aging tour group from the bus who are focused on getting to the Blarney Stone at the top. This slows us down and by the time we reach the top most of the tour group are puffing, panting and coughing, two ladies seem to be having asthma attacks and a rather large gentlemen is scarlet and could have possibly been having a heart attack. As these pictures of good health move towards the Blarney stone they continue their coughing and hacking, Skill asks me do I want to kiss the Blarney Stone. I look at him in a bemused state. With this lot going in front of me, what do you think? A big fat NO.
Anyway I don't think I need to be any more loquacious.
We decided we would camp the night at the Blarney camp ground which was a reasonable distance from town but quite pleasant.
The next day we start to head back towards Dublin to catch the ferry back to Holyhead. After a bit of research and a few phone calls we find that most of the ferries are booked for Friday and Saturday, but we can get a ferry from Dun Loughrie (near Dublin) today at 6.30 pm. Not quite the plan we had but we high tail it back to Dublin through the mad traffic making it to the ferry with not a lot of time to spare.
Getting onto the big ferries on the bike is great as you are always loaded first. We were on a fast ferry which only took 1 hour and 45 minutes. It was powered by gas turbines and cruised at 80kph, which Skill was quite impressed by. Needless to say, the thing really moved along.
We were back in Wales by 8.30pm but had not booked accommodation so found a camping area in the next town. The AA camping guide described it as "attractive seaside position near a large fishing lake.....in lovely countryside. A smart toilet block offers a welcome amenity at this popular family park"
In actual fact it was a grotty camping area with a grubby toilet block (complete with disgusting 1 square shiny toilet paper which I thought was illegal in every country) on the edge of a midgie infested swamp. Not to mention the train line running along the edge of it. But by the time we had cooked tea, showered etc it was 11.30pm so we just decided we would go to bed.
Next morning we were awoken by this enormous roar, it was absolutely ground shaking. We bolted out of bed to see what the hell was going on.
What was going on was that the camping park was also right next to a RAF base, the runway ran right up to the caravan park. So for the rest of the morning there was an assortment of jet fighters landing and taking off. They were so low you could see the serial numbers on the missiles. (I am not exaggerating). Skill was quite entertained with the free air show, but we were both happy they didn't do night training flights.
So sadly I cannot agree with the AA camping and caravaning guides assessment of these particular camping grounds. What a hoot!!!!
After deciding quickly that Rhosneiger was not for us we head towards Llandudno. A pretty little Victorian town by the sea. We stay for the night in the local hostel, once again run by an Aussie and her Welsh husband, which was great, more like a B&B. We ventured down onto the pier which is just as you imagine a British seaside pier to be complete with Punch and Judy show, tacky old arcade games and donkeys.
The following day it is of to Bredbury (near Manchester) to visit Skill's second cousin twice removed. Ron and Christine were once again their welcoming selves spoiling us with huge meals and copious amounts of alcohol. It was good to stop for a few days.
From there we rode over to Wales through so much lush green countryside. We stopped for lunch at a little place called Llangollen. I went off to buy a drink and when I got back Skill had been accosted by two old age pensioners as he ate his lunch.
Next day it was more stunning countryside as we made our way to Cader Idris the second highest peak in Wales. Skill had a visit to the Centre for alternative energy while I lay in a paddock and read a book. Then we stayed the night at Machynlleth on the banks of a river in a farmer's paddock.
It was then down to Hay-on-Way, to check out all the books, (for those of you who don't know it is supposed to be the world centre for second hand books) It is while we are here that Skill discovers that his Oxford heated handgrips are made at Oxford so he rings them and tells them his predicament. No problems, bring the controller in and they will swap it over for a new one. So tomorrow it is off to Oxford. We camp at a little place called Symmonds Yat on the banks of the Wye River. It is a very dodgy camping area but the village is delightful and we spend an idyllic afternoon/evening at the pub sitting beside the water, watching the swans while having a few red wines. (An Australian shiraz to be precise)
From the dodgy camping area it was a very quick trip across to Oxford where we get lost but eventually find Oxford Products in one of the many industrial estates in Witney near Oxford. The exchange is done, new controller installed in the carpark and we are on our way to ............... Dartmoor via the M4 and M5.
A quite late arrival, 8.00pm, YHA is full (what a surprise!!!!) so we camp the night behind the Plume of Feathers Pub in the town of Princtown, the home of the infamous Dartmoor Prison and more importantly to me this is the setting of Sherlock Holme's most infamous case "The Hound of the Baskervilles". Next day we tour the moors which are simply stunning. This is a place I would dearly love to come back to.
From here it is off to Newquay where we stay in Matt's Surfing Hostel. I love hostels, the variety of individuals housed in one place is always beyond compare, we have the obligatory Aussies, a young NZ couple expecting their fist child, Maurice a philosophical Frenchman who is in a word completely eccentric, we have the lovely young pommie guys who run the place along with the hanger onners who have obviously lived here previously. The bar is a great place to be and is where we spend most of the night.
A young Aussie girl breezes in, she is a regular, but has been sent home from work because she has had too much to drink. She is incorrigible, "I told them ages ago I didn't want to work for them any more but they keep insisting. I don't know why they want to employ me, I am always late, I don't work hard, I let everyone in for free, and give away free drinks. Why would you bother" Oh but to be 19, gorgeous and blonde, the world is your oyster.
We would have stayed 2 nights in Newqay but they were booked out for the weekend so we take off and travel the coastal road down to Land's End and then down to the Lizard (there is some debate over which is the Southern most point of the British mainland so we cover both bases).
From here we travel east and camp the night in a gorgeous place called St Just in Roseland near Falmouth.
We pitch the tent in amongst a big group of Yorkshiremen who have come South and are sailing for the week. Skill and I both decide (independently of each other) that we have found the Yorkshire people to be some of the friendliest people we have met in England.
Another days ride along the coast making our way slowly to Dover camping the night at a little place near Southampton called Hamble le Rice, an early night after a pleasant evening at the yacht club.
Leaving Hamble we call at a huge Tesco to do the obligatory food shopping. While we are trying to jam our new purchases into the top box a guy walks over and asks "Have you shipped it or ridden it from Oz?" We get chatting and it turns out he is a fellow traveller who rode his BMW GS Adventure from Alaska to South America only to crash it big time in Peru. Wrote the bike off and his leg is still recovering 7 months later. Not what I wanted to hear but nice to meet him none the less.
Oh nearly forgot to mention England is in the grip of World Cup Fever, about one car in ten has English flags flying and most of the houses and pubs are decorated with flags too. So I suppose it's lucky for them they had a win against Paraguay yesterday, Beckham scored the only goal.
The last two days have been pretty boring days rides, mostly motorways with lots of traffic and traffic jams as we made our way to Dover.
Now we go to France via ferry. So all I can say is "Bonjour, Let the charades begin".
Cheers & Beers
Quote of the Week:
"All journeys have secret destinations of which the traveller is unaware" - Martin Buber

PS It hasn't rained for 2 weeks. The weather is glorious.
Posted by John Skillington at June 12, 2006 11:28 AM GMT

Recent Entries
Archives:
Archives:
Monthly
Archives:
Category
NEW! HU 2015 Motorcycle Adventure Travel Calendar is now available! Get your copy now for some terrific travel inspiration!
HUGE, 11.5 x 16.5 inches, beautifully printed in Germany on top quality stock! Photos are the winning images from over 600 entries in the 9th Annual HU Photo Contest!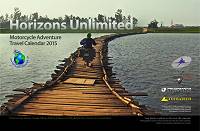 "The calendar is magnificent!"
"I just wanted to say how much I'm loving the new, larger calendar!"
We share the profit with the winning photographers. YOU could be in the HU Calendar too - enter here!
Next HU Events
NEW!

USA Virginia: Apr 9-12, 2015
Take 40% off Road Heroes Part 1 until October 31 only!
Road Heroes features tales of adventure, joy and sheer terror by veteran travellers Peter and Kay Forwood (193 countries two-up on a Harley); Dr. Greg Frazier (5 times RTW); Tiffany Coates (RTW solo female); and Rene Cormier (University of Gravel Roads).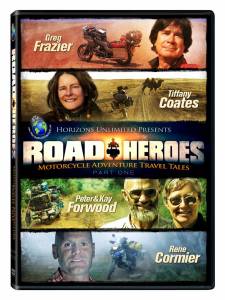 "Inspiring and hilarious!"
"I loved watching this DVD!"
"Lots of amazing stories and even more amazing photographs, it's great fun and very inspirational."
"Wonderful entertainment!"
Check it out at the HU Store! Remember to use Coupon Code 'HEROES' on your order when you checkout.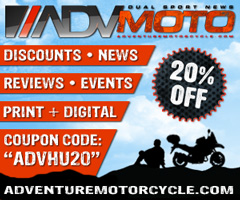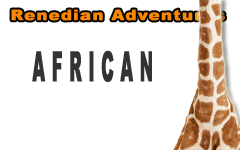 What others say about HU...
"I just wanted to say thanks for doing this and sharing so much with the rest of us." Dave, USA
"Your website is a mecca of valuable information and the DVD series is informative, entertaining, and inspiring! The new look of the website is very impressive, updated and catchy. Thank you so very much!" Jennifer, Canada
"...Great site. Keep up the good work." Murray and Carmen, Australia
"We just finished a 7 month 22,000+ mile scouting trip from Alaska to the bottom of Chile and I can't tell you how many times we referred to your site for help. From how to adjust your valves, to where to stay in the back country of Peru. Horizons Unlimited was a key player in our success. Motorcycle enthusiasts from around the world are in debt to your services." Alaska Riders

10th Annual HU Travellers Photo Contest is on now! This is an opportunity for YOU to show us your best photos and win prizes!
NEW! HU 2014 Adventure Travel T-shirts! are now available in several colors! Be the first kid on your block to have them! New lower prices on synths!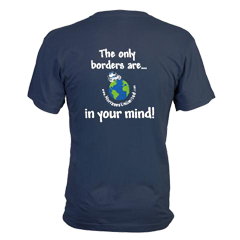 Check out the new Gildan Performance cotton-feel t-shirt - 100% poly, feels like soft cotton!

What turns you on to motorcycle travel?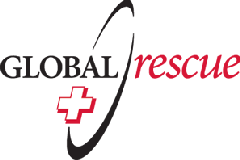 Global Rescue is the premier provider of medical, security and evacuation services worldwide and is the only company that will come to you, wherever you are, and evacuate you to your home hospital of choice. Additionally, Global Rescue places no restrictions on country of citizenship - all nationalities are eligible to sign-up!
New to Horizons Unlimited?
New to motorcycle travelling? New to the HU site? Confused? Too many options? It's really very simple - just 4 easy steps!
Horizons Unlimited was founded in 1997 by Grant and Susan Johnson following their journey around the world on a BMW R80 G/S motorcycle.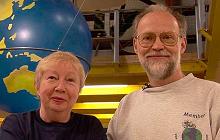 Read more about Grant & Susan's story
Membership - help keep us going!
Horizons Unlimited is not a big multi-national company, just two people who love motorcycle travel and have grown what started as a hobby in 1997 into a full time job (usually 8-10 hours per day and 7 days a week) and a labour of love. To keep it going and a roof over our heads, we run events (22 this year!); we sell inspirational and informative DVDs; we have a few selected advertisers; and we make a small amount from memberships.
You don't have to be a Member to come to an HU meeting, access the website, the HUBB or to receive the e-zine. What you get for your membership contribution is our sincere gratitude, good karma and knowing that you're helping to keep the motorcycle travel dream alive. Contributing Members and Gold Members do get additional features on the HUBB. Here's a list of all the Member benefits on the HUBB.
Books & DVDs

All the best travel books and videos listed and often reviewed on HU's famous Books page. Check it out and get great travel books from all over the world.

MC Air Shipping, (uncrated) USA / Canada / Europe and other areas. Be sure to say "Horizons Unlimited" to get your $25 discount on Shipping!
Insurance - see: For foreigners traveling in US and Canada and for Americans and Canadians traveling in other countries, then mail it to MC Express and get your HU $15 discount!
Story and photos copyright © All Rights Reserved.
Contact the author:
Editors note: We accept no responsibility for any of the above information in any way whatsoever. You are reminded to do your own research. Any commentary is strictly a personal opinion of the person supplying the information and is not to be construed as an endorsement of any kind.
Hosted by: Horizons Unlimited, the motorcycle travellers' website!
You can have your story here too - click for details!