April 09, 2010 GMT
Iquique to Santiago
I spent a few relaxing days, hanging out on the beach with other travellers from the hostel, and catching my breath after the rigours of Bolivia. I would have stayed longer, the sun was shining, there were no mosquitoes to annoy me, and the hostel was full of lively, fun people, exuding a great relaxed, easy going vibe, but Christmas was drawing closer, and I wanted to get myself down to Santiago, settle into the city, and try to make some friends with whom I could pass the holidays, and also try to catch some of our biker buddies who we'd met along the way, Thom and Flo, the frogs, 2 up on a BMW, and Ric and Emily, who were each on their own Beemers.
Also, the elusive Jan, a crazy Dutchman who had been a few days ahead of me for a few thousand miles on his 1940's Harley.
Santiago was really pulling me southwards, like a black hole. I had e.mailed the Harley Owners Group of Santiago, and had been invited to go for the Christmas run with them on the 19th of December. The only thing I really needed to sort out before I left for Santiago was a new rear tire. Iquique was a tax free zone, and I was told I could find a tire here for less than half the price of anywhere else in Chile.
I set off for the Zofri, the tax free zone, and was just pulling into the complex when another Harley rider zoomed passed me. I followed him down to the parking lot, and went over to introduce myself. He was meeting a few other Harley riders, and said that he could help me on my tire quest. We met up with his friends, and after a round of introductions, we all went off in search of the elusive Dunlop D402.
We nearly succeeded, there were tires to fit every car, motorcycle and truck in the automotive section of the Zofri, but alas, nothing to fit my rear wheel. I could have chanced a slightly bigger, or smaller tire, but decided I would try to get to Santiago and fit a tyre that the dealer was holding for me.
It was a tough decision to make. I had a tad over 1,000 miles to cover, and my tyre was already balder than me, more like a drag tyre than a road tyre, but, there was no rope showing, so I thought I'd give it a go. I had been assured that the road to Santiago was paved and in great condition all the way, and the roads since I had left Bolivia were certainly in great condition, so I went back to the hostel, and prepared myself and Garth for an early start.
I set off bright and early, waking up just before sunrise, and leaving just as the sun was rising over the mountains over my left shoulder. I had a full tank of gas, and as I left the city behind, I opened up the throttle and let rip, for about a minute, then I remembered the state of my slick tyre, and slowed down to a more respectable speed, in the hope of stretching out the life of the last semblance of rubber.

I followed the coast, back on the Pan American Highway, known here in Chile as highway 1, and the blacktop sliced a path through the desert. As the sun rose in the sky, I rode down the Pan American, desert to my right, and the ocean, under a blanket of gentle mist, sat to my right. I followed the blissfully smooth blacktop along, past outcrops of rock, jutting into the ocean, and forever southwards. I was hoping to get over halfway to Santiago on the first day, aiming to make it to Bahia Dos Ingleses before sunset.
It was an awesome ride, the highway alternating form hugging the ocean at sea level, following the curves and sways of the shoreline, to rising up the sides of the mountains to look down onto the deep blue water, to long straight sections, surrounded by nothing but bare desert. I was awed.


After 4 hours of riding, I crossed the Tropic of Capricorn, now I was well and truly in the Southern Hemisphere. The road took me inland, and I pulled over to have a look at my options on my map when I came across a rare treat, a junction. I took the opportunity to have a look at my tyre, which was thinning, but fortunately still covered with a smooth layer of rubber.
I was still over 800miles from Santiago, but I had to keep my speed down, riding at an almost intolerable 60mph along fantastic, deserted desert roads. At least it gave me the opportunity to take in all I was seeing, feeling and smelling. Even so, I really wanted to open up and speed along this almost lunar landscape. The desert sand had a slightly reddish tinge to it, and I felt that this would be the closest I would ever come to riding on the red planet, Mars.
I extracted my map and laid it out on the seat of the bike, and as I was checking my options, a huge articulated truck flew by, the turbulence lifted my map and ripped it neatly halfway down the middle. I swore loudly at the truck, and was more than a little surprised when the driver slammed on his brakes and pulled into the side of the road a few hundred yards ahead of me.
My first thought was that I had sworn at the only English speaking trucker in Chile. The driver stepped out of his cab and waved enthusiastically at me. He came running over to the bike
"Aaah, so it IS a Harley Davidson, I thought so!" Where are you going?" said the driver to me in that rapid fire Spanish that the Chileans use.
I explained that I was hoping to follow the coast road to Antofagasta, and was then heading on towards Santiago, before continuing right down to Ushuaia.
"My friend, you are making the trip that I have dreamed of since I was a little boy, I drive the truck everywhere, but to ride these roads on a motorcycle, that is the dream my friend, the dream!"
He looked over at my map and told me of the possibilities.
It appeared that there was a road that I could take, unpaved, but only for a few Kilometers. I had to take my first right, follow this road for 2 or 3 kms and then turn left, and follow that unpaved road until I reached the coast road, that he assured me was paved.
We smoked a cigarette together, and I drank the bottle of water he retrieved for me from his cab. The driver, Juan Jose, asked me all about the bike and the trip, where had I started, how much had I paid for the bike, had I had any problems and so, and I filled him in as best I could, in my far from perfect Spanish.
Juan Jose, then said he had to push on, and wished me "un buen viaje", before leaping back into his cab, and driving off into the desert. I put the map away, mounted up and pulled off to the right in the direction of Paposo and the coast road.
After a few minutes, I came to another junction, with not one, but two unpaved roads bearing off to the left. Hmmm, there had been no mention of two roads, neither of which were showing up on my GPS nor had signposts indicating where they might lead me.
Normally, I wouldn't have hesitated to go with whatever my instinct told me, and double back if I was wrong, but in this instance, I couldn't really afford the extra mileage on my long suffering rear tyre. Gravel roads really take a toll on road tyres, and on racing slicks even more!
There was no traffic passing on the main highway I had just left, no one to ask, and I had this horrible feeling that my luck was going to change and that I would get my first puncture of the trip in the middle of an unused, unknown, unpaved road in the middle of the desert and be eaten by desert coyotes, never to be found.
I must admit, I was more than slightly worried.
I took a chance on the first road, followed it for 6 kms, then turned around and tried the second exit. I followed this road for about 10 kms before I spotted to my left a tarmac road, but there was no way for me to cross the deep desert sand to get to it, all I could do was stick to my decision and push on. And push on I did, getting more and more stressed as the gravel road continued on and on. I guessed I had passed the point of no return and was now committed to my choice. I followed the bumpy gravel track , until eventually after what seemed like hours, I hit tarmac, blessed tarmac. My elation, however, was shortlived, after only a few minutes of smooth cruising, I was diverted off the fresh blacktop, and back onto a gravel track that ran parallel to the smooth road. I cursed the construction crews and the busy bodies who had deemed the new road not ready to transport vehicles. This continued for far too long, off and on the tarmac, until finally, when I was directed off the tarmac for the 4th time, I just stayed on the tarmac, and continued along the "work in progress".
I came across the construction workers a few clicks down the road, and asked them if it was safe for me to continue on the new road. They replied that as long as I kept my speed down, I would be fine.
I rumbled along the new road, ignoring the rest of the diversion signs, until I was finally back on a completed road that lead me straight back down to the coast. This road, probably due to its inaccessibility, was utterly, utterly deserted. I didn't see any signs of life for hundreds of Kilometers. I parked the bike up in the middle of the highway, and got off to take pictures, still nothing to remind me that I wasn't all alone on the planet.


I rode on, and as the sun grew low, I decided to call it a day and go find a bed. I was only a short way from Bahia dos Ingleses, but decided I would just pull into the first town I came across off the highway. I don't even remember the name of the town I stopped in, 13 hours after I pulled out of Iquique, let alone remember the name of the hotel I found. I do remember parking the bike up, asking where I could find some grub, picking up a takeaway, and waking up at first light with my cheek resting on a slice of pepperoni pizza.
Rested and refreshed, with the Pizza cleaned off my face , and a few millimetres of rubber left on my tire, I set off once more, and entered Santiago at just after 5pm, just in time to get caught up in the madness of South American rush hour. I had no idea where I was headed, and so when I spotted a bike on a trailer being driven by a huge 4x4, I caught up with the truck and knocked on the window. The driver agreed to let me follow him to the turn off to the road that would lead me to the Harley dealership and fresh rubber.
I followed him and took the turn off as directed. I was then fortunate enough to encounter another Harley on the road that I followed straight to the dealership.
The manager, Lucas, met me at the shop and the mechanics came out of the workshop to look over the bike.
They were all suitably impressed that I had made it, and there was now nothing but a smooth layer of fine rubber precariously stretched over the rope bonding the tire wall together.

I arranged with Lucas for the tire to be fitted and for an oil change, before hopping in a cab to the hostel I had booked the day before, and where I was hoping to meet up with Ric and Emily.
I walked into the hostel, and there was Ric, busily tapping away on one of the hostel's computers. We hugged and set about the business of exchanging stories and catching up on each others travels. Ric told me that the Frenchies, Thom and Flo, were in a hostel over the road and that they would be coming over soon, to meet us all for dinner.
I went into my dorm, had a quick shower, sniffed through my clothes for my least smelly T-shirt, changed, and went downstairs, where Thom and Flo were chatting excitedly with Ric and Emily.


Reunited!!
We went out together for a Pisco Sour before dinner, where Thom surprised us all by saying that he was craving a MacDonald's for dinner. Ric wasn't too happy about the Frenchman's gourmet choice, but went along with it, and a few minutes later, we were crowded around a table, eating Big Mac's milkshakes and Mac Sundaes.
We all hung out together for the next few days, and then it was time for me to go pick up the bike, on the day of the Santiago Harley Christmas run. I turned up at the dealership to find Lucas waiting outside the shop. He'd been locked out, left his keys at home, and was waiting for one of the store staff to turn up and let him in. The mechanics were milling around the back door, smoking, and I went over to see how my bike was doing.
Apparently, it wasn't quite ready, but Lucas assured me that it would be ready in time for the run, which left in just over an hour!
The keys arrived, and I followed the mechanics into the workshop to see their progress. My heart sank. There was Garth, in bits. Back wheel off, oil in a plastic tub under the sump, seat hanging on the wall.

"don't worry , we'll have it ready in time for the run, for sure" they said.
I waited in the showroom and Lucas made coffee and we munched on doughnuts. He said he would go ahead and delay the run, and that one of the guys would lead me to the rendez-vous for the ride when the bike was ready.
Sure enough, a short while later, the mechanics rolled Garth out and took him out for a short test ride.
After a few minutes, Garth came rumbling round the corner, and one of the employees motioned for me to get my lid on and follow him to the departure point.
Garth had a new set of pads, so I had to go easy on the brakes, and my new tire also needed a bit of warming up.

We pulled into a massive Gas station, where over a hundred Harleys and their riders had congregated, ready to roll. Lucas was giving a pre-ride briefing, and he introduced me to the group, who applauded me politely, and then, we were off. 120 Harleys pulled out of the gas station, and onto the highway. I hadn't ridden with such a big group for ages, and it was making my heart race. We rode on until an hour or so later when we came to a tollgate. I pulled up, and was waved through, as one of the other riders was paying the tolls for the group. I rode over to the other side of the gate where a bunch of riders had parked up, and waited. Half the group left, and half stayed. Not knowing what to do, I left with the first group. As it happened, this turned out to be the fast group, and the roared along the highway at breakneck speeds, until they turned off the highway and onto a small lane. They pulled into a small roadside café and dismounted. I waited to see if the second group was coming, but there was no sign. Then a few of this group stared to make their way back onto the road and I decided to follow.
It seemed like a good idea at the time, ride on ahead at a nice slow pace, take in the scenery, have time to admire the fields and fields of vineyards along the Ruta de Vino, and admire the beautiful lakes. However this was not on the minds of my fellow bikers. It appeared that I had left the slow group and split off with the fast group, and now the slow ones of the fast group had stopped and I was riding on with the insanely fast death wish posse.
I could have just pulled over to the side of the road and waited for the rest to catch up, but I had no idea where I was or where I was going, for all I knew these guys might even be going a different way. So , I sped along behind the pack of 6 Sportsters, scraping my way round corners, and having a fair amount of difficulty keeping to the pace they were setting, but at the same time, I was having a blast pushing the bike to its, or at least my limits.
We arrived, my adrenalin still pumping, and pulled down a dirt track to the grounds of a beautiful lakeside restaurant that had been reserved exclusively for the Harley Owners. A short while later, the remaining hundred or so other bikes began pulling out of the driveway and parked up alongside Garth and the Sportsters on the grass.


I couldn't spot Lucas, the only person I knew out of this band of brothers, so I just hung around my bike, trying to look busy in the hope that someone would come over to me and introduce themselves. Unfortunately, this didn't happen, so I made my way to the entrance of the huge dinning hall.
I was on the first step into the building, when a big biker dude passed me on his way in. He turned around and I all I saw was this quintessential "bicycle" moustache, favoured my North American bikers in the 70's.
I just had to ask;"Are you an American?"
"no, I am from Canada" came the reply, "and what about you?"
And so the conversation began. I explained that I had been invited along by Lucas, but hadn't seen him since we left on the ride, that I was travelling on the bike, and that I didn't know any of the riders. He invited me to join him at his table , and I gratefully accepted. I then got introduced to his long term girlfriend, Paula, and we all got to talking animatedly about the trip I was doing, and the trip was had been semi planning, semi dreaming of.
He asked me questions, and I answered. Ralph was getting more and more excited about this wealth of knowledge sat next to him, and we were chatting so much, we nearly forgot to go to get our meal from the BBQ.


After lunch, the wine, beer and Brandy flowed. The room was a sea of leather jackets, denim jeans, and the full catalogue of Harley Davidson T shirt designs. It never ceases to amaze me how much people take to the whole Harley "lifestyle" package. Not just a bike, not just a way of life, but also a wardrobe too.
Ralph invited me back to what he called his Ranch. At first I declined, but Ralph and Paula made the decision so easy for me I could no longer refuse. I don't know if it was the offer of a GPS map for my Garmin (Ralph had the same unit as me, and had maps for all of Argentina and Chile) they had a spare room, and , this was the clincher, a Jacuzzi!
We sat at the table and Ralph's friends came over to say hi to him, on each occasion he introduced me to them, telling them of my "epic adventure" and his friends would stay and chat for a bit before moving round the room and hugging their mates or patting them on their backs.
We went outside to soak up some sun on the grass, took a look at some of the bikes and chatted to more of Ralph's pals. We spent the afternoon in this way, and finally, Ralph, Paula and I set off for the ranch. They told me they are nearly always the last ones to leave, especially when the liquor is flowing!

We had a much more relaxed ride back into Santiago, and arrived at Ralph's just after dark.
I had a quick tour around Ralph's amazing pad, before he threw some shorts in my direction and we all jumped into the Jacuzzi. I had one tiny moment when I had that slight panic. What if they're swingers!!


Thankfully Ralph and Paula were NOT swingers
I needn't have worried; Ralph and Paula were wonderful hosts. We sat in the Jacuzzi supping fine Chilean red wine from Ralph's cellar. I don't know how long we stayed there, but it was longer enough for my fingers and toes to turn into prunes. I was shown to the spare room, and I collapsed onto the bed.
I woke the next morning with a slightly fuzzy head and the familiar smell of, could it be, yes, bacon.


Ralph, Paula, and Azabache
Paula had been busy in the kitchen and a I sat down with Ralph and her and ate a hearty full English brekkie. We spent the morning downloading maps and talking about routes. Ralph had several suggestions for my continuing journey through Chile and Argentina, and I copied down a load of contacts for him on his trip, which was now turning from a dream into a possibility. I left the ranch after lunch and returned to the slightly less luxurious surroundings of my dorm room. I had to take the bike back to Harley Davidson in Santiago to fit the new bracket for my headlights, a part that had eluded me since it snapped on a dirt road in Mexico.

Lucas' shop had been the only one since leaving the states that could get all the parts I needed in less than six weeks. He had told me when I first arrived at the shop that he could order the parts from the states and have then in the shop 4 days later. When I tried to get this same part in Cancun, Mexico, the dealer had told me it would take at least 30 days for the part to arrive, and since then, I had never been in one place long enough to wait more than a week for anything. Mercifully, I had never really needed to. I was optimistic but at the same time reserved about finally getting my lights pointing on the road, in stead of lighting up the treetops.
The repair to fix the bracket in Cancun had left each my twin headlights equally useless. The right hand light lit the treetops, while my left side lamp blinded oncoming traffic; Night riding had been unbearable, but at times unavoidable. In the dark of night, I could light the road ahead when I was going round a bend, and the bike was leaning.
Not really an ideal situation.
I called Lucas on the 4th day, and although the package from the states had not arrived, he assured me that it was on its way, and told me to come to the shop at about 4pm so the mechanics could fit the new bracket when it arrived.
I arrived shortly before 4, and chatted with some other riders and Lucas in the store. I waited and waited, but at 5.30pm, the part still had not arrived.
Lucas was most apologetic, apparently there had been some mess up with DHL, but he was certain that it would be there at the store within 48 hours, he said he'd call Ralph and let him know as soon as the part arrived. I returned to the ranch, riding out of the city into a beautiful sunset. Sure enough the following morning, Ralph received the call.
I rode back into town and to the dealership. I waited in the store, again, just hanging out with Lucas and more of his customers, and spent the afternoon in the shop, drinking coffee and swapping stories and riders tales, and getting more and more suggestions of places I had to see and roads I had to take.
I loved these times, there was such a bond between bikers, weather they rode Harleys or not. But, here comes that word "brotherhood", is something that I really think is strongest in the Harley clan. There's that one common bond. We all know our bike isn't the fastest bike on the road, we all know we have to chug round corners that a sports bike will eat up, but we also know that no other bike would do. It's not about numbers and figures, not about acceleration and cornering, not even about chrome and leather, it's the whole package.
A Harley is a V-Twin, and the sound these engines produce are actually patented. The degree in the Harley V-Twin is what also gives it that distinctive, and inimitable rumble. The big Harley Engines, "big twins", are a little larger than a standard European family car, anywhere from 1340cc to 1600cc and beyond. The bikes wore more metal than the plastic Japanese sports bikes, and so are also a hell of a lot heavier, and therefore slower. Garth weighed in at a ridiculous 350kilos before we added the tour pak and luggage.
So what have we got? It's a heavy, relatively slow bike, that doesn't do too well in the corners, doesn't brake that well, and well, doesn't really handle great. None of that really matters. We have bought a Harley because when we get on it we can't help smiling. When we fire it up, it makes our heart beat faster, and the grin broaden.
When we ride it we feel better about ourselves. You are transformed into the set of your own movie.
I have owned other bikes in my time, a few Yamahas, a Honda, I still own a Vespa, and have ridden a plethora of other makes, and like a lot non Harley bikes for various reasons, I might even consider getting one as a second bike, but I doubt it, if I could have two bikes, I'd have 2 Harleys.
They say that if you have to explain, you won't understand, so I won't try any more, except to say that Garth had taken me a tad short of 50,000miles. I had never been unable to continue the journey. I never even got a puncture – for which I still thank the preacher from George who blessed our bike in Florida, a year and a half ago.
My bike was finished off at the end of the day, and I rode back to the city and returned to he hostel. Ralph had invited me to join his clan for their annual Christmas camping trip, and I was excited about the prospect of spending Christmas on the beach. I had a few things I wanted to see in town, and also wanted to meet up with the guys who were still staying in the place before I left for the camping trip. I spent two nights in the hostel before returning to the ranch the day before Christmas Eve, so I could be ready to leave with Ralph, Paula and her son Franco in the morning.
On the morning of Christmas Eve, we packed up the trailer and the truck, and I followed behind on Garth as our little convoy pulled out of the ranch and headed north to the site that Ralph had reserved. We had a 3 hour ride up to the site in glorious sunshine, but as we got closer to the beach the sky clouded over and the temperature dropped a few degrees. We arrived at our patch and Ralph, Franco and his cousin who had joined us on his bike set up the trailer while I started a campfire.


Ralph had brought enough meat to feed a football team, and enough wine to satisfy a small army. We cracked open a bottle and threw some meat on the BBQ. We sat round the fire, eating and drinking, Franco supplying the music on his acoustic guitar, and the hours slipped away under a clear star filled sky.

The perfect way to spend Christmas Day
Christmas day was spent walking along the beach, and eating a huge and very untraditional but extremely tasty seafood lunch, followed by the usual shenanigans around the campfire. We were joined by our neighbours at the campsite, a couple of guys on leave from the Chilean Navy with their wives, and a friend of Paula's who had driven up from the city with her son.
After a wonderfully relaxing mini break at the beach, we packed up the camping gear and made our way back to the city. I was meeting up with Carlo and Toni, our BMW buddies from New York, and Jacquie was flying back to Mendoza so we could all spend New Year's Eve together in Santiago. I spent one more night at Ralph's and early in the morning I set off to Mendoza, Argentina, to pick Jacquie up from the airport.
Another amazing ride through the Andes, more outrageously twisty mountain passes, and I arrived in Mendoza with a few hours to spare before I had to go meet Jacquie. I rode up to the hostel I had booked, and rang on the bell. I was met by the manager, who told me that the hostel was over booked, and that I didn't have a room. No amount of pleading or arguing was going to change the fact. The manager pointed me in the direction of another hostel and I set off in a huff. I found a room in the hostel, but was still pissed off. I had wanted a nice cosy little love nest to bring Jacquie back to, and my first choice had a beautiful homely double room, and the hostel had a pool and a huge kitchen, but this place was just another hostel, not dirty, but just characterless. I chose a room and set about unloading the bike. I had just put everything in its place when the receptionist knocked on my door. He apologised, and then told me that he had thought this room he'd given me was free, but it was in fact booked, but he could give me another room. I looked at the room. It was yet another step down, smaller than the original room, with less light, and a window that opened directly onto a brick wall.
My time was running out now, so I had no choice but to accept, but my good mood had taken a serious beating.
I moved all my gear into the new room, and left for the airport. On arrival, the information boards showed Jacquie's flight was delayed by an hour, so I went for a stroll round the airport. That filled up about 6 minutes, what to do next?
I went over to check the boards again, only to see that Jacquie's plane was now 2 hours delayed.
I went back out to the parking lot and took Garth for a quick spin. When I returned, I only had to wait a few minutes before the boards showed that the plane I was waiting for had landed, and a half an hour after that, I spotted Jacquie walking through to the baggage claim. We waved to each other animatedly, I couldn't wait to throw my arms around her and give her a huge smacker on the lips.
Jacquie cleared customs, and I met her at the end of the ropes that keep the passengers separated from the greeters. We exchanged some body fluids, and then I took her bag from her and we walked arm in arm out to the parking.
We rode into the city so Jacquie could stretch her legs and take in some of Mendoza's scenery, and we went straight out for a big fat Argentinean steak and a couple of glasses of Mendoza's fine wine.
We got back to the hostel, and I told Jacquie the whole story about the room being, well, not being the one I had booked, or the one I would have settled for, but the third option, but she didn't care. She was just happy to be back in South America, and back with me.
We left Mendoza the next morning to ride back to Ralph's for one last night before returning to the hostel in the city centre to meet up with Carlo and Toni and share a Santiago style New Year's Eve together.
The ride back into Chile from Argentina was much more arduous than it had been going the other way. Thousands of Chileans were exiting their homeland to spend New Year's Eve in Valparaiso, an Argentine beach town famous for its extravagant fireworks display, and the queue for the border stretched for miles, and the tarmac had been lifted off leaving gravel in its place in preparation for a new road surface.
We followed a couple of other bikes along the inside of the queuing cars, until a policeman a few hundred yards from the border stopped us. He asked what we thought we were doing, and I explained, along with the other biker- who were Brazilian-that I was doing what I always do and skipping past the cars. The policeman seemed very confused by our behaviour. We all plead our case, but the copper was having none of it. Clearly bored, and with nothing better to do with his time, he was exerting his power because he could. We argued with him a few minutes more but soon we grew tired of banging our heads against a brick wall, so we turned round, rode a few hundred yards back up the queue, and pulled in again, with maybe 40 or 50 cars in front of us. We crawled along in the gravel, Jacquie walking along beside me. If I had the engine running, the heat from the engine started to slow cook my legs, but the bike was too heavy to push along the gravel, so we compromised, half pushing, and half riding the bike for another hour until we finally got to the border.
Once again, the new Argentinean system meant that no one knew how to make a temporary import for our bikes, and we waited another hour while papers were shifted from one portacabin to another, and customs officers discussed with each other the inadequacies of the new system.
Finally, we were through, and now we were stuck behind a convoy of huge trucks, slowly winding their way down the Chilean side of the Andes towards Santiago.
I waved goodbye to the Brazilians, and commenced a series of death defying overtaking manoeuvres, until we had a clear road ahead of us.


We arrived back at the ranch in the middle of the afternoon, and were in the hot tub washing away our stresses a few minutes after we arrived.
Paula had prepared a delicious meal for the evening and invited a couple of Ralph's friends round for dinner, and that night we ate, drank and made merry once more, before leaving in the morning for the hostel.
We arrived at the Casa Roja hostel shortly after Toni and Carlo, and after the usual catch up session, we went out for supplies. We bought our meat from a local butcher, and the rest of the ingredients for our evening came from the supermarket.


Making the Caipirinhas, the most important part of any meal!
On returning to the hostel, the girls set about preparing the salad and veggies, Carlo was in charge of the BBQ, and I had the most important job, the drinks-on this occasion, Caipirinhas, the most popular drink in Brazil, made from mashing lime and sugar together with ice and Cachaca, a local rum type liquor.
We had a beautiful dinner, and shortly before midnight, we stepped out into the centre to watch the fireworks in the main square and the free concert.
We bought some tinsel wigs to help us blend in with the glittery locals, and a couple of rockets for good measure. The crowd in and around the square was huge, we could barley see the stage, but we could definitely hear the music, and the crowd loved it. The countdown began, and as the digital of the tower and display on the top of the telecom tower turned to 00:00, a sea of fireworks exploded from the roves and adjacent buildings. Simultaneously, thousands of rockets launched confetti into the air, filling the sky with tiny pieces of paper, coloured lights, and smoke. It was quite beautiful.
The only thing to spoil this spectacle was the cheap Champagne that was now being sprayed all over the crown by some idiotic Chileans. When the display was over, the crown began to disperse and we headed back to the Casa Roja for our own little party, away from the throng.
On New Year's Day, we rode together for another night at Ralph's, and another big meal accompanied by more delicious Chilean wine.
Posted by Dan Shell at April 09, 2010 11:55 PM GMT

Enter your email address to receive updates to Daniel Shell & Jaquie Brazier's trip story!
Recent Entries
Archives:
Archives:
Monthly
Archives:
Category
NEW! HU 2015 Motorcycle Adventure Travel Calendar is now available! Get your copy now for some terrific travel inspiration!
HUGE, 11.5 x 16.5 inches, beautifully printed in Germany on top quality stock! Photos are the winning images from over 600 entries in the 9th Annual HU Photo Contest!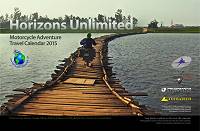 "The calendar is magnificent!"
"I just wanted to say how much I'm loving the new, larger calendar!"
We share the profit with the winning photographers. YOU could be in the HU Calendar too - enter here!
Next HU Events
Germany: May 14-17
Canada Ontario: Jun 18-21
Ireland: June 26-28
Colorado: July 17-19 TBC
Canada West: Aug 20-23
USA California: Sep 24-27
Aus Queensland: Sep 24-27
USA North Carolina: Oct 8-11
Aus Perth: Oct 9-11
Germany: Oct 22-25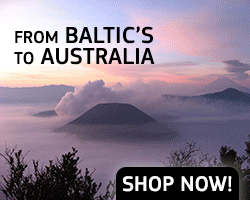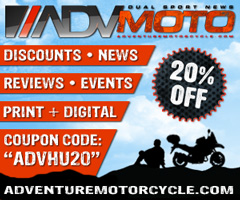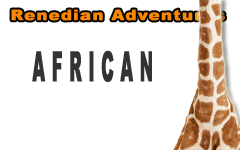 What others say about HU...
"I just wanted to say thanks for doing this and sharing so much with the rest of us." Dave, USA
"Your website is a mecca of valuable information and the DVD series is informative, entertaining, and inspiring! The new look of the website is very impressive, updated and catchy. Thank you so very much!" Jennifer, Canada
"...Great site. Keep up the good work." Murray and Carmen, Australia
"We just finished a 7 month 22,000+ mile scouting trip from Alaska to the bottom of Chile and I can't tell you how many times we referred to your site for help. From how to adjust your valves, to where to stay in the back country of Peru. Horizons Unlimited was a key player in our success. Motorcycle enthusiasts from around the world are in debt to your services." Alaska Riders

10th Annual HU Travellers Photo Contest is on now! This is an opportunity for YOU to show us your best photos and win prizes!
NEW! HU 2014 Adventure Travel T-shirts! are now available in several colors! Be the first kid on your block to have them! New lower prices on synths!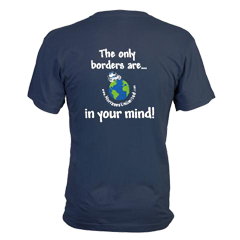 Check out the new Gildan Performance cotton-feel t-shirt - 100% poly, feels like soft cotton!

What turns you on to motorcycle travel?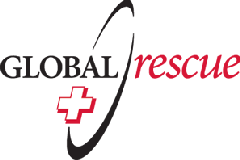 Global Rescue is the premier provider of medical, security and evacuation services worldwide and is the only company that will come to you, wherever you are, and evacuate you to your home hospital of choice. Additionally, Global Rescue places no restrictions on country of citizenship - all nationalities are eligible to sign-up!
New to Horizons Unlimited?
New to motorcycle travelling? New to the HU site? Confused? Too many options? It's really very simple - just 4 easy steps!
Horizons Unlimited was founded in 1997 by Grant and Susan Johnson following their journey around the world on a BMW R80 G/S motorcycle.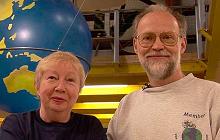 Read more about Grant & Susan's story
Membership - help keep us going!
Horizons Unlimited is not a big multi-national company, just two people who love motorcycle travel and have grown what started as a hobby in 1997 into a full time job (usually 8-10 hours per day and 7 days a week) and a labour of love. To keep it going and a roof over our heads, we run events (22 this year!); we sell inspirational and informative DVDs; we have a few selected advertisers; and we make a small amount from memberships.
You don't have to be a Member to come to an HU meeting, access the website, the HUBB or to receive the e-zine. What you get for your membership contribution is our sincere gratitude, good karma and knowing that you're helping to keep the motorcycle travel dream alive. Contributing Members and Gold Members do get additional features on the HUBB. Here's a list of all the Member benefits on the HUBB.
Books & DVDs

All the best travel books and videos listed and often reviewed on HU's famous Books page. Check it out and get great travel books from all over the world.

MC Air Shipping, (uncrated) USA / Canada / Europe and other areas. Be sure to say "Horizons Unlimited" to get your $25 discount on Shipping!
Insurance - see: For foreigners traveling in US and Canada and for Americans and Canadians traveling in other countries, then mail it to MC Express and get your HU $15 discount!
Story and photos copyright © All Rights Reserved.
Contact the author:
Editors note: We accept no responsibility for any of the above information in any way whatsoever. You are reminded to do your own research. Any commentary is strictly a personal opinion of the person supplying the information and is not to be construed as an endorsement of any kind.
Hosted by: Horizons Unlimited, the motorcycle travellers' website!
You can have your story here too - click for details!