June 13, 2005 GMT
Seeing Red
18th May 2005
Like most travellers we've had some ups and downs over the last few weeks. We developed a love-hate relationship with Italy and looking back we realised there has a continuing theme of red.
We arrived at the ferry terminal in Barcelona 2 hours before departure just like the man at the desk had said but were still sitting in the carpark when the ferry was due to set sail. We know the Spanish are a relaxed bunch but was this normal? Anyway we got on and headed straight for the passenger lounge chairs which would be home for the next 18 hours. The room was empty except for the old couple at the back and we both breathed a huge sigh of relief "who cares that the ferry was 2 hours late at least we will get some sleep" we said. We heard a huge noise down the hall. It was the same noise we had heard in Santander when the wind was charging up the valley but this time it was worse - 300 Italian teenagers. Teenagers are bad at the best of times but Italian teenagers have even more attitude and volume. The once peacful lounge was transformed into a mosh pit and we just looked at each other is disbeleif.
We won't go on too much but we managed to find shelter in the cinema. It was easier getting sleep with the theme tune of Mission Impossible next to our heads than it was with the kids. The next morning started off promisingly with some peace and quite but once again we were soon inundated with loud, annoying Italian school kids until we got off at 5pm!
We thought we were over the worse when we got on the bike to ride off the ferry but managed to leave in style by dropping the bike on the grease covered ramp made even more exciting by the fact that there was a 40tonne truck bearing down on us. In fact the only saving grace is that it happened out of sight of the school kids who would have been laughing for weeks if they had of seen us and the bike tumbling to the ground.
Thankfully that is as bad as it got and from then on Italy has been fantastic. We spent the first three days camping next to a massive lake and were made welcome by the most helpful, friendly campsite owner ever (we think she knew we had had a bad time on the ferry and was trying to convince us that not all Italians are like that!).......
We'd been told Rome was amazing and were both really looking forward to it. But nothing prepared us for just how amazing it was. Walking up the steps from the Metro and being greeted by the colosseum took our breath away. We explored the city for two days and at every turn there was a buliding, a fountain, a statue and even a lampost that wowed us. We visited Vatican City and St Peter's Bascilica which was a truely beautiful building. Much to our legs dismay we lined up for nearly two hours to climb the dome of St Peter's and then climbed nearly 500 steps to the top (very wobbly knees!). As we climbed the dome the path became very narrow and we actually had to bend our bodies with the curve of the dome.
Before we left Rome we followed tradition and threw our coins into the Trevi Fountain - one to ensure our return to Rome and the second coin for a wish to be granted. We were both more concerned about the first throw. We rate Rome our favourite city in the world (for now anyway!).
From Rome we headed north to Tuscany and camped just outside Florence. As described in books and lifestyle change TV shows the Tuscan scenery is truely beautiful. We visited Sienna and Florence and although both lovely cities we were finding it trying on the tourist trail. The tour groups have taken over and it becomes a chore to expore the city rather than a joy. We decided to head to the Italian coast for peace and quiet and escape the crowds.
But a detour was necessary. We added 200km to this leg in order to visit the Ferrari Galleria in Maranello. After visiting Cathedrals, museums and art galleries Garry was ready for his sort of gallery. It met his expectations. He had a huge grin from start to finish. But even I admit it was well worth the detour. The gallery was in two levels - one dedicated to the racing history (the cars that money can't buy) and the other to road going Ferrari's (the cars that our money still can't buy!). We took a million photos of us posing by the cars - wishful thinking.
We had a really nice ride to Devia Marina on the north-west Italian coast. It was strange to be riding through moutnain ranges and knowing the ocean was just around the corner. We were both very content lazing at the beach and the water, although a little chilly, was crystal clear and beautiful. On our second day at Devia Marina we woke up to a bit of a nightmare. We both felt really itchy and once we woke up properly we realised we had ben invaded by tiny red mites which were falling from the pine trees. As campers you come come to expect bugs and ants ect but you don't expect to see mites covering your sleeping bag and pillow! They were on absolutely everything. We had planned to do a 12km walk that day and in true "bury your head in the sand" style we abandoned the tent and opted to spend the day enjoying ourselves rather than deal with the mites.
The walk was the Cinque Terre (Five Towns). The towns are set right on the coast and the scenery along the walk is gorgeous. The guidebook described it as "mildly challenging". We were mocking the other walkers on the train on the way there who were carrying their walking poles and huge backpacks - what did they have in there? Our only supplies was a sachet of marmalade I'd stolen from a cafe in Florence. But having said that I would say the 1st two legs are "extremely challenging". There are several headlands and therefore its quite hard work climbing steep and rocky steps. Very red faced I told Garry several times that I was "having a heart attack", "about to collapse" and finally "dying" (in hindsight a little dramatic I know). Garry just kept telling me it flattens out from then on (which it didn't) or promised me ice-cream at the finish (which worked). But despite the lack of breath we did have a fantastic day and we were very proud to have treked the 12kms. And of course each town was quaint and bustling with atmosphere. You enter a few of the towns into a residential alley and the locals have obviously become used to having tourists trek past their front door as they are just getting on with their daily routines and don't bat an eyelid.
We envisaged the track to be packed with tourists but whenever we came across a group we just powered on past them into a clear space. It was like the Tour de France with breakaways from the main pack and even commentry on Team Scutch. When we finished Garry was expecting some sort of flag and fan fare but all was quiet. So we just headed to a cafe for our own little victory celebration of coffee, cake and Team Scutch photo.
We were dragging our heels to return to the tent and the infestation. Being exhausted from our walk didn't hellp with motivation. We decided to move into a tent provided by the campsite and then de-mite everything bit by bit. Everything was wiped down and I mean everything. At one stage Garry was wiping every page of our books. Until he came across our 1000 page Lonely Planet - then it was just front and back cover.
We left first thing in the morning (after more wiping, shaking and swearing). It was such a shame to leave under bad circumstances because we had really enjoyed all of Italy but we both felt excited about reaching France.
It was yet another gorgeous ride into France. When we crossed the border we gave a cheer - we felt like we were coming home. For the first time on the trip we felt like we were entering a comfort zone. We are currently camped at Antibes - same site where we campted 4 years ago (even chose same pitch!). Strange as we don't like same old same old yet we went straight back to what we know. We are having a fantastic time exploring both the coast (Nice, Cannes, St Tropez) and the mountains. Garry is rediscovering mountain roads he fell in love with nearly ten years ago. Yesterday we rode to Gorge de Verdon and the scenery and twisty roads are a dream. Life wasn't all sweet though as we were absolutely drenched on the way home in pouring rain for 150km!! Not nice when you are returning to a little tent.
Tomorrow (19th May) we are at the GP in Monaco and then Friday to Chamonix for the Scutcher family reunion.
Posted by Garry Scutcher at
05:57 PM
GMT
Is the honeymoon over?
The Monaco Grand Prix seems like a lifetime ago now! We have packed quite a lot into the last few weeks.
The GP was even better than we anticipated. It wasn't race day but a practice day so it wasn't like you see on TV but still the atmosphere was fantastic. It was a gorgeous blue sky day and we were really surprised to find our seats were opposite Michael Schumacher's pit. The sound of the cars was amazing and of course deafening. Once you put ear plugs in there was no turning back to the naked ear. Didn't stop Garry sitting right next to the track mesmorised by the cars. He had a screaming headache by the end of the day but said it was worth it or maybe it was the one beer he had (light weight!).
Scutcher reunion was next on the itinerary and we rode back through Italy, through the Mont Blanc tunnel (11km tunnel - a bit claustraphobic after a while) and into France again. In Chamonix we met up with Garry's mum, dad, brother Paul and his girlfriend Rachael. First one to get a hug from Garry was Paul's new motorbike (ZX12R for anyone interested). Once again we stayed in the same campsite we had stayed in four years ago. The view of Mont Blanc and the French Alps from the campsite was beautiful and it was very exciting to meet up with the family again.
Unfortunately after a day or so the rain set in and we were forced to pack up our tents in the wet (not fun) and move on. We stayed with mum and dad and said our goodbyes to Paul and Rachael and rode further into France to Annecy.
The campsite we stayed in was perfect. We had mountain views again and each day watched paragliders sail off them. We were able to hire bicyles and cycle into town on a fantastic cycle path along the lake. The weather was also perfect with 30-35 degrees. We met up with Paul and Rachael again here and all rode to the top of the mountain to watch the paragliders jump off. Its both spectacular and scary viewing.
Following our previous path once again we headed back to Gorge de Verdon in the south of France. We were still with mum and dad and looking forward to seeing the gorge in sunshine this time. The ride was exhausting in 35 degree heat and after inspecting 4 or 5 campsites we finally found one and collapsed for the night. We stayed near a tiny town called Moustiers-Sainte-Marie which was full of little pottery and gift shops. It was very quaint and very French.
We took a ride up to the top of the canyon where the views of the gorge are fantastic. We took great joy in throwing rocks over the edge and counting how to long until they landed (dad was a huge fan, it took 10 seconds to hit the floor).
On our last day with Mum and Dad we hired a paddle boat and cruised up Gorge de Verdon. The water was a crystal clear green and it was a gorgeous day. We each took turns jumping in for a swim and paddling. It was a perfect way to end our trip with mum and dad.
After a sad farewell we headed back to Annecy on our way to Switzerland.
Once we had left mum and dad we felt a little lost. We had started to have a holiday rather than be travellers and having re-visited places we really needed something new to wow us or an adrenalin rush to kick start us again. We started having those 'what are we doing with our lives?' type feelings. It's tough being stuck in a travel rut! (Go on - roll your eyes).
We attempted to get the bike serviced but were very unrealistic in trying to book it for the day before we left town. Garry is planning on servicing some parts himself and we will book ahead to get the rest done in Munich. Unfortunately Garry bought a 4L container of oil for an oil change only to discover he needs extra tools to get the oil filter out. So Jo has been carrying 4L of oil in her lap for the last 400 miles (600kms)!!!
We had high hopes for Switzerland to pull us out of our "travellers depression" and at first were a little disappointed. We had planned to stay near Montreaux (Lac Leman) but the campsites were dire. One was just a public park and as far as we could see there were no facilIties. Another was run by a guy with a moehawke who was a bit gruff (only second to his wife!) and the pitches were right on top of each other. We made a quick exit and travelled further to Martigny. The campsite was ok'ish but the wind was not. We feared for our tent as the wind ripped through the valley - actually it was three valleys so the wind was coming from all directions.
We did have a nice ride into a nearby town of Sion and then rode into the mountains on some fantastic twisty rodes with lovely views of the moutains and valleys. The ride down the mountain was fantastic. Garry is really getting used to the bike and we enjoyed the twisties.
We had heard a rumour that there was a road toll to use Swisse motorways. We asked at tourist information and discovered it wasn't a rumour and was 40 Francs. The woman was amazed we had been travelling on motorways ever since arriving in Switzerland without paying the toll. We had thought all the cameras were speed cameras on the motorway! Hopefully there isn't a fine waiting for us in the UK (both for the toll and speeding!).
From Martigny we rode towards Interlaken (now avoiding motorways). On the way we stopped to catch the train to Zammatt - a car free town except for electric run cars. From Zermatt you get the best view of the Matterhorn. It has been a childhood dream of Garry's to see the stunning peak but unfortunately cloud covered most of the summit. The town of Zermatt was lovely though and had an amazing atmosphere. We imagined what it would be like with the Matterhorn in full view looming over the little village. We had to settle for a postcard instead! There is even a cemetary dedicated to climbers who have died while climbing the mountain. It's grim reading but at the same time we thought it's best to die doing what you love, or at least trying to.
Late in the afternoon we set of on our next leg towards Interlaken. This meant crossing a mountain range and as it was raining and the weather was closing in we were anxious to get it over with, although the excellent scenery made it a little easier. We saw plenty of bikes coming down which made us feel better about the ride - at least it was do-able. It was probably the most dramatic ride we have had with one hairpin bend after another, a sheer drop down and towering snow capped mountains on either side of us. At one point Jo wanted to take a picture of the winding road below but Garry said wait until we reach the top. At the top we were in the clouds! We couldn't see the road in front of us let alone the road below us! Although our families don't want to hear this, visability was at the most 5 metres.. It was freezing and scary but we loved it. It was the adrenalin rush we needed. It was amazing to think last time we rode through snow Jo was reduced to tears but this time she was taking photos and laughing about it. The scenery was artic. We felt like we were the only ones in the world and the world was just the few metres around us. Very surreal experience. Having said that though it was nice to come down the other side and we didn't envy the bikers we passed who had that ahead of them. The scenery on the other side was breathtaking. As we decended we road out of the clouds into Heidi country! Switzerland is so green, so lush and so fresh. Waterfalls gush down the moutains which constantly surround us.
We rewarded ourselves with a night in a hotel. The first since we set off on our trip (approx 60 days). We have to admit it was nice to sleep in a bed and not cross a field to use the loo (although we had to go down the hall - we didn't splash out too much!). Because of the expense of a hotel we avoided spending more on a restaurant and instead raided the snack machine. So we had a bed and roof over our heads but dinner was crisps and a snickers bar. We were so happy about our moutain ride and getting our travel spirits back we didn't care. Also took advantange of breakfast supplies and left the restaurant with our pockets stuffed with jam, butter, sugar and tea bags!
As we rode to Interlaken we heard some jets and our natural reaction was to look up but they were in what seemed like a field of cows next to us hurtling full power down the runway!! It was awsome to hear and see them right beside us. We have been amazed our many jets there are in Swizterland. Perhaps it is the equivalent to cruise boats or yachts in Monaco!!?? We also saw some army troops training with tanks in a field near Montreaux. We thought Switzerland was supposed to be neutral or is there something going on we don't know about?
We are now in Interlaken and have been enjoying some mountain walks. There are so many gorgeous places to visit with spectacular views in this area. We are falling in love with Switzerland. Jo has seen the Milka cows but is yet to see a purple one - will keep you posted. Garry is certain it's days are numbered and he will soon have two cows behind him on the bike!!!!
In terms of our whole trip we are now moving slightly out of our comfort zone. In the region we are in now they speak German (or Swisse-German maybe - not sure). No matter what we can't speak German. Up until now we have been fairly ok with the language and with the cultures but we think from now on we will have to work a little harder to get by. But this is what makes it a challenge and more fun. On Saturday (11th June) we ride to the Black Forrest in Germany. Bring on the beer!
Posted by Garry Scutcher at
05:58 PM
GMT
Enter your email address to receive updates to Jo and Garry Scutcher's trip story!
Recent Entries
Archives:
Archives:
Monthly
Archives:
Category
Now that summer is here, get On the Road! Take 30% off the Achievable Dream - On the Road! 2-DVD set until August 31 only.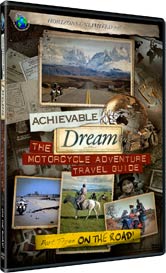 Our veteran travellers share their tips (and great stories) for staying healthy, happy and secure on your motorcycle adventure.
"A fantastic, informative and inspirational DVD."
"It's brilliant - thank you very much!"
Check it out at the HU Store! Remember to use Coupon Code 'ONTHEROAD' on your order when you checkout.
Next HU Events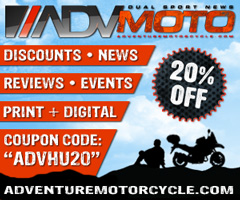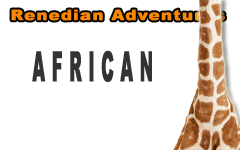 What others say about HU...
"I just wanted to say thanks for doing this and sharing so much with the rest of us." Dave, USA
"Your website is a mecca of valuable information and the DVD series is informative, entertaining, and inspiring! The new look of the website is very impressive, updated and catchy. Thank you so very much!" Jennifer, Canada
"...Great site. Keep up the good work." Murray and Carmen, Australia
"We just finished a 7 month 22,000+ mile scouting trip from Alaska to the bottom of Chile and I can't tell you how many times we referred to your site for help. From how to adjust your valves, to where to stay in the back country of Peru. Horizons Unlimited was a key player in our success. Motorcycle enthusiasts from around the world are in debt to your services." Alaska Riders

10th Annual HU Travellers Photo Contest is on now! This is an opportunity for YOU to show us your best photos and win prizes!
NEW! HU 2014 Adventure Travel T-shirts! are now available in several colors! Be the first kid on your block to have them! New lower prices on synths!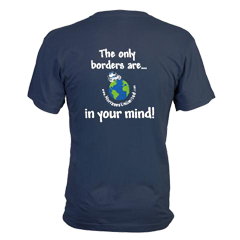 Check out the new Gildan Performance cotton-feel t-shirt - 100% poly, feels like soft cotton!

What turns you on to motorcycle travel?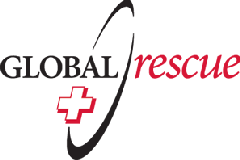 Global Rescue is the premier provider of medical, security and evacuation services worldwide and is the only company that will come to you, wherever you are, and evacuate you to your home hospital of choice. Additionally, Global Rescue places no restrictions on country of citizenship - all nationalities are eligible to sign-up!
New to Horizons Unlimited?
New to motorcycle travelling? New to the HU site? Confused? Too many options? It's really very simple - just 4 easy steps!
Horizons Unlimited was founded in 1997 by Grant and Susan Johnson following their journey around the world on a BMW R80 G/S motorcycle.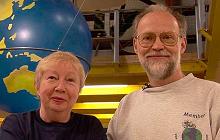 Read more about Grant & Susan's story
Membership - help keep us going!
Horizons Unlimited is not a big multi-national company, just two people who love motorcycle travel and have grown what started as a hobby in 1997 into a full time job (usually 8-10 hours per day and 7 days a week) and a labour of love. To keep it going and a roof over our heads, we run events (22 this year!); we sell inspirational and informative DVDs; we have a few selected advertisers; and we make a small amount from memberships.
You don't have to be a Member to come to an HU meeting, access the website, the HUBB or to receive the e-zine. What you get for your membership contribution is our sincere gratitude, good karma and knowing that you're helping to keep the motorcycle travel dream alive. Contributing Members and Gold Members do get additional features on the HUBB. Here's a list of all the Member benefits on the HUBB.
Books & DVDs

All the best travel books and videos listed and often reviewed on HU's famous Books page. Check it out and get great travel books from all over the world.

MC Air Shipping, (uncrated) USA / Canada / Europe and other areas. Be sure to say "Horizons Unlimited" to get your $25 discount on Shipping!
Insurance - see: For foreigners traveling in US and Canada and for Americans and Canadians traveling in other countries, then mail it to MC Express and get your HU $15 discount!
Story and photos copyright © All Rights Reserved.
Contact the author:
Editors note: We accept no responsibility for any of the above information in any way whatsoever. You are reminded to do your own research. Any commentary is strictly a personal opinion of the person supplying the information and is not to be construed as an endorsement of any kind.
Hosted by: Horizons Unlimited, the motorcycle travellers' website!
You can have your story here too - click for details!