New Zealand
January 19, 2003 GMT
New Zealand - 1
Auckland (07-11-2002) till Auckland (19-01-2003)
We arrived at the airport of Auckland on 7 November 2002 and we knew that Jan or Graham was coming to pick us up. We were earlier than expected so while we waiting we saw Graham walking in. We had not seen him for 1.5 years, so it felt good to see him back. On the way from the airport Graham gave us a quick tour through Auckland before taking us to his house. Here he gave us a whole room so we could taste being back in a civilized country again. It was not hard at all, in fact sometimes it surprises me how easily you swap back again. We celebrated our arrival in New Zealand that night in a very nice restaurant. Afterwards Graham took us to the harbor where we saw a lot of expensive yachts in "The Viaduct" which all came to see the "America's Cup". The "America's Cup" is virtually unknown in Holland (Europe) but a really big thing in New Zealand.
Click for larger image
Route through New Zealand; 07-11-2002 / 19-01-2003
At Grahams place was also Jan and Katherin staying. We met them a couple of times before in Asia and Jan had obtained a working-holiday visa so he was not traveling at the moment but earning some money. We had no time to work as there were a lot of things waiting for us so we started the next day with picking up the bikes from the airport. We first had to go to MAF (Ministry of Agriculture and Forestry) so Graham dropped us off at their office before going to work. MAF had to inspect our bikes but they were already inspected so there was only the paperwork left to do which took some time. Our next stop was at the Customs office. Unfortunately they had just moved into a new office, 3 kilometers from the airport so this was a long walk along the highway. Fortunately the weather was nice and it was a small price to pay for riding on our own bikes again. At the Customs office we met again by very friendly, helpful and efficient people so within 5 minutes we had our carnets stamped and could walk back the same 3 kilometers again. All official procedures were completed now, everything was so easy and nowhere we had to bribe. It was so nice to be back into civilization.
On our way back to The Airline Company, where we had to pickup the bikes, we bought a jerry can with petrol. When we arrived at the warehouse a man, Joop Hageman, approached us in the Dutch language as he already had seen the bikes were Dutch motorbikes so then we must be Dutch as well. Obviously he was also from Dutch origin and lived in New Zealand for 40 years already. The first thing he told us where we could find the coffee and all the people were so nice to us and did everything to help us out. The crates were broken open and the bikes were assembled. Graham helped us as well as he was visiting us briefly during his lunch break to check if we and the bikes were all right. Joop offered us to store the crates in the warehouse so we could use them again for the shipping to Australia, an very generous offer which we couldn't refuse.
Click for larger image
Unpacking with help of friends
After the bikes were back in one piece we loaded the luggage on and started both of them using the battery of the forklift as both batteries of the bikes were completely flat. Both bikes started but Martins bike died soon after. As this was as expected we didn't want to look for its cause so the guys told us we could leave the bike with luggage behind and parked it in a room that was just painted, so no one could touch our stuff which was most kindly of them. The next morning Graham arranged a pickup and together with Martin he went back to the warehouse to pick up the second bike and brought it straight to the BMW-dealer to get it serviced, a special treat we thought Rosie was worth it as the last time a BMW-dealer worked on her was in Ankara (Turkey) 77.000 kilometers ago!!!
In the meantime I was turning myself around in a wonderful bed. I didn't need advice from anyone to do this. It felt like a queen. No bike, no roads with maniacs like in Indonesia to worry about, only an empty house where you could hear the birds singing outside. I realized for days that we missed this (and much more) for a long time. We still had my bike so we decided to meet Becca and family. Martin had met Becca on his South America trip early 1998 and he hadn't seen her since. On a Sunday we visited Becca and Brian and we had a good time with them. They took us out for a ride to Maraetai Beach with Emma, their 1 year old daughter, between us. But the very first thing they had to do was selecting their Christmas-tree. The weather was nice so we strolled along the beach for a while and we had nacho's together afterwards in a nice wooden restaurant. Emma had a lot of fun eating with her hands. Back home Brian made us a confession that he saw a rugby match in the middle of the night on TV so he was pretty tired that day. He showed this soon as he was knocked by a hammer on his head and was snoring on the sofa. We had so much fun to see this all happening right in front of us. Some people leave a good first impression and Brians one was so good we had to capture this moment and we took him from his best side.
Click for larger image
Brian having a nap
It took us some days to come to ourselves and we needed some days doing nothing. Jan and Katherin had friends over and left to explore the South Island. We were all alone as Graham was working making long days and he almost only showed up for diner and to sleep. It was nice to stay with him and I enjoyed cleaning his house, do the daily shopping and cook in a proper equipped kitchen again.
Martin in the meantime was crossing through Auckland on my bike to arranging insurance and all kind of other things for our holiday with his parents before they came over (next January). He had to put new locks in his panniers and organized all the spare parts. It was great that we could leave our bags open while we were sorting everything out and didn't had to lock everything every time we left the house. Sometimes it's good to be back in a house and realize how special some things are, isn't it? Another thing we had to do was extending our visa as a 3 month stay in New Zealand was too short for us. When we went to the Auckland Immigration Office it was extremely crowded and although it was only 10 am. they were full for the day. One guy told us we could extend our visa through the internet as well. So we went to an internet-place and within 10 minutes we had applied for our extension (NZD 65 each) and the next day our application was granted so we could stay until 13-08-2003, so more than 9 months! This was more than enough to spend the whole summer here.
Another thing we had to do was visiting a doctor as since a long time I had some pain in my legs. I had had thrombosis some years ago so the doctor didn't want to take any risk and told me to have an ultra soon-scan. Nothing special was found except for the bill. My goodness it felt like I had to empty a bucket of money. The money was gone before we knew. The doctor I had visited was a German educated one and he was also a supporter of "alternative healthcare".
All the visits to the doctor, clinics, immigration offices, insurance companies and BMW-dealers made Martin a quick learner in knowing his way around in Auckland. Driving through Auckland we noticed that New Zealand reminds us a lot of the USA. The roads and houses are quite similar and there is a great diversity of architecture as almost no house is the same. One afternoon we drove along the coast and was so nice to be in a country which is civilized and still has a stunning nature.
To have oil in your bike is one of the most important things for a biker. I'm not checking it very regularly and when I finally did I saw no oil-level in the reading glass at all and it was time to have a talk with Martin. He wanted to wait for his bike to return from the dealer but I had a flash-back of a day there was no oil in one of my instruction bikes I had anymore. Then the oil was dripping on my shoe and I asked my instructor where it came from. Sometimes it's good to be a woman! My bike was now also losing some oil from an unidentified place. So we brought also my bike also to the dealer and they both were in repair now.
Click for larger image
Both bikes under maintenance
Because we didn't had a bike anymore we visited the Auckland museum. Graham had told us that there was also a temporary exposition about the life of Edmund Hillary, a New Zealander who was the first to conquer Mount Everest successfully in 1952. It was very interesting but I like other adventures in life and definitely no climbing, not even on Mount Everest. It was interesting to read about his life after he climbed Mount Everest as it was unknown to us he also went to the South Pole. He had given a lot of lectures and had lived a fast life until he realized that he was not controlling his life and wasn't listening to his own heartbeat anymore. The museum is absolutely worth a visit (actually more than one as it's huge!)as it has also a pretty big collection of Maori arts and history. What I loved the most were the paintings of Goldie. The way he has painted Maori people is amazing, I was very impressed. There was also an elephant which was brought in 1930 to Auckland Zoo and the idea was to let children have a ride on its back. But he was too aggressive and they finally had to kill him. Now he's standing in the museum, well stuffed and in my eyes as a message to the people: Live and let live!
Auckland is a big town and there is a lot to see. On top of that Graham was taking us outside Auckland, to Karekare beach. The road to the beach was really winding and a great thing to ride for a biker. The nature is overwhelming. When we arrived at the beach and walked along it the first thing we noticed is the rough sea and the color of the sand on the beach is dark blue. Graham told us that it's because of the high amount of iron in the sand which gives it it strange color.
Click for larger image
Karekare Beach
click for larger image
New Zealands is a nice place to go hiking
Behind us were steep walls of rock so we were trapped between the rocks and the beach in beautiful nature. At places you still can find the old railway track as they used it for transporting the Kauri trees in the beginning of the 20th century. Now the whole area is a protected reserve. After an exhausting afternoon on the beach Martin fell asleep in the car just like a baby. We still had to do some shopping and after we came home we all we exhausted. We had a wonderful time in Auckland at Grahams place and we made the best out of it while we had to wait until Martins bike was ready. BMW NZ hadn't all the parts on stock so they had to come from Germany although there's a huge BMW spare parts warehouse in Singapore but that's for the Asian region only!?!? A good time for Martin to install the Scott-oiler on my bike so I don't have to lubricate my chain anymore, which gave me a real good feeling. It's easy to forget as Martin doesn't remind of it either as he has a shaft drive on his bike.
On a Saturday we had a phone call that Martins bike was finally ready, so we picked it up and planned to leave on the following Tuesday. But on Monday my bike refused to start while we were somewhere in Auckland. The battery was new so we phoned the BMW-dealer and Neil came to pick up the bike. The next day he returned the bike and had to admit that a cable wasn't wired up properly so the battery wasn't charged. But at least we could leave Auckland the next day and start exploring New Zealand... FINALLY!!! But also this wasn't easy as Martin discovered that his left cylinder was still leaking a tiny bit of oil despite a new gasket. He found out that it was the filling cap so fortunately Neil had one on stock so it was replaced in no-time and we left Auckland heading up north.
We had spent a long time in Grahams house and we could always return as he left us his house key. But we felt too spoiled and we wanted to do some camping as we had not used our new tent at all so we were desperate to test it out. The weather wasn't as steady as in Asia and was actually a little bit like in Holland, so nothing unusual (although we hadn't experienced this weather anymore for some years). In New Zealand the weather is changing very quickly and sometimes you have three seasons in a day, so you'll never know what will come over you the next moment.
Click for larger image
New Zealands stunning coasts
We spent some time at the DoC-(Department of Conservation) campgrounds. The nature is amazing and the space you experience everywhere is wonderful. We drove north along the west coast and did some hiking around Kaiiwi lakes. The scenery is natural (reserves, forests) or cultivated (farmland). We visited the Kauri forest, or what remains of it. The Kauri trees are slow growing trees and can get over 2000 years old. Their wood is of excellent quality and that's why they were logged intensively. We visited the Matakohe museum which displays a lot about the logging and in the Waipoua Forest there were some giant Kauri trees left. There are supposed to be Kiwi's (birds) as well but except for signs along the road we didn't see them. The farmlands we passed were dotted with sheep, one of New Zealand's trademarks. On the way to Cape Reinga we had to stop as some sheep were going from one meadow to another and it was great to see how the well trained dogs were able to direct all the sheep.
Cape Reinga is the North tip of New Zealand and here you can see two oceans coming together, the Tasman Sea and the Pacific Ocean. But before we got at the cape we had to drive 22 kilometers over a gravel road. For Martin this was peanuts but for me it was a total new experience. I felt the bike slipping and sliding underneath me. It was good that Martin was my teacher at the time so there was nothing to worry for little Jen. I did pretty good for a learner I must confess and even my teacher agreed this. Sometimes Martin was speeding up over 80 kmh. but I started with a slow 20 kmh.. Martin didn't want to push me but told me to speed up as driving would be easier then. When I felt more confident I sped up and found out that my teacher was right! But 60 kmh. was more than enough for me. The 22 kilometers back over gravel was no problem anymore, but the next gravel road to Spirits Bay where we would camp for the night was totally different. The gravel road to Cape Reinga was a well used so the road was wide and with a few loose stones. The gravel road to Spirits Bay was hardly used so it was much smaller and with a thick layer of loose stones. So I was much less confident (actually scary) and drove slowly but managed to arrive without falling! An excellent achievement which we wanted to celebrate with a beer but the sand flies popped up with hundreds of them as uninvited guests and ruining our party. We changed our plan and left the beer alone. Instead we got the bags off the bikes really quickly and pitched our tent first and covered us with poison to get rid of these little baggers. It really didn't work but it wasn't too bad and we tried to keep our tent as sand fly-free as possible.
We only stayed here for one night and moved on to Matai Bay. Just before the campground we had to do our shopping and it was like in Asia as they didn't have much at all in the shops and you decide in the shop what you are going to make for dinner. In our case I chose for pancakes. Martin found a nice place on the campground which had a nice view over the bay. That afternoon I was trying to improve my talents as a photographer and Martin was willing to be my biker babe. With a sexy look he was laying on his bike but on the left side I saw there was still some dishwashing in the picture which had to be removed. Martin, with his long arms, was willing to reach for it but was hanging over too much. Oeps... his bike topped over and my sexy bike babe fell down to earth. With a lot of elegance he nearly rolled into the tent. All went well (except for his ego) and the pictures I took were excellent.
Click for larger image
A fallen biker-babe
It was time for preparing our dinner and as I was preparing the dough with the last two eggs in the shop Martin was starting up the cooker the dough was raising very quickly... and kept on raising!!! So we quickly used another pan. When we put the dough in the frying pan it shrunk quicker than it rose and the first pancake didn't work out well. I tasted it and it was absolutely awful. Martin asked me make a second one. I warned him that the taste was awful but he was stubborn and found out himself that, at least this time, I was right. We flushed all the dough through the toilet and had a sandwich with cheese and some wine as dinner to get rid of the bad taste.
Click for larger image
Tasting your own cooking
Opposite of us at the campground were Gay and Rob standing. They were an elderly couple from the Bay of Islands in their camper and they were feeding us all the time and they were absolutely the most adorable people to us. We spent some more time with them and Gay was telling me her mothers secret cooking recipes. From her I found out that baking powder is absolutely different to flower which explained our disgusting pancakes and she showed me her pancake recipe so I could make pancakes myself now. We continued down along the east coast and spent some days in Kahoe at the Kahoe Farm Hostel, run by Stefano and Lindsey, as the weather was getting worse and we made the right choice as it was raining almost continuously for the next days. We had a real home here for some days and the people were really nice. We had some time to kill during the rain so we decided to work on the travel reports. One morning Gay walked in as I was going to the shower. She insisted that we came over to staying with them in Paihia. We liked Gay and Rob very much so loved to promise this.
Click for larger image
Do we need to say more?
The weather was improving so we booked a trip on the "Snow Cloud", a sailing boat with was sailed by Chris who built the boat himself which took him 6 years. We sailed to the Cavalli Islands and the weather was really good, in fact we had a lot of sun that day and a nice breeze so we really enjoyed the trip together with another couple. We anchored at one of the islands and Martin had the most sailing skills and was able to row the dinky to the shore. It was an inhabited island where you would expect to meet Robinson Crusoe. On the beach we found beautiful shells. One was absolutely huge, twice the size of my fist. We went for a walk to the summit of the island. In the meantime Chris was preparing a wonderful lunch at the "Snow Cloud". When Martin rowed back to the boat there was a lot more wind and Martin had a difficult job to row the dinky back. The whole day Chris had to fishing lines hanging out behind the boat. When we were nearly home Martin found out that there was something on the line. He had a hard time getting the line in but with some help of Chris he could get the fish in. It turned out to be a kingfish of 7 kilograms. Martin was joking who would like to kiss its big mouth as it was Hugh and strong.
Click for larger image
Martin and his kingfish
Chris killed it by putting an ice pick into its brains. There was blood every where but Chris knew what he was doing. The fish was struggling for his life and I felt sorry to see it all. When the fish was dead Chris filleted it and threw the rubbish overboard for the sharks (as he joked about this). When we left the boat he gave everyone a big bag with some of the kingfish. That evening we fried the fish and it tasted really nice. Needless to say that we had an unforgettable day. The next days we made some daytrips in the area of Kahoe along its beautiful coastlines.
After six nights it was time to move on and we were heading for Paihia in the Bay of Islands. We knew it was a popular place but hadn't expect this amount of tourism. Fortunately we hadn't to look out for a room as the welcome from Gay and Rob was extremely warm. We spent one night with them and were busy with talking, eating which was compensated by walking along the beach. The next morning Gay and Rob had some appointments with their daughter elsewhere so Martin and I had a look in town for a room. Most places were fully booked but finally we found a room and we had to pay in advance. When we told Gay about this she said it was way too expensive and the motel across the street had cheaper bungalows. It even was much bigger and quieter. We had a whole bungalow instead of a tiny room! Martin and Gay went back to claim the already paid amount back. Of course they were not happy with this and when Gay was raising her voice as a local about the way she was treated they demanded her to leave the building. But also without Gays help Martin managed to get the money back. So we moved across the street and we could leave our bikes in their garage and they left us the key. This was a nice gesture as there is a lot to see in and around the Bay of Islands.
We did the thing all tourists do up here: taking a cruise through the Bay of Islands to the "Hole in the Rock". On the way back the captain saw some dolphins playing and made a short detour so we were able to see these dolphins and enjoy these beautiful creatures. They were jumping next to the boat and hiding underneath. It was a great experience to see them free in nature and so close.
Click for larger image
Dolphins in the Bay of Islands
We were dropped off at a little island called Urupukapuka. For six hours we could walk around the island. The nature was beautiful, stunning and unspoiled. Walking along the ridges we enjoyed the excellent views over the bay and its islands. This was a day we will never forget!
We also had our cultural share and visited Waitangi where the "Treaty of Waitangi" was signed which is considered as the birth of New Zealand. It was a nice place and they were very proud on their oldest buildings. But dated from around 1840 they are not so old according to our (European) standards. Another highlight was Russell where we had to take a ferry to. 150 years ago it was a place where whale hunters were spending all their money. It was known as "The Hell" as all the illegal things were happening over here. Finally the whole village was leveled leaving nothing but a lovely church with old graves around it and a mission house. The village was rebuilt and now it's a lovely village where you can have a stroll and a drink at the waterfront. It's quite touristy but absolutely worth seeing and to us it was one of the nicest places on the North Island.
Click for larger image
Haruru falls
Christmas was coming so it was time for us to go back to Auckland. So we drove down along the east coast enjoying all the beautiful views. We were little bit spoiled to spend so many nights in (guest)houses so we had to get used to our tent again. The weather is changing all the time. This is the same as in Europe but here it's changing way much quicker so you will never know what the weather is in an hour. The clouds were changing and one night the rain was dripping on our tent and kept on dripping the next day. Nothing to get jealous about! We didn't want to stay any longer and continued towards Auckland. Around Whangarei we made a small loop along the coast but Martin had missed a river on the map that was crossing the road. There was no bridge except for a footbridge but as we didn't want to drive 20 kilometers back we crossed the footbridge illegally without any problem and arrived back in Auckland completely wet.
For two weeks we stayed in Auckland, but not with Graham. When we were still in Indonesia we decided to have a relaxing Christmas holidays and asked Becca to arrange something for us. She made a reservation at a lovely place in Howick, close to where they live and this was our home for the next weeks. But this meant in no way that we had a lonesome Christmas. First of all Graham invited us to spend Christmas eve with him and Swiss friends from him. The next morning we were up early but as everyone knows: "An early bird catches a worm". We didn't caught a worm but a turkey instead. We had a lovely Christmas day with Becca, Brian, Emma and Brians parents. We started with a brunch and it was nice to be on a Christmas table with people you love. It was nice to see Christmas celebrated in a completely different way as you are used to. We don't give each other presents with Christmas. We use 5 December for this occasion as we celebrate Santa's birthday. Then you buy a present for someone and you include a poem with it about this person which (s)he has to read first before unwrapping. This provides you the perfect opportunity to mention some characteristics of this person anonymously. Because one present is unwrapped at a time and everybody has to read the poem first it takes the whole evening before everything is unwrapped. We missed this opportunity to tease another person a bit. Now all the presents were collect from under the Christmas tree and divided. Santa knew we were in Auckland as well as there were also presents for us. The presents were lovely as well as the Christmas dinner which followed. Becca and Brian did a really good job. We really had a memorable Christmas and at the end of the day we went back with a full tummy and a happy heart. We had a nice Christmas feeling but we didn't get used to the high temperatures. It was hot and there was NO snow at all! We were thinking of home and during some days I already felt extremely homesick. Now I knew for sure that our next Christmas we would be at home!
After Christmas we visited Devonport and this place is opposite the city harbor of Auckland and was really nice. The houses were build in a colonial style with nice veranda's and it had a romantic atmosphere. From Mount Victoria we had a wonderful view on Auckland city and its harbor. The weather was nice and we had a lovely day out there. We also collected our new 6 months visa for Australia. We got one in Bangkok, also for a 6 months stay and one year to enter Australia. At that time it seemed to be more than enough but now that year was already passed without visiting Australia. Extending the visa was impossible so we had to get a new one.
Click for larger image
Oliebollen, appelflappen and coffee
On New Years eve we had decided to do something typical Dutch and we were going to make "Oliebollen" and "Appelflappen". This delicacy is only made for New Year and there is no proper one without it. The days before we had sent some emails home for the recipe. We had to buy all ingredients and had fun with the pictures and the recipe from Mum her cookbook and Ed and Ellen who gave us a big support. Together we did it and while Martin was peeling the apples, I was baking them and Martin was an expert in measuring out all the necessary amounts as we had hardly any equipment for it. But the results were excellent which Martin proved well as he was eating them the whole day. We were invited that night at Grahams house to celebrate it together with him, Jan and Katherin. We spent the night sitting outside in the garden with a nice fire, an advantage with these high temperatures. It was different from what we were used to as there was no fireworks lighting the sky at midnight at all. But at least it was much better than last year when we were in Sukothai (Thailand) which was our lousiest New Year ever!
After the holidays we were eager to leave again but we had only another two weeks as Martins parents were coming to New Zealand for a month, so we decided to visit the Coromandel peninsula. To prepare for the departure both bikes were checked and we found out that, after 12915 kms. I had a flat front tire.
Click for larger image
How to repair this puncture?
Martin took the tire to our room and at the balcony he fixed the tire and checked it in the sink. Now for the first time there was a big plaster on my front tire but now the next day we were ready to move out again. The weather was good when we left Auckland and because of the summer holidays it was very busy on the roads and on the Coromandel peninsula. We drove to a place called Colville where we pitched our tent on a small campground. From here we could explore the north of the peninsula with daytrips. The next day however it was raining the whole day so we sat in the kitchen most of the day reading a book. The next day the weather was slightly better and we went to Fletcher Bay and this was on the north tip of the peninsula. It was a gravel road, but this time I enjoyed it a lot as I was sitting on the back of Martins bike. The road was beautiful as the cliffs were high, steep and there was a rough sea. Because of all the rain the gravel roads were slippery and I saw things I didn't want to share with Martin as I want him to have full attention to the road as there were no shoulders along the road. I hoped to be able to buy a cup of coffee in Port Jackson but looking at the size of this place I knew this was an illusion. The last 7 kms. to Fletcher Bay was a narrow sandy road and on top of that it started to drizzle so it got really exciting on the steep slopes. But Martin went through it all without any problem. Fortunately there was a toilet at Fletcher Bay we could use and after a little rest we had to drive the same way back. On the way back we were on the safe side of the road but the birds I saw on the way up were gone. The only thing we saw on the way back was a big bull worth taking a picture of.
Click for larger image
New Zealands steaks
Back in Colville we decided to go to Stony Bay on the eastside of the peninsula. The weather was improving, at least it wasn't raining anymore. The road to Sandy Bay was a gravel road and again the last 7 kms. was the most exciting part. The road reminded me of roads he drove in Malaysia as it was quite muddy, small and winding. We enjoyed stunning views from the top. From Stony Bay you can only walk to Fletcher Bay and we decided to do that later as well. When we arrived back at our tent 3 families had arrived, parked their cars directly next to our tent and were making a lot of noise till into the night. So that confirmed our decision to leave the next day.
Before we left to Stony Bay the next morning Martin had to shoot some bears and lions off the road as I liked the gravel roads yesterday but riding them myself was a completely other thing. But I managed it all and I must confess that we pitched our tent on one of the nicest spots you can imagine and it was our reward after riding these gravel roads. That day weather was good though cloudy. In the evening we made a fire and that night happened what I was afraid for the most: it started to rain! When we woke up the next morning it was still raining so we got dressed up like monks with our raincoats and Martin was stealing the show with the daypack hidden underneath. The walk to Fletcher Bay was around a 3.5 hours walk... one way. So we had 7 hours walking to go. The beginning was easy, a little bit climbing but we did some tracks in Malaysia which were much worse, so this was peanuts. The whole time we were walking through the trees so we had some protection against the elements. From a viewpoint we could see Polly Bay and it reminded me of South Africa. It was amazing and we loved the rough ocean rolling at the coast. When we arrived at Polly Bay the rain and the wind was getting worse. When we came closer to Fletcher Bay we left the bush and were out in the open slopes so the wind was really beating on us. We passed a sign that it was only another 30 minutes walk to Fletcher Bay but the wind got so strong that Martin had to hold me as I was really about to blow away. This was getting too crazy so we decided to turn around and hide in an old shelter we just had passed where we had a 45 minutes rest. We were soaking wet, cold and very tired. After we had lunch we walked back to Stony Bay and it was a hard walk now, especially before we reached the protection of the trees. Martin got problems with his left knee and it was hurting him so much during the descends that he needed a stick to support him. I was joking that he looked like Moses, but I was battling my own battle. One hour before we got back to Stony Bay my left foot was starting to hurt badly. We had to stop a few times and I was as happy as a little child when we finally got back to our tent. The first thing Martin did was making coffee under the suitcases of the bike to protect the cooker against the rain as during the whole way back the only thing he could think about was of a nice cup of coffee as a reward. I had different priorities and was busy getting rid of all my wet cloths and disappeared deep into my sleeping bag to get warm again. After a cup of coffee and some sandwiches we felt asleep like babies.
The whole day the rain and wind was slowly getting stronger. In the middle of the night was howling around the tent and Martin left the tent in the middle of the night to strengthen the pitching of the tent. Every time the wind was attacking our tent we were afraid it was tearing apart but it survived the whole night and the next morning we were surprised that it was quiet around the tent. We had hardly no food left so we had to move on. Because of all the rain from the last days the road back to Sandy Bay got very slippery. Dave and Jenny, a kiwi couple spending their holiday over here, offered me to bring my bike on a trailer behind a quad to Sandy Bay. I didn't have enough experience on a road under these conditions. The day before I already told Dave that I wanted to ride it myself, but the next morning I was crying my eyes out of my head and accepted gladly Dave's offer. Martin and Dave strapped my bike up on the trailer while Jenny was making some coffee in the meantime and I felt really relieved. After the coffee Dave and I went on the quad and Martin was following on his bike. When we were going down I was sure that I made the right decision by going down on 4 wheels instead of 2 as it was so muddy!!! I will never ever forget Stony Bay and also not these lovely people who saved my….
Click for larger image
Knowing your limits
At Sandy Bay I got back on my own bike and it felt really good again. On the gravel road I felt safe (as long as there's no mud) and if you take it easy it's even fun. In Colville we got back on the asphalt again. It's summer in New Zealand so it supposed to be nice weather but I had never seen so much water coming down in a short period as here in New Zealand. That day it was really pouring down so we sheltered at a petrol station but when we thought it got better and got on the bikes again it became even worse. It was raining cats and dogs and soon even our underwear was totally wet. Our shoes were filled with more water than you wished yourself in. By the way I'm a little bit snobby about this as I hate wet shoes and specially if they are the only shoes you have so you have to go with dry socks in wet shoes. I do hate that so much! Martin drove in front of me and I always feel so safe behind my man and he is in these moments a beacon in front of me. The water was gusting over the road and we drove to Whitianga and took a room in the first place we saw. It took us two days to get everything dry again and it was good we decided to stay some nights as the next day all (two) access roads to the Coromandel peninsula were closed because of floodings. The weather was cold, wet and there were floodings everywhere. It was nice to have a roof above instead of a tent. When the weather was clearing up we went out again and we visited the surrounding area and found out that Hahei Beach was a lovely place. Road 309 was a nice gravel road and two days ago this road was flooded so we went out to see it ourselves. We didn't see any remains of the flooding but the views was amazing. It reminded us of Sumatra and Laos and brought back nice memories to us.
After four days of waiting we had enough so we decided to move on. First of all because all the camping gear was dry again but more important because we had an appointment at Whakatane with Graham. Before we left Auckland we had booked a helicopter flight to White Island. We spent the night before in Whakatane so we didn't had to get up that early. Graham instead came straight from Auckland and had to leave at 5 am. the poor bagger. 9 am. we met each other at the (tiny) airport and soon after we were ready for "Take Off". The weather was gorgeous as there was a clear blue sky, no clouds and lots of sun. For us it was our first time in a helicopter. We had superb views as we flew over Moutohora Island and later over White Island. After landing on the island we got out to experience this very special scenery. It felt a bit like being on the moon as there was no sign of life and the strong smell of rotten eggs was right under your nose everywhere.
click for larger image
Landed on the moon?
Click for larger image
Smoke on White Island
We went for a walk over the island and this was a unique experience. We saw the crater lake and walked to the remains of a mine that once was on the island. Our pilot knew a lot about the history of the island and told us much about it. People were already mining for sulfur on the island in 1860. In 1914 there was a big eruption and all the miners on the island were killed during their sleep. Mining was stopped since but in 1926 they started to mine with much more caution again but were forced to close in 1931 because of the black Monday crash. The rusty remains were a silence witness of what once was here. After 1.5 hours walking on the island we flew back to Whakatane.
Graham had invited us to stay with his friends and we always love to be with Graham as he is a great friend and a lovely person to be with. We arrived at the house of Ross and Judy. Graham hadn't told me that their house was on a hilltop so there was a steep gravel road going up. But I had no time to worry and before I knew we arrived at their house. They have an mandarin orchard and in between they work on building their own house. The house is far from finished yet but they are living in the garage for the time being under very primitive circumstances. As their guests we were giving the best room: an old caravan but with a nice view on the Bay of Plenty and... White Island. The toilet was outside in the garden. It was a hole in the ground covered with a wooden box and the toilet seat an top all in the open so you had to take an umbrella with you when it was raining. Ross was the "toilet"-architect.

Click for larger image
The 'toilet-architect'
Also their bathroom was very special and romantic. A bathtub was placed outside in front of their garage and after sunset and the moon come out Judy was filling the bathtub and we could have a wash. Judy and Ross were really adorable people and we felt so good in their company.
Click for larger image
A room with an excellent view
The next morning Ross and Judy took us out for a ride. Graham, Martin and I were sitting in the back of their car where we felt like kids as Mum & Dad were sitting in front. We went to Motu over a gravel road through the Urutawa Forest. It was a beautiful road which was winding over an altitude of 1100 meter.
Click for larger image
Graham looking down the waterfall
We had a picnic at a nice waterfall and in the end "Mum & Dad" had given us a wonderful day which was ended with a big bang as Ross, a little naughty boy, made a real bronze canon about 10 years ago. In an old book from the end of the 19th century he found a recipe to make gunpowder. Graham helped him making it a few months ago. Ross gave us a demonstration and the sound was extremely loud and gave us a good laugh. Ross was also a good cook and he and Judy were spoiling us. We had such a wonderful time and we slept like babies. Graham was taking care of this by giving us coke with rum or was it rum with coke? Time flies when you are having a wonderful time and we had to go back to Auckland as Martins parents were coming to visit us soon.
In Auckland we had to do some work before they arrived. We had had so much rain on the Coromandel peninsula that the water also had entered Martins panniers and there was a lot to dry. So again our room was changed into a outdoor shop. Welcome in the real world! The world of travelers and some times the sun is not always shining here or as we read at a cafe we visited: "A man travels the world in search of what he needs and returns home to find there"
Posted by Martin Rooiman at
03:05 AM
GMT
February 16, 2003 GMT
New Zealand - 2
Auckland (20-01-2003) till Auckland (16-02-2003)
We picked Martins parents up from the airport on Tuesday, 20th of January. They were exhausted after the 30 hour trip which didn't surprise us at all as it was the first time they had an intercontinental flight and both had hardly flown before. On top of that they both couldn't speak English so we were very proud of them when they walked through the doors. They had some problems with the U.S. Customs but in the end everything worked out well. Dad was a little bit sick so we took them to our hotel quickly so they could have a proper nap and recover a little bit, so we didn't do much that day. But the next day, when they felt much better, we visited downtown Auckland and Kelly Tartons, a huge aquarium where you walk through inside a glass tunnel so you can see the fish and sharks swimming next to you as well as over your head, which is really amazing. The next stop was Devonport where there's a hilltop with a nice view over downtown Auckland and its harbor... but not this day as it started to rain when we got at the top so we didn't see a thing.
Click for larger image
Route through New Zealand; 20-01-2003 / 16-02-2003
The next day we picked up our camper, our home for the next three weeks, from the airport and Jeannette drove it back to the hotel. She finds it scary to drive through Auckland on a motorbike but with a big camper there was no problem at all. Except its height as she just touched the roof of the hotel, but the camper was already heavily scratched so nobody noticed another one. We loaded all our stuff and the parents into the camper and off we went. The motorbikes we had parked in the garage of Becca & Brian for three weeks. Becca had to leave her car outside but she didn't bother, how sweet of her.
Click for larger image
Martin with his parents
In our short three week holiday we wanted mainly to explore the South Island but we had one stop on the North Island. Rotorua is a must see, as it's famous for it's geysers. We found a spot at the local campground so we could start exploring how the camper works which wasn't too difficult. The next day we visited some nice geysers and learned more about the Maori culture. Mum & Dad were really surprised to meet someone they knew from back home in Enschede who was visiting New Zealand on an organized trip. About a week later we would meet her again on the South Island. Before we left Rotorua the next day, we visited some hot water springs with their famous smell of rotten eggs (sulpher) on the lakeshore before heading down south.
Click for larger image
The geysers at Rotorua
Click for larger image
With the camper in Rotorua
After driving the whole day we arrived at a small campground north of Wellington and we could still smell the rotten eggs. Incredibly how this smell lasts. So we wanted to clean our shoes when I suddenly found out that it had nothing to do with the Rotorua springs but with a boiling battery inside the camper. I quickly disconnected it to let it cool down. The next day we replaced the battery with a new one we bought and headed down to the ferry in Wellington.
After two days driving the camper we already noticed the differences. Driving a big camper is completely different to riding a motorbike but we got used to the camper very quickly. The camper certainly has its advantages as you can stop along the road to prepare a cup of coffee or sit nicely dry in a comfortable chair when it's raining outside. But on the other side we really missed the contact with the nature where we were driving through as we had the feeling we were looking to it from out of a cage.
The ferry trip across the Cook Strait was an... experience. The sea was quite rough so soon we were sitting outside on the deck. Nobody liked the rough sea and Mum and Jeannette were just sitting staring at a lighthouse for a very long time trying to control their sea-sickness feeling. According to Dad there was a 5 meter swell and this message didn't help the girls at all.
But we made it safe into the bays of the South Island where the sea got smooth and we arrived in Picton without any problems. We directly headed west over a very small and winding road. This was hard working in a camper and we missed the joy these roads brings us on a motorbike, but we already knew we would return here later on our bikes again. But your way of transport doesn't change the scenery of the Marlborough Sounds and it was simply breathtaking. We headed to Totaranui, in the Abel Tasman National Park, where we spent a day on a basic campground. We loved it here and sensed the same freedom we experience when traveling on our motorbikes. But this lasted only a day as the 'Battery low' warning light then lid up. The water pump was draining the battery really quick so we were using the local water tap instead. Here we also experienced another advantage of the camper. Sand flies were coming from everywhere and although it's impossible to keep them all out you can move around much easier in a camper than in our tent. Driving gravel roads with a camper is no problem as long as all the windows are closed and you don't need your mirrors as you see nothing else as a dense dust cloud behind you.
Click for larger image
Beach at Totaranui
Click for larger image
Island in a river
In St. Arnoud we camped at the shore of a nice lake but here the sand flies found us again and they had a big party as the whole camper was covered with them quickly. We did some laundry and had to hang out the laundry inside (also because it started to dripping). The camper is normally already not really big with four adults inside but with all the laundry hanging everywhere it was really difficult to see each other or to move around inside the camper Because of the sand flies it didn't surprise us that we were the only one on the campground. Not for long as we left the next day as well and traveled along the Buller River to the west coast. We ended up in Westport, a place we didn't like that much but it was good enough for a coffee stop.
Cape Foulwind was a much nicer place as there was a seal colony. From the viewing platform we looked down and first we saw just a few seals but we discovered more the longer we looked. It was nice to look at them for quite a while as the baby seals played with each other in a small pool.
Click for larger image
Well protected from the waves?
We continued to the campground in Punakaiki, a place famous for its pancake rocks and blowholes. The rocks are made of different layers of rock. The softer layers are eroded away by wind over a long period so the remaining rock look like a stack of pancakes. The sea made big tunnels in the soft rock as well and when waves are rolling into the tunnels there's only one way out at the end of them and that's up. So water blowing up out of the rocks like a big fountain. But when we were there there were hardly any blows. Nevertheless we liked it there very much.
Click for larger image
View from Pancake Rocks
We needed a break (again) and as the campsite was quiet and right on the beach so we decided to stay some days longer. But that didn't meant we were lazy. We made a long hike through a gorge following a stream and we enjoyed the lush tropical vegetation. We had nice views on the stream and had the feeling we were walking deep in the jungle. We decided to walk back to the coast along another route. It started with a steep climb... and the track kept on climbing. We took it easy and finally we got over the top and had a easy stroll down. We almost got back to the coast when we suddenly had to cross a river. There was no bridge and the rapid flowing water made crossing looking difficult. Jeannette, Mum and I decided to follow the riverbed across its widest part as the water is here the shallowest. Nevertheless the water was flowing into our hiking boots but we made it safely through the river and only had to work our way through some bush to get back to the track. Dad had, as usual, a different approach: He opted for the 'straight-line' crossing. This was the shortest way but also the deepest way. But he would have got wet feet anyhow so he waded through and the water came up to his waist so he had to hold the video-camera above his head. But in the end we all reached the other side safely and we walked back to the main road along the coast. We followed it back to the campground passing the 'Pancake Rocks' again. We were exhausted and didn't do much else except hanging around the camper the rest of the day.
Click for larger image
Tracking up a river through a gorge
It was time to try our luck so we drove the next day to Shantytown, an old historic mining village. All buildings were restored as they were back in the 'Gold rush' days. It was nice wander around here. A lot of old stuff was displayed and Dad even found an old Lynotyp, were he worked on when he started working. So it was not exactly from the Gold rush times but who cares! Jeannette & Dad did some panning trying to find some gold. In a pan with stones you slowly wash the stones away with water and in the end there are only some gold flakes left. It looks easier then it is, especially when you like the stones as well as Jeannette did. But in the end they both found some gold but it didn't made them rich! So we continued further South along the coast. The road followed the coastline so most of the time we had nice views over the ocean. We stopped several times at nice beaches and had lunch at one of them.
Click for larger image
Looking for some gold flakes
After a day driving we camped at a campground where we had nice views on the Franz Joseph glacier... that is when it's not clouded which it was. The campground appeared to be very noisy till late at night although I only heard about this the next morning from the others. In the morning it was still clouded but during the morning the sun broke slowly the clouds and we started to see the glacier. We drove to the glacier and walked the last bit over the stony glacier bed towards the end of the glacier. It was really impressive to see the end of the glacier and it was here nice cool despite the, meanwhile, hot burning sun. We spent here quite a while and after lunch at the camper Dad and I did some small tracks and found a small pool where there was a nice reflexion of the glacier in the water.
Click for larger image
The Franz Josef Glacier
Click for larger image
Another nice waterfall
We continued to the Fox glacier and camped there for the night. The next morning the weather had changed and it was heavily clouded, even with an occasional drip, around the mountains. It didn't improve so we thought about continuing without visiting the glacier. But we decided to have a quick look anyhow and as soon as we drove into the valley towards the glacier the clouds were gone here and the glacier was in full sun. So we parked the camper and walked to the glacier. Although the two glaciers are close to each other, they are different. We loved them both, but at the Fox glacier we could see the mouth of the glacier really well and also saw the big ice caves where the melting water was leaving the glacier and turning and formed a milky stream.
Click for larger image
Taking some rest
Click for larger image
Wild flowing dirty river
click for larger image
Martin parents at the Fox Glacier
Click for larger image
Fox Glacier
Click for larger image
A Kea is approching
So we had a pleasant surprise that morning and we continued our trip south along the coast.
Along the west coast of the South Island you don't have any choice where to go as soon as you've passed Hokitika as there is no turn-off for hundreds of kilometers. So we had to cross the Haast Pass. Just before the pass we camped at basic campsite. It was a nice place with very nice views. A big river was flowing next to the campground and in the distance we saw a snowcapped mountain range. In the late afternoon sun we took some nice pictures of this range. There was only one thing really annoying about this place... the sand flies! With hundreds or even thousands they were all over you as soon as you left the camper so we tried to stay inside as much as possible. But even there we were not completely safe as some of then managed to get in the camper. Fortunately for me they like Jeannette much more than me so I had hardly any problems as long as I stayed close to her.
Click for larger image
A nice mountain view
We continued the next morning after breakfast and went over the Haast Pass stopping briefly at several nice waterfalls along the road. Later the road followed the shore of Lake Wanaka. This view was stunning as there was a hugh blue lake surrounded by yellow grassy slopes with a rugged mountain range behind it. Very impressive and it reminded me very much at the Pakistan Himalayas. The road turned away from the lake over a ridge and then followed the shore of Lake Hawea with another stunning views. Wanaka (the village) was a nice place but very touristy. Not a place to stay but good enough to have a cup of coffee and a sandwich.
We had enough time left so we decided to head for the east coast and crossed the South Island. The land was getting very dry and the grass was very yellow. Maybe not good for the land but for us it was nice to drive through. After a stopover in Omarama we reached the east coast the next day and visited Oamara, famous for is penguin colony but we couldn't see a single penguin anywhere except for in the souvenier shops. So we just had a lunch and continued south visiting the Moeraki boulders and on to Dunedin. I was feeling tired so used the advantage of a camper to have a little nap while driving but I was rudely disturbed when we approached Dunedin and I had to navigate the camper into town to the campground.
The next day we walked to the city centre which was a walk steep downhill. It turned out to be a public holiday so there were a lot of activities going on. Mum & Dad walked around on their own so everyone could see the things they wanted to see and as long as they want. We saw of course Dunedin's famous landmark, the Railway station and met Mum & Dad in the city twice. When we were tired at the end of the afternoon we took a taxi back to the camper as we didn't feel the intension to walk back uphill. We all liked Dunedin, especially Mum & Dad as they went back to visit the center the next day again while Jeannette and I stayed at the campground and just took it easy.
We had to drop off the camper in Queenstown but we had time to drive to Invercargill, almost at the south tip of the South Island. The south of the South is very green and there's a lot of dairy and sheep farming around. When we stopped for a coffee break along the road a farmer who just had finished moving his cattle came over to have a chat with us and invited us over to visit his farm. We hadn't that much time so we told him that we surely would come by when we returned to this area on our motorbikes later this summer. The road continued through the Catlins, an really nice and unspoiled area. We liked it there a lot but couldn't stay too long as Invercargill was waiting for us.
The campground in Invercargill was nicely situated close to the towns centre but was hardly a campground. It was a horserace stadium/showground where you could camp when there was nothing going on. But this suited us fine for one night. The next day was a Sunday and Jeannette always wanted to go to a church somewhere in New Zealand. As we had passed one on our way in we wanted to see which time the service started the next morning so we walked out when we saw that the campground had complementary bicycles. So we didn't only visited the church but also had time to explore the local Queens park, a real nice park. The service started at 10am the next morning so we arrived at 9.30 am to find out that we were one of the first ones to arrive. When they found out we were Dutch we soon talked to Peter Grandiek, a Dutch man who emigrated to New Zealand 49 years ago. After the service we had some coffee and talked a little bit longer with him. He had a deer farm and invited us to come over but again we hadn't enough time and we promised him to pay him a visit when we returned on our motorbikes as we, and especially Jeannette, liked to find out more about farming deer's. After the coffee we left Invercargill and drove north and had lunch in Lumsden, a really nice tiny village. Along Lake Wakatipu we enjoyed again the nice setting and could see Queenstown already on the lakeshore in the far distance. The campground was nicely located close to the city centre but therefore it was absolutely crowded with campers. The only way to get some privacy was to park the camper in such an asocial way so we could create some space to sit outside next to the camper. The next morning our neighbors had difficulties to leave their spot early but we pretended to be still asleep.
Queenstown was a nice place on the lakeside but absolutely spoiled by tourism. Not exactly our nicest place but at least they had some nice coffee though not cheap. We had two lazy days in Queenstown, so the third day it was time for some action. Together with Dad and Jeannette I went jet boating over the Shotover river.
Click for larger image
Ready for a Jet ride
With high speeds you're boating through a narrow gorge passing the rocks very closely. Mum was 'very unfortunate' as she couldn't come with us as someone had to operate the video camera. It was an exciting trip but still we hadn't enough as we went up with the cable car up the mountain range from where we had a nice view over Queenstown and the lake. Dad and I decided to have a 'Luge'-ride. In a little bob sledge on wheels you roll down. First we got some instructions how to control the luge and of we went directly on the 'Experienced' (=fast) route. I had to wait till Dad departed and I chased him to pass him. Just before a bend I saw my opportunity and passed him on the inward side. Exactly in this corner Jeannette was standing on a bridge to take some pictures of us but because of our speed she only managed to take one picture. On a steep slope there was a sign to slow down which we ignored in the heat of our race. We didn't know there was a sharp bend following and we were surprised to see the old car tires next to the track approaching quickly. I had to use all my motorbike skills to stay out of the tires which I just managed to do. Behind me I heard a "ploff" and saw over my shoulder Dad stranding in the tires. As the race was ran now I stopped and helped him back on track. Together we slowly crossed the finish line. Now even the men had enough adrenaline for that day but an empty stomach so we finished our last day in Queenstown by going out for dinner together.
The next morning we had to leave the campground early which was no problem to us at all. But because our flight back to Auckland was only at 4pm. we had some time to kill. We decided to leave Queenstown and drive along Lake Wakatipu. This was a very scenic drive so we kept on driving until we ended up in Glenorchy. This was a small nice relaxed village where we had some lunch before we returning back to Queenstown along the same road but now with different views. We loved it both times very much as it was really an impressive drive to see the lake surrounded by the barren snowcapped mountains in the distance.
click for larger image
The South Island on its best
Back at the airport we unloaded all our luggage and I was parking the camper in backwards in a reserved parking lot. As Jeannette was guiding me backwards I hit the accelerator by coincidence when she said "Stop!". I managed to correct this quickly but the camper was only standing still after I hit the "Reserved area"-sign. Another scratch on the camper. On one hand Jeannette was happy because now I had put my mark on the camper as well so we were even now. On the other hand she wasn't so happy as she bruised her leg against the table during this incident.
During the following inspection of the camper they didn't noticed the new scratches, we even got some money back as we had paid for the new battery we had to replace during our trip.
The flight back to Auckland was a little bit bumpy at the start but was quickly rewarded with superb views over the 'Southern Alps'.
Arriving in Auckland we had arranged a rental car. We were told that somebody would pick us up from the airport but there was no one around. After some phone calls we found out that we had to take a shuttle to a hotel as they handled all the paperwork after office hours. So after some delays we were finally arrived back in 'our' hotel and went to bed quickly.
The next morning was a busy one for me as it was Jeannette's birthday and I had to arrange a birthday cake and some decoration. Also a present had to be bought as I already knew what to buy but I couldn't get it elsewhere. In my hurry I misjudged the cake. I was told it was a mocca-chocolade cake but actually it was a pure chocolate cake. And this wasn't Jeannette's 'most favorite' so I was overfed with the cake, but that's the price I had to pay. But even Mum & Dad had some presents brought with them so we had a nice day nevertheless. We ended the day up in a nice restaurant with a lovely meal. We only had to hurry to finish our meal before 9pm. as then a 'Valentine party' started to connect single men and women with each other. Neither of us had any interest to be connected to some one else so we left before the party started.
The last days in Auckland (and in New Zealand) of Mum & Dad was mainly spend with resting and sorting all our stuff out. First we had to sort out the stuff Mum & Dad could take back home for us. Secondly we collected our motorbikes back from Brian & Becca's garage and they were excellently taken care of during the last three weeks. It felt so good to have them back again.
The last day of Mum & Dad's stay we visited the historic village of Howick where they reconstructed buildings from the time the first European settlers arrived in Auckland. Today they were dressed up in cloth from that time as well which made the village much more livelier.
Click for larger image
Howick Historical Village
The next day we brought Mum & Dad back to the airport and there their visit to New Zealand ended. We helped them with the check in and they gave us all the forms they had to fill out during their trip so I could fill it out for them during our last cup of coffee together. Then it was time to say goodbye and after they went through the doors we were back alone in New Zealand. Fortunately they made it safe back home and they had a fantastic holiday.
And we? We had a nice time together as well but for us it was far from relaxing trip. We were used to a much slower travel pace it was quite stressful for us. But we had succeeded in giving them the time of their live. So the next couple of days we took it easy and were working on our upcoming trip to the South Island, but fortunately this time it would be on motorbikes!
Posted by Martin Rooiman at
03:07 AM
GMT
May 03, 2003 GMT
New Zealand - 3
Auckland (17-02-2003) till Auckland (03-05-2003)
After Mum & Dad had left Auckland we had to follow a rehabilitation program. We were exhausted from three weeks living in a campervan. After a couple days relaxing we started working as we had to prepare the bikes for the next leg and we also had to search out our stuff. Martin was doing the bikes and I did the luggage but this was quickly done so I started reading books. It was my way to find myself back and the first book I read was about all kind of dangers in Australia and the second book was about a woman who is living in Africa where she raised a lion. Very touching and Martin had the idea that he didn't exist anymore when I was reading but fortunately the bikes gave him lots of attention.
Click for larger image
Route through New Zealand; 17-02-2003 / 03-05-2003
Graham took us out for diner in Auckland and afterwards we went to the harbor for a drink. Lots of really expensive yachts were berthed there because the finals of the America Cup was in full swing. It didn't go too well for New Zealand though as it was 2 - 0 for Switzerland!!! Yes, a country without any sea was beating the Kiwi's, surrounded by sea. So Jen tried to change this by supporting the Kiwi's by hanging a flag of the silver fern on her bike. It didn't help as they lost later 5 - 0.
Martins carnet was about to expire and instead of getting having a new one issued from Holland and couriered, he simply extended the current one. The AA in Auckland sent an email to the ANWB in Holland and they had no objections so the carnet could be extended. Martin only had to go to the Customs Office to see if they didn't object and they had to stamp the extension. It was easy to do and free of charge! Only the ANWB sent us an invoice of 50 Euro!!! A lot of money for just writing an email of no objection but still much cheaper than getting a new one and have it sent over.
After we arrived in New Zealand we immediately had ordered a new rear shock for Martins bike as the original one was getting bad because unusual heavy loading. The Ohlins importer didn't have one on stock but it would be arriving soon. We still hadn't received it, but it had arrived in Hawera so we decided to pick it up there as we were heading South anyhow. Then they also could help us installing the new shock.
The longer we stayed in Auckland the more homesick I became and I really wanted to go home. It was hard for me to find out what my heart was saying. Also for Martin as our life was so mixed up during the last weeks. After all we lived in a campervan with our parents and we were not feeling ourselves anymore. We also knew that time would tell us what the right feeling would be, but for some moments we both felt on going home. Martin was now on the road for nearly 3 years and I for 1½ years and you're going to miss some little things, like a place of your own or just being with people you love. During the traveling you meet a lot of people and with a few you became close but most of them you know already when you met them that you will never see them back.
At the motel were we stayed they had some problems with the fire alarm and on a rainy day at 7:30 am. the fire alarm went off. We all had to go down quickly and as I was still sleeping I didn't like to go but Martin forced me to go so in the chilly morning I was waiting outside until the fire brigade had arrived and found out it was a false alarm. As an early bird catches a worm we decided not to go back to bed and use the long day ahead of us. Two days later the alarm went of again around the same time but now we took it easy to go down and got dressed first. Again it was a false alarm but later that day they found the lose wire in the detection system so we could sleep now without worries.
But finally it was time to go again and in the morning our best mate Graham came to wave us out and we left Auckland. As we left Auckland the sky was full of clouds and as we drove they became darker and darker. On a road in the middle of nowhere we saw two bikers along the road so we stopped to ask if they need help. They didn't and as I was telling Martin this in Dutch they understood this and they turned out to be Dutch as well, so we had a nice chat with them. Jaap flew his bike from Holland to Australia and then to New Zealand. He asked if we were Martin and Jeannette as he had read all our travel reports on the website before he left home. We had a nice time with them and after some nice cookies from Gerda we moved on. The clouds of heaven opened upon us and while we were driving 80 kmh. there were some Kiwi's in cars behind us who gave us a 'peace sign', but their face were having different expressions as they were covered in war paint: They wanted us to speed up. We didn't give a shit about it and we were moving on the slippery roads in our own speed. We arrived at Dave and Jenny's place as we wanted to pay them a visit and to give them a present. Dave was the one who took my bike from Stony Bay on a quad when the road was too scary and muddy for me to drive over. It was so good to see them back and Jenny was treating us like a queen and king and spoiled us with her cooking. It was a nice evening together and Dave showed us his bike, a Yamaha FZR 1200.
We were on our way to Hawera to pick up Martin's new rear shock absorber. We had some long days of driving ahead, but as we took the 'Forgotten Valley Highway' the driving was rewarded with superb sceneries and hardly any traffic. We came through a place called Whangamomona in the middle of nowhere. It looked like time had stopped here and the atmosphere was so romantic and laid back. There was only a hotel and some nice (though run down) old houses, 80 kms. from the nearest civilization. While we had a cup of coffee at the hotel a farmer was passing through the street with his cattle and dogs. We felt pity that we had no time to stay longer here.
We continued to New Plymouth and we will never forget that place as we didn't like this place. The only good thing about it was that our bikes were parked safely. The next day we drove along the coast and arrived in Hawera where we had lunch before heading off to the bike shop. Martin took out the old rear shock and installed the new one. After loading the bike up Robert Taylor pressed on the rear of the bike a couple of times and then adjusted the shock. "It should be OK now" he said so after re-installing the shock he could make a test ride. He instantly felt the difference as it was a hugh one. But was this the optimal setting? Martin drove through some rough terrain without the shock bouncing through so he thought it was OK indeed. The only difference was that the back of the motorbike raised quite a bit which Martin found out because his side stand was too short now and I found out as it was much harder for me to climb on the back of his bike now. Martin however solved his problem by putting a small piece of wood underneath his side stand.
We continued along the coast then cutting through a mountain range to Masterton. Masterton is a very quiet place and it's not really a highlight. We had a coffee break and then decided to stay there overnight. Across the street there was a shabby looking hotel but we nevertheless decided to spend the night there as our bikes could be parked in the hall. It clearly had had its most glorious days (as the whole city had) and it was quite rundown. In the 1950's Queen Elizabeth had stayed in this hotel however. Coming weekend there was a sheep sheering contest in town and the sheerer even came from Australia. We would like to see some sheep sheering but this was too massive for us so we drove the next day to Wellington and this place pleasantly surprised us. It was a nice capital with a nice city center. Finding accommodation was quite hard and certainly expensive here. But we only spent one night here as we had to catch the ferry the next day and we knew we would certainly return here.
Graham told us about another ferry company which was not as big, so we took this company's ferry. It was really pleasant as it was not only cheaper but there were hardly any tourists on board and they had free coffee. The weather was good as well and the waves weren't that big as they were when we crossed the Cook Strait with Mum & Dad. We even saw six dolphins jumping out of the water in front of the boat. Also when we entered the bays of the South Island we saw some Prosper dolphins. It was amazing to see those creatures playing around the boat. It was a real nice welcome to the South Island for us. Less pleased we were when we found out after we arrived in Picton that most of the accommodation was fully booked. So we had to take a B&B room.
We had another emotional difficult moment as we had finally arrived on the South Island but what next? We decided not to plan more than a couple of days ahead and just follow our hearts. So we stayed another day to explore the Marlborough Sounds. We left early the next morning and the mystic clouds were like a curtain around the shore slowly opening up. This was exactly what we needed to recharge our battery again.
Click for larger image
Marlborough Sounds
We also decided to go to Titirangi Bay on the end of a peninsula. The road had excellent views and we had a lot of photo stops. But when we drove over a ridge and had a view over Titirangi Bay 600 meters below us we were stunned by the magnificent view. We were speechless with one exception as it was the first time in a long time Martin was cursing as he was so overwhelmed by the view. The road down to the bay was steep and not a good gravel road. I was glad I was on the bike with Martin. He drove everywhere in the world so there was nothing to worry me here. I was even relaxed when it was getting dark while we drove back along the narrow winding road.
The next morning we left Picton and going on the move again as Graham had told us about the Rainbow track, a rough off-road track which wasn't mentioned on our map. When we arrived at the DoC-office in St. Arnoud it was 2 pm. and here they told us that this track was only open for three months a year and this period finished today in three hours at 5 pm.. Martin felt quite disappointed about this, so we had to change our plan. We drove to Murchison to plan out a new route and ended up in a backpackers guesthouse 'The Lazy Cow'. After a couple of days we changed this name into 'The Crazy Cow' as it was such a nice place and a couple of boys were staying here a long time already giving it a relaxed atmosphere. Martin and I could find here some rest to finish the travel reports, always a good feeling once you updated a part of your trip. We met a lot of people from all over the world in a few days time. One of them was Mark and he became a good friend of us. He was on his way to Australia and would love to join us there. We had no problems with that so he could get prepared for it. For him this meant buying a motorbike and equipment and, quite important, get his motorbike driving license!
Staying in backpackers guesthouse not only has it's advantages as some people are very noisy and 'forget' there are other people around who wanted some sleep. One night at 2:30 am. it was enough and Martin confronted them with their behavior in a blunt way. It worked well but it was not until 5 am. before I felt asleep and Martin was already sleeping at that time like a baby for a long time.
The next morning we heard that most of the other guests couldn't sleep either. The Kiwi-guy apologized to Martin at breakfast and was told that it would be more appreciated that he was this thoughtful yesterday night. The German girl was mine as she tried to leave quietly. A good approach to get me angry and so I had a 'lovely chat' with her about her behavior.
The following days were awesome: as the boys mainly were living on pub-food I felt pity and as it doesn't make much difference if you're cooking for two or six I started cooking for them as well occasionally joined by an exhausted cycler arriving in the late afternoon as well. On our last evening here the boys hired a movie and Adam and George were baking a cake. The next morning we had to say goodbye but not before Martin brought Adam on his bike to a doctor. I called Adam my little puppy as he's an adorable person who stole my heart. He called me 'Mum' in return.
After we left we were instantly surrounded by the mountains and were enjoying the scenery while we were working our way to Hokitika on the west coast. Here we planned to meet our friends Ross & Judy during the 'Wild Food Festival'. This annual festival is famous in New Zealand as people from all around the country come to Hokitika just for the festival. The festival is famous for its 'exotic' snacks, mainly things you don't want to eat normally. It takes a lot of courage to eat this and the easiest way to overcome this is to get drunk and this was exactly what most people did. The God Bacchus had nothing to complain about that weekend. It already started Friday night. When we visited Hokitika that night we were stunned to see caravans and tents where put everywhere by drunk and noisy people. Fortunately we were staying 4 kms. outside town.
The next day we should meet each other at the cannon but the city council had moved the cannon to the harbor so it took some time before we met. The food festival couldn't really impress us but we had a good time together with Ross & Judy. We had a good laugh when Judy was eating a 'hot dog' of a bulls penis and judging by her face it wasn't her best hot dog.
Click for larger image
Discover the taste of a bullpenis at the Wild Food Festival
Fortunately not all the snacks were that 'special' so we could taste something as well. We left the festival and we went to a nearby lake where we had a nice walk and Ross told us a lot about the local flora. But finally it was time to say goodbye to friends again.
The following days we were busy again with our travel reports (English this time) and it was a good excuse to stay here longer because we loved the Water Edge Lodge where we were staying. First of all because I had a great friend, Bo the Labrador, and at nights we made a campfire on the beach as there was so much driftwood over there. From the garden of the house we walked straight on the beach. Ray & Colleen joined us there regularly and Ray was a great storyteller so we had a nice time at their place.
Click for larger image
Jeannette with Bo at Hokitika Beach
After the travel report was sent it was time to hit the road again. The weather was really nice but we knew that Autumn was on its way. We wanted to cross the mountain range to the east using the Arthur's Pass. This made me shiver as I remembered clearly the pictures of the passes Martin had crossed in Pakistan. But without telling him I decided to have a look first to see if it was really that bad. But this was a different pass and not difficult at all as the hardest part was now covered by a bridge. It was really a nice scenery. Ross had told us that you actually had to cross the pass in both directions as they are so different, so we did and we turned around when we arrived in Arthur's Pass (the village). But as we wanted to head east we had to cross the pass again so we went over the pass three times that day. On the pass it was already quite chilly and we had to use our heated handlebars, and it would not be the last time we used it in New Zealand. After a long driving day we arrived in Ashburton were we arrived at Keith & Peggy's place (Bryan's parents). They were not at home but just when we were discussing what to do next they returned home. We were very nicely welcomed and could spend the night as long as we didn't mind to sleep in the living room, no problem to us at all! We had a great night together as they showed us some old photo albums of Bryan and we had some good laughs with Morien as well. Most fun we had when we saw Bryan & Becca's picture in the living room so we could say 'goodnight' to them.
The next morning we left after breakfast and again it was a cold day on the bikes. This confirmed our view to go to Invercargill as quickly as possible. So the whole day we were driving South passing through Dunedin only. In the evening we had to do our shopping in a small village and while we were packing our groceries away a man named Michael came to us. He invited us to stay at his motor camp and didn't want to get paid for it as the campground wasn't officially open. They were working to turn it into a campground. We could camp on the grass but we would wake up early as workmen were digging through the field to supply water and electricity. We didn't mind it so we had a good night sleep and every one knows that an early bird catches a worm. The morning clouds did not smile to us and when we were back on the bike it was freezing cold.
We had promised a farmer the month before that we would visit him on our way South and so we did. We arrived around 11 am. at the farm of Peter & Helen and before we were able to take of our shoes off Helen took us to show us around over their property. Peter had to do the bookkeeping and he was already late with it. He peeled a couple of extra potatoes and Helen went to the freezer for some extra meat as of course we stayed for lunch. We had a look in the sheep shed and when we came back lunch was ready. Their oldest son was a sheepshearer so Peter quickly found out where he was working that day. So after lunch Helen took us that place. It was an amazing experience to see. I didn't know anything about sheep nor wool but I was updated very quickly. The sheep they were sheering were hogs (between 18 months and 2 years old).
Click for larger image
Sheep Cheering
We took lots of pictures and after the smoko (lunch break) we left quickly as Helen also wanted to show us the milking of their cows. Like Speedy Gonzalez she drove back and we were just in time to see the second batch of cows to be milked. It was a fully automated milking carousel and the only thing which had to be done manually was to place and remove the udder caps. I helped them with that and soon my hands and arms were full of shit, but I had so much fun. We were back at their house around 5 pm. so it was time to leave. It was still cold in the late evening and we decided to camp on the first campground. Fortunately it was just before the 21 km. gravel road through the Catlins. There was a cold wind when we had our diner in front of the tent and as soon as we had finished diner we went inside the tent. That night the wind was blowing around the tent and it started to rain as well. But we knew our tent was storm-proof so we didn't really care.
The next morning it was different as it was still raining. As there's one thing I really hate and that's to pack up a wet tent so after we had breakfast Martin was writing his diary in the communal kitchen as I stayed in bed doing my hair and trying desperately to see the bright sight of life. I must confess that it took me a while to see it that morning. Around 9 am. it was dry so we packed up quickly before it started to rain again; of course we packed in the tent wet. So we could finally leave the campground.
Yesterday I was happy I didn't had to do the gravel road then but this morning I regretted this as to no surprise the gravel road was changed into a muddy and slippery track. The only thing I did was remembering all the instruction my man had told me before: not to use the brakes and not to make sudden steering movements. I can assure everyone that I was quiet like a mouse, pale like a ghost and my bike on automatic pilot: just following Martin who was in front of me. This same road I had driven with the camper but now this was completely different cup of tea. But we were doing well until we saw a sign of road works coming up. But it was impossible that they made things worse so we managed to get through without falling. I was not the only one who was struggling as we passed some push bikers, so I was not the only one who was not happy. I loved to feel the bitumen underneath my tires again. Now it was easy (though cold!) again. So Invercargill, here we come.
The day was already one full of surprises and Invercargill had another surprise for us as we couldn't find a single place to stay because there was a marching championship going on. So we ended up with two options: we could stay with the reverent or with Peter as both had invited us to stay before. We opted for Peter who is having a deer farm. He did not know we were coming. We drove to his place and here we met Jenny his wife who thought I was her daughter as she was on the phone when we entered their house. But nevertheless she gave us the warmest welcome we had in weeks. We were very welcome and she was apologizing for the mess inside as she was making a table cloth for the birthday of a friend the next day. When Peter came in it was the same as with Jenny and it was so good to see him back. Peter left Holland after WW II and he was a Kiwi now as he had lived in New Zealand for 49 years already. We stayed two days with them and they helped us with drying out our stuff and we were helping out with the cooking and we had time to see the deer's. We loved them and at night we heard the screaming of the stags as the mating season was approaching. It was a good sound to fall asleep with. Peter told us so much of his deer's and we had so much fun when we came with him to the meadow and the stag was protecting his flock by keeping them away from the fence. There were two deer's that were so curious and naughty that the stag had difficulties to get them all together. Peter told us that in this time of the year the stag could loose a lot of weight sometimes up to 80 or 100 kilo's in just a few weeks time. In September the stags are loosing their velvet but at a deer farm their velvet will be cut as it is very valuable article because in Asia they use it in medicines. Very healthy! We loved to watch the deer and Peter is a man with a passion for deer's. He showed us how much trust an animal can give to a human being. Normally the deer's are easily frightened and therefore Peter always wears the same clothing. They know his smell and he is also taking his time to be with the animals. I fell in love with one deer that overcame his fear and ate out of my hand. Those creatures I remembered from the time when I was riding with my horse in the forest where you could see them from a great distance if you were lucky.
Click for larger image
A beautiful Stag at Peters farm
We loved our stay with Jenny & Peter but the next morning it was time for us to move on. We went to Bluff, New Zealand's most southern town, and then returned to Invercargill as Jenny was conducting the choir of the Dutch Club. They were mainly from Dutch origin (although not all of them!) and singing songs I had learned when I was young and one song specifically reminded me of those days. We had such a good time with these people. After the rehearsal we said goodbye for the second time to Jenny & Peter. These people gave us so much love and we had an unforgettable time.
The weather was good even it was autumn now. As long as the sun is out it was still nice to drive on the motorbikes. Also we were dressed up warmly and when the rain stayed away it felt good. The landscape was changing now as we approached the Fjord lands. There were more hills and even more sheep. We drove to Lake Manipouri as we already heard some enthusiastic stories about a boat cruise through the Doubtful Sounds as it was here not so touristy (yet) as the Milford Sound and that appealed to us. We booked a day trip on a small boat (18 people max.). We loved Manipouri and its area. We walked along the river and the lake and had a nice day touring through the immediate surrounding. The day we were going to the Doubtful Sounds it was cloudy and foggy around the mountains but as soon as the sun came out, the clouds disappeared and the weather was gorgeous. On the other side of Lake Manipouri there was a Hydro Power plant which we visited. As it was deep underground we had to drive down through a long narrow tunnel. Lake Manipouri is around 350 meters above sea level. So water from the lake is falling down to sea level generating electricity. The water is then flowing into the sea through the Doubtful Sound. Actually there was not much to see inside except for some buzzing generators. There was neither much activity going on as the whole power plant was completely controlled from Twizel, 260 km away! Back on the surface we drove over a 600 meter high pass and descended down to sea level at the Doubtful Sound where we boarded another boat.
We enjoyed the spectacular scenery of sheer cliffs dropping into the sound. You really feel so small here. We loved every minute of it until we reached the open sea. It was quite rough and the boat was rocking a lot and I didn't like this at all. The sea was too rough for us to visit some sea lions on a outlaying island so Mark, our Captain, decided to turn around and I fully agreed with his decision although I love sea lions. During tea break there were three dolphins playing around the boat and we all were very excited to see them. We had plenty of time to get pictures of them although timing is a difficult issue especially when you're using a slow focusing digital camera. Most of the time the dolphins were submerged already on the picture. After the tea break our Captain tried to let the dolphins play with the waves of the boat and they liked it. Martin and I had a good look at the dolphins jumping out of the water. It was an astonishing thing to see. A perfect opportunity for some excellent pictures. But exactly now our memory card of the camera was full and by the time we had it replaced the dolphins were tired and had disappeared. Fortunately Howard did have some nice pictures which he emailed to us later so we still had a nice picture of jumping dolphins. Needless to say we had an excellent though demanding day.
Click for larger image
Dolphins in Doubtful Sound
Our original plan was to drive to the Milford Sound the next day. Not because we expected to have a better scenery over there but the drive to this sound supposed to be nice. But one email changed our plan as our friends Poul & Pia were on their way to Queenstown. Traveling is constantly changing your plans so we drove to Queenstown as well. Again we had a hard time in finding accommodation. But finally we ended up with a room with spare bed, so we could stay together in one room as we had so much to tell to each other. We expected Poul & Pia the next day but they we longing to see us back as well so they arrived the same evening. It was so good to see them back! We hadn't seen them since Bangkok and indeed we had a lot to talk about. They decided to stay a whole day although they had only two weeks to visit New Zealand as their car was being shipped from Australia to Peru. The next morning we made a boat trip on lake Wakatipu with a steamboat so we had some more time to chat. In the afternoon we went into Skipper Canyon. A narrow and winding gravel road and I have to admit that I was happy to sit on the back of Martin's motorbike. Poul & Pia were following in their rental car. It was a breath taking canyon and very, very impressive to me. It reminded the others a lot of the roads in northern Pakistan and we were very happy that we could share this splendid part of New Zealand with some dear friends.
Click for larger image
Skippers Canyon
Click for larger image
Action in Skippers Canyon
The nature was overwhelming to me and the gravel road was a real party for Martin. Next to the road there were sheer drops down to the small river deep down below! We loved it so much and we had a wonderful afternoon. Poul & Pia cooked for us that night and we had a wonderful last night together as they left the next morning. Saying goodbye to them was hard especially because we didn't know when we would see each other again.
There was no need for us to stay in Queenstown any longer so we drove that day to Milford Sound and we had to drive through the Homer Tunnel. A German motor biker we met before had told us some horror stories about this narrow tunnel and indeed the approaching buses were claiming more than their share of the road but on motorbikes it was no problem to pass them. I only had to stay close behind Martin. Coming out of the tunnel we entered into another world. We were surrounded by high mountain ranges and I felt soooo small and lost. We expected that Milford Sound was a tiny village but it was not much more than two guesthouses and a jetty. We only could sleep in a dormitory as it was raining (so tenting was no option) and there were sand flies everywhere. We slept in bunk beds and I couldn't sleep at all until Martin had to go for his midnight pee and I got into his bed as well, falling asleep in his arms.
Click for larger image
Milford Sounds
The next morning it was still drizzling and we left Milford Sound after a brief look at the waterfront. Here we looked into the sound but couldn't see a better scenery than in Doubtful Sound. We went through the tunnel again but this time before all the buses arrived so even with the roadworks in the tunnel it was not a problem. Once through the tunnel we felt relieved and could start enjoying the scenery again.
After a coffee stop in Te Anau we continued to Lumsden were we knew a nice lunch house but we found it closed. Peter, the dairy farmer had given us a nice scenic route through some small back roads to Roxburgh so it was time to get it out and follow his route. It really was a nice route and we enjoyed it very much! In Roxburgh we ended up in an old hotel building which was converted into a backpackers place (not the best choice). The problem here was that most of the guests were working in the orchards and had to get up really early in the morning. To make things worse: the kitchen was only two meters away from our room so we were awake early as well. The kitchen seem to be the ideal meeting place and not only in the morning but late at night as well. So moved to another place, just outside town and really enjoyed the silence over there and for two more nights we slept like babies. They had horses and more animals around than you can count for on your ten fingers.
Ross & Judy had showed us in Hokitika some pictures from this area and we liked it. We were in for some adventure and we wanted to make a little loop. Coincidently the name of the road was Loop Road as well. We felt like driving through a lunar landscape on the track towards Lake Onslow. We loved the remoteness. Again I was sitting on the back of Martin's bike and I was taking the pictures. I had a good laugh when Martin went through a small creek crossing.
Click for larger image
Martin was getting a wet suit
He liked it and decided to return for a second time so I could take a nice picture. As he drove through faster this time the water was flowing over his windscreen, good for an impressive picture but the camera was too slow and the picture only showed the back of his bike leaving the creek. I didn't dare to ask him to go through it a third time and I could not stop laughing when he was standing next me soaking wet and dripping everywhere. But the sun was out so it would dry soon enough. But even on these roads we met campervans. Are there no roads in the country where you don't find these vehicles? To continue our loop we passed a gate with a sign "4WD only". Here we didn't meet a campervan, but the track was not as difficult as Martin had expected.
Click for larger image
Loop road to Lake Onskow
The Poolburn reservoir was set in a nice scenery and later we found out is was used as a set for the 'Lord of the Rings' movies. Another highlight was that just before the reservoir Martin passed the 100.000 km marker on this trip; and we only made it half way around the globe! In Alexandra we got back on the bitumen road again and had here a nice coffee before heading back to Roxburgh.
On our way back to Roxburgh we saw a very little house that Judy & Ross had showed us a picture of. As it was on a road to a mountaintop, Obelisk Mountain, which we wanted to drive to, we returned here the next morning. The track went steep up hill and again I was very happy to sit on the back as we went up partly in first gear. On our way up we had to stop to open and close gates which was my job to do. Climbing back on the bike wasn't easy on these slopes (over 20%!) so one time I was leaning back too much so I fell together with Martin and his bike. No damage but I couldn't stop laughing! When we reached the top of the ridge at 1695 meters we drove through some huge boulders towards a telecom tower where we were surprised to see people working. They just had finished working before the winter set in and were packing up. One guy told us we could drive back to Roxburgh along the ridge, a four hour rough drive in a 4WD. We gave it a try and finally met some tough tracks which were equal to the Himalayan ones Martin had encountered over there. We took it easy and I have to admit it was quite scary in times. 11 kms. down the track the clutch cable suddenly snapped.
Click for larger image
Mount Obelisk at 1695 m when the clutch cable broke
We were absolutely in the middle of nowhere on 1700 meters, but we could use our cell phone to call the AA because of the telecom tower! Needless to do as they probably would never come up the ridge. Fortunately Martin had a spare cable with him so replacing the cable was easy. We considered our options: the track to Roxburgh was not on our map; we had no water and food with us; we had only for another 100 kms. fuel in the tank; there were more clouds appearing in the sky and we had at least another 3½ hours to go. So it was not a difficult decision to turn around and drive down the same way we came up. But we had another marvelous day. Later we found out that we were already on the wrong track and heading towards the Nevis River, considered as one of the most difficult tracks in the country!!! So we made the right decision.
We had to move on and as I wanted to see Arrowtown, close to Queenstown. The road towards Arrowtown was stunning and running through some narrow and deep valleys, the Kawarau Gorge. We briefly stopped at a bridge where people were jumping from on a bungee cord. We decided this was nothing for us, as we had enough challenges already and so we drove on. Arrowtown turned out to be a very touristy place. Not exactly our cup of tea but good enough for a cup of coffee. But this changed when they asked more than double the ordinary price. Martin wanted to justify this high price by using their toilet and then pee next to the pot but they didn't even had a toilet! We quickly left Arrowtown and were climbing up the hill soon, using hairpins, to cross the Crown Range. According to the map this had to be gravel hairpins but fortunately it was all sealed. We drove through a valley towards Wanaka through another stunning scenery. In Wanaka we took a little detour to Glendhu Bay and this was a nice ride but I needed a real good coffee so we returned to Wanaka. After two good cup of coffees we were ready for the next leg, another 120 kms. to Omarama. This stretch we had driven by camper as well so we knew how remote this stretch would be. But again we liked this part as well. Yes, I know it sounds boring but we really loved the South Island of New Zealand.
Click for larger image
Everywhere are many dead Possums on the road
When we arrived in Omarama the weather didn't look great and so I was not in a mood for sleeping in a tent with a dark wet sky above me. We were looking for some accommodation couldn't find a proper one so we decided to continue to Twizel although we had no idea how the accommodation was over there. So we called Brede, a cyclist we met in Kahoe (North Island), who had given us her phone number as we had to call her when we were around. We were lucky to get her on the phone because as a mountaineering guide she just returned from a week in the mountains around Mount Cook. When she heard we were on our way to Twizel she insisted at sleeping at her place as long as we brought our own food as she had nothing in the fridge yet. We had a warm welcome when we arrived at her place and had a nice evening together. She didn't let us use our sleeping bags, she knew how life on the road is and also a bed to sleep in with nice sheets. The bed was a cozy one in which we were rolling towards each other so at least we could warm each other.
My feelings about the weather turned out to be right as the next morning and it was raining cats and dogs, but as the nature needed some water desperately we did not complain. The sky was grey and black but we were dry inside. An excellent day to read a book at the fire place, but instead we decided to put Brede her new computer desk together and had a relaxing day as it kept on raining the whole day. The next morning it was dry so we got out into the garden to do some work together. Brede wanted to chop some trees in her garden and Martin had the honor to test Bredes new chainsaw and was cutting down some trees (after consulting Brede of course). Brede and I cut of the branches and brought the trees together on a pile. There was a little bird not agreeing with all the tree chopping and was yelling to Martin to stop. It even came with us to the house when we stopped to tell us what she thought about it. Exhausted we were sitting down inside and then we felt the hard physical labor we had done and for a couple of days we felt our muscles hurting.
As the weather seemed to improve that afternoon we decided to go to Mount Cook village to enjoy the views at the mountain Mount Cook. Brede had no motor clothing so she used her mountaineering outfit: a windproof fleece, snow gloves completed with her blue climbing helmet with no. 51 written on it. So as a real Biker Babe she sat on the back of Martins bike. It was cold when we drove up to Mount Cook.
Click for larger image
Brede introducing the new Bike outfit
When we arrived we couldn't see the mountain at all. Only some brief gaps in the clouds gave us some peek views on the mountain. When it started to rain our world was even getting smaller. But we had a lovely time with Eileen, a friend of Brede, we met that afternoon. After several cups of coffee we decided to drive back to Twizel. Brede took a cup of coffee with her on the bike as we had our heated handgrips. On our way back suddenly the no. 51 helmet of our biker babe was blowing through the air. I had to get the helmet as Martin had no idea what had happened as Brede only asked him to stop. Behind us there was a bus and I bet that the tourists in that bus had the movie of their life and guess what? Martin and Brede were starring in that movie!
The next morning we decided to leave Twizel. It still was cold and rainy and we didn't want to wait for better weather as it was already autumn and King Winter was coming soon. We left warmly dressed and with heated handlebars at full power.
Click for larger image
Jeannette enjoying the snowy mountains... but not the freezing cold
We were heading for Chirstchurch but the rain made us really cold in no-time, so in every village we were looking for a place we could get some coffee but we were not too fortunate. Around noon we arrived in Geraldine we decided it was enough for the day and found a place to stay. This was one of those days we were not happy to drive on motorbikes, but hey, it was a long time ago we had a day as bad as this. The next day the weather wasn't much better but Christchurch was only 58 kms. away. But as our gear still wasn't dry it and 58 kms. can make you feel really cold. That morning we passed Mount Hutt, a ski resort and 400 meters above us there was already snow on the mountains. It was 6ºC, not a comfortable temperature on the bike and even the heated handlebars couldn't keep us warm. So we were happy to finally arrive in Christchurch. Here we had some relaxing days which we desperately needed. We liked Christchurch a lot, it was a small but interesting city. On our first day we met Cliff & Jenny Batley, UK overlanders, who had followed basically the same route as we had, and we discovered the city centre together the next day.
Martin his speedometer was telling us it was time for another mayor service so we went to the BMW dealer so they could give Rosie a gentile touch. Mark was a very good mechanic and after he had serviced Martins bike we brought in my bike. It hadn't done 10.000 kms. yet but we were not feeling happy about its clutch. Martin had tried to adjust the clutch several times already but there was not much he could do about it. So now it was time to get the professionals in. Especially during a cold start my bike was behaving like a mad bull. It turned out that they had used the 'wrong' type of engine oil in Auckland (BMW dealer!!!). It wasn't really the 'wrong' oil but it was too thick for the clutch, but as always with big men's toys: Everybody has its own opinion (except the BMW factory apparently as it's not mentioned in the manual). And the bike was running much better with the new oil Mark had put in. He also replaced the steering head bearing and told me I could feel the difference instantly. I did indeed but didn't trust this for a long time. But after Martin had assured me after a test ride that everything was completely fine I felt safe again.
Christchurch was nice but we were more impressed by the Banks Peninsula. Sitting on the back of Martins bike we explored most of the tracks on the peninsula. You could drive over a ridge and see Christchurch on one side and the harbor town Lyttelton on the other side. We were following the off-road tracks along the peninsula and had a fabulous time.
Click for larger image
Port Levy
Sometimes it felt like we were the only persons on the peninsula... together with a lot of sheep. We had to wait till a lot of sheep were moved to another meadow.
Click for larger image
On the Banks Peninsula
A little further we passed a big truck who had just dumped its load on the track covering it with a new layer of gravel. Loose stuff, so we were slipping and sliding steeply uphill. But we managed to stay upright. Some of the tracks were hardly used and those were the nicest ones as eagles flew up out of the long grass only 2 meters from us. It had the remoteness of Pakistan and the only difference was the ocean. It was narrow, close along the edge and I can assure you it was steep.
Click for larger image
Near Pigeon Bay
We were driving to Akaroa, which supposed to be a town with French influences, but we couldn't find anything French except for some street names. A tourist trap, so we left after a quick lunch, back to the remote tracks of the peninsula where we had another adventure. While driving uphill I felt that there was something different with the bike. I started to worry, so I told Martin. He also had noticed it but couldn't trace it directly. When we were just in a bench we felt the bike slipping away. Martin lifted the bike back upright immediately and we were rescued from, what I called, a horror movie although we were ending up at the wrong side of the road and so we were lucky there was no other traffic. We checked the bike for a punctured rear tire or a broken frame but we couldn't find anything. The bike just was serviced as well. We got back on the bike and it felt still not right. After a few meters Martin instantly knew it. He checked the front tire and it was flat indeed. It was the very first time he had a flat front tire after 10 punctures in the rear tire. Luckily we put the panniers back on that morning as they were removed for the service. The day before we were also out for a ride in the middle of nowhere without panniers. I think I believe in Angels! The puncture was repaired in no time but after that it took quite a few kilometers to get our confidence back in the bike. That night we opened a bottle of wine. Not only to celebrate the survival of the puncture but also to have a last farewell to Christchurch, a city we really liked and probably one of the nicest places of the South Island.
The next day we left Christchurch and the weather was nice. We left early in the morning and we had a coffee with Nigel Marks. It was nice to meet him finally as we had heard so many good stories about him and Kitty. We felt sorry we could not spend more time with them but we had to move on. We took the inland route to Kaikoura and the Indian Summer was so beautiful here, the green colors of the pine trees and the beautiful red Beech trees were gorgeous. In between there were the Deciduas trees with their yellow leaves. Martin was driving in front of me and he was so small in the overall view. It felt like being in a magazine, which was telling a story with pictures that looked to good to be true. Beautiful pictures so you wished you were there as well. Now, we were driving in that kind of scenery!
That same day Martin showed me how to be drive over a road which is completely dotted with sheep over a long stretch. There were hundreds of sheep on the road. I felt sorry for them as they were so nervous. We switched off the engines to take some pictures until we found out that they had escaped from the meadow so we continued slowly. Poor animals! We drove through them slowly but steadily. That day was like being in The Arc of Noah. We arrived in Kaikoura and went to the coast to see the ocean and here we finally saw a single penguin... at last. There was also a seal turning herself around like a burger. We could come really close and had a good look at her. But she also was following us with her beautiful brown eyes.
Click for larger image
Seal at Kaikoura Beach
We came to Kaikoura to go out for whale watching. But the weather was really lousy and the predictions for the next day were not much better. So we stayed the night and woke up the next morning with the rain ticking on our roof. So it was an easy decision to leave Kaikoura and leave the South Island.
When the rain stopped around noon we left Kaikoura and drove straight to Picton where we took the afternoon ferry which left Picton at 5:45 pm.. The sea was quite rough, even on a big ferry. My goodness, I, the daughter of a sailor, was seasick again and so my legs were no sea legs. I noticed this when the ferry came in the Cook Strait. The only place I felt safe was in Martins big arms. No boat trips for me anymore! We arrived around 10 pm. in Wellington and drove to James' place as he was expecting us. It was so nice to be welcomed so warmly when we were tired and to be offered a nice bed. We tried to be social that night but we were too tired so we head for bed soon.
We stayed a few days with James & Janine. We explored downtown Wellington, went to the exposition of "Lord of the Rings" in the Te Papa museum. It's a very beautiful museum and worth visiting. James & Janine showed us the local nightlife as well but the taxi driver we had on our way back was an absolute reckless driver. On Sunday morning we joined James & Janine for a BMW owners ride. With six bikes we had a short tour around Wellington and we had a lovely time with the people up there. I saw my favorite bike the R1200C bike. I instantly fell in love again with that bike. The F650 was in the majority though I was again sitting on the back of Martins R1100GS. After having lunch together we went to a viewpoint so we could overlook the whole city and the harbor before we drove back home and had a lazy afternoon together with the four of us.
Click for larger image
A tour ride with the BMW club around Wellington
The next day we had to move on further north as the weather was getting colder, so we got on the move again chasing the sun. Early in the morning the weather was chilly but when the sun got out it was getting more comfortable. Along back roads we rode to Napier, a nice city which reminded us a lot of the French Mediterranean, with its atmosphere and palm trees along the boulevard. So we decided for an extra night but then we moved on again as Auckland was waiting for us.
It rained cats and dogs the next morning but according to the weather forecast this was only for the coastal area. So we drove along the coast to Wairoa... through the rain. After a cup of coffee we headed inland towards Rotorua as Graham had told us this was a nice scenic road, though a gravel one and only 105 kms.. Indeed the road was nice but no good times without some hard times. The road was passing a big lake but we didn't see the lake at all as it was quite foggy and still raining. Also when we got to the gravel road. Nobody had warned us for the 'road constructions'. It was getting the road to hell and Chris Rea could be with me on the bike to sing it for us. I always learn things the hard way and also that day, on the 16th of April, I will never forget. The road was covered with brown water and had changed the road into a muddy, slippery 'ice skating' arena. That day I was screaming on my bike, the first time in my life and I could not help it. It was so scary and I knew I had to keep the throttle open. I could not believe my eyes. I saw Martin struggling in front of me and later he told me he was continuously checking his mirrors to see when I was falling... but I didn't. All we saw of the 'road constructions' was a sign at the end saying 'Thank you'.
We thought we now had the worst part but further down the road they had put a new layer of gravel over the road. We were one of the first ones to pass it so there was no track we could use. We struggled enormously and in a bend Martin was slipping away but blessed with his long legs he managed to stay upright... I was chasing the dust and when my rear wheel was slipping away as well I fell. The lock of a pannier broke and I was stuck under the bike not able to get up. Martin was there to help me and he fixed the broken pannier back on the bike with a straps Ed had given me before I started to travel. I was so happy with it and we continued... struggling. The soft layer made us driving on the wrong side of the road as it was marginally better here. A van came around the corner and was passing us on the wrong side. Once we managed to overtake the grader we could use the surface of the old road which was much better. And it still was raining although we were far away from the coast already. Needless to say we were very relieved to get back on the asphalt again. It was unforgettable day and I crossed that day some mental borders.
Click for larger image
After "The Road to Hell
But back on the asphalt didn't mean it was easy as Martin found out. When he stopped along the road to turn the map his wheel slipped away and he fell that day as well. Now it was my turn to help him. The day had made us very dirty and we fell like pigs, we were tired and our whole body was sore. But we had arrived in Rotorua so we checked in in a hotel with a thermal pool, and a hot bath was just what our bodies needed. The next morning our stuff was still not dry but we didn't really care as the last part back to Auckland was an easy one now. We were really happy to arrive back at Grahams place. Not only because we had finished our 6 months trip through New Zealand but also because it felt like we were getting back 'home'. We loved to be staying with Graham again.
Now we could prepare ourselves and the stuff for the shipping to Australia. Each of us had his own job: I was taking care of all the luggage and Martin took care of the bikes. I soaked our motor suits for two days in the bath tub and sorted out all of our gear and separated what we didn't need anymore. Together with some souvenirs I bought we sent home a parcel of 17 kgs. I cleaned out everything to avoid any problems with the Australian Quarantine people. Martin was busy cleaning the bikes very thoroughly as they were really dirty. He even stripped the bikes partly so even under the seat they were spotless. The only problem we had was that Martins bike didn't ran afterwards anymore. Exactly the same problem we had experienced in Bali when we last cleaned the bikes. So he dried out all the electronics but to no avail. The starter motor was running but the spark plugs weren't firing. A computer problem, but why. As it was a Sunday Martin couldn't call the dealer for help so he surfed on the internet to find out how to read out the computer faults using only a multimeter. The multimeter said that both Hall sensors were defective. This made sense but there was nothing Martin could do about it so on Monday morning he called the BMW-dealer to pick up his bike.
They spent a whole day testing the bike and found out that... the Hall sensors were defective!!! No problem except there was none on stock in the country. As our bikes were about to fly at the end of the week they installed some used Hall-sensors which were taken out of a showroom model against a discounted price. But we had the bike back in time and running and that was the most important thing to us. We also put new set of tires on both bikes so we were ready for Australia.
To relax a bit Graham took us out for a ride. We first visited his parents and we had an nice breakfast in their garden. Then across small roads we were driving up to a peninsula at Tawharanui. In this park we had a nice walk around and enjoyed the nice coastal views towards the Coromandel Peninsula. When we left this park around sunset we saw a long cloud, I never had seen a cloud that long before and it was getting a really nice pinky color. Now I understand what the meaning is of the Maori name for New Zealand, Aotearoa: 'Land of the long white cloud'.
We decided to fly ourselves and the bikes to Brisbane and we got a cheap cargo rate of 2.05 NZD/kg. We didn't have to crate the bikes. We used the same agents as when we arrived. Joop Hageman, the warehouse manager, had kept our crates but for nothing, he could use it in his fireplace now. Stamping out the carnets was a problem as I hadn't signed my carnet yet but that problem was quickly solved. So we strapped the bikes on a pallet, removed the battery leads and the 'Dangerous Goods' sticker was put on the bikes.
The next day we were following our motorbikes and Graham brought us to the airport. Brian, Becca and Emma were there as well and after a last goodbye we left New Zealand and all our dear ones behind and boarded the plane to Brisbane. We had an absolute great time in a stunning country
Posted by Jeannette Boom at
03:07 AM
GMT
Enter your email address to receive updates to Martin Rooiman and Jeannette Boom's trip story!
Recent Entries
Archives:
Archives:
Monthly
Archives:
Category
Next HU Events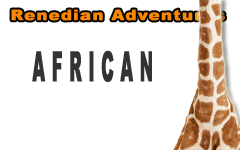 Now that summer is here, get On the Road! Take 30% off the Achievable Dream - On the Road! 2-DVD set until August 31 only.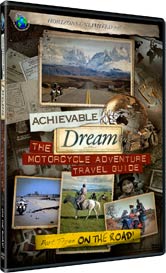 Our veteran travellers share their tips (and great stories) for staying healthy, happy and secure on your motorcycle adventure.
"A fantastic, informative and inspirational DVD."
"It's brilliant - thank you very much!"
Check it out at the HU Store! Remember to use Coupon Code 'ONTHEROAD' on your order when you checkout.
What others say about HU...
"I just wanted to say thanks for doing this and sharing so much with the rest of us." Dave, USA
"Your website is a mecca of valuable information and the DVD series is informative, entertaining, and inspiring! The new look of the website is very impressive, updated and catchy. Thank you so very much!" Jennifer, Canada
"...Great site. Keep up the good work." Murray and Carmen, Australia
"We just finished a 7 month 22,000+ mile scouting trip from Alaska to the bottom of Chile and I can't tell you how many times we referred to your site for help. From how to adjust your valves, to where to stay in the back country of Peru. Horizons Unlimited was a key player in our success. Motorcycle enthusiasts from around the world are in debt to your services." Alaska Riders

10th Annual HU Travellers Photo Contest is on now! This is an opportunity for YOU to show us your best photos and win prizes!
NEW! HU 2014 Adventure Travel T-shirts! are now available in several colors! Be the first kid on your block to have them! New lower prices on synths!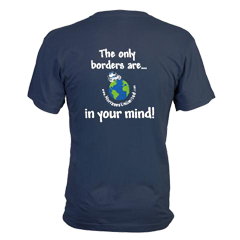 Check out the new Gildan Performance cotton-feel t-shirt - 100% poly, feels like soft cotton!

What turns you on to motorcycle travel?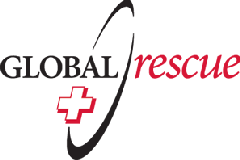 Global Rescue is the premier provider of medical, security and evacuation services worldwide and is the only company that will come to you, wherever you are, and evacuate you to your home hospital of choice. Additionally, Global Rescue places no restrictions on country of citizenship - all nationalities are eligible to sign-up!
New to Horizons Unlimited?
New to motorcycle travelling? New to the HU site? Confused? Too many options? It's really very simple - just 4 easy steps!
Horizons Unlimited was founded in 1997 by Grant and Susan Johnson following their journey around the world on a BMW R80 G/S motorcycle.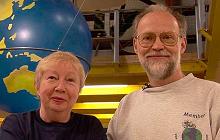 Read more about Grant & Susan's story
Membership - help keep us going!
Horizons Unlimited is not a big multi-national company, just two people who love motorcycle travel and have grown what started as a hobby in 1997 into a full time job (usually 8-10 hours per day and 7 days a week) and a labour of love. To keep it going and a roof over our heads, we run events (22 this year!); we sell inspirational and informative DVDs; we have a few selected advertisers; and we make a small amount from memberships.
You don't have to be a Member to come to an HU meeting, access the website, the HUBB or to receive the e-zine. What you get for your membership contribution is our sincere gratitude, good karma and knowing that you're helping to keep the motorcycle travel dream alive. Contributing Members and Gold Members do get additional features on the HUBB. Here's a list of all the Member benefits on the HUBB.
Books & DVDs

All the best travel books and videos listed and often reviewed on HU's famous Books page. Check it out and get great travel books from all over the world.

MC Air Shipping, (uncrated) USA / Canada / Europe and other areas. Be sure to say "Horizons Unlimited" to get your $25 discount on Shipping!
Insurance - see: For foreigners traveling in US and Canada and for Americans and Canadians traveling in other countries, then mail it to MC Express and get your HU $15 discount!
Story and photos copyright © All Rights Reserved.
Contact the author:
Editors note: We accept no responsibility for any of the above information in any way whatsoever. You are reminded to do your own research. Any commentary is strictly a personal opinion of the person supplying the information and is not to be construed as an endorsement of any kind.
Hosted by: Horizons Unlimited, the motorcycle travellers' website!
You can have your story here too - click for details!