June 01, 2002 GMT
Malaysia - 1
Keroh (18-05-2002) till Johor Bahru (01-06-2002)
When we entered Malaysia we didn't really know what to expect. It was for both of us a new adventure, especially for Jeannette as it was her first border crossing with her own bike. In Thailand we had heard several contradictionary stories about Malaysia. We wanted to get a 60 day visa but the man of the Immigration surprised us with a 90 days visa! How do we spend 90 days in Malaysia? The next in line was Customs and after showing our carnets the officers were pointing us to a room where their big boss was sitting. The man started to ask us questions about our Malaysian insurance. We hadn't one but where could we get one? After a telephone call he told us that our Carnets were our insurances, which we refused to believe, but anyway one problem was solved. Where do we want to go? "To Penang". "Where do you leave Malaysia?" "At Johor Bahru." "Oh, but then you don't have to go to Penang, you have to drive to Ipoh". "Yes, but first we go to Penang". "No, no, Penang is in the wrong direction". Then we didn't bother him to tell him we wanted to visit the East coast as well as we never disagree with authority. Finally our Carnets were stamped and we could enter Malaysia.
Click for larger image
Route through Malaysia; 18-05-2002 / 01-06-2002
For me entering Malaysia was a little exciting as everything was new for me. I just got used to the traffic in Thailand and now I had to get used to a new country. I quickly discovered that also in Malaysia they can't drive. The nature however is beautiful and so different with Thailand. Even more tropical and with different kinds of palm trees. We read that there were at least 200 different kinds.
Through nice secondary roads we drove to Georgetown where we spent our first night in Malaysia on the Island of Penang. We took the 15 kms. long bridge. When we were crossing the bridge we saw huge skyscrapers which reminded us of Hong Kong. The closer we got to Penang the busier the traffic got and now I really wished that I could get radio contact with Martin as I was struggling to follow him through the traffic and the only thing I did was staying close behind him as and I had absolutely no idea where we were going. Martin was like 'Mother Goose' to me and I felt safe under his wings. With less than 2000 kms. driving experience on a motorbike it's no wonder that I was not fond on driving into big cities. But we had a lunch break and after we got to our hotel and we walked around I had (finally) time to look around and then I found out that Penang wasn't too bad. In fact the Chinese area in Georgetown is really cozy.
We managed to get a third party insurance for our bikes here. It was not cheap at all but we had heard that it was impossible to enter Singapore without one, so we took a 3 month insurance.
The last four days I had terrible headache and it was really taking over control of me. So finally Martin decided to visit a hospital. First we paid was 2 Ringit (USD 0.50) registration fee and that was all. I had a brief check-up and some medicines we subscribed, all for free. The medication was really heavy stuff and you could keep a horse in a race with it but it did its job and almost directly I felt better.
Click for larger image
How pineapples growing
We drove for a little tour around the Island the next day and it was really nice. North of Georgetown there were a lot of (boring) beach resorts but once these were passed the fun started. The road was curling through the hills with nice bends and we had splendid views over the west coast of the island. We found a idyllic beach with a private resort which was completely deserted, only us and the sound of the waves.
Click for larger image
An idillic deserted beach
Another couple on a rented motorbike was making the same loop that day and we passed each other a few times. Back in Georgetown we were enjoying the sunset at the waterfront when we met the same couple again. I had said to Martin before: "When we meet them again I'm going to have a chat with them". So I did and we had a surprisingly nice chat with Colin (UK) and Nadine (Belgium). They were also overlanders is in a completely different way. They were traveling from the UK to Australia by a self-made airplane. A tiny thing which they built themselves during the last 5 years. Their trip was carefully planned as they could only travel 300 kms. at a time so figuring out their route was a crucial thing. With disbelieve we heard their stories about their problems of obtaining landing permits at embassies, made airport authorities believe they were crew-member in plain clothes (so they made their own suits) and limousine-services as they had arrived by 'private flight'. Their website: http://fly.to/worldtour
We left Georgetown and we were following small roads with beautiful sceneries through a dense jungle and even a waterfall until we arrived in Gerik.
Click for larger image
Malaysian jungle
This was a nice place were we had a nice time surrounded by local people. Our intentional stay of one night was extended to three nights as we liked it there very much. The surrounding area was beautiful with jungle, lakes and hills, the perfect conditions for exploring by motorbike.
Click for larger image
A waterfall in the jungle
One night a guy we met in a restaurant took us to the fire brigade station where they had caught a 15 foot python at the local graveyard. It was a female and she had just finished a big diner. It was a fascinating animal to see and Martin was taking the pictures of this beauty queen. Only her fairy tale had no happy end as we found out the next day when we were told that they cut her into pieces and inside they found a small calf! We felt sorry for the snake for there was so much jungle around to set her free at a remote spot. But apparently the local people wanted to have their own "Circus".
Click for larger image
The phyton caught at the cementary
We continued following Highway 4 to the east coast and the road was really so beautiful. There were signs warning for (wild?) elephants but we did not see one and we arrived in Kota Bahru. This was the dirtiest town so far. The place were we stayed had a garden and that was the only nice place as the hotel seemed to fall apart (except the nice stairway in the guesthouse). The room was filthy and needed desperate maintenance but the only thing they did was asking a lot of money for it. In Holland we call this a "milk house".
During a small afternoon stroll through town we both had the same idea: "Lets continue first thing tomorrow morning". So we followed the coastline down south and spent two nights in Ranbau Abang where you could see the turtles going ashore to burry their eggs into the sand at night. We walked along the beach several times but didn't see a single turtle, but it was still early in the season. We didn't want to stay any longer here as both nights we had neighbors, local people, and we found out that Malay people can make even more noise than Indian people although this is hard to imagine.
Click for larger image
Stop or I'll shoot you!
Our next stop was Cherating were we desperately tried to find a quiet place to have some undisturbed nights of sleep. Steven gave us the GPS coordinates of a place here and so we arrived at the Coconut Inn. The landlady was Dutch and her husband from Malaysia. Here we had a nice bungalow and as there was hardly any tourist around it was quiet as well with a lot of nature around. While sitting at the balcony we saw beautiful birds close by and we even saw a big varane. And what to think about monkeys? When we went out for breakfast we saw them and I thought: "Oh, how nice" and wanted to take some pictures. Wrong! These monkeys appeared to be very aggressive that they scared me and started to behave and scream as idiots. Martin came in between to protect me but wasn't really feeling comfortable when he saw the big teeth of their leader. The landlady and her son came out with a catapult while her man lighted some fire-crackers which worked really well and the monkeys ran away immediately.
Cherating was deserted and we did a lot of walking along the beach and so we found a nice spot were we could see the sun disappearing behind the trees and once more we understood the phrase: "Every cloud has a silver lining".
Click for larger image
Every cloud has a silver lining
We enjoyed the peaceful time here which was only interrupted when 'Abdullah' was encouraging the Muslims to pray. On our way back to the hotel we met on the beach two cyclists from Germany, Ria and Marcus, looking for a nice place to put up their tent. We told them of our nice place and the next morning we had breakfast with them before we left for our trip towards Singapore. We made a stop-over at Mersing. The hotel here was a jungle garden with huts in between. The usual bargaining took place first, but I was getting really good in it by now. While Martin stays behind with the bikes I always check out the accommodation as I have more demands than Martin. The elevated huts were very basic and the mosquitoes were for free, but the view over the (wave less) beach was nice and we could park the motorbikes underneath the hut. Through the floor we could even see our bikes. At night they played guitar in front of our hut so we had tune to fall asleep with.
Nevertheless we didn't had the intention to stay longer than one night so the next day we drove to the border.
When we entered the border town of Johor Bahru the traffic jammed completely and compared to this Georgetown was a piece of cake. Everyone tried to pass each other and soon I lost Martin. But fortunately he was stuck as well and he kept an eye on me. We assumed that on Saturdays the border crossing traffic was less than during weekdays but the total opposite was true as during the weekend people don't have to pay toll-fee and also the entry costs are much less. So we struggled for a while to get through and finally we made it to the lane for motorcycles who has separate border crossing booths. An exit stamp was easy but before we knew we had passed Customs as well and Martin returned with our carnets to get them both stamped out which took a while so in the meantime I had some time to rest from all the adrenaline shots the traffic gave me.
Posted by Martin Rooiman at
03:05 AM
GMT
June 05, 2002 GMT
Singapore
Johor Bahru (01-06-2002) till Johor Bahru (05-06-2002)
On the other side there was also a separate motorcycle lane but to get there we had to cross 5 lanes of waiting traffic, which was fairly easy. Passing Immigration was not too bad although we had to fill out a form while everyone else just got a stamp so we were holding up the line. Customs was more complicated and when we showed our Carnets we had to wait in a small office.
Click for larger image
Route through Singapore; 01-06-2002 / 05-06-2002
The Indian woman in there was so nice. She offered us her only bottle of water. She phoned a Customs officer and when he came he explained us the whole procedure. As we stayed longer than the weekend we had to leave the bikes behind at the border, go into town and get a special box for automatic payment of the toll fees, return to the border and also get an insurance. We told that we had insurance for Malaysia and Singapore. A very complicated procedure BUT he would let us through unofficially as long as we were not riding with the bike in Singapore during toll-hours (7am - 7pm, weekdays). After the queues in Johor Bahru we didn't had this intention at all. Even our carnets were not stamped and he advised us not to stop for the police. He gave us his next-week schedule and cell phone number so we could call him and cross the border back into Malaysia during his shift.
Click for larger image
The Goodwood Hotel
We drove straight to the Goodwood Park Hotel, a very luxurious hotel. Also a hotel with a special family story, it was a very old wish of me to stay here. The people were really surprised to see over Landers here so we got a huge discount and for a couple of days we felt like in heaven. The people in the hotel were real nice to us. They asked us a lot of questions and they were so friendly and gave all the help we needed and we could even get our really smelly motorbikes suits washed.
We forgot our motorbikes for some days and explored Singapore by foot, subway and bus. Singapore also had a extra dimension to me while Kees, Mum en Dad had lived here in the sixties so I heard a lot about it over the years and finally I was able to see it with my own eyes. We visited their old house and tried to find the former 'Dutch School' where Kees went to school. Although it was on our map we couldn't find. It was not on the marked place on the map. In all the streets in the area were police checkpoints as in the Shangri-La Hotel was a conference about 'National Defense'. All those officers couldn't help us as we spoke to some of them and I had the opportunity to sit on police bike: a Yamaha XJ900 Diversion, the same as Martins previous bike.
Click for larger image
Jeannette at a Yamaha XJ900 Diversion police motorbike
We ended up in the Shangri-La Hotel itself and this was a perfect shot as it turned out that the former 'Dutch School' now was a part of the Shangri-La Hotel. They used it now as a pavilion for special occasions. Jamie, a girl from the front desk, took us around and we were able to take some pictures.
Singapore is one of the most beautiful and cleanest cities we visited so far. It was organized although sometimes a little bit too much. There are the plenty of colonial buildings mixed with modern architecture and all in a good shape. We loved the cities architecture especially the area around the Victoria Theatre and the City Hall. We absolutely didn't had the feeling we were in a big city. In those couple of days we walked so much around that I needed plasters to cover my blisters.
Click for larger image
Singapore on its best
One morning we decided to have breakfast in a bird park. We expected a kind of city park where there were some footstalls and birds but it was appeared to be a big Zoo with only birds. By the time we arrived there, by subway and bus, breakfast time was over so we had some 'breakfast' at the neighboring McDonalds and we spent around 4 hours in the Zoo before returning to our hotel.
Around the corner of our hotel we found a Starbucks Coffee shop so we enjoyed a good cup of coffee so much! It was nice to have some civilization around, after spending such a long time in 'rural' Asia but we had to move on, back to Malaysia.
According to the work schedule of our Customs officer we could only leave Singapore at nights the next couple of days. We were not pleased by driving at night and finding a hotel with good parking in Johor Bahru in the dark seemed difficult to us. But fortunately the people at our hotel gave us an alternative. They showed us a way out which avoided the toll checkpoints and while there are so many little bikes crossing the border every day we decided to give it a chance. We had a warm goodbye from the hotel staff and an old woman even gave me a hand kiss. They told us to be careful and we waved them goodbye after a smashing time in the old colonial hotel with helpful and friendly people. We were spoiled!
At the border everything went smooth and even Customs didn't stop us. To make it more excited I decided to stop right in front of them to put my passport away as I couldn't drive with a passport in my mouth. Martin was getting upset that I was tempting faith but I assumed that they were impressed by a girl on a big bike... and I was right!
Posted by Martin Rooiman at
03:05 AM
GMT
Enter your email address to receive updates to Martin Rooiman and Jeannette Boom's trip story!
Recent Entries
Archives:
Archives:
Monthly
Archives:
Category
Now that summer is here, get On the Road! Take 30% off the Achievable Dream - On the Road! 2-DVD set until August 31 only.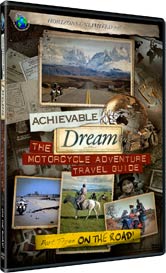 Our veteran travellers share their tips (and great stories) for staying healthy, happy and secure on your motorcycle adventure.
"A fantastic, informative and inspirational DVD."
"It's brilliant - thank you very much!"
Check it out at the HU Store! Remember to use Coupon Code 'ONTHEROAD' on your order when you checkout.
Next HU Events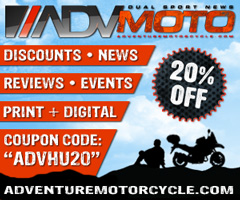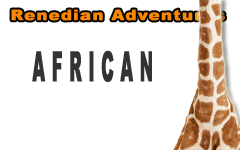 What others say about HU...
"I just wanted to say thanks for doing this and sharing so much with the rest of us." Dave, USA
"Your website is a mecca of valuable information and the DVD series is informative, entertaining, and inspiring! The new look of the website is very impressive, updated and catchy. Thank you so very much!" Jennifer, Canada
"...Great site. Keep up the good work." Murray and Carmen, Australia
"We just finished a 7 month 22,000+ mile scouting trip from Alaska to the bottom of Chile and I can't tell you how many times we referred to your site for help. From how to adjust your valves, to where to stay in the back country of Peru. Horizons Unlimited was a key player in our success. Motorcycle enthusiasts from around the world are in debt to your services." Alaska Riders

10th Annual HU Travellers Photo Contest is on now! This is an opportunity for YOU to show us your best photos and win prizes!
NEW! HU 2014 Adventure Travel T-shirts! are now available in several colors! Be the first kid on your block to have them! New lower prices on synths!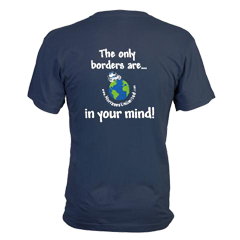 Check out the new Gildan Performance cotton-feel t-shirt - 100% poly, feels like soft cotton!

What turns you on to motorcycle travel?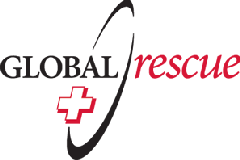 Global Rescue is the premier provider of medical, security and evacuation services worldwide and is the only company that will come to you, wherever you are, and evacuate you to your home hospital of choice. Additionally, Global Rescue places no restrictions on country of citizenship - all nationalities are eligible to sign-up!
New to Horizons Unlimited?
New to motorcycle travelling? New to the HU site? Confused? Too many options? It's really very simple - just 4 easy steps!
Horizons Unlimited was founded in 1997 by Grant and Susan Johnson following their journey around the world on a BMW R80 G/S motorcycle.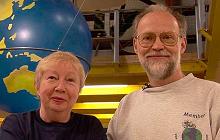 Read more about Grant & Susan's story
Membership - help keep us going!
Horizons Unlimited is not a big multi-national company, just two people who love motorcycle travel and have grown what started as a hobby in 1997 into a full time job (usually 8-10 hours per day and 7 days a week) and a labour of love. To keep it going and a roof over our heads, we run events (22 this year!); we sell inspirational and informative DVDs; we have a few selected advertisers; and we make a small amount from memberships.
You don't have to be a Member to come to an HU meeting, access the website, the HUBB or to receive the e-zine. What you get for your membership contribution is our sincere gratitude, good karma and knowing that you're helping to keep the motorcycle travel dream alive. Contributing Members and Gold Members do get additional features on the HUBB. Here's a list of all the Member benefits on the HUBB.
Books & DVDs

All the best travel books and videos listed and often reviewed on HU's famous Books page. Check it out and get great travel books from all over the world.

MC Air Shipping, (uncrated) USA / Canada / Europe and other areas. Be sure to say "Horizons Unlimited" to get your $25 discount on Shipping!
Insurance - see: For foreigners traveling in US and Canada and for Americans and Canadians traveling in other countries, then mail it to MC Express and get your HU $15 discount!
Story and photos copyright © All Rights Reserved.
Contact the author:
Editors note: We accept no responsibility for any of the above information in any way whatsoever. You are reminded to do your own research. Any commentary is strictly a personal opinion of the person supplying the information and is not to be construed as an endorsement of any kind.
Hosted by: Horizons Unlimited, the motorcycle travellers' website!
You can have your story here too - click for details!