January 28, 2002 GMT
Thailand - 3
Mukdahan (04-12-2001) till Nong Khai (28-01-2002)
The ferry crossing was simple but extremely noisy, as we happened to be standing right next to the ferries engine. The most dangerous part for us was leaving the ferry, as a there was a ramp up. No problem for the bike but the big truck in front of us had huge problems as his wheels started to spin and smoke came from the tyres. This was not a good moment to stay behind this truck so we went to the (safe) side of the road and waited patiently until the truck driver regained control over his truck and managed to get up the ramp.
Click for larger image
Route through Thailand; 04-12-2001 / 28-01-2002
Immigration was easy except that they had problems figuring out what would be the date 60 days from now but with the use of a blackboard they managed to get the right date. Clearing customs was another thing. A huge open building with no one inside caused a problem. A man at the parking made a call and told me to wait for 10 minutes and indeed then a girl on a motorbike appeared and handled my carnet. For the signature she managed to get an officer from somewhere inside the building and after two handshakes all paperwork was ready. And more important I had only my carnet stamped and not the white paper with an expiry date stamped on it. Finally exactly what I wanted.
In the meantime it was dark already but we finally found a hotel and this was like heaven to us. A clean bed and above all... nice food and huge variety. And this was a big difference compared to Laos as it was sometimes difficult to find something else than sticky rice and Lao beer (although no complaints about the beer!!!).
But we were exhausted after this demanding day and went to bed early. A good choice as the next day we drove 700 kms., all the way back to Bangkok. Why? Because Erik, our friend, was arriving in Bangkok the next day and we wanted to surprise him by picking him up from the airport. The roads were good and getting excellent once we're entered the highway. Speeding up we entered Bangkok and we were glad the king had his birthday today, so no traffic jams today.
The next morning we had to wake up very early as Erik arrived at 7.30 am. We almost missed him as it took us much longer than expected, as now there was a chaotic traffic again.
Click for larger image
The guards of the Golden Palace
Click for larger image
Kissing at the Golden Palace
Erik was very surprised to be picked up from the airport and he was very pleased to see us. The hotel were we stayed was fully booked and so we had to stay all on one room. For us no problem and now we also could take some nice pictures from Erik while he was drying his hair using a fan. This is a good alternative if you do not have a hair dryer with you; it's the real overlander spirit.
Click for larger image
Erik is using a 'hairdryer'
Our initial idea was renting a bike for him in Bangkok as we asked around already and were told this shouldn't be any problem. Erik's own bike was crated in Holland, waiting to be shipped to Australia. But when we actually asked around it turned out to be very difficult to rent a bike here for a longer period and buying was also not a cheap option. Another problem was that it's almost impossible to visit the surrounding countries then as well. Therefore we decided to fly in his own bike from Holland. By air-transport, in contrary to sea-transport, the fuel tank had to be drained and the battery had to be disconnected. We spoke with our best friends, Ed & Ellen, and they were prepared to open the crate and do the additional things that were necessary to prepare the bike for flying into Bangkok. Ed & Ellen are true friends, which you really need to have back home and many people are dreaming to have friends like them. They are always there when you need them and nothing is too much for then. Martin decided to pick up the bike from the airport ourselves so we saved a lot of money with it for a local handling agent and Martin had already done this before with his own bike.
Almost the whole day we were at the airport and we had some help from local people as we needed so many papers to be sorted out, signed stamped and photocopied. Each time you thought: "Now they must have enough papers to finish the procedure", it turned out to be not so. It was like a never-ending story, like Peyton Place in the old days. But just before noon we were entering the cargo building and found the crate. Still the paperwork wasn't finished but we were opening the crate already and start building together the bike, and didn't care about the paperwork anymore. Ed & Ellen added some Dutch sweets in the crate as well and they were very warm welcomed and eaten. When we were ready for leaving the cargo building the paperwork still hadn't finished but it was finally finished quickly as we were threatening to leave the building anyhow.
Click for larger image
Erik, Jeannette and Martin - the Three Musketeers!
It was 14.30 hours when we left the airport and finally Erik was riding on his own BMW F650GS. His bike is as yellow as a canary, but that day he was not singing at all. It was like being thrown into the Ocean with no lifeline as traffic in Bangkok was as hectic as usual, but it was the first time Erik drove on his bike at all as he bought it just before this trip and had no chance yet to ride on it. And to start in Bangkok traffic with it is not the ideal start. At the hotel we used a day to check and prepare the bike completely.
Two days after the bike arrived we left Bangkok and we were heading to the North of Thailand. The first night we slept at the shore of a big lake where we found a place, which was partly destroyed by a fire. We swept the floor and we had all we need for the night. The next day we drove to the Burmese border over nice mountain roads and we found a place for the night near a waterfall.
Click for larger image
Bull-fighting early in the morning
Erik slept in his tent and there was a small hut, which we really liked. There was a platform in it and so this we made our bed. As long I'm under a mosquito net I'm sleeping everywhere now. The mosquito net is not only against mosquitoes but also to keep other scary animals away from me. But I surprisingly found out that I was not the only 'scary chicken' anymore. I have found a buddy during this trip: Erik is even more scared than I am, so lucky Martin! The next day we drove to another Burmese border post and we wanted to cross the border for a daytrip into Burma near the Tree Pagodas Pass. At the border they told us that we had to go 24 kms back and get a permit (USD 10!) there. We thought it wasn't worth it and we continued our journey.
That afternoon we'll never forget.... It was on the 21st of December when Martin suddenly saw in his mirror that Erik felt from his bike behind us. We turned around and Erik was bleeding and we did not know what had happened. It was a smooth asphalt road with no dirt on the road itself. He was not unconscious and first thing Martin did was parking the bike in such a way that the spot was safeguarded as I went to see Erik. I looked were the blood came from and while he was lifting his head I knew he had no neck injury. We lifted him up and carried him to the side of the road. People stopped by, and a guy named Armin from Austria was on his way to Bangkok together with an Italian guy. The Italian man was the owner of a motor shop and he offered to ride the bike to the nearest hospital as Erik and I were getting into the car with Armin. Erik was in shock and it's the most bizarre thing that can happen to your best friend. He was repeating all the time the questions: "Jeannette, what happened, for I can't remember anything?" and "Jen, where is Martin?". He cried and one moment he did not know the differences between the words leg and mouth. At that time I started to get worried. When we came in the hospital he asked me what he was doing there. He was stubborn and I was dealing with his behaviour as Martin was dealing with Erik's bike parked in front of the hospital. After they made X-rays and didn't find anything broken we could take him with us. But where to? Martin went out to find a nice hotel where Erik had time to recover (and we as well). His left leg had a deep wound and was sore and his faced was slightly scratched as well, and of course his shock. That night we woke up Erik several times to check he was OK and even now he still can't remember anything about how the accident happened anymore. The next day he also had a fever and it took 6 days for him to recover. In the meantime Martin was repairing his bike. Erik must have made a complete flip over with the bike as it was scratched at all sides. The footrest was bend and several other things had to be bend or taped. Oil had leaked to odd places so the bike had to be cleaned as well. All together it took us some days as well but we had to stay here anyhow.
Click for larger image
Putting back the pieces
So we spent Christmas in the small village of Thong Pha Phum and because Thailand is a Buddhist country, Christmas is not celebrated here. So we made the best out of it ourselves but the choices were very limited. We had our 'Christmas diner' at a sing-a-song place (a kind of karaoke) as they had little coloured lights which brought us into the best Christmas-mood we could get here, although no turkey but rice with chicken.
Martin decided to make a test ride with Erik's bike and didn't find anything unusual. So Erik's bike was ready to continue the trip and Erik almost as well. Erik is riding the same bike as me. I felt really safe sitting on the backseat with Martin but after all that had happened I was so scared that I'd need some time to get the same feeling again. Not to speak about driving myself. Erik had always offered me to drive his bike whenever I wanted and Martin 'pushed' me to do it now to get over this feeling and also because we had plenty of time for it now. So he drove the bike out of town where we swapped seats. I had to get used to driving a bike again and on this bike as well and I was glad Martin was directly behind me (and that he trusted me!); at least I didn't have to start in Bangkok's rush-hour! The next day we made another, longer ride, but this time I was riding Erik's bike alone and Martin drove behind me on his own bike. It was very good for my confidence and when we returned Erik told us that he now wanted to have a first drive on his own bike as well. So we drove out again back to the place were the accident happened. We found some broken parts we were missing and collected them.
The first trip was a short trip to Kachanaburi, famous for the bridge over the river Kwai. There we met, by coincidence, Armin again and Erik didn't recognise him at all.
Click for larger image
All that remained of the Hellfire Pass
Click for larger image
At the Erawan waterfalls
The next trip was a long one, driving 500 km to Sukothai, were we stayed for New Year. Thinking spending New Year in a big city would guarantee a big party, but this appeared to be not really true. Not a single piece of firework was lit and at midnight the streets were completely dead, so we gave Sukothai the first price for our most boring New Year ever. We were talking about 'home' where we would have eaten oliebollen and drinking champagne. We missed the oliebollen, that's for sure and we also could use some champagne! The only 'exiting' thing happened was that Martin met a Dutch couple here he had met before 14 months before in Pakistan.
Click for larger image
The bikes parked in scenic Old Sukothai
Click for larger image
Buddha at Old Sukothai
Click for larger image
Erik on Buddha's lap
Click for larger image
Lake at Old Sukothai
Another exiting thing had happened earlier that day when we drove into Sukothai. As we were driving around trying to find a hotel we heard suddenly Erik screaming through the intercom: "Mart, Mart, my bike is on fire!". We stopped, turned around and saw his bike completely disappeared in smoke. It turned out to be that the cap from the cooling liquid had came off. So the liquid was flowing over the hot engine. But nothing serious, as we thought the lid had become loose because of the accident. Erik keeps very good in keeping things exciting! We left Erik behind cooling down his bike as we continued finding a hotel and picked him up when we found a place to stay and his bike was driving without any problems.
The real reason we went to Sukothai was to visit the historical site of Old Sukothai and this was a very beautiful place, with a treasure of ancient history.
The North of Thailand is amazing. The roads are good, and the scenery is astonishing. It depends what you are looking for. We went to Mae Sot and drove a splendid road through the mountains and we were told that there were 1084 bends on this 140 km road. And we drove back the same day and still weren't dizzy when we arrived back in Mae Sot.
While driving into Mae Sot the same thing happened again as when driving into Sukothai: the cap from the cooling liquid reservoir came off again. During the accident the temperature sensor of the cooling circuit had broken off and Martin had repaired it as good as possible but apparently it didn't work resulting that the cooling fan wasn't turned on at all. We solved this problem by disconnecting the cable to the defective sensor as then the cooling fan was running all the time and we didn't had any problems since anymore.
The roads through the Northwest of Thailand are nice ones, through the mountains. Along the Burmese border there are refuge camps everywhere and it's hard to see the people living under such basic circumstances. We stayed for a while in Pai. We had to, as Martin caught flu on the way to Pai. We reached it finally with a lot of stops and Martin immediately disappeared deep inside his sleeping bag. It took him a couple of days before he recovered but this was not any problem as we stayed at the 'Paradise Guesthouse' and this was really a paradise to us. We really enjoyed staying here and it was (finally) a place where you felt really at home.
Click for larger image
A really nice place to get sick
After having charged our batteries fully, we continued our journey further up North to the 'Golden Triangle'. Here is absolutely nothing special to see except for two rivers meeting each other (and so the place where Thailand, Burma and Laos meet) but the local people managed to make a big tourist trap out of it looking at all the busses around here. It was much nicer driving through the more remote parts of northern Thailand along the Laos border and spending the nights in shelters. We really loved travelling here, as the people were really nice and the road conditions varied a lot.
Finally we reached Nong Khai where we tried to get a new 30 days entry visa for free but they refused to give this to us as we had to extend our current visa but this would cost us 500 Baht (USD 10). The only reason for us to get an extension was for driving back to Bangkok in order to get our Lao - and Vietnamese visa and service Martins bike. But a Lao visa we could get at the border (although 15 instead of 30 days, but we were in Laos before) and our Vietnamese visa we could get in Vientiane. Also turned Nong Khai out to be a big city where Martin could service his bike so actually we had no reasons to stay in Thailand much longer. Within a couple of hours all our plans got changed completely and it showed again that as a traveller you have to be very flexible and that's what we like about travelling but it's also the reason why our trip to Australia takes longer every time.
Click for larger image
Jeannettes weddingdress?
For instance our relationship with Vietnam: We heard many travellers complaining about the 'aggressive' approach from the people over there and they overcharged you for everything. When we arrived at the Lao Bao border this all was confirmed by the way the authorities treated us there. So we decided to not to visit Vietnam at all. But in Thailand we changed our mind and decided to visit Vietnam so at least we had seen it ourselves and we could have our own opinion about this country. We also had found out that we tried to enter Vietnam at the wrong border crossing and for motorbikes it appeared only possible by entering at Cau Treo. So that's why we changed our plans once more and tried to enter Vietnam over there. After Martin finished servicing his bike and Erik replaced the chain of his bike, we were ready to enter Laos (again). We waited for Mark Summer (USA, Triumph Tiger) as he had contacted us by email we he heard we had similar plans. So together we went to the same border post again and cleared the procedure at the Thai side fairly quickly. The only thing was that this is the most punctual border post of Thailand, so Mark and Erik got a lecture about some document which was missing, but they at least had the 'Thai white paper'. Martin then showed only his carnet and then he had another lecture. We were nodding all: "Yes, yes, the next time we will do everything by the book, but we didn't know it now!" They checked his carnet and finally stamped everything. So we were ready to continue to cross the Friendship Bridge into Laos.
Posted by Martin Rooiman at
03:06 AM
GMT
Enter your email address to receive updates to Martin Rooiman and Jeannette Boom's trip story!
Recent Entries
Archives:
Archives:
Monthly
Archives:
Category
Now that summer is here, get On the Road! Take 30% off the Achievable Dream - On the Road! 2-DVD set until August 31 only.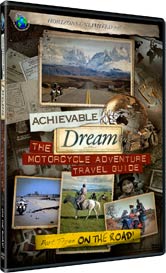 Our veteran travellers share their tips (and great stories) for staying healthy, happy and secure on your motorcycle adventure.
"A fantastic, informative and inspirational DVD."
"It's brilliant - thank you very much!"
Check it out at the HU Store! Remember to use Coupon Code 'ONTHEROAD' on your order when you checkout.
Next HU Events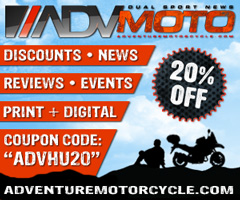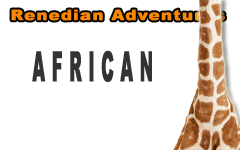 What others say about HU...
"I just wanted to say thanks for doing this and sharing so much with the rest of us." Dave, USA
"Your website is a mecca of valuable information and the DVD series is informative, entertaining, and inspiring! The new look of the website is very impressive, updated and catchy. Thank you so very much!" Jennifer, Canada
"...Great site. Keep up the good work." Murray and Carmen, Australia
"We just finished a 7 month 22,000+ mile scouting trip from Alaska to the bottom of Chile and I can't tell you how many times we referred to your site for help. From how to adjust your valves, to where to stay in the back country of Peru. Horizons Unlimited was a key player in our success. Motorcycle enthusiasts from around the world are in debt to your services." Alaska Riders

10th Annual HU Travellers Photo Contest is on now! This is an opportunity for YOU to show us your best photos and win prizes!
NEW! HU 2014 Adventure Travel T-shirts! are now available in several colors! Be the first kid on your block to have them! New lower prices on synths!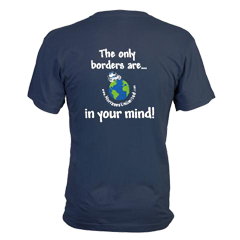 Check out the new Gildan Performance cotton-feel t-shirt - 100% poly, feels like soft cotton!

What turns you on to motorcycle travel?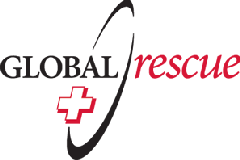 Global Rescue is the premier provider of medical, security and evacuation services worldwide and is the only company that will come to you, wherever you are, and evacuate you to your home hospital of choice. Additionally, Global Rescue places no restrictions on country of citizenship - all nationalities are eligible to sign-up!
New to Horizons Unlimited?
New to motorcycle travelling? New to the HU site? Confused? Too many options? It's really very simple - just 4 easy steps!
Horizons Unlimited was founded in 1997 by Grant and Susan Johnson following their journey around the world on a BMW R80 G/S motorcycle.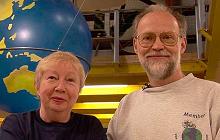 Read more about Grant & Susan's story
Membership - help keep us going!
Horizons Unlimited is not a big multi-national company, just two people who love motorcycle travel and have grown what started as a hobby in 1997 into a full time job (usually 8-10 hours per day and 7 days a week) and a labour of love. To keep it going and a roof over our heads, we run events (22 this year!); we sell inspirational and informative DVDs; we have a few selected advertisers; and we make a small amount from memberships.
You don't have to be a Member to come to an HU meeting, access the website, the HUBB or to receive the e-zine. What you get for your membership contribution is our sincere gratitude, good karma and knowing that you're helping to keep the motorcycle travel dream alive. Contributing Members and Gold Members do get additional features on the HUBB. Here's a list of all the Member benefits on the HUBB.
Books & DVDs

All the best travel books and videos listed and often reviewed on HU's famous Books page. Check it out and get great travel books from all over the world.

MC Air Shipping, (uncrated) USA / Canada / Europe and other areas. Be sure to say "Horizons Unlimited" to get your $25 discount on Shipping!
Insurance - see: For foreigners traveling in US and Canada and for Americans and Canadians traveling in other countries, then mail it to MC Express and get your HU $15 discount!
Story and photos copyright © All Rights Reserved.
Contact the author:
Editors note: We accept no responsibility for any of the above information in any way whatsoever. You are reminded to do your own research. Any commentary is strictly a personal opinion of the person supplying the information and is not to be construed as an endorsement of any kind.
Hosted by: Horizons Unlimited, the motorcycle travellers' website!
You can have your story here too - click for details!