July 10, 2001 GMT
India - 3
Banbasa (24-05-2001) till Delhi (10-07-2001)
I had crossed this border before so everything went smoothly. Leaving Banbasa I went straight up into the mountains where it was much cooler and more comfortable. Through small mountain roads I was slowly making my way towards Shimla carefully avoiding leaving the mountains. It was not only cooler in the mountains it was also much less crowded. So I was thinking about rough camping again. Problem however was to find good spots.
One day I found a nice spot: a strip of grass away from the road but... I had to drive down a slope. I managed to drive down without any problem but I wasn't feeling sure in getting out again. So I decided to drive up to the road again to see how difficult it would be.Too difficult as I found out. I lost control over the bike and it fell on its side with both wheels off the ground. No way I could get it upright on my own again and I started unpacking the luggage when I heard a truck approaching. I stopped the truck and after two more trucks stopped I had 10 people to help me. We lifted the bike upright and drove it up to the road followed by people carrying my luggage. There was not too much traffic on these roads so I realised I was very lucky! I only damaged one blinker and lost some oil somewhere.
Driving through these mountains was absolutely great: nice scenery and quiet roads. Problem was it was almost impossible get some money changed so I had to make a detour to Nainatal but... arrived there on Sunday so had to wait a day for the bank to open. This was no problem as this particular Sunday was a Sikh holiday and there was a great parade through town. Changing money was no problem the next day, so I headed back into the mountains again. I passed Shimla quickly and only stopped at the Internet place. From Shimla I took the small road to Manali crossing a pass at 3150 metres.
Tikse Monastery
I stayed in Manali for 2 days to prepare myself for the hard trip coming up to Leh. My main problem was that I had found out that my handgrip-heating (I'm not so tough as I look like!) wasn't working anymore and with some passes over 5000 metres coming up I preferred it to work. I repaired the loose wire. My only other concern was the fuel consumption. With 380 kms. to cover without a petrol station it shouldn't be a problem normally, but I wasn't sure of an increased fuel consumption because the higher altitudes. I tried to get a jerry can but it was Sunday again so the shop was closed. The next day I left without thinking of the jerry can again. I thought about it at the last petrol station 100 kms. after Manali and there was no jerry can to find there anymore so I left with only my tank fully filled up and hoping for the best.
The first pass was the Rothang La at 4000 metres. This was a popular day trip for Indian tourists from Manali. So it was crowded on the pass but once you passed the top it was deserted and I could start enjoying the scenery. A couple of times I had to stop to get myself registered at a police post but for the rest... just me and nature! I enjoyed every single kilometer of it.
Riding on a desert road
The road was so completely different compared to the north of Pakistan. Over there you're mainly following a river; here you're going over passes and desolate plains. Absolutely stunning!!! I camped along the road at a small temple at 4340 metres and had a slight headache because of the altitude. The next morning I wanted to continu early but I had to delay things as it was raining. A military towing truck stopped and we had some tea together.
When the rain stopped I drove over the Baralach La (4940m.) which was difficult as there were several streams of melting snow flowing over the 'road' and I had to drive trough the deep (~40cm.) water for about hundred metres. Tough but rewarding once I was through! The descent from the pass was spectacular and the scenery was changing after every curve. Same for the plains I drove through afterwards, so empty and so pure!! The ascent to the next pass, the Lachlung La (5105m) was not difficult so it left me more time to enjoy the view, which got better after every hairpin. No wonder I shoot more than a film roll a day.
Enjoying views along the road
In the late afternoon I passed the tent village Pang. Here I stopped to drink some tea and wanted to continue the trip but at a military barrier 300 metres passed the village I was told that the road was closed for today so I had to put up my tent at Pang (4535m). The next morning I continued the trip over the stunning plains. The weather got better, and occasionally the sun came out. During the climb to the final pass on this trip, the Taglang La (5365m), I overtook a German couple on bicycles. They were going to Leh as well! During the climb the clouds came in and at the top it wasn't raining but the views weren't good either. The first 6 kms after the top were difficult, as it was very muddy because of all the melting snow. But this was rewarding as well as, so early in the season, you could still see snow-covered mountain peaks all around.
Riding uphill through snow
The descent of the Taglang La was steep and full with hairpins. I thought that after taken the last pass the interesting part of the trip was over, but I was totally wrong. The valleys I was driving through were absolutely great and different all the time. After Upshi there was a good and easy road to Leh. My fuel consumption wasn't increased by the altitude at all. Probably because of the injection as I met lots of people who had really difficulties to get over the passes and only made it with an immensely increased fuel consumption. The only 'problem' I faced was a decreased idle-rpm above 5300 metres, but as long as I kept the throttle open the engine didn't stall. I reached Leh safely and still was able to drive another 100 kms. before my tank was empty.
In Leh I stopped at the first roundabout to orient myself when David and Cheryl Laing, two Ozzies on Honda Shadows stopped and offered me some help. I could drive with them to their hotel. We had met each other briefly in Kathmandu during diner and they had driven the same road as I just did, but they did it on custom bikes with hardly any ground clearance!!! They had faced some problems but made it at the end. They were driving together with Harry, a German biker, who had helped them crossing the passes.
Martin and Harry driving over bridge with prayer flags
Because we all wanted to see the area around Leh, we decided to go out for a ride all together the next day. Also Cheryl decided to turn it into a photo day. As Harry and I were driving alone we weren't been able to take pictures of ourselves driving our bikes. And according to Cheryl these are the only pictures the people back home like to see. So we enjoyed the scenery and had some photo sessions. Driving over the bridge without a helmet, next time with helmet but without sunglasses, then driving together with Harry over the bridge and so on, and so on. No wonder we needed a whole day for this. We ended up at a little monastery with orphans. They found our bikes very interesting but were very shy. Even Cheryl couldn't make them to sit on her bike, not even after 15 minutes talking in to them. When their teacher showed up, who spoke English, they came nearer and finally got on the bikes and they really liked it at the end.
Orphans from monastery on the bikes
We also made a day trip up to the Khardung La, (they say it's) the highest motorable road at 5606 metres (although my GPS showed 'only' 5400 metres). Also on this pass we spent a couple of hours taking photos. Fortunately the weather was excellent: sunny, with perfect views and not cold at all. We had a perfect day.
Harry (Germany), Martin, David and Cheryl (Australia) at the highest motorable pass
David and Cheryl didn't want to drive the same road back to Manali again so the only alternative was to return via Srinigar. Harry joined them so our routes already separated again. My plan was to drive back to Manali using mainly the same road but make a little detour to Lake Tsomoriri first. This lake was situated in an absolutely abandoned area with hardly living any people living around there. Because of the detour I needed to take extra petrol with me so Harry gave me his jerry can which he didn't need anymore. First I drove 160 kms over a splendid asphalt road before turning right, over the bridge were the off-road trip started. Here's also where the fun started. The road wasn't too hard but the weather got worse and when it started to drizzle a bit it got worse as there was a strong wind as well. I passed a lake surrounded by mountains and before the weather got worse I decided to put up my tent here. Except for some shepherds there was no one around. And the view from my tent when I woke up the next morning..... stunning!!!
Leaning into snow
I drove on to lake Tsomoriri which was a nice lake but the weather got worse so I didn't spend too much time there and drove back. I was told to leave the area over the same bridge but I didn't want to do this. On the map there was a road leading from the lake to the Manali - Leh road. So I drove towards Lake Tsokiagar. I had to drive around it and there were two options. I decided for the northbound track but got hopelessly stuck in the loose sand. They were building a road here but it wasn't finished yet and impossible to drive over it yet, so I had to turn around and fight myself with the bike through the loose sand again. I fell a couple of times with the bike and digging out the bike and get it upright is a really exhausting job to do at 4660 metres!!! But I managed to get it out and on solid sand again on my own.
I drove back and saw a different track together with a tent along it. I asked there if it was the southbound track around the lake when it started to rain and the three men in the tent invited me for some tea. It was the right track but probably they saw how exhausted I was so they offered me to spend the night there with them. The three men were truck drivers working on the new road and they assured the southbound road was much better even you had to go through the river. They would guide me through it tomorrow. That night it rained and although some got through the tent we stayed dry. After an early breakfast (They got up at 5.30 am!) I was early on the bike and they in their trucks and off we went. The further down we went towards the lake the muddier it became and it was just a matter of time before my rear wheel slipped away and I fell into the mud. Got the bike upright with some help of the truck driver behind me and mud was sticking everywhere. My left suitcase support was broken as well so I had to tie the pannier back to the bike.
With a river crossing to come up and not knowing the road conditions on the other side of the river I decided to turn around. When I saw how much problems the truck behind me had to get out of its track to be able to pass my bike I knew for sure I'd made the right decision. This decision also implied that I had to drive back all the way to Leh, because that's were the nearest petrol station was, over 200 kms of driving!
Once back in Leh I decided to stay some more days before driving back to Manali, this time staying on the 'main road'. The weather was much better now and so were the views. So it was not as hard as the first time and also I knew what to expect now. So the drive back to Manali was even a greater ride as the first time and certainly much more relaxed. Also I was used to the high altitudes now and it was not as cold as on my way up to Leh. Driving down over the Rothang La, it started to rain and it didn't stop before I reached the hotel. I stayed in the same hotel and the first thing I had was a shower to get back on temperature.
Internetting in Leh was a nightmare. First of all it's 6 times the price as elsewhere but most of the time there was simply no power or they couldn't establish a connection to their server. So the chances of being able to use the Internet were pretty slim. So it was a relief to be back in Manali where there were 'proper connections'.
In Leh I heard that the road through Spitty valley was great to drive as well, so a couple of days later I went over the Rothang La pass again but now turned right, into Spitty valley. And found out: this is a stunning area as well. The road was bumpy, off-road with lot of stones, but good passable when you drove slowly. Also the scenery was great as well that it was a real shame if you drove here too fast and you had to stop often to enjoy it fully. As I didn't expect this being so nice, it felt like a real bonus to me. Especially when I found a delicious 'real' Italian restaurant in the middle of nowhere.
As a part of the road was going close along the Tibetan border you needed a permit to drive the road, but this was easy to get and for free. I made several side trips to little villages and following rivers and it was an amazing area to drive through. From Shimla I tried to avoid the main road to Delhi and found different road down south. Although marked on the map as major road it partly was not more than a track but (therefor?) fun to drive.
After a splendid night on a hilltop I drove through Chokrata where I was stopped by the military. This was a restricted area and how I got here. "On this motorbike!" I replied. But being stopped by no one along the road I got all the way up here. They gave me an alternative route out of the restricted area without have to be escorted by the military. This was fine to me, as it was a nice road through the mountains as well. Although the views weren't good as I was driving through a very dense fog and could hardly see the road just ahead of me.
Before arriving in Nepal I really had enough of India and was very sceptic about my return into India. But it appeared to be absolutely one of my best decisions! The north of India is so completely different to the rest of India. In fact it doesn't feel like you're in India at all, you more feel yourself in Tibet. And the scenery is the best I've seen so far, without any doubt! India is not a place I'll easily return to but Ladakh is on the top of this list.
Once out of the mountains it got very hot and sticky immediately. It was also 'just' 200 kms to Delhi so I decided to continue for to Delhi the same day. There I waited for Marko and Annett to arrive so we could prepare the bikes and ourselves for the flight to Bangkok. The agent's office was moved and he also said things to us which appeared not right later on. We bought our tickets there and flew the same night as our bikes, but a couple of hours later so we could check if the bikes had left as scheduled.
At the airport we were surprisingly charged by volume-weight but as we didn't need to crate the bike the dimension were not fixed yet and we could decrease the dimensions of all bikes in such a way that the volume-weight was less, so they were charging the real weight in the end. We now had to reduce the size of our bike but couldn't do this before the bikes were on the pallet. Here we needed to pass customs first but this was only possible after the papers were made. So finally they accepted our 'fictitious' dimensions (at that moment!) and told us they would charge extra if the dimension weren't correct in the end. They filled out the papers so we could pass customs.
No real problems except they checked if our tanks were completely empty. We didn't want to drain all the fuel as we didn't want to push the bike to the first petrol station in Bangkok. So when they checked the tank with a piece of rope it came out wet. But Marko declared this was because the tank was just drained and hadn't had the time yet to dry out, which was accepted without any problem. Herewith the custom procedure was ended and the shipping papers were being stamped. Not our carnets, there was no need to stamp them, but as we kept insisting they finally got stamped as well. Now we could roll our bikes into the depot, but as it was already too late to fix the on the pallet so they were parked in a locked room. "Come back tomorrow!"
When we came back the next day, the bikes from Marko and Annett were already on the pallet. I had locked my bike so they couldn't drive my bike on the pallet. As soon as my bike was on the pallet as well they started putting other cargo parcels in between of the bikes stowing the empty places, so we hadn't even a change to trip the bikes; which was absolutely fine with us as it saved us a lot of work twice! Finally they put some plastic and a net over the pallet and our bikes were ready for shipping and would leave with the next day flight to Bangkok.
The next day in the late afternoon we called the airport and they confirmed that our bikes had left a couple of hours before so we could leave India around midnight.
Posted by Martin Rooiman at
03:04 AM
GMT
Enter your email address to receive updates to Martin Rooiman and Jeannette Boom's trip story!
Recent Entries
Archives:
Archives:
Monthly
Archives:
Category
NEW! HU 2015 Motorcycle Adventure Travel Calendar is now available! Get your copy now for some terrific travel inspiration!
HUGE, 11.5 x 16.5 inches, beautifully printed in Germany on top quality stock! Photos are the winning images from over 600 entries in the 9th Annual HU Photo Contest!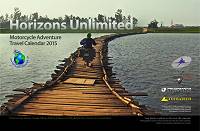 "The calendar is magnificent!"
"I just wanted to say how much I'm loving the new, larger calendar!"
We share the profit with the winning photographers. YOU could be in the HU Calendar too - enter here!
Next HU Events
NEW!

USA Virginia: Apr 9-12, 2015
Take 40% off Road Heroes Part 1 until October 31 only!
Road Heroes features tales of adventure, joy and sheer terror by veteran travellers Peter and Kay Forwood (193 countries two-up on a Harley); Dr. Greg Frazier (5 times RTW); Tiffany Coates (RTW solo female); and Rene Cormier (University of Gravel Roads).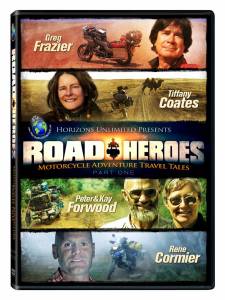 "Inspiring and hilarious!"
"I loved watching this DVD!"
"Lots of amazing stories and even more amazing photographs, it's great fun and very inspirational."
"Wonderful entertainment!"
Check it out at the HU Store! Remember to use Coupon Code 'HEROES' on your order when you checkout.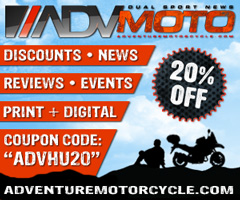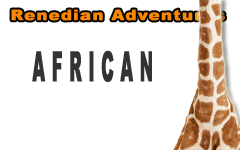 What others say about HU...
"I just wanted to say thanks for doing this and sharing so much with the rest of us." Dave, USA
"Your website is a mecca of valuable information and the DVD series is informative, entertaining, and inspiring! The new look of the website is very impressive, updated and catchy. Thank you so very much!" Jennifer, Canada
"...Great site. Keep up the good work." Murray and Carmen, Australia
"We just finished a 7 month 22,000+ mile scouting trip from Alaska to the bottom of Chile and I can't tell you how many times we referred to your site for help. From how to adjust your valves, to where to stay in the back country of Peru. Horizons Unlimited was a key player in our success. Motorcycle enthusiasts from around the world are in debt to your services." Alaska Riders

10th Annual HU Travellers Photo Contest is on now! This is an opportunity for YOU to show us your best photos and win prizes!
NEW! HU 2014 Adventure Travel T-shirts! are now available in several colors! Be the first kid on your block to have them! New lower prices on synths!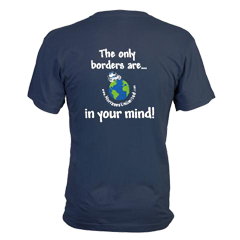 Check out the new Gildan Performance cotton-feel t-shirt - 100% poly, feels like soft cotton!

What turns you on to motorcycle travel?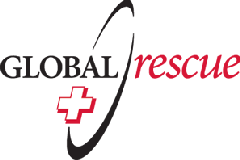 Global Rescue is the premier provider of medical, security and evacuation services worldwide and is the only company that will come to you, wherever you are, and evacuate you to your home hospital of choice. Additionally, Global Rescue places no restrictions on country of citizenship - all nationalities are eligible to sign-up!
New to Horizons Unlimited?
New to motorcycle travelling? New to the HU site? Confused? Too many options? It's really very simple - just 4 easy steps!
Horizons Unlimited was founded in 1997 by Grant and Susan Johnson following their journey around the world on a BMW R80 G/S motorcycle.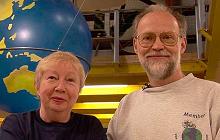 Read more about Grant & Susan's story
Membership - help keep us going!
Horizons Unlimited is not a big multi-national company, just two people who love motorcycle travel and have grown what started as a hobby in 1997 into a full time job (usually 8-10 hours per day and 7 days a week) and a labour of love. To keep it going and a roof over our heads, we run events (22 this year!); we sell inspirational and informative DVDs; we have a few selected advertisers; and we make a small amount from memberships.
You don't have to be a Member to come to an HU meeting, access the website, the HUBB or to receive the e-zine. What you get for your membership contribution is our sincere gratitude, good karma and knowing that you're helping to keep the motorcycle travel dream alive. Contributing Members and Gold Members do get additional features on the HUBB. Here's a list of all the Member benefits on the HUBB.
Books & DVDs

All the best travel books and videos listed and often reviewed on HU's famous Books page. Check it out and get great travel books from all over the world.

MC Air Shipping, (uncrated) USA / Canada / Europe and other areas. Be sure to say "Horizons Unlimited" to get your $25 discount on Shipping!
Insurance - see: For foreigners traveling in US and Canada and for Americans and Canadians traveling in other countries, then mail it to MC Express and get your HU $15 discount!
Story and photos copyright © All Rights Reserved.
Contact the author:
Editors note: We accept no responsibility for any of the above information in any way whatsoever. You are reminded to do your own research. Any commentary is strictly a personal opinion of the person supplying the information and is not to be construed as an endorsement of any kind.
Hosted by: Horizons Unlimited, the motorcycle travellers' website!
You can have your story here too - click for details!