September 05, 2000 GMT
Iran
Maku (24-08-2000) till Zahedan (05-09-2000)
The next morning it was a short trip to the border. There was a long line of trucks waiting but the advantage of a bike is that you can pass them all easily. I got a paper from the Turkish authorities to collect stamps. After collecting all the stamps you can leave Turkey. My passport was no problem but for the Carnet (bike registration) the office was closed. The official was outside having a relaxing chat in the sun. Once I found him we got to his office and I got his stamp in no time as well and could leave Turkey.
In Iran I was immediately approached by someone who spoke English and told me where to park the bike and where the immigration office was and so on. The luggage check, where some people really had problems with was easy. The guy pointed at my luggage roll and asked what was in there. "Cloths" I answered. "Only clothes?". "No, sandals and gloves as well" and the he was satisfied. The guy who spoke English turned out to be from the tourist office and supplied me with a good free map. I could also change money with him. His rate wasn't that good (got the current rate from the Germans) so I didn't change any money with him. The rest of the border formalities were so easy that I was through it all in no time. I looked over my shoulders if no one was waving me back but it all was OK. I drove to the next town Maku and went in a bank to change money. This bank didn't change money but the neighbouring bank did. But it turned out to be just closed. For lunch break I thought and I left town.
Later on I realised it was Thursday today (a Saturday to the Islamic countries) so the banks wouldn't open after lunch or tomorrow as well. With only petrol in the tank for 100 km. and no local currency at all I returned back to Maku and changed only USD 20 on the black market against a very poor rate as they new exactly what my problem was. But at least I could get some petrol now during the weekend. The petrol station just outside Maku was selling diesel only but there was another station 60 kms ahead. I could make that but there turned out to be no station at all.
According to the map the next (and nearest) petrol station was another 35 kms. further down the road. My tank was almost empty when I got there and... they had only diesel as well. But fortunately there was another station inside the town, which sold petrol.
I had to fill the tank myself and when I looked at the litre counter and was surprised to see how much was going in the tank thinking "I never have tanked that much before" until people were shouting and I appeared to be overfilling as there was no safety-stop on the hose. When I took out the hose the petrol was spraying everywhere like a fountain and I was completely under it. So I washed my hands and face and paid the petrol. Fortunately the petrol in extremely cheap here, you can get over 21 litre for USD 1!!! That's less than 5 cents a litre.
An hour later I found out that the bracket of GPS-holder was broken everywhere as its plastic couldn't stand the fuel so I had to put a strap around it to hold the GPS. In Urmiye I had a diner for USD 0.75 and spend the night at a rough camp. Following the secondary roads down along the Turkish and Iraqi border I crossed through small villages and drove along nice winding roads through a mountainous area. In Bone I wanted to buy some cheese and after having succeeded to make myself understood and got the cheese outside there where about 40 people standing around the motorbike. Small bikes and pickups were blocking the road completely. Not that anyone cared, in fact the police officers were looking at the bike as well. Everybody looked how I stowed away the cheese and started the engine. Before I could leave they had to move away several bikes but then I could go.
Outside Bane the roads was turning from tarmac into gravel and stayed that way, so I drove off road for over 40 kms. which was great. Just before Sute I was stopped at a military checkpoint and had to show my passport. They really didn't now what to do with it, as for my personal data they actually looked at my American visa, so I had to wait as they phoned from their office building. A pickup stopped and one of those guys could speak English and knew they had to check my Iranian visa and as it was still valid everything was OK. So I wanted to leave but had to stay. What for? Finally an officer was coming down the hill on a small motorbike and wanted to see my passport and the soldier was explaining and showing my Iranian visa and showed everything he had learned a couple of minutes ago (and impressed his boss with it?). But I could continue. I didn't see the village of Sute and decided to park along a dry riverbed, nicely outside sight of the road. Sitting here less than 5 minutes 4 guys came walking down the hill straight towards me and started to talk with me, offering me some melons and finally invited me in their home, which I accepted.
With one of the guys on the back I drove to the village (the 3 others had to walk) and parked my bike on the parking. After get myself washed I got inside and sat on the carpet. We had some cups of tea and some chats (they got their English books out of their rooms) followed by a diner and some more tea. But it was a men only business. The women you only saw passing by and peeking around the kitchen door but they didn't participate on the meal.
Later that night some more people showed up and they appeared to be Kurds and were particularly interested in the maps of the Kurdish areas in Turkey and Iraq. I slept on a mattress on the floor really well.
The next morning after breakfast I wanted to leave (could stay longer if I wanted) so I got dressed but couldn't find my socks. It appeared that they were freshly washed that night. My intentions were to drive south to Senendec but my hosts told me yesterday night that it was another 200 kms. off road and in this way I would never get through Iran so I returned to the main road and drove down to Esfahan the next day.
In Esfahan I was driving against a one-way road when I saw police officers standing ahead, so I pretended to be lost and asked them for directions. Ooh easy, just keep following the road you're on now.
The hotel had a bed available and as I was taking the stuff off my bike another Dutch couple on a motorbike showed up. Manus and Yumi were just coming from Bam and were on the way back home. We took a room together and as they had been in Esfahan before they knew exactly where the best restaurants were and also a place where you could get milkshakes.
I liked Esfahan, the city was relaxed but mainly because the hotel had a nice courtyard where you were away from the Iranian world. It was nice sitting down there and read a book, write your diary or chat with other travellers as there was a real interesting group of people staying there and without a lot of locals come to stare at you. I know this is also a consequence of travelling but therefore its so great if you can escape it for a while. So days passed by while doing nothing and I only went into the city to get some food or drinks. One morning we were sitting in the courtyard when an English teacher came to us and asked if her female students could interview us. The interview (not with a particular person but to us as group) started very formal with questions they already wrote down before but soon we had more like a conversation where we were asking questions as well.
They had quite an ideal view of the west but hopefully we gave them a more realistic view. We asked them about their situation as women in Iran and they were quite honest in it and weren't too happy about it. The whole conversation got quite formal when their teacher showed up to have a look how things were going but they told their opinions as soon she left. After 2 hours they had to leave as they had only permission (from the hotel owner) to interview us for 1 hour and they already had exceeded it.
Within 3 days there were 6 motorcycles in the hotel: 2 Dutch (me and a Dutch couple), 2 Czech (2 friends), 1 Slovenian (couple) and 1 British (couple). Furthermore there were 2 Austrian overlanders in a landcruiser. Manus and Yumi (the Dutch couple) were the only ones who came from Pakistan and could provide us all with useful information.
After 3 days doing nothing I decided to explore Esfahan and saw some bridges, bazaars and the Imam square with the big mosques. It was nice but not something special except for the big mosque, which had a superb acoustic when you were standing in the middle.
31 august I had to extend my visa as I had only a 7 days visa, so we (together with the Dutch couple) went to the police station but they didn't issue visa-extensions there anymore. We had to take a taxi. A police officer went outside with us, hold a taxi and told the driver where we had to go to and... paid the taxi trip already! The visa-extension procedure was very simple and went smooth. Within 30 minutes we were all outside again with the requested number of days. I asked for (and got) 7 more days.
My extended stay in Esfahan gave me the opportunity to get my emails organised on my palmtop again and write the travel reports. Now I just have to send them and even in Iran they got Internet access as well. It's not cheap but it was in the hotel, so close at hand. However I already found out that the standard windows application which I need to transfer files between the palmtop and the Internet PC is not installed on the PC by default.
Fortunately the hotel owner had a problem with a Farsi (Persian) character set on this PC and he asked if I could help him. I gave it a try but he needed a special Farsi character set. But this was the perfect opportunity for me to install the application I needed as I had his Windows CDROM now and made a copy on floppy disk of this application. So finally I was able to send my reports. Days later I found out that I left that floppy disk in his PC so I had to find that application again somewhere but now I knew what I exactly needed.
1 September, after staying 5 days in Esfahan it was time for me to leave. I wanted to go to Shiraz but as I had heard that the road was very boring (plain desert) I decided to take he road through the mountains. Not as fast but much more interesting and had a rough camp about 60 km. before Shiraz. Shiraz wasn't my next stop but Persepolis, a ruin of which I already saw a lot of (although this was the first one in Iran) but it was here much more quiet as at the Syrian or Jordanian sites. I didn't like it here so much as I'm starting to get enough of all those ruins. After had a late lunch at the parking I drove through Shiraz towards Bam. I passed 2 salt lakes. Not similar to the ones I saw in South America but these were just a crust of salt with the water still underneath. Because of the steep hills it was difficult to find a place to spend the night but finally I found a shelter in an orchard which was a great pleasure enjoying the bright stars.
The next day I drove all the way to Bam, over 600 km. through a boring desert. Nothing but stones and sand and hardly any mountains to see. So the throttle opened up to 140 km/h as the road was perfect asphalt and almost deserted. After Kerman it was getting warmer as I slowly descended and when approaching Bam it was as hot as a desert is supposed to be. Bam is famous because of its old city, including a castle, completely made out of mud. An impressive sight when I entered through the gate and oversaw the city from its surrounding wall. The castle was restored together with the main bazaar and some other city highlights but most of the 'ordinary' houses were still a ruin. From several places I sat down and enjoyed the view for a long time, mostly at the castle wall as it was the highest part of the city. The rest of the day I spend cleaning my alu-pannier as my liquid soap bottle had started leaking.
My next goal was the Pakistani border. From Bam it would be possible as I started early, which I did after buying my food for the lunch. Just outside Bam I was stopped at a police post and was asked for my passport. Without looking into it, it was brought in an office and I had to park my bike. I went into the same office and my passport was still left untouched. So I asked the captain, as he was the only one who could speak English, what the meaning was of this all. He told me that I had to wait 1 hour for an escort to Zahedan. I was pissed but had to wait. After 45 minutes they gave me back my passport and I could continue my trip. "But where's my escort?". "No escort today!". Now I felt really pissed, also because from all the travellers I met, nobody had mentioned anything about an escort. Angry I entered the office again to the captain and asked for an explanation. His English was instantly reduced to nothing. I felt so angry and couldn't show it so I left the office and slammed the door. As the door closed with a bang, all four windows fell out and shattered on the ground.
"Oops Martin, this was not a really clever thing to do" I thought, but continued walking to my bike. I wanted to get away ASAP. but just now I couldn't find my key in any pockets. One police officer came to me and asked me to come back to the office. I thought that possibly I forgot to take out the key and maybe they took it out so I returned. One officer started to shout at my in Farsi and I replied to him that he had to start talking English otherwise I would leave. He continued in Farsi so I turned around and left. Back at the bike I saw the key on the ground (fell out of my pocket) and drove away as fast as possible.
They weren't following me but they could use their radio as I was going to the border (and they knew this) and had to pass a lot of checkpoints. But I passed all checkpoints without any problems. At the third (military) checkpoint I drove on when they started talking about an escort, saying that I didn't need an escort. Later, in Pakistan I found out that everybody had similar stories about the escorts between Bam and Zahedan and that I was quite lucky to wait only for 45 minutes, some people waited more than 5 hours at different checkpoints.
Posted by Martin Rooiman at
03:04 AM
GMT
September 17, 2000 GMT
Pakistan - 1
Taftan (05-09-2000) till Islamabad (17-09-2000)
Crossing the border was so easy and relaxed. I was offered a chair when they were doing the paperwork of my Carnet (bike papers) and had tea as well. After finishing everything I spend the night in a hotel in Taftan the border town on the Pakistan side.
The next day I had a long trip ahead, from Taftan to the first mayor city in Pakistan, Quetta, was about 650 km.. But the road conditions were different (=worse) than in Iran. But as I was warned for this it didn't came to me as a surprise. The first 200 km. was actually a perfect new wide asphalt road. The next 450 km. was a narrow road full with potholes. Every time a truck came ahead I had to slow down and pass it carefully. With cars or pickups this problem didn't appear in theory as we could pass each other easily.
But that was the theory which should work well when they were going to their side of the road as well. But some of them simply stayed on the middle of the road so I had to dive into the shoulder with about 80 km/h, which wasn't a fun at all. So even when a pickup approached I had to slow down and be prepared to go into the shoulder. Also I was warned for the speed bumps, which were very hard to see, but I only remembered this warning when I was hitting one before a railroad crossing at full speed. I managed to stay on the bike and then suddenly realised that there was another speed bumps at the other side of the railroad crossing, hit the brakes and made it safe over the next one.
Because of the extremely cheap fuel in Iran there weren't any petrol stations along the road here. Everywhere however there were barrels standing with illegally imported Iranian fuel. Of course they weren't sold against Iranian prices but against half the official Pakistan fuel price. They were using old cooking oil cans of 5 litre and poured it in the tanks using a hose and a funnel. This guaranteed leaking petrol everywhere but with my help we tried to reduce the spilling as much as possible.
Around 5 pm I arrived in Quetta and found a hotel where I could cheaply camp in the garden. Pitching up a tent cost only Rp. 80 (USD 1.50) but parking my motorbike cost another Rp. 150, then a 10% tax was added so I left and took a hotel room (elsewhere) for Rp. 250 and free parking.
Quetta I liked immediately. Of course it was a dirty city like everywhere but people were actually doing something. Most of the time it wasn't all efficiency but at least there was activity going on. Something I had missed in previous counties. I took a day rest here before I headed of for the next trip to Islamabad.
When I was ready to leave, the next morning I noticed the Toyota Landcruiser of the 2 Austrians I met in Esfahan, they must have arrived yesterday late as they were still asleep when I softly knocked on their room door and got no answer.
The road from Taftan to Quetta was perfectly marked compared to the roads elsewhere in Pakistan I found out know. There are a lot of markers along the road saying how many km's it is to the next towns but the city names are in Urdu only. But this was just a matter of getting used to and wasn't a real problem. I also had the advantage that I could use my GPS for additional navigation. The fact that you're using main road doesn't give any guarantees about the quality of the road. A perfect smooth road can get full with potholes around the next corner so you have to drive careful and defensive all the time. Sometimes the asphalt ends completely and you have to drive off road for a couple of km's. I even had to cross a riverbed as they were repairing the bridge (although I didn't see anyone at that time). This all makes it impossible to plan ahead where you want to spend the next night. Simply just drive and see how far you can get.
After Lorelai the clouds got darker and just before Kocheri it started to rain so I took shelter at a small restaurant (a kind of truck stop) along the road and had some tea. When the rain ends it was about 5 pm already and the owner of the place asked me if I spend the night here. There were rope beds standing outside everywhere. Mainly used for people to sit on when they had some food but also to lay down and have a little rest when you're tired. He was very glad with my decision to stay here and so I was able to eat some real local food as he had just three big pots on the fire and there wasn't anything else to eat. But this wasn't any problem as the food tasted good. At night they carried out one of the rope beds and put it next to my bike and I slept on it inside my sleeping bag.
Truckers stopped the whole night to have some food or to repair the punctures in their tyres so it was quite noisy but I slept well. At 6.15 am they woke me up with the message that my breakfast was ready. This breakfast wasn't something special as they had only tea, tomatoes and crackers.
The trucks however were something special to see. The are very nice and colourful painted and they all take out the doors of their cabin and make some new ones of wood which are much smaller but are integrated with the design of the rest of the truck. Furthermore they are richly decorated with all different colours of small lights and with pieces of metal hanging on metal chains so they swing to each other every time the truck hits a bump which makes a lot of noise.
I went into the Punjab where the army had a shooting practise at the shooting range. It's not a restricted area, so all local people are gathered around the range to see how well their army was shooting. The shooting session has to be stopped temporally when a cow tried to cross the shooting range. After someone chased it away they continued shooting.
I crossed the broad Indus River and followed it up north. The Indus valley is very green but this is only because they irrigate the area. As soon as they don't irrigate a place there's nothing else but plain desert. My maps weren't the best ones as the Tourist office in Taftan had only maps in Urdu but had translated the major cities. I took a wrong road and got on a small local road which wasn't bad at all because there's much more things to see compared to the main roads, but the road went worse every kilometre so I turned back to the main road and spend another night at a local truck stop. This truck stop was better than the previous one as there were much less trucks stopping by and they were able to serve a decent breakfast in the morning. From here it was easy to reach Islamabad in a day but I had to make a little detour as motorcycles were not allowed on the highway. There's only one highway in Pakistan and this is between Lahore and Islamabad.
The campground in Islamabad was situated on the south side of the city in a nice area full with trees and, most important, the campground was restricted for local people. So here it was possible to really relax without locals were gathering around you. The campground was totally deserted when I arrived, but not for long. Before I was able to put up my tent two bikers arrived, a Swiss and an Austrian guy. Later an Australian biker arrived as well on a KTM so it was a nice meeting.
The Australian got his bike for free as he asked the KTM factory in Austria if they had a bike for him as he was planned to do a 50,000 km trip through Europe and Asia and finally they gave him the new 2001 model to test it out. The only 'restriction' he had was that he had to return after his trip to the factory so they were able to take the whole bike apart for inspection.
The campground in Islamabad was a relaxing place to be. And the problem with most relaxing places is that you're staying there much longer than expected. I spend a week there doing all minor things, but basically doing nothing. I went on the Internet a couple of times, bought some decent maps of Pakistan, India and Nepal.
The Austrian had bought an Enfield in India and planned to drive it back home. But two days after he left he returned as he heard a funny sound in his engine. in Rawalpindi (close to Islamabad) they took apart the whole engine and found a piece of metal in it. Where it came from, nobody knew but after a couple days delay he was able to continue his trip back home and I haven't seen him back since. Paying some extra attention to my bike I saw that there was a crack in one of my alu-pannier. I went back to the same motor shop as where Hartmund (the Austrian) had 'repaired' his bike. They couldn't weld aluminium but they put an extra steel plate behind it for additional strength and did the same for the pannier on the other side. This repair took about 4 hours and cost me only USD 6 including the steel plates. The next day the steel plates already started to get rusted but who cares about this. It will hold for at least a couple of months.
The Australian on the KTM left for India but in return an Austrian couple arrived on a bike from Iran as well the two Austrians in the Landcruiser I saw in Quetta. They heard me knocking on the door but didn't respond on it.
Gion, the Swiss guy, waited for spare parts send from home and together we decided to make a tour through Islamabad as we hadn't seen anything of it yet. There's not much to see in Islamabad as it's a new city (less than 40 years old) and well planned. I thought it was similar to Brasilia, which was a lot of concrete boxes to me. But Islamabad was different. It was spacious as well and also a lot of concrete was used but probably because people were actually living there it was not bad at all although it hadn't the charm and chaos of an ordinary Pakistani city. First we went to the huge Faisal mosque (financed by Saudi Arabia) where about 70,000 people could follow the service. Not all of them inside but also on the big squares around the mosque. The next stop was a viewpoint north of the city, which showed clearly how much green there was in Islamabad. Finally we went to a lake close to the campground to have a drink because the temperatures were still high (around 30á").
The day before I left Islamabad an Encounter Overland truck turned up on the campground. The same organisation I used over 2 years ago for my round-trip through South America. It was nice to see that hardly anything had changed since and so it brought back a lot of memories. But when I turned around to see my tent and motorbike and I was glad I had them now and wouldn't be on that truck anymore. The amount of freedom I have now with the bike is so important for me now that I wouldn't miss it. But I never had regrets making that trip with them and I'm sure I wouldn't have made this trip if I hadn't made that organised trip.
Posted by Martin Rooiman at
03:04 AM
GMT
Enter your email address to receive updates to Martin Rooiman and Jeannette Boom's trip story!
Recent Entries
Archives:
Archives:
Monthly
Archives:
Category
Now that summer is here, get On the Road! Take 30% off the Achievable Dream - On the Road! 2-DVD set until August 31 only.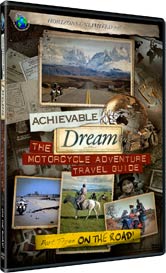 Our veteran travellers share their tips (and great stories) for staying healthy, happy and secure on your motorcycle adventure.
"A fantastic, informative and inspirational DVD."
"It's brilliant - thank you very much!"
Check it out at the HU Store! Remember to use Coupon Code 'ONTHEROAD' on your order when you checkout.
Next HU Events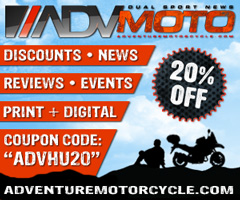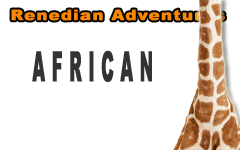 What others say about HU...
"I just wanted to say thanks for doing this and sharing so much with the rest of us." Dave, USA
"Your website is a mecca of valuable information and the DVD series is informative, entertaining, and inspiring! The new look of the website is very impressive, updated and catchy. Thank you so very much!" Jennifer, Canada
"...Great site. Keep up the good work." Murray and Carmen, Australia
"We just finished a 7 month 22,000+ mile scouting trip from Alaska to the bottom of Chile and I can't tell you how many times we referred to your site for help. From how to adjust your valves, to where to stay in the back country of Peru. Horizons Unlimited was a key player in our success. Motorcycle enthusiasts from around the world are in debt to your services." Alaska Riders

10th Annual HU Travellers Photo Contest is on now! This is an opportunity for YOU to show us your best photos and win prizes!
NEW! HU 2014 Adventure Travel T-shirts! are now available in several colors! Be the first kid on your block to have them! New lower prices on synths!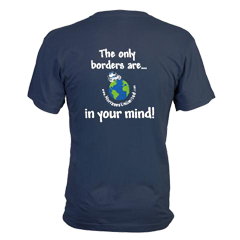 Check out the new Gildan Performance cotton-feel t-shirt - 100% poly, feels like soft cotton!

What turns you on to motorcycle travel?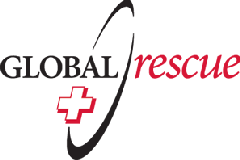 Global Rescue is the premier provider of medical, security and evacuation services worldwide and is the only company that will come to you, wherever you are, and evacuate you to your home hospital of choice. Additionally, Global Rescue places no restrictions on country of citizenship - all nationalities are eligible to sign-up!
New to Horizons Unlimited?
New to motorcycle travelling? New to the HU site? Confused? Too many options? It's really very simple - just 4 easy steps!
Horizons Unlimited was founded in 1997 by Grant and Susan Johnson following their journey around the world on a BMW R80 G/S motorcycle.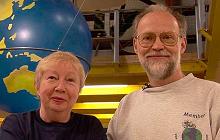 Read more about Grant & Susan's story
Membership - help keep us going!
Horizons Unlimited is not a big multi-national company, just two people who love motorcycle travel and have grown what started as a hobby in 1997 into a full time job (usually 8-10 hours per day and 7 days a week) and a labour of love. To keep it going and a roof over our heads, we run events (22 this year!); we sell inspirational and informative DVDs; we have a few selected advertisers; and we make a small amount from memberships.
You don't have to be a Member to come to an HU meeting, access the website, the HUBB or to receive the e-zine. What you get for your membership contribution is our sincere gratitude, good karma and knowing that you're helping to keep the motorcycle travel dream alive. Contributing Members and Gold Members do get additional features on the HUBB. Here's a list of all the Member benefits on the HUBB.
Books & DVDs

All the best travel books and videos listed and often reviewed on HU's famous Books page. Check it out and get great travel books from all over the world.

MC Air Shipping, (uncrated) USA / Canada / Europe and other areas. Be sure to say "Horizons Unlimited" to get your $25 discount on Shipping!
Insurance - see: For foreigners traveling in US and Canada and for Americans and Canadians traveling in other countries, then mail it to MC Express and get your HU $15 discount!
Story and photos copyright © All Rights Reserved.
Contact the author:
Editors note: We accept no responsibility for any of the above information in any way whatsoever. You are reminded to do your own research. Any commentary is strictly a personal opinion of the person supplying the information and is not to be construed as an endorsement of any kind.
Hosted by: Horizons Unlimited, the motorcycle travellers' website!
You can have your story here too - click for details!