August 08, 2000 GMT
Jordan
Ajilun (22-07-2000) till Amman (08-08-2000)
The next day I crossed the border with Jordan and visited the historical site in Jerash, which was very touristic but nice to see. I spend the night along a small unpaved road and had a good night. In the morning an old man passed me asking where I was coming from. I told him I was from Holland and that I was making a world trip and we had a little chat.
After he returned from the village with his groceries I was almost ready to go when he invited me to have some tea in his garden. It turned out in a complete breakfast together with his wife. They were living the whole summer in this garden. They hadn't any house there but were living outside and sleeping under a tree and enjoying their retirement. In the winter they went back to their house in the city. He planned to build a house here someday and was then living here permanently. I spend a couple of hours there and had a really nice time with them.
Around noon I headed westbound towards the Jordan River and drove along the river up north until I was stopped by the military because I was getting to the Syrian border, so I turned around and drove all the way down to the Dead Sea. The Jordan valley is a very fertile area and so there living many people as well. The Dead Sea was great to have a float in (you can't really swim in it and be careful not to get any 'water' in your eyes, because of the salt it hurts like hell).
I spend the night at the shore of the Dead Sea and saw a perfect sunset and at night I saw the glare of Jericho over the mountains. In the morning however things changed. The grass I was sleeping on was oily because of the high salt contents, which attracted water during the night so I packed the bike and drove away. But as soon as it was getting onto sand my bike slipped away and fell over because also the sand got the oily feeling and everything what was touching the sand had 'mud' sticking on it immediately. By the time I had my bike upright again I was looking like a pig as well. I drove on to Amman to apply for my new Syrian visa but was arriving there too late so I had to come back tomorrow. In the hotel I asked if they had some water to clean my bags. They hadn't, because of the lack of water they couldn't allow me to use it for cleaning bags. No problem to me so I took the bags inside the room and immediately they came to me saying that it was possible to clean the bags on the roof, but try to use as less water as possible.
Amman wasn't really an interesting place at all, except for the amphitheatre. There I met Stephen, a biker from New Zealand who bought a bike in England to travel around Europe (and beyond) he was getting himself orientated on the map trying to find the same hotel where I stayed so I could help him out easily. Back in the hotel I was sharing the room with him.
The next day I applied for the Syrian visa without any problems. Again I needed a letter of recommendation of the Dutch embassy. In Ankara these letters cost me USD 12 and here they were for free?
Because there was no reason to stay in Amman any longer Stephen and I drove together south following the Kings highway. The name has probably nothing to do with the Jordan king but with the feeling you get when driving over this road. A good road with hardly any traffic on it and a lot of bends. When a river has to be crossed the road descends steeply for 500 metres, you cross a bridge with no water at all and the road climbs 500 metres back up. A real joy to ride on with your bike.
In Dana we wanted to stay in a hotel with a marvellous view over a valley but the price they asked was much too high. With a cup of tea we were negotiating but still too expensive so we left (after refusing to pay for the tea) and spend the night along a narrow dirt road and had an even better view for free.
The next day (28 July) we arrived Petra in the early morning and paid a whopping JD 25 (USD 35!!) to visit Petra for two days so we could take it easy. This first day we spend seeing most of the central buildings which were really impressing from the outside, but once inside it wasn't anything more than a big square box. We had to rest quite often and long, not only because it was very hot but also because walking around in bike clothing wasn't really the best outfit to visit Petra. Late in the afternoon we found a hotel in Petra and had a triple room for just the two of us.
When having diner in the town we met another (German) biker who just arrived coming from Tunisia, Libya and Egypt. Because Stephen wanted to go to Egypt as well Peewee (the German biker) was a source of information to him and finally it ended up with him staying on our room as well. The 3 of us together with Claudia, a Chilean girl Stephen had also met in Amman, we went the second day to Petra visiting the more remote buildings, which was quite fun. The number of tourist you met dropped drastically and with wearing a proper outfit it was much easier to stand the heat. In the late afternoon we climbed a hill and had a superb view from the top at Al Khazneh, the most famous building in Petra. Walking back along the ridge we waited for sunset and walked back to the gate afterwards. It still was quite a long walk so it was already dark when we reached the gate.
Stephen and I decided to go the next day to Wadi Rum, a small town in the middle of the desert. It's famous for its scenery, which you can see by hiring a camel or a 4WD-drive. Our intention was to (try to) go into the desert on our bikes. We had received lot of practical information from Peewee, who had over 20 years motocross experience and drove from Aqaba to Wadi Rum through the desert. So we put up our tents and put all our luggage into the tent so we were going into the desert as light as possible. But we got stuck completely after 500 metres already when the rear wheel dug itself into soft sand completely. And then we had a bloody hard time to get the bike out the sand again and we were sweating like crazy so the water bottle I took was empty in no time. So we decided to turn around but that was easier said than done but finally we managed to get back to Wadi Rum. Nevertheless we had a great time and decided to have another try tomorrow morning because we later found out that it was only a small piece with soft sand. Once you were through it the ground was getting better. So we read some pages of a book Stephen had about riding on a bike in the desert.
Early next morning, after breakfast, we had another go. Keeping the throttle open and open it further when it was getting soft we got through the soft part without any problems. The trick was to keep up speed, but that made it very difficult to follow the track and we had to make split decisions which track to take when two tracks crossed. Finally I got stuck again but managed (in the end) to get out of the soft sand on my own again. We managed to get 5 km. into the desert when I got stuck a second time but dug myself out again, but it was really exhausting me. Stephen in the meanwhile had different kind of problems: his bike had lost its headlight so he had to stop and find all the pieces back together. As I tried to stay on the tracks as much as possible Stephen rode in a straight line through the desert bumping over stones and small vegetation which probably was the reason why the front shock absorber started to leak oil. So we decided to get back to Wadi Rum again.
It was really clear to us that it would be possible to go to Aqaba through the desert on our bikes but that we had way too less experience to this. We needed to practice more often in riding through the desert and it actually was a lot of fun as well.
So late in the afternoon I drove to Aqaba (on the tarmac road) and Stephen decided to spend another night in Wadi Rum before taking the ferry to Egypt. In Aqaba I spend the night at a campground at the shore of the Red Sea. On the campground were a lot of overland trucks parked. While visiting Egypt they left the trucks in Jordan as bringing your own vehicle into Egypt is very expensive thing to do (as Peewee could confirm) and the freedom of going where you like is very limited as you have to drive in convoys very regularly. This was the main reason why I had decided not to visit Egypt. (Another reason was that my company sent me to Egypt last March and visiting Cairo I was also able to see the pyramids in Giza).
While the Red Sea is one of the most beautiful places to dive in the world I wanted to follow a dive course here. I ended up at Seastar diving centre where I could start the course immediately as 7 people just had started that morning. Another option was to by the books now and start tomorrow together with someone else, which I preferred. It wasn't the cheapest course but the one at the Royal Diving Centre only started in 3 weeks, which was useless to me. I had to extend my visa for a week as the course took 4 to 5 days. So in the police station they extended my visa for 3 month! For free. The rest of the afternoon I spend start reading through the theory on the campground.
The next morning we had 2 sessions in a swimming pool to get used to the equipment and practising all kind of emergency procedures. Most of the things you learn are emergency procedures; what to do if... That afternoon we had a third session in the swimming pool together with the group who started yesterday. After 3 sessions in the swimming pool we were ready to have the first open water dive tomorrow, of course in the Red Sea. This dive wasn't really different to the ones in the swimming pool as we mainly repeated the same exercises. Of course you can go deeper down and there's much more to see (fish and reef) but you're so busy with the exercises and trying to keep your buoyancy right that I hardly saw something. That afternoon we had other open water dive.
The next morning we had the last 2 sessions in the swimming pool learning the more practical thing as how to enter the water in different ways, and how to remove your scuba unit on the surface and underwater. Because some of the other group wanted to finish their course today we had the last two open water dives in the afternoon.
We however had had only practice and from the intention to read yourself through the theory at night was quite difficult as I was tired or met a Belgian couple in a Landcruiser who went through Iran as well and were a source of practical information to me. So I decided to skip the last open water dive today and spend some time reading through the theory, continuing that evening at the campground.
The fourth day we had our final dive and so finished our practical side of the course. I ended the theory as well and was ready to have the final test. I missed 3 of the 50 questions, which was more than enough to pass and to get my PADI Open Water Diver certificate.
I asked if it was possible to have my first free dive the following afternoon, which was no problem at all. I wanted to see how it was to dive without an instructor and doing all those exercises just enjoying the environment. And it really was great. Of course it wasn't a smooth dive as I bumped into some coral accidentally but it was much easier as I had expected. Afterwards the group was analyzing what rare species of fish and coral had seen, but to me it all was new. A real new world was opened to me.
Wouldn't mind to do more dives but it was time to go up north again, back to Turkey. Just before I left I met another biker from Austria also named Martin and wearing the same jacket and together we drove up north. Because the Kings highway was such a nice road I decided to drive the same route back to Amman. At Petra we split up as I was continuing to Amman where I arriving late in the afternoon. I wanted to write a travel report here before entering into Syria where I haven't seen any Internet cafes. After typing for one hour they lost their electrical power and I lost all the typing I did. Without a backup made I was really pissed off but could blame anyone but myself. So the next morning I could newly type the (Dutch) travel report into the computer and so I left Amman around noon.
August 14, 2000 GMT
Syria - 2
Damascus (08-08-2000) till Aleppo (14-08-2000)
Back to Syria. I reached the Syrian border at 1.30pm. and went through the hassle to get out of Jordan and into Syria. I was ready for a battle as the first time I entered Syria I had to buy a one month insurance for the bike (minimum) which was still valid for 10 days. But there was no battle at all as soon I showed the insurance they accepted it directly.
I drove directly to Damascus where I visited my former colleagues again as they were still there. But close to leaving as the machine was running almost without any problems now.
I only spend one day there now, before going to Hama.
Finally I got my palmtop back, so hopefully this report is going to be different to the previous ones in this matter, it's not just a summary of places and sights I've visited but hopefully more like a story.
Thursday, 10 August, I spend the morning packing my stuff, and have a last shower so I was ready to leave Damascus. Fully packed I drove to the factory where Geert and Uwe were working. Actually they weren't doing anything at all as the machine finally worked well. When they were ready to go back home at 14.30 we said goodbye and I headed for Hama, just over 200 km. using the highways and checked in a hotel (slept on the roof), did some shopping in town, had some food and strolled around seeing already the first Noria, a huge wooden waterwheel formerly used to elevate water used for irrigation. You can hear them from far away as they are really groaning because the wooden axe is rotating on a wooden block causing friction.
The next morning I visited several wheels but and took some photo's but they're not all that nice. Around eleven I left the hotel heading for Palmyra. I didn't use the highways but took some small roads through the desert although they were all tarmacs. The scenery was absolutely magnificent, never thought that it was possible to create such an interesting landscape only using sand and stones. Hardly any traffic and hot. Although not as hot as a desert supposed be (the heat wave in Turkey was worse). Entering Palmyra was great as you drive through the ruins before entering the town. I immediately disliked the place as everyone was trying to get me in his hotel and at the locally grocery shop they asked 'tourist prices' which immediately got back to normal as you leave the shop when you refuse to pay those prices.
I went to the castle to have a nice view over the ruins in the late afternoon, and I wasn't the only one. Back at the hotel I noticed that the antenna of my GPS was broken. The hotel owner had told me it was safe to leave the motorbike outside, but the street kids were touching everything. I had a quick look at it but the antenna didn't receive any satellite anymore. I already had learned not to make any impulsive decisions or reparations so I put it aside. Had a diner in a restaurant on the street together with my South-Korean roommate.
The next morning I got up so early that all the restaurants were still closed so I had to eat the things I had on my motorbike. I visited the historical sites but refused to pay the SYP 300 (USD 6) for the Temple of Bel and slipped in together with an organised group of Italian tourists and it wasn't really worth it the money. Actually I had enough of all those (Roman) sites, I already saw so many of them, so I got back to the hotel to pack the bike.
I planned to drive to Aleppo via Rasafeh but the hotel owner thought that a part of the road to Rasafe was a real desert piste. This sounded really great to me. So I headed to As-Shukna were this road started and filled up my tank completely before heading north.
I met there an Italian couple on a motorbike and they just came from Rasafeh, but they followed the tarmac road and so had a detour via Deir ez-Zur, but they were driving a roadbike. They were told that the direct road was dangerous because it was easy to get lost on the desert piste because of all those different tracks everywhere. Now I needed my GPS the most for navigation it didn't work and I had to use my hand compass. I decided at least to give it a try, and as long as I headed due north I had to hit a tarmac road within 150 km.
After having some troubles finding the right road out of the village, the first 30 km. were still tarmac but ended in a small village. I confirmed by the locals I was still on the right road and then headed into the desert. At first you try to remember which way you went at forks, but there are so many and you have to keep on driving and fully concentrate yourself on the piste. Very soon I found out that it really doesn't matter which piste track you take because sooner or later they all come together again. Just check that it doesn't go to a small village or a barn and its general direction is north. I liked it so much that I was disappointed that I hit the tarmac road already after 38 km.. The remaining road to Rasafeh was easy and all tarmac. So my first desert navigation experience was a real positive one and definitely tasted for more.
Rasafeh was an old walled city, which was a real pleasure to walk around as it was very remote and hardly visited by tourists. The only place around was a place you could have some drink and food and where you had to buy the entrance ticket. First I had a couple of teas and went inside the city and strolled around for about an hour. It didn't have a real attractive building or so but its restful peace which was really pleasant. Together with the fact that it was in quite an original state (not so much restoration attempts) made me like the place.
Back in the restaurant I had some more tea but when I asked for food they had to admit that there wasn't anything left. So I left the place and headed for Aleppo trying to find a place to rough camp. I found an abandoned barn not far from the road and parked the bike perfectly out of sight. However within 5 minutes a military truck appeared and 5 guys with guns demanded me to leave. I had found a sleeping place directly opposite of an army base which wasn't a clever thing to do. So I drove on and took a small dirt road leading to a field and parked the bike on the sand, made a dinner and slept well next to the bike until the sun came up and hit me.
I was just putting away the sleeping bag as a small bike appeared out of the fields. This guy was living there with his family just in a small tent. Although you could hardly call it a tent; it was a piece of plastic on some sticks tied with some ropes. He was getting some water and when he returned he invited me for some tea. So I was following him on my bike into the fields. The tea turned out to be a whole breakfast. I had a little Arabic phrasebook and so we had a kind of conversation. I had to take some photos of his kinds and send the pictures to him. He wrote down his address in Arabic on paper. The mail was not going to be sent to his 'house' but to the nearest village, but as long his name was mentioned on it wouldn't be any problem.
So I left for Aleppo. Not far from the main road there was a little castle. I tried to find it but didn't succeed. However I had a great time on some dirt tracks along a huge lake.
After reaching Aleppo the normal problem in Syria appeared: nobody can point my current location on the city map. Even police officers are looking at the map and don't know where they are (on the map I mean). So I drove around for a while till I crossed a railroad track and managed to find the station. From there on it was easy to find the hotel I wanted to go to. In the late afternoon I went to the bazaar and had a great time there just strolling around, smell all the different spices and watch the local people buying things.
The next morning I went back to the bazaar early expecting that the most activity was during the early morning but it was almost completely deserted so I went back to the hotel and packed the bike, ready to go back to Turkey. Using small roads I arrived at the border and crossing it was no problem at all. I had a free crossing into Turkey by using my Carnet as the last time I had to pay USD 20.
August 24, 2000 GMT
Turkey - 2
Erzin (14-08-2000) till Dogubayazit (24-08-2000)
My goal was Adana where my father had sent a small package to the TNT office containing the palmtop. I had asked around for any address to send this package to, but the Dutch embassy and the AMEX-office both said they refused it 'for security reasons' and private persons refused to give their address as soon they heard there were electronic parts inside the package. Turkey customs would ask then for additional payments. So sending it to the TNT-office was the only solution left.
But I couldn't make it to Adana today and I parked along an orchard of orange-trees. The owner visited me and said it was dangerous to stay here as they were hunting around. But one of the hunters was with him and so knew I was here so I wasn't really worried. Also it was already getting dark and I didn't want to look for a different place.
I was not even 5 minutes inside my sleeping bag when a police van appeared and 6 armed men demanded that I pack my things. I wasn't really impressed (more pissed off that they didn't leave me alone) and started to pack my bike under everyone's full attention. Both my baggage rolls went into the police van and I had to follow the van to the police station. There they checked my passport and after a brief lecture I was 'free' to leave and had a free police escort back to the highway. There I drove a little bit further and parked (and slept) along an orchard as well without any problem. In fact, the next morning someone came by and switched on the pump, which pumped up groundwater to irrigate the field so I had a great opportunity to clean the bike and myself.
Then on to Adana where I found the TNT-office after asking a few times. I entered the office fully ready to battle with Turkish customs but was really surprised when they told me my package was already waiting in their office for a couple of days. Everything went through customs without the slightest problem. According to the office manager it was because his name was mentioned on the papers but I didn't care at all. Finally, after 2.5 months, I had my palmtop back. I could even use their computer to write an email to my father that I received the package.
I drove on to Mersin to visit the Internet caf?where I copied some files from floppy disk to the palmtop. Because I didn't want to travel that day anymore I went to a garage trying to repair my GPS-antenna. I had found out that there was a broken copper track on the PCB in the antenna, which I wanted to fix by soldering a piece of wire to bypass it. They indeed had a soldering iron and I managed to fix the wire. Immediately I went outside to see if my GPS was picking up any satellites now and... indeed it did. It worked out perfectly well! Carefully I glued back together the antenna and was in a very good mood: Today I got my palmtop back and repaired my GPS.
The rest of the afternoon I went into the mountains north of Mersin and reorganised the emails on my palmtop (and reread them). I needed also most of the next day to sort out all the emails, which I did at a teahouse in a small mountain village. I was sitting on a terrace drinking a cup of tea occasionally, a really pleasant relaxed atmosphere. In the late afternoon I went back to the Internet café to copy the resting emails but when I saved the file I got an error message in Turkish and got the owner who 'solved' the problem by exiting without saving. I was furious: 2 hours work had gone. She also realised her mistake and disappeared. As did I without paying.
The next morning I went back and repeated all again and had everything done in an hour. So I went back to Adana and visited the BMW-dealer along the road. They were very friendly but hadn't any motorbike spare parts on stock (I needed only some unimportant parts). I also wanted to take 5 litres of motor oil with me so I could exchange the motor oil somewhere in Pakistan or India, as high grade motorbike oil was impossible to get there. They had a 5 litre jerry can but it didn't fit into my tank bag. So they gave me the address of a hypermarket in Adana where I also could buy oil for a motorbike as well as a jerry can. And indeed they had the required motor oil but only in 1 litre packs.
Single jerry cans weren't sold so I bought a 5 litre jerry can 'Anti freeze', drained the contents in the toilet and replaced it, at the parking, by the bottles of motor oil. I also bought a new pump, to replace the one which was fatally damaged in Wadi Rum by sand, but the gauge wasn't displaying the right pressure. Replacing the pump for another one didn't bring any improvement. So I ended up throwing away the defective pump and kept its gauge. And after replacing my front brake pads I finally I was ready to head for Iran.
Martin Rooiman in Turkey
But first I had to go through Turkey for some days. Taking small roads doesn't really help to cover the distance fast but the scenery is much more breathtaking. I headed for Mount Nemrut and hope to drive some off-road. The road to the mountain was really nice but all paved. Not the best pavement but paved. It's necessary while all the minibuses are going up the mountain twice a day, for sunrise and sunset. The next day I wanted to drive around the mountain on secondary roads. I stopped in the first village I passed to buy a replacement for a lost lock and was offered some tea. When they found out where I intended to go to they told me it was a very bad road; I'd better drive back. But when they found out I liked off-road driving they advised me another route straight through the mountains. This really sounded great to me so I headed to the explained directions and ended up in a small village.
No, this was not the right track but a car coming from the opposite direction would send me up the right track which was a small track climbing steep up the mountain, but not after he made sure I had enough fuel with me. The track was quite full with stones so I had to climb in first gear mainly but made it to the top. The following descent was more difficult: even in first gear I went to fast and had to brake. I couldn't use my rear brake as I kept my feet close to the ground to control the sliding over the loose stones. So I used the front brake and once I slipped away completely and the bike felt on its right side: breaking its front blinker and its cylinder protector and bending its mirror and aluminum suitcase. I put the bike upright and put the broken pieces into my pocket. The rest was a piece of cake compared to the first hilltop and after 52 km. I reached Pütürge and the tarmac. In Maden I passed a military control post and found a place to spend the night on a track into the mountains.
At 23.30 hours, while I was sleeping a car showed up and stopped. The driver shouted at me and I totally ignored him hoping he would leave. But not this guy, his shouting was getting louder and he moved the car so that its headlights were pointed at me. When he started to use his cellphone I decided to 'wake up' and this made him even madder and his two sons had difficulties to keep him into control.
As soon as he found out I was a tourist from Holland he cooled down a bit but still I had to move so I started packing the bike under his full attention. I had to follow him for a place to sleep and we ended up in a little village where about 20 people awaited us. They all looked at the bike and we had some tea. Some local militaries showed up and needed to see my passport. No, I couldn't spend the night here but I had to follow them.
They drove back to Maden where we didn't go to a hotel but to a police station. There they had to see my passport again and I had to explain what I was doing there. Eeeehhhh, nowaaa, not very much, only sleeping. Why I was lost far away from the main roads. So I told them my story. They said it was a dangerous area, why they wouldn't tell me. Has the PKK something to do with it? That was a wrong thing to ask because suddenly I had to answer all kind of questions. After an hour (02.30 am meanwhile) I 'was a free man' although I never felt myself arrested and could go. I wanted to sleep so I asked if I could stay at the police station, which was impossible. Where should I go then? Tjsa, eehh... go back to the same place. Then I really didn't understand it anymore. I didn't care either so I drove back and saw the car that brought me to the police station. They asked me what I was doing and invited me to spend the night at their house.
There we played some cards, drunk tea, and went to sleep at 4 am.. We couldn't sleep long the next morning as the people from the village saw my bike parked outside and started knocking on the door. They arranged a huge breakfast but only men were joining. After playing some cards I decided to leave and left the village leaving behind a lot of people waving. Only after a couple of kilometers I had to stop at a military checkpoint where I had show my passport. As soon as my name was mentioned over the radio I could continue as they remembered my name from last night.
The first part was over local roads, very nice to drive on but I wanted to get to Iran now so I had to make kilometres and took the main road towards lake Van. I had learned from last night, took no risk and slept at a petrol station and continued the next day and reached Dogubayazit, the last village before the Iranian border and stayed there at a campground where there were also two German bikers coming from Iran.
They had a five week holiday and had their bikes shipped to Pakistan, flew in and drove around in Pakistan for three weeks, went in four days through Iran (so hadn't seen anything and they still had one week to cross Turkey before the ferry took them to Venice. It's a way seeing some of the world but I'm glad I've got some more time.
The next morning we had breakfast together and they left. I had a shower and it was really warm water; wonderful! I realised that I had to do some laundry as well and decided to stay another day. Went to the supermarket and spend my last Turkish money and met an American who wanted to go to Iran as well but a visa was refused at three different Iranian embassies, so he had to fly to Pakistan now.
Enter your email address to receive updates to Martin Rooiman and Jeannette Boom's trip story!
Recent Entries
Archives:
Archives:
Monthly
Archives:
Category
NEW! HU 2015 Motorcycle Adventure Travel Calendar is now available! Get your copy now for some terrific travel inspiration!
HUGE, 11.5 x 16.5 inches, beautifully printed in Germany on top quality stock! Photos are the winning images from over 600 entries in the 9th Annual HU Photo Contest!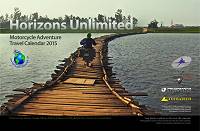 "The calendar is magnificent!"
"I just wanted to say how much I'm loving the new, larger calendar!"
We share the profit with the winning photographers. YOU could be in the HU Calendar too - enter here!
Next HU Events
NEW!

USA Virginia: Apr 9-12, 2015
Take 40% off Road Heroes Part 1 until October 31 only!
Road Heroes features tales of adventure, joy and sheer terror by veteran travellers Peter and Kay Forwood (193 countries two-up on a Harley); Dr. Greg Frazier (5 times RTW); Tiffany Coates (RTW solo female); and Rene Cormier (University of Gravel Roads).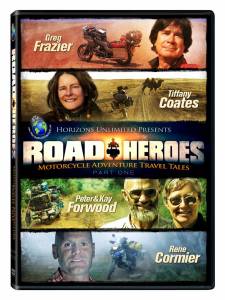 "Inspiring and hilarious!"
"I loved watching this DVD!"
"Lots of amazing stories and even more amazing photographs, it's great fun and very inspirational."
"Wonderful entertainment!"
Check it out at the HU Store! Remember to use Coupon Code 'HEROES' on your order when you checkout.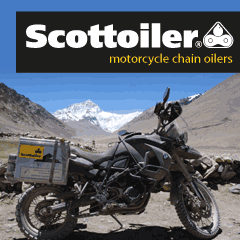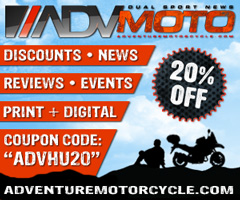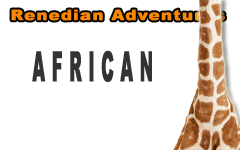 What others say about HU...
"I just wanted to say thanks for doing this and sharing so much with the rest of us." Dave, USA
"Your website is a mecca of valuable information and the DVD series is informative, entertaining, and inspiring! The new look of the website is very impressive, updated and catchy. Thank you so very much!" Jennifer, Canada
"...Great site. Keep up the good work." Murray and Carmen, Australia
"We just finished a 7 month 22,000+ mile scouting trip from Alaska to the bottom of Chile and I can't tell you how many times we referred to your site for help. From how to adjust your valves, to where to stay in the back country of Peru. Horizons Unlimited was a key player in our success. Motorcycle enthusiasts from around the world are in debt to your services." Alaska Riders

10th Annual HU Travellers Photo Contest is on now! This is an opportunity for YOU to show us your best photos and win prizes!
NEW! HU 2014 Adventure Travel T-shirts! are now available in several colors! Be the first kid on your block to have them! New lower prices on synths!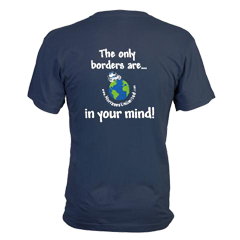 Check out the new Gildan Performance cotton-feel t-shirt - 100% poly, feels like soft cotton!

What turns you on to motorcycle travel?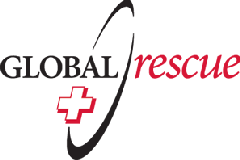 Global Rescue is the premier provider of medical, security and evacuation services worldwide and is the only company that will come to you, wherever you are, and evacuate you to your home hospital of choice. Additionally, Global Rescue places no restrictions on country of citizenship - all nationalities are eligible to sign-up!
New to Horizons Unlimited?
New to motorcycle travelling? New to the HU site? Confused? Too many options? It's really very simple - just 4 easy steps!
Horizons Unlimited was founded in 1997 by Grant and Susan Johnson following their journey around the world on a BMW R80 G/S motorcycle.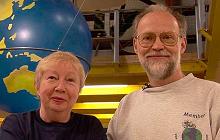 Read more about Grant & Susan's story
Membership - help keep us going!
Horizons Unlimited is not a big multi-national company, just two people who love motorcycle travel and have grown what started as a hobby in 1997 into a full time job (usually 8-10 hours per day and 7 days a week) and a labour of love. To keep it going and a roof over our heads, we run events (22 this year!); we sell inspirational and informative DVDs; we have a few selected advertisers; and we make a small amount from memberships.
You don't have to be a Member to come to an HU meeting, access the website, the HUBB or to receive the e-zine. What you get for your membership contribution is our sincere gratitude, good karma and knowing that you're helping to keep the motorcycle travel dream alive. Contributing Members and Gold Members do get additional features on the HUBB. Here's a list of all the Member benefits on the HUBB.
Books & DVDs

All the best travel books and videos listed and often reviewed on HU's famous Books page. Check it out and get great travel books from all over the world.

MC Air Shipping, (uncrated) USA / Canada / Europe and other areas. Be sure to say "Horizons Unlimited" to get your $25 discount on Shipping!
Insurance - see: For foreigners traveling in US and Canada and for Americans and Canadians traveling in other countries, then mail it to MC Express and get your HU $15 discount!
Story and photos copyright © All Rights Reserved.
Contact the author:
Editors note: We accept no responsibility for any of the above information in any way whatsoever. You are reminded to do your own research. Any commentary is strictly a personal opinion of the person supplying the information and is not to be construed as an endorsement of any kind.
Hosted by: Horizons Unlimited, the motorcycle travellers' website!
You can have your story here too - click for details!