July 16, 2002 GMT
Malaysia - 2
Johor Bahru (05-06-2002) till Melacca (16-07-2002)
On the Malaysian side there were no problem at all except the usual thing that Martin had to explain Customs how to fill out a carnet, but we were entering Johor Bahru before we realized it.
Click for larger image
Route through Malaysia; 05-06-2002 / 16-07-2002
We decided to go to Malacca to meet our friend Gion (Switserland) which we hadn't seen since December and we missed him. So we took a nice secondary road along the coast towards Melacca. In the guesthouse where Gion stayed we could park the bikes in the garden and the gate was locked. Gion was already two weeks there and liked the place a lot. We also had some spare time as we were waiting for our friend Martha from Holland to come over. In the meantime we had some homework left for we had to find out how to ship the bikes to Indonesia. We decided to ship our bikes together with Gion. We already found out that when other bikers provide you information it can be changed the next day already. In our case: since the beginning of this year no cargo was shipped from Melacca anymore, just passengers. So we had to find out everything our self, but this is also a part of traveling.
On Wednesday June 9, a woman named Doris (Canada) appeared at our hotel with her bike, a Honda Magnum 750cc, shiny like a diamond. She was a lovely person to be together with. The next morning there was a knock on our door. It was Gion, with a face like he was going to a funeral, who told us that they broke in last night and broke open several panniers of our bikes. We rushed down only thinking about our only 6 week old computer and indeed this pannier was open and the computer was gone. Both Martin panniers were also opened and everything was laying through the garden. Just awake and then find your belongings spread out through the garden was not the best start of the day.
Click for larger image
The mess after the boxes were broken open
Martin had a quick look and he missed only his credit card but found it back later after he had blocked the card. From Doris they stole her pant-liner, her boots and some other little things. The lady of the guesthouse didn't feel the need to call the police, so I took the phone and tried to call, but failed to get through. Our landlady was walking around, complaining a lot but that was all she did. I had to suppress my feeling to give her a kick her under her ass, but remembered: sometimes it's better to stay a lady. Doris, Gion and I walked to the police station and soon the police visited the crime scene. They made up a report but this didn't bring back our computer. We were very lucky that we had made a backup of all the pictures we had on the computer. The CD-ROMs were still in Martins pannier as well a golden bracelet we bought for my daughters 18th birthday. Gladly, they had overlooked it!
We stayed one more night in the Kancil guesthouse and (obviously) we can not recommend it to others. Not only because of the theft but also because of the moody landlady. The day we left e.g. Martin asked for breakfast but the landlady was very moody (again) and it ended up that Martin had to make his own breakfast. Before we left I told her how we thought about her. Because of the theft we also came much closer to Doris and she is a wonderful person to travel with. She is a woman with guts and a nice personality and most of all: she knows exactly what she wants (and what not).
We decided to drive to Kuala Lumpur (KL). The weather was miserable as it was raining cats and dogs. We knew the sun was out somewhere, but where? During a nice drive along the coast the rain stopped and in the afternoon we drove into KL. So much traffic here and especially the taxi drivers were crazy and aggressive. We had a recommended hotel from Erik. It was a little hard to find and it wasn't cheap but the bikes were safe in the garage under the hotel.
Click for larger image
Kuala Lumpur
KL is an interesting city with a great variety of architecture, different food and.... Starbucks for a good cup of coffee! We visit THE landmark of KL: the Twin Towers and it's worth to get the free tickets for the Sky-bridge. The Twin Towers are 452 meter high, have 88 floors and the sky bridge is 172 meters above street level. Two different builders worked on it. Tower One built by a Japanese builder and Tower Two by a Korean builder. It took them 2 years to built the towers and another 2 years to finish the interior of the towers. The towers are surrounded by a beautiful park with fountains. People with a big wallet will find all expensive brands and names Like Channel, Bulgaria and Prada etc. in the shopping mall between the towers.
Click for larger image
Streetlive in KL
We had a good reason to be in KL because our friend Martha was coming for two weeks to travel with us on the back of Martins bike. The problem was that she arrived in the middle of the night, the airport is 65 kms from downtown KL, so a taxi trip would be really expensive. This and because her flight could be delayed as well we decided to pick her up with our motorbikes. So in the night of June 15th we left the hotel at 3:30am. When we arrived at the airport Martha was already waiting for us for an hour. She had seen a large part of the (deserted) airport already! We drove back to the hotel and we placed an extra bed in our room as we didn't want to wake Doris as it was still too early in the morning. We had a good laugh with Martha as she was making a sound in her sleep which to us sounded like she was dreaming about all the liquish she brought with her. But "Sweet dreams" Martha as the 'drop' is ours!
For Martha it was her first time in Asia so except the heat she had to get used to this new world of her. She thought that all those big airco's on the buildings were huge speakers, so she thought there was a really big party coming up.
Click for larger image
No comment!
We, biker women, had a ladies day and went shopping with the three of us! We found some nice shoes for a biker lady. If guys don't behave well we can give them a special feeling between their legs. We tried to fit the shoes but they didn't had them in our size... so Martin was lucky. Martha is very tall, so we asked her to show us some underwear as black is always good for a biker lady.
Click for larger image
Martha's dressing sharp
We didn't buy any of this but we had great fun! Doris has a great sense of humor and we called her 'the toilet specialist'. One time, she told us, she was going to the toilet but this ended with a unwanted shower as she couldn't find the flush-button and so she tried all the taps and one was for the shower above her head. She must have looked great coming out of the toilet with wet clothes. More stories will follow from this Iron lady.
And what did Martin in the meantime? He had his own party in the basement of the hotel together with the bikes. Martha had also brought some new parts for our bikes with her and Martin had his own party installing these things. Most important of all was his new transmitter which he hide somewhere under his seat now.
Click for larger image
Doris at Starbucks
We took Martha on a little two week trip through Malaysia so we left KL soon. After a one more cup of nice coffee at Starbucks we headed for the mountains and fortunately Doris was joining us as well again. On our way to Fraser's Hill we visited the Batu Caves and I kept an eye on the bikes while Martin and his girls climbed the 272 steps to see the caves and the Hindu temple. They were surrounded by monkeys. It was nice to see, but absolutely not an highlight. We really enjoyed our intercom again and tried to drive over secondary roads but this was difficult as all the road signs were pointing us to the highway. Martin was in the lead and I drove at the tail with Doris in between. The road up to the Genting Highlands was nice, steep and with hairpins. I will never forget this road as it was here were I fell off my bike at a very sharp hairpin. I heard through the intercom Martin warning me for a very sharp hairpin coming up but it was already too late for me. I braked down but was in the wrong gear and a gutter was getting closer fast. I hit a small wall which stopped my bike from going over the edge and I tried to make the best out of it and slowly I laid down my bike, as a lady. Martin and Doris drove on and I could not get to the transmit-button anymore. Men... when you really need them they are not around! Lucky for me a car stopped with three people (men) in it and they helped me lifting up my bike. That was peanuts and only then I suddenly saw my man coming back. They had waited ahead but when a car told them "there was a little problem" Martin drove back. I was so happy to see him and even more happier that he hadn't see me falling. I was not scared to continue but when we saw Doris again, she gave me some water and I knew I was so lucky! I believe in angels and that day there was one for me! My 'mistake' set back my confidence and the driving order changed to Doris in the lead, Martin at the tail and me in the middle. On the top of the hill we also had to make a turn on an uphill road. Martin had a hard time to talk me through, but finally I did it all by myself. Going down was easier but still my driving was very tense. Only down, driving over flat roads I relaxed a bit and could start enjoy driving again.
The next hill-station was Fraser's Hill but to get there we had to wait until the road opened as it's a narrow one way road which direction is changing every hour. We were the first to drive up and this was a very tense drive for me again. A guy in a hurry wanted to pass us but Martin, who was directly behind me, blocked his path so I could focus all my attention on the driving. Once we were at Fraser's Hill my body was sore, especially my arms and legs but we all were very tired. We found a nice place and the people gave us a discount. We had two bedrooms, two bathrooms, a living room and even a small kitchen. From the patio we had a good look over the surrounding mountains and we could see the sunset.
Click for larger image
Creepy insects
The next day we found out that the boiler in one of the bathrooms was not working. They came to fixed it really quickly and when Doris wanted to wash herself with cold water steam came out of it and the 'repaired' boiler was turned into a rocket. Martin immediately shut down the boiler and this was the end of this hot shower. The rest of the time we shared our bathroom for we didn't want to move to another apartment. The view was magnificent. Our friend Gion also arrived here the next day and all together we had a long walk. We tried to find a trail but we couldn't find it. During the walk we saw monkeys in their own environment and they were hopping from one tree to another. We had a beautiful day. We fell in love with Fraser's Hill for you have the feeling to be more a part of nature and it's really peaceful there.
The next morning we left to the Cameron Highlands, another hill-station. The roads in Malaysia are really beautiful as long you're away from the highway. I must say that the driving of the people here remind me very much of the driving attitude in France. They even use your side of the road if this suits them better as I found out when suddenly a bus came around the corner on my side. But we arrived safely in Tanah Rata and its much more touristy than Fraser's Hill.
There are really nice hikes to make here so Martha, Doris and Gion went out for a hike as Martin and I decided to stay at the hotel for some rest instead.
Click for larger image
These boots aren't made for walking
"These boots aren't made for walking, what am I going to do?", Doris sang this song when she came back from the hike. In KL we had bought some shoes with her, a real barging. But after two hours hiking her soles were coming loose. Not from one of her shoes but from both of them. We were already thinking where they were as the hike was supposed to be from 10 am till 1 pm. In the meantime it was already 3 pm when they walked in making a weird sound. Her face made us laugh as no one can do. Do you understand now why she is worth an Emmy Award?
Except for hikes (we joined the next day) the Cameron Highlands are nice to visit tea plantations. Jason and Gion also joined us, and as Gion was here before he was guiding us around so we went up to a viewpoint on a 2040 meter high hilltop.
Click for larger image
Together with Martha, Jason and Gion
Now I had the chance to sit on the back with my lover boy on the back so I took my chance and gave my bike to Gion who loved riding it except that he had to get used at the powerful brakes with ABS instead of his drum-brakes. Martha was upgraded to the back of the R1150GS of Jason. On the way down we passed the tea fields and visited a tea-plantations where we saw the processing of the tea with old English machinery of the 1930's. We also visited a strawberry farm and every one bought strawberries here except Gion who bought... carrots!?!. Finally we visited a Chinese temple which was nothing special to us. Driving back to the hotel Doris was riding my bike and Gion drove Doris' bike. It was nice to see the small guy Gion with his motocross helmet disappearing behind the big windscreen of a customs bike.
Click for larger image
Wearing a crosshelmet on a cruiserbike
When we had our coffee in the garden of the hotel Jason came with the idea of lowering the front suspension of my bike as I still had troubles getting both feet to the ground on my bike. He had done this before and it was very easy. So the boys went to work and 5 minutes later the job was done. I made a brief test ride and noticed it was a completely different bike. Finally I could touch the ground with both my feet at the same time.
Click for larger image
Lowering Jeannettes front suspension
We had to show Martha more of the country so we continued and headed for the Taman Negara National park. It was not exactly on Doris' route to Thailand but after some doubting she decided early in the morning that she was joining us as well. So we said goodbye to Gion and Jason who both we would see back in Melacca for the shipping to Indonesia in a couple of weeks. We wanted to drive to the National park in one day but we had to stay one night over in Jerantut. The hotel had no parking but we could park the bikes at the police station across the road. Although the bikes were visible from the street we couldn't imagine a safer place for our bikes. We had a good night sleep and the next day our bikes were safe though touched but this was nothing unusual.
The road to Kuala Tahan (on the edge of the National Park) is a beautiful road and very quiet with traffic. There were some road works going on and it was a good thing that the intercom worked as Martin had to talk me through some of the tricky off-road stretches. Gion had given us a nice address but when we arrived at the chalets they had no water for the next days but they showed us a different place. Not exactly what we expected but it was OK for the next days. We did some walking around to explore the area and went also for a brief walk in the jungle.
The next day we started where we came here for: Jungle-walks. First we went for a canopy walk.
Click for larger image
The Canopy walk
Walking over unsteady suspension bridges you walk 45 meter above the ground looking over the trees walking from tree to tree. In total the canopy walk is 800 meter long and you feel like you're on top of the world. We also decided to go for the hike to Bukit Teresik. It was a real steep climb but Doris and I decided to go for it, so we joined Martin while Martha took the easy route back to the park entrance. Martin is so blessed with his long legs and the women were suffering on some parts. Martin also but he didn't (want to) show it. Doris is amazing: she kept on going although water was dripping from her cap. Finally we reached the top but it had hardly a view but we saw a huge spider. Going down wasn't easy either as you had to be very careful not to slip away. I felt great when we finally reached the boats at the park entrance. We went for some food and when we sat down we really felt how tired we were. It took a while before we could drag our self home for a shower and a nap. Martin apparently felt great in the jungle and he became a (copy of) Tarzan.
Click for larger image
Jungle art
The next day we went for a cave walk. Even Martha was coming with us. The hike started with a real climb, a good warming up. We had to go up for a long time and as anyone knows: what goes up, must come down and like yesterday this wasn't easy either. During our hike Rob, a kiwi, had joined us. When we reached the caves and we wished Martin and Rob very good luck as we would wait for them in front of the cave. We had heard that there were snakes and bats in the cave. I'm glad we made that decision, although mosquito's were eating us alive, especially when the guys came out and told stories of the narrow passages. They were covered with dirt but they had so much fun in the cave that when they were through they decided to go the same way back again.
Click for larger image
Hiking through the jungle
We had to walk the same way back and only this thought already gave me nightmares. There was a jetty close by but although it was on the river nobody heard our (desperate) screaming because of their own engine noise. So there was no alternative than to walk back. Unnecessary to say that the walk back was a hell and we dragged ourselves to our hotel. Martin had the idea of going tubing but you needed at least 4 persons and none of the girls had enough energy for it anymore. No way could he could get us in a tube. Next time, with a better timing, he can count us in.
The next day we had to get back on the road as Martha's two weeks were almost over already. Together with Doris we drove to Benta Seberang. Here we had our last lunch together followed by an emotional goodbye. Doris wanted to go to Penang and we had to go back to KL. It was hard for me to let Doris go for she is a wonderful person to be with. We drove into Kuala Lumpur at the end of the day. It was the second time and I was less nervous then the first time but still it wasn't easy. If you are not used to it it remains a great adventure, especially on a Friday afternoon.
The next day we brought Martha back to the airport. As this time she left at a more descend time, we took a taxi now. We had a really good time together. Martha's holiday was over but also ours as now there was work to do. Martin bought a new front tire and some covers for the bikes to get them out of sight. We also had to look for a new computer to replace the stolen one. Further we had used Psion organizers but Martins one broke and couldn't be repaired. So we bought a new Palm. So all the information had to be transferred from the Psion to the Palm so we spent hours in the internet café and our hotel room to enter all our address database. Furthermore we were months behind with our Dutch travel report and with a new notebook there was no reason for Martin anymore to delay this any further so I was pushing Martin on this (like I always do). After he pressed finally the 'Send'-button we needed some time for ourselves. So we went back to Fraser's Hill for we loved it to be in this quiet mountain place. When we drove around town we stopped along the road for some pictures. When I got back on my bike I lost my balance on the uneven road and I had to drop my bike. Martin saw it happen and got off his bike quickly to help me. Too quickly as he lost his balance as well and so two bikes were on their sides. We first put his bike upright followed by mine.
Click for larger image
I've dropped my bike, what next?
It was nice to recharge our battery up here. After four days we were on our way to Gua Musang. When we arrived in Raub and we stopped at a petrol station our plan changed completely. While Martin was busy to lift the bike on the center stand it broke off completely while Martin managed to stay upright looking sadly at his fallen bike. My heart was bumping faster than ever when I saw it happening. We now had a little problem as we had only a few more days before we were leaving for Sumatra. We decided to return to KL and we during lunch we phoned the BMW dealer. They had (to their own surprise) a center stand on stock which we would pick up soon. 50 kms before KL it started to rain very heavily. We couldn't bother as we were already wet and knew we would have a hot shower in our hotel. But when lightning started we decided to shelter in a little fruit stall along the road. Soaked and wet we returned at our hotel where we had a very warm welcome. It's not a 5 star hotel but the people are so warm. Yes, it felt good to be back again. We had a warm shower and clean cloths, what did we need more? A Starbuck coffee! The next morning we drove to the BMW dealer, 35 kms. from downtown KL and all our spare parts were waiting for us. Martins speedometer was broken as well and they had ordered spare parts from Singapore. They mounted them all for free and now we had done everything we wanted to do and we were ready for Sumatra.
We were invited again to the house of Bas and Maria for a BBQ. Bas is Dutch, Maria is from Argentina, but working here in KL. We had been there before and also the first time we liked them very much. Those people are so warm and tender. It was great to see them back. Maria has an Indian background and she was sharing us about her live. She gave me that night one golden sun and a white feather and told me the meaning behind these symbols. It was a wonderful night and these nights will not come back easily. I liked the wine very much, too much as I was drunk. Martin not as this time we took his bike so Martin was trying to find his way back to the hotel in the middle of the night as I was talking none-stop to him. He wished there was the sound of silence but we returned safely. The next day it felt I offered too much to Bacchus and had to deal with the guy with the wooden hammer in my head.
In the afternoon we had to leave for Malacca as Gion and Jason were there already waiting for us. For obvious reasons we didn't want to return to the same hotel anymore but Jason had found a nice place where the bikes could be parked inside. It was a small courtyard but we managed to get all the four motorbikes parked inside. It was good to see both guys back and we had a great evening together.
The next day (Monday) we had to work out the shipping of our bikes to Dumai on Sumatra. We knew that the stories of previous travelers weren't accurate anymore as no cargo is shipped from Melacca anymore. Gion had already visited both ports 50 kms North and South of Melacca and he opted for the one South of Melacca as there was more activity going on although both were new ports in full development. At least in the South they had already a 'proper' Customs building. The Customs officer was very friendly and helpful as a translator. We agreed on shipping the bikes the next day. We had to pay RM 200 (USD 55) per bike for shipping and an additional RM 50 (USD 15) for the agent (handling fee). They would start loading the boat tomorrow afternoon. We decided to bring our bikes to the harbor tomorrow around 10 am to perform the Customs procedure. Martin and I would then return to Melacca and catch the afternoon ferry to Dumai as Gion and Jason left behind to supervise the loading of the bikes and return to Melacca taking the ferry the next morning. We would wait for the arrival of the bikes at Dumai. But when we arrived back at the port the next morning everything had changed. The loading of the boat had already started and the agent told us that the ship was full now and we had to wait for the next ship. When it would arrive was still unknown. We didn't accept this change of plan and after a discussion an old captain told the people how to re-arrange the cargo in such a way that all our bikes could come aboard as well.
So now we could start with the Customs procedure. While we were still busy with it they came to us telling us the bikes had to go aboard NOW! So the boys left me behind with the papers and they were loading the bikes aboard putting them on bags of garlic against the 'bridge'. The spaces between the bikes were filled up with bags of garlic as well.
Click for larger image
Four bikes on a cargo boat
Click for larger image
Motorbikes fully stuffed with garlic
So the bikes were already aboard before the paperwork was finished. There was no reason for Gion and Jason anymore to stay so we arranged a taxi to take us back to Melacca. While we were waiting for the taxi to come from Melacca we saw the bikes disappearing under plastic and the ship was sailing out of the harbor, so they bikes left earlier than we did.
It took a long time (and several phone calls) for the taxi to arrive and then we had to hurry as the ferry was leaving soon. Also Gion and Jason had to pack their stuff as they had planned to go tomorrow morning. But according to the taxi driver there was no problem at all. We left the hotel in a hurry and the scheduled ferry departure had passed already but when we arrived at the port we saw that the taxi driver was right. The ferry had just arrived and people were still leaving the ferry. So we had to wait over another hour before we could go through Immigration and get aboard. In 2½ hours we arrived at the other side on Dumai at Sumatra.
Posted by Martin Rooiman at July 16, 2002 03:05 AM GMT

Enter your email address to receive updates to Martin Rooiman and Jeannette Boom's trip story!
Recent Entries
Archives:
Archives:
Monthly
Archives:
Category
NEW! HU 2015 Motorcycle Adventure Travel Calendar is now available! Get your copy now for some terrific travel inspiration!
HUGE, 11.5 x 16.5 inches, beautifully printed in Germany on top quality stock! Photos are the winning images from over 600 entries in the 9th Annual HU Photo Contest!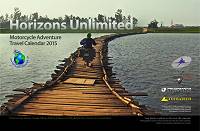 "The calendar is magnificent!"
"I just wanted to say how much I'm loving the new, larger calendar!"
We share the profit with the winning photographers. YOU could be in the HU Calendar too - enter here!
Next HU Events
NEW!

USA Virginia: Apr 9-12, 2015
Take 40% off Road Heroes Part 1 until October 31 only!
Road Heroes features tales of adventure, joy and sheer terror by veteran travellers Peter and Kay Forwood (193 countries two-up on a Harley); Dr. Greg Frazier (5 times RTW); Tiffany Coates (RTW solo female); and Rene Cormier (University of Gravel Roads).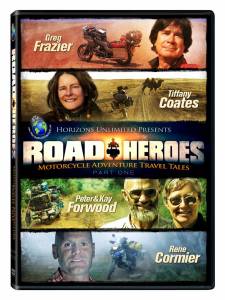 "Inspiring and hilarious!"
"I loved watching this DVD!"
"Lots of amazing stories and even more amazing photographs, it's great fun and very inspirational."
"Wonderful entertainment!"
Check it out at the HU Store! Remember to use Coupon Code 'HEROES' on your order when you checkout.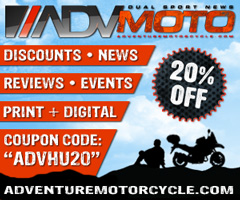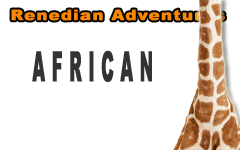 What others say about HU...
"I just wanted to say thanks for doing this and sharing so much with the rest of us." Dave, USA
"Your website is a mecca of valuable information and the DVD series is informative, entertaining, and inspiring! The new look of the website is very impressive, updated and catchy. Thank you so very much!" Jennifer, Canada
"...Great site. Keep up the good work." Murray and Carmen, Australia
"We just finished a 7 month 22,000+ mile scouting trip from Alaska to the bottom of Chile and I can't tell you how many times we referred to your site for help. From how to adjust your valves, to where to stay in the back country of Peru. Horizons Unlimited was a key player in our success. Motorcycle enthusiasts from around the world are in debt to your services." Alaska Riders

10th Annual HU Travellers Photo Contest is on now! This is an opportunity for YOU to show us your best photos and win prizes!
NEW! HU 2014 Adventure Travel T-shirts! are now available in several colors! Be the first kid on your block to have them! New lower prices on synths!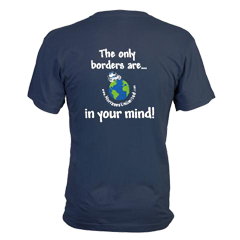 Check out the new Gildan Performance cotton-feel t-shirt - 100% poly, feels like soft cotton!

What turns you on to motorcycle travel?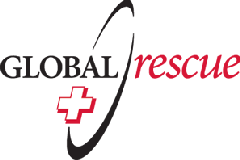 Global Rescue is the premier provider of medical, security and evacuation services worldwide and is the only company that will come to you, wherever you are, and evacuate you to your home hospital of choice. Additionally, Global Rescue places no restrictions on country of citizenship - all nationalities are eligible to sign-up!
New to Horizons Unlimited?
New to motorcycle travelling? New to the HU site? Confused? Too many options? It's really very simple - just 4 easy steps!
Horizons Unlimited was founded in 1997 by Grant and Susan Johnson following their journey around the world on a BMW R80 G/S motorcycle.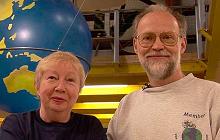 Read more about Grant & Susan's story
Membership - help keep us going!
Horizons Unlimited is not a big multi-national company, just two people who love motorcycle travel and have grown what started as a hobby in 1997 into a full time job (usually 8-10 hours per day and 7 days a week) and a labour of love. To keep it going and a roof over our heads, we run events (22 this year!); we sell inspirational and informative DVDs; we have a few selected advertisers; and we make a small amount from memberships.
You don't have to be a Member to come to an HU meeting, access the website, the HUBB or to receive the e-zine. What you get for your membership contribution is our sincere gratitude, good karma and knowing that you're helping to keep the motorcycle travel dream alive. Contributing Members and Gold Members do get additional features on the HUBB. Here's a list of all the Member benefits on the HUBB.
Books & DVDs

All the best travel books and videos listed and often reviewed on HU's famous Books page. Check it out and get great travel books from all over the world.

MC Air Shipping, (uncrated) USA / Canada / Europe and other areas. Be sure to say "Horizons Unlimited" to get your $25 discount on Shipping!
Insurance - see: For foreigners traveling in US and Canada and for Americans and Canadians traveling in other countries, then mail it to MC Express and get your HU $15 discount!
Story and photos copyright © All Rights Reserved.
Contact the author:
Editors note: We accept no responsibility for any of the above information in any way whatsoever. You are reminded to do your own research. Any commentary is strictly a personal opinion of the person supplying the information and is not to be construed as an endorsement of any kind.
Hosted by: Horizons Unlimited, the motorcycle travellers' website!
You can have your story here too - click for details!