April 04, 2001 GMT
India - 2
Mumbai (14-01-2001) till Banbasa (04-04-2001)
Our transfer-time in Chennai was getting tight, as we had to go through immigration here as well, but still possible. The flight was too short to catch up any delay so we could just make it. After the plane landed it turned off the runway and stopped then. The captain told that they had problems with the steering wheel and had to wait a while to get towed to the gate. This made our transfer impossible as it delayed us for an extra 15 minutes.
When I left the plane I asked the crew about the connecting flight to Mumbai but they told this wasn't any problem as the flight to Mumbai was with the same plane. So we could take it easy and pass immigration, go to the domestic terminal, check in and... wait! Of course the departure was already delayed and it was further delayed more twice and then at around 9pm was announced the flight was cancelled.
So what's the alternative. At 10.30pm there was an Indian Air flight to Mumbai but... there was only place for about 80 persons. The rest of 'our' plane had to take a later plane. So everyone wanted to go on the 10.30pm flight. Because we had to change airlines everybody had to get back their flight-coupon. So everybody had to go back to the check-in counter and you can imagine the chaos there. I had both our boarding cards and tickets, and directed Jeannette with the luggage out of the crowds. In front of the counter there were 300 people who wanted to be with the first 80 people for the first flight. Therefore you had to show your ticket so they could find back the right flight-coupon out of the stack of 300 flight-coupons (at least in the beginning, soon all the flight-coupons were spread out over the whole desk).
We managed to be with the first 35 passengers to get our flight coupons found and so we could go to the Air India check-in counter (which was at the international terminal again?). After check-in we had to continue and simply walk along immigration. Life can be so uncomplicated in India. Our flight had half an hour delay but we couldn't be bothered about it anymore as we had get used to it today.
We arrived back in Mumbai after midnight and took a taxi to a hotel close to the airport. The hotel was way overpriced but at 1am you don't want to go and find something else, and they probably knew this as well.
Our room was full mosquitoes so I slept with clothes and socks on and Jeannette slept in my sleep-sheet. The mosquito's didn't bother us anymore afterwards but the barking dogs outside all night long did.
The next morning we had to go back to the airport again to pickup the bike. The hotel had a free shuttle service to the airport and so we were early at the airport again. The sign on the door said they opened at 9.30am, and indeed the doors were opened then but nobody arrived in their office before 10.30am.
The job was very simple: Get the bike out of the customs storage and pay the storage fee. No paperwork in my passport or Carnet had to be done. But this was too easy. First they had to find my file at the office then it had to pass down all the way down, again explaining what had to be done. Nobody wanted to believe I had to pay storage costs only as normally people have to pay import taxes as well so every time this had to be (at least) double-checked. Then finally they made a paper of the pickup of my bike and again they asked my flight-number entering India. No problem this time and I told them my flight-number. "No, that was yesterdays flight, I mean the flight-number when you entered India with your bike." Aaaaaaaaaach!!!
The storage cost me Rs. 30 (US$ 0.65) for one week so this was no problem. And finally they succeeded to keep themselves busy (and us waiting) for 3 hours(!) before I could roll my bike out of the arrival hall. We drove down to the hotel we had left some stuff behind before we went to Sri Lanka and decided to spend there one night and start driving to Goa the next morning.
The feeling was great: I had a new visa and my motorbike back again.
The next morning we could hit the road again heading for Goa! Checked the tire-pressure and installed the GPS back on the bike but it appeared not to work. Again it wasn't receiving any satellites, so probably the same problem with the antenna as in Syria. I had to fix this later. I didn't really needed the GPS, as it already was the third time I drove this route, so I had no problems in leaving Mumbai. The road through the mountain was as nice as before and we both agreed that there was nothing above driving through a nice scenery on your own motorbike, not even on a rental one through the beautiful countryside of Sri Lanka.
We spend the night at the same place, halfway, as on our way to Mumbai. They still remembered us and gave us the same room. In the restaurant that night they asked if we wanted the same food as before and reminding their 'very limited' menu we agreed. Also we had the same breakfast as before the following morning and when we were about to leave they asked if we would see the hot springs. As we were dressed in our hot motor-gear we weren't willing to but as it was close we went to see the hot springs. It was not really special but the water was really hot. It flowed over the well towards a small river were the waters were mixed to more convenient temperatures. But this pool was very small and so the whole hot spring was as natural as it could be. No big swimming pools with lots of hotels around, and this made it nice. We didn't stay long however as we were starting to sweat and want to be on the bike to cool down.
The last part of this trip, I drove for the third time and Jeannette for the first time, as she was mainly sleeping the previous time. After entering Goa we left the main road and drove to Calangute along the coast and booked us into a small hotel close to the beach.
So although we had a tight schedule the last three weeks we had made it back to Goa in time and had even two days left to spend in Goa!
The next day we picked up our left luggage and back in the hotel we got a note from Poul & Pia, the Danish couple I last met in Pakistan and went up to the Deosai plains with, that they had arrived in the hotel as well. We kept in touch by email and so found back each other again.
Now we had collected all our luggage we had to sort out everything and while we were doing that they knocked on our door. It was good to see them back and they could meet Jeannette and other way around as well. We had lots to talk about and so we had dinner together as well.
Friday 19 January was our last full day together and then you realize how fast the last three weeks had passed. During breakfast in our favorite restaurant we met the Dutch couple Jeannette had been sitting next to in the plane down to Goa. We didn't do much that day except for packing Jeannette's stuff. The last time I met Poul & Pia they trimmed my hair, and got almost completely bold. Jeannette didn't like this at all and I had to promise her not to have a haircut before she came to Goa. Because she was leaving tomorrow and Poul & Pia were around I could trim my hair very short again. Although she didn't like the idea she decided to do it herself as it was to be done anyhow. So she trimmed my hair under Pia's supervision. In the late afternoon we went, together with Poul & Pia, to the beach. We also had dinner together with them and went to bed early as we had set the alarm at 5.30am.
On my way back to Calangute I drove through Panaji (Goa's capital) and on to Calangute. Poul & Pia were out diving and now it was my turn to sort out my luggage and get prepared for the next stage of my trip to Australia and New Zealand.
After Jeannette left back home I had to get the bike back in perfect condition again so I first replaced my front tyre (who did an amazing 37.000km and still wasn't completely gone!), replaced the bracket of my GPS and repaired the antenna of the GPS again (same problem as I had in Turkey).
During dinner with Poul & Pia, the Danish couple with a Mitsubishi 4WD, had a surprise for me as they invited me for a dolphin trip the next day as they had won a prize somewhere. The next day we headed for the ocean and had our dolphin trip and at first we didn't see any dolphins but after Poul got seasick and puked overboard we saw lots of them, close to the boat as well. Coincidence?
I wanted to leave the touristic Goan beaches and headed for a National Park. The park itself was nice and the main attraction was a huge waterfall. But I went there mainly for the road leading to the waterfall. It was a sandy track and with 2 big river crossings. At least they were the biggest I had had and so they were challenging. The engine stalled at the first crossing, but I managed to get out of the river myself. The second river crossing was tougher but I had learned from the first one and kept the throttle open now and got through without any problems. The waterfall itself was nice but not spectacular and full with tourists arrived as it appeared to be a popular day trip. I drove the same track back and at the first river crossing there was a bus with school kids standing there. As soon as they saw me approaching they all started yelling especially when I got through. But unfortunately for them, what they hoped for didn't happen. The last river had a surprise for me. As I was driving through the water got higher and higher. It wasn't that deep a couple hours ago I wondered? I stopped and found out that I was following a different track through the water and now had to change course to get on the right (shallower) track through the water, but I managed!
I headed back to the beach, but this time a quiet spot where there were no hotels (yet), just overlanders. Here I found the relaxing atmosphere I needed to write my (previous) travel reports. This took me a couple of days but then I was fully up to date and red of sunburn. But Jeannette had complained had advised me to work on my tan, so that's what I did!). I also used these days to plan my route further through India. I wanted to go further down south but preferable through the hills as the temperatures we more convenient on the higher altitudes. So I visited Jog Falls, a nice waterfall but the roads to it were better as the waterfall and I drove down south along roads unmarked on my map. Also there were roads marked on the map who didn't exist, at least I couldn't find them even when I asked.
Slowly I worked my way down to Mysore an interesting place to visit but for me also because some Brugman engineers, my former employer, were building up several machines down there. I joined them for a couple of days but couldn't do that much as I got there too early but answered some specific questions of the customer. Also there was loads of tools available there so I could make myself the metal bracket for the GPS-antenna. Did some sightseeing in Mysore as well. The palace as beautiful to visit especially at Sunday night its silhouette was lit by thousands lights. It made the palace a magic place, like coming out of a fairy tale.
From Mysore I went to Ooty (forget its official name Uthagamandalam), a popular hill station, especially by Indian tourists but I didn't like it at all, despite the nice lake. Kodaikanal, another hill station, was much better and much cooler. The best part was the hotel at a hilltop, a garden were I put up my tent and had a great time with a splendid view from a hilltop. I met there Jonathan and Toorna on a XT600 again as well. But after spending about a week there it was time to move on. I took some magnificent roads through mountains full with tea-plantations, which was stunning to drive through. In Kumily there was a National Park with a lot of wildlife and the best way to see it was by making a boat trip over the lakes. I took the last afternoon trip and was rewarded by seeing lot of wildlife indeed. The trip was certainly worth it. My next tourist stop was at Kollam, a place at the coast of Kerala. From here you could make a backwater trip to Allepy. A 90 km. long trip in a boat over lakes and through canals. The trip was nice but not that special as the guides wrote about it. All the kids along the canals were begging for pens and candy but in general it was a relaxing trip and a form of transport away from the hectic of the Indian roads. But after arriving in Allepy I had to go back to Kollam, by bus this time. Finally I had the chance to find out why the buses in India drive like crazy. An English backpacking couple, so much more experienced with public transport, told me to make sure to take the fast bus instead of the normal bus, as it doesn't stop everywhere. So I went to the bus station and a friendly guy told me which bus to take to Kollam. "But is this the fast bus?" I asked. "The super fast bus!" he replied. And indeed on the side of the bus was written 'Super fast'. No wonder that they drive crazy as they have to prove what's written on the bus, don't they? No, then I prefer to drive on a bike myself!!!
From Kollam I drove down visiting the beaches of Varkala and Kovalam on my way to the southernmost tip of India: Kanniyakumari. Varkala beach was the better place of both beaches as it was located along a cliff with nice views over the beach and the ocean. Kovalam was more used by package tourism but was closer to the southern tip of India so that's why I spent the night there. Kanniyakumari was a pilgrimage place (as there are many pilgrimage places in India). As all pilgrimage places there was a temple here, but there wasn't anything to see inside it except for some touts who gave a quick tour through the temple and were demanding money for it. It also had a Gandhi memorial but for the rest there's nothing interesting to see except for its co-ordinates on my GPS.
Steven (Raucher), the South African guy I met in Mysore for the last time, send me an e-mail that he had an accident and asked for help. So after I visited the southern tip of India I drove up to Kochi along the coastline. Steven just left the hospital but that had nothing to do with his accident. He was 'just' dehydrated and spent a night in the hospital. He'd hit the local milkman on his bike and damaged his bike. Some plastic damage of course but more severe was that a bold of the cylinder protector punched through the cylinder head. Not what you really expect of a protector. Steven had ordered new parts from Europe and was waiting for them. So there was nothing I could do for him.
Kochi was a nice colonial town so I decided to stay a couple of days. It was a former Dutch colony as well, so it was nice to visit the old church and the Dutch cemetery. After Kochi I wanted to go up north quickly. After three months I was starting to get enough of India: crowded everywhere, horrible traffic and people always wants money from you. There's hardly any way to escape this all. In the beginning you tell yourself: "Ignore it, it's just the way they are" but after three months I was about getting enough of it. I drove straight up to Hampi to visit the old ruins. It was a nice place to stroll around because the different buildings were quite far apart and it was hot, so not many people around. To enter the two 'main buildings' you had to pay (USD 10 per building, Indians INR 10 equals USD 0.25 so another rip-off). You didn't need to pay this money to see the ruins because their surrounding walls were partly fallen apart as well so it was easy to peek over the walls.
The next stop on my way up to Delhi was Ellora. There were some interesting caves to visit. It wasn't a major tourist attraction so you could walk around yourself. Only for the main temple cave you had to pay USD 5 (again 40x the amount the Indians had to pay). I liked the caves very much especially because you could walk around everywhere. The next place I visited was the Ajanta. This was a similar place but much more touristic than Ellora. The caves and Buddha statues were not so great in Ajanta but the had some painted walls, which gave you a good impression how these caves must have looked like. However everything was fenced off and you were forced to walk a fixed route and I didn't like this very much.
However I wanted to leave India, I didn't go straight for Delhi but made a detour through Radjastan. On my way to Goa I had to pass it quickly to be in Goa before Christmas. It was getting hotter now but that was not a big deal; it's what you expect a desert to be like. Udaipur was the first place to visit. It was situated beautifully at a lake and its sunsets were great. The palace was overlooking the lake as well and was great to visit. The palace was extended many times so there were a lot of different styles to see which made it absolutely great to stroll around. On the road to Jodhpur I visited the fort in Kumbhalgarh, a deserted fort in a stunning landscape. The fort was surrounded by a big wall, which was over 30 km!!! long. The sight of seeing the wall curling over and through the hills was stunning to see and reminded me at the view of the Chinese wall.
After spend the night at a temple complex at Ranakpur I arrived at Jodhpur. The fort was nice to visit and from the walls of the fort you saw why the city was called the Blue City, as lots of walls from the houses were painted in that colour, although it was mainly only the wall who was facing the fort. The palace was nicely located above the city but the palace itself was not as nice as the one in Udaipur. But I guess you're getting spoiled after visiting so many different cities and palaces.
After a beautiful day trip through real desert scenery I arrived in Jaisalmer. Approaching Jaisalmer was stunning as in the middle of the desert you saw suddenly a complete walled city rising up out of nowhere. The old city was great to stroll around as it was not an abandoned city but people were still living there. In narrow streets it was impossible to drive through with trucks so everything had to be carried by mules. In a small restaurant I had breakfast and I instantly felt I ate something wrong but only later I found out I had dysentery. The main attraction in Jaisalmer was to make a camel safari through the desert. I didn't like the way they were walking as it looked very uncomfortable to me, so I decided to drive into the desert on my bike even this meant I had to stay on the roads. The scenery however was about as stunning so I had a really nice day trip.
My next stop was the rat temple at Beshoke, close to Bikaner. In India there are temples to worship virtually everything so rats as well! People come here to offer food to the rats. But it remains a holy place so you're only allowed to enter... barefooted! It brings luck if you see a white rat. I didn't saw one but there were rats running over my feet and that seems to bring luck as well. Lucky me!
I continued to Jaipur and spent there a couple of days as well and visited the palace there. The palace is open almost every day of the year except (of course!) today because it was a holiday. The observatory was open however and the instruments they built there were amazing. For me, the top attraction was a huge 'building' which showed the local time by using the shadow of the sun at an accuracy of 2 seconds!!! And it was already built in 1750! The holiday had an advantage as well as I found out by coincidence: there was a special parade that night. It was a short but a nice one with dressed up camels, elephants and horses and a lot of music as well. The next day the palace was open again and I spent a long time visiting it. There was lots to see but I mainly sat outside in the shadow enjoying the buildings and looking at the people around. I took it easy as I was not feeling well as all.
The next day I drove to Amber, close to Jaipur but as I was approaching this place it was getting so touristic that I decided to drive on. I didn't want to take the busy main road to Delhi so decided to take a nice scenic route. Entering Delhi was no problem at all and even the desired hotel was found rather quickly. Actually I didn't want to stay in Delhi at all but my carnet was about expiring and a new one had been sent to the Dutch embassy in Delhi. Of course I arrived in Delhi during the weekend so it left me some time to visit Old Delhi and its fort. The fort was nice but I liked the street life in Old Delhi much more. There was chaos everywhere and the roads were completely blocked by traffic. I was glad I was walking but even then I had to climb over pushcarts occasionally to get through. At a crossing the traffic was absolutely blocked and a police officer was continuously blowing his whistle but it didn't help at all. Finally a senior police officer showed up and after 10 minutes he managed to get the traffic moving from one direction. This gave hope for the other directions who want to push them through as well. I left wondering how they ever would solve this problem.
After picking up my new carnet from the embassy there was no need for me to stay in India any longer (sounds very negative but it was how I was feeling!) and I headed for Nepal. The western border of Nepal could easily be reached from Delhi within a day. In the afternoon I reached Banbasa, the Indian border town where all the formalities were performed without any problem.
Posted by Martin Rooiman at April 04, 2001 03:04 AM GMT

Enter your email address to receive updates to Martin Rooiman and Jeannette Boom's trip story!
Recent Entries
Archives:
Archives:
Monthly
Archives:
Category
NEW! HU 2015 Motorcycle Adventure Travel Calendar is now available! Get your copy now for some terrific travel inspiration!
HUGE, 11.5 x 16.5 inches, beautifully printed in Germany on top quality stock! Photos are the winning images from over 600 entries in the 9th Annual HU Photo Contest!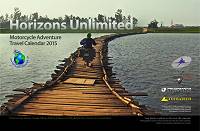 "The calendar is magnificent!"
"I just wanted to say how much I'm loving the new, larger calendar!"
We share the profit with the winning photographers. YOU could be in the HU Calendar too - enter here!
Next HU Events
Germany: May 14-17
Canada Ontario: Jun 18-21
Ireland: June 26-28
Colorado: July 17-19 TBC
Canada West: Aug 20-23
USA California: Sep 24-27
Aus Queensland: Sep 24-27
USA North Carolina: Oct 8-11
Aus Perth: Oct 9-11
Germany: Oct 22-25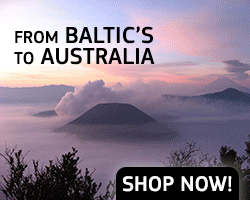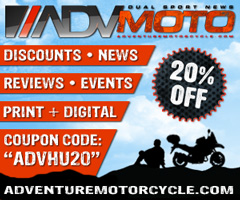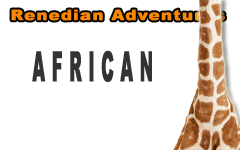 What others say about HU...
"I just wanted to say thanks for doing this and sharing so much with the rest of us." Dave, USA
"Your website is a mecca of valuable information and the DVD series is informative, entertaining, and inspiring! The new look of the website is very impressive, updated and catchy. Thank you so very much!" Jennifer, Canada
"...Great site. Keep up the good work." Murray and Carmen, Australia
"We just finished a 7 month 22,000+ mile scouting trip from Alaska to the bottom of Chile and I can't tell you how many times we referred to your site for help. From how to adjust your valves, to where to stay in the back country of Peru. Horizons Unlimited was a key player in our success. Motorcycle enthusiasts from around the world are in debt to your services." Alaska Riders

10th Annual HU Travellers Photo Contest is on now! This is an opportunity for YOU to show us your best photos and win prizes!
NEW! HU 2014 Adventure Travel T-shirts! are now available in several colors! Be the first kid on your block to have them! New lower prices on synths!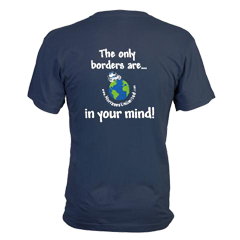 Check out the new Gildan Performance cotton-feel t-shirt - 100% poly, feels like soft cotton!

What turns you on to motorcycle travel?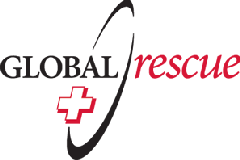 Global Rescue is the premier provider of medical, security and evacuation services worldwide and is the only company that will come to you, wherever you are, and evacuate you to your home hospital of choice. Additionally, Global Rescue places no restrictions on country of citizenship - all nationalities are eligible to sign-up!
New to Horizons Unlimited?
New to motorcycle travelling? New to the HU site? Confused? Too many options? It's really very simple - just 4 easy steps!
Horizons Unlimited was founded in 1997 by Grant and Susan Johnson following their journey around the world on a BMW R80 G/S motorcycle.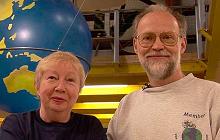 Read more about Grant & Susan's story
Membership - help keep us going!
Horizons Unlimited is not a big multi-national company, just two people who love motorcycle travel and have grown what started as a hobby in 1997 into a full time job (usually 8-10 hours per day and 7 days a week) and a labour of love. To keep it going and a roof over our heads, we run events (22 this year!); we sell inspirational and informative DVDs; we have a few selected advertisers; and we make a small amount from memberships.
You don't have to be a Member to come to an HU meeting, access the website, the HUBB or to receive the e-zine. What you get for your membership contribution is our sincere gratitude, good karma and knowing that you're helping to keep the motorcycle travel dream alive. Contributing Members and Gold Members do get additional features on the HUBB. Here's a list of all the Member benefits on the HUBB.
Books & DVDs

All the best travel books and videos listed and often reviewed on HU's famous Books page. Check it out and get great travel books from all over the world.

MC Air Shipping, (uncrated) USA / Canada / Europe and other areas. Be sure to say "Horizons Unlimited" to get your $25 discount on Shipping!
Insurance - see: For foreigners traveling in US and Canada and for Americans and Canadians traveling in other countries, then mail it to MC Express and get your HU $15 discount!
Story and photos copyright © All Rights Reserved.
Contact the author:
Editors note: We accept no responsibility for any of the above information in any way whatsoever. You are reminded to do your own research. Any commentary is strictly a personal opinion of the person supplying the information and is not to be construed as an endorsement of any kind.
Hosted by: Horizons Unlimited, the motorcycle travellers' website!
You can have your story here too - click for details!