October 12, 2000 GMT
Pakistan - 2
Islamabad (18-09-2000) till Tarashing (12-10-2000)
On Monday 18 September I left Islamabad to go up north to the Chinese border following the Karakoram Highway (KKH). First I went to Murree on a busy road but it got very quiet after I passed Murree. Not so surprisingly after I missed a turn and was heading to Kashmir (the disputed area between Pakistan and India).
At a roadblock I had to turn around and took the road towards Abbottabad, which was a lot of off road as they were 'working' on the road everywhere. From Abbottabad I entered the Kaghan valley trying to cross the Babusar pass (4601m). Gion had crossed it but told me it was a difficult pass to cross. I was alone but gave it a go. But when it started to rain around noon when I was still in the valley and I started to slide away I turned around and drove back to the KKH following it up north.
I planned to stay in Thakot but there were no hotels and all the truck stops refused me to spend the night with them so I had no option than to drive to Besham through the dark along the Indus River. Using my high beam (as everyone does) I arrived in Besham without any problems and found a cheap hotel. That night it rained heavily so I made the right decision not to cross the Babusar pass.
The next morning the weather wasn't good at all. It wasn't raining but it was heavily clouded. I drove along the KKH up north but all the high mountain peaks were covered in clouds. The road itself was absolutely great as the roads winded along the river with the steep mountains around. My plan was to go to Tato to see the sheer north side of the Nanga Prabat (8125m) but it was too clouded to see anything so I decided to continue to Gilgit. 40 kms. before Gilgit it started to rain and it didn't stop until after I reached Gilgit.
Despite the weather the last couple of days I had my rain jacket in the bottom of my luggage roll and decided to continue driving and got soaking wet. If I stopped to get my jacket I would be wet anyhow and my stuff would probably be wet then as well. Just take a hot shower in Gilgit. Unfortunately the hotel only had hot water between 6 and 9 am and pm but a couple of hot teas and dry clothes worked fine as well.
The next couple of days the weather didn't got any better, still heavily clouded and an occasional shower. I didn't really mind as it gave me time to read about what there was to do in the north and read a good paperback. But after 2 days the weather didn't improve and because there was nothing to do in Gilgit I decided to leave on the third day anyhow.
I was unlucky because they told me it has been a perfect weather for the last couple of weeks, but I had to take it as it came so I left. Actually the weather wasn't too bad, fairly cold (but you could dress for that), hardly any rain but clouded so you couldn't see the mountain peaks.
After an hour drive I met the two Austrians in their Landcruiser. We stopped and had a chat. They went to the Khunjarab pass (4730m) on the Chinese border (the end of the KKH) and had perfect weather. They were heading back to Gilgit now. I drove on and had lunch in a small restaurant near Karimabad. When I got on the bike again I met the Austrian couple on the bike almost immediately. They went to Sost but were stopped there because of a landslide. They waited for a day but still couldn't pass. Because the weather was getting worse as well they decided to turn around. As we were talking the clouds started to open up and we could see some blue sky. Later on the sun came out and we could see some snow-covered peaks and took some photos. Also they said there was no petrol in Sost anymore so I filled up my tank in Allayabad once more.
My plan to go to Sost was useless now, so I decided to go to Passu. Around this very small village along the KKH there were some nice dayhikes recommended to me by a Dutch couple I met in Gilgit. They came all the way from Kashgar (in China) on bicycles and started their trip in a former Russian republic. During these two dayhikes the Pakistani should have enough time to clear the landslide.
The next morning the weather was great and I went out for a walk across the Hunza River. The track wasn't really something special but the scenery was. Steep high mountains all around you made you feel very small. But absolutely the best part of the trip was the bridge to cross the wide Hunza River. 7 steel cables were spanned across the river. 5 of them for the floor with wooden sticks woven through them about every 80 cm.. The other 2 cables were used to hold on to and these were connected to the bottom cables by steel wires. Crossing the bridge was a challenge but not very difficult. It was just a matter of staying concentrated on where you put down your feet.
Fortunately there wasn't any wind so the bridge didn't start swinging. After passing some little villages I had to take a same type of bridge back over the river. This one was more scary than the first one as the wooden sticks were thinner and partly broken. Also there was another swinging bridge build right next to it but this one was completely fallen apart only holding some bit on its remaining steel cables. Seeing this bridge doesn't give you a lot of confidence in the bridge you had to take. But I made it back to other side of the river. Later I found out that the second bridge I crossed was already 45 years old as the totally broken bridge next to it was only build 2 years ago in a failing attempt to make a bridge big enough to get cars over the river. Now they (still) had to carry everything on their back over the river.
According to the guidebook I had to walk back to Passu along the KKH, but I decided to walk to the nearby Borit Lake. Here there was a little hotel with a restaurant where I had some cups of tea. The lake was beautiful set between the mountains and its reflections were great. I met 2 Japanese and together we walked along the Passu glacier back to Passu.
Somewhere we must have lost the right track as we had a very steep descent down to Passu and we ended up in someone's garden, which we had to go through. They we doing their laundry in a stream but weren't very surprised to see us.
Back in my hotel they told me that the landslide was cleared already as this afternoon a convoy of Chinese trucks passed by. So I decided to go to the pass tomorrow immediately. The weather was great the next morning: no clouds and a lot of sun. Nevertheless I put on my fleece jacket and dressed warmly for the pass and left Passu.
10 km after Sost I had to wait for the landslide as they were clearing it. This appeared the most notorious part of the KKH and rocks were rolling down continuously. What they were clearing now had rolled down last night. I had to wait for about half an hour only as an officer sometimes blew a whistle and the bulldozer had to pull back because too many rocks came down.
Before I passed the landslide I looked up and when no rocks came rolling down I passed the area quickly. The rest of the trip to the pass was easy but it got cold above the 4000 m.. I met a lot of cyclists along the road struggling to get up. The scenery got better after every corner and I enjoyed the clear weather as I was able to see all the surrounding peaks clearly.
My road ended at a roadblock about 300m before the border stone, as I couldn't go into China. I could walk to the stone if I wanted but at 4730m even 300m is not an easy walk. The Chinese border checkpoint was another 500m ahead so the border stone was actually in a kind of no-ones land. Just after I arrived a German guy showed up and a Pakistan border official arrived on his little moped and offered to bring the German guy to the actual border stone but he couldn't get his bike started again. I offered him a tow but that wasn't necessary. I could drive the last part as well if I took the German guy on the bike as well. And so I went with my bike into China although not for a long time.
After making some pictures we returned to the roadblock and most people left (because of the waiting at the landslide we were all arriving at the pass around the same time) as it was too cold. I was dressed well against the cold and decided to use my lunch there. It was great to sit there in the silence and enjoying the spectacular scenery. On my way back to Passu I passed the landslide area again and stopped to eat an apple. While I was talking to the workers suddenly a lot of stones rolled down and it was clear to me that this was a dangerous area. I returned to Passu just before dark. It was long day but a really beautiful one.
The next day I realised how lucky I was as the weather had changed completely: it was clouded and drizzling occasionally. The mountains on the other side of the Hunza River were completely invisible. There wasn't any use to go out for a day hike as there was hardly anything to see so I decided to take the bike and drive down to Karimabad. But first I drove up to Borit Lake, had some teas and enjoyed the views when updating my diary.
On my way to Karimabad I had some rain. In Karimabad I tried to find a hotel with a parking place for my bike but this was impossible as the town is build on a ridge and all hotels and/or gardens were only accessible through stairs. So I ended up parking my bike opposite my hotel. The afternoon I spend together with a Dutch and a German guy sightseeing the town and had some diner in a local restaurant. Just before we left the 2 Czech bikers entered the restaurant. They went up to the pass today and had a terrible weather. They managed to reach the pass but had some snow and the road was quite slippery because of ice. Furthermore they didn't see much from the surrounding peaks as they were all covered in clouds.
The next day I spend walking in and around Karimabad. First I went to Altit, a small village close to Karimabad, to enjoy the location of the fort and all the local people who were on their land harvesting. An old man was picking apples and asked me if I wanted one. I ended up with 8 apples in my daypack. Next I went to the fort itself. The fort itself was not spectacular but there was nobody around and I had the whole place for myself. Sitting on the roof I enjoyed the river deep down and the small village on the other side. Lots of fruit was spread out on the roofs to dry. Also I saw women around, something you don't see on the streets here in Pakistan.
Back in Altit I met the 2 Czechs again. They just returned from Eagles nest and were about to pack their bikes and leave to Skardu. Eagles nest was a hotel at a 1.5 hour climb from Altit where I went as well. The weather was absolutely great almost unclouded and so lots of sun. Therefor the scenery from above was great. You could see Karimabad, Altit, the Hunza River and all the huge mountains on the other side of the river. After an hour enjoying up there I had to turn back as it was getting dark within a couple of hours and because I didn't want to walk the same way back I asked if there was a track directly to Karimabad. There was one and after received the necessary directions I started to head back. Soon there wasn't a track to find anymore so I climbed over the rocks when I met an old man carrying a bundle of hay on its back who pointed me out I was following the wrong track. I wasn't following any track at all but neither seems he. So I simply followed him hopping over stones and irrigation channels slowly getting down. There was no way I would have found this way on my own and was really thankful to my 'guide' to return to Karimabad before it was getting dark.
Wolfgang (the German) and I had decided to do a day hike up to the Ultar glacier the next day and when we woke up the sky was unclouded and sunny already. So after a brief breakfast we were heading off. The climb along the river was steep and most of the time there was no track at all and we had to simply climb over the rocks. While the valley was very narrow we couldn't get lost so after a break on a meadow about half way we reached Ultar meadow close to the end of the glacier. After a long rest and lunch we walked up to the glacier before returning back down. When we about half way down we heard a big rumbling noise around the corner (coming from above) and suddenly we saw a big cloud coming around the corner. It got bigger and bigger and was coming towards us. So we took shelter behind a big stone and I tried to put on my rain jacket but managed only to wrap it around me before the cloud reached us.
On the glacier there had been an avalanche and although the avalanche itself didn't hit us its clouds full of snow and ice did. It fell like it was hailing heavily but it lasted only for 10 minutes, and when we came out of our shelter the sun was shining like nothing had happened. There was ice everywhere but it melted away quickly. We got out of it unharmed, just a little bit wet. We took a cup of tea on the meadow halfway and the guy there told us this was quite normal here. Normally it happened when the sun was warming up some fresh snow, just like it did now. This wasn't a big one. But it was big enough for us especially because we initially had no idea of what was going on. When we returned in Karimabad they hadn't even noticed the avalanche.
The next day I took it easy and left Karimabad early in the afternoon heading for Minapin. Because I had plenty of time I went into Nagar valley first which wasn't something special but it was a perfect piece of off-road driving. In Ayallabad I wanted to get petrol but it was finished. So I reached Minapin with almost an empty tank.
In Minapin I wanted to make a day hike to Rakaposhi base camp. So I left the next morning at 6.30 am.. It started with a steep climb for about an hour and after 3 hours climbing I reached Hapakun, a meadow where I could get something to drink. There I met a Swedish guy who came down after spending the night at the base camp. He told me that the steepest part was still to come, which I hardly could believe. Unfortunately he appeared to be right as the valley was ending with a steep ridge of moraine I had to climb up. This was hard because it got steeper the closer I reached the top and I had to climb up over loose stones. But the scenery when I reached the ridge was great as I had a beautiful view over the glacier, which was a real big one. Walking along the steep ridge wasn't easy but I managed and found back the track. Looking back it appeared there was a track but guy at Hapakun had directed me in the wrong way. Later on he would say that there were 2 ways, an easy and a hard way but he didn't tell me about this in advance!
Reaching Rakaposhi base camp was now a piece of cake. Except for the local owner of the restaurant there was nobody around. I climbed up on the moraine ridge and enjoyed the stunning view. A glacier came down from Rakaposhi (7788m), and another came down from Diran (7257m). They came together in a big valley (where the base camp was as well) and then continued down together. I had my lunch on that ridge enjoying the overwhelming scenery and stayed there for about 2 hours. I could stay there much longer but I had to return to Minapin. This time I followed the track down which was much easier and I arrived back in Hapakun.
The steep descend down to Minapin wasn't too bad either so I arrived in the hotel way before darkness set in and was tired, but half as tired as a thought I should be considering the whole trip. This was definitely the best day hike I made here in North Pakistan but also the most strenuous one.
It was time to drive back to Gilgit and I finally found a petrol station with petrol after 470 km.. I never thought my bike a such a big range. My plan was to go to Skardu the next day, so I left Gilgit early. But when I left the KKH the police stopped me telling me that the road to Skardu was blocked but it took only 3 more hours to clear the landslide. I continued driving to the landslide and had a great time there together with a lot of the locals just looking how they were clearing the landslide with a big Caterpillar. In the meantime I had my lunch and after 3.5 hours I was able to get over the remains of the landslide with my bike. So finally I could continue my trip. But it lasted only for 5 km before I was facing another landslide, a much bigger one. So I turned around back to the first landslide and arrived there just when the first cars were passing it. I told them about the next landslide but didn't believe me. I passed the first landslide again and returned to Gilgit revising my travel-plan as it would take them probably about 2 days to clear the second landslide as well.
My plans were to go to Skardu and then continue to Astore over the Deosai plains, a big flat area at an altitude over 4000 metres. Officially the jeeptrack was open till late September, early October. So if I was lucky I still could make it. On the campground in Islamabad I had met an Australian couple on a motorbike who took this route. They said it wasn't too difficult except for two river crossings. Because the are no bridges you have to go through the water. How high the water will get depends on the amount of rain that had fallen. It would be difficult to do this track on my own but at least I could give it a try and see how far I could get.
But now I couldn't get to Skardu I planned to drive to Astore and up to Skardu over the Deosai plains. But when I passed the Skardu exit the next morning I saw a long line of trucks waiting before the bridge. They couldn't all have turned around so I asked the police officers if the road to Skardu was open and... it was.
So no Astore today but Skardu. The road was great. Very very winding, going up and down, quite narrow and squeezed between the river and the steep rocks. Regularly the rocks where hanging over the road. So the 170-km road to Skardu wasn't a boring road to drive. 30 kms. before Skardu the valley opened up and the river got wider. Together there appeared a lot of soft sand so it looked that Skardu was in the middle of a desert (but with plenty of water). I checked into a hotel where I was the only guest. It shows that the tourist season was over (ends in October), which didn't mind at all.
After a good night of sleep and a great hot shower I wanted to go to Hushe valley, east of Skardu but this plan was bombed instantly when I went to my bike a saw the flat rear tyre. Two big nails worked their way through the tyre. No problem as I'd got plugs to repair the punctures. So I started to repair them, but at the most essential moment: pulling the plug into the tyre it all went wrong. Instead of pulling the plug into the tyre, the plug broke. I tried 4 different plugs but they all broke. Later I found out I had cheap plugs which breaks very easily, I needed the stronger ones. So I took the tyre to a local repair shop where they repaired both holes within 30 minutes (as I was working on this for 2.5 hours without getting anywhere) and it cost me only Rp. 50 (less than USD 1!).
I decided to have a look around town but there was not much to see. The mosque was not so nice but very colourful especially against the pale hill behind it. Also there was a fort on this hill. The fort itself wasn't really special and half of it was off limits anyhow as it was used by the Pakistani army. But the views from it were great.
In the afternoon I decided to go to Shigar for no particular reason than to check my rear tyre. The road to Shigar was great. It started when I crossed the bridge over the Indus River. I had to climb up the riverbank through soft sand including a hairpin. Then about 1,5 km straight through soft sand so I could use my skills learned in the Jordan desert. The last 15 km was over narrow jeep tracks through the mountains scattered with stones. Very bumpy but a lot of fun. In Shigar I simply turned around and drove the same way back to Skardu. My rear tyre had stood this test perfectly so I was ready to continue to the next stage tomorrow. Filling up my tank with petrol was a big problem as only the 4th petrol station had petrol for my bike.
It was clouded the next morning but I decided to drive to Khapulu and there cross the Shyok River into the Hushe valley. Here also the fun started after crossing the bridge. This time there were big stones in the riverbed I had to drive over. These big stones caused a big shake up of the bike but I got through it without any problems. Then over a narrow jeep track up north through soft sand, muddy water and climbing up steep hills, it was all on this track. I passed Machulu village but before Kunde my rear wheel slipped away for an unclear reason so I fell and had some damage on the bike. My tank bag had fallen off the bike (broken zip), my left cylinder protection bar was bent and a broken plastic protector of the same cylinder.
So enough damage to turn around and have it repaired first. When I drove away my left alu-pannier fell from the bike as well (a broken plastic hook). I was lucky I had some straps with me to tie it all back on the bike and drove back to Skardu.
The weather was very bad the next day, I felt bad also as finally had got diarrhoea). A lot of rain and heavily clouded. I could forget my trip over the (high) Deosai plains as it was certainly snowing there by now. Repairing the damage from yesterday in Skardu was a big problem as today it was Friday (05-10) so most shops were closed in this Muslim country. This all made me decide to drive back to Gilgit today and have things repaired there tomorrow.
Driving out of Skardu I hit a cow! I managed to stay upright which the cow didn't manage. It fell but got up and ran into the bushes. The local people, who saw it all happening, just waved at me as I passed as if this was a normal thing to do here. I had some rain on the way back to Gilgit but mainly enjoyed the road. It wasn't boring at all driving it for the second time.
Close to the bridge before reaching the KKH I passed the 50,000 km on my bike. This meant I had already driven over 30,000 km since I left home less than 5 months ago.
The next day I had to repair the damage on the bike. At the hotel they advised me to go to Iran Autos. The protection bar was fixed again properly although it was necessary I stayed close, watching what they were doing because sometimes they had strange ideas. Eg. they wanted to cut the protection bar with a plasma burner and weld it back together. When I suggested they hammer the bent plates straight they responded with: "That's also a possibility". The fixing of the panniers was the least difficult problem. They couldn't repair the broken zip of my tank bag so I had to sit on the back of their moped and they drove me to a tailor. First he refused to repair it saying it was not possible but finally he agreed to replace the zip. I could pick it up after two hours. I killed the time looking at a local polo practise game which reminded me at a little children soccer game: Everyone is where the ball is and no tactical concept is used at all.
When I picked up my tank bag I found out that they put the zip on the wrong side and sewed the bottom of tank bag back in upside down. But hey, what can you say for Rp. 120 (USD 2). The rest of the day I spend repacking my alu-pannier.
After packing all my stuff on the bike I left Gilgit to see a Buddha just outside town carved in the rocks. It appeared to be something disappointing to see so I turned around and left for Astore. As it was too late in the season to reach Astore over the Deosai plains I (had to) choose for the easy way: along the KKH and via Jaglot. Although it wasn't easy at all. The KKH was easy but after crossing the bridge over the Hunze River at Jaglot the asphalt ended and the road continued as off-road. Winding through a small village following a narrow road wasn't easy and once I passed the village it didn't got better as the road was very bumpy because of all the stones. Also I occasionally had to stop to let oncoming vehicles pass. The road wasn't actually too difficult when you slowed down and stayed concentrated. Therefor I needed much more time than I expected. My goal for today wasn't Astore but Tarashing on the south side of Nanga Prabat, the starting point of some good hikes. But when I reached Astore at 4 pm I decided to stay when they said that Tarashing was another 2 hours and the road was getting worse there. So I took a basic hotel in Astore only to be reached after a steep climb with the bike.
Because it was only another 2 hour drive to Tarashing I decided to make a short hike to Rama lake the next day before I went on to Tarashing. So I walked up the hill passing local villages. The weather wasn't good and it started to hail a bit. I kept on going enjoying this weather as I was sure I wouldn't see anyone around. But when I reached the lake, 1000 metres above Astore, there were two tents and a 4WD. Another Dutch guy put up his camp there yesterday late. He was born in Pakistan but living in Holland for over 20 years now. He had his own businesses here and had just a brief holiday. They (he was together with a local guide and a driver) were just preparing some soup against the cold. Their offer to have some real Dutch soup I couldn't refuse. So we had a nice conversation in Dutch inside his tent. This was suddenly interrupted when he wanted to change a gas cartridge of his cooker and the remaining gas caught fire (there was another cooker on). We left the tent immediately and then tried to extinguish the flames which was easy. There were some holes in his tent and sleeping bag, I had some burned hairs but nothing serious. The taste of the soup was even better afterwards.
I spent much longer up here then expected so I had to return down to Astore, when he offered me a ride in their 4WD. They had to go down to Astore to repair a puncture anyhow so I had a free ride down. Back at the hotel I met the Danish couple I met before in Esfahan so my plan to leave changed again and I stayed for another night here. Their plan was to go to Tarashing as well so we decided to go together. When I drove towards Tarashing I met Javed, the Dutch Pakistani, again and he told me they had big problems to leave the lake as they were almost snowed in. I didn't drive together with the Danish as I drove faster on my bike than they did. But around noon we both had arrived in Tarashing. The hotel rooms were way too expensive so I put up my tent in the garden. The rest of the day we didn't do anything but relaxing and preparing for tomorrow's day hike.
Our goal was Herligkoffer base camp, and I met several people who told me it was possible as a day trip. First we had to cross a glacier which was easy as there was no snow or ice at all, only stones. The path was marked so we got through without any problems. The small local village we crossed next was great to see. People were looking at us and the other way around.
Further up in the valley all the huts were abandoned as they were used during the summer season only. After crossing a ridge we arrived in a small valley with a small stream and a lake. This was a lovely place: lots of trees full with yellow and brown leafs were together with the snow-covered mountain peaks reflecting in the lake. And there was silence; absolute silence.
The base camp was another km. ahead and reached after a brief climb. The camp was abandoned so we climbed up the moraine ridge and enjoyed the scenery over the glacier, had a rest and some lunch. The scenery wasn't as great as in Minapin. clouds were partly covering the peaks. Pity, because the main attraction here was the sheer mountain walls. We did see however an avalanche coming down one of the peaks which was a great thing to see as long it was happening on the other side of the glacier.
We followed the same track back to Tarashing, at least we tried to. In the valley between the two villages we lost the track and ended up in a big field of loose stones. Climbing over these stones we tried to find our way back to the village and so to the track. The base camp was further than expected and also the Danish couple was getting tired as this was their first hike in Pakistan. They also carried a lot of equipment with them. We had to keep on walking to be back before it was getting dark but when they suggested to wait till the full moon came out before crossing the glacier I offered to carry their backpack which they gladly accepted and so we managed to get back before it was getting dark. We all were very tired so we just prepared some instant noodles and coffee and went to bed. The next day we started very easy staying long in our sleeping bags.
Posted by Martin Rooiman at October 12, 2000 03:04 AM GMT

Enter your email address to receive updates to Martin Rooiman and Jeannette Boom's trip story!
Recent Entries
Archives:
Archives:
Monthly
Archives:
Category
NEW! HU 2015 Motorcycle Adventure Travel Calendar is now available! Get your copy now for some terrific travel inspiration!
HUGE, 11.5 x 16.5 inches, beautifully printed in Germany on top quality stock! Photos are the winning images from over 600 entries in the 9th Annual HU Photo Contest!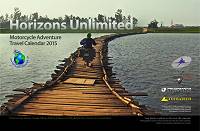 "The calendar is magnificent!"
"I just wanted to say how much I'm loving the new, larger calendar!"
We share the profit with the winning photographers. YOU could be in the HU Calendar too - enter here!
Next HU Events
NEW!

USA Virginia: Apr 9-12, 2015
Take 40% off Road Heroes Part 1 until October 31 only!
Road Heroes features tales of adventure, joy and sheer terror by veteran travellers Peter and Kay Forwood (193 countries two-up on a Harley); Dr. Greg Frazier (5 times RTW); Tiffany Coates (RTW solo female); and Rene Cormier (University of Gravel Roads).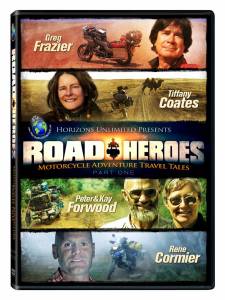 "Inspiring and hilarious!"
"I loved watching this DVD!"
"Lots of amazing stories and even more amazing photographs, it's great fun and very inspirational."
"Wonderful entertainment!"
Check it out at the HU Store! Remember to use Coupon Code 'HEROES' on your order when you checkout.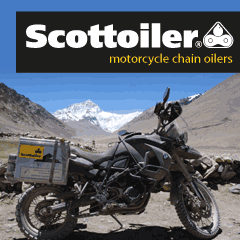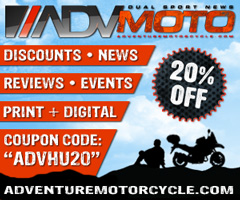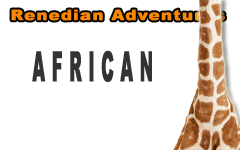 What others say about HU...
"I just wanted to say thanks for doing this and sharing so much with the rest of us." Dave, USA
"Your website is a mecca of valuable information and the DVD series is informative, entertaining, and inspiring! The new look of the website is very impressive, updated and catchy. Thank you so very much!" Jennifer, Canada
"...Great site. Keep up the good work." Murray and Carmen, Australia
"We just finished a 7 month 22,000+ mile scouting trip from Alaska to the bottom of Chile and I can't tell you how many times we referred to your site for help. From how to adjust your valves, to where to stay in the back country of Peru. Horizons Unlimited was a key player in our success. Motorcycle enthusiasts from around the world are in debt to your services." Alaska Riders

10th Annual HU Travellers Photo Contest is on now! This is an opportunity for YOU to show us your best photos and win prizes!
NEW! HU 2014 Adventure Travel T-shirts! are now available in several colors! Be the first kid on your block to have them! New lower prices on synths!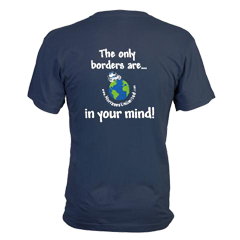 Check out the new Gildan Performance cotton-feel t-shirt - 100% poly, feels like soft cotton!

What turns you on to motorcycle travel?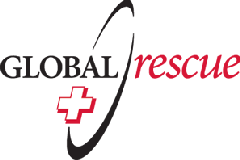 Global Rescue is the premier provider of medical, security and evacuation services worldwide and is the only company that will come to you, wherever you are, and evacuate you to your home hospital of choice. Additionally, Global Rescue places no restrictions on country of citizenship - all nationalities are eligible to sign-up!
New to Horizons Unlimited?
New to motorcycle travelling? New to the HU site? Confused? Too many options? It's really very simple - just 4 easy steps!
Horizons Unlimited was founded in 1997 by Grant and Susan Johnson following their journey around the world on a BMW R80 G/S motorcycle.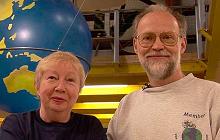 Read more about Grant & Susan's story
Membership - help keep us going!
Horizons Unlimited is not a big multi-national company, just two people who love motorcycle travel and have grown what started as a hobby in 1997 into a full time job (usually 8-10 hours per day and 7 days a week) and a labour of love. To keep it going and a roof over our heads, we run events (22 this year!); we sell inspirational and informative DVDs; we have a few selected advertisers; and we make a small amount from memberships.
You don't have to be a Member to come to an HU meeting, access the website, the HUBB or to receive the e-zine. What you get for your membership contribution is our sincere gratitude, good karma and knowing that you're helping to keep the motorcycle travel dream alive. Contributing Members and Gold Members do get additional features on the HUBB. Here's a list of all the Member benefits on the HUBB.
Books & DVDs

All the best travel books and videos listed and often reviewed on HU's famous Books page. Check it out and get great travel books from all over the world.

MC Air Shipping, (uncrated) USA / Canada / Europe and other areas. Be sure to say "Horizons Unlimited" to get your $25 discount on Shipping!
Insurance - see: For foreigners traveling in US and Canada and for Americans and Canadians traveling in other countries, then mail it to MC Express and get your HU $15 discount!
Story and photos copyright © All Rights Reserved.
Contact the author:
Editors note: We accept no responsibility for any of the above information in any way whatsoever. You are reminded to do your own research. Any commentary is strictly a personal opinion of the person supplying the information and is not to be construed as an endorsement of any kind.
Hosted by: Horizons Unlimited, the motorcycle travellers' website!
You can have your story here too - click for details!