South Africa
May 01, 2007 GMT
June 18, 2007 GMT
June 30, 2007 GMT
The Makgadikgadi Pans - Botswana
This is a trip offered by the Adventure Riding company - Kwa Nokeng in Botswana.
The same group I went to the Tuli Block with, a few months ago. If you get the chance - go stay at their lodge at Martin's Drift, and ride with Clinton, drink with Chemmy - you won't regret it!!!
I believe "Makgadikgadi" means something like place of changing water (wet / dry) in Tswana.
I rode the 400kms to Martins Drift (just inside the Botswana border) on some nice back roads - sporting my newly installed knobbies (Bridgestone M22 motorcross tyre on the front, Metzler Karoo on the back).
image
My experiences with these tyres on the Cape York trip last year (northern most point in Australia - the pointy bit) convinced me they are the best you can get for the sort of riding expected (lots of sand!).
image
The Karoo is really noisy on bitumen, and I was getting a real speed wobble over 120kph from the front - so I took it easy. (Note: I later lowered the tyre pressures - which radically fixed the speed wobble - I tested it to 190kph in the Pans - no problems, except my arse pucker at going any faster on a dried lake bed - with mud just below the surface!)
This time the Martins Drift border post into Botswana was relatively quiet, Kwa Nokeng provided the vehicle pass - and I was through quickly. I saw a few of the other riders at the border, and we all met up (12 riders) at the lodge soon thereafter for intro's and a few Windhoek lagers!
Dinner was at 7.00pm - Clinton briefed us on the trip - and with the notice that breakfast would be at 5.00am (up at 4.00!!!!) to be away by 6.00am (still dark) - for a long days riding - most of us had a relatvely early night - but as usual there are always those keen to party. I had to say - the group was shaping up as a playful lot - with lots of hero stories of rides gone past, and the usual South African / Aussie rugby jabs! Some very experienced dirt bike riders in the group, and some relative noobs with new bikes on their first sojourn into the bush / sand - will make for interesting dynamics in the dirt!
In the morning - only 4 of us fronted on our bikes for the 350km transport section heading further north to the start of the dirt - the rest were warm and cosy in their cars & trailered bikes. Pussies I thought! But it was bloody cold (about 1C - 2C for the first hour or 2), so there was a bit of envy on my part in there as well! The back up 4 x 4 was loaded (including bike trailer), and the Landrover Defender back up ambo was also pulling a trailer for luggage & some camping supplies.
Clinton offered me a bike space on a trailer - I was tempted - but thought I would regret the riding experience - so let Bruno be the pussy & put his bike on the trailer & his arse in the warm 4 x 4.
(Bruno is not really a pussy - you will see so later).
The main truck with all the camping gear (and Chemmy at the helm) had left the day before - to make sure camp would be ready for us - on the pans that night.
Pretty uneventful transport ride (how the ambo got lost for a while puzzled us all!) - about 4 hours, but really pretty with the sunrise in what is really semi desert country. Arrived at Lethakane and everyone got suited up in their dirt riding gear, cars & trailers securely parked, fueled up all bikes, and we were off. From my previous experiece - I knew it would get hot (particularly pushing the big pigs in sand) - so I wore well vented off road gear (full body armour & motorcross shirt & pants). Other were wearing full enduro jackets etc - and they did really get hot later in the day.
A mix of 1150's and 1200 BMW GS's, one 650 BMW Dakar, and a sole 950 KTM made upthe group - 13 in all. Some nice dirt roads / tracks followed, and about 8kms of thick sand track to the pans. The sand sorted the noobs out - and when we got to the pans - only 3 riders had not had a "lie down" - some several.
I was able to get through keeping the black rubber down!
We stopped near a school & caught our breath after the hard work in the sand - and made sure we collected and taped up all the "bits" that inevitably get crunched with falls in sand (mirrors, indicators, screens).
image
As always - the kids gather round with huge iterest - some with their donkeys in tow - showing us how its done!

One noob was a little too enthusiastic in the dusty conditions on his new bike (6 days old), entered a sandy section too fast, and managed to mess up the front end of the bike - and rode the rest of the way to camp on the trailer.
The Makgadikgadi pans are the size of Ireland (10,000kms2) - and are dry at this time of year. It becomes an inland lake during the wet season - complete with a huge range of birdlife. Something like Lake Eyre in Aus. It didn't take long riding on the surface to know it is dry at the top, but can be wet a little underneath - so stay away from the "dark patches" - stay on the route marked by the previous bike tracks & listen to Cinton!
The group was sorting itelf out regarding riding order - the quicker riders to the front, and the slower riders to the back of the group, and leave plenty of room in between for the dust. I soon found a comfotable position in the front 2 or 3. The pace was fun at this position, and after about an hour or 2 on the pans - the sun was getting low on the horizon, and we reached camp with enough time to get settled before the magnificent sunset.

What a camp!


Each rider had a tent already set up, the mess tent was well equipped, there was a bush shower set up - hot water in buckets from the campfire,


and the camp chairs set round the fire - waiting for us to have a cold beer, and recount the day, as the sun sank over the endless horizon. The sight of the camp was astounding as we approached, and everyone took some time to take it in - and eventually take some photos as the sun set!
A great evening round the fire - a great meal prepared by Chemmy and his crew, and lots of cheer to stimulate the stories and chatter. Again some went lat - some were smarter - tomorrow was going to be a tough one riding.
Dawn rose over the camel grass island:

and we were ready to ride after a full Boerer breakfast.
Firstly a great ride across the pans ( at as fast as you were game to go) - boy that really had eveyone buzzing,
image
image
as we headed to more technical riding - after some interesting stops at some of the great landmarks with historical relevance for early European exploreres in southern Africa:


image
There wasn't too much sand, but quite a bit of technical riding - still caused some unplanned stops for some. My "on bike" gaffer tape dispenser got a lot of use - as I helped a few tape up drooping indicators (a great aftermarket business for BMW!).
Everyone had a really fun morning. We stopped at Gweta for fuel & lunch at a great lodge surrounded by more Baobab trees - something really special!
After lunch, some were lulled into a sense of complacency - but the twisty sand and ever present thorn bushes soon blew that complacency away. Why is every bush in Botswana a thorn bush? - and some with motorcycle rider radar - as they jump out, you launch into them (as one rider did over the handlebars - no not me!) - its like a strong magnetic field - you can't resist! I did have one little slip across the middle monakee (The middle monakee is the ridge between tracks [spoors] when the track is in sand & made by 4 x 4's). - and a brief lie down!!
Kept the engine running & tried to remount before the next rider caught me in such a compromising position! Too late - he rounded the corner just as I was remounting - damn - I would have to admit to an off!
This admission raised cheers from the group later. This left only 1 person who did not have an off or who was caught!)
I then stopped trying to avoid the thorn bushes too near on inside corners - and just ploughed past them. Needless to say - I now have countless scratches on either side of the bike (mirrors, tank, screen) as a "badge of courage" for the windey sandy tracks in Botswana! Surprising though - no scratches on my arms - or even clothes, but I have to say, I learned that trying to avoid the bushes on corners was often more hazardous - crossing the middle monakee has caused many a rider to fall.
Bruno (a keen photgrapher - using some very slick equipment) often rode ahead of the group to wait and capture good action shots - problem was - Bruno was pretty much having his own share of "action".
Bruno is a little vertically challenged, but horizontally enhanced. He rides well, but those legs just don't reach the dirt when corrective actions are urgently required to prop the big pig. He had 7 offs for the day - a record, but each was completed with some swearing in Italian, and laughing on reflection.
Thats Bruno at the front of the group - about to enjoy the evening round the campfire.

As people saw him looming, crouched with zoom focused, they knew he was at that spot for a reason, assumed it was a tough spot, (often with Bruno's bike splayed on the track - causing another obstacle), lost concentration, and became another statistic!
Hence, Bruno got the shot! (I am awaiting Bruno's product - will post the best shots when I get them) - ps a few of the shots in this post are some previews of his work.
After a good few hours of hard work in this - it was refreshing to get back on the pans, for the expanse, the breeze, and the uplifting feeling of freedom. We stopped late in the afternoon on the edge of the pans - not far to go to camp.
A local was riding his horse across the pans near us - he must have lost concentration & been tossed off - because the next we saw him chasing his horse on foot. Well - that bloody horse was not going to be caught - and the pans are a loong way across. He must have chased it for at least 1km. A couple of riders went to his aid. Amusingly - we watched from a distance, as these too failed to corral the horse. In the end the local enjoyed a lift on the bike back home (10kms away) - the "bloody horse would come home on its own eventually"!!!
Back to camp for a couple of quick beers, a shower and some interesting dusk living art!
image
Each rider - equipped with chair & favourite dorp (local affectionate term for your favourite tipple) was given the opportunity for 10 minutes of solitude, and reflection, out on the pans - as the sun goes down!
Pitty the 4 x 4 got bogged just near my reflection station!
image
Anyway - all had their moment of silent reflection, then minutes of huffing & puffing to get the 4 x 4 unbogged & back to camp just on dark.
Another great evening - Chemmy's famous ox tail stew and pap cooked in the pojtkie - and his favourite joke of asking people if they wanted cream or ice cream with their black forest cake for dessert!!! - waaay too many dorps, and a relatively early night for me - but not to sleep - oh no!!! - to be entertained for hours by a noisy bunch who cheered on till after 3.00am around the fire, telling hero stories louder & louder and at 3.00am the hardy last few dragging a few unwilling sleepers (still in their sleeping bags) out to "see the wonderfull stars"!!!
Payback occurred after breakfast the next morning - in similar fashion.
Cocooned in their sleeping bags - the 2 ring leaders were dragged from their tents full of the joy of bubbelass, blearey eyed, hair like startled porcupines, resplendent in their hastily adorned long johns - dragged loudly complaining out to the pans - in the already warm sun - where further napping was impossible!
An easy start to the day - pack your gear into the trucks, and onto the pans for some creative photography:
image
As some got a little too enthusiastic in the softer under layer of the pans, our youngest group member - Shane (who was just a little too cheeky to some of his more sallow but treacherous elders) was caught napping - and was well and truly roosted by spinning back wheels - with a thick, sticky layer of pans mud!!!.
As it dried a little - later in the day, I consoled him (he was riding his mum's highly blingged bike!!!):
image
She was not going to be pleased!!!! - particularly as he had a little off the day before & managed to destroy some peripherals. He lamented - the big pig is nothing like the 450's he is used to racing! His dad (also riding a 1200 Adv - resplendent in camoflage paint & seat - with so much bling - the light was blinding!) was reassuring, and promised to take the hit when they got home!
We did quite a bit of fast riding in the low, very dusty hills near the pans, past the famous Meer Cat Manor television shoot area, and finally a real blast along some wide, but bumpy dirt / sand roads.
Most had learned by now - that these were easier - faster! The bumps even out, and it is quite smooth (at 120kph+) - but at 80kph, every bump, sand hole, well camoflaged rock can unseat you quickly (if not just cause an involuntary sphincter contraction moment!). However, a few were experiencing those contractions waay too often!
We were near Lethakane now - so most loaded their bikes onto trailers & headed back - some to the Lodge, some all the way back to Joburg (over 700kms) - it was a long day for them.
5 of us rode back to Kwa Nokeng at a nice clip - making it there just before dark, and settled in for an evening of dorping (what else), and viewing the video footage Clinton took - quite amazing what he can do with a video camera whilst on the move himself.

The next morning, we all went our different ways - I rode back roads & some dirt back to Joburg - singing in my helmet to my well stocked iPOD (8,000 tracks).
Many thanks to Clinton & his crew - they made it a fantastic 5 days for all of us - and special for me - as I have experienced another brilliant journey through southern Africa - my last before heading to Alaska.
Look out for the next entry - leaving Africa, the bike & me traveling to Anchorage - and the Trans Am07 group gathering for a few days before we head further north!
Posted by Ron Markiewicz at
02:07 PM
GMT
August 01, 2007 GMT
Enter your email address to receive updates to Ron Markiewicz's trip story!
Recent Entries
Archives:
Archives:
Monthly
Archives:
Category
NEW! HU 2015 Motorcycle Adventure Travel Calendar is now available! Get your copy now for some terrific travel inspiration!
HUGE, 11.5 x 16.5 inches, beautifully printed in Germany on top quality stock! Photos are the winning images from over 600 entries in the 9th Annual HU Photo Contest!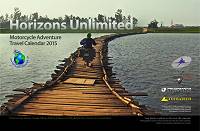 "The calendar is magnificent!"
"I just wanted to say how much I'm loving the new, larger calendar!"
We share the profit with the winning photographers. YOU could be in the HU Calendar too - enter here!
Next HU Events
Germany: May 14-17
Canada Ontario: Jun 18-21
Ireland: June 26-28
Colorado: July 17-19 TBC
Canada West: Aug 20-23
USA California: Sep 24-27
Aus Queensland: Sep 24-27
USA North Carolina: Oct 8-11
Aus Perth: Oct 9-11
Germany: Oct 22-25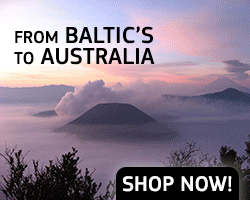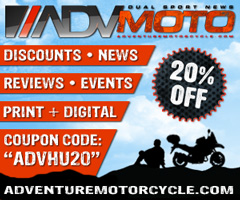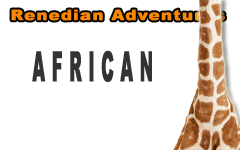 What others say about HU...
"I just wanted to say thanks for doing this and sharing so much with the rest of us." Dave, USA
"Your website is a mecca of valuable information and the DVD series is informative, entertaining, and inspiring! The new look of the website is very impressive, updated and catchy. Thank you so very much!" Jennifer, Canada
"...Great site. Keep up the good work." Murray and Carmen, Australia
"We just finished a 7 month 22,000+ mile scouting trip from Alaska to the bottom of Chile and I can't tell you how many times we referred to your site for help. From how to adjust your valves, to where to stay in the back country of Peru. Horizons Unlimited was a key player in our success. Motorcycle enthusiasts from around the world are in debt to your services." Alaska Riders

10th Annual HU Travellers Photo Contest is on now! This is an opportunity for YOU to show us your best photos and win prizes!
NEW! HU 2014 Adventure Travel T-shirts! are now available in several colors! Be the first kid on your block to have them! New lower prices on synths!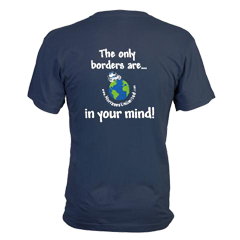 Check out the new Gildan Performance cotton-feel t-shirt - 100% poly, feels like soft cotton!

What turns you on to motorcycle travel?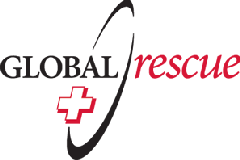 Global Rescue is the premier provider of medical, security and evacuation services worldwide and is the only company that will come to you, wherever you are, and evacuate you to your home hospital of choice. Additionally, Global Rescue places no restrictions on country of citizenship - all nationalities are eligible to sign-up!
New to Horizons Unlimited?
New to motorcycle travelling? New to the HU site? Confused? Too many options? It's really very simple - just 4 easy steps!
Horizons Unlimited was founded in 1997 by Grant and Susan Johnson following their journey around the world on a BMW R80 G/S motorcycle.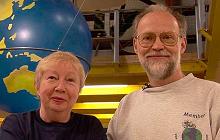 Read more about Grant & Susan's story
Membership - help keep us going!
Horizons Unlimited is not a big multi-national company, just two people who love motorcycle travel and have grown what started as a hobby in 1997 into a full time job (usually 8-10 hours per day and 7 days a week) and a labour of love. To keep it going and a roof over our heads, we run events (22 this year!); we sell inspirational and informative DVDs; we have a few selected advertisers; and we make a small amount from memberships.
You don't have to be a Member to come to an HU meeting, access the website, the HUBB or to receive the e-zine. What you get for your membership contribution is our sincere gratitude, good karma and knowing that you're helping to keep the motorcycle travel dream alive. Contributing Members and Gold Members do get additional features on the HUBB. Here's a list of all the Member benefits on the HUBB.
Books & DVDs

All the best travel books and videos listed and often reviewed on HU's famous Books page. Check it out and get great travel books from all over the world.

MC Air Shipping, (uncrated) USA / Canada / Europe and other areas. Be sure to say "Horizons Unlimited" to get your $25 discount on Shipping!
Insurance - see: For foreigners traveling in US and Canada and for Americans and Canadians traveling in other countries, then mail it to MC Express and get your HU $15 discount!
Story and photos copyright © All Rights Reserved.
Contact the author:
Editors note: We accept no responsibility for any of the above information in any way whatsoever. You are reminded to do your own research. Any commentary is strictly a personal opinion of the person supplying the information and is not to be construed as an endorsement of any kind.
Hosted by: Horizons Unlimited, the motorcycle travellers' website!
You can have your story here too - click for details!