Into Morocco but not looking good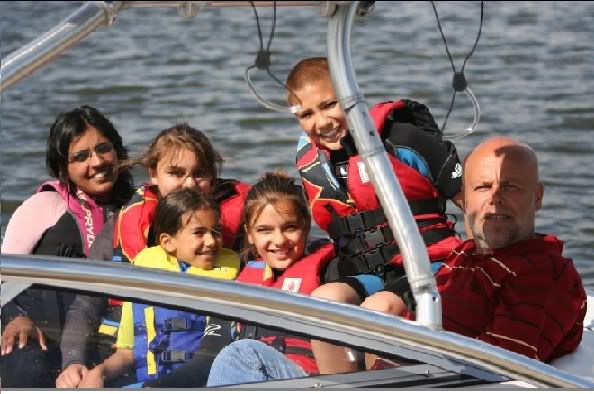 I just lay on the bed and cried - and cried and cried and cried until there was nothing left - and then fell asleep. The bike was well prepared but not me. I didnít realise how much I would miss the wife and kids and it was only my second day.
It started on the boat at Dover when I sat down and started to well up and the tears started - I remember an old woman asking if I was OK - I think I nodded back. After a couple of minutes I went looking for the other 3 bikers I'd see before embarkation, they kept my mind busy but I was only avoiding the inevitable.
After leaving Calais at noon I rode down through France and arrived at Alercon well into dark. I had to take a hotel as the campsites were closed. I went for some food to avoid the emotions again but when I got back it hit me. I've been fortunate in that I've spent the last few years at home looking after the children so had much more contact than most Dads and now I was paying the price.
The next morning I woke up a different person, I still missed everyone, but today I could cope, the champagne bottle had been emptied and was ready to fill again - I still missed everyone - but I knew I was OK and the night before was just what I needed.
It was cold as I left and after an hour I reached Le Mans where the temperature had increased to 1įC!
Not wishing to embarrass the world motor sports teams I decided not to 'Max' the Enfield down the Mulsanne straight!!
I headed down to the Cognac region where I'd picked grapes a number of years earlier and found 'Le Patron' still recognised my voice ( I still had my helmet on) even after 25 years. I stayed the night and the next morning followed on down to Bordeaux where I met the other Patron and his wife. It was nice to reminisce but on leaving them my mind started to wonder and I found myself asking why it was so important for me to see so many old friends on this trip?
I carried on down to the foothills of the Pyrenees where I stopped at another friend Richard who had moved not only himself but his motorbike business - there were 4 'Brits' there for the night - 'little Britain' I think - everyone on route from Rob and Sue in Dover had made me most welcome but I was about to be on my own and I was interested in how I would cope.
The following night I headed on down over the Pyrenees into northern Spain - it was still cold and I was about to have my first night in the tent. It was freezing with a howling wind and I was wearing all my clothes, including thermals, but was still cold.
Nearly over the Pyrenees
I was cold and got very little sleep that night and left early for the east coast of Spain - spent a couple of days getting down to Alcerciras where I managed to get a late ferry to Cueta. I'd managed UK to Morocco in 7 days and saw a lot on route so was happy. I wasn't sure what to do as it was very late so decided to kill a couple of hours and then head for the border to Morocco at midnight when it should be quiet. It was, and I made it through in 10 minutes - a good choice.
After the border crossing I turned right to Tangiers and headed up the hill but there was a problem. It was after midnight and there was no other traffic, the road is very twisty as it crosses the hills and the mist was very thick and it was very dark - I had to go slow. I kept remembering what I used to say to everyone in the UK about how dangerous it was in Africa and I would just tell them you had to be sensible and not do stupid things like ride on your own at night!! My mind started to wonder as I had heard horror stories and was scarring myself silly when suddenly in the middle of the road I saw the outline of 2 men and a powerful torch was switched on and shone towards me - I applied all the brakes I could - did a 'U' turn and got the hell out of there. I was half expecting gun shots or a chase but nothing happened. I saw a car coming the opposite way and wanted to stop and tell them but thought of myself first and carried on. Another night of cost in a Hotel and I was angry at myself but the money lost on the Hotel was nothing to what it could have been.
The next morning I decided I had to go back on the same route to get my confidence back. It was a nice road in the daylight and a couple of miles passed the point where I'd seen the 2 men there was a police road block - maybe it was a roadblock last night or maybe something did happen to someone else last night and they were getting information? - it didn't matter to me - I had learned a good lesson.
A view of Europe from Africa
It was a nice ride into Tangiers and I was just approaching a crossing on a main road when a car coming from a road to the left decided he had more right than me - I braked as hard as I could but I still hit him at speed and the impact sent both the bike and me along the road. When I stopped I tried to get up but my right side hurt - I crawled over to get my tank bag which had fallen off into the road. Within a minute there were hundreds of people. Another car driver, to my right when the accident had happened, was pulling the rogue out and shouting. I was OK but the bike was in a bad way - front forks badly bent, front and rear lights and clock broken and damage to the right hand side - it was impossible to steer so the bike was lifted out of the way - police and ambulance arrived and I was sped off - 3 hours later with no broken bones I was taken to the police station where the culprit was still being questioned - everyone said it wasn't my fault but when it came to insurance payout and sorting out the bike the policeman said it takes time and it would be better to sort out the problem myself and send the other party a bill.
Front forks were well bent - the lights were a minor problem
Bike loaded and off to Garage with police escort!
The bike was taken to a garage, where they have removed the forks and made an attempt to straighten them, but the steering is still a mile out and it looks like the frame could also be a problem. With the prospect of another 13000 miles, on African roads, things donít look good.
forks removed and sent off for straightening
Even if the bike steers well I'm still concerned about the forks as they will have been stressed during straightening and could fracture at any time on the rough roads. It would be a shame to end the trip now as for me it was Africa that I was looking forward to but it may be uneconomical to send these larger new parts over from the UK. Tomorrow is Monday and we will have another good look at the bike to see if its feasible to carry on - if not how much new parts will cost from the UK and if thatís too much I will return home and come back next year with a new front end (including disk brake!)
The bike has amazed me - I thought I would be fixing it every couple of hours but it has been almost 100% reliable with only one small problem (electrical) that held me up for 10 minutes - incidentally a problem that I had left the UK with. Itís returned over 90mpg's and done everything I asked. It may not have looked pretty but carried everything I needed with ease for a bike with only 18 horses.
I do have a time issue and wanted to be back before the end of Feb - leaving 5 weeks late hasn't helped so I'm not sure whether I'm continuing or going back but the last 8 days feel more like 3 months and if I do return home will resume my journey next year ( If I can clear it with the wife and kids!).