December 03, 2011 GMT
Iíve god a codeÖÖsniffle!
Week 4 - Cap Spartel in Morocco to Mohammedia in Morocco
Weíre in Africa and itís raining, thereís something wrong there!
Stayed in Cap Spartel till Tuesday waiting for the weather to improve and the culture shock to lessen. I really wasnít prepared for how hard it would be to go out of the relative familiarity of Europe. It was all a bit scary, still is, but itís getting better. Everything is different here, the landscape, the culture, the people and the first time we have encountered real poverty. Everything is hard work, getting food, finding places to stay etc. Iím hoping itís something weíll get used to the more travelling we do.
Set off Tuesday morning, decided to stick to the coast and head towards Casablanca. We had been told by Debbie, who we met in the campsite, that hotels are pretty cheap in Morocco so we thought weíd try one out, as the thought of a hot shower and a real bed were irresistible. Strange place Morocco, you canít tell if itís falling down or just being built. We passed loads of abandoned buildings with new construction going on next door, but nothing is finished and no one appears to be working on anything. Perhaps the builders have stopped for the winter and all will be a hive of activity again in spring.
Arrived in Larache and found the lovely, if a bit tired, Hotel Espania.
The staff were all really friendly, took Ant to a safe garage to park the bike and recommended a few restaurants to try out in town. We went to the Restaurant Atlantique and had our first taste of eating out in Morocco. Something must have got lost in translation as neither of us got what we ordered, but the food was lovely anyway. Stayed in Larache an extra day so we could explore the town. Went to the local bike shop, the lookout point, the market and the sea front. Stood watching the Atlantic waves crashing in for ages.

The next morning we braved a trip to the post office to send some snail mail. Had to stand in the back and try and figure out how it worked. There were a load of different counters and no discernible queuing system, but we got there in the end.
Carried on south towards Rabat and passed a weekly market. Traffic madness, there were people and cars and trucks and donkeys everywhere. There was also a policeman with a whistle, but he didnít seem to be making much of an impression on the traffic!
Stopped for a coffee and a bite to eat and realised the sore throat I had woken up with had turned into a cold. Oh No! After all those vaccinations Iíve been struck down with the common cold. Well thatís a bit melodramatic but I felt pretty rough. Headed on south along the coast, but no campsites and ended up riding into Rabat in rush hour with about 20 mins before the sun went down. No other option but to get a hotel for the night so we checked into the Hotel Bouregreg. Finally managed to get hold of my Mom and Dad and discovered they are in Morocco too! Have passed us on the road and are close to Casablanca. Agreed to meet up with them the next day.
Made the most of the hotel breakfast Friday morning. Ant had 4 plates of cake. Took some mad riding and a few u turns before we got out of Rabat on the right road. Went past the royal palace, but you couldnít see anything just lots of guards with guns. Following the coast road and the scenery was beautiful, but my cold had developed into a full blown snot fest so not really able to appreciate it. Found my parents at the Campsite LíOcean Bleu and gratefully collapsed in their campervan with a cup of tea and some beachams tablets. I wimped out that night and slept in the camper. I wonder if itís too late to employ Mom and Dad as support crew.
Saturday morning one of the local fishermen came round the campsite selling that mornings catch so we haggled for a couple of fish, we think they were sea bass. Everyone went shopping and left me feeling sorry for myself in the camper. Back at the site we made friends with a scruffy looking dog we called Bob. The fish were amazing grilled on the BBQ. Ant slept in the tent with Bob the dog, as I stayed in the van again.
On Sunday we were woken to the sound of drums and shortly after 3 coachloads of Moroccans arrived. The campsite caretaker explained that they put on food and a show every Sunday and the local people have a day out to the seaside. All 3 coachloads trooped across the campsite to use the toilets and to have a look at the strange English people. At one point a little girl just stood and pointed and laughed at Ant, but he has that effect on most people not just Moroccans.
Ant got bored with me sniffling and generally being pathetic, so he went for a ride. Headed up into the mountains and was flagged down by some of the Northern Eagles, a bike club from Casablanca.

He also had a brief brush with Moroccan law enforcement as he accidentally went onto the toll motorway slip road and rode back up it the wrong way. They let him go when they realised he didnít speak any French so that was lucky. Tried to cook the Turkey thighs we had bought from the shop on Saturday, but they turned out to be Turkey bottoms! When we looked it up the packet did say Turkey tails so we resolved to make better use of the phrasebook when shopping.
Posted by Nikki Robinson at
09:54 PM
GMT
December 04, 2011 GMT
Play it again Sam and funny food
Week 5 - Mohammedia in Morocco to Sidi Ifni in Morocco
Left Mohammedia heading for a campsite in Da Bouazza which was south of, but closer to, Casablanca. The downside of this was that we had to ride through Casablanca. Although Rabat is the capital of Morocco, Casablanca is a much larger city. You can tell this by the thickness of smog you are inhaling from about 2 miles outside of town. They donít go in much for catalytic converters around here!
Traffic was mayhem, but Ant has developed a taste for it now and follows the Moroccan example of racing into gaps that clearly arenít there. Found the campsite pretty easy so waited for Mom and Dad to catch up and had a chilled out evening of drinking and chatting.
The next day we decided to catch the bus into Casablanca. We walked up to the main road and waited for 45 mins, but no sign of a bus so flagged down a taxi. Can you guess how many people you can fit in a Mercedes 400? Give yourself a pat on the back if you guessed 7 including the driver. There were already 2 people in the front seat so the four of us squashed in the back.
We found a local market and Ant made a new purchase of a Tagine cooker, which will double as a BBQ and fire container, we walked around the ancient medina and found Rickís Cafť from the film Casablanca. Well actually itís a replica built in 2004. The real one was in Rabat, but I guess that doesnít sound as romantic for a film title. We stopped for a coffee and a photo opportunity.
Then we walked across town to the Mosque of Hassan the 2nd, which was really impressive. Itís huge with really ornate mosaics and tiles. If you look at it from the other side it looks like itís floating in the sea. The pictures really donít do it justice.
Then came time to get back to the campsite. We needed to do some shopping so we got a couple of petit taxis (There are two types here. Grand Taxis go from town to town and Petit Taxis take you around within the town boundaries.) and asked for Carrefour, which was the supermarket we had seen on the way into town. The taxis didnít take us to Carrefour, but to another supermarket. We got out to see what was going on and the taxi driver said he could wait for us while we did the shopping then take us to the campsite. That seemed reasonable, but should have rung alarm bells as our campsite was 20k away and petit taxis canít go outside the town! Did a lightning fast shop and got back in the taxis for a hair raising ride across Casablanca at rush hour. It turns out that there was also a place called International Camping Oasis in Casablanca and that is where the taxi drivers thought we wanted to go. After much grumbling and renegotiation we got back to the taxi rank and got a grand taxi who knew the right campsite. Adventure or major stress? Iím still undecided on that one!
Left Da Bouazza heading for Oualidia. The map said the road was scenic and they werenít kidding. Miles and miles of stunning coastline with big Atlantic waves crashing onto rocks and deserted beaches.
Only occasionally spoiled by whacking great petro chemical factories. Went through Azemmour and El-Jadida, just outside a chap avoiding getting his car wet in a puddle nearly killed us so we thought weíd stop for a spot of lunch.
Found Oualidia, but no campsite just parking for campervans by the side of the road. The security / campsite / wide boy / fixer said we could pitch our tent there if Mom and Dad were also coming in a campervan, but only after having tried to buy me from Ant for 50 camels! So glad he let us stay there as we were right on the beach of the natural lagoon Oualidia is built around. It was really beautiful.
We had no provisions so decided to go to a restaurant in town. We all had the set menu and I have never seen so much fish in my life! Starters turned out to be a big plate of sea urchins. Ant had to ask the waiter what to do with them as we didnít have a clue. It turns out you use a spoon and scoop out the tiny orange bits from the middle. Itís like eating very small, very salty roe. Unfortunately half way through the plate Ant noticed some of them weíre still moving which kind of put me off. After that we still had fried fish and grilled fish and crab and lobster and clams to get through. We all staggered off to bed so full of fish we could have burst.
Next morning we set off for Essaouira and about 10 mins up the road came across Cyprien the cyclist we had been leap frogging for a couple of days. We stopped for a chat and he is on his way from Belgium to Senegal. If you would like to keep up with his adventures in his flat cap his blog is here http://lesaventuresdes.blogspot.com. He had been in a hotel in Oualidia the night before, where he had met Danielle a Spanish chap who has just started a cycle trip around the world. While we were chatting another BMW pulled up, ridden by an Argentinian who had been off playing in the desert for a few weeks. He gave us loads of tips about where the good riding is in Morocco. He was a really interesting chap and he splits his time between Argentina and Miami for work so he spoke excellent English. Unfortunately I failed to make a note of his name and it has since dropped out of my head! I gave him our blog address though so hopefully he might be in touch down the road.
The next few days were sunny and uneventful we carried on down the scenic coast stopping in Essaouira, Taghazoute and eventually ending the week in Sidi Ifni. The landscape has changed considerably this week from green farmland to hilly, where we got our first glimpses of the Atlas Mountains, to more barren and desert like.
We finished the week in camping Sidi Ifni which is right on the beach. My cold is back with a vengeance and we have met Jean Francois or Jeff, who is a French Canadian travelling around Morocco by bus. As I was sniffling in bed, Ant and Jeff went into the market and bought us some camel meat for tea.
Ant also found a restaurant where they had beer and managed to buy 4 cans wrapped in newspaper under the counter. We BBQíd the camel and Jeff made a fantastic tomato risotto to go with it. It was lovely. Camel tastes like a cross between Pork and Turkey and is fantastic BBQíd.

Posted by Nikki Robinson at
11:13 PM
GMT
December 29, 2011 GMT
Mangled bike and slightly broken us
Week 6 - Sidi Ifni in Morocco to Sidi Akhfennir in Morocco
Monday morning was grey and chilly in Sidi Ifni so we stayed another day. Sat in the town having coffee with Jeff, chatting and people watching. We all went for the cheapest chicken tagine ever. 25 Dirham each which is about £1.90, bargain! Got back to the campsite and met Petre and Yanna a Czech couple on a Transalp, who were on their way to Dakar. Unfortunately they had had their passports with their Mauritanian visas in stolen. They had got replacement passports, but the replacement visas had been sent to their home, so they were on their way to try their luck with the Mauritanian border.
Set off bright and early Tuesday morning after bidding farewell to Petre, Yanna and Jeff. We promised to email Jeff when weíre back in Europe in case he is nearby and we can meet up for a few bevvies. Heading south from Sidi Ifni toward Plage Blanche, scenery stunning again but just after Fort Bou-Jerif we ran out of road, literally. The tarmac just stopped and there was a dirt track.
It didnít look too bad and we could see the track heading down to the beach so we opted for a bit of off roading. It was alright to start with but pretty soon we came to a steep bit that wasnít really a track any more, just a gulley with rocks in it. I jumped off and Ant tried to get the bike down but fell off and landed on his head. Luckily it was his head so no harm done!
We picked the bike up and tried to turn it round, after getting it wedged sideways, taking all the gear off, falling off and dropping it a few more times we got it back up the hill. We were a bit knackered after that so we had some lunch.
It was a beautiful spot on the side of a valley with a river at the bottom and the sea at the end, but I can think of easier ways to find a spot for lunch. To get to another paved road south we had to go all the way back to Sidi Ifni, so 3 hours later we were back where we started! We took the road to Guelmim. No sign of a campsite and we were a bit bruised from our earlier exertions so we booked into the Hotel Adil Mossafir, which was really quite posh. We had dinner in the restaurant and went to bed feeling much revived.
Wednesday we headed for Tan Tan after a continental breakfast, which included some kind of salty rice pudding and stuff that looked like jam but tasted like olive oil (made a mental note not to eat that again). Scenery changed and started to get really desserty. Nothing for miles and we saw our first herd of camels grazing at the side of the road.
On our way into Tan Tan we were stopped at our first police checkpoint. They have them entering and leaving every town in Morocco, but this was the first time we had been pulled over. The Gendarme looked at our passports and wanted to know what we did for a living. In our pidgeion French we explained that we were tourists and we were waved on our way. Despite the lovely camel statue
there was nowhere to put the tent up in Tan Tan, so we carried on to El Ouatia and had a choice of 3 campsites. We picked the one with a painting of a motorbike on the wall, well it was either that or toss a coin. We pitched up and went to the beach, but the wind had really picked up so we retreated to the shelter of the tent.
The wind meant we were stuck in El Ouatia for another 2 days. Tried to leave on Thursday and Friday, but felt like the bike was tilted at 45 degrees and Ant was battling to keep it on the road. We were also getting punched by the wind every time a lorry went past as they donít have nice rounded fronts like they do in Europe. About 10k out of town the world went orange from all the sand in the air so we decided it was safer to wait till the wind had dropped.
This gave us plenty of time to get to know El Ouatia. There was a town square with about 20 businesses, 3 were butchers, 4 were cafť / restaurants and all the others were general stores selling exactly the same stuff! There were subtle differences like they all had a chiller cabinet for milk etc. but only some of them had them switched on. Goodness only knows how they all manage to keep going. One thing we have noticed about Morocco is that prices are a movable feast. Everything is up for negotiation, except your basic food essentials and if you return to a shop more than once the prices start to come down. It makes shopping a bit of a lottery, but it can be quite fun wheeling and dealing.
On Saturday the wind had all but disappeared so we set off south again hoping to get to Laayoune, but with an eye on stopping at Tarfaya if the wind picked up again.
Another police checkpoint at Sidi Akhfennir and we were off onto a lovely twisty coast road with dunes and estuaries and flamingos. It was beautiful and we were making good progress until we came round a left hand bend and the bike hit a pot hole in the road. Suddenly the bike wouldnít go left anymore. We drifted to the right off the road and into the sand with Ant frantically trying to get back to the tarmac. The bike did that sickening your about to fall off wobble and then we fell off. The bike dug in and cartwheeled, Ant got whacked in the face by the handlebars and I flew over the top. I remember a lot of tumbling and then coming to rest face down in the sand. A quick check confirmed I was still alive and I could hear Ant groaning so he was still alive too. Then I started the process of checking all my limbs to see if they still worked. Painful signals were coming from my left ankle but other than that I seemed to be in one piece. Ant was making horrendous noises, but he turned out to be just winded from the impact and once he managed to get his breath he was ok. We checked each other over, Ant had a painful not entirely normal looking shoulder and we both had painful ribs. We managed to flag down a passing car and the gentleman phoned for the police and an ambulance. Unfortunately the nearest hospital was in Tarfaya which was still about 45 mins away so we made Ant an impromptu bungee sling and settled in for a bit of a wait.
After that it seemed every driver passing stopped and we had a steady stream of Moroccans asking if we were ok and retrieving our belongings that were strewn about in the sand.
The police turned up, checked our paperwork and made Ant give a description of the accident whilst we were waiting for the ambulance. Thankfully the ambulance wasnít much longer and we set off on the 45 min drive to Tarfaya. The ambulance drivers in Morocco donít appear to have the same kind of training as the UK, so I think we hit every pot hole on the way.
The hospital in Tarfaya was just an emergency assessment place. It was considerably better than a mud hut but it was also a long time since it had been cleaned. By this time we both knew nothing was broken, so the doctors didnít think it was necessary to send us to Laayoune for x-rays. They bandaged my now very swollen ankle and then poured alcohol on it to cool it down. We both had a pain killing injection, I was just about to reach for our sterile needle kit, but thankfully the needles were wrapped in sterile plastic wrappers. We were given medical certificates and discharged. A policeman had accompanied us to the hospital and told us we needed to go back to Sidi Akhfennir to report to the police station. An hours taxi ride and 300 Dirhams later we arrived at the police station in Sidi Akhfennir. Much to our relief the policeman said we could stay in a hotel in town and report to the police station at 10am tomorrow. He showed us the bike in the police garage and all our gear was in an unused room in the station. The policeman kindly portered some of our luggage round to the Hotel Akhfennir and negotiated us a room and price. Howís about that for service! In the hotel we met Lila who was an angel, she sorted out our room, bought us clean sheets and towels and 30 mins later we sat down to a wonderful chicken tagine. We phoned the Mom and Dad support crew and told them about our minor mishap. We fell into bed thankful to be still here, but anxious about the trip to the police station tomorrow.
Sunday we woke feeling really sore. Lila did us a lovely breakfast and many pain killers were consumed. We hobbled round to the police station like condemned prisoners. When we got there everyone was amazingly nice. They bought us chairs and offered us tea and coffee. We went through all the paperwork a dozen times. Calls to the insurance company and many translations from English to French to Arabic later the police discovered a problem with our medical certificates. They needed more information so we would have to get in touch with the hospital, but it was Sunday and they were closed. The police asked us to sort out our medical certificates the next day and go back to the police station. Thankfully we were allowed to go back to the hotel. Mom and Dad support crew rang and said they would be with us tomorrow to help us and see if we could get the bike to somewhere it could be repaired. More lovely food supplied by Lila, this time cous cous, and we went to bed for a considerably better nights sleep now it appears we are not going to be added to the Moroccan most wanted list.

Posted by Nikki Robinson at
09:22 PM
GMT
Enter your email address to receive updates to Ant and Nikki Robinson's trip story!
Recent Entries
Archives:
Archives:
Monthly
Archives:
Category
Next HU Events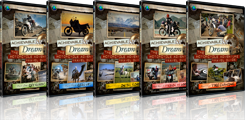 Cooped up indoors in crap weather? Binge watch over 20 hours of inspiring, informative and entertaining stories and tips from 150 travellers! Check it out at the HU Store! Remember to order them both and use Coupon Code 'BoxSet+' on your order when you checkout.
What others say about HU...
"I just wanted to say thanks for doing this and sharing so much with the rest of us." Dave, USA
"Your website is a mecca of valuable information and the DVD series is informative, entertaining, and inspiring! The new look of the website is very impressive, updated and catchy. Thank you so very much!" Jennifer, Canada
"...Great site. Keep up the good work." Murray and Carmen, Australia
"We just finished a 7 month 22,000+ mile scouting trip from Alaska to the bottom of Chile and I can't tell you how many times we referred to your site for help. From how to adjust your valves, to where to stay in the back country of Peru. Horizons Unlimited was a key player in our success. Motorcycle enthusiasts from around the world are in debt to your services." Alaska Riders

10th Annual HU Travellers Photo Contest is on now! This is an opportunity for YOU to show us your best photos and win prizes!
NEW! HU 2014 Adventure Travel T-shirts! are now available in several colors! Be the first kid on your block to have them! New lower prices on synths!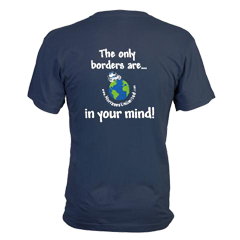 Check out the new Gildan Performance cotton-feel t-shirt - 100% poly, feels like soft cotton!

What turns you on to motorcycle travel?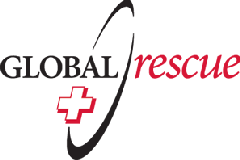 Global Rescue is the premier provider of medical, security and evacuation services worldwide and is the only company that will come to you, wherever you are, and evacuate you to your home hospital of choice. Additionally, Global Rescue places no restrictions on country of citizenship - all nationalities are eligible to sign-up!
New to Horizons Unlimited?
New to motorcycle travelling? New to the HU site? Confused? Too many options? It's really very simple - just 4 easy steps!
Horizons Unlimited was founded in 1997 by Grant and Susan Johnson following their journey around the world on a BMW R80 G/S motorcycle.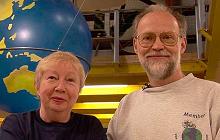 Read more about Grant & Susan's story
Membership - help keep us going!
Horizons Unlimited is not a big multi-national company, just two people who love motorcycle travel and have grown what started as a hobby in 1997 into a full time job (usually 8-10 hours per day and 7 days a week) and a labour of love. To keep it going and a roof over our heads, we run events (22 this year!); we sell inspirational and informative DVDs; we have a few selected advertisers; and we make a small amount from memberships.
You don't have to be a Member to come to an HU meeting, access the website, the HUBB or to receive the e-zine. What you get for your membership contribution is our sincere gratitude, good karma and knowing that you're helping to keep the motorcycle travel dream alive. Contributing Members and Gold Members do get additional features on the HUBB. Here's a list of all the Member benefits on the HUBB.
Books & DVDs

All the best travel books and videos listed and often reviewed on HU's famous Books page. Check it out and get great travel books from all over the world.

MC Air Shipping, (uncrated) USA / Canada / Europe and other areas. Be sure to say "Horizons Unlimited" to get your $25 discount on Shipping!
Insurance - see: For foreigners traveling in US and Canada and for Americans and Canadians traveling in other countries, then mail it to MC Express and get your HU $15 discount!
Story and photos copyright © All Rights Reserved.
Contact the author:
Editors note: We accept no responsibility for any of the above information in any way whatsoever. You are reminded to do your own research. Any commentary is strictly a personal opinion of the person supplying the information and is not to be construed as an endorsement of any kind.
Hosted by: Horizons Unlimited, the motorcycle travellers' website!
You can have your story here too - click for details!