January 03, 2013 GMT
A quiet New Year
We left the hustle, bustle and booze of Iquique behind to head back up into the peace and quiet of the desert. The party crowd had arrived for the new year which meant the town and the hostal had stepped up a gear.
The owner of the Sunny Days Hostal in Arica, Ross, had suggested the Oasis of Pica, back up in the Atacama desert would be an ideal place to chill out and relax while we sorted out how to spend our time in Chile.
The camping gear finally came out as the cost slashing started.
A shady site in a mango orchard near the oasis was sandy, so despite our lack of sleeping bags and ground mats the saving of around $30 (£20) a day was not to be sneezed at. Apart from a hot spring fed pool, a constant 40C, the town is renowned for its oranges, lemons and mangoes.

At $4 (£3) for a large bag of locally grown oranges, we set about making our own squash machine (1 cup inner, a metal plate, and a lot of muscle). Small ripe mangoes fell off the trees every time there was a slight breeze, so we could eat these for free.
Lying on our bike jackets for padding, we both fell asleep early in the warmth of the night.
We both awoke in the early pre-dawn hours as the desert temperature dropped; by dawn we were fully dressed in bike gear and all our clothes to try to keep warm until the sun came back up.
As the town was quiet and peaceful on New Years eve, and nothing seemed to be going on, we had a couple of beers, put all our clothes on in advance and went to bed.
In the middle of the night a long air raid siren went off. We had a moment of concern when we tried to decide if this was the local earthquake warning, but then all hell broke loose and there was a cachophany of explosions. Ah, so it was just new year then. I have never seen or heard so many air bombs in once place before. This went on for around 20 minutes, then silence ensued once more and we went back to sleep. Later on we woke again as the earth shook, the tent rattled, and sand shifted as we really were treated to another earthquake, at least there was no danger of a tsunami this time.
That is 4 earthquakes I have experienced now, all while I've been asleep. Just once I would like one when I'm awake.
it was still dark when the Chilean youths turned up, put up a tent, got the beer out and proceeded to talk through what was left of the night. They were still going when we left at 10:30 the next morning.
Did I say we wanted a quiet new year?
And just to celebrate, the right fork seal was leaking again.
We descended from the desert back down to the coast and headed south. As we bimbled along the spectacular coast road we eyed up all the beaches and the clear blue water until finally we could take no more and rode the bike down on to the beach. Jean got off, tested the sand to make sure the bike would not sink and that we would be comfy. Then we set up camp.
I'm 50, and I have finally been "wild" camping.
As the day wore on the people thinned and by the time the sun went down we had a large stretch of beach to ourselves. The moon was late out, so apart from the stars there was no light and once more we settled down to another sleeping bag-less night of peace, broken only by the lapping of the waves.
Until 23.45 when a large Chilean 'redkneck' family turned up in a truck, selected a spot 5 metres from us and set up camp, with stereos blazing, lights shining and voices crashing.
I climbed out of the tent and stood, gobsmacked at what was going on, only when I started shouting did they acknowledge I was there. As politely as I could, I pointed out there was a tent, a motorcycle and some sleeping people. Could they not move further down the beach, it was a big beach.
They moved all of 5 metres. I swear they had 6 fingers on each hand, and webbed feet.
Earplugs in, blindfold on, back to bed.
Did I say we wanted a quiet new year ?
With the morning, the heat came back. We packed and carried on south, a long day was planned and we wanted to get back into the desert so we could visit a national park (and camp again). Unfortunately the bike had other ideas. In a bleak spot it spluttered and died, from 100kmh to 0, very quickly.
With the lights switched off we were able to bump start her. Our investigations at the side of the sand blasted highway showed that the charging system had failed. With no idea of how much further the bike would run before the battery was completely discharged. The nearest large city, Antofagasta, was 100kms away, so we wished for more 'wings' and rode on.
As we pulled into a gas station in Antofagasta to ask directions for a mechanic, the last remnants of life trickled down the wires and she sparked no more.
While rummaging under the seat, in a vain search for a loose wire, we were approached by a man who just happened to know a bike mechanic, "Give me 20 minutes, I'll be back with him" and off he went.
Ricardo, the mechanic, returned in a large red truck (I still have truck envy) and confirmed my diagnosis.
"Its broken, the alternator", he said.
"Can you fix it ?" I asked. "Do you want a new one?" "No." "Can it be fixed?" "Yes, but it will be 2 or 3 days, how long have you got?"
"2 or 3 days, or as long it takes" I replied with a grin.
Now, once again we are in the hands of a mechanic that we have only just met, this one at least has a proper workshop and a decent set of tools. I have not seen any sign of 'special tools' like a big hammer or a screwdriver yet, so have asked him to have another go at the fork seal.
With no power in the battery to run the engine, Jean was replaced as my pillion so I could ride (carefully) to his workshop.
January 15, 2013 GMT
Saying good afternoon to Ricardo
For 4 days we attempted to say good morning to Ricardo, the mechanic. Unfortunately he never arose before midday, and on a Saturday it seemed 15:00 was his waking hour. Our hostal was conveniently next door but one to his house and workshop, so we could just put our heads out to see if he had surfaced.
Antofagasta is a 'working' town, and we had exhausted all the sights by the end of the 1st day (it does have an excellent train museum). The hostal , which was full of road workers, did not know how to deal with gringo tourists. We were there 2 days before we realised it was possible to pay extra for breakfast. Which was handy, as nowhere in town served any before 09:30.

When booking a room we always ask "with breakfast?" . The response here was "no", not "no, you can pay ARS1800 extra for that".
With breakfast finally acquired we were told that "only bread and cheese is available". Until the 2nd, slightly nicer receptionist, asked if we would like eggs.
On the 4th day the bike was ready, the alternator rewound and fitted, however it wasn't until 14:30 that the receptionist thought to tell us that Ricardo had called in the night before to say the bike was finished. But as Ricardo had not surfaced at that point, it didn't really matter.
5 days in Antofagasta. It made the 9 in Punta Arenas waiting for Jean's bike to be fixed on the last trip seem a doddle.
With all our previous efforts at saving money by camping on the beach blown on the latest bike repair, we decided not to wait for the fork seal to be replaced. Bright and early the next day we pulled the bike out of the garage and I pressed the starter.
Nothing, well OK, a slight "whirrrrr". I had seen it running the previous evening, evidence that the alternator was working, so just bump started it down the handy hill. Then we elicited some help from a couple of passers by after filling with gas and failing to start again.
After 50kms we stopped for a 'safety' gas top up before another long Chilean desert stretch between gas stations and steeled ourselves for another session of bump starting. But the starter motor now worked fine.
250kms later I noticed oil all down my right leg when refilling in a bleak, sandy, windswept and desolate place. By now I had lost all sense of humour. Luckily it was just the alternator inspection port not tightened properly.
So, with the starter motor working, the battery being charged and confidence in the bike building, it was back to camping on the beach. At least the sand would soak up the oil from the front fork leak.
As much as I enjoyed camping next to 'Tracy Island' , and was impressed at the way they hid the Thunderbird 2 launch area from the mainland.........
........I decided I would like a sleeping bag and ground mat, as the beaches were becoming more stony, so we made a long run south back to Lorraine's (just north of Santiago) to retrieve them.
Here we said a final farewell to our much loved Argentinian 'fuel can', note how it can be compressed to save space when not in use.
Coincidences happen all the time when out on the road, like bumping into people more than once. As an example at a campsite in the Parque Nacional Pan De Azucar we encountered a Dutch/Chilean couple, hitchhikers, last seen 600k away on New Years day in Pica (the Oasis in the Atacama).
However the strangest one of the trip (so far) happened following a day out with Lorraine, trying and failing to find a suitable wild camping spot with her 3 dogs.

As we pootled back down Ruta 5 a blue Range Rover overtook us then slowed down and hands waved out of the window. I pulled alongside and saw the beaming face of Juan, our friend we had bought the bike off.
Camping gear reloaded, we turned north again, the front fork still oozing oil. The Elqui Valley, stargazing, wine tasting and Pisco Sours our targets.
January 27, 2013 GMT
Si, yo hablo Espanol, pues yo no hablo Chileano
Camping with sleeping bags and ground mats is the way forward. After our nights in the desert and on the beach, using our bike clothes for padding and warmth, in future it's ditch the sleeping bag and take the ground mat.
We enjoyed one last blast out into the Elqui valley, in the foothills of the Andes, tasted Pisco Sours (brandy, lime, sugar, ice), supped wine, star gazed and also navel gazed.
Then we shot back down south to Lorraine's and managed to see the final stages of the Dakar rally (formally the Paris/Dakar but moved to South America in 2009 after security threats).


The last few weeks have been a wind down, apart from the fork seal the bike has been working well.
We relaxed at Lorraine's (Author and Photographer) cliff top beach house on the Pacific just north of Santiago. Days were spent doing DIY.
She is a brave woman letting me lose with a power-tool on a wooden house.

We walked dogs, and ate seaweed

We cooked steak on the beach.

And drifted around in a raft drinking beer (2 more things my mother told me not to do).
Then we came back to Santiago.
Apart from needing to fly home from here, we wanted to meet up with Juan (Jnr) and Juan (Snr) again. And hatched a plot for a group visit to the Carretera Austral in the future.
Then there was the small matter of arranging a sale of the bike, using Marco, the mechanic who helped us 3 months ago. Hopefully we have managed to set the ball in motion for him to "own" the bike and sell it on our behalf (and then send us the money :-) ). He will be fixing all the minor issues (especially the fork seal and valve adjustment) and making it pretty again.
If anyone is interested, there is a very good BMW F650 Funduro with an excellent running record :-) for sale in Santiago.
And the title of the blog post ? That led into a rant, but I decided not to finish on one. After all we have had a great time. Sometimes the bike seemed to conspire against us, but that was just part of the trip and it often led to meeting people as well as new route choices. Originally we intended to keep the bike, and use it again on another trip. Plans change, we have new plans, that still involve riding motorbikes in foreign lands.
I would and probably will buy a bike in another country again. It all adds to the adventure.
We never made it to The Colca Canyon in Peru, one of my main targets, and now I know how Jean feels about missing Bryce Canyon on two trips to the USA. I'll just have to go back and try again.
The time has come to switch hemispheres again. Today it is summer, on Friday it will be winter.
Extra Snippets
OK, a small rant or two after all ......
Toilet cisterns - I seem to have been a traveling plumber. One of the first tasks to be performed at many destinations has been to lift the cistern lid and reconnect the flush mechanism. Or, in at least one case, fit a whole new handle.
Toilet rolls - The appearance and quantity of them was, as a general rule, inversely proportional to the cost of the establishment. The cheaper it was, the more likely there would be a whole roll supplied. In slightly plusher establishments there seemed to be a strict 1/2 roll only rule, if you asked for more only a 1/2 role would be proffered. The exception to this rule was the Sunny Days Hostel in Arica, Chile. With three full rolls supplied!
Toilet bins - And then what do you do with the used paper ? You place it in a bin, fair enough. But why do so many places insist on those small round bins? The ones with a flip lid, usually already overflowing. You have to carefully maneuver the used paper into it and quickly remove your hand with out touching the already encrusted surface, before it snaps back and spits the paper out.
Coffee - Sometimes, like the toilet rolls, the supply of coffee at breakfast could be feast or famine. For example, in Cafayate, Argentina the following occurred :-
Day1 - The hotel owner (we called him 'Basil') poured us coffee, came back shortly afterwards and offered refills, but not needed as cups still full. Then never came back again once cups were empty.
Day2 - Catching on to him we drank the coffee quickly so that when he returned with his refill pot he was surprised when we said "yes please". As his pot was actually empty he disappeared to "make some more". We sat and waited for a long time as he peeped from the kitchen occasionally until eventually, about 30 minutes later, he returned with fresh coffee.
Day3 - He poured us 1/2 a cup each each and asked "enough?". We asked for full cups, which he reluctantly poured out, then disappeared to never be seen again.
Stats
Number of times Jean rode the bike = 2 (once to bump start it, and once to ride it into a hostal).
Countries visited = 3 (Chile, Argentina, Bolivia)
Countries refused entry to = 1 (Peru)
Number of breakdowns requiring mechanical intervention = 7
Number of punctures = 0 (my favorite one)
Number of times chain adjusted =0 (yes, 0 in 10,000kms)
Items of clothing set on fire = 2 (The waterproofs)
Number of times bike dropped = 0 ( I was on my best behaviour)
Number of new Spanish motorcycle words and terrns learned = many.
Enter your email address to receive updates to Two Pegs to Patagonia's trip story!
Recent Entries
Archives:
Archives:
Monthly
Archives:
Category
NEW! HU 2015 Motorcycle Adventure Travel Calendar is now available! Get your copy now for some terrific travel inspiration!
HUGE, 11.5 x 16.5 inches, beautifully printed in Germany on top quality stock! Photos are the winning images from over 600 entries in the 9th Annual HU Photo Contest!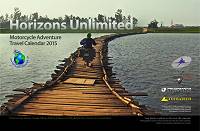 "The calendar is magnificent!"
"I just wanted to say how much I'm loving the new, larger calendar!"
We share the profit with the winning photographers. YOU could be in the HU Calendar too - enter here!
Next HU Events
NEW!

USA Virginia: Apr 9-12, 2015
Take 40% off Road Heroes Part 1 until October 31 only!
Road Heroes features tales of adventure, joy and sheer terror by veteran travellers Peter and Kay Forwood (193 countries two-up on a Harley); Dr. Greg Frazier (5 times RTW); Tiffany Coates (RTW solo female); and Rene Cormier (University of Gravel Roads).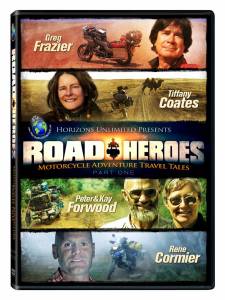 "Inspiring and hilarious!"
"I loved watching this DVD!"
"Lots of amazing stories and even more amazing photographs, it's great fun and very inspirational."
"Wonderful entertainment!"
Check it out at the HU Store! Remember to use Coupon Code 'HEROES' on your order when you checkout.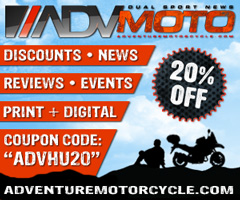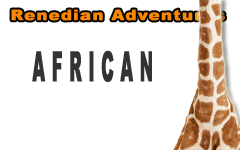 What others say about HU...
"I just wanted to say thanks for doing this and sharing so much with the rest of us." Dave, USA
"Your website is a mecca of valuable information and the DVD series is informative, entertaining, and inspiring! The new look of the website is very impressive, updated and catchy. Thank you so very much!" Jennifer, Canada
"...Great site. Keep up the good work." Murray and Carmen, Australia
"We just finished a 7 month 22,000+ mile scouting trip from Alaska to the bottom of Chile and I can't tell you how many times we referred to your site for help. From how to adjust your valves, to where to stay in the back country of Peru. Horizons Unlimited was a key player in our success. Motorcycle enthusiasts from around the world are in debt to your services." Alaska Riders

10th Annual HU Travellers Photo Contest is on now! This is an opportunity for YOU to show us your best photos and win prizes!
NEW! HU 2014 Adventure Travel T-shirts! are now available in several colors! Be the first kid on your block to have them! New lower prices on synths!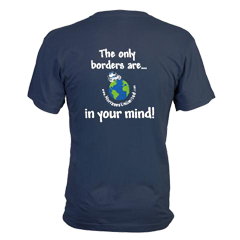 Check out the new Gildan Performance cotton-feel t-shirt - 100% poly, feels like soft cotton!

What turns you on to motorcycle travel?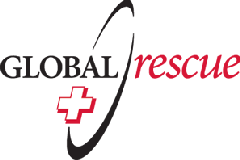 Global Rescue is the premier provider of medical, security and evacuation services worldwide and is the only company that will come to you, wherever you are, and evacuate you to your home hospital of choice. Additionally, Global Rescue places no restrictions on country of citizenship - all nationalities are eligible to sign-up!
New to Horizons Unlimited?
New to motorcycle travelling? New to the HU site? Confused? Too many options? It's really very simple - just 4 easy steps!
Horizons Unlimited was founded in 1997 by Grant and Susan Johnson following their journey around the world on a BMW R80 G/S motorcycle.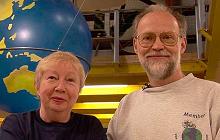 Read more about Grant & Susan's story
Membership - help keep us going!
Horizons Unlimited is not a big multi-national company, just two people who love motorcycle travel and have grown what started as a hobby in 1997 into a full time job (usually 8-10 hours per day and 7 days a week) and a labour of love. To keep it going and a roof over our heads, we run events (22 this year!); we sell inspirational and informative DVDs; we have a few selected advertisers; and we make a small amount from memberships.
You don't have to be a Member to come to an HU meeting, access the website, the HUBB or to receive the e-zine. What you get for your membership contribution is our sincere gratitude, good karma and knowing that you're helping to keep the motorcycle travel dream alive. Contributing Members and Gold Members do get additional features on the HUBB. Here's a list of all the Member benefits on the HUBB.
Books & DVDs

All the best travel books and videos listed and often reviewed on HU's famous Books page. Check it out and get great travel books from all over the world.

MC Air Shipping, (uncrated) USA / Canada / Europe and other areas. Be sure to say "Horizons Unlimited" to get your $25 discount on Shipping!
Insurance - see: For foreigners traveling in US and Canada and for Americans and Canadians traveling in other countries, then mail it to MC Express and get your HU $15 discount!
Story and photos copyright © All Rights Reserved.
Contact the author:
Editors note: We accept no responsibility for any of the above information in any way whatsoever. You are reminded to do your own research. Any commentary is strictly a personal opinion of the person supplying the information and is not to be construed as an endorsement of any kind.
Hosted by: Horizons Unlimited, the motorcycle travellers' website!
You can have your story here too - click for details!