Archives
September 02, 2014 GMT - Brazil 2014
Over the last few years we have been travelling in Canada US and Mexico in an RV/ Motorhome. We loved every minute of it, but miss the freedom and comradery that motorcycle travelling gives us! So, we did a worldwide...
July 01, 2013 GMT - 2013-14 Trip
Howdy folks! You haven't heard from us for awhile, but you are about to regularly! hehe We have just spent an awesome 3 months at home in Cairns, Queensland, Australia. Catching up with family, friends, health issues, health tests, get...
May 09, 2013 GMT - Motorcycling Hints
Motorcycle Travel Hints - Only ride at night or in the rain if it is unavoidable, due to poor visibility for you and other traffic. Poor road conditions are magnified exponentially. Beautiful surroundings are not visible. Remember that travel is...
March 04, 2013 GMT - Sri Lanka
We are now back in sunny Australia and will attempt to summarise our 3 months motorcycling around Sri Lanka! Having searched the season weather for Sri Lanka, we were mentally prepared for the wet November that is expected each year,...
November 12, 2012 GMT - Oman Oct 2012
A relatively short flight from Greece to Oman took us to our Muscat based friends from our home town Cairns, Chris and Dale Bartlett. Now did they have an action packed agenda for the next 2 weeks! From porsche drives...
November 11, 2012 GMT - East Europe 2012
With only days left on our Schengen visa we must leave our beloved Switzerland to enter Croatia (which is scheduled to join the Schengen programme July 2013). We had heard many great reports on the Stelvio Pass in the Italian...
August 02, 2012 GMT - Photos: Europe
Pat and "Miss Adventure 3" in front of an awesome Swiss House...just cant get enough of them...so unique! The beginning of our trip...Belinda, Patrick, Oli, Dominik, Erik and Csilla, with Miss Adventure3 on the trailer. Brian and Sandra Smith...
August 02, 2012 GMT - Europe 2012
Gday from our beloved Switzerland! We have just found out about the "Schengen Agreement" which means non Europeans can stay in Western European countries for ONLY 90 days in any 180 day period.., so a slight change in plans is...
May 11, 2012 GMT - 2012 trip
Its been a while since we wrote last! We had an absolutely amazing time in our motorhome in the Baja, Mexico and would thoroughly recommend it! We didn't feel unsafe for one minute..in fact we haven't felt so relaxed and...
May 11, 2012 GMT - Photo of bike
We are getting ready to get back on 2 wheels on "Miss Adventure III" in Europe...leaving Cairns in just over 2 weeks!
January 28, 2012 GMT - Email hacked
We are writing to let you know we have fallen for a yahoo look alike email to upgrade. We clicked on it, put our email address and password in and wham..they had everything they needed to delete our contacts, inbox...
December 25, 2011 GMT - Baja, Mexico 2011
We have just found paradise in the Baja, Mexico and we must describe this place to you! About a 1/3rd of the way down Baja we were driving along the coastal mountain roads when we looked down to see this...
December 13, 2011 GMT - USA report
We entered USA near Vancouver mid September 2011 with the aim of going down the Rockies to Mexico and then coming back up the West coast in Feb 2012 as far as the weather will allow us. Our RV partners...
December 12, 2011 GMT - Canada+Alaska
Wow, what an awesome 6 months its been! We arrived in Edmonton, Canada early June 2011 to see our new purchase, a 30 foot Winnebago motorhome (fondly named "Miss Adventure VI") that we had just purchased sight unseen from www.craigslist.com....
December 12, 2011 GMT - Canada+USA
Our route through Alaska, Canada and USA from June-Dec 2011. We are now in Baja, Mexico heading south to La Paz, Mexico over the next 2 months. It would be great to catch up with any other travellers in...
December 07, 2011 GMT - Motorhome photos
We have just celebrated 6 months travelling around Canada, Alaska and USA in our wonderful 30 foot RV! Next destination: Baja, Mexico for 2 months and then back into USA early Feb and Vancouver early March...to fly home to Cairns,...
June 27, 2011 GMT - Alaska by motorhome
A big apology to all our diehard motorcycle travelling friends, but we have jumped ship! We are now travelling in Alaska, Canada and USA in a 30 foot Winnebago luxury motorhome and its awesome! Currently, we are near Anchorage, Alaska....
April 23, 2011 GMT - Canada here we come!
When we last wrote we were leaving South Africa and finally heading for home, Cairns, Australia. We eventually sold Miss Adventure II (our Yamaha XTZ750) and ALL our gear to Chad and www.wilddog.za.net members. If you are riding in South...
January 14, 2011 GMT - Miss AdventureII 4 sale
Super Tenere XTZ750 COMPLETELY set up for touring for sale in South Africa This is a great opportunity for someone who doesn't want to ship their bike into Africa. For the price of shipping from almost anywhere, you can...
December 07, 2010 GMT - South Africa
Wow, how do we sum up the last 3.5 months in a readable form!? When we last wrote we were leaving Switzerland and following the Alps along the Austrian, Italian, Slovenian border...AWESOME Alpine riding..the best in the world! We also...
December 03, 2010 GMT - PHOTOS: South Africa
So here we are having fun in South Africa! Very busy, story coming, first photos! Peck Family travelling together! The Pecks travel with the Ratays! The Baviaans Boys, Dries, Jimmy, Pat, Johnathan, Neville and the rest of the crew!...
August 27, 2010 GMT - Switzerland
When we wrote last we were just leaving the arms of Csilla and Oli (H/U members in Romania) and taking off for 5 months on a tour of Europe on our half share Super Tenere, fondly named Miss Adventure III....
June 26, 2010 GMT - Super Tenere report
Super Tenere XT1200Z personal ride review June 23 2010 Vienna, Austria by Patrick Peck My view of the bike is derived from my years of riding the XTZ 750 since 1990 continually to today over 250,000kms with seven personally owned...
June 25, 2010 GMT - Gear list
This is a list of our luggage- we need ALL of this, we dont leave any out or bring any extra, as there simply will not be any room. Some of this you will not have, so you will need...
June 24, 2010 GMT - Super tenere photos
Introducing Miss Adventure III that usually resides in Romania! note the flooded Danube River in Hungary in the background. Brand new Super tenere XT1200Z we took for a test ride in Vienna. Hanka and Erica riding Miss Adventure III...
June 23, 2010 GMT - Photos of bikes!
Pat on an ATV in Groote Island, Australia Pat and Murray on hired bikes in the Philipines. Pat on Miss Adventure II in Oman Belinda sitting on a rock, instead of a bike in Ethiopia with Gelada Baboons and...
June 08, 2010 GMT - European River cruise
Quick update! We are now in Romania with our wonderful friends Csilla and Oli and little Dominik (2 years old) Schul. We have bought 50% share in their Super Tenere and Pat is now putting on a Scottoiler and converting...
June 08, 2010 GMT - Photos
Peck's going troppo on Zanzibar spice tour! Loading up Miss Adventure II on ship from Oman to Zanzibar! Wonderful Ethiopians, such poverty, yet so warm and happy! Pat and Miss Adventure II in Capetown HU members Johan and Nicki...
April 12, 2010 GMT - South Africa
We have made it to South Africa, home of the friendliest people in the world! On our way south from Windhoek we visited Fish River Canyon, one of the largest canyons in the world. On the way in we met...
March 11, 2010 GMT - Central Africa
Sorry this has taken so long, we have been busy dodging storms in Central Africa! When we last posted we were on our way back to Zanzibar to pick up Miss Adventure II from the ship from Oman. We went...
January 01, 2010 GMT - ETHIOPIA-Dec2009
Salem from Ethiopia! When we travel we dont do too much research, so when we arrive in a new country we have no expectations and are always amazed with what we see. When we thought of Ethiopia we thought of...
December 28, 2009 GMT - PHOTO in Oman!
December 11, 2009 GMT - Oman
We thank our Dubai hosts Katharine and Shawn McWeeny who invited us to stay in their high rise unit overlooking the famous reclaimed Palm Island and magnificent beaches below them. They escorted us to the nicest and biggest Mosque we...
November 14, 2009 GMT - Arrival in Dubai
We are finally in Dubai, where we left off last time! We will pick up Miss Adventure II and head south down through Oman, Yemen, into Ethiopia and south to South Africa. In May we will fly up to Amsterdam...
July 22, 2009 GMT - Africa here we come!
Its time for the Peck camp to hit the road again after 10 months of working hard in Cairns, Australia and saving madly for the next trip! Africa has been calling Pat for sometime now, so hang onto your seats...
December 21, 2008 GMT - Merry Xmas 2008
This is a cheats way of saying Merry Xmas and Happy New Year to all our fans and airconditioners! We are now back in Cairns, Australia and back at work :) Our son, Johnathan, nearly 21, has just bought a...
November 05, 2008 GMT - PHOTOS: Iran
Introducing you to "The Peck Flag", that we hoist everyday in our hotel rooms to let everyone know we have arrived! Meeting up with the locals in Iran. HU member David Mildwater in Abu Dhabi kindly storing our bike...
October 18, 2008 GMT - IRAN- Oct 2008
Salam from the Middle East! Last time we wrote we were in Greece. We spent a wonderful week riding around the Greek Island of Lesvos Island, a lesbian pilgrimage island, with wonderful scenic rides. Next appointment was with our Turkish...
September 01, 2008 GMT - GREECE Aug 2008
When we left Oradea Romania, Oli contacted his friend Vali in Timisoara Romania to look after us! Romanian hospitality at its best, thanks heaps Oli! Vali was great, he met us, took us to a great, central hotel and showed...
August 26, 2008 GMT - PHOTOS: Greece
Orestis (HU Athens member) and Pat with their machines! Us and Orestis sharing a snapps marinated watermelon, try it you will love it! Serpentine road in Greece. Having fun with a Greek God statue!...
August 26, 2008 GMT - PHOTOS: Romania
Back in real estate mode?! Not so soon! Riding around in Romania. Partying in Romania with Csilla and Oli. Beautiful Timisoara in Romania....
July 29, 2008 GMT - TURKEY July 2008
Next stop is Trabzon, Turkey on the Black Sea coast to order our Iranian visa at $50US each, as there is a Consulate there, which can process the application in 2 weeks. They issue a completion number and we can...
July 28, 2008 GMT - GEORGIA- July08
We finally left Cyprus, the ferry to the mainland being 12 hours late leaving at 12 midnight with every seat full and no sleeping cabins available. With very rough seas the toilet reservoirs overflowed which caused even more people to...
June 10, 2008 GMT - PHOTOS-Requested
HU bikers meeting in Cappadocia- Mike, Belinda, Pat, Stephan, Waiter, Regina and John Wide load, there is a motorcycle under all that gear and no camping gear! Belinda borrowing a policemans gun in Egypt. Viedma, Agentina HU meeting Dec...
June 10, 2008 GMT - PHOTOS- Cyrpus 2
Venetian bridge in Cyprus Pat and Bin, Zoe and Antonis. Bin in the gorgeous village of Kakopetria Troddos Mountains. Turkish tank fallen off narrow maountain road 1974....
June 10, 2008 GMT - PHOTOS- Cyprus
Pat, Belinda, Zoe, Antonis (HU members Cyprus), Krisztina, Elvira, Cosmin and Szabi (HU members Romania) in Cyprus. Policeman Pat. Famagusta Ghost Town, prime real estate left to rot. Gorgeous Girne town harbour. Us and bike outside gorgeous Greek coastal...
June 10, 2008 GMT - PHOTOS- MiddleEast
Goodbye to Orestis (HU member Athens) in Ephesus, Turkey. On the road to Bagdad! Tabouli dinner in the Middle East, fantastic! Thats Belinda on the camel at Petra Jordan! The Bcharre pass in Lebanon with our helpful guide, what...
June 05, 2008 GMT - CYPRUS June 2008
Hello again from the long lost travellers! When we wrote last we were in Jordan heading off towards the Oasis town of Azraq in the desert to check out the "Desert Castles" built between 2~7th Century AD. Amazing! We then...
April 16, 2008 GMT - JORDAN- April 2008
Marhaba from Jordan in the Middle East! Welcome to the next update of Our Magic Carpet Ride. We both celebrated our birthdays in the last month and it was really clear to us both that there was nothing better that...
March 08, 2008 GMT - Mexico & Egypt March2008
The last month we have spent 2 weeks in Mexico and 2 weeks in Egypt. Bins Mums lifelong friends Don and Nevionne Crawford have a time share apartment in Puerto Vallarta and invited us to stay with them. While we...
March 07, 2008 GMT - PHOTOS 4- Egypt
"Life is not measured by how many breaths you take, but by how many monents you have that take your breathe away" Whos that Muzlim woman in front of the Pyramids!? The classic pose in front of the Sphynx. Horse...
March 07, 2008 GMT - PHOTOS 3 Mexico
Puerto Vallarta, Mexico with Pat, Nevionne, Don and Belinda in their Mexican villa, paradise! Mexican sunsets, the best in the world! Pats Mum, Colleens 81st birthday party, mexican style. Nev, Don, Kathy (Pats sister), Colleen, Pat, Bin What a...
March 07, 2008 GMT - PHOTOS 2- Chile
Life is tough on the road, exhausting for navigators too you know! Slumming it on Christmas Day! We had this lakeside Lodge all to ourselves. Flat tyre 2- not bad after 4 years travelling and over 110,000km! Final negotiations...
March 07, 2008 GMT - PHOTOS 1-NZ-Argentina
Photos at long last, thanks to Orestis in Athens! How can we ever thank you enough for all of your help? Our farewell party "dress as a Muslim" and everybody did!! John, Hoppy, Lynne and Pat, great bellydancing thanks to...
January 24, 2008 GMT - CHILE- Jan 2008
Get on your bike and head to Chile! We have just had the most relaxing and visually varied month of travel ever! The secret has been having an enduro motorbike as independent travel to get out of the cities (and...
December 10, 2007 GMT - Argentina Dec 2007
For those that are not aware, we have hit the road again. In November we spent 3 glorious weeks in New Zealand with 21 year old daughter Kate. We hired a 3 berth motorhome and slowly toured the South Island....
September 04, 2007 GMT - 2008 TRIP
Well long time, no hear folks!! We have had our heads down and bums up working for the last year, enough of that boring stuff, its time for our next installment of adventure!! We leave Cairns (home) Fri November 2...
November 22, 2006 GMT - CANADA:November06
Howdy Doody from Edmonton, Canada, home of The Peck Family! Since we wrote last we were on our way by ferry without the bike from Crete to Athens. We met up with our Greek God friend Orestis Padouvas (see photo...
November 04, 2006 GMT - PHOTO: Us+Bike
Patrick and Belinda and Miss Adventure II taken 2006....
November 04, 2006 GMT - PHOTOS: Greece2
Our friend Orestis The Greek God! (Horizons member in Athens) Patrick on Frederics Paris Dakar Replica Super Tenere....
November 04, 2006 GMT - PHOTOS: Greece1
Amazing fortified walls and moat in Rhodes, Island, Greece, complete with cannon balls! Spiros Amitzoglou (Horizons member for Crete) with Miss AdventureII packed away for 16 months!...
November 04, 2006 GMT - PHOTOS: Turkey4
The boat we chartered in Turkey for A$139 each for 3 nights, 2 days, all inclusive!!!! Kas sunken city in Turkey, amazing clear water!...
November 04, 2006 GMT - PHOTOS: Turkey3
Beautiful Beach in South Coast of Turkey near Kas. Grant Davis and Susan Markwell with magic lips on our boat in Turkey!!...
November 03, 2006 GMT - BIKE MODIFICATIONS
Lots of people ask us about the bike and what we have done to modify her, so we thought we would put finger to keyboard! This will probably be boring for non-bikers! We have chosen a 1996 Yamaha Super Tenere...
October 19, 2006 GMT - TURKEY: Article
Clever Mikes articles crack us up!! Sunday October 1, 2006 The Observer The pickup truck drives along the Bodrum esplanade and stops outside the restaurant. On the side, in lurid pink lettering, is: Halikarnas - The Club. On the back...
October 19, 2006 GMT - GREECE: October 06
We are now in Crete Island, Greece and have found a great dry, safe, secure garage to park our bike for FREE!! We were riding around Iraklio (the capital of Crete) looking for a hotel with a garage like we...
September 28, 2006 GMT - PHOTOS: Turkey1
Grant Davis, Alanna Skillington, Susan Markwell, Pat, Liz Bashford, Belinda and John Skillington having 'Sex on the Beach' in Turkey. Pat, John and Allana (Brisbane HU members we travelled with for awhile) near Sarcophagus tomb in Turkey....
September 28, 2006 GMT - PHOTOS: Turkey2
Pat and 'Miss Adventure 2' at Anzac Cove, Gallipoli, Turkey. This is the site where during WW1 thousands of Australian and New Zealand young soldiers were killed. Belinda, Susan Markwell and Grant Davis (friends from Cairns we accidentally bumped into...
September 06, 2006 GMT - PHONE NUMBERS
Our New Greece number till 13 November 2006 is +30 697 416 3848. We are now in Rhodes Island, Greece working our way towards Crete and then Athens to find a place to store the bike for 16 months. Our...
August 27, 2006 GMT - PHOTO:POLAND
Pat and Mike Carter on his R1200GS at Auschwitz's infamous TUNNEL OF DEATH...
August 27, 2006 GMT - PHOTOS: ROMANIA3
Oli & Csilla H/U Members from Oradia, Pat and Bin, and Krisztina & Szabi H/U Members from Targu Mures Old style farming methods still the norm....
August 27, 2006 GMT - PHOTOS:ROMANIA2
Pat in front of 12th Century Transylvanian Castle called Corinesti Castle in Hunedoara. Sovata salt lake on an August Weekend....
August 27, 2006 GMT - PHOTOS: ROMANIA
Satu Mare, Romania motorcycle gathering 500 motorcyclists watching stunt show. HU members gathering: Bin and Pat with Super tenere, Jo and rEkiny from Poland with Tenere and Oliver from Romania with Aprilia 1000....
August 27, 2006 GMT - ROMANIA: Article
We met and travelled with a journalist Mike Carter from London writing stories once a week for the Observer Guardian newspaper and this is what he wrote, thought you might like it!! "Travels through a midlife crisis Mike Carter's motorcycle...
August 27, 2006 GMT - ROMANIA:Aug2006
"Buna Ziua" from Romania! Since we last wrote we have travelled through many Eastern European countries and met some wonderful new friends. The world is full of great people! After a tearful departure from Jo and rEkiny we drove off...
August 27, 2006 GMT - PHOTOS: ALBANIA
Belinda and John Cameron with the bikes in the lobby of the Hotel in Albania for 7 Euros per night!! Bunkers on the beach in Albania, they were everywhere!!...
August 27, 2006 GMT - PHOTOS: BOSNIA
Mostar Bridge in Bosnia- amazing 16th century bridge and medieval town. Bullet ridden house in Sarajevo, Bosnia where the tunnel museum was. Sandra and Brian Smith from Calgary, Canada (HU members) and old friends of Pats who we travelled with...
August 14, 2006 GMT - EAST EUROPE FUEL
We found this very helpful for travels in Eastern Europe, so thought we would share it with other travellers. Relevant for July 2006 Country : Fuel / Exchange rate July06 / Emergency no / Alcohol Germany : €1.32 / €1=€1...
July 24, 2006 GMT - POLAND: July2006
Dzien dobry from Poland! Since we 'talked' to you last we have travelled many miles and met many wonderful people, mainly Horizons Unlimited community members that have done some amazing motorcycle trips around the world- what a great family the...
June 21, 2006 GMT - CROATIA: JUNE 2006
Gruss Gott from Vienna, Austria!!! When we wrote last we had just arrived in Albania. Man is that country poor, but the people are super lovely. We often find that in dirt poor countries. The roads were by far the...
June 20, 2006 GMT - PHOTOS: CROATIA
Dubrovnik outside walls, simply stunning!! Dubrovnik from the air from the wall tour around the city. Gorgeous Croatian sunset from our yacht!!...
June 20, 2006 GMT - PHOTOS: GREECE
Pat and John Cameron in their Michelin Man suits in Greece. Beautiful country roads in Greece. Note: our GPS in the foreground!! "Monasteries in The Air" in Mainland Greece, amazing!!...
June 20, 2006 GMT - PHOTOS MOROCCO 2
Beautiful Moroccan ladies eyes. Moroccan towns totally built of mud. Amazing road along gorge in Southern Morocco. Friendly berbers in their berber tent sharing a mint tea with us. Our camel trek tour guide in the Sahara....
June 20, 2006 GMT - PHOTOS MOROCCO 1
Pat and Pedro with their bikes in Seville, Spain. (The beginning of our trip to Morocco.) Pat on Miss Adventure2 with a Kasbah in the background in Morocco. Pat at Moroccan ski hire that we negotiated for on the spot!!...
May 10, 2006 GMT - GREECE-May 2006
Yasas from Greece!! We finally left Seville, Spain for the last time in a long time and slowly travelled inland in Spain towards Barcelona. We stayed in some wonderful walled cities and enjoyed many long, lazy menu del dias (3...
April 10, 2006 GMT - MOROCCO-APRIL
Saha from Morocco, North Africa!! We are now back in our comfy hotel in Seville, Spain with Pedro around the corner itching to hear all our stories. Morocco, was amazing, such a country of contrasts in everyway and like no...
March 10, 2006 GMT - EUROPE: March 2006
Rome is a magical city and we walked all over it!! We spent 7 days there and had aching feet after it, but it was truly spectacular. The history in that city is amazing. Everyone has to see Rome at...
February 09, 2006 GMT - PHOTOS: LAOS
Kate spending Laos kip like a gangster, she is holding equivalent to US$300!! Kate surrounded by hillside village women testing her negotiating skills and her patience!! Travel by boat Laos style- very cramped, cold and small hard seat- wonderful scenery...
February 09, 2006 GMT - PHOTOS THAILAND
Kate and Belinda up a palm tree in Kho Tao, Thailand. Cocktail Hour in Kho Tao, Thailand. Motorbike riding in Kho Tao in front of beachfront bungalow. Kate and Belinda making fools out of themselves at beachfront karaoke!!...
February 09, 2006 GMT - THAILAND/LAOS Jan
Sabadee from Lovely Laos, historically named "the land of a million elephants". Well, we are on the road again and having a blast. We picked up Kate (Pats 19 year old daughter) and travelled with her for a month. She...
October 29, 2005 GMT - NEXT TRIP 2006
Well things are underway for our next trip around the world to catch up with everyone! Tickets are booked and bags are starting to get packed. Pats son Johnathan is coming to Cairns for the month of December and then...
February 16, 2005 GMT - PHOTOS:NZ
Kate and Johnathan Peck- our famous and tall kids in New Zealand!! Beachfront camping at its best in New Zealand. The motorhome and The Pecks in New Zealand. Dad and Doc in the kitchen and Kate sleeping!! Camping in...
February 16, 2005 GMT - NZ-AUS Feb 2005
We spent Jan- mid Feb travelling the north island of New Zealand. We hired a motorhome privately through www.trademe.co.nz The commercial companies were charging $330 per day to hire a 6 berth motorhome, over 6 weeks= $13,000!! which is rediculously...
December 05, 2004 GMT - FRANCE-CANADA Dec
Last time we updated you as to our movements we were in Corsica, France. We had a great time there and rode the bike all over checking out the gorgeous beaches, mountain villages and spectacular coastal roads. We then ferried...
October 17, 2004 GMT - PHOTOS: Italy 2
Happy Travellers. A body buried in Pompeii!! Greek Acropolis ruins are very numerous in Sicily. How they made the stone pillars for the temples in Sicily. Pat and Miss Adventure II in front of a ruined amphitheatre, very numerous...
October 16, 2004 GMT - WHO WE ARE
Patrick was born in Edmonton, Canada and moved to Australia from Canada in 1987 in search of a walmer climate. He rediscovered motorcycling in Australia as he sold his last m/c in Canada after travelling 350km at -30°C in heavy...
October 15, 2004 GMT - PHOTOS: Italy
Belinda and the canals of Venice. Amazing village in Cinque Terre, Italy. Sandra, Brian, Belinda and Patick with our machines in B&B in Cinque Terre. The usual pose in front of the Leaning Tower of Pisa. Our new custom...
October 15, 2004 GMT - ITALY-Sept 2004
Italy is visually and culturally spectacular and the people are very gregarious, friendly and good fun. They drive like maniacs- they love riding right up behind you, overtake whenever and stick their noses out into the traffic so you either...
September 18, 2004 GMT - PHOTOS: Italy
Belinda collecting water in full battle uniform!! (Romeo and) Juliettes balcony in Verona, Italy. Pat with Miss Adventure on the beautiful coast....
September 02, 2004 GMT - SPAIN to CROATIA-AUG 2004
Heading east along Spains northern coast we began to encounter the August hordes of marauding European tourists and every point of interest was incredibly crowded, so we kept a steady pase to the Picos De Europa- a small mountain range...
July 29, 2004 GMT - PHOTOS: Portugal
Meeting up again with Annette and John Green from UK. Belinda on a rally Vespa in Lisbon. Belinda in a Knights of Tomar castle staircase. Antonio and Paula, us and others at the Moto Club de Porto meeting. Three...
July 29, 2004 GMT - PHOTOS:Morocco2
Moroccan palace guards. Moroccan camels on the beach....
July 29, 2004 GMT - PORTUGAL-July 2004
Our new European mobile number is +34 618 183 038, you can sms or call, but remember there is a big time difference!! We are getting lots of emails from people asking us where to go in different countries, so...
July 08, 2004 GMT - PHOTOS: Morocco1
Smelly leather taneries of Fes The kids on the road hoping we will throw them some sweets!! Some of them get very close to the bike at 100km per hour!! Beautiful bluewash buildings in a lovely village called Chefchauen....
July 01, 2004 GMT - PHOTO: Bikie Chick
July 01, 2004 GMT - PHOTO: View at Calpe
July 01, 2004 GMT - PHOTO: Lea Triplets
July 01, 2004 GMT - PHOTO:Mallorcayachts
July 01, 2004 GMT - PHOTO:AussiesinBath
July 01, 2004 GMT - PHOTO:Thai elephant
July 01, 2004 GMT - SPAIN 3-June 2004
The most southern point of Spain is a surf, tourist town called Tarifa. The African Rif Mountains and shoreline can be seen from most parts of town with the view from the castle being the best. This town boasts the...
June 28, 2004 GMT - MOROCCO-June2004
Half an hour from the border we find a glorious 10km beach with an older Spanish style hotel with 10 million dollar views right on the beach and next to Club Med Resort. Our room with ensuite and verandah and...
June 08, 2004 GMT - SPAIN 2- MAY 2004
Pats highlight to date was Alhambra, an extravagant, Moorish castle overlooking Granada, which would rival any dwelling Queen Elizabeth would have, but was started well before Christ by the Muzlims from Morocco. We have never seen such granduer and it...
June 07, 2004 GMT - SPAIN 1- MAY 2004
Sorry, this has taken so long, too many things to see and too little time! Palma, Mallorcas capital city, has an old city area surrounded by fotified walls with turrets on all corners. Inside is a medievil city with narrow...
May 04, 2004 GMT - HEADING TO ENGLAND
For our last few days in Thailand we visited the Bridge over the River Kwai (built by prisoners of War under the Japanese occupation), shopped, went elephant riding and bamboo rafting. While we were in Bangkok they had a water...
April 10, 2004 GMT - MYANMAR MAR 2004
We left the gorgeous islands of Thailand for the dirty Myanmar border town called Kawthoung and nearly did an about face! The land borders are just starting to open to tourists and we only saw one other tourist in the...
April 10, 2004 GMT - Photos:Thailand
Bin and Pat watching the sunset with a cocktail!! Way to go! Magical Phi Phi Island great beaches, snorkelling, restaurants- paradise to us. When we dont have a motorbike, this is how we cruise- on the back of a bus!...
April 10, 2004 GMT - Photo:The Crate
Pat and Dr Gary Wilson putting Miss Adventure to bed in her crate for the trip from Brisbane to London Feb 2004...
April 10, 2004 GMT - Photo:Departure Day
Miss AdventureII (Super Tenere- the motorbike) Bin, Beth Penhalagon, Beths daughter-Mandy, Pat on our first day.C...
March 15, 2004 GMT - THAILAND MAR 2004
We are in paradise (we know we have said that many times, but this really is the ultimate!!) Great beaches, great snorkelling, great food, friendly people and dont forget Cheap as Chips!!! When we last wrote we were on our...
February 23, 2004 GMT - MALAYSIA FEB 2004
Since our last entry we have travelled down the Queensland coast to Brisbane, stopping in and seeing all Pats BOUGI Boys mates (motorcycle club- stands for Bad, Old, Ugly, Guilty, Insane) all along the east coast of Qld. Highlights included:...
January 18, 2004 GMT - CAIRNS-BRISBANE,AUS
We have finally broken free, left work, rented the house, got the bike ready and hit the road. We fly out from Brisbane 15 Feb 2004, so we have heaps of time. Our first night we spent with Col and...
November 02, 2003 GMT - Photo:MissAdventureII
Click to see a larger image...
November 02, 2003 GMT - Photo:Cairns(Home)&Colleen(PatsMum)
Click to see a larger image....
October 12, 2003 GMT - AROUND THE MEDITTERANEAN 2004
Hi Us again!! We have got another Yamaha Super Tenerre and are preparing our next trip. We will go to Thailand and Malaysia from Feb 2004- April 2004. We will then fly to London, pick up the bike from a...
March 06, 2003 GMT - TRIP SUMMARY
Wow, what a trip. We rate our trip 11 out of 10 and the main difference between this and other trips was the motorcycle. It allowed us total freedom to go wherever we wanted and stop wherever we wanted and...
March 06, 2003 GMT - BIKE MODIFICATIONS
GREAT OPPORTUNITY FOR A GREAT ADVENTURE IN CHILE OR ARGENTINA AND BEYOND!! Yamaha Super Tenere XTZ 750 for sale in or around Santiago-Iquique, Chile, or Northern Argentina South America NOW. see great photos of bike,starting with: www.horizonsunlimited.com/tstories/peck/000328.php Enduro style with...
March 06, 2003 GMT - MOTORCYCLE SALE!
From Salta we travelled over the 4,700m pass (Paso de Jama) to San Pedro de Atacama. We travelled through the largest and dryest desert in the world- it was amazing. We then arrived in Iquique, which is a duty free...
February 17, 2003 GMT - PREPARING BIKE
The bike is looking fantastic- like new in fact. We spent 10 days in Mendoza getting the best mechanic in town to give her a service, change brake pads and check everything. We also got the best painter in town...
February 01, 2003 GMT - Photos: Argentina
Pat and Monno Argentinian kissing in Mar de Plata!! Oscar doing a great Argentinan BBQ in Viedma. Luis and Pat sharing a cerveza at a beach in Argentina. Now thats a glacier, just ignore the honeymooners kissing in the...
January 22, 2003 GMT - CHILE & ARGENTINA
When we wrote last we were just about to board the Ferry in Puerto Natales, Chile. Wow, what a trip, it was definately the way to go as there are no roads in Southern Chile and the only other option...
January 02, 2003 GMT - HAPPY NEW YEAR!!
On our way to Ushuaia we diverted off highway 3 for a bit of a gravel run to El Calefate to see the famous Perito Moreno Glacier (well, famous in these parts anyway!!). It was amazing, one of the most...
December 16, 2002 GMT - ARGENTINA
We have been overwhelmed by Argentinian generosity and hospitality. What a great country with great people. After leaving Buenos Aires we followed the coast towards Mar del Plata checking out the beaches, of course, the lovely little seaside villages and...
December 03, 2002 GMT - BUENOS AIRES
After one glorious week in BA- Big Apple, we are pushing on!! We really enjoyed staying with Brigette and discovering Buenos Aires. Pat did some maintenance stuff to the bike and Bin watched Evita video 3 times and is now...
November 26, 2002 GMT - Photo: Trainride
Unloading the bike after an overnight train ride to the Argentinian border. Look how many people it took!!...
November 26, 2002 GMT - Photo: Playing
Belinda playing with the kids in the street in Solar de Uyuni in Bolivia. Note the warm gear as it was FREEZING!! Also, notice the girl in the front asking for money for the photo!!...
November 26, 2002 GMT - Photo: Thumbsitting
Pat with a thumb up his bum!! Punta Del Este- Uruguays premier resort....
November 26, 2002 GMT - Photo: Iguazu Falls
The Largest Waterfall In The World and it was very spectacular....
November 26, 2002 GMT - Photo: Iguazu Falls
Guess who is that crazy woman standing underneath the largest waterfall in the world? Iguazu Falls are on the border of Brasil, Argentina and Paraguay....
November 26, 2002 GMT - Photo: Fullyloaded
We are fully loaded and ready to roll onto the next town, once we have put our helmets on of course, Mum and Mom!! Remember, we want to sell the bike in March 2003, if interested and wanting more details,...
November 26, 2002 GMT - Photo: Beach
We had a picnic on the beach in Brasil after riding about 100km on the beach!! Wild thing!!...
November 26, 2002 GMT - Photo: Old cars
Pat and an antique car in the streets of Colonia in Uruguay....
November 26, 2002 GMT - Photo: Uruguay BBQ
Now THAT is a BBQ!! We had a huge feed at Mercado del Puerto in Montevideo- they served us guts and all!!...
November 26, 2002 GMT - Photo: Casa Pueblo
The amazing home of Uruguayan artist- Carlos Paez Villaro in the coastal town of Punta Ballena- so grand he turned it into a time share hotel!!...
November 26, 2002 GMT - Photo: Famous artist
Us with prominent Uruguayan atrist- Carlos Paez Villaro, in his house/gallery in front of his famous painting of Buenos Aires. Pat and Carlos had a great laugh as their 2 loves in life are the same: travel and women!!...
November 25, 2002 GMT - LEAVING URUGUAY
We spent one wonderful week in Uruguay and pretty much had the place to ourselves. The reasons for this is that we are here just before the summer season and Uruguay used to be cheaper than Argentina, but now is...
November 19, 2002 GMT - LEAVING BRAZIL
We decided not to head north to Sao Paulo and Rio De Janiero as they are both huge cities with lots of security problems, plus it rained there the whole time we were in Brasil. We really want to see...
November 08, 2002 GMT - Photo: Paradise
By far the best place we have stayed in- Playa Punta Sal in Northern Peru....
November 08, 2002 GMT - Photo: Bins fashion
Belinda making a fashion statement!!...
November 08, 2002 GMT - Photo: mudbath?
Anyone for a mudbath or a mudfight!! Pat and Belinda at the right of the photo!!...
November 08, 2002 GMT - Photo: Pat on bridge
Pat on another makeshift bridge in a volcanic area in Equador....
November 08, 2002 GMT - Photo: River crossing
Belinda crossing a river on a bike, instead of a boat!!...
November 08, 2002 GMT - Photo: Pat crossing bridge
Pat probably the most scared he has been in his life crossing a makeshift bridge with no sides, a 20m drop and no run up or road to follow afterwards. This is the closed road to Banos in Equador- we...
November 08, 2002 GMT - Photo: Belinda picking her teeth
With a guinea pig foot after eating it for lunch!!...
November 08, 2002 GMT - Photo: Man eating piranha!!
November 08, 2002 GMT - Photo: Amazon River
Pat and Belinda in the Amazon River, going fishing for Piranha to eat for dinner....
November 08, 2002 GMT - BRAZILIAN BEACHES
After leaving the beaches in Peru we havent seen a beach for a couple of months!! Mountains and rainforests are nice, but Brazillian beaches... Mumma mia... Today we did our favourite activity...drive along the Coastal Esplanades checking out the beaches...
November 03, 2002 GMT - BRAZIL
Crossing the border to Brazil was both expensive and time consuming as it is the first country in Central and South America that we have visited that you need a visa US$50 each. The views from Iguasu were more spectacular...
November 03, 2002 GMT - ARGENTINA
We headed south from Villizon on nice smooth roads going down hill rapidly and the temperature rising into the 30´s. (Great change from Bolivias snow, cold and bad,bad roads) We also finally got some high octane fuel after the 78...
October 21, 2002 GMT - LEAVING BOLIVIA
After leaving La Paz we headed towards Potosi, which is a town with a huge silver mountain on its doorstep. It is over 4000m high and is very cold. We stayed there for quite a while as we did a...
October 07, 2002 GMT - THE WORLDS MOST DANGEROUS ROAD
7th October 2002- La Paz Well we survived!! We waited one day as it was raining and we didnt really want to tackle ¨The Most Dangerous Road in the World¨ in the rain, let alone any other road in the...
October 04, 2002 GMT - LA PAZ- BOLIVIA
3rd October 2002- La Paz We are in the highest capital city in the world at 3,855m high. We can really feel the altitude when going uphill, upstairs and when drinking alcohol- we have become very cheap drunks!! La Paz...
September 24, 2002 GMT - LEAVING PERU
24 September- PUNO We stayed in a great place- Casa Nostra in Yanque in Colca Canyon and had a great thermal spring all to ourselves and saw many birds souring the thermals. Currently we are in Puno in Southern Peru...
September 16, 2002 GMT - PHOTOS FINALLY!!
16 Sept 2002- Arequipa We have just downloaded our camera, so photos finally for those that dont know what our bike looks like!! Well the Nasca lines were amazing. We went to a few museums to find out what they...
September 16, 2002 GMT - Photo: Watch out for the motorbikies!!
Five motorcyclists get together for a day ride in Arequipa. Patrick is far left, looking dashing in red on a Yamaha, of course; then Grandpa and Grandson on a Harley; Dad, daughter and Mum on a Honda Africa Twin; John...
September 16, 2002 GMT - Photo: Patrick in river!
Patrick riding through river in Vilcabamba in Equador....
September 16, 2002 GMT - Photo: Belinda in the mountains
Belinda and 'Miss Adventure' (the bike) in the Peruvian Andes. Note: the knee protection, bright hey!! Safety first Mum!!...
September 16, 2002 GMT - Photo: The Honeymooners!!
Belinda and Patrick at a lake in the Cordillera Blanca Mountains in Peru. Note the glacier in the background, Pats haircut and no Pat hasn't turned into a shorty!!...
September 16, 2002 GMT - Photo: What a great bike!!
Patrick and Miss Adventure (the Bike) in the Peruvian Andes....
September 16, 2002 GMT - Photo: Partying in Iquitos with Mika and Dalmaris
Mika, Dalmaris, Belinda and Patrick in the Iron House built by Mr Eiffel (who built The Eiffel Tower) in Iquitos, which is the town on the Amazon River with no roads leading to it. We first met Mika in Cairns,...
September 16, 2002 GMT - Photo: Things you find in Peru!!
Patrick with a couple of skulls he found in the Peruvian desert near Nasca. Note the skin and the hair still on the skull!!!! (no its not Belinda!!)...
September 05, 2002 GMT - SOUTHERN PERU
5 September 2002 We are now in Pisco, which is 200km south of Lima. We stopped off at a surfing beach 52km south of Lima and enjoyed sleeping to the noise of the surf in our ocean front cottage. It...
September 01, 2002 GMT - LIMA, PERU
1st September 2002 We are now settled into Lima life. Lima is the capital of Peru and it is a big, polluted, crazy drivers sort of a town. Most people hate it here. We have been here 3 times now...
August 27, 2002 GMT - NORTHERN PERU
26 August 2002 - PERU Well, we crossed the Equador border, which is spread out over 8km. We got to the Peruvian end and Belindas passport hadnt been stamped out of Equador. So, back 8km of which 1km was markets...
August 21, 2002 GMT - WHO WE ARE
We are an Australian couple from Cairns, Queensland, Australia travelling 2 up on a Yamaha Super Tenere XTZ 750, fondly nicknamed Miss Adventure. We started ground travel in Texas in Feb 2002, then through Mexico, Belize, Guatemala, Hondurus, Nicaragua, Costa...
Return to
Enter your email address to receive updates to Belinda and Patrick Peck's trip story!
NEW! HU 2015 Motorcycle Adventure Travel Calendar is now available! Get your copy now for some terrific travel inspiration!
HUGE, 11.5 x 16.5 inches, beautifully printed in Germany on top quality stock! Photos are the winning images from over 600 entries in the 9th Annual HU Photo Contest!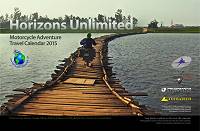 "The calendar is magnificent!"
"I just wanted to say how much I'm loving the new, larger calendar!"
We share the profit with the winning photographers. YOU could be in the HU Calendar too - enter here!
Next HU Events
NEW!

USA Virginia: Apr 9-12, 2015
Take 40% off Road Heroes Part 1 until October 31 only!
Road Heroes features tales of adventure, joy and sheer terror by veteran travellers Peter and Kay Forwood (193 countries two-up on a Harley); Dr. Greg Frazier (5 times RTW); Tiffany Coates (RTW solo female); and Rene Cormier (University of Gravel Roads).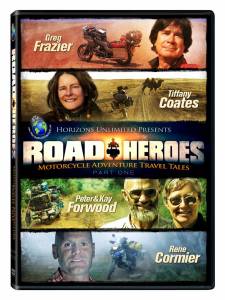 "Inspiring and hilarious!"
"I loved watching this DVD!"
"Lots of amazing stories and even more amazing photographs, it's great fun and very inspirational."
"Wonderful entertainment!"
Check it out at the HU Store! Remember to use Coupon Code 'HEROES' on your order when you checkout.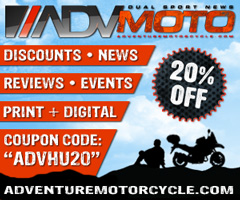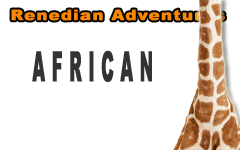 What others say about HU...
"I just wanted to say thanks for doing this and sharing so much with the rest of us." Dave, USA
"Your website is a mecca of valuable information and the DVD series is informative, entertaining, and inspiring! The new look of the website is very impressive, updated and catchy. Thank you so very much!" Jennifer, Canada
"...Great site. Keep up the good work." Murray and Carmen, Australia
"We just finished a 7 month 22,000+ mile scouting trip from Alaska to the bottom of Chile and I can't tell you how many times we referred to your site for help. From how to adjust your valves, to where to stay in the back country of Peru. Horizons Unlimited was a key player in our success. Motorcycle enthusiasts from around the world are in debt to your services." Alaska Riders

10th Annual HU Travellers Photo Contest is on now! This is an opportunity for YOU to show us your best photos and win prizes!
NEW! HU 2014 Adventure Travel T-shirts! are now available in several colors! Be the first kid on your block to have them! New lower prices on synths!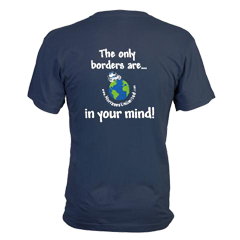 Check out the new Gildan Performance cotton-feel t-shirt - 100% poly, feels like soft cotton!

What turns you on to motorcycle travel?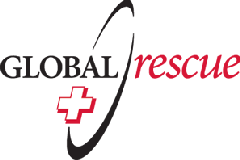 Global Rescue is the premier provider of medical, security and evacuation services worldwide and is the only company that will come to you, wherever you are, and evacuate you to your home hospital of choice. Additionally, Global Rescue places no restrictions on country of citizenship - all nationalities are eligible to sign-up!
New to Horizons Unlimited?
New to motorcycle travelling? New to the HU site? Confused? Too many options? It's really very simple - just 4 easy steps!
Horizons Unlimited was founded in 1997 by Grant and Susan Johnson following their journey around the world on a BMW R80 G/S motorcycle.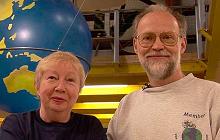 Read more about Grant & Susan's story
Membership - help keep us going!
Horizons Unlimited is not a big multi-national company, just two people who love motorcycle travel and have grown what started as a hobby in 1997 into a full time job (usually 8-10 hours per day and 7 days a week) and a labour of love. To keep it going and a roof over our heads, we run events (22 this year!); we sell inspirational and informative DVDs; we have a few selected advertisers; and we make a small amount from memberships.
You don't have to be a Member to come to an HU meeting, access the website, the HUBB or to receive the e-zine. What you get for your membership contribution is our sincere gratitude, good karma and knowing that you're helping to keep the motorcycle travel dream alive. Contributing Members and Gold Members do get additional features on the HUBB. Here's a list of all the Member benefits on the HUBB.
Books & DVDs

All the best travel books and videos listed and often reviewed on HU's famous Books page. Check it out and get great travel books from all over the world.

MC Air Shipping, (uncrated) USA / Canada / Europe and other areas. Be sure to say "Horizons Unlimited" to get your $25 discount on Shipping!
Insurance - see: For foreigners traveling in US and Canada and for Americans and Canadians traveling in other countries, then mail it to MC Express and get your HU $15 discount!
Story and photos copyright © All Rights Reserved.
Contact the author:
Editors note: We accept no responsibility for any of the above information in any way whatsoever. You are reminded to do your own research. Any commentary is strictly a personal opinion of the person supplying the information and is not to be construed as an endorsement of any kind.
Hosted by: Horizons Unlimited, the motorcycle travellers' website!
You can have your story here too - click for details!