2005 Central Africa
January 13, 2005 GMT
2005 - Cameroon, Gabon and Congo
Well it is fair to say that we both heaved a big sigh of relief when we approached the Nigeria/ Cameroon border and entering Cameroon meant we were finally in Central Africa.....now we are really getting somewhere!!
The Cameroon border was perfect, just what you would expect a border in the rainforest to look like..... a series of huts on either side of an old iron bridge which spans the river separating the two countries!

The bridge
Both sides were straightforward and we were through into Cameroon before the morning mist had disappeared, which was a good job when we saw the road we were going to have to negotiate. We had been warned the road was bad and I know that I have gone on about bad roads in previous updates, but this one really takes the biscuit. It is the major road connecting Nigeria and the Cameroon, but it was just mud, really, really slippy deep, red mud. We had 60kms to cover to get to the first major town, Mamfe and it took the whole day. It is hard to describe the mud carnage, which was this road, but imagine a giant Digger had gone mad, carving huge craters and ridges, randomly into the mud and you won't be far wrong. We have often read about 'holes as big as a lorry', but never really understood......now we do!!! Sometimes we were riding in holes 10ft deep and wondering how on earth we were going to get out of the other side! At some of the worst spots, local villagers had carved neat little diversions through the thick rainforest, which they were more than happy for us to use for a small fee...( we were later informed that these same villagers go out at night and REALLY mess up the road, so you have to use their diversion......very enterprising!!!). After a full day of slow going we finally arrived in Mamfe caked in mud. I am pleased to say that I only fell off the bike once the whole way and that was because Paul pushed me into a ditch....accidentally of course!!! Luckily an old guy built like the incredible hulk was around to help extract me and the bike out of the hole!
Mud Mud Glorious Mud !

We were in desperate need of a hot shower and a beer, so we checked into a hotel and had a cold shower and found they only served Guinness Smooth ....typical! After a quick trip around town in search of the amber nectar we realised that our troubles were not yet over. There was no beer in the whole town because the beer lorries were stuck on the stretch of road we needed to cover tomorrow......it gets worse....they had been stuck for 2 months!
So after a couple of bottles of Guinness Smooth we decided to get an early night and prepare ourselves for more mud! Just as we thought the road was bad, maybe worse than the day before and we passed lots of lorries and 4x4's stuck in the mud. When we reached the beer lorries there wasn't much stock left, but everyone was in high spirits and still digging after 2 months on this god foresaken road. The people in this part of Cameroon have a standard phrase, which I think they must learn at school....'You see how we suffer here in Africa'...and I have to admit that I do see!!! The town of Mamfe is effectively cut off for most of the year and the poor people have to survive with only Guinness Smooth to ease their pain.....nightmare!!
Well, step by muddy step we managed to make it to tar road at Kumba in 1 day. It was hard work and we only had one mishap, but this time it was Paul who fell off a muddy rigde and landed in a thorn bush....ouch!
Luckily, Kumba had no problems with its beer supplies and so we had a well-deserved beer (or 5) to celebrate reaching the tar road!!!
Our original plan was to head into the north of Cameroon where the roads are notoriously bad, but after the last couple of days we decided to give it a miss and head straight for the coast. I am sure we have missed out on some wonderful parts of the country, but when the roads are bad it is impossible to enjoy the scenery, so we chose the easy life and headed to Limbe, a coastal town at the foot of Mount Cameroon. We were feeling a bit jaded after the last few days so we decided to treat ourselves and checked into a lovely seafront hotel….. with swimming pool no less, where we had our own little bungalow..... luxury! It certainly did the trick because after a day of lounging around the pool, we were both feeling much better!
Limbe


Unfortunately it didn't last...that evening Paul developed a really high fever and became very sick, very quickly. He started a Malaria treatment straight away, but I couldn't get the fever under control, so we decided to head to the hospital......and it was all we could have hoped for with the wards full of goats and chickens!! We paid our money and had the malaria test, which came out very positive, so the next stage was for Paul to be hooked up to a quinine drip for 5 hours in a mosquito infested room! I was running around annoying everyone making sure everything was sterile and even forced the nurses to use a needle we were carrying which resembled a large, fat javelin!! After 3 goes, Paul's arm was swelling up and the nurses were still digging hopelessly into him, so before Paul fainted I allowed them to use their tiny, easy-use needles….. I am so helpful!! When the drip was finished, I continued to help out by bringing Paul some oranges to eat (well, I thought fruit is what people bring to hospital patients), anyway, they proceeded to make him very sick, so I think it was fate that I didn't study medicine!!! On the bright side, the intravenous drug cocktail seemed to do the trick and after 24hrs we even did some low key sightseeing, the type fit for ill or old people, e.g. visiting the botanical gardens and driving to see a lava flow which flowed across a road when Mount Cameroon erupted in 1999. Actually that didn't go too well either because we forgot to take all our papers with us and nearly got the bikes confiscated at a police road block on the way!!

Big tree at the botanical gardens
After a few days recovering in the luxury beach side bungalow (with TV!) Paul was well enough to hit the road again and we headed south to the popular beach resort of Kribi. It was a lovely place and we found a cheap campsite right on the beach. Paul still wasn't 100%, but he managed a week of sun, sea, sand and sunbathing!

Kribi

Riding on the beach
Being ever so helpful again, I continued to pump him full of potent Malaria drugs, which didn't make him any better but was probably reducing his liver to the consistency of soggy bread. To add insult to injury, one night whilst he was feverishly shivering in the tent, someone stole his only boots from the tent......luckily they left mine or it would have been REALLY serious!!! We reported the incident to the police who bought a brand new exercise book and pen to record our statements. Such crime fighting professionalism gave us high hopes for the recovery of the stolen goods. Alas it was only Paul's offer of a $50 reward which got the wheels in motion and the villain was quickly identified, but when the police visited his house he was out……most inconvenient! Well, as much as we wanted to remain in Kribi to witness the outcome of the 'stolen shoes' investigation we only had a 3 month visa and so Paul had to bid an emotional farewell to his boots and contemplate riding to South Africa in flip flops!
Luckily we met Dan and Camiel (and Dan's dog Guinness), English and Dutch guys trying to build roads in Cameroon. After treating us to a huge seafood platter at a little restuarant south of Kribi, they invited us to stay at their place in the capital city, Yaounde and lent Paul a pair of shoes (saints)!!
In true free loader style, we couldn't get there fast enough to take advantage of their ex-pat food and satellite TV! We also needed to get Paul to a doctor because the medical care he had received from me and the African hospital wasn't doing him any favours!! Dan and Camiel helped us to find the 'fantastic Dr Poeschyl' a wonderfully German doctor. He looked at Paul's lab results from the hospital and said it was highly unlikely the Paul had ever had malaria ……and he was right, after further tests it turned out that he had had a virus, followed by a secondary bacterial infection ! Paul would probably have recovered very quickly had a Cameroonian lab technician not counted imaginary parasites in his blood sample, if 2 Cameroonian doctors hadn't reviewed the results and recommended malaria drugs and if I hadn't kept giving him more when they didn't work!!!
Luckily Dr Poeschyl came to the rescue and after a course of antibiotics we had the old Paul back online!!!
Now that he was well again, we could get back to the serious business of vegetating on Dan and Camiel's sofa watching TV and getting to know their cook, Francis and their housekeeper, Josephine (his wife) very well! We did leave the house a couple of times. Once to get a Gabon visa, once to replace Pauls stolen boots(!) and once to visit a primate sanctuary, where chimpanzee and lowland gorilla bush meat orphans are looked after. Chimps and gorillas live in the Cameroon jungle, but for many reasons the locals still hunt them and eat or sell the meat. They kill the parents but babies aren't worth taking so they get found and taken to the sanctuary, It is very sad, but the animals were all well looked after….. it is just a shame that the place has to exist at all. Oh we also went on a Hash Harriers run around Yaounde which basically involved running through sewage, shouting at the tops of our voices scaring the locals and some beers at the end - a very bizzare but fun event.
So after totally out-staying our welcome with Dan and Camiel, we dragged ourself from their sofa and back on the road to Gabon. The border was not far from Yaounde, but it was Sunday, so understandably the customs officer had decided to stay at home. In Africa a man is nothing without his stamp and the customs officer's assistant, although at work, was useless….I mean stampless, he had clearly not yet been deemed responsible enough to own his own stamp. Luckily, there was another border crossing down the road, so off we went to see if these guys had bothered turning up for work. On the way we were treated to a delightful ferry trip across a 5 foot stretch of water, which thanks to some wonderful African organisation took about 2 hours and Paul stood in a big pile of fresh pigs blood….hmmm!

From then on the border was plain sailing and we were in Gabon by nightfall. We found a delightful hotel in the centre of the border town, Bitam. Our room had all the essential characteristics of a cave (even Paul wouldn't use the shower), but it was cheap and they let us put our bikes into their disco to keep them safe! During the night we realised that the lock on the door was broken and had to wake the whole place up to go to the loo and then later on the wardrobe collapsed onto the bed and nearly gave us a heartattack…..oh and woke the whole place up again!!! Understandably we slipped away early the next morning and rode towards the capital of Gabon, Libreville. The road was brand new and cut through dense rainforest in beatiful sweeping curves, perfect for motorcycling.. The only other vehicles on the road were huge logging trucks, which are such a sad sight, but probably the only reason the road exists. Stopping along the road for a drink of water was totally unbearable because of all the insects living in the forest, it only takes them 30 secs to home in on your nostrils, ears and eyes and I got stung by a wasp for the first time in my life (……luckily I didn't slip into anaphylactic shock!).
About 100kms before Libreville we crossed the equator and after 5months had finally made it into the southern hemisphere!
Libreville is a nice city on the coast. There is a lot of money in Gabon and it is very expensive, so we headed straight for the Catholic Church to see if we could get a cheap room. It was Xmas week so the church was full with visiting missionaries, but they found us a place at a catholic mission up the road. We had a lot of stuff to do in Libreville. This was the last place we could get our Congo, Democratic Republic of Congo and Angola visas. Now I mentioned that it was Xmas week and we were staying in the most expensive city in the universe, so it was all destined to end in tears! Angolan visas are notoriously tricky, so we decided to tackle that first and got turned away by the security guard because it wasn't visa day….oh and Paul wasn't wearing shoes!! He told us to come back in 2 days and then it would take a minimum of a week to get the visa, not good news because we couldn't afford to hang around in Libreville for that long. We managed to pick up both Congo visas in less than 36hrs by going on the charm offensive and banked everything on being able to get the Angolan visa in a week, but with Xmas and New Year around the corner it was a gamble. We returned to the Angolan embassy 2 days later (Paul was wearing shoes this time) and although we were turned away by the receptionist at least we had got inside!! We returned again, filled in the forms and were told to pick up our visas the next day, Xmas eve….result!!!
Xmas eve we returned again to the embassy to find that the receptionist had fallen and hurt her knee on the way to work. Unfortunately, if the receptionist doesn't turn up then the embassy can't open! Paul made a big fuss and in the mean time the receptionist hobbled in fresh from the hospital ….. it was a miracle!!!
With our visas in the bag we spent Xmas day at the Catholic Mission, eating expensive imported food, like Pringles and Swiss Roll…perfect! Unfortunately we got pick pocketed on our way back from calling our folks, but he chose the wrong pockets because I only had snotty tissues up for grabs!!

Zoe and all her pressies
Boxing day we got out of Libreville as quick as we could and headed south towards The Congo. Due to all the visa confusion our transit visa for the congo didn't allow us to enter until the 2nd Jan, so we had a week to kill in Gabon. First stop was Lambarene, a beautiful town on an island in the middle of the Ogogue river. Along the way the rainforest started to open up a bit, but it is hard to say whether this is because the terrain was changing or if all the trees had already been chopped down !!! When we arrived in Lambarene it was really tipping down, so we headed straight for the Sisters of the Immaculate Conception Catholic Mission. The place was deserted because all but one of the nuns had gone to Libreville for Xmas...typical! We couldn't afford to stay anywhere else and the tent would never stand up to such heavy rain, so we hung around in the torrential rain for a couple of hours blowing our bike horns, until finally a little nun appeared looking a bit worse for wear with Malaria!! The rooms were nice if you don't mind spooky pictures of Jesus staring at you from all possible angles.
We stayed in Lambarene for 2 nights and the rain didn't stop the whole time we were there. We had specifically timed our arrival in Central Africa to hit a small dry season, but all the rain didn't bode well for us on the Congo's mud roads....oh well onwards and upwards! Over the next week we made our way slowly south to owards the Congolese border, staying in little towns along the way, getting bitten by insects and sweating profusely in the stifling humid climate!
On New Years eve we arrived in the town of Mouila and found a nice (cheap) hotel. Paul chose a room right next to the bar because we were going to PARTY, well it was New Years eve after all!! In the early evening things started to hot up at our hotel. Fairy lights and a couple of speakers were set up around the bar....it was clearly going to be a big night! Well until around 10pm, it was the fairy lights, the speakers and me and Paul.....oh and a really drunk man dancing on his own. Paul had his hair cut earlier in the day in anticipation of a big night and I was wearing lip gloss, so we were very disappointed, but then just after 10pm people started to arrive and by half past the place was full to the brim! Around midnight, Paul and I were waiting for the 'big countdown', but at about 12:08 we realised there wasn't going to be one, so we wished each other a happy new year, had another beer and went to bed. We actually managed to stay up about 5hrs longer than usual, so I think we did pretty well !!
The next morning the music was still playing and bodies were strewn around the bar, so it looked like the party continued just fine without us!
Our final stop was Ndende, the town on the Congolese border where we stayed in a great little hotel/petrol station and met some fantastic locals and logging truck drivers. We hung around there for 2 nights waiting for Immigration to open and stamp us out of Gabon. I was really starting to poo my pants now because this was the part of the trip I was really dreading. Apart from all the terrible images of civil war The Congo brings to mind, the roads are notoriously bad and the border is a one (or two) day ordeal. So we both thought the best plan of action would be to ensure we had the worst hangovers of our entire lives on the day we were entering Congo......excellent plan!

Sleeping off the hangover outside immigration

I must just mention that the Gabon/Congo border saga continues for about 100kms with customs, police gendarmerie and immigration all getting in on the act at various little shacks along the road. We arrived at the first border post and although the guards were friendly enough they made us take everything off the bikes and empty the contents of our bags out onto the floor, which we did with a big smile! I am not sure what they were looking for because they found a huge throwing knife in Pauls bag and all agreed it was a good idea to carry something like that for personal security!!! They also wote down all the details from our passports into a big book of details and then let us on our way.......this was to become a recurring theme. At the next post about 5kms down the roads didn't empty out our bags, but 3 people in the same office wrote down all our details (slowly) into their books, one after the other. I am sure it is vital that they all get our details into THEIR books, but it would have been nice if we didn't have to sit for 40mins though the entire process! Further down the road we were called into what looked like an outside toilet to have our details recorded again and here the policeman though Paul was either a film star or a commando, but he was sure he recognised him. Alas, Paul being famous didn't prevent the inevitable baggage emptying game and we had to tip everything out on the road again.
I won't recount all the border posts, but there were hundreds and each time our passport details were taken down. At one post, my name was recorded as 'Miss British Citizen' (which I thought made me sound like a beauty queen) and at another we had to sit for about an hour while the friendly immigration officer described the entire route through the Congo in minute detail, even mentioning large trees, the width of the road and ALL the cafes and bars along the way.....interesting, but PLEASE can you just stamp my passport and let me go!! I haven't yet eluded to the state of the roads....luckily, there hadn't been much rain and so the dirt roads were passable....they were just dotted with huge puddles. Paul got stuck in the middle of the first one and after a wet and muddy 10 mins getting him to the other side, we decide they were deep and muddy enough to warrant a 'scout'. This usually involved me wading up to my knees in muddy water scoping the best route through....nice !
Muddy puddles.


Congo was a stark contrast to Gabon. It is a very beautiful country, lush and green, but here the people have absolutely nothing. There was no traffic on the road, we saw one truck the whole day, there are no shops or even stalls in villages because no-one has any money to buy anything. There is no electricity, water...nothing. We hadn't anticipated this total 'nothingness' and although we hit the border early we still didn't have enough daylight left to get to Dolisie, the nearest town with fuel and accomodation! As the sun started to set the condition of the road became very bad, with muddy ruts and puddles and Paul slipped and nearly fell off. We had no choice but to call it a day and set up camp. We were on the outskirts of a small village and asked at a small hut if we could camp in their garden. The family were more than happy to let us stay and set up their ring-side seats in a semi-circle around the tent to maximise the staring opportunities! Even in the pitch black they were still staring......we couldn't see them, but we could feel them! We were totally wet and filthy, so it was no joke getting dressed in the morning. We had read that the Congolese take their appearance very seriously and it is certainly true that we were the dirtiest people I saw while we were there!


The muddy road was a lot easier to tackle in the daylight and riding in the morning mist was a really magical experience...ruined by the police road block in Dolisie, who made us empty all our bags out again. While Paul was obliging I was chatting to the officer inside who was probing me for my political beliefs. I tried to be as non-commital as possible while we dicussed the Iraq war, Tony Blair and terrorism. In many parts of Africa, politics and working for the government is all there is, so when I tried to tell him that my Dad was a double glazing salesman he was puzzled. To be fair double glazing hasn't really hit Congo yet!
Well, once we had picked all our stuff back off the pavement and packed it away, we entered Dolisie. This city was hit badly by the civil war and you can tell. It was obviously a beautiful city before the war, but now all the colonial buildings are riddled with bullet holes, giving the place a really eerie feel. We had to visit customs here......in Congo border formalities are never really over and we filled up our very empty tanks and headed back along the road we had come in on to join a new road, built by a logging company. The road cuts through the mountains to the coast and is magnificent.Unfortnuately the huge logging truck pounding the road means it is pretty badly corrigated and so by the time we arrived in Pointe Noire on the coast we were VERY aware of the exact position of each of our kidneys. It had been a very long day of uncomfortable riding and we were still covered in mud from the day before, so we deciede to splash out and stay in a hotel. Congo is cheap compared to Gabon and so we found a lovely little box room with air con, TV and hot shower! We quickly made it look like the gypsies had moved in with laundry hanging from all available surfaces, but it was nice to have a bed and to be clean!
Pointe Noire is obviously where every penny of the money in Congo resides. It is oil company country and the very few people who benfit from Congos huge oil reserves live in Pointe Noire in huge houses along the beach. It is a thoroughly sickening sight and obviosly the well guarded presidents house is the biggest of them all. Saying that though, after the last few days, we were selfishly enjoying the air con and hot shower and spent some time on the beach and even bought some souvenirs before our visa ran out.
The coastal route through Congo involves crossing into Cabinda an Angolan enclave. We had heard from a couple of other bikers ahead of us that you could get a ferry from Cabinda to Luanda, the Angolan capital. We thought it would be a change to travel by sea and so left Congo for Cabinda in search of the ferry. Cabinda was a bizarre experience for lots of reasons. We had been in French speaking countries for the last 5 months and suddenly in this tiny enclave the size of Surrey, everyone speaks Portugese....a language we quickly realised we didn't speak one word of! Also, there was a heavy army presence along the road because rebels want to be free from Angola...(we actually met an exiled Cabindan rebel called ' Commando ' in the Congo!). But the wierdest thing of all happened when we arrived in Cabinda city and found the port. We were asking around for information about the ferry to Luanda (well not really asking, more signing) and a TV crew came up to us and asked if they could interview us for Angolan TV. We rode around the port carpark a few times so they could get some 'good shots' and the interviewed us on camera about our trip! It was so funny, but I think we were both great........stars in the making! After the interview Paul found a man who spoke a bit of English, who also happened to be an agent who sold tickets for the Luanda ferry, which just happened to be leaving in 2 hrs. I couldn't beleive it.....these kinds of coincidences happen on other peoples trips. We usually arrive 2 hrs AFTER the ferry has left and have to wait for 2 weeks for the next one! Anyway, we went with our good fortune and in all the excitment bought 2 tickets for us and our bikes....
Waiting at the waters edge I was really glad to see it was a brand new boat. The captain took a real shine to me, so I left Paul pondering how we were going to get two bikes 8 ft down from the dock to the boat, while the captian showed me around the first class lounge (not where we would spend the night!!) and the cockpit where he tried to get my phone number! The ferry had a crane, but the captain had parked the boat the wrong way round, so the crane couldn't reach the dockside. Instead of turning the boat around they decided to load the ferry by hand........the African way! The bikes were last to be hauled on. At first Paul was being goaded into riding his bike along the 6inch x 3ft gang plank, with a 20ft drop into the sea at either side. He tried it , but once his feet were dangling over the sea he decided there must be a way of getting the bike on the boat without him risking his life....once for each bike!! In true Africa style the bikes were hauled by people power across the gang plank (with Paul nearly having an epileptic fit), where the crane could reach them . I won't go into where the ropes were tied...needless to say neither of us could watch our babies dangling precariously, but the bikes were both safely deposited, no maybe not safely, but deposited, on the deck!!

We settled ourselves into the 'standard class' seats and prepared for the 14hr trip overnight through the oil fields to Luanda! It was actually nicer than any hotel we had stayed in so far, there was a bar, a shower and it was practically empty so we could lie down across the seats...perfect. As the boat pulled away from the dock Paul went for a shower.....as he was leaving I suddenly realised what a ridiculously stupid idea this had been. The boat was tiny and was leering on the choppy sea. I could see 14hrs of nausea hell stretching out before me. I lay down and tried deep breathing which kept the contents of my stomach where they belonged, but thats all and we were about 8 mins into the journey! Paul returned from the shower looking 'ashen'! Standing in a windowless cubicle hadn't done him any favours either and so we spent the next 14hrs horizontal, breathing deeply! What on earth were we thinking???
During the night I sat up a couple of times for a sip of water and saw hundreds of oil rigs lighting up the sky with their flames...quite a sight, but I couldn't dwell and had to lie back down pretty quickly! Well, after 14hrs of hell we finally arrived on dry land in Angola, Southern Africa!
Enter your email address to receive updates to Paul and Zoe's trip story!
Recent Entries
Archives:
Archives:
Monthly
Archives:
Category
NEW! HU 2015 Motorcycle Adventure Travel Calendar is now available! Get your copy now for some terrific travel inspiration!
HUGE, 11.5 x 16.5 inches, beautifully printed in Germany on top quality stock! Photos are the winning images from over 600 entries in the 9th Annual HU Photo Contest!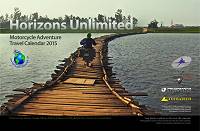 "The calendar is magnificent!"
"I just wanted to say how much I'm loving the new, larger calendar!"
We share the profit with the winning photographers. YOU could be in the HU Calendar too - enter here!
Next HU Events
NEW!

USA Virginia: Apr 9-12, 2015
Canada West: Aug 20-23, 2015
USA California: Sep 24-27, 2015
Aus Queensland: Sep 24-27, 2015
USA North Carolina: Oct 8-11, 2015
Aus Perth: Oct 9-11, 2015
Take 40% off Road Heroes Part 1 until October 31 only!
Road Heroes features tales of adventure, joy and sheer terror by veteran travellers Peter and Kay Forwood (193 countries two-up on a Harley); Dr. Greg Frazier (5 times RTW); Tiffany Coates (RTW solo female); and Rene Cormier (University of Gravel Roads).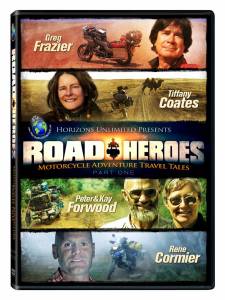 "Inspiring and hilarious!"
"I loved watching this DVD!"
"Lots of amazing stories and even more amazing photographs, it's great fun and very inspirational."
"Wonderful entertainment!"
Check it out at the HU Store! Remember to use Coupon Code 'HEROES' on your order when you checkout.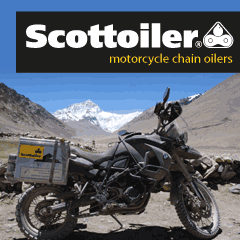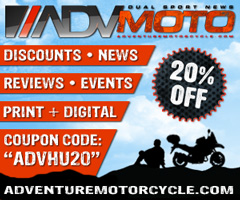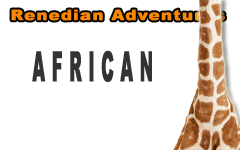 What others say about HU...
"I just wanted to say thanks for doing this and sharing so much with the rest of us." Dave, USA
"Your website is a mecca of valuable information and the DVD series is informative, entertaining, and inspiring! The new look of the website is very impressive, updated and catchy. Thank you so very much!" Jennifer, Canada
"...Great site. Keep up the good work." Murray and Carmen, Australia
"We just finished a 7 month 22,000+ mile scouting trip from Alaska to the bottom of Chile and I can't tell you how many times we referred to your site for help. From how to adjust your valves, to where to stay in the back country of Peru. Horizons Unlimited was a key player in our success. Motorcycle enthusiasts from around the world are in debt to your services." Alaska Riders

10th Annual HU Travellers Photo Contest is on now! This is an opportunity for YOU to show us your best photos and win prizes!
NEW! HU 2014 Adventure Travel T-shirts! are now available in several colors! Be the first kid on your block to have them! New lower prices on synths!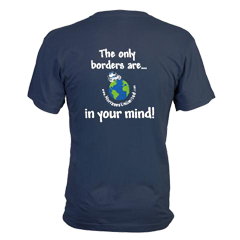 Check out the new Gildan Performance cotton-feel t-shirt - 100% poly, feels like soft cotton!

What turns you on to motorcycle travel?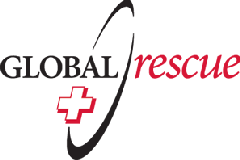 Global Rescue is the premier provider of medical, security and evacuation services worldwide and is the only company that will come to you, wherever you are, and evacuate you to your home hospital of choice. Additionally, Global Rescue places no restrictions on country of citizenship - all nationalities are eligible to sign-up!
New to Horizons Unlimited?
New to motorcycle travelling? New to the HU site? Confused? Too many options? It's really very simple - just 4 easy steps!
Horizons Unlimited was founded in 1997 by Grant and Susan Johnson following their journey around the world on a BMW R80 G/S motorcycle.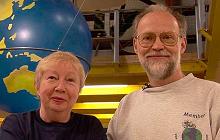 Read more about Grant & Susan's story
Membership - help keep us going!
Horizons Unlimited is not a big multi-national company, just two people who love motorcycle travel and have grown what started as a hobby in 1997 into a full time job (usually 8-10 hours per day and 7 days a week) and a labour of love. To keep it going and a roof over our heads, we run events (22 this year!); we sell inspirational and informative DVDs; we have a few selected advertisers; and we make a small amount from memberships.
You don't have to be a Member to come to an HU meeting, access the website, the HUBB or to receive the e-zine. What you get for your membership contribution is our sincere gratitude, good karma and knowing that you're helping to keep the motorcycle travel dream alive. Contributing Members and Gold Members do get additional features on the HUBB. Here's a list of all the Member benefits on the HUBB.
Books & DVDs

All the best travel books and videos listed and often reviewed on HU's famous Books page. Check it out and get great travel books from all over the world.

MC Air Shipping, (uncrated) USA / Canada / Europe and other areas. Be sure to say "Horizons Unlimited" to get your $25 discount on Shipping!
Insurance - see: For foreigners traveling in US and Canada and for Americans and Canadians traveling in other countries, then mail it to MC Express and get your HU $15 discount!
Story and photos copyright © All Rights Reserved.
Contact the author:
Editors note: We accept no responsibility for any of the above information in any way whatsoever. You are reminded to do your own research. Any commentary is strictly a personal opinion of the person supplying the information and is not to be construed as an endorsement of any kind.
Hosted by: Horizons Unlimited, the motorcycle travellers' website!
You can have your story here too - click for details!