2004 Ghana
November 01, 2004 GMT
2004 - Praise the Lord, they speak English!!!
As we crossed over into Ghana, we were faced with a huge sign...'Welcome to Ghana'. How fanatastic!
It was then that we realised how wonderful it was to be in an English speaking country again! I have enjoyed speaking French, but I would be lying if I didn't admit to a bit of relief!! The difference when you cross the border into Ghana is striking. Suddenly everything is smarter, newer and cleaner. There are tar roads, schools everywhere and kids wearing unforms swarm the streets and another thing we hadn't seen for a while, shops with doors! It is immediately obvious there is more money here. That is not surprising becasue we had come from Mali, one of the poorest countries in the world, I think it ranks 3rd at the moment and Burkina Faso isn't far behind.
Ghana also has a quite well developed tourist industry compared to the other countries we have been to and most of the attractions are 'eco-tourism projects'. This means you have to pay to visit certain places e.g waterfalls, villages, but the money goes into protecting the area and supporting the local people. This is fine in theory, but in reality it means whenever you go somewhere you have to be accompanied by a local guide. We like to wander around on our own, go wherever we like, for how long we like and so constantly having to have a 'guide' gets really annoying....anyway enough moaning!
We spent our first night in Ghana in Bolgatanga and it was immediately obvious that there are even more people in Ghana than in Burkina and it was virtually impossible to find somewhere to camp without attracting an army of starers, so we relented and found a hotel! To ease the damage to our wallets we opted for some street food for dinner and ate Fu-Fu with soup. It is hard to explain what Fu-Fu tastes like, but if you imagine a mixture of semolina, mashed potato and snot, you wouldn't be far wrong! You get a plate of piping hot fu-fu and soup and have to eat it with your hands, which makes the process quite slow for us novices! Breakfast was the staple of omlette sandwich and sweet coffee, which we have both become addicted to and we made our way east to the Gambarga escarpment and the Red Volta Valley on the Togolese border!

This part of Ghana has had some problems with Cheiftans fighting and so there is a huge (but freindly) Police presence. What this means to us is a police road block every 5 mins.... they see us coming and can't wait to stop us to find out where we are from, how many cc the bikes are, how much we will sell them for etc etc. There is always a big shock when I take off my helmet ...'oh my god its a lady!' 'how can a lady ride a bike like this?' This is fine for the first couple of times, but after 10 or so it gets tiring becauue we make such slow progress! However, the Ghana Police force have been useful in informing us at each road block that we need to have some children ....at least one. Apparently I am getting too old and Paul has been warned not to let me ride a motorbike for much longer because it will weaken my back and thus my child bearing capabilities! After riding along some beautiful roads we saw the Gambarga escarpment through the trees. Jonny, a Policeman at one of the road blocks had assured us it was breathtaking and he was right! We camped in the garden of the Government Guesthouse in Nakpanduri, a town at the top and on the edge of the escarpment. Unfortunately we were attacked by sweat bees trying to get into our eyes, ears, noses etc.....and so had to call it a night and escape to the tent at about 4pm!!!!
It was Pauls birthday on Oct 16th and so we decided to spend it at Mole Game Reserve in the North of Ghana. The main attraction is that the campsite and hotel etc sit in top of a small hill overlooking a watering hole where elephants come every day to play! We certainly weren't disappointed....we got a great spot for the tent on the edge of the hill and so when we opened our tent in the morning we were faced with an amazing view of the park and 10 elephants playing in the water below us. The park also had a swimming pool, so we stayed there for about 5 days!!!
One day we were walking to the local village to buy some bread and had to walk right past 2 elephants.


As usual, Paul was very protective of me and just started running without saying a word......at least he didn't use me as a human shield, like he does with bees!!!! There are no fences around the campsite and the animals can walk right in and so there are baboons, monkeys and warthogs everywhere! This is great until the baboons sit in the tree above your tent and poo and wee all over it......luckily we had the waterproof cover on!!!

We cooked a special birthday Yam curry for Pauls birthday and I gave him a fan I had made out of palm leaves...very 'at one with nature'!!

Not only was Mole a magical place to spend Pauls birthday, but we met some wonderful people, Wouter and Janneke from Holland in Takker their red landrover, who are travelling to South Africa as well, Sam and Lauren from Canada and France on a holiday from their jobs in Benin on a 125cc motorbike, Chris, a South African who works as a community liason officer at the game reserve and Charlie his boss.

We spent all our time sunbathing by the pool and drinking beer with everyone....perfect! Eventually though it was time to move on!

We tried to set off, but I had a flat battery!!! We managed to bump start the bike and made it to the nearest village, where we met Aziz, the truck mechanic with a battery charger at his house, who got us on our way!!!

Ghana has a huge dam, the biggest in the world (or in Arfica, I can't remember, but who would know except my Auntie Moira!!), which is the size of Wales. The road down the east of the dam along the Togo broder was supposed to be beautiful, so we decided to take that route to the coast....and the long awaited beach!
The first day was dusty and there were lots and lots of police road blocks becasue we were back in the land of Cheiftan unrest!!! In Mole, Chris had given us the name of one of his South African friends, Peter, who is working to set up a new game reserve in Nkwanta. As it was on our route, we stopped off and luckily Peter was having lunch at his hotel!! We must look pretty scary when we arrive somewhere because after a day on durt roads we are covered from head to toe in red dust....nevertheless Peter invited us to stay and we had a great evening around a braai eating borewors and yam chips (I find you can never have enough Yam!), listening to Peters stories about being a game ranger, which mostly involved lions/motorbikes and punctures!!!. The next day Peter took us to see the site of the new park he is developing, which was really interesting and afterwards we had a continental breakfast at the hotel, with tea and milk AND butter....how exciting!
Next stop was the Wli waterfalls, an eco-tourism project we had decided to visit!! The road from Nkwanta to Wli, was amazing, it was like riding through the jungle, with thick tropical forest on either side of the road and the mountains which form the border with Togo in the distance. The waterfalls at Wli were also gorgeous and although we had to have a guide we are pleased we saw it! The falls were in the forest and mountains, so once up there we ditched our guide and had a swim and some lunch. Around the falls are hunderds of fruit bats just hanging around...literally....it is quite a sight!
Wli was lovely and we could have stayed near the falls for longer, but we wanted to get to the coast, so reluctantly we packed up and headed for the sea. On the way we stayed one night in Ho with Alette and her son, a Dutch development worker we met in Nkwanta. Yet another wonderful person, who invited us to stay!
On our way to Kokrobite on the coast we stopped to have a look at the dam wall which is holding back such a huge lake......it is not really a wall...more a pile of rubble! Lets just say I wouldn't fancy living in the surrounding neighbourhood!
Ok, so I have been going on and on about getting to the coast and we did finally make it to Kokrobite, where we stayed at Big Millys Backyard campsite on the palm fringed beach! Paradise! It turned out Big milly was a small white woman from England called Wendy but despite this we have just been hanging out there ever since...swimming, sunbathing ... its a hard life! Paul met a fellow bike enthusiast, Abu Rasta and so they have spent the last week fiddling with the bikes, while I caught up on some reading!!! By some strange coincidence we met Wouter, Janneke (and Takker) and Sam and Lauren again here. It was the Mole Game Reserve gang reunion! Although our beach BBQ was rained off on Friday night, Saturday night at Big Millys (our last night) was wicked! There was live music and hundreds of people showed up and we spent the night boogeying to Reggae!
We have come to Accra to meet Chris, Peter and Charlie for a beer or two and so we left Wouter and Janeke in Kokrobite. They have decided to ship Takker to SA and unfortunately we didn't manage to change their minds. It would have been really good fun to travel with them for a bit longer.....although Wouter always shames me into doing my own washing, so maybe it is a mixed blessing!!!
Well now we are heading along the coast of Ghana for some more beach therapy, so the next installment should be more of the same....... beaches, palm trees and sunbathing....I'll bet you can't wait!
PS. Happy Birthday Mum!!!
November 14, 2004 GMT
2004 - The Gold Coast
Last time I wrote we were in Ghana, about to head out along the coast to sample some beaches (.....for a change!) and now we are in Cameroon, doing much the same. Well rest assured it has been a very stressful month in the life of a professional traveller, I mean 'adventure motorcyclist'!!!

So, we headed out of Accra, to sample the 'Gold Coast' and see what beaches we could occupy for a couple of weeks!

The Ghana coast is littered with swanky beach resorts......you know the type, porters to carry your towel, everyone calls you sir/madam.

It is debatable whether we would be allowed into these places in our dusty bike gear, but in any case we didn't come to Africa to spend time in a pseudo-Hilton hotel.......oh and we can't afford them (which could be the REAL reason!). Using Pauls sixth 'beach' sense, we quickly sniffed out our first destination, a place called the Brenu Beach Resort, about 2hrs from Accra and near to the colonial capital, Cape Coast. This is what I call 'affordable paradise'.... no porters or air-con, but beautiful, deserted (except for the goats), sandy, palm fringed beaches and a beach bar serving cold beer.....perfect !
The sea along the coast is very difficult to swim in, with strong current and big waves, so most people just paddle. Brenu was no different and I gave up after the third time the side current took my bikini bottoms and planted my forhead unceremoniously in the sand!!! Obviously, Paul spent the whole 5 days we were there 'body surfing' in the 15 foot waves, giving me a heart condition watching for his little head bobbing out to sea!!!


It was here that we met some fellow Brits, Dwayne, Angie and Martin and so of course we shared a few beers! My only job during our stay in Brenu was to call a KTM dealer in Togo and find out if they had some replacment rear tyres for the bikes. I put it off and put it off , I was dreading speaking French over the phone.....you can't use hand signals! Eventually, I couldn't stall any longer and made the call, in appauling French we found out they did have some tryes which would fit......this was really good news because our tyres were totally bald, in keeping with all the other vehicles on the road in Africa!
After 5 days we decided to head further east along the coast towards Ivory Coast (at the same time everyone else was fleeing the other way because it had all just kicked off again!). The road was great, with lush jungle on either side, the only obstacle being the Police road block where Paul got hit by a passing truck carrying about 20 tonnes of berries and broke his wing mirror!! We saw signs for a beach hotel and decided to check it out. The Axim Beach Hotel sits on one of the worlds top 100 beaches...and you can tell, it was wonderful. The hotel was a series of lodges perched on top of a cliff overlooking the sea and we thought there were 2 chances they would let us camp, but amazingly they let us pitch our tent right on the beach and clutter the whole place up!

Our friend for the week was Emmanuel or 'Manu Red', the hotel life guard, cook, thatched roof builder and deep sea fishing expert!! Manu, who was totally orange, hence his name, also showed us his somewhat disturbing method of catching land crabs, involving a tin can, some elastic and a bit of potato.....shame!
Well, yet again we embarked on a week of swimming and sunbathing, but this time we also added in a bit of boogy boarding on the hotel boards!
The Gold Coast, for all its beauty has a quite sinister past, being a hot bed for shipping out slaves during the slave trade. The coastline is dotted with old forts built by Europeans to defend trading posts, but which were later used to imprison slaves. We had to start making our way back to Accra for our Nigerian visas, but we decided it would be really awful to come all this way and not move our buts off the beach long enough to see at least one fort, so we left Axim and headed to Prince's Town, where you can stay in the old German fort overlooking the town.

We had had glorious weather for our entire stay in Axim, but on the morning we were leaving there was a huge downpour and so consequently the roads were a mud bath.....typical. It was only 12 miles of dirt road to Prince's Town, but it took most of the morning and we arrived at the fort blathered in mud!
It was worth it though, the fort was great. It was perched on the top of a cliff overlooking the beachside town on one side and a stretch of palm fringed beach backed by a Mangrove lagoon on the other. Part of it had been converted into a hostel, but it was all falling apart with long dusty corridors and creaking floor boards.....fantastic!! When we arrived the caretaker, John, was so excited to see us, he almost woke up...but not quite...he fitted in perfectly. It is like a place that time forgot! We decided not to take a room and slept on the ramparts overlooking the town under a bamboo shelter, which was lucky because it rained in the night!! The next morning we wanted to give the road a little bit of time to dry before we left, so we walked into the town and managed to borrow a dug out canoe for a quick trip into the mangroves. The river was beautiful, but the dug-out was a nightmare to steer and we had these useless paddles that looked like they were made for a Cindy Doll's House canoe.

Luckily, a large group of locals gathered to watch us as we struggled to get away for the river bank and then proceeded to go around in circles until Paul finally got the hang of it!! As soon as I stepped into the dug-out tree trunk and sat on the piece of wet bamboo/seat, I instantly remembered how much I hate canoeing of any description, especially with a tooth pick for a paddle!! Nevertheless we soldiered on up the river and Paul saw 2 mongooses attacking a massive snake in a tree, but after 30mins we decided to head back to the fort, to pack up and get on our way. Unfortunately the weather had other ideas and as soon as we were on our bikes ready to leave there was a HUGE thunder storm! When the rain finally stopped it was late afternoon and the road was imassable, so we had no choice but to stay for another night and hope the rain held off........it did and we spent another night outside on the ramparts, watching the sunset, then the stars!
The next day was, November the 13th, a hugely important day in the calender....my birthday! We woke up with the sun rise and Paul had arranged with our entusiastic caretaker to have a fresh fruit salad breakfast delivered. Normally we have coffee and biscuits, so the fresh fruit was a real treat, and we ate it sitting in the castle walls, watching the sun rise over the beach. Next thing Paul has produced a ring and proposed........ as you can imagine I nearly had a heart attack and almost ended up falling off the wall into the banana trees below!!! What a birthday! All this romance aside, the weather was dry and so we had to get out of Prince's Town while we could, so we packed up and set off before anymore rain clouds appeared over the horizon!! Well, the road was BAD......my job was to scope out puddles with a stick or if they were too big, get my shoes off and wade in to find the best route through...great, I always get the good jobs!

The biggest one was about thigh deep and 50m wide with a wet slimy mud bottom...oh I didn' t mention my other job is to push the bikes from behind through deep mud. Consequently when we finally hit the tar road I was covered...and I mean covered from head to toe in thick red mud...nice! Instead of going straight back to Accra, we decided to celebrate my birthday and our engagment (I said yes by the way!) at a place we had heard about called the Green Turtle Lodge owned by a young English couple.

The place was yet again paradise and we splashed out on a slap up meal and we even paid for someone to do all our washing......I wish it was my birthday every day!

Well, it is all very well celebrating, but we had to get down to the serious business of getting a Nigerian visa, which we had heard can be a bit tricky, so we reluctantly headed back to Accra. Like good British citizens always do, we arrived at the Nigerian embassy bright and early Monday morning only to find it was a National Holiday for Ramadan.....typical ...and they only issue visas on Mondays and Wednesdays...typical again! This is the Nigerian embassy we are talking about though, and true to form the security guard said he could organise for the visas to be processed on Tuesday, even though it wasn't visa day...if we 'made him happy'. We wanted to get out of Accra asap, so we took him up on his offer and came back the following morning. It seemed a lot of people had been offered the same priveledge because the place was crawling with people getting elicit visas!! After parting with an extortionate 55 dollars each we also had to produce proof that we had enough funds to finance our trip and an invitation letter from someone living in Nigeria, proving they knew we were coming.......it is clearly the job of emassy staff to protect their lawless, corrupt state from happless travellers without any money turning up unannounced on the doorstep of unsuspecting Nigerians!! A quick trip to an internet cafe and half an hour on Word and we produced very professional proof of our healthy financial situation and a letter of introduction.....isn't word processing fabulous! So after making the guard 'reasonably' happy (it was a Yorkshire bribe!!), we picked up our visas the following day and headed out along the coast towards the Togo border stopping for the night at a place called Cocoloco Beach, which was 'allegedly' owned by one of Bob Marley's Wailers.

The place was a bit like a prison compound on the beach and to be honest I would have been a wailer if I lived there too!
Next stop Togo...

Enter your email address to receive updates to Paul and Zoe's trip story!
Recent Entries
Archives:
Archives:
Monthly
Archives:
Category
Now that summer is here, get On the Road! Take 30% off the Achievable Dream - On the Road! 2-DVD set until August 31 only.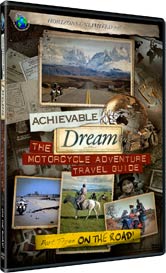 Our veteran travellers share their tips (and great stories) for staying healthy, happy and secure on your motorcycle adventure.
"A fantastic, informative and inspirational DVD."
"It's brilliant - thank you very much!"
Check it out at the HU Store! Remember to use Coupon Code 'ONTHEROAD' on your order when you checkout.
Next HU Events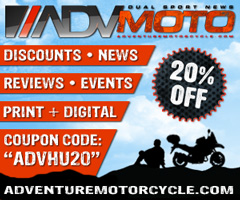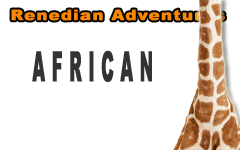 What others say about HU...
"I just wanted to say thanks for doing this and sharing so much with the rest of us." Dave, USA
"Your website is a mecca of valuable information and the DVD series is informative, entertaining, and inspiring! The new look of the website is very impressive, updated and catchy. Thank you so very much!" Jennifer, Canada
"...Great site. Keep up the good work." Murray and Carmen, Australia
"We just finished a 7 month 22,000+ mile scouting trip from Alaska to the bottom of Chile and I can't tell you how many times we referred to your site for help. From how to adjust your valves, to where to stay in the back country of Peru. Horizons Unlimited was a key player in our success. Motorcycle enthusiasts from around the world are in debt to your services." Alaska Riders

10th Annual HU Travellers Photo Contest is on now! This is an opportunity for YOU to show us your best photos and win prizes!
NEW! HU 2014 Adventure Travel T-shirts! are now available in several colors! Be the first kid on your block to have them! New lower prices on synths!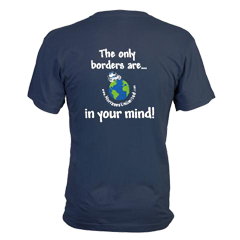 Check out the new Gildan Performance cotton-feel t-shirt - 100% poly, feels like soft cotton!

What turns you on to motorcycle travel?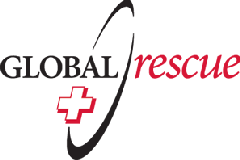 Global Rescue is the premier provider of medical, security and evacuation services worldwide and is the only company that will come to you, wherever you are, and evacuate you to your home hospital of choice. Additionally, Global Rescue places no restrictions on country of citizenship - all nationalities are eligible to sign-up!
New to Horizons Unlimited?
New to motorcycle travelling? New to the HU site? Confused? Too many options? It's really very simple - just 4 easy steps!
Horizons Unlimited was founded in 1997 by Grant and Susan Johnson following their journey around the world on a BMW R80 G/S motorcycle.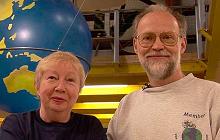 Read more about Grant & Susan's story
Membership - help keep us going!
Horizons Unlimited is not a big multi-national company, just two people who love motorcycle travel and have grown what started as a hobby in 1997 into a full time job (usually 8-10 hours per day and 7 days a week) and a labour of love. To keep it going and a roof over our heads, we run events (22 this year!); we sell inspirational and informative DVDs; we have a few selected advertisers; and we make a small amount from memberships.
You don't have to be a Member to come to an HU meeting, access the website, the HUBB or to receive the e-zine. What you get for your membership contribution is our sincere gratitude, good karma and knowing that you're helping to keep the motorcycle travel dream alive. Contributing Members and Gold Members do get additional features on the HUBB. Here's a list of all the Member benefits on the HUBB.
Books & DVDs

All the best travel books and videos listed and often reviewed on HU's famous Books page. Check it out and get great travel books from all over the world.

MC Air Shipping, (uncrated) USA / Canada / Europe and other areas. Be sure to say "Horizons Unlimited" to get your $25 discount on Shipping!
Insurance - see: For foreigners traveling in US and Canada and for Americans and Canadians traveling in other countries, then mail it to MC Express and get your HU $15 discount!
Story and photos copyright © All Rights Reserved.
Contact the author:
Editors note: We accept no responsibility for any of the above information in any way whatsoever. You are reminded to do your own research. Any commentary is strictly a personal opinion of the person supplying the information and is not to be construed as an endorsement of any kind.
Hosted by: Horizons Unlimited, the motorcycle travellers' website!
You can have your story here too - click for details!