August 25, 2007 GMT
2007 - Malawi
For 2 inherently work shy individuals it was great to back on the road again!! This time we were heading for the south of Malawi and were planning to go up its entire length. First of all we had to cross the tea plantation region of Mozambique, which was the nicest part of the country we had seen so far, with its rolling hills and hairpin bends. Paul managed to smash the second number plate I had made him, having fun on the dirt roads, but apart from that we arrived in Malawi and Mount Milange unscathed!

Paul fitting his nice new number plate



Broken already!!


Milange is on the border with Mozambique and is also a tea plantation area, with tea as far as the eye can see all around the foothills of the mountain. The area is very beautiful and reminded me of Limbe at the foot of Mount Cameroon and also Kirstenbosch Botanical Gardens on the side of Table Mountain. I had never seen tea growing before, but by the time we arrived at the camp site (a bit of sad looking grass surrounding the swimming pool at the golf club) I had seen enough tea and tea pickers to last me a life-time!
The golf club was bizarre – like going back in time into the colonial days and it seemed rude not to have a Malawi gin and tonic on the verandah overlooking the 9th hole and the mountain!


View from golf club bar


It is terrible to say, but it was great being back in an ex-British colony because the influences are still there, the most important being the food!! No more Portuguese muck….and on our first morning back in Malawi Paul cooked up a breakfast fry up!! Pork sausages and fried eggs and sliced bread - magic! They also have lots of South Africa rip off's. Instead of Simba chips they had Kimba, which leave you mouth a radio-active colour for days after and instead of EET SUM MOR biscuits they have HAV SUM MOR! A little lacking in quality, but better that the dodgy Mozambique equivalent, where biscuits would be burnt, lacking the promised custard filling or sometimes just back to front with 4 stuck together!
Paul wanted to take some pics of the tea pickers 'at work' so we decided to stay in Milange for a couple of days and go walking around the plantations. Obviously, this is Seymour's worse nightmare – wandering around on essentially private property… always looking over your shoulder waiting for the owner to come running after you and chase you off his property! Paul finds all this hilarious and was striding through the tea without a care in the world! Luckily we met a security guard who said we were welcome to wander around and so I could stop trying to hide behind the tea bushes and enjoy the day! Unbelievably we didn't see a single tea-picker all day, so you will notice the lack of pictures in the blog (!), but nonetheless it was a beautiful day and we certainly deserved our Malawi gin when we got back to camp!!

All this tea and not a cuppa in sight


I think I may have mentioned Paul's quest for Benzene in some of the early entries, but if not, here is the background. Paul has spent the last 4 months looking for benzene to use in our petrol cooking stove. No matter where we are – however remote, or unlikely e.g a chemist, he will ask if they have benzene! In Mozambique, they didn't know what it was, but after trawling the entire town of Milange we found 2 bottles – amazing, he was like the cat that got the cream! So I can't carry hair conditioner because we don't have space, but apparently we have plenty of room for benzene!
Benzene packed away and the tea plantations done, we headed out of Milange along Robert Mugabe highway (nice touch!) to Blantyre, the biggest city in Malawi. Just outside the city we were stopped at a Police road block. Nothing unusual here it happens at least once a day, usually more, but at this one I managed to get myself arrested!
Completely innocently (that's what they all say!), we didn't have any 3rd party insurance because there was nowhere to buy it at the border and so after trying to fob off my expired English bike insurance the policeman told me "You are under arrest"! I felt it was time to take off my helmet and launch a huge charm offensive to avoid going to prison…or worse…paying a fine!!! It worked and they were very reasonable allowing us to go, on the condition we would buy insurance in Blantyre! Sadly, that meant we had to hang around in the city for 2 days as it was Saturday and everywhere was closed, but we occupied ourselves by exploring the city and sampling the delights every single ATM in the city in the hope of withdrawing cash!
Blantyre is an industrial city, so not much to talk about and the back-packers we stayed in was adjacent to the bus station, so equally uninspiring! We had camped in an empty spot under a shady tree and by the first evening we realized why it was empty! Sitting outside cooking our dinner as the sun came down, the bats arrived to eat the berries in the tree above us. They swooped in, grabbed a berry and relieved themselves of the last one they'd eaten!! Consequently we were pooed on all evening – I say we, but it was just me! Paul is a bigger target than me, but not a drop touched him and I got my trousers, chair flip flops and hat covered in bat crap…not a good night and every morning we had to swill down the tent after the bats overnight feast! Given our ridiculous position, Monday couldn't come soon enough and when it did we bought our insurance and headed out to try and locate some new front tyres for the bikes. Imagine KwikFit and its rows and rows of gleaming new tyres…Ok, we found a old Indian man called 'Papa' – the only tyre seller in Blantyre and he had 1 tyre, a 'Good Fortune' made in Vietnam, so we bought it, strapped it to the bikes and headed out of the city, north towards the Lake. We were heading over the Zomba Plateau toward Senga Bay and what the Lonely Planet promised to be Malawi's best campsite! The roads in Malawi are really good tar and because the country is so small the distances are nice and manageable between places, so we had to time to find another quality tyre in Zomba – a Chinese 'Golden Boy' and still made it to Senga Bay in the afternoon. Well the trusty LP didn't lie and it was a gorgeous campsite right on the beach on the edge of the lake, so we decided to stay for a while and enjoy the lake.


Camping on lake Malawi



This was our first encounter with the dreaded 'Long Way Down'. We met a couple who had been chatting to some of their support crew, who's job it was to move a day or so ahead of Ewan McGregor and plan his route and book accommodation – there's adventure for you! We had just missed them, so our chance of getting on TV was gone (….and my nappy rash had cleared up now, so I was available for bikini shots again – damn it!). Anyway, who would be interested in a girl who crossed Africa on a motorbike ½ the size of the BMW, without a 15 strong Land Rover support crew …..no-one!
After a day or so enjoying the Lake, which it was still hard to imagine wasn't the sea, we decided to continue north to the Nkhotakhota Game Reserve and Bua Camp. This was yet another reserve with elephants, so we revised our previously unsatisfactory 'elephant strategy'.


Discussing elephant strategy


Now the plan was to stop, turn off the bikes and find a tree! Luckily, we didn't need to employ it and made it to Bua Camp without incident! This place was the exact opposite of our last stay in a National Park in Malawi. Liwonde was, lets say, at the luxury end of the market and Bua Camp, with its drop toilet was not. It was just a clearing on the banks of a river and a hole in the ground! Not surprisingly we had the place to ourselves and the place had a eerie feel – like you were really on your own. The feeling was made worse by the presence of some deserted 'Blair Witch-esque' buildings at the back of the camp, where you could just imagine people standing in the corner….eeek! We would have stayed a few days had we not frightened ourselves with talk of the Blair Witch similarities, plus the Game Ranger arriving after dark, scared us half to death and informed us that for the privilege of using the drop toilet, it would cost $20 per night – you can get running water and hot showers for that, so we enjoyed one night of peace and quiet before moving back to the lake side and Nkharta Bay.

Blair witch camp site


Nkhata Bay is THE place to go in Malawi and is full of gap year students! We must be getting old because we found a quiet place to stay outside town on the hillside overlooking the lake, where we could work on the bikes and fit the new tyres. It was a beautiful setting, marred only by the lake flies. They are tiny flies, in swarms of biblical proportions which the local people catch in baskets and make cakes out of…mmmm tasty! They were a nightmare, swarming then just dying and forming thick, dead fly blankets all over the tent, your face and your food! Speaking of food, we didn't try the fly cakes, but we decided to go for the local lake fish, Chumbo, which they love in Malawi. Well I have never eaten such a meat-less fish in my life! Fair enough, mine had the biggest head in the world and not much of a body to speak of, but really, let them grow bigger before you cook them!
We had based ourselves in Nkharta Bay because we had decided to take the bold step of leaving our bikes behind and taking the LaLa ferry, obviously named after my uncle John, to Chizimulu Island in the middle of the lake. It sounded amazingly beautiful, but the ferry only goes once a week, so we hung around in Nkharta waiting for it to arrive– Paul spent his days looking for Benzene and I was taking full advantage of the beach as usual!
We are not used to getting public transport as we are lucky enough to have our own transport, so getting the ferry was a daunting task! The ferry is notoriously late and we had been told that getting on and off is an 'experience'. The ferry was due to arrive in port at 4, which it did, so we decided to board it about 6pm in anticipation of a prompt 8pm departure..ha ha ha! We had booked first class tickets, which basically gave us access to the top deck, which is outside. There are not really any seats, just a lot of space and a few benches and some people pitch their tents, but we got on early to bag a good spot under cover so we wouldn't get covered in soot from the chimney! The gang plank was wide enough to fit 1 person on it and led straight into 3rd class, where literally thousands of people were already crammed in and another thousand were trying to get on and off to load the ferry with sacks and sacks and sacks of 'stuff'. Hence, no-one was going anywhere and so the people loading had taken to just climbing over the people who couldn't move! Paul got stuck fast in 3rd class with all the bags as I failed miserably to 'forge a path' for him as I had promised! With people using him and the bags as a spring board, some military men had to help him remove the man whose head had become lodged between his legs during a failed clambering maneuver and then prise him free from the crowds! Thank goodness for first class, is all I can say and once safely up top we watched the ferry continue to get loaded with an unfeasible amount of people and produce! We set off 2 hrs late, which is pretty good going and with the sound of the horn we left Nkharta Bay into the middle of the lake. As we left we saw the eerie sight of Nkharta Bay town engulfed in flames in the night sky and selfishly hoped our bikes would survive until we got back! After 4hrs on ship we pulled into Chizimulu Island at 2am. The Island is too small to dock the ferry, so we anchored out in the lake and small rowing boats came to fetch all the people, sacks and boxes going to the island. It was a bit surreal clambering over people's heads in the middle of the night to drop into a tiny, clearly sinking rowing boat, but we managed and made it to shore. Conveniently for us the ferry stops right outside a beachside lodge, so once we beached in our rowing boat we were home! When we arrived it was pitch dark and the camp was lit by oil lamps and soft African music was playing in the background and I felt like a contestant on 'Survivor' going to be evicted!! It was only the next morning when we woke up and unzipped the tent that we realized how special this place was.


Island paradisio


So far I had enjoyed Lake Malawi, but not as much as I had expected, but Chizimulu lived up to the hype and was a definite highlight of our travels around the whole country. The small island is the shape of a fried egg with a small hill in the middle and the lodge was on the beach on the west of island. It was totally idyllic and we were happy the ferry wouldn't be arriving back to pick us up for another 5 days. As always we made the mistake of going hiking in shorts and flip flops as we tried to get to the top of the hill and see a panoramic view of the island, but it was worth it, if not a little painful, wading our way through fields of cassava and very sharp head high grass! We scaled the other side of the hill and ended up in the small town, where we attracted a group of hundreds of children following us along the road! It was like the Pied Piper of Hamlin and I wanted to Paul to keep going into the lake at the end of the island to see if they would follow…he wouldn't… something about ethics!

Little natives following Zoe



By coincidence our friend Patrick, the carpenter from Bay Diving arrived on the island and so Paul had his old dive buddy to play with and leave me in peace to read my books and relax! They devised a new game ' Rocking', which involved holding a rock and sitting on the bottom of the lake – fabulous fun, I'm sure and it kept them occupied for literally 4 days! So Chizimulu truly was island paradise except for 1 thing….the noise – Africa is always noisy, but here it was such a travesty that there was no peace and quiet. I know I sound like a miserable old git, but let me explain... During the day, there is the diesel powered maize mill, but the real fun starts at night. When you go to bed you can hear the music in the lodge bar and only when that stops at 11ish are the sounds of the 'island' revealed. The local bars on the other side of island play their music so loud it feels like the speaker is in the tent with you! When they finally pass out or the power goes off, you are treated to the sounds of the fisherman, moonlight fishing. This sounds romantic, but involved setting nets and then beating the side of your boat with wooden blocks to frighten the fish into you trap. When their nets are full they sing while pulling them to shore and shout excitedly when they see how much they have! Fishing boat banging over, the sounds of the animals are revealed, the obligatory dog fight and hours of howling and regardless of the time of day, the islands cockerels never get tired of exercising their lungs! By this point it is dawn and people start to wake up again and the camp gets swept by the staff that are having a good old gossip about what they heard last night, even the bit next to your tent needs a good sweep every day!
The worst of all was the chickens…they liked to sit in the tree above our tent at dawn and squawk a raucous squawk I can't even begin to describe. That's fine though just another noise –what was bad was that the chicken decided to poo all over our tent. Just looking at the poo you would think it was a horse with a bad stomach, not a chicken, but yep, 2 nights in a row, she was there pooing an unbelievable quantity of poo all over the tent until we were forced to move out of her path!

Chicken poo


Saying all that, we loved Chizumulu and were sad to leave when the ferry returned and we clambered over women and children to the top deck again! Lucky for us the ferry was about 12hrs late, so instead of a 2am departure we got a whole nights sleep before it arrived and so we got back to Nkharta Bay, fresh as daisies and ready to get back on our bikes (after a Sunday Roast dinner in the restaurant at the lodge – I couldn't resist...they had Yorkshire puddings!)

Being rowed to the Lala ferry


After searching in vain for Benzene again in Mzuzu, the northern capital…yep really…our next stop was Luwawa Forest in the mountains on the Zambia border, where the English lodge owner had created a little piece of Hull in Malawi! Leaving the lake side behind it got very cold and as we climbed it got misty, then rainy, but the hills and trees were a nice change from the lake and after Luwawa, we headed for the Vwaza Marsh Game Reserve all the time making our way towards Zambia – the country on our travels.

Malawi government trying to pass a sobre message to the nutcase drivers in Africa



Vwaza has a big elephant population, but the rangers at the gate were happy for us to ride the 1km to the campsite, so because they were relaxed, so were we and we rode into the camp and chose our spot next to some bushes. Still sitting on the bikes, a little boy crept over to us and whispered 'be careful', then shot back to hide behind his Dad's 4x4. Following his wide eyed gaze we saw a herd of elephants munching on the bushes about 2 metres away from us! What a welcome!

Welcoming committee


Paul got off his bike and backed away behind a tree, but I just sat there staring – it wasn't until he said in a low, stern voice 'Zoe, get off your bike you idiot', that I followed suite! When a bull came out of nowhere from behind us, I chose to sit on a picnic bench for protection, while Stanford, the campsite manager, crawled underneath trying to hide and this time Paul just hauled me out of the way!! For the rest of the day we watched more than 50 elephants come through the camp site towards the Vwaza river for a drink with the hippos, before coming back later in the evening and disappearing into the bush. It was amazing and happened every day we were there. Unfortunately we didn't see the herd of buffalo that also come to drink from the river – despite getting up at 5am every morning to watch for them – but on our game walk with the brave Stanford, we saw impala rutting and lots of leopard tracks…brilliant! So our time in Malawi was coming to an end….well our visa was anyway, so we only had time to visit one more place before hopping over to Zambia.

A fantastic sight at Vwaza - and there are elephants too



Paul standing in Zoe's footprints


We were loaded up like a couple of moving petrol bombs (there was no fuel in this part of Malawi and none in the part of Zambia we would enter) and sadly Paul's new 'Good Fortune' tyre hadn't lived up to its name and was patched up with super glue and cable ties for our trip up to the Niyka Plateau!

Tyre repair - African style


The Malawians are very proud of Nyika and even claim it should be one of the natural wonders of the world. At 2500m above sea level, the plateau is a landscape you don't get anywhere else in Africa – and is amazing to see, but for me it felt like coming home because it looks exactly like Saddleworth Moor!!! The grassy plains are filled with Eland (which we saw) and Zebra (which we didn't!) and all other kinds of buck and of course, warthog! The ride up to the plateau was amazing, really tough in parts, but great fun to climb and climb and then finally come out in Yorkshire…I mean Nyika!

Yorkshire - I mean Nyika plateau



The campsite on the plateau was brilliant, a huge area on the side of the hills, enclosed on 3 sides by forest and open on one side giving us great views of the plains.

Campsite in Yorshire


We had the whole place to ourselves…except for Franco, the creepy campsite manager who hung out at the hot water brazier – clearly burning what was left of the last visitors who dared to stay on the moors!! Since we had left the lake the temperature had been dropping and Nyika, with its altitude was freezing! We were equipped for Africa, not Yorkshire and so that night we made a huge fire, drank lots of hot coffee and ended up sleeping in our bike gear!! The next day, to keep warm…..and to see the area we did a 25km walk around the plains! Imagine getting Paul to walk 25kms, it was an unprecedented event and the first 12km were great even though Paul was struggling to take pictures of the Eland…or in fact anything that didn't bolt into the distance as we got within 5miles of it!


Not much animal action but look at that tyre grrrrr



So after 12kms we really felt like we had seen what there was to see of the Plateau and so put our heads down and got back to the camp fire and a nice hot coffee - with some brandy in it.
If it hadn't been so bloody freezing we would have stayed a bit longer, but our '3 season super lite' sleeping bags couldn't take it any longer and so we had to say goodbye to frost bite in Nyika and also to Malawi as our next stop was Zambia…and my first country beginning with a 'z'!!!
Posted by Paul Jenkins at August 25, 2007 11:37 AM GMT

Enter your email address to receive updates to Paul and Zoe's trip story!
Recent Entries
Archives:
Archives:
Monthly
Archives:
Category
Now that summer is here, get On the Road! Take 30% off the Achievable Dream - On the Road! 2-DVD set until August 31 only.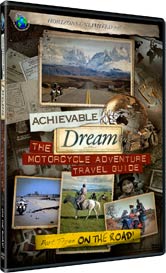 Our veteran travellers share their tips (and great stories) for staying healthy, happy and secure on your motorcycle adventure.
"A fantastic, informative and inspirational DVD."
"It's brilliant - thank you very much!"
Check it out at the HU Store! Remember to use Coupon Code 'ONTHEROAD' on your order when you checkout.
Next HU Events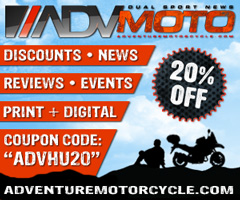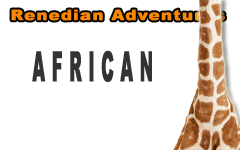 What others say about HU...
"I just wanted to say thanks for doing this and sharing so much with the rest of us." Dave, USA
"Your website is a mecca of valuable information and the DVD series is informative, entertaining, and inspiring! The new look of the website is very impressive, updated and catchy. Thank you so very much!" Jennifer, Canada
"...Great site. Keep up the good work." Murray and Carmen, Australia
"We just finished a 7 month 22,000+ mile scouting trip from Alaska to the bottom of Chile and I can't tell you how many times we referred to your site for help. From how to adjust your valves, to where to stay in the back country of Peru. Horizons Unlimited was a key player in our success. Motorcycle enthusiasts from around the world are in debt to your services." Alaska Riders

10th Annual HU Travellers Photo Contest is on now! This is an opportunity for YOU to show us your best photos and win prizes!
NEW! HU 2014 Adventure Travel T-shirts! are now available in several colors! Be the first kid on your block to have them! New lower prices on synths!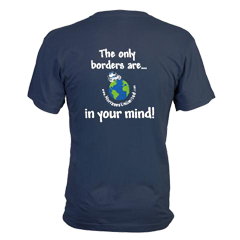 Check out the new Gildan Performance cotton-feel t-shirt - 100% poly, feels like soft cotton!

What turns you on to motorcycle travel?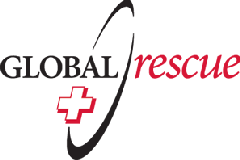 Global Rescue is the premier provider of medical, security and evacuation services worldwide and is the only company that will come to you, wherever you are, and evacuate you to your home hospital of choice. Additionally, Global Rescue places no restrictions on country of citizenship - all nationalities are eligible to sign-up!
New to Horizons Unlimited?
New to motorcycle travelling? New to the HU site? Confused? Too many options? It's really very simple - just 4 easy steps!
Horizons Unlimited was founded in 1997 by Grant and Susan Johnson following their journey around the world on a BMW R80 G/S motorcycle.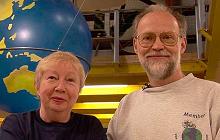 Read more about Grant & Susan's story
Membership - help keep us going!
Horizons Unlimited is not a big multi-national company, just two people who love motorcycle travel and have grown what started as a hobby in 1997 into a full time job (usually 8-10 hours per day and 7 days a week) and a labour of love. To keep it going and a roof over our heads, we run events (22 this year!); we sell inspirational and informative DVDs; we have a few selected advertisers; and we make a small amount from memberships.
You don't have to be a Member to come to an HU meeting, access the website, the HUBB or to receive the e-zine. What you get for your membership contribution is our sincere gratitude, good karma and knowing that you're helping to keep the motorcycle travel dream alive. Contributing Members and Gold Members do get additional features on the HUBB. Here's a list of all the Member benefits on the HUBB.
Books & DVDs

All the best travel books and videos listed and often reviewed on HU's famous Books page. Check it out and get great travel books from all over the world.

MC Air Shipping, (uncrated) USA / Canada / Europe and other areas. Be sure to say "Horizons Unlimited" to get your $25 discount on Shipping!
Insurance - see: For foreigners traveling in US and Canada and for Americans and Canadians traveling in other countries, then mail it to MC Express and get your HU $15 discount!
Story and photos copyright © All Rights Reserved.
Contact the author:
Editors note: We accept no responsibility for any of the above information in any way whatsoever. You are reminded to do your own research. Any commentary is strictly a personal opinion of the person supplying the information and is not to be construed as an endorsement of any kind.
Hosted by: Horizons Unlimited, the motorcycle travellers' website!
You can have your story here too - click for details!